Easy Shrimp Pad Thai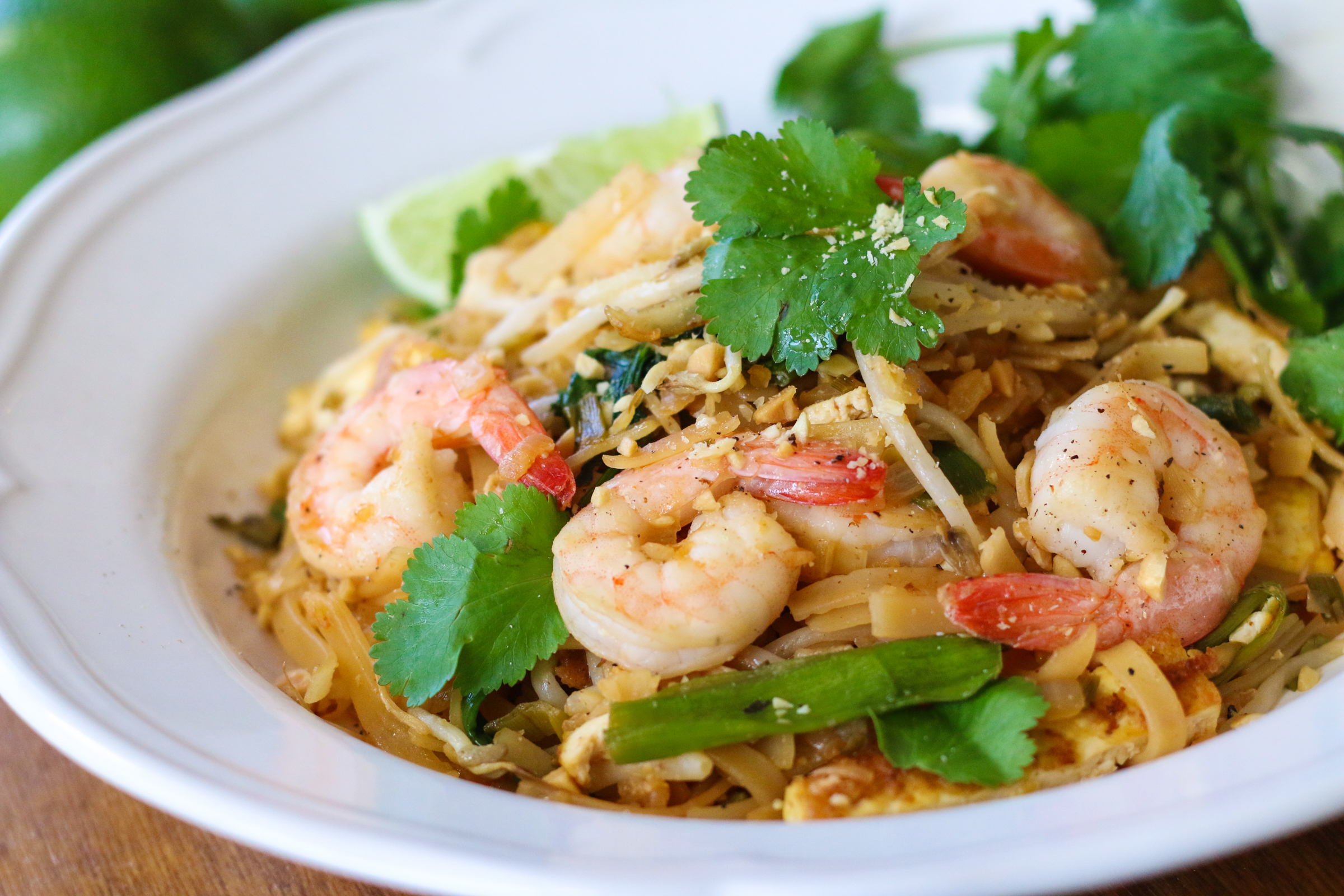 All I gotta say is the next time you're craving an easy and light version of Pad Thai, remember this recipe.  You don't have to be intimidated here because I won't ask you to make your own tamarind juice or run around to find palm sugar and dried shrimp.  All you need are ingredients that you can probably find easily in most grocery stores.  You might have to scamper towards the International foods aisle, but the only things you need from there are dried rice noodles, soy sauce, and Sriracha sauce.  But let's not kid ourselves, you probably have Sriracha and soy sauce in your kitchen right now anyways.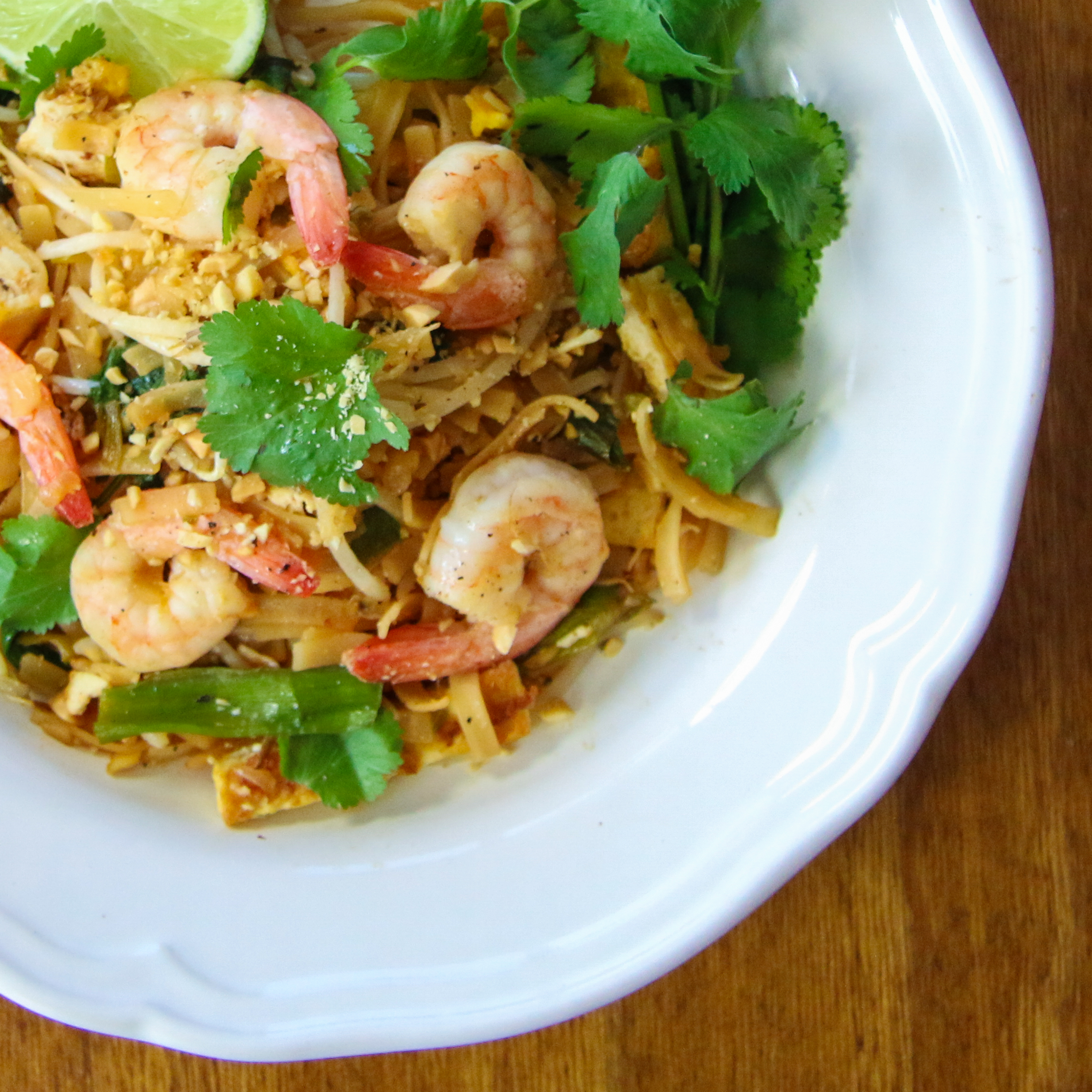 The thing I LOVE most about Thai food is how balanced it tastes. There's always a subtle dance between salty, sweet, and sour, with sometimes a kick of spice…and that sounds like heaven to me.  So that's what's happening in this sauce, but simplified.  Salty= soysauce, sweet = brown sugar, sour = lime, and spicy=Sriracha sauce.  Okay…I guess there's no need to read the rest of the recipe now, huh?  Just kidding.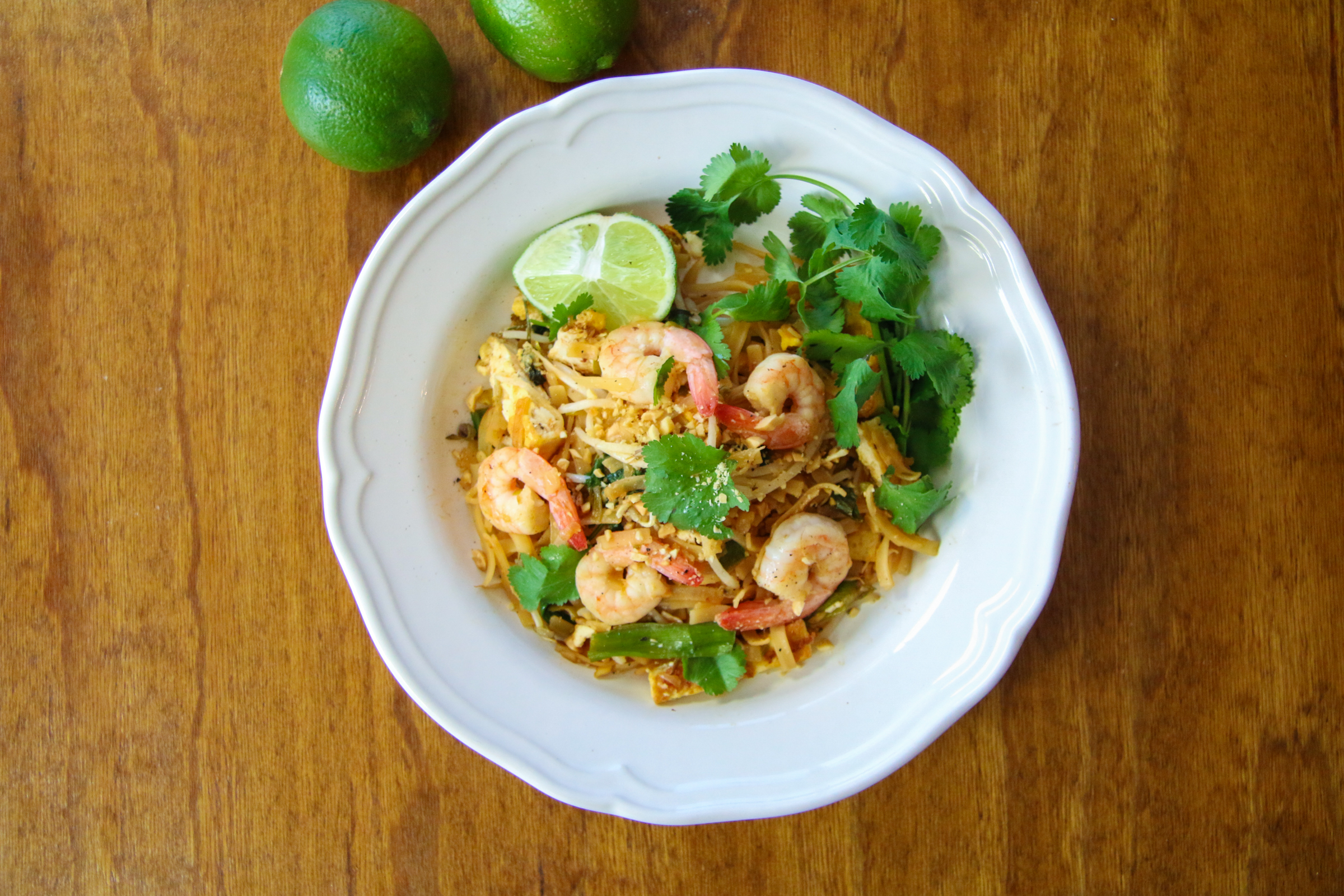 I was challenged by a lovely lady named Lee aka Lktoepfer from 6kidsProductions to whip up an easier, healthier/ lighter version of Pad Thai that she could tackle at home without it turning into a hot mess.  Challenge accepted!  I feel like I just sounded like Barney from "How I Met Your Mother."  You can watch how I make this Easy Shrimp Pad Thai in EPISODE 11 of Bits & Pieces:
This video was a collaboration between us and 6kidsProductions because Lee was one of our backers from our Kickstarter project campaign, and producing an episode of Bits & Pieces was one of the rewards we offered.  What started out to be a one-time deal morphed into a friendship, and we had a blast communicating via Skype.  Since Lee is a producer herself, she came to the table with awesome creative ideas and we're thankful to have a partnership with her.  We plan to collaborate again, so stay tuned for that!  She has some great ideas and truly pushes me to be "resourceful and creative in the kitchen."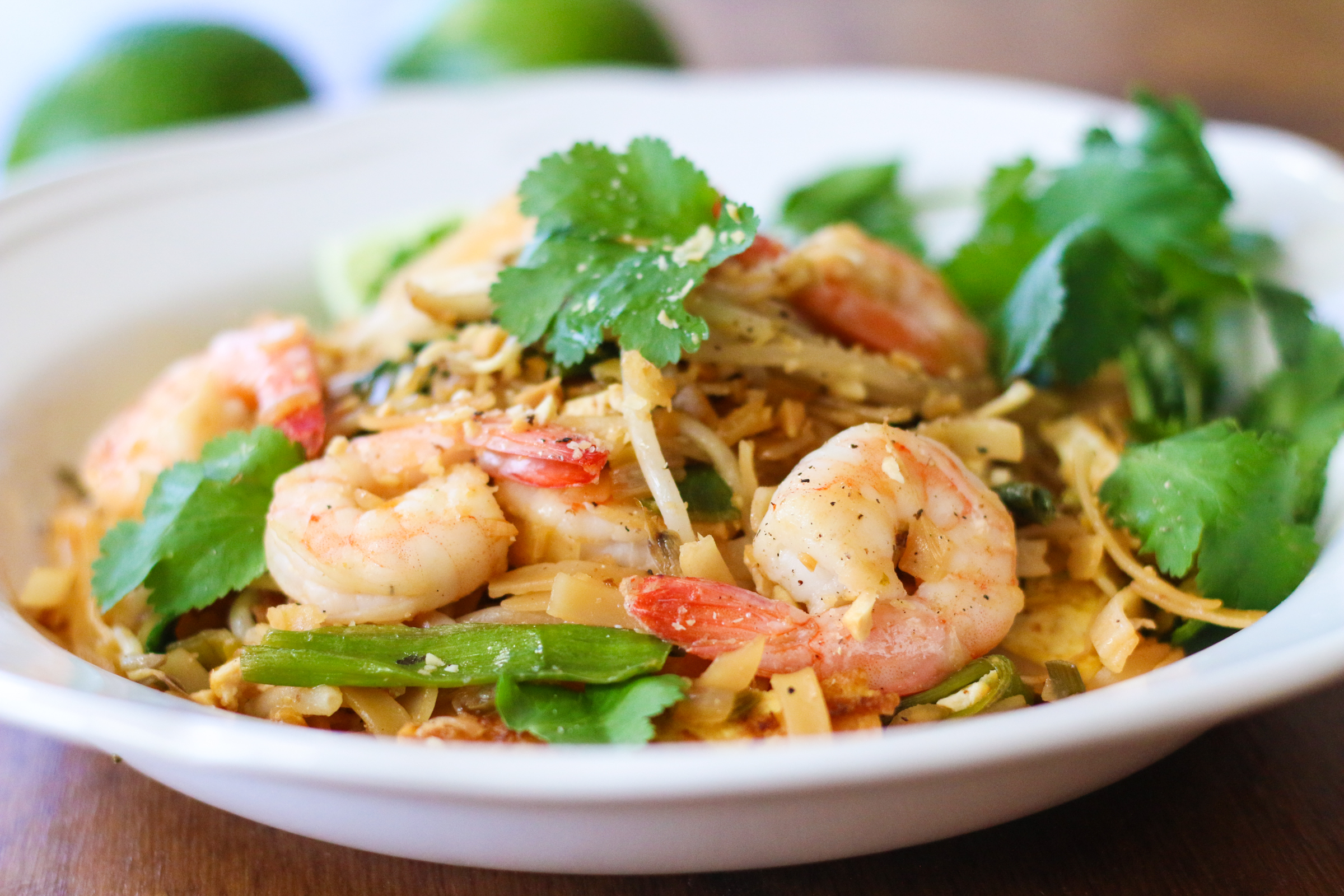 And speaking of being resourceful, on the flip side, if you DO happen to have fish sauce, tamarind juice, dried shrimp, and palm sugar on hand, then go ahead and use the authentic ingredients instead.  Shoot, that might even be better!  But Lee was telling us that the last time she attempted to make Pad Thai, she ended up with a bunch of ingredients that she ended up eventually throwing away because she didn't know how else to use them.  I don't think she'll have the same problem with these ingredients.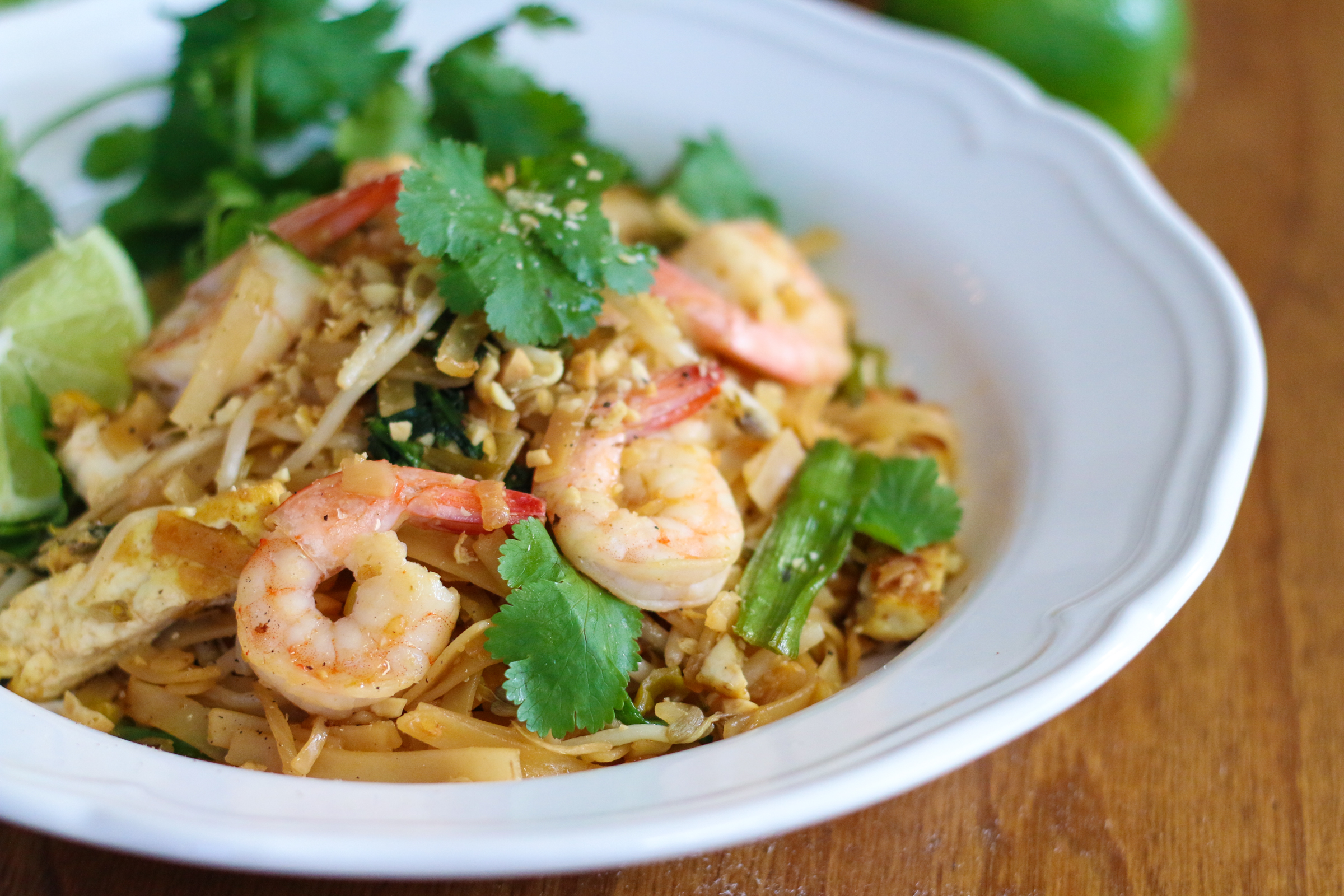 Adding tons of bean sprouts (2 whole cups worth) keeps this dish on the lighter side, but if you're not into that, or can't find bean sprouts, simply substitute with julienned carrots, zucchini, red bell peppers or even spaghetti squash!  You can check out how to cook spaghetti squash HERE.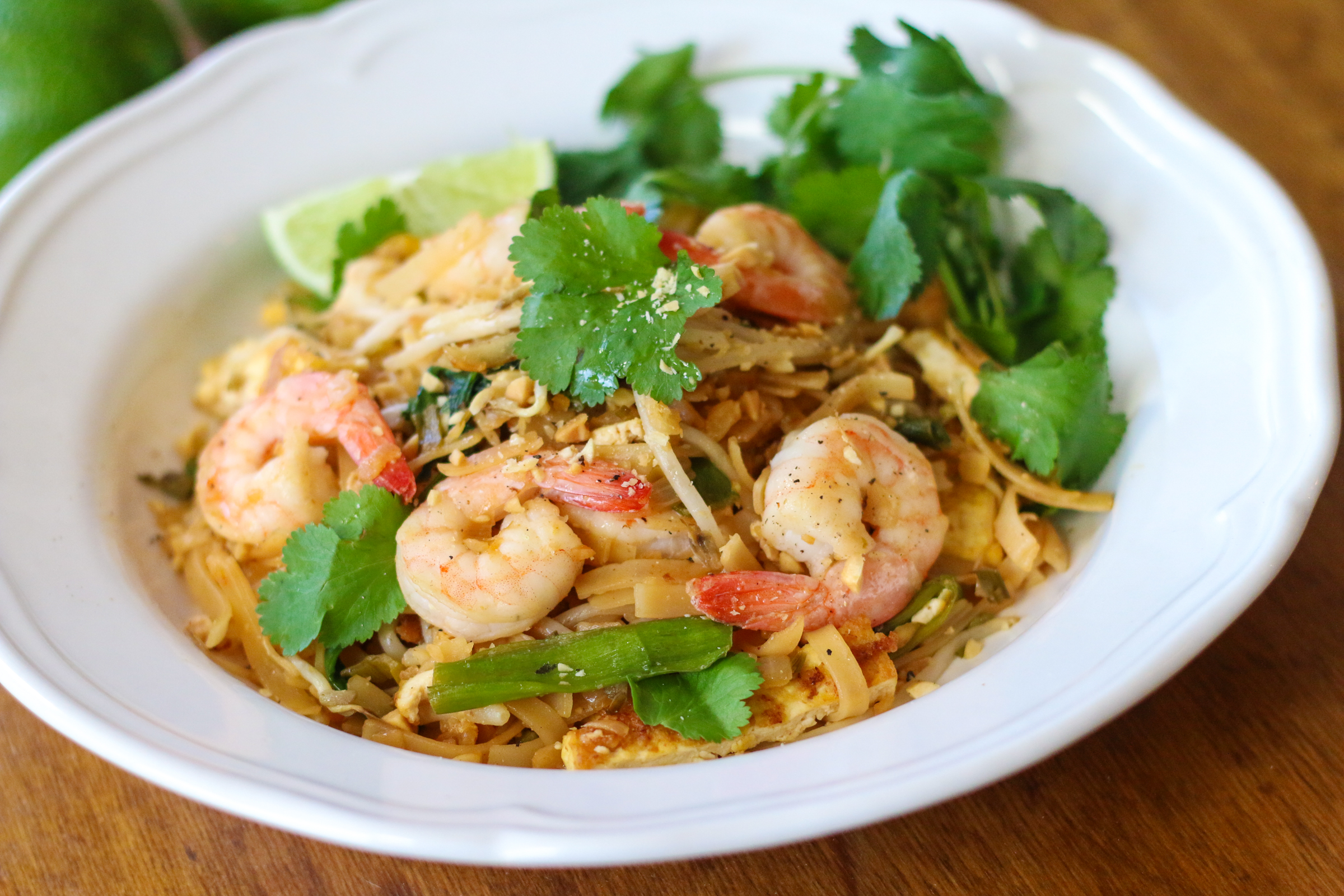 There are a few steps, but every one of them is easy to do.  I can actually whip this dish up pretty quickly now.  If you've never cooked Pad Thai before, the one piece of advice I want to give you is to cook your noodles right.  It was like the story of Goldilocks and the three bears for me the first few times when I was developing this recipe.  The noodles were too hard, and then they were too soft, and finally they were just right.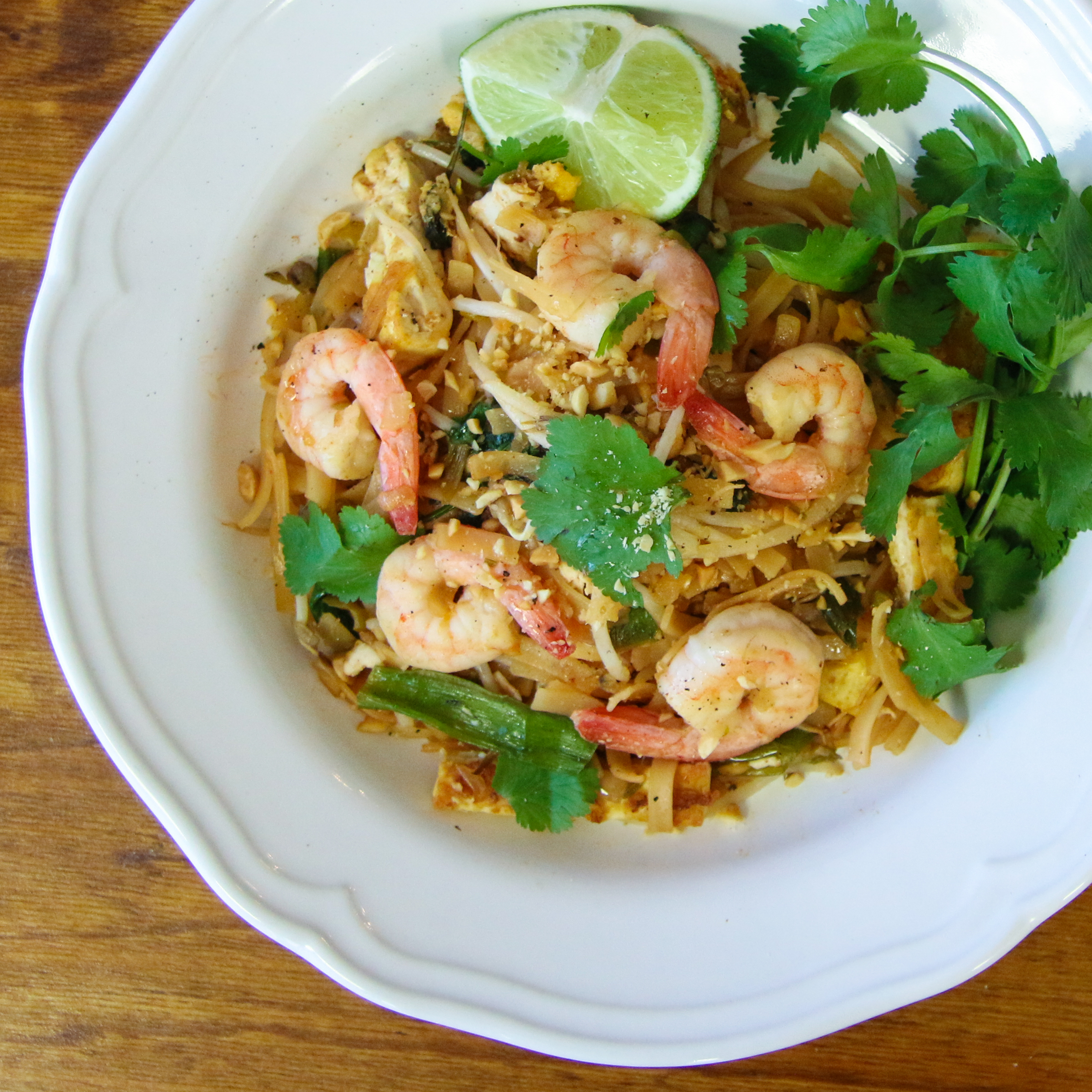 If they're too hard, it's like chewing on rubber bands.  If they're too soft, they turn mushy and disintegrate between your chopsticks.  So that's why I boil them first, rather than soaking them in cold water.  For me, they're easier to control this way.  Boil them until they're pliable and a little soft, but still have a bite.  Then you don't run the risk of them being undercooked or overcooked by the time you throw them in the pan with the sauce.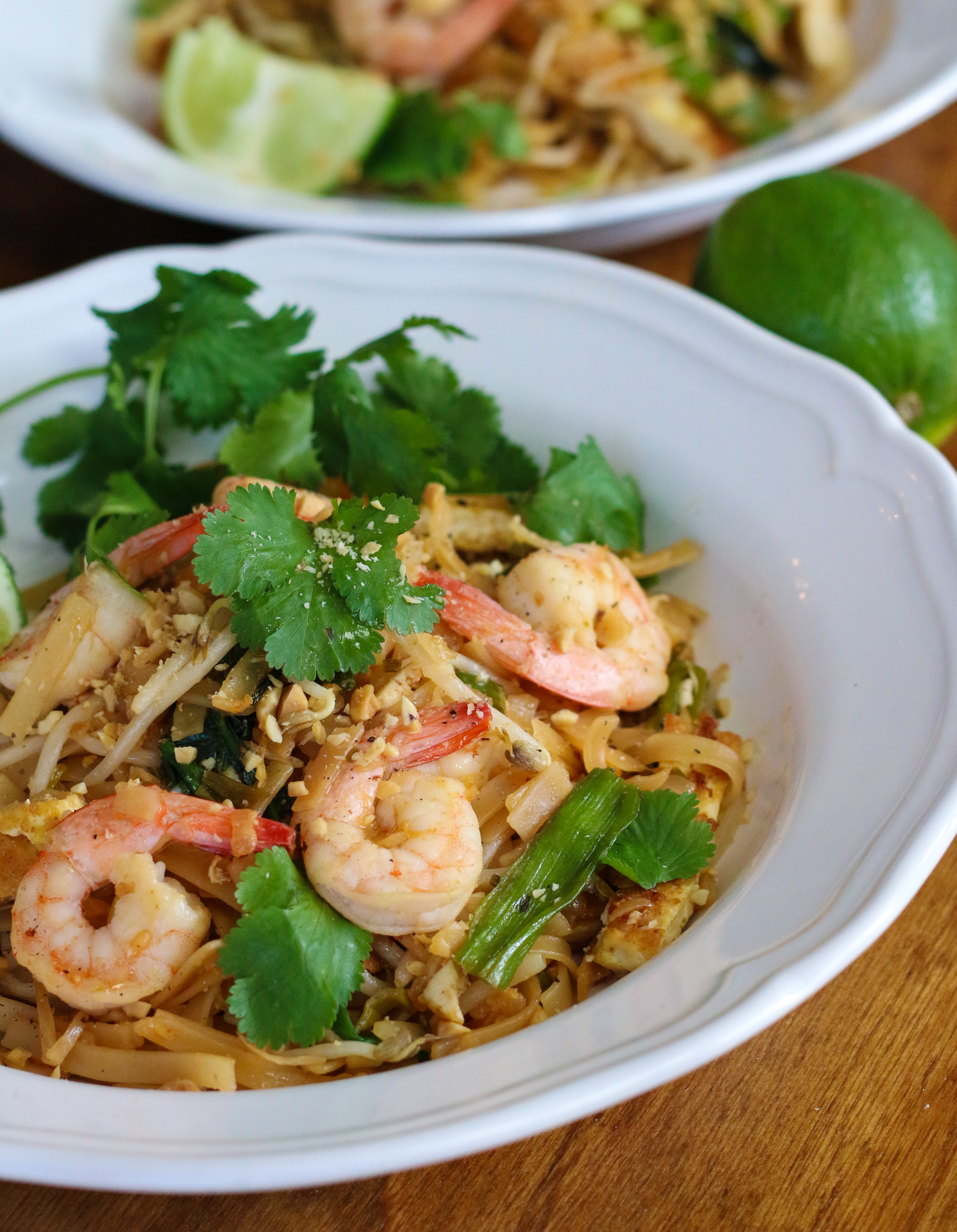 And lastly, try to work quickly and efficiently.  Have all the other ingredients and everything else ready before you stir fry the noodles in the last step.  You don't want to be scurrying around cracking eggs or washing cilantro while you're trying to babysit your precious noodles. That's about it.  This Easy Shrimp Pad Thai tastes and looks like takeout, but it's fresher, healthier, and lighter because you made it yourself at home.  So take a chill pill, grab some limes, and go for it.  Have fun and enjoy the tasty fruits of your (not that much) labor.

Easy Shrimp Pad Thai
This version of Pad Thai is easy and approachable. You can probably find all the ingredients you need for it in most grocery stores. Adding a lot of bean sprouts allows you to use less noodles, thus keeping this dish fresh and light.
Ingredients
4 ounces dried flat rice noodles
2 cups bean sprouts
¼- ½ lb medium sized shrimp, shelled and deveined
8-9 oz firm tofu (½ a package), cut into 4 slices
¼ cup fresh lime juice, plus wedges for serving
3 packed tablespoons brown sugar
3 tablespoons soy sauce
2 teaspoons Sriracha sauce
4 scallions white and green parts, separated
2 garlic cloves, minced
1 small onion, chopped
2 large eggs, cracked in a bowl and lightly beaten.
½ cup fresh cilantro leaves, roughly chopped, or left whole
¼ cup finely chopped roasted salted peanuts
Vegetable or Canola oil
Salt to taste
Instructions
Boil your rice noodles until pliable and mostly cooked, but not mushy (no need to soak them in advance). Drain and rinse well with cold water. Set aside. In a small bowl, whisk together lime juice, brown sugar, soy sauce, and Sriracha sauce until sugar is dissolved. Set aside.
Blot slices of tofu on paper towels to absorb excess moisture. In a large pan or wok over medium high heat, add a little oil and fry tofu on both sides, until golden brown and slightly crispy. Lightly sprinkle with salt while they're still hot. Cut into smaller pieces and set aside. To the same pan, add your shrimp, and saute until just cooked. Set aside.
Slice the scallion white parts thinly, and the green parts into 2-inch pieces. Add a little more oil to the pan, and cook the onion, garlic, and sliced scallion whites, stirring constantly, until fragrant, about 1 minute. Add noodles and sauce to skillet. Cook, tossing constantly with tongs, until noodles are soft, but not mushy, and the sauce has been absorbed. If the noodles get too soft, they will start to break. Push the noodles to one side of the pan and add the eggs to the empty side. Let the eggs set, as if making a thin omelet, and then break it up and incorporate it with the noodles, using your tongs.
Add the scallion green parts, and most of the bean sprouts, cilantro, and peanuts. Hold some back of each for garnishing. Toss just to combine. Add the shrimp and tofu back into the pan. Toss carefully, then plate. Top with more bean sprouts, cilantro and peanuts. Serve noodles with lime wedges.
TIP: I think how "saucy" and seasoned you like your Pad Thai is a totally personal thing. So if you want, make a double batch of sauce, and reserve it. Then add more at the end if you think you need it. You can keep it in the fridge for next time if you end not up not needing it.