Spaghetti Squash with Easy Meat Sauce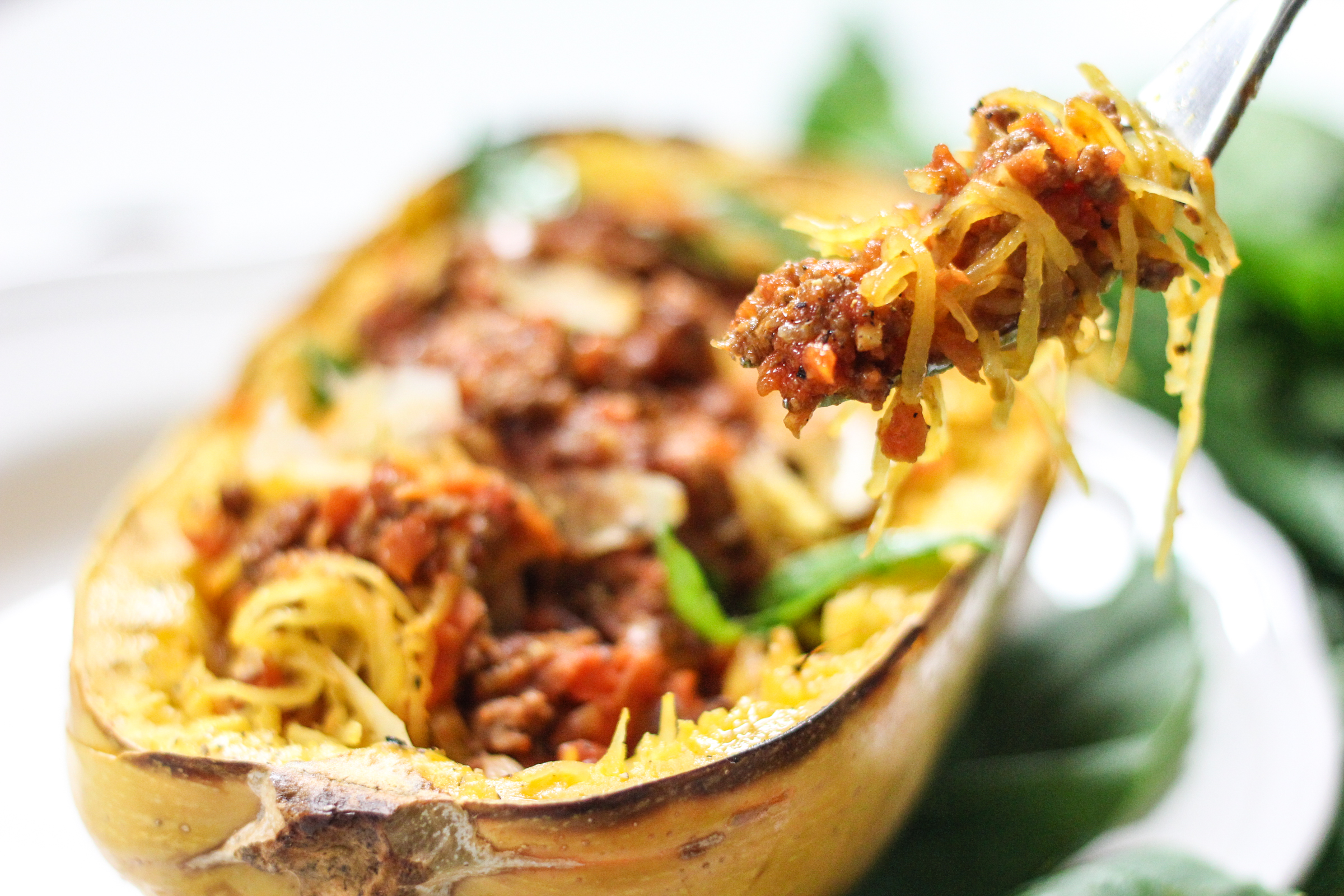 I made this dish for my husband and in-laws and they all loved it.  They thought it was so flavorful, unique, satisfying, and light at the same time!  Is that even possible?  Sure it is!  It's lighter and lower carb, but hearty enough to fill you up so that you don't even miss the pasta.  I've heard people say this line before, in regards to spaghetti squash, but I was kind of skeptical about it.  I thought to myself that there was no way a SQUASH could possibly replace a comforting plate of pasta.  
But that's exactly it.  Personally, I don't think spaghetti squash REPLACES pasta.  I think it's entirely it's own thing and deserves to be recognized for what it is.  And truth be told, I might even like this dish better than regular spaghetti with meat sauce -GASP!
The last time I was at the grocery store to pick up a couple of spaghetti squash, I felt like there were several eyes on me, secretly wondering what I was going to do with them.  Finally, one lady came up to me and asked if I knew how to cook spaghetti squash.  As I was explaining how to make it, she kept asking me more questions until it felt like I was completely giving her a step-by-step recipe, right there in the produce aisle.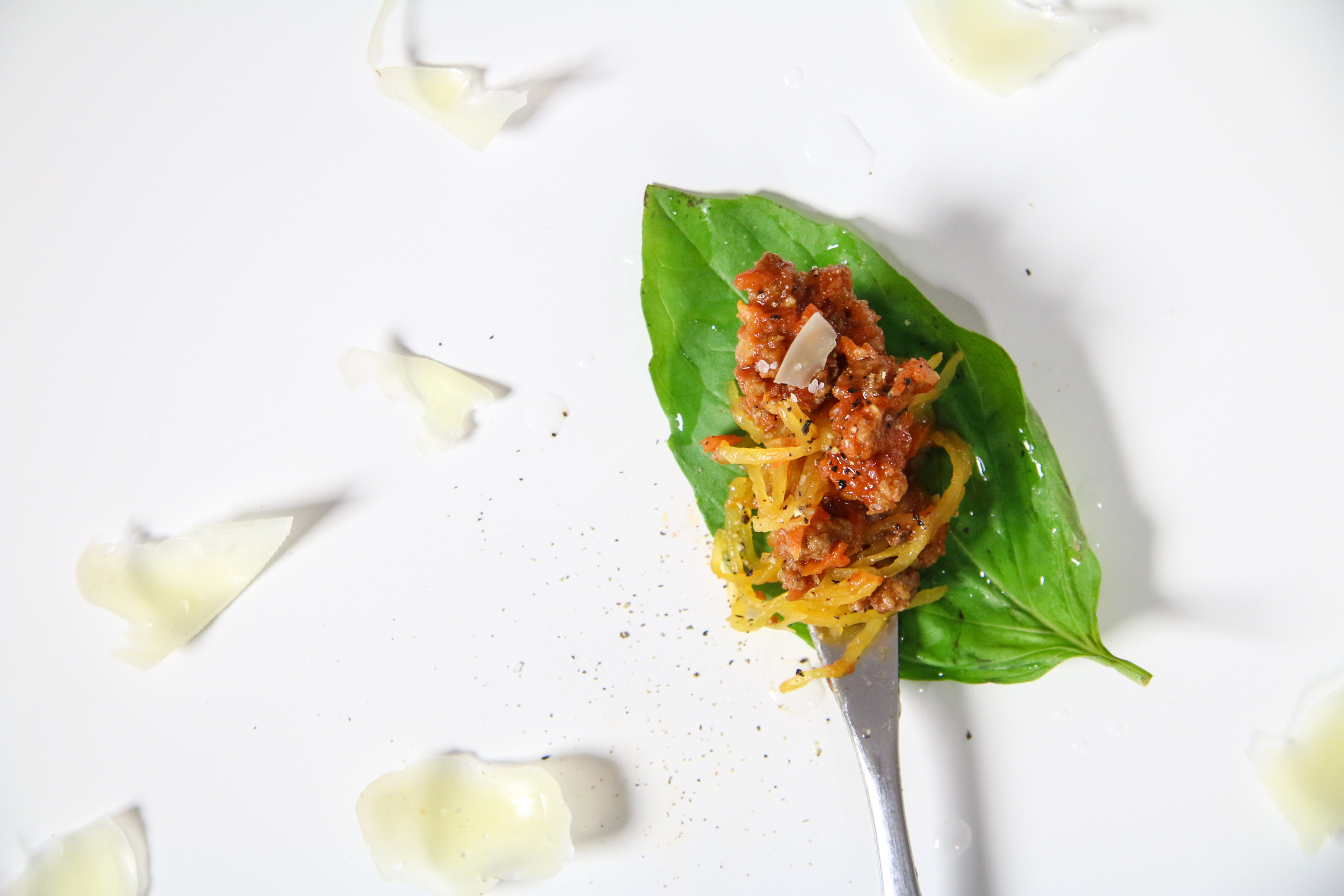 If I wanted to be a brat, I could've just handed her my card and said, "look it up on chefjulieyoon.com…there might be a recipe for it one day."  Hmm…maybe I should've because today I'm sharing this recipe with all of you!  Watch how I tackle this fantastically peculiar and wonderful squash with easy meat sauce in EPISODE 10 of Bits & Pieces:
The weather is getting warmer now and we can finally start shedding layers.  But at the same time, I'm still wearing my winter coat because it's not THAT warm around here yet.  It even snowed during the time we filmed this video!  So I think this dish is the perfect compromise between cold weather comfort food and lighter fare.  It's sort of an "ease into spring" kinda meal.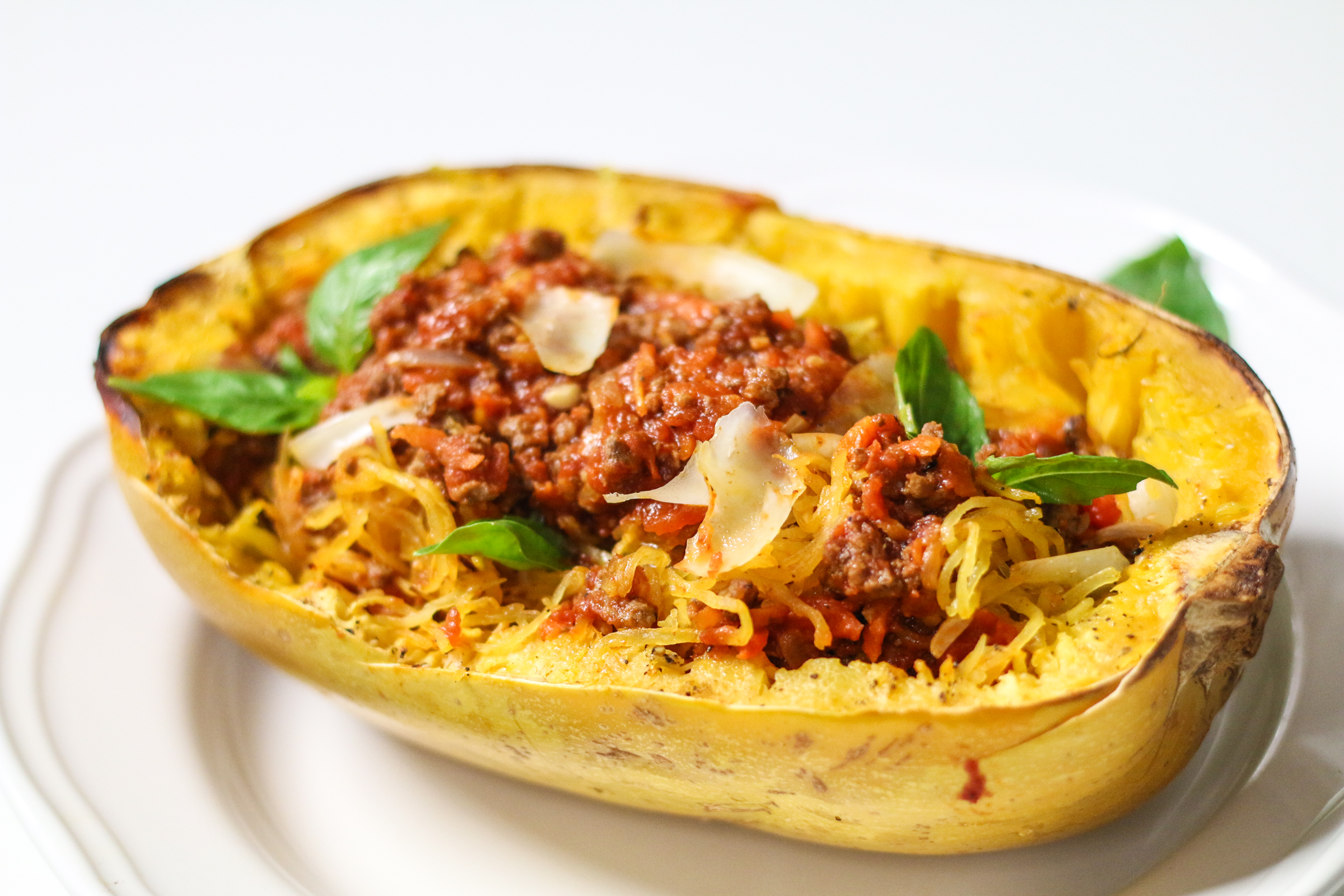 And if you don't want to make the meat sauce you can leave your squash vegetarian by topping it with a mushroom ragu, marinara and mozzarella, or butter and herbs….whatever floats your spaghetti squash boat!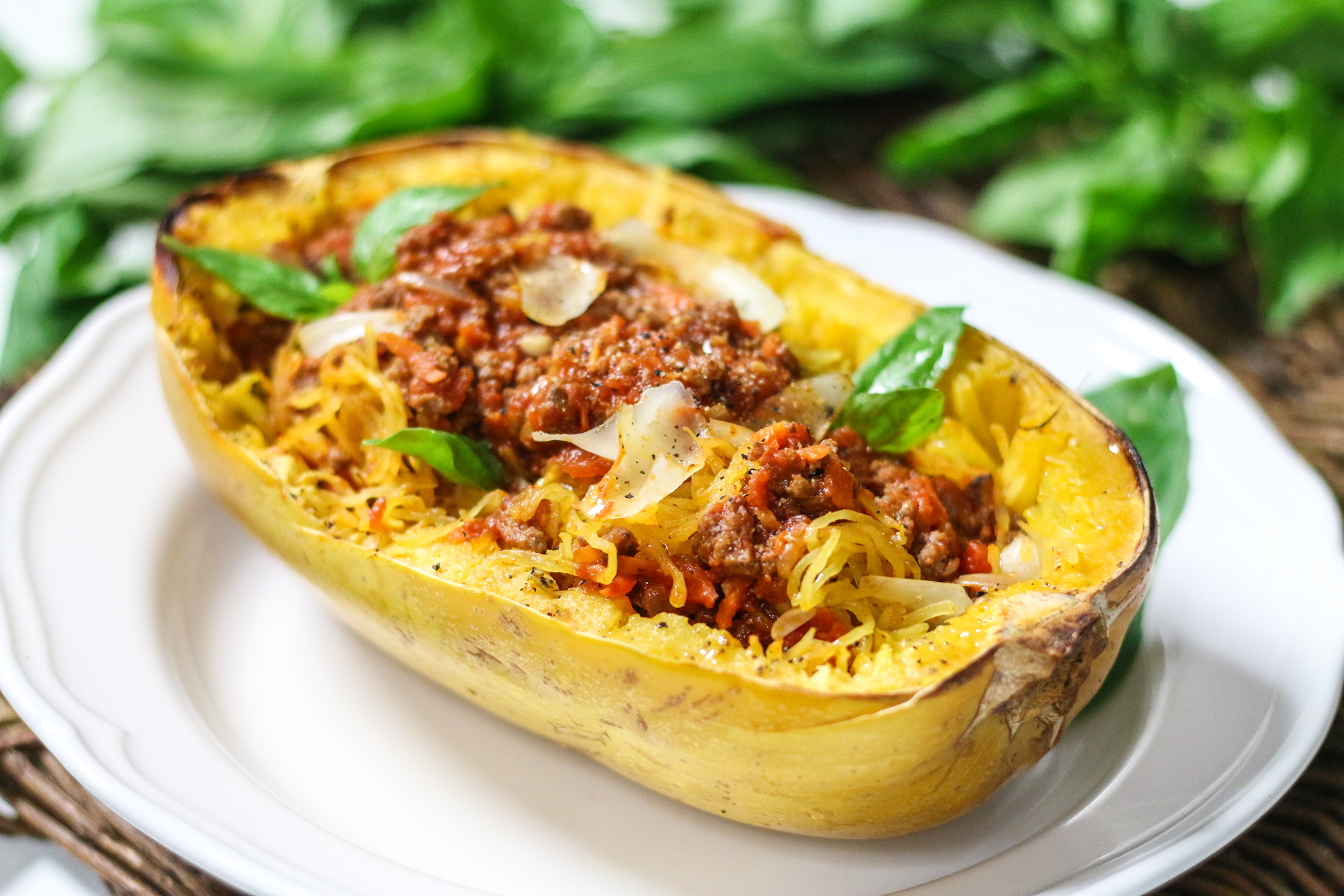 I like the fact that the spaghetti squash acts as a lower carb vehicle to transport this delicious meat sauce, but even if you don't care about the low carb thing, I HIGHLY suggest you giving this recipe a try simply for the TASTE.
The taste and texture is rather surprising.  It's slightly sweet, and the strands are fun to eat.  My husband is a fan.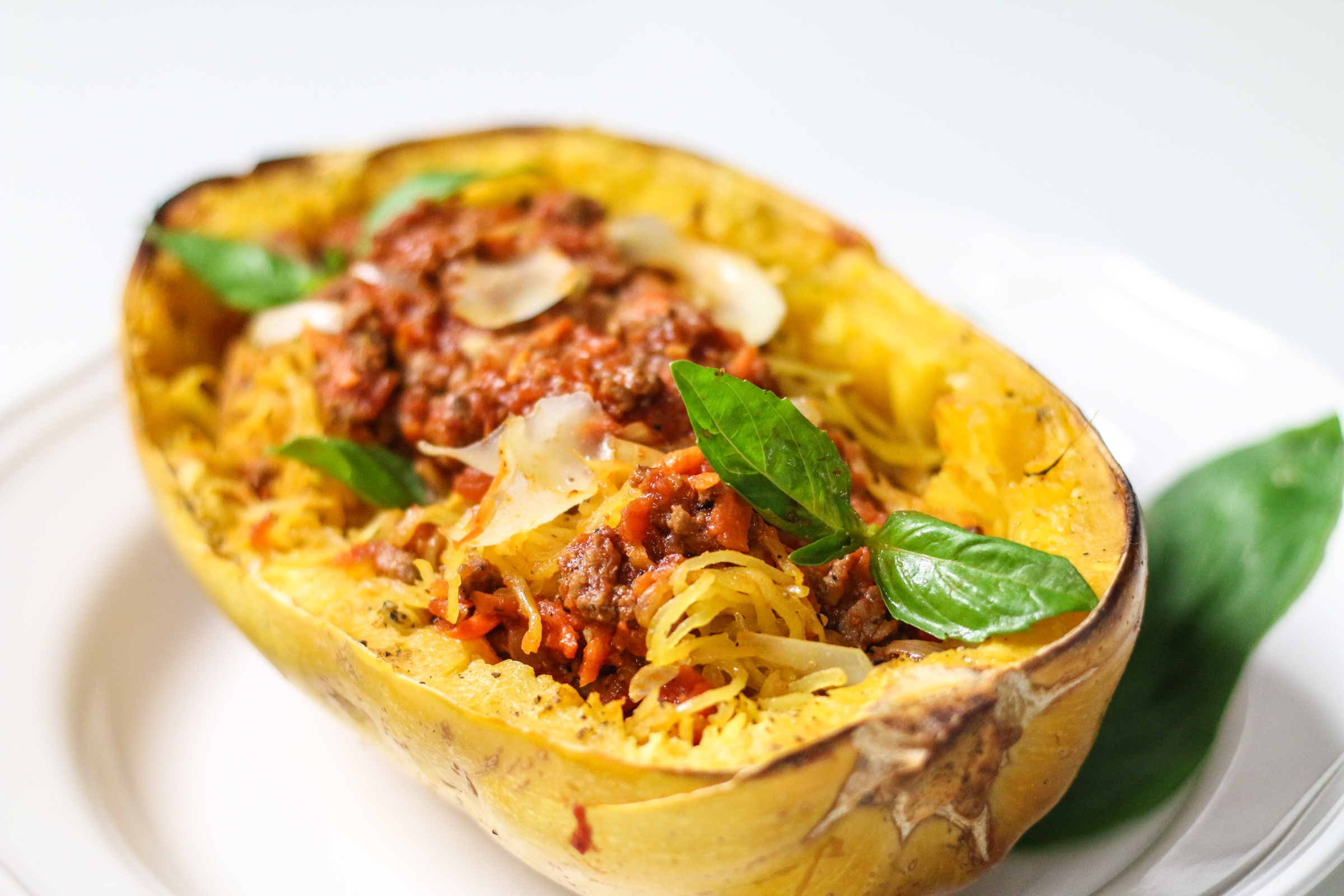 The fact that it can be served right in its own shell makes it a cute and playful dish for entertaining.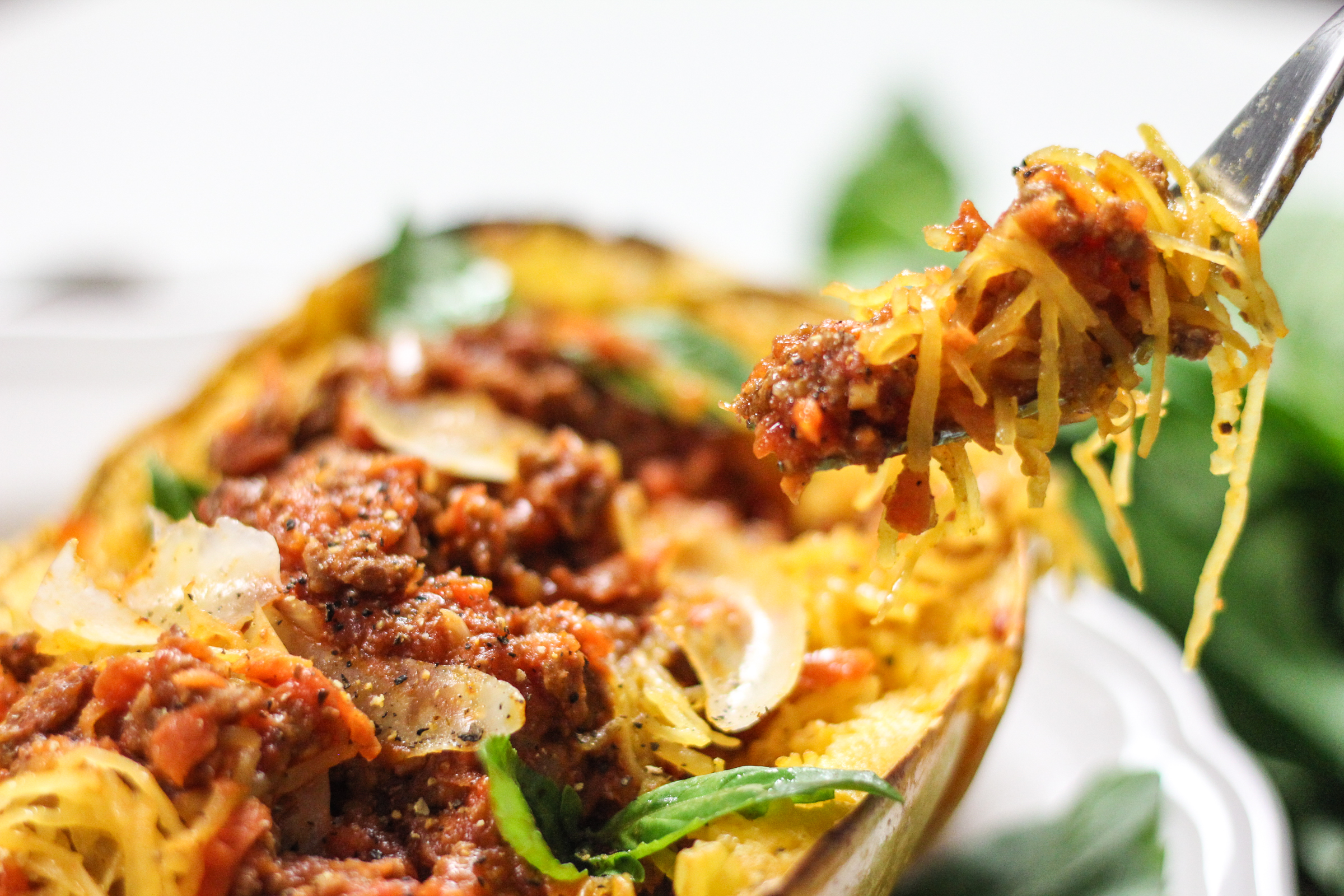 But if you don't have guests over, and you're not a family of four, you can always make the full recipe and reheat your leftovers the next day.  Just scoop the squash strands out of their shells, throw them in a frying pan with a little olive oil and they'll be good as new from the fridge.  And if you have meat sauce leftover, well then…..lucky you!

Spaghetti Squash with Easy Meat Sauce
Trust me, sweet roasted spaghetti squash and this savory meat sauce were made for each other. Serve them right in their shells and have a party.
Ingredients
3 tablespoons olive oil, divided
2 (3 lb) spaghetti squash, sliced in half lengthwise, seeds removed
1.5 pounds ground beef
1 medium yellow onion, finely diced
2 medium carrots, peeled, and grated
2 cloves garlic, minced
1 can (28 ounces) crushed tomatoes + a little water
½ teaspoon crushed red pepper flakes
½ cup grated Parmesan Cheese, divided, plus more for topping
Fresh basil leaves, cut into thin ribbons, or left whole
Salt and pepper to taste
Instructions
Preheat oven to 400F.
Place the spaghetti squash halves cut side up onto a baking sheet. Drizzle with 1 tablespoon olive oil (divided), salt, and pepper. Turn the squash over so they're cut side down, and roast for 50-60 minutes, or until a knife pierces into the thickest part of the squash easily. Strands should be soft, but not mushy. Let cool for 10 minutes. Once cool enough to handle, use a fork to loosen the squash strands, right in their shells. Drizzle the strands evenly with 1 tablespoon olive oil (divided), salt, pepper, and the Parmesan Cheese (divided). Mix well.
While the squash is cooking, in a large pan or wide pot, heat the remaining tablespoon of olive oil over high. Add beef and cook, breaking it up, until it begins to brown, about 5 minutes. Add onion, carrots, and garlic and season with salt and pepper. Cook until the vegetables are soft, about 5 minutes. Add the crushed tomatoes and red pepper flakes. Add a little water to the can and swish out all the goodies too. Bring to a rapid simmer.
Cover and let it continue to cook for 15 minutes, stirring occasionally, until the liquid is slightly reduced and the flavors are melded. Taste and season with salt and pepper. Serve sauce over spaghetti squash, right in their shells, one half shell per person. Top with extra Parmesan and basil, if desired.