Shrimp and Tofu Coconut Curry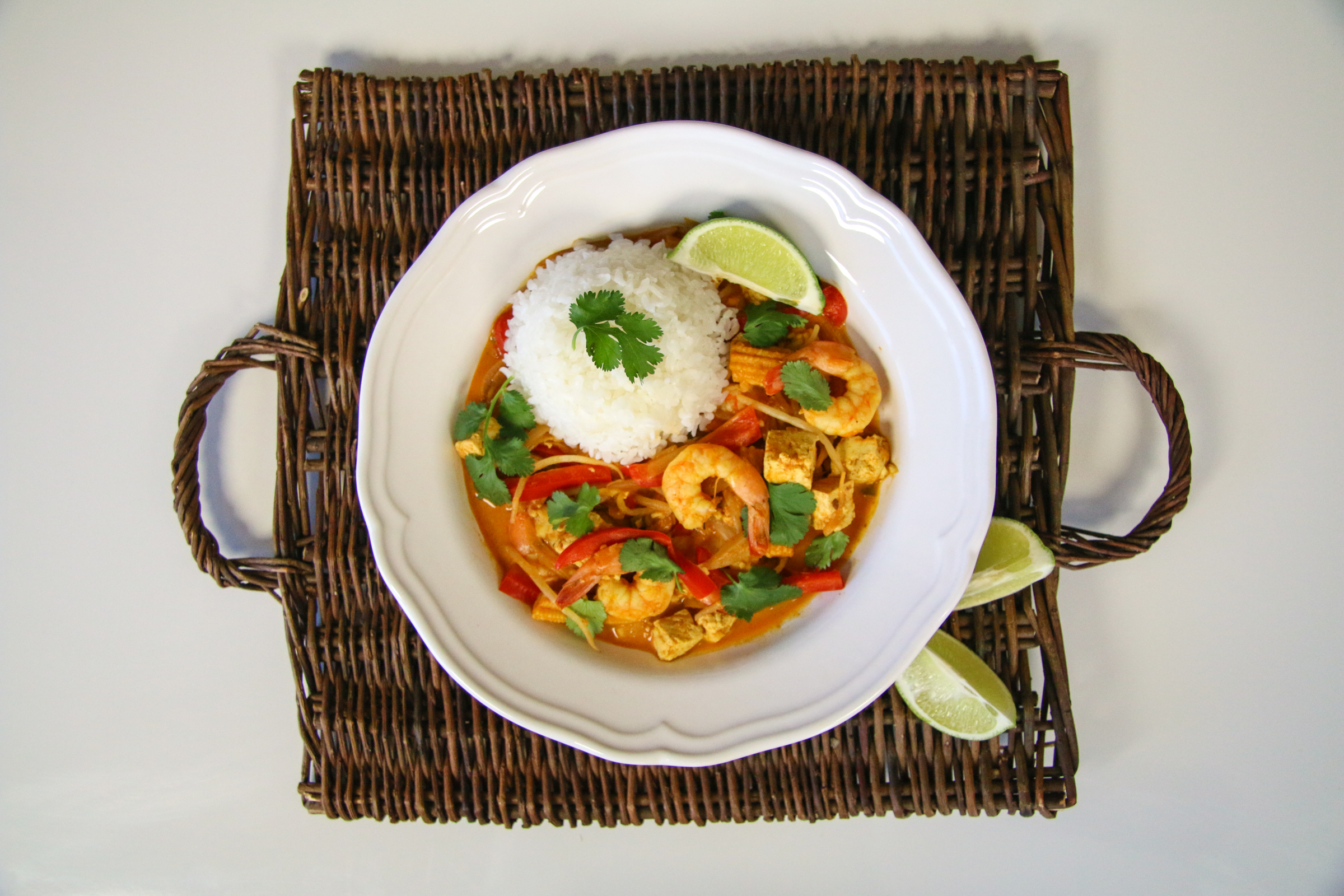 Should I really be calling this dish Curry in a Hurry… or even Curry Without Worry?  Hmm… maybe, but you can decide after you make it.  I think the best part of this coconut curry is that you can throw in whatever bits and pieces (ahem) you have lying around in your fridge and it will probably still come out good.  So this is a great recipe to keep in mind for those kinds of days.  You can even be prepared by keeping most of the base ingredients in your pantry.  All you need is curry powder, soy sauce, tomato paste, and coconut milk.  How easy is that?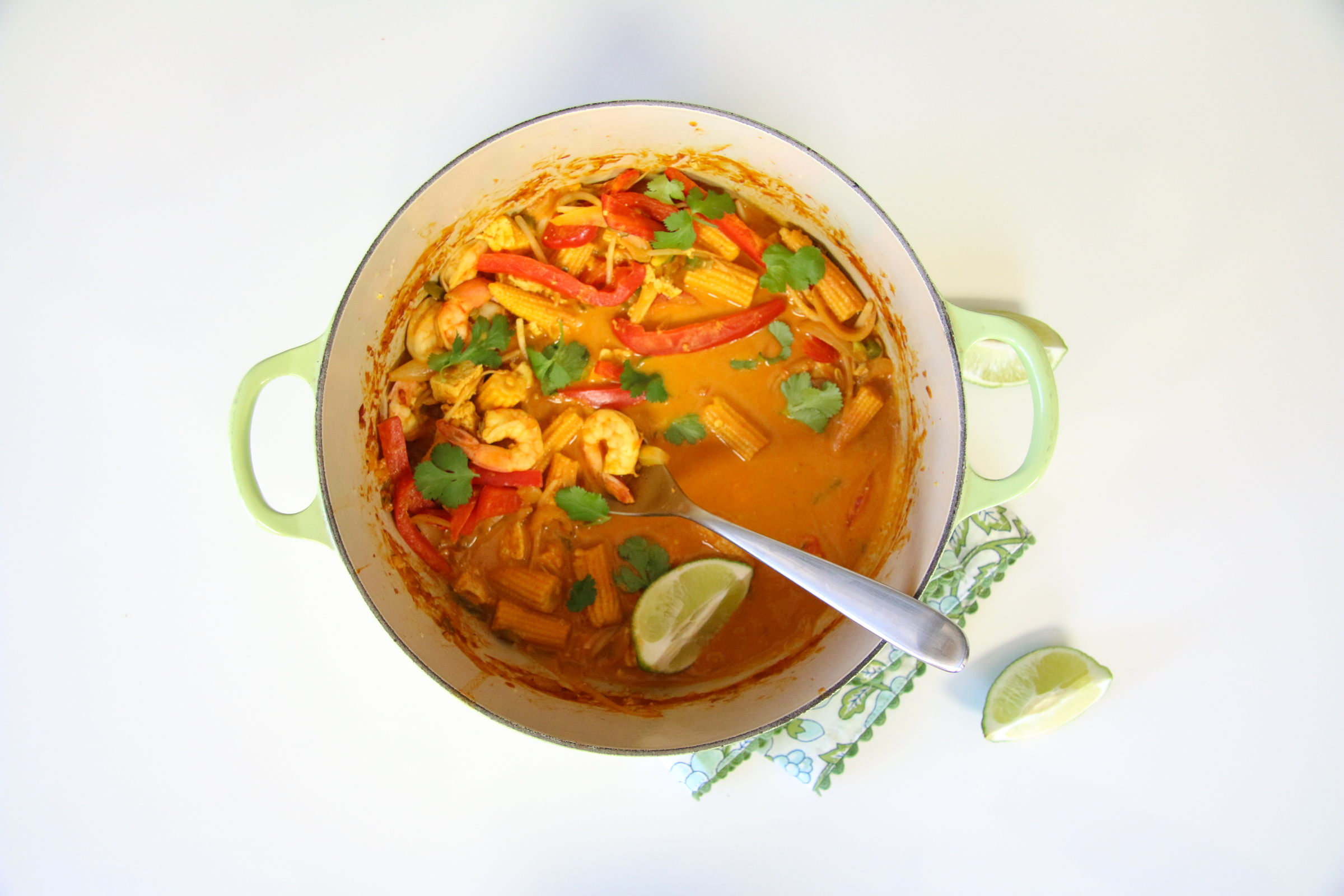 I've heard of some curry snobs who scoff at curry powder, but I really don't understand why since it's just a mix of different spices together, including tumeric, cumin, coriander, and mustard.  Hey, if it makes my life easier, I'm all for it.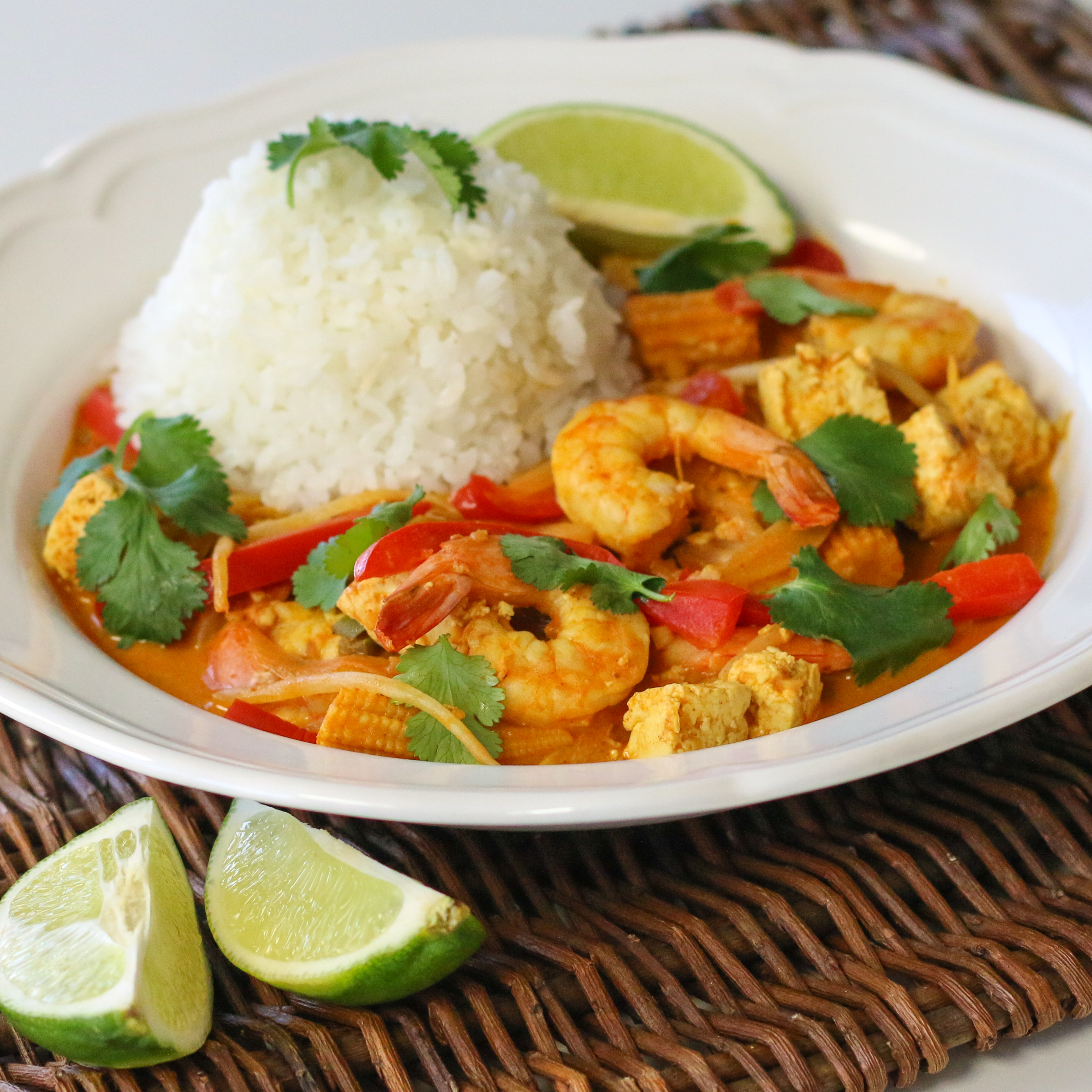 And I would say that the surprise ingredient in this curry is tomato paste!  But really, it's just concentrated tomato, and it adds sweetness, tang, and color to the curry in one step.  And if you happen to have a lime lying around, then you can have a satisfying dinner on the table and clean out your fridge while looking like a BOSS.  Watch how I pull together this almost instant homemade Shrimp and Tofu Coconut Curry in EPISODE 12 of Bits & Pieces:
I know my last recipe featured shrimp and tofu too since I made an Easy Shrimp Pad Thai.  But that's exactly the point!  As you know, our last episode was a collaboration between us and Lktoepfer from 6kidsProductions.  We know her as Lee, and she was one of our Kickstarter backers.  Producing an episode of our show was one of the rewards we offered.  For Lee's episode, she specifically wanted to learn how to make Pad Thai, but she also wanted my advice about what to do with the leftover ingredients.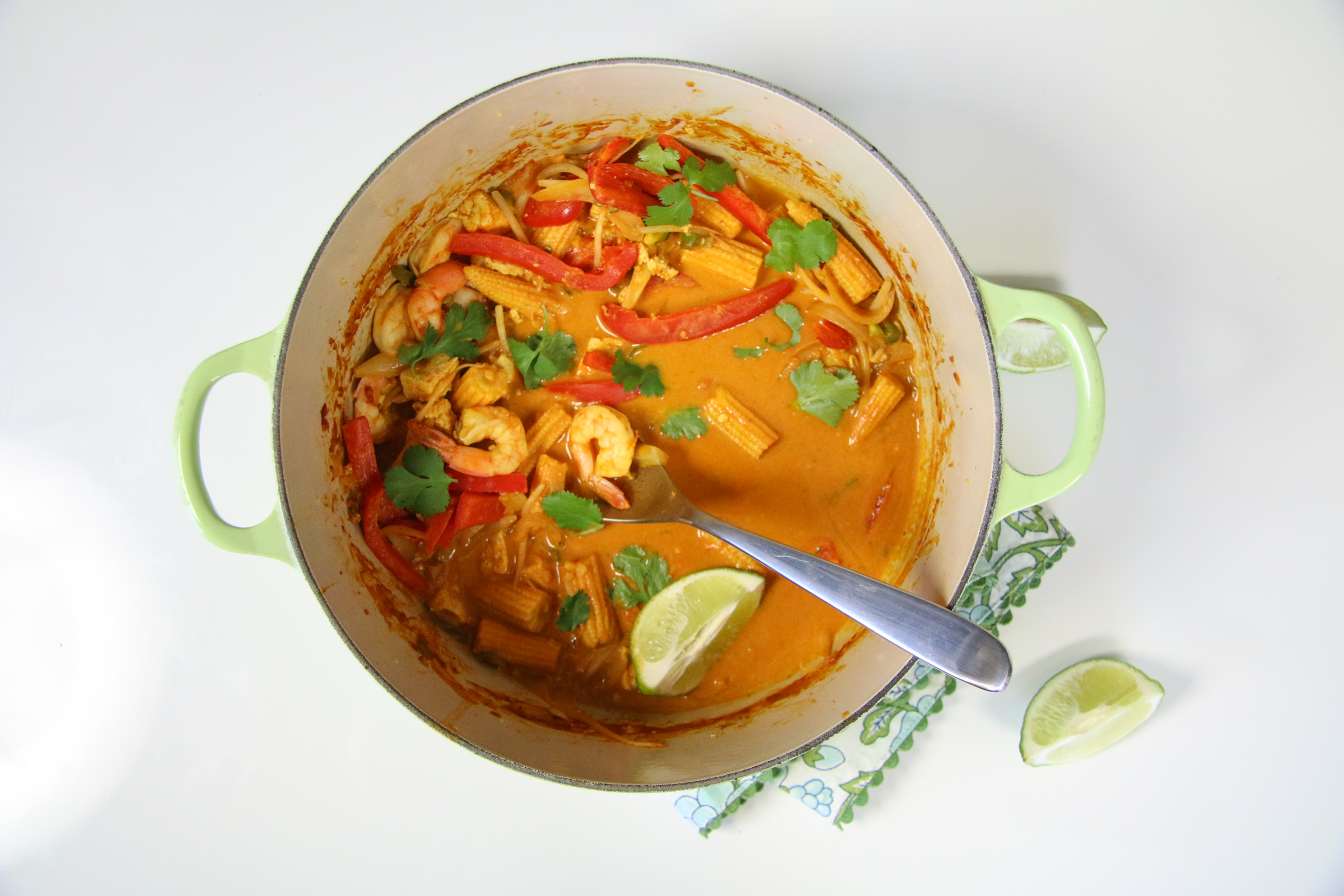 I thought that was a brilliant idea, and I figured this might help others too.  She told me that the very first time she attempted Pad Thai on her own, she was left with tofu and a bunch of bean sprouts melting away in her fridge.  She ended up eventually chucking them because she wasn't sure what to do with them and I thought that was a crying shame.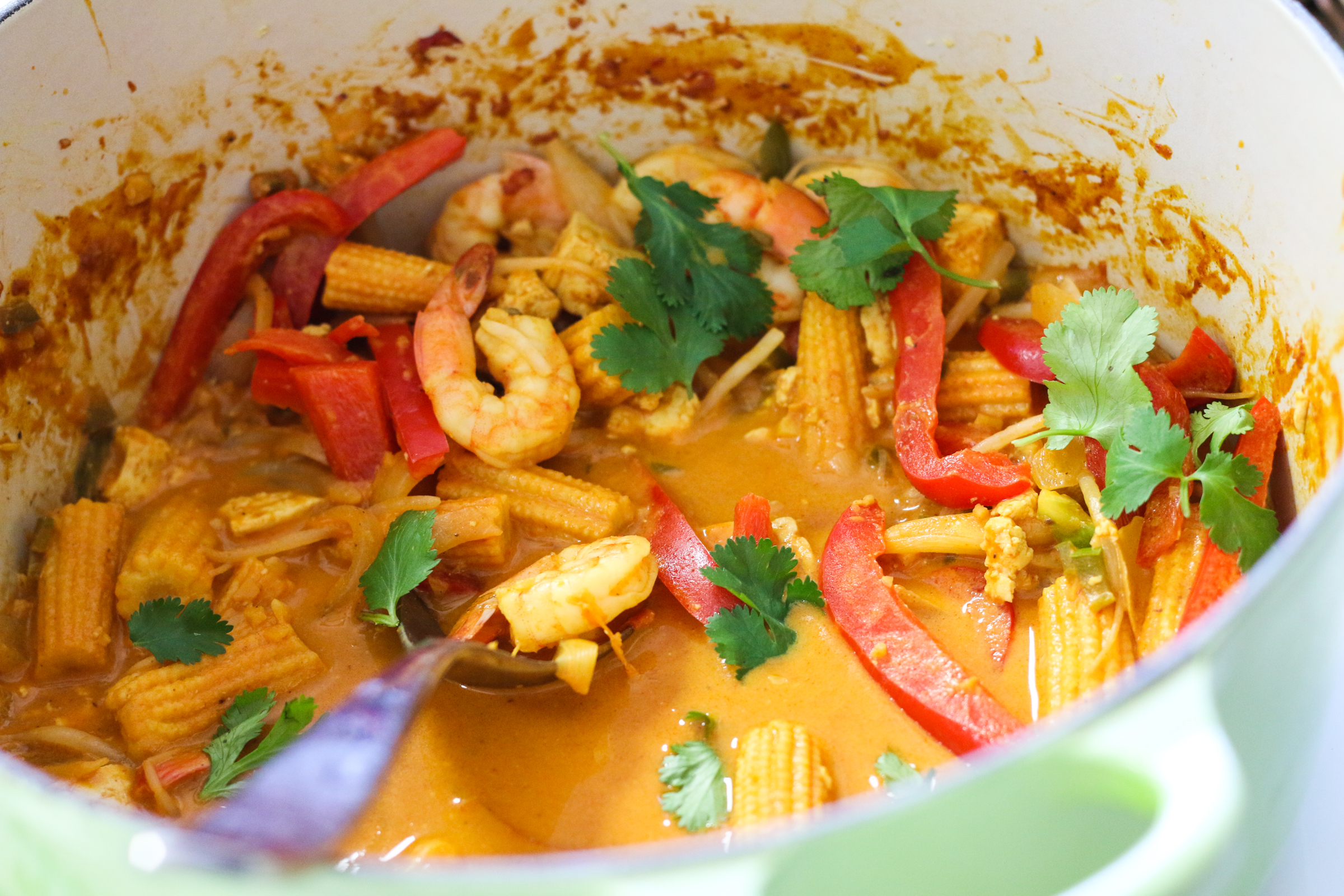 While she was talking, my brain immediately envisioned curry.  I thought, "Oh Lee… if only you had this recipe in your back pocket, you would've never thrown out your precious ingredients!"  So thanks to Lee's idea, we thought we'd make another collaboration video with her… sort of like an unofficial "part 2" to our Easy Shrimp Pad Thai recipe.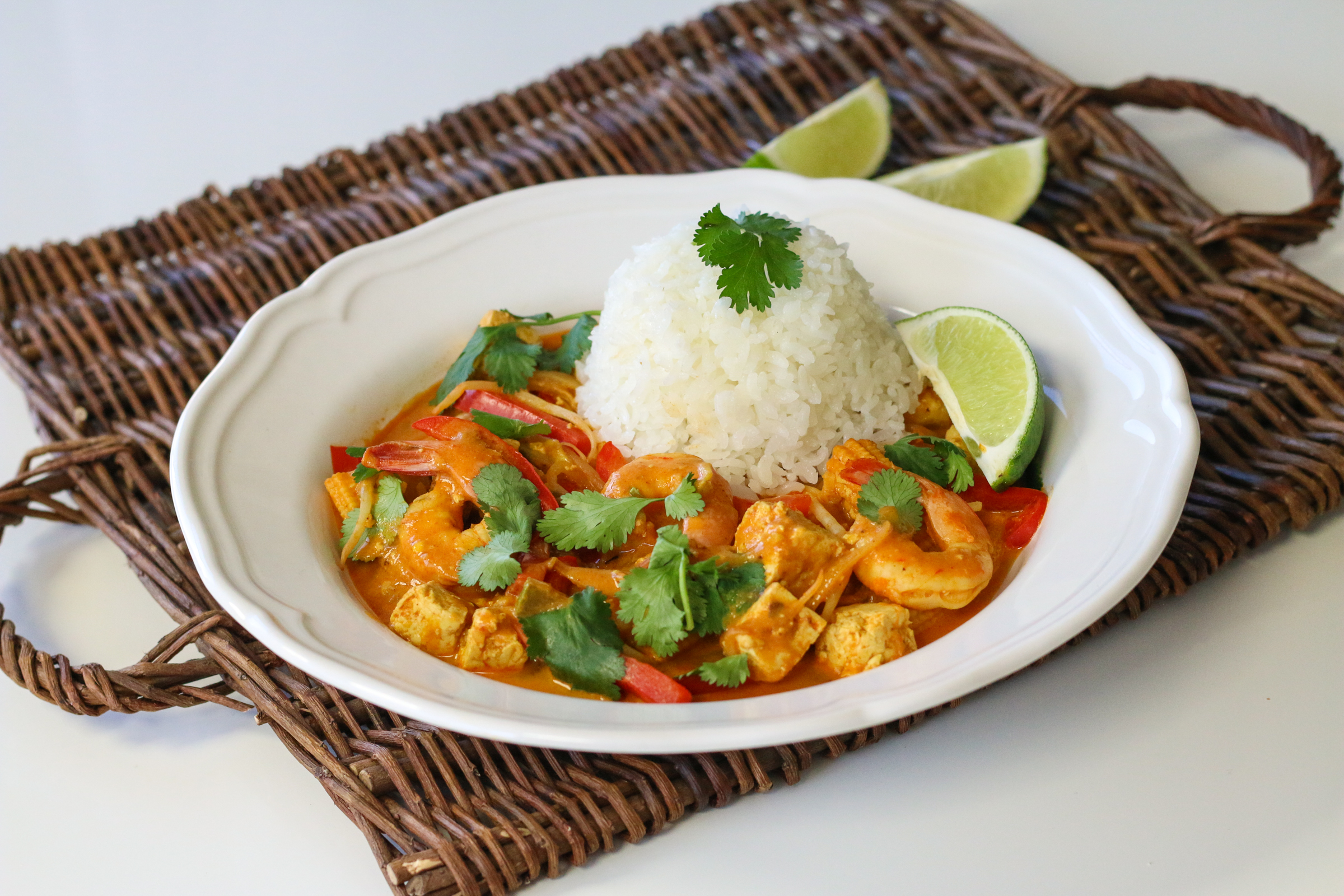 The cool thing is that I ended up repeating not only the tofu and bean sprouts, but several other ingredients too.  High fives to those who can figure out which ingredients they are.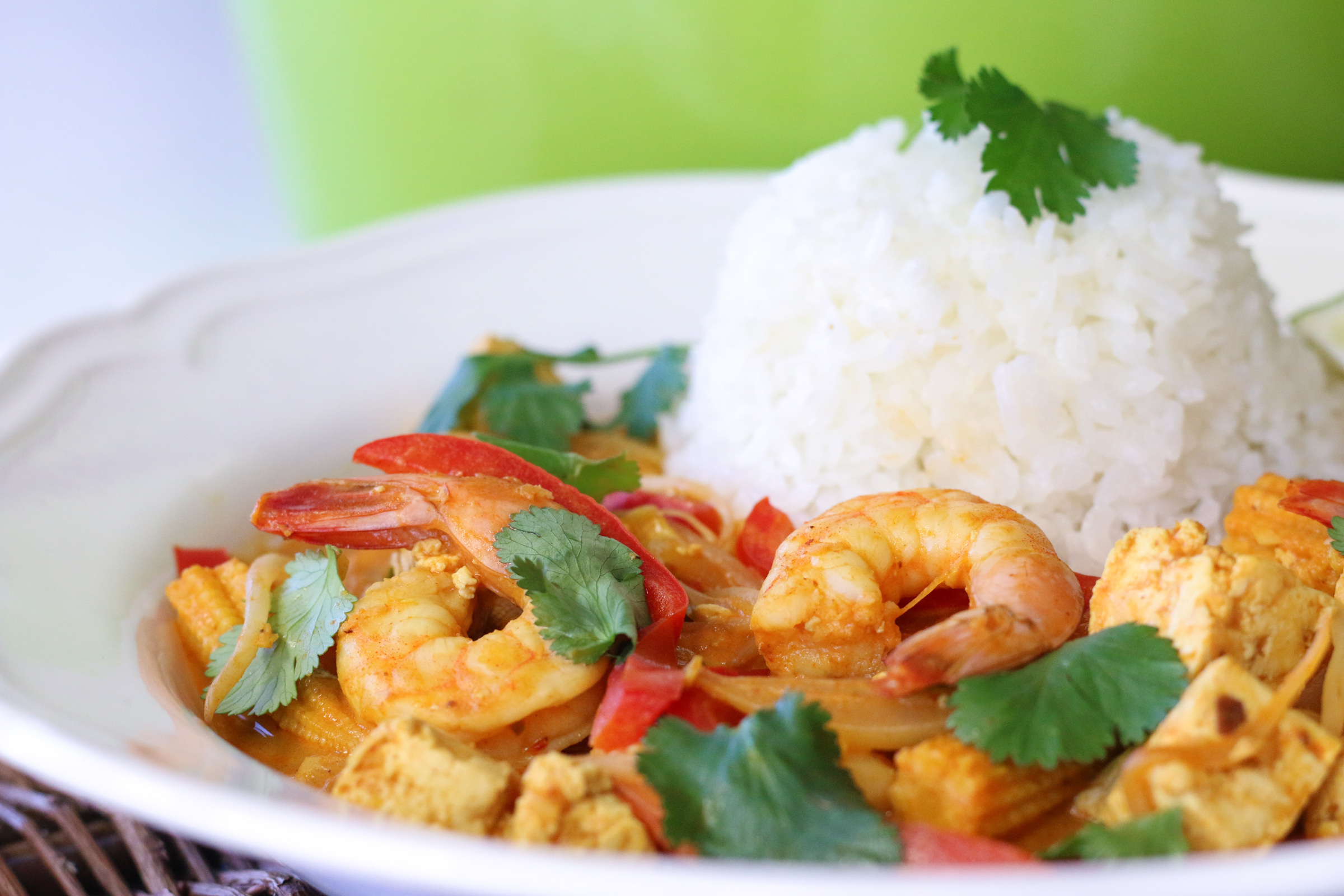 The tumeric from the curry powder, mixed with the tomato paste gives this coconut curry a beautiful warm glow and that's why I like to keep the colors of the vegetables warm too.  Then I add that pop of bright green with some fresh cilantro leaves and a garnish of lime wedges at the end.  But feel free to add whatever your little heart desires.  Don't worry, I won't come knocking on your door while wagging my finger at you.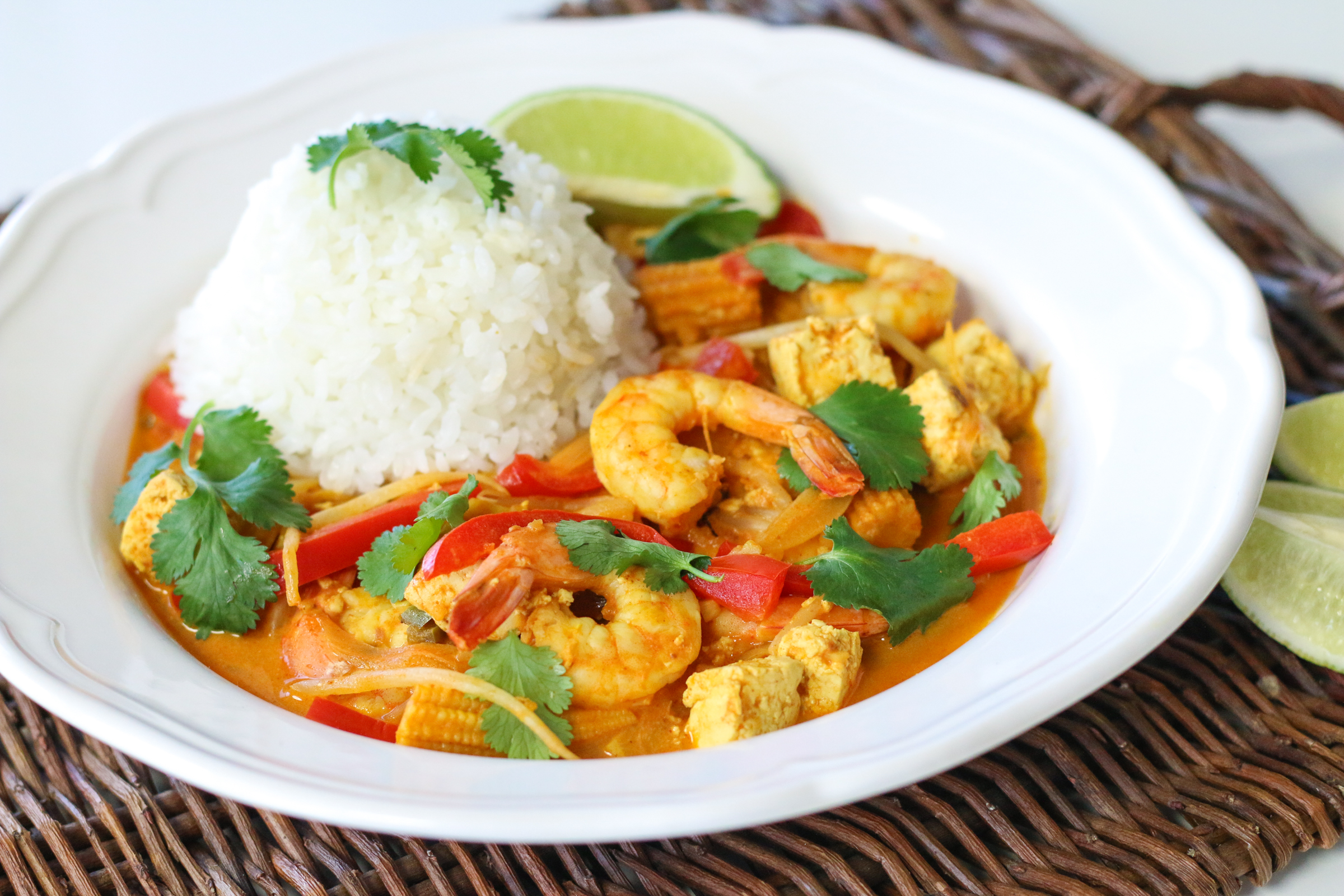 Using shrimp and tofu keeps this curry light, while the bean sprouts add a refreshing texture and crunch.  The warm curry powder adds spice, the ginger and jalapeno add heat, and the creamy coconut milk adds luxuriousness, as if it's hugging your taste buds.  I think it's bold and balanced, but I won't say that this curry is of Thai, Korean, Malaysian, or Indian descent.
I'm not sure what it is, but somehow it still tastes familiar and comforting.  I actually made this for my friend and her words exactly were, "hey… this is like legit curry." Dunno what that means, but there you go.
So the lesson of the day is…no more throwing out perfectly good ingredients from now on, okay?  Next time, throw them into this curry instead.  You'll make someone happy and the world will be a better place.

Shrimp and Tofu Coconut Curry
The tomato paste is the surprise ingredient in this dish, but trust me, it works! Using shrimp, tofu, and bean sprouts helps keep this curry feeling lighter. But throw in anything you want and call it a day.
Ingredients
2 tablespoons canola or vegetable oil, divided
2-inch piece of fresh ginger, peeled, and minced
3 cloves of garlic, minced
1 jalapeno, finely chopped (ribs & seeds removed if you want)
1 medium onion, thinly sliced
3 teaspoons mild curry powder
2 tablespoons tomato paste
1 cup unsweetened coconut milk (and ¼ cup water if needed)
2-3 tablespoons soy sauce
1 red bell pepper, sliced
1 (15-ounce) drained can of baby corn, cut into bite sized pieces
9 ounces (½ package) of firm tofu, cubed
½ pound shrimp, peeled and deveined
2 tablespoons fresh lime juice, plus extra lime wedges for serving
1 cup bean sprouts
Cilantro leaves for garnish
Instructions
In a wide pot or deep pan, heat 1 tablespoon of oil and add the onions, garlic, ginger, and jalapeno. When they start to soften a bit, add the remaining tablespoon of oil and the curry powder. Cook it in the oil for about 30 seconds. Add the tomato paste, and cook for 30 seconds more.
Add the coconut milk (shake the can well first), and 2T of soy sauce, whisking it in if necessary. Bring to a boil. If you feel like you need to thin it out, you can add ¼ cup of water. Add the peppers and tofu. Cover and cook for 3-5 minutes.
Add the baby corn, and then shrimp. Cover and cook for 1-2 minutes more, or just until the shrimp are cooked. Add the sprouts and lime juice. Taste the sauce and add the remaining soy sauce if needed. Ladle the curry sauce over rice or rice noodles. Garnish with fresh cilantro leaves, and serve with lime wedges.