Bacon Wrapped Chicken with Acorn Squash Salad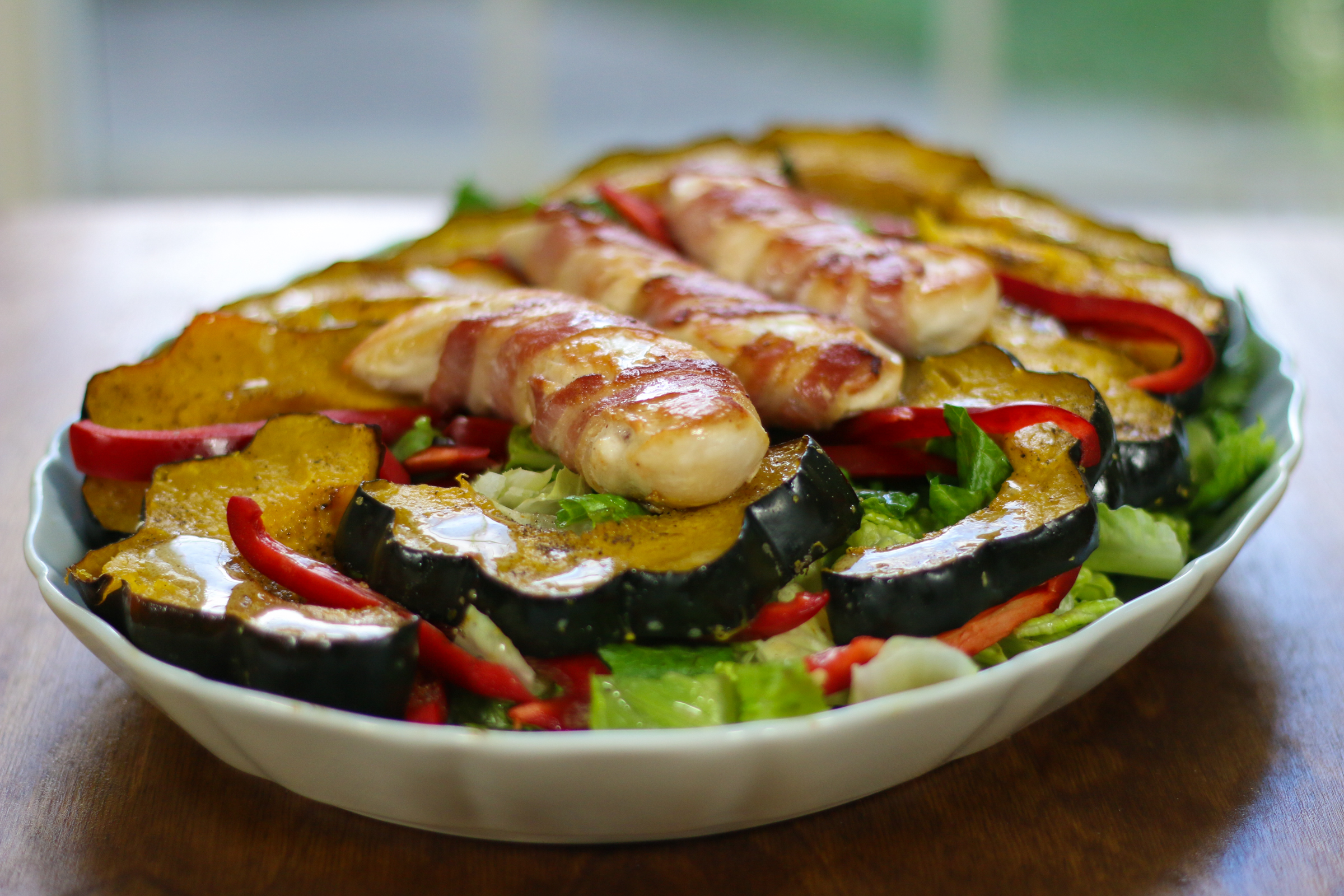 You guys…today, we're coming to you with trumpets blaring, because our very first episode of Bits & Pieces is here!  I can hardly contain myself.  It took a Kickstarter project and a cross-country move for Joe and I to be able to produce our new online cooking show, but we did it!  We seriously cannot thank our Kickstarter backers enough for believing in us in advance.  None of this would've been possible without you guys.  Be sure to look for your name in our new Partners category.  This entry is dedicated to you.  
To start out Season 1 right, I wanted to take advantage of the available seasonal produce, and right now, that's all kinds of squash.  You add bacon to the mix and well my friend, that's a win in my book.  And I think it will be a win in your home too.  The combo of sweet acorn squash with a crisp bright salad, served alongside savory bacon wrapped chicken is truly a dish worthy of our first video.  So with gratitude, pride, and joy, we offer you EPISODE 1 of Bits & Pieces:

I hope you like it.  Let us know what you think.  Leave a comment below and feel free to post or share this video with your friends.  Help us get the word out that Bits & Pieces has hit the scene.  You can always check back here for new episodes, or make your life easier and subscribe to our youtube channel: chefjulieyoonvideos and you'll automatically receive email notifications whenever we post new videos.
Thanks for watching.  Now go make this for dinner tonight.

Bacon Wrapped Chicken with Acorn Squash Salad
What's better than bacon? Not much. When you pair bacon wrapped chicken with sweet acorn squash salad, all is right with the world.
Ingredients
8 slices of Bacon
8 Chicken Tenderloins

For the Acorn Squash Salad
1 Acorn Squash, well scrubbed, skin left on
2 hearts of Romaine Lettuce, chopped
1 red bell pepper, seeds removed, and sliced thinly
2 tablespoons White wine vinegar
2 teaspoons Dijon mustard
¼ cup Olive Oil
Salt & Pepper
Instructions
Preheat the oven to 450 degrees. Remove the ends of the squash, and then cut it in half. Remove the seeds, and slice into ½-inch wedges cross-wise. When you roast it, the skin will be soft and edible. Place on a parchment paper-lined baking sheet. Toss with 1 tablespoon of olive oil and a good sprinkling of salt and pepper. Cook for 30 minutes, flipping once, halfway through, until tender and golden brown. Allow to cool slightly.
Wrap each tenderloin with 1 piece of bacon. No need to season them with salt first, but you can lightly if you want. In a large pan, add a little oil, and then place the bacon wrapped chicken on top. Cook in batches if necessary. Over medium heat, cook on one side for 6 minutes. Allow the bacon to develop a crust and become easier to flip without sticking. Turn, crisp on the other side for 4-5 minutes or until chicken is thoroughly cooked. Drain on a paper towel lined plate, then cover with aluminum foil to keep warm.
Make dressing by whisking white wine vinegar, mustard, olive oil, salt and pepper. Place chopped romaine and sliced peppers on a plate or platter. Drizzle with dressing. Put cooled acorn squash slices on top. Serve with warm chicken tenderloins.