Savory Salami Chopped Salad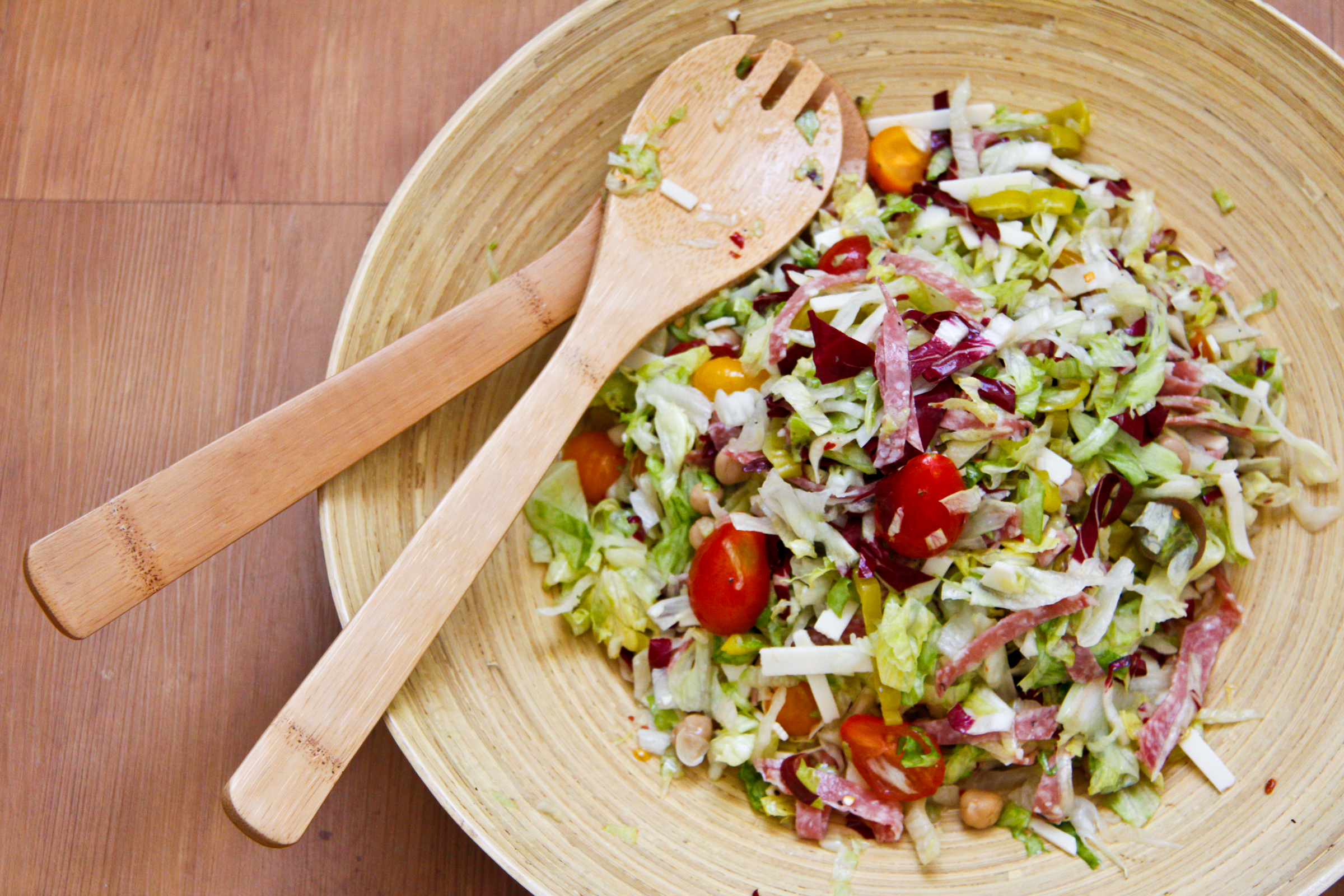 I love me a light, fresh, and healthy salad any day. Check out my jicama, fennel, and green apple slaw or watch our orange and honey steak salad video. But there are those moments when you want a salad to feel hearty and satisfying too, right? No? Is it just me? Anyways, you may have seen my video blog about my dinner at Pizzeria Mozza with my friends. At Mario Batali's new restaurant in Newport Beach, we dined on delicious pizzas, but also this amazing salami-laden zesty salad, called "Nancy's Chopped Salad." It was truly an eye-opener.  
It's basically a good antipasto salad, but all chopped up and thrown together beautifully.  Now, I am a big fan of tasting something at a restaurant and then trying to mimic it at home, my own way.  Well let me just say, I made this salad for 4, and we killed that bad boy in an instant.  Everyone agreed it was tasty, fresh, and hearty, yet somehow still light!  This would be a perfect side dish to your pizza or pasta, or a great first course.  We happened to eat it for our main meal for lunch, along with some roasted garlic bread, and it was perfection.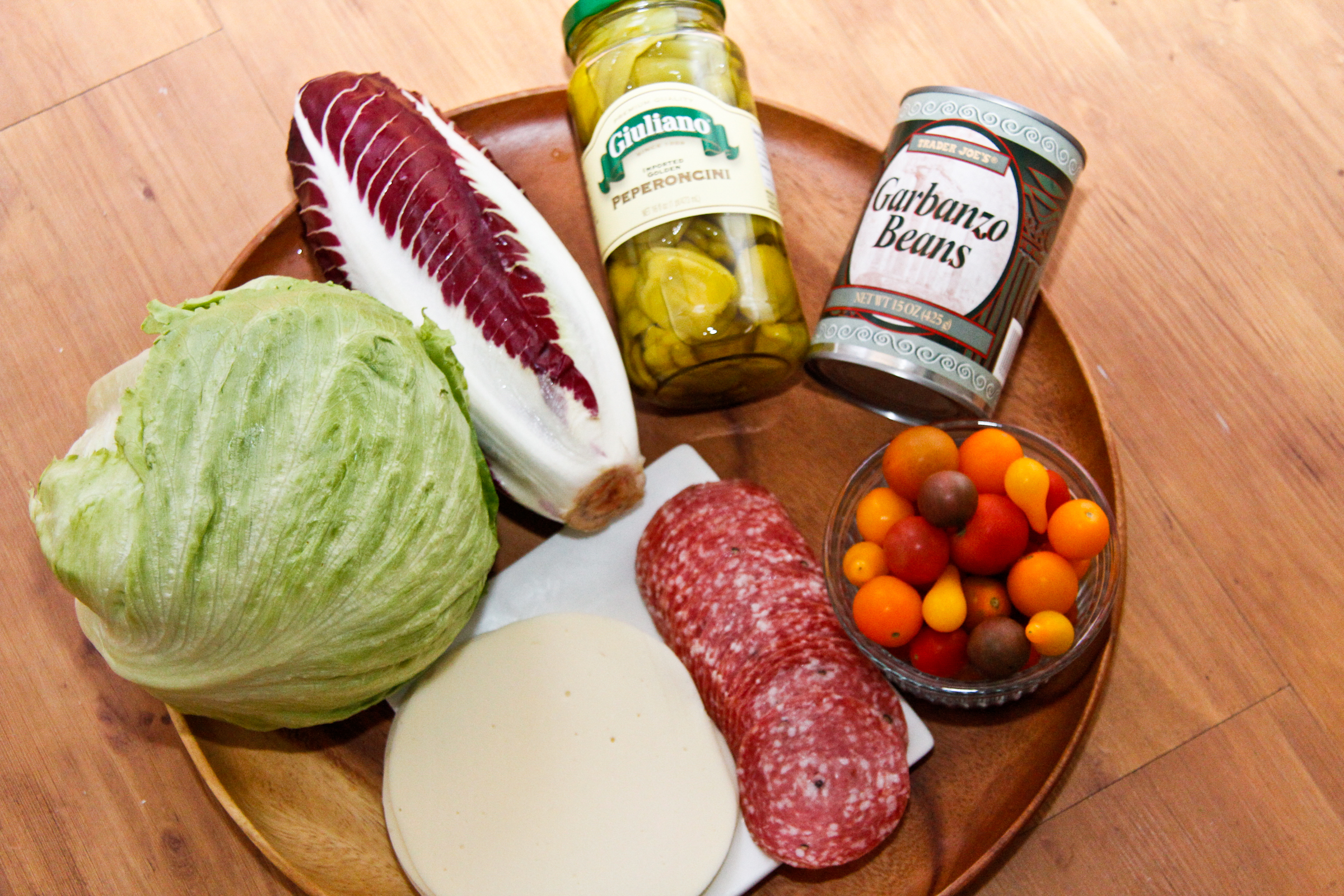 Let's talk about lettuce.  We need two kinds.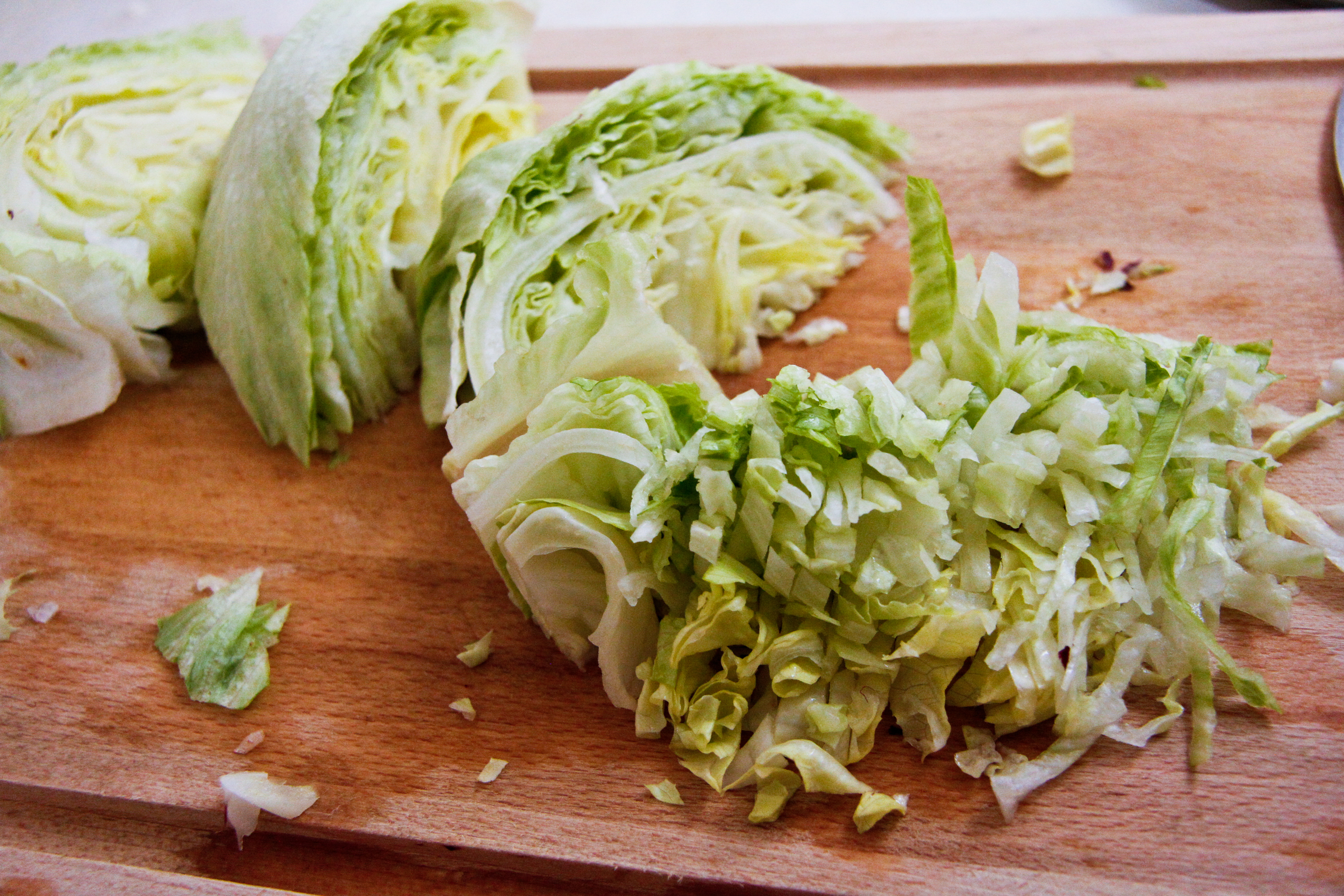 One is refreshing iceberg lettuce, either chopped or in my case, chopped AND shredded.  FANCY!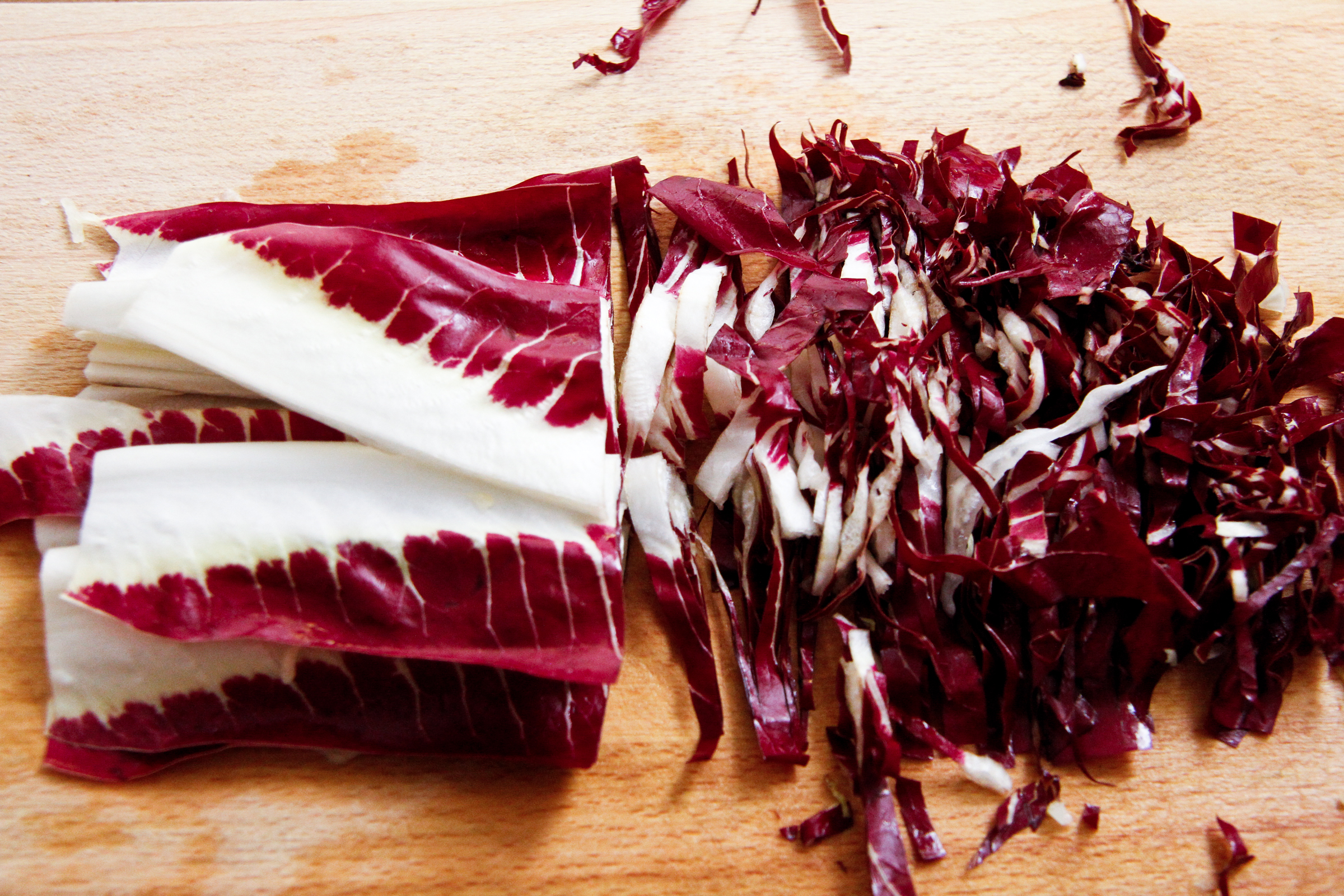 And then don't forget the raddichio…. gorgeously red and slightly bitter raddichio really gives this salad character and balance.  It's just not the same without it.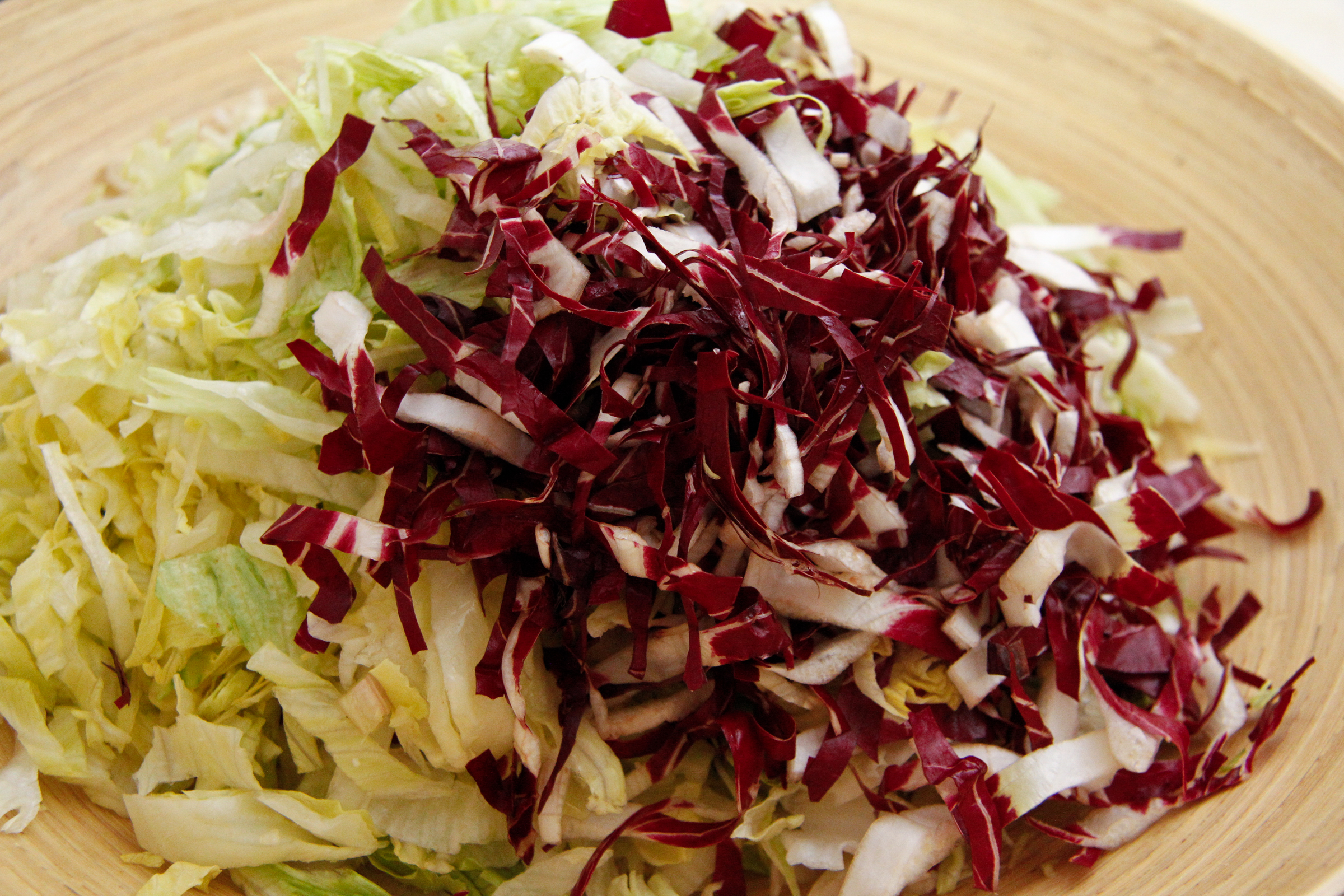 You pile both lettuces into a big salad bowl, and move onto the star of the show.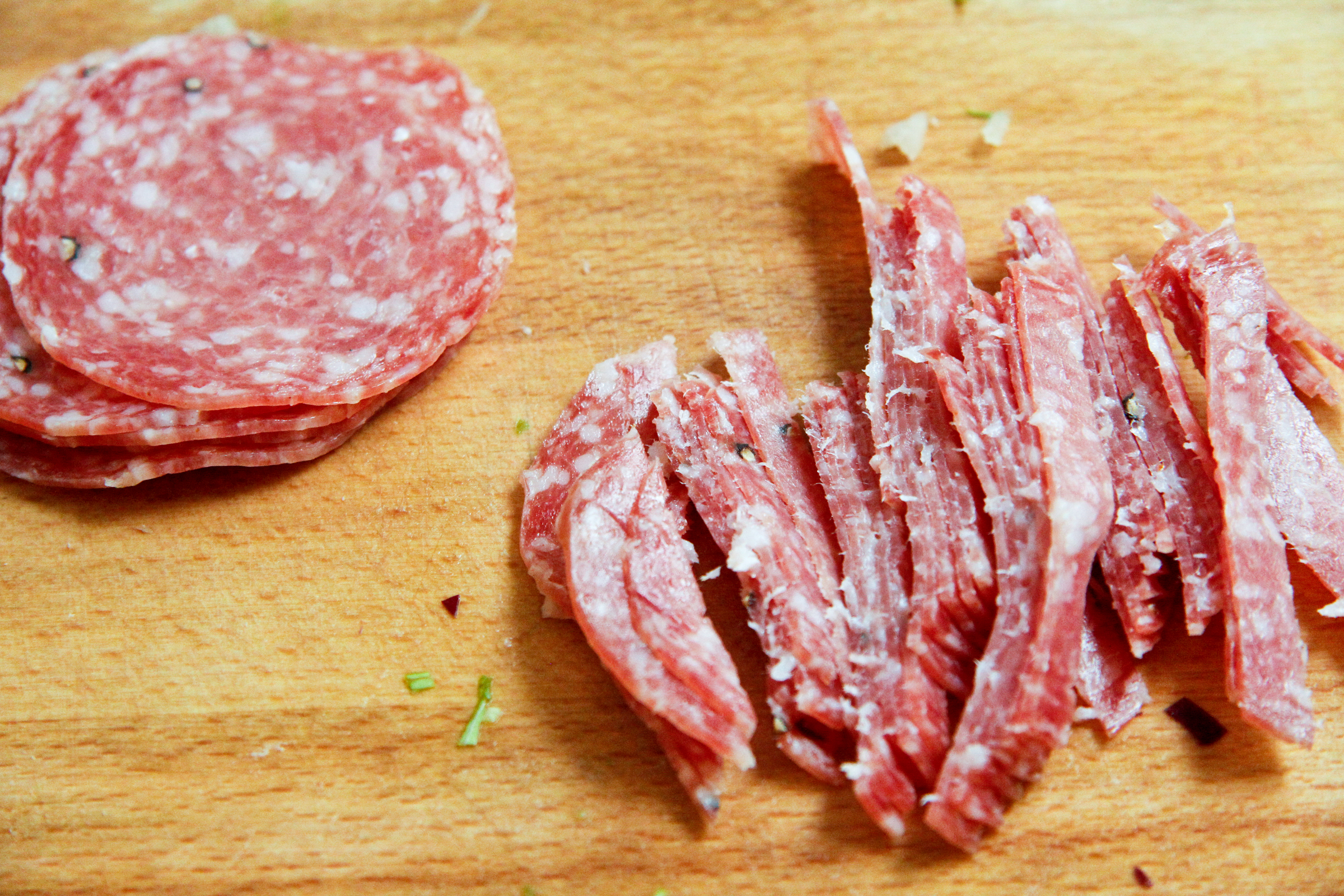 I think what had me at hello was the salami, and lots of it.  That's why in my home version, I felt the need to call it a "savory salami chopped salad."  You should be able to get a little bit of salami with every stab of the fork.
And it doesn't hurt to throw in some cheese.  Sliced provolone cheese does the trick.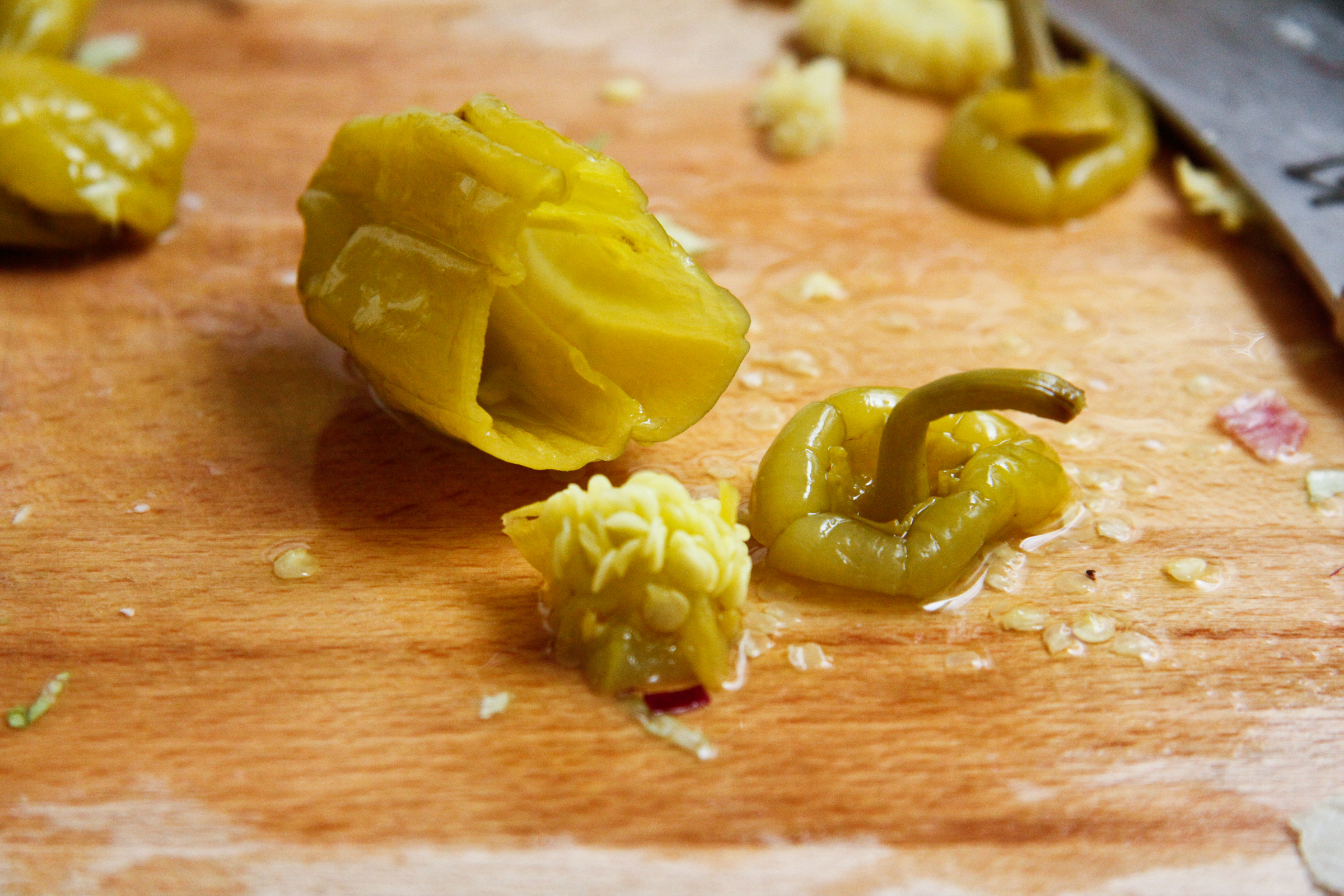 Pepperoncini from a jar are the perfect sour and slightly spicy bite you need to balance out all that salami and cheese.  Chop off the stems and remove the seeds.  Then slice them into thin rings.  Scatter them on top of everything else.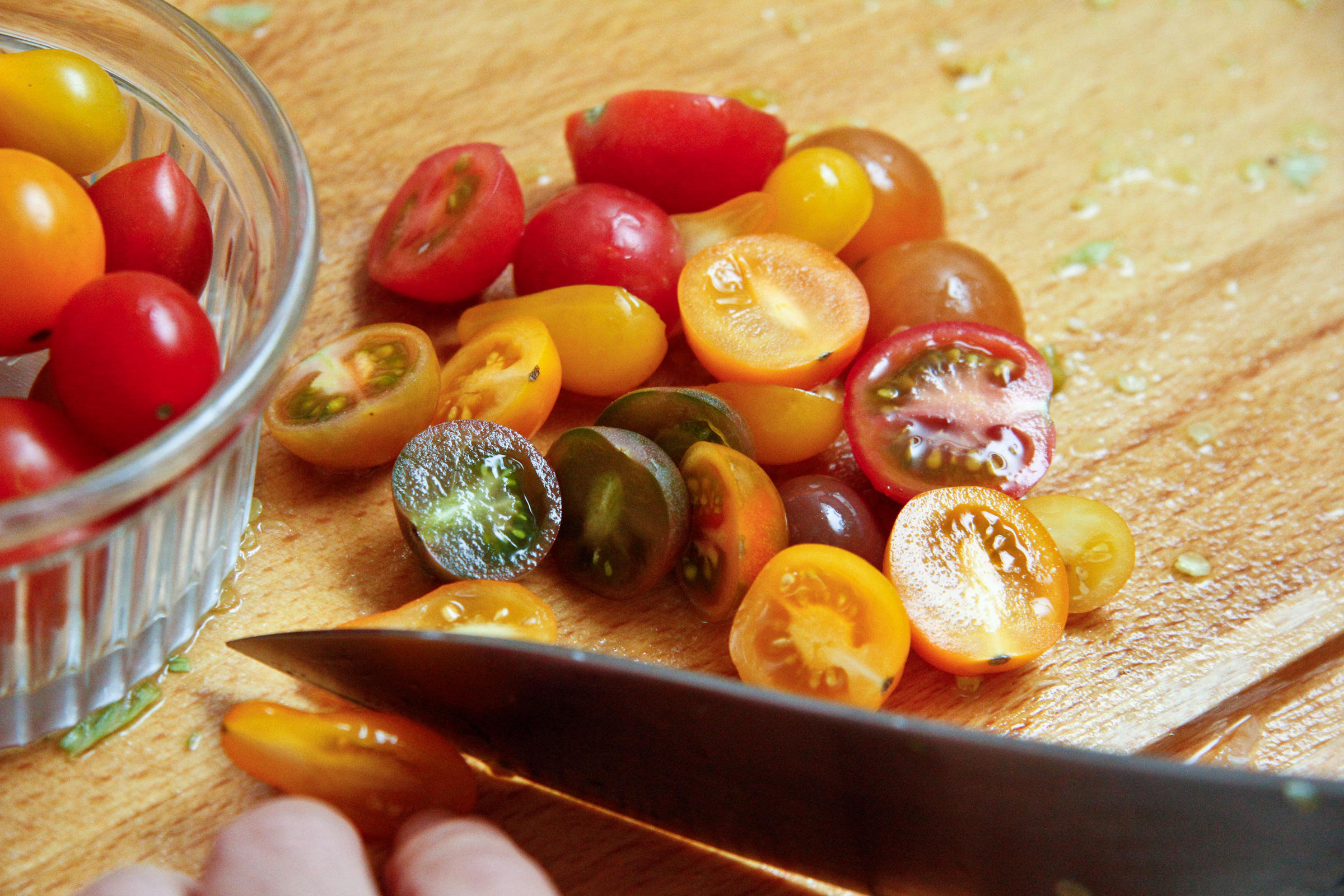 Okay, I'm not usually from the school of "buy this weird ridiculous ingredient or else your dish will be ruined," but in this case, I got these gorgeous baby heirloom tomatoes from Trader Joes, and they changed my life.  Not only did they add pizzazz and color to the salad, but they were just so darn tasty.  If you can find them, use them.  Otherwise, the trusty cherry tomato will do just fine.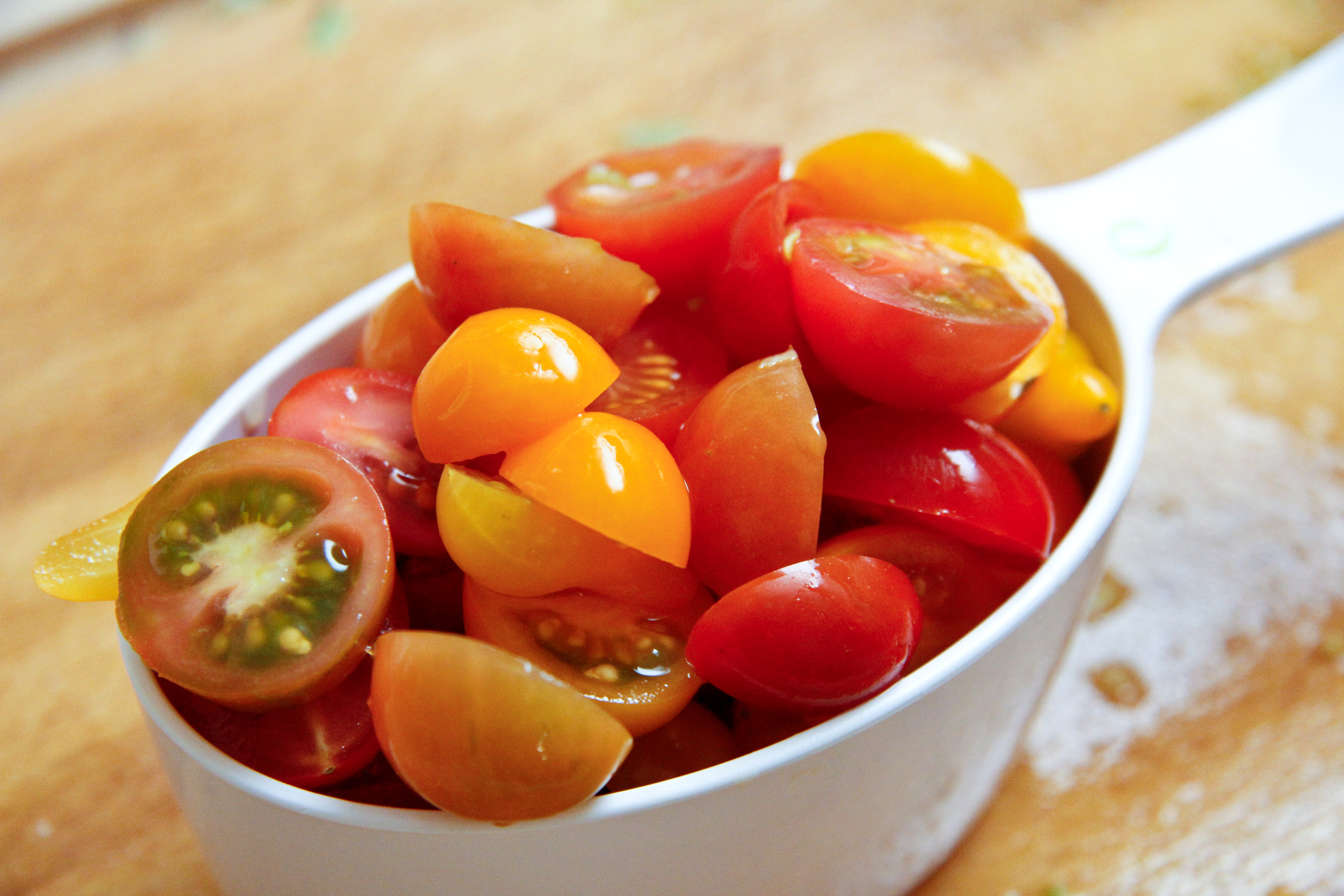 Measure out a full cup of tomatoes after they're cut in half, and strew them around the lettuce.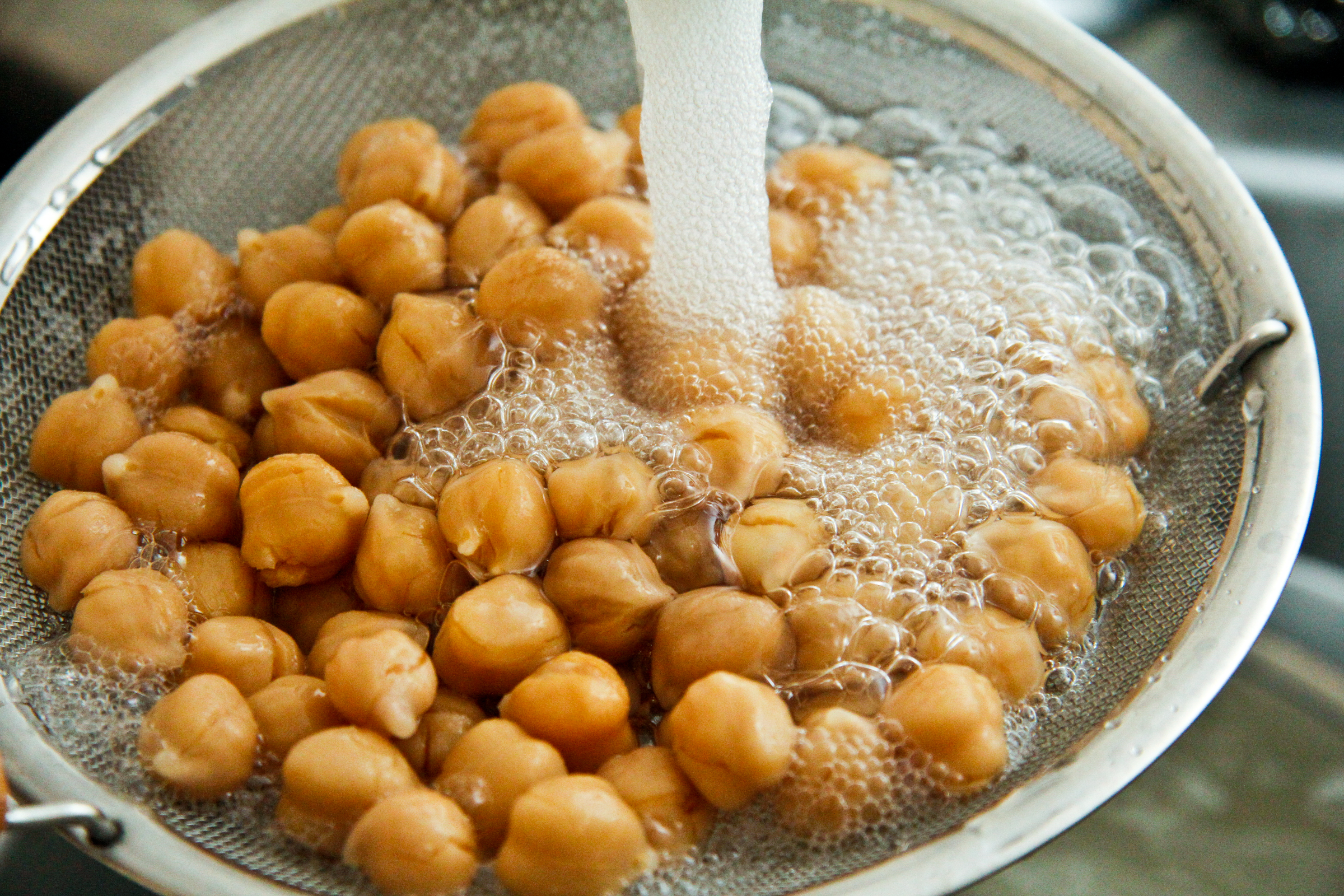 The final touch is garbanzo beans from a can.  I'm sure Mario Batali would gasp at me for failing to soak my own dried chickpeas overnight and cooking them myself, but I'm pretty certain Mario does not read my blog, so it's okay.  Just rinse them with water and they're good to go.  The chickpeas make this salad extra hearty and satisfying.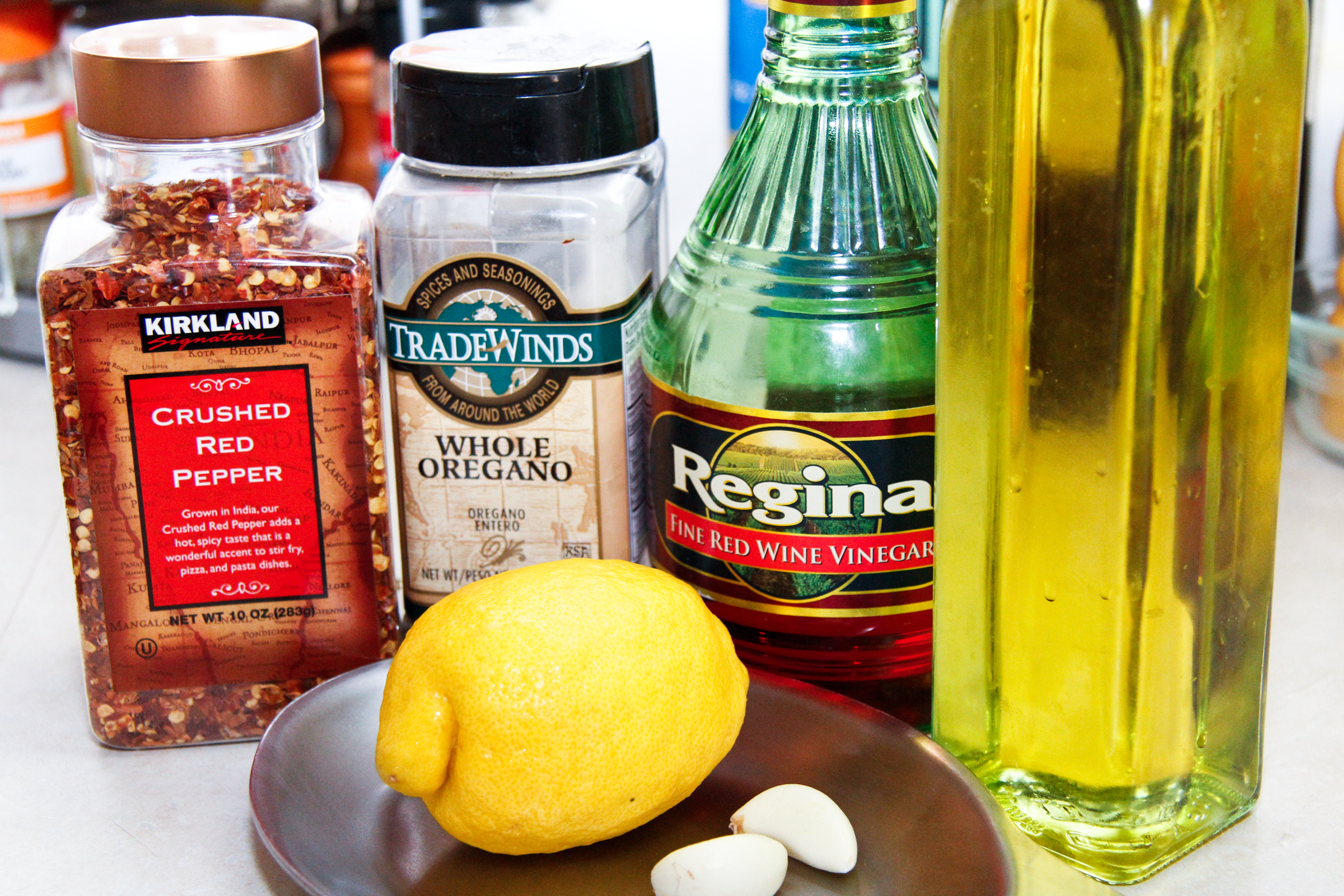 Finally, now that all your prep is done, move onto your simple, yet robust and zesty dressing.  Guess what the secret ingredient to this dressing is… oregano and lots of it!  Without it, the salad would definitely be missing that "hmm what is that" quality, so don't leave it out.  Seriously… I'm telling you what to do.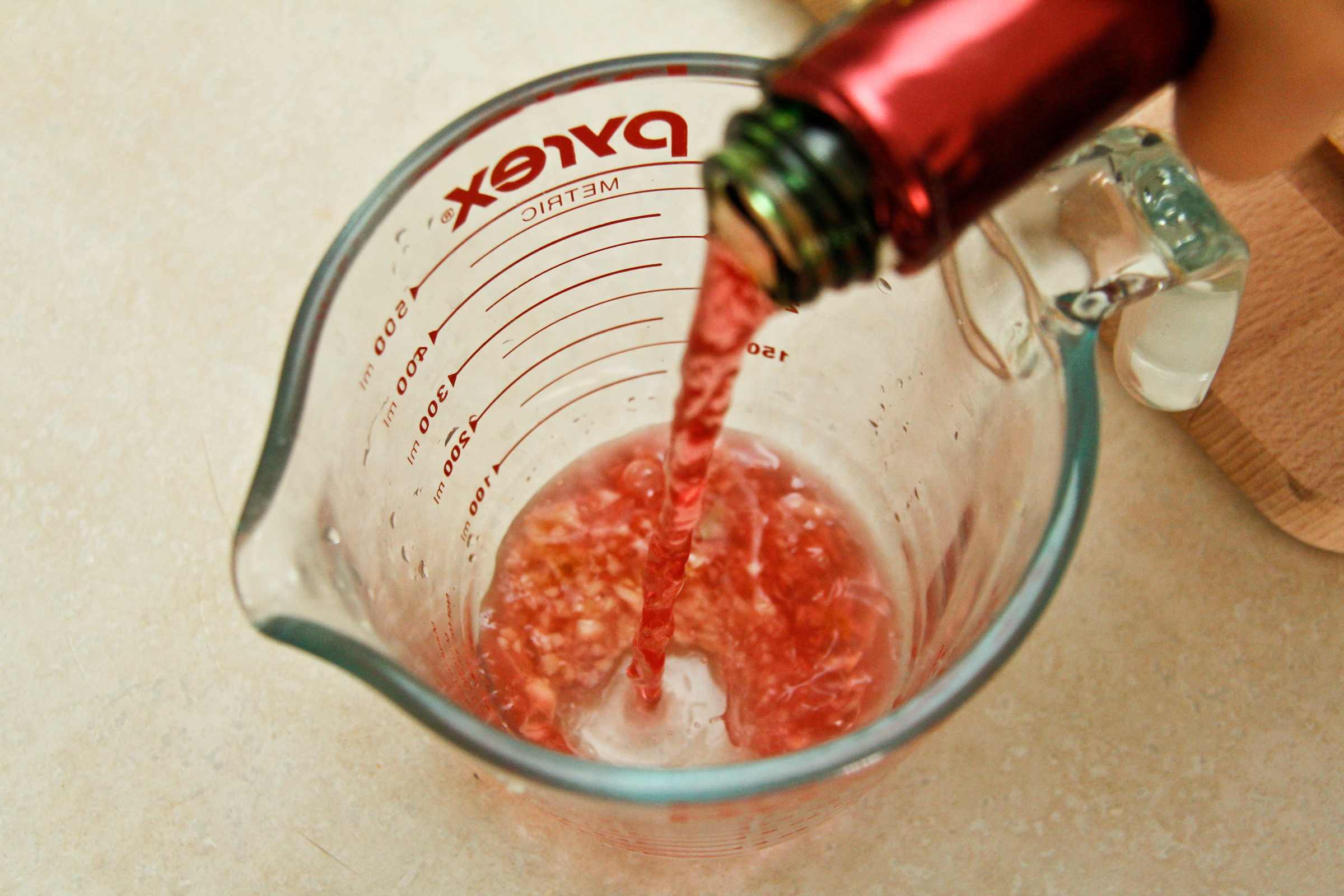 It all starts out with red wine vinegar.  Yeah, technically you can use whatever vinegar you want, but you know what… red wine vinegar has a particular sharp taste to it that I think can't be replaced.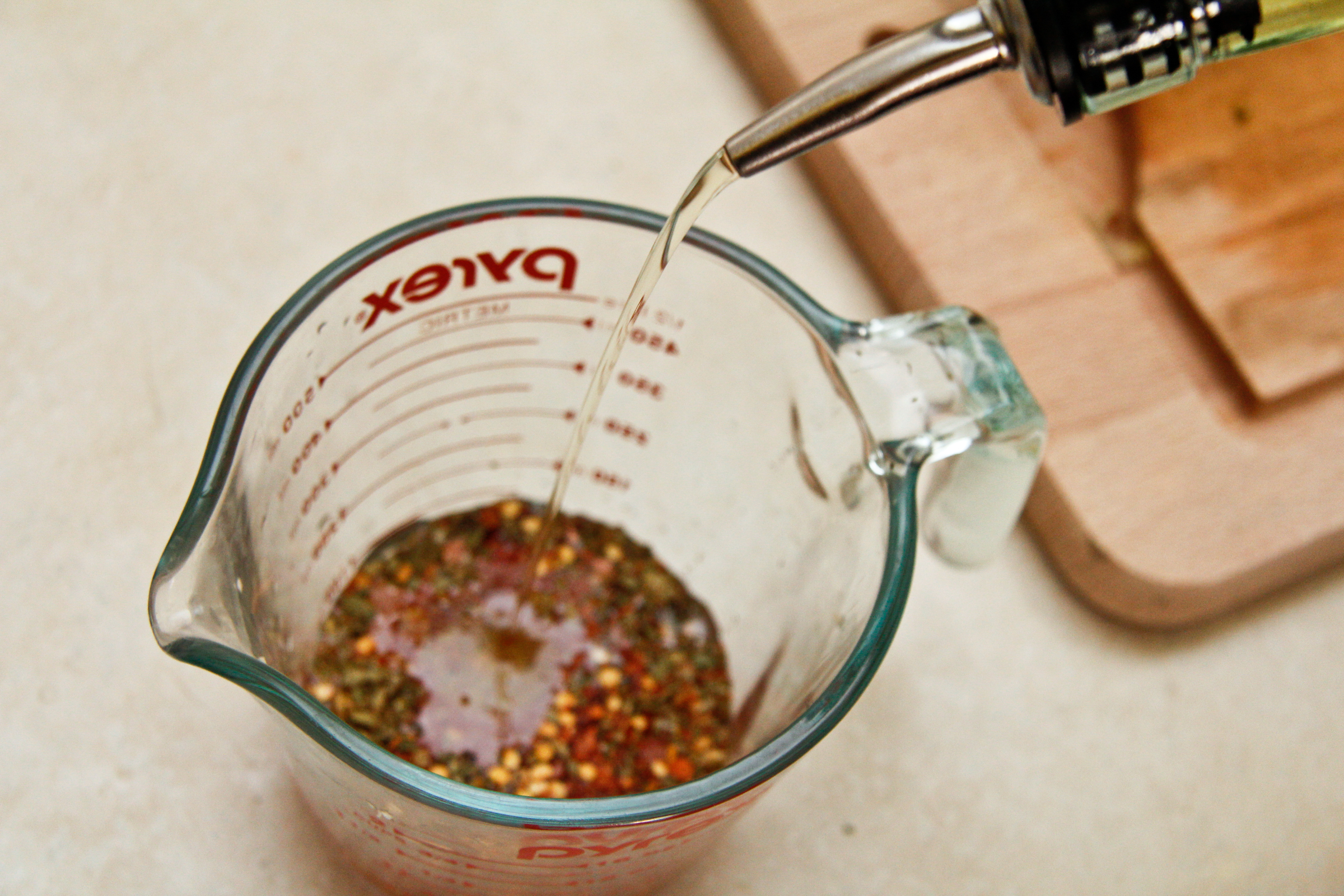 After you add your minced garlic, dried spices, and a touch of honey, stream in your olive oil…
And whisk away until it gets nicely emulsified into a unified dressing.
Then drizzle….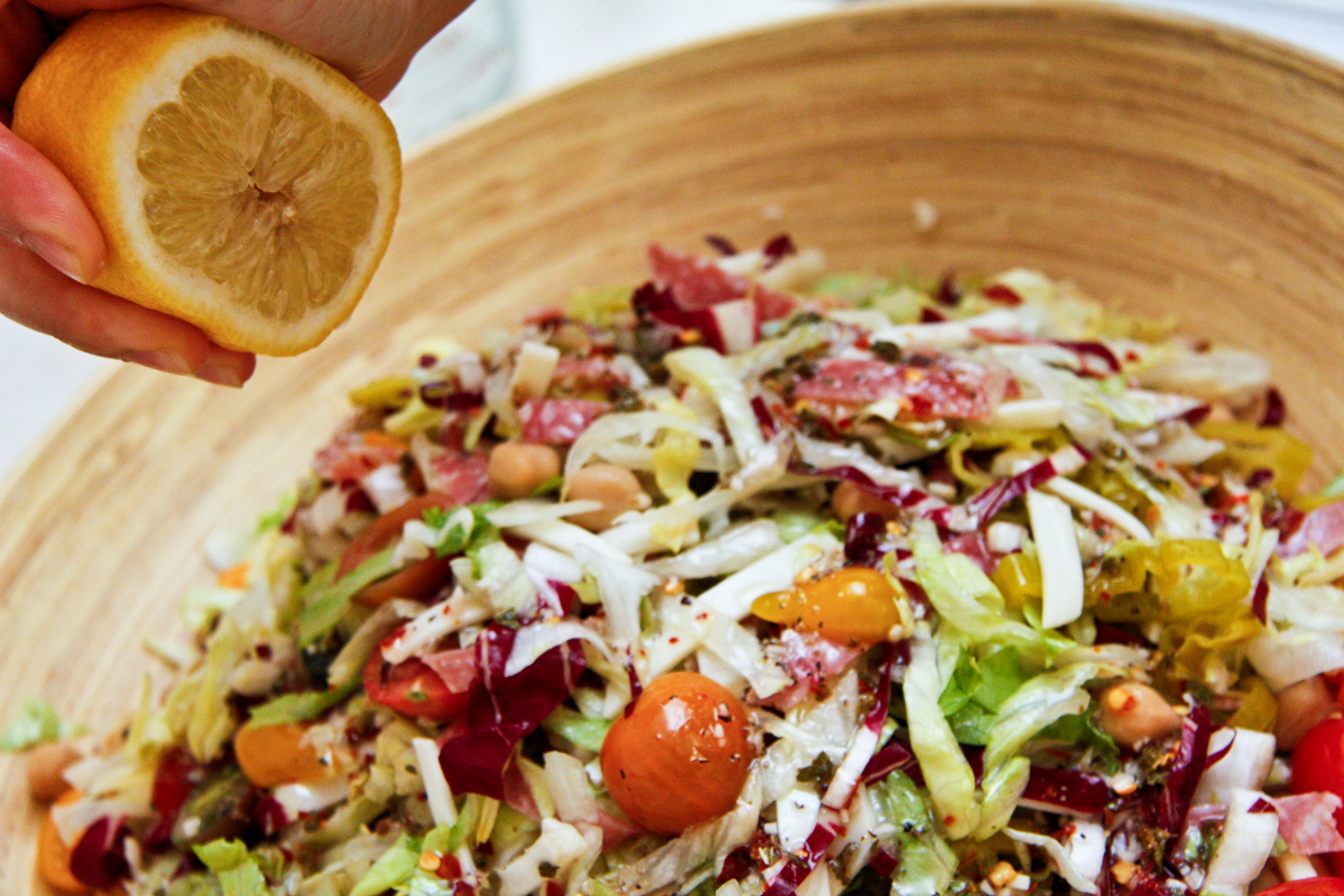 And squeeze.  Squeezing the lemon on top, rather than incorporating it into the dressing adds that extra freshness to the whole shebang.  Finish off with a last sprinkle of kosher salt and black pepper.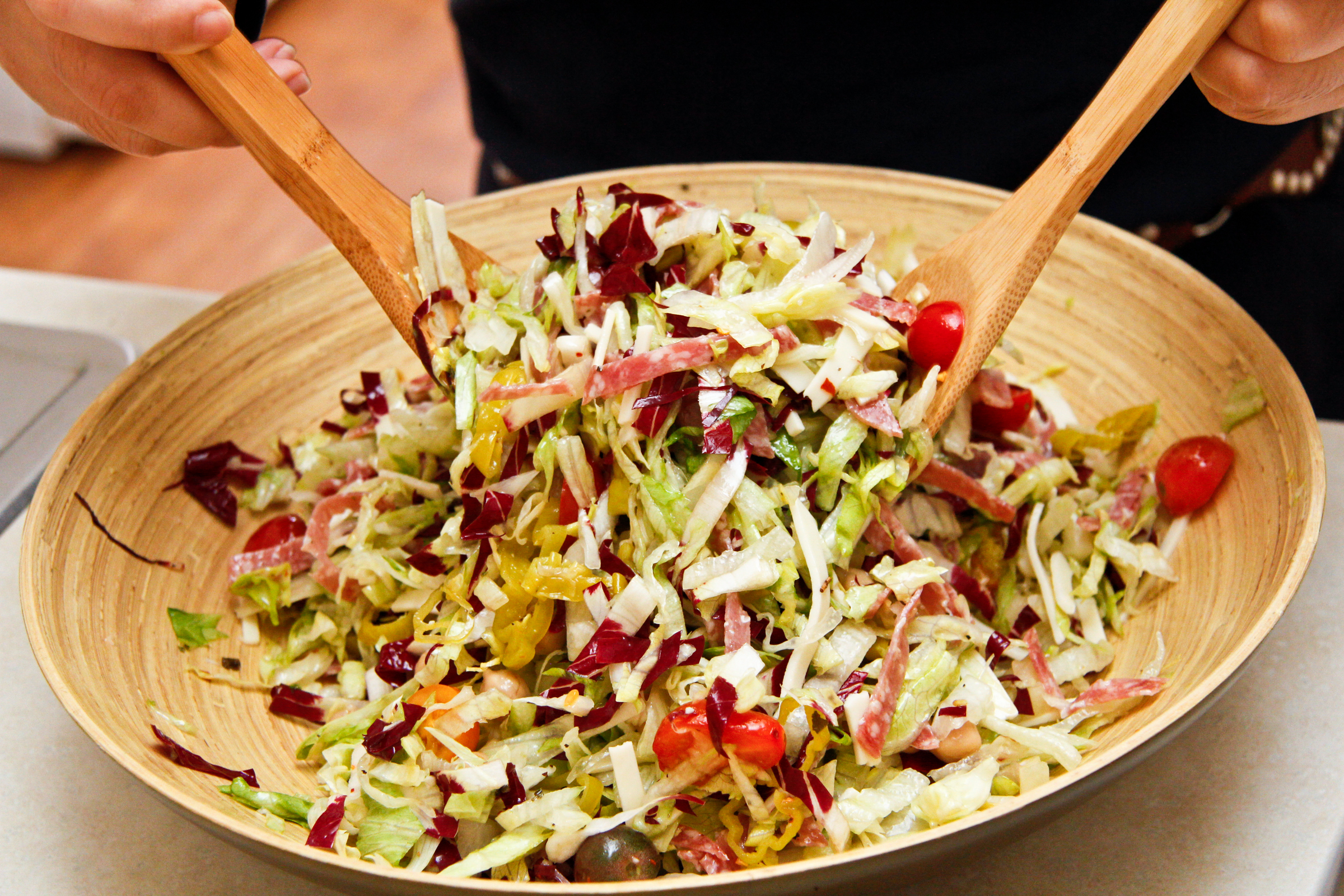 Toss lightly, because you don't want your gorgeously fresh salad to wilt.  Take a bite and then take a bow.  You've just made a restaurant-quality salad, my friend.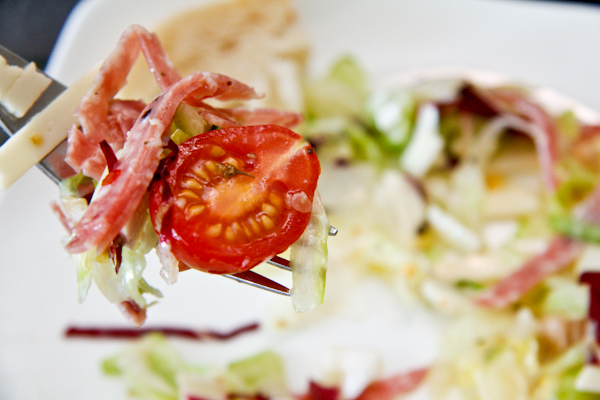 My friends LOVED it, and the only thing they complained about were my "anorexic forks," because they were too skinny and couldn't pick up enough salad in one go.  Haters…
So bottom line, I ain't no Iron Chef, and I don't own multiple restaurants, but I still think I made one darn good salad.  You can be the judge of that, and try out this zingy fresh salami and cheese filled salad for yourself.  It's great "party" food, and it will please your guests.  Yes, there's a lot of chopping involved, but you can get a work out before you fill your body up with salami.  So really, this is a win-win situation, and everyone will be happy.

Savory Salami Chopped Salad
This zesty salad is truly scrumptious and has everything you ever need in life in it.
Ingredients
For the salad:
1 head of iceberg lettuce, cored, and finely chopped or shredded.
7 raddichio leaves, thinly shredded
22 pieces of pre-sliced salami from a package, thinly sliced into strips
4 pieces of provolone cheese, thinly sliced into strips
6-8 pepperoncini, stems & seeds removed, and thinly sliced
½ of a 15-ounce can of garbanzo beans, rinsed and left whole
1 cup of halved mixed baby heirloom, or cherry tomatoes (see tip below)

For the dressing:
¼ cup red wine vinegar
2 garlic cloves, finely minced
½ teaspoon kosher salt, plus a little extra for sprinkling
½ teaspoon black pepper, plus a little extra for sprinkling
½ teaspoon crushed red chili flakes
1 teaspoon of dried oregano leaves, crushed with fingers
A squirt of honey, to taste
¼ cup olive oil
½ a lemon, to squeeze on top
Instructions
Chop up all the ingredients for the salad. Place in a large salad bowl. Add the rinsed whole garbanzo beans and the halved mixed baby heirloom, or cherry tomatoes. Lightly toss together.
Assemble the dressing by adding the vinegar, minced garlic, salt, seasonings, and a squirt of honey to a small bowl. Gradually stream in the olive oil, while whisking until it is nicely emulsified and combined. Pour as much or as little as you like over the salad, and squeeze the fresh lemon juice on top at the end. Sprinkle lightly with more kosher salt and black pepper on top, and toss lightly. Do not over-toss or the salad will start to wilt. Serve immediately.
TIP: If you have the time and you want to ensure that your salad will not be "watery," place the halved tomatoes in a sieve, and sprinkle them with ¼ teaspoon of kosher salt. Let stand for about 20 minutes to drain out the excess water from them first, and then add them to your salad.