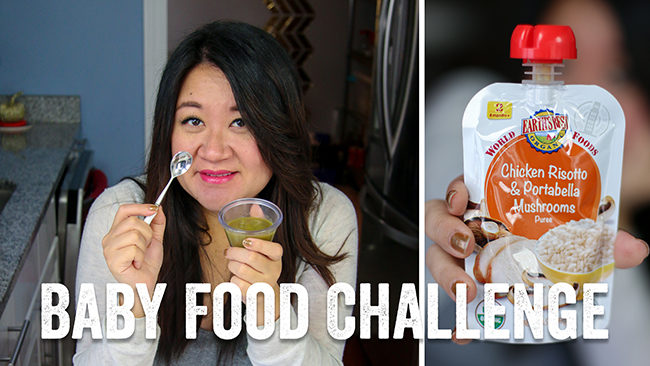 It's been a while since we filmed our last food challenge video, so we're back with a new one!  We were supposed to do one when we hit 10,000 subscribers on YouTube, and then 20,0000, but life got busy and we dropped the ball. So now that we've reached over 25,000 subscribers, we knew we couldn't ignore it any longer, and had to pause to celebrate. These milestones are huge to us and we never take them for granted!
We decided to do the Baby Food Challenge because as you probably know by now, we're having a baby! We've always wanted to do it anyways, and we couldn't think of a more appropriate time than now.  You can watch our pregnancy announcement  video and baby gender reveal party video if you want to follow our journey so far.
Neither Joe nor I have ever tasted baby food before and we didn't know what to expect. I figured it would be mushy and bland, but I did not expect some of the flavors to be so completely nauseating! In fact, there are several times in the video where it really looks like I'm about to toss my cookies, and those moments aren't exaggerated! My first trimester was pretty bad, but eating a spoonful of some of those purees brought back all those gag reflexes.
Joe and I decided to have a friendly competition to see who would do best in a blind taste test. I was so sure that I'd beast him, being the chef in the family and all, but I guess pregnancy does weird things to my taste buds and I didn't do as well as I expected. But then again, we purposely selected the baby foods with the weirdest flavor combinations so it would be more of a challenge.  You can see us suffer in our fun celebratory video below:
Read more