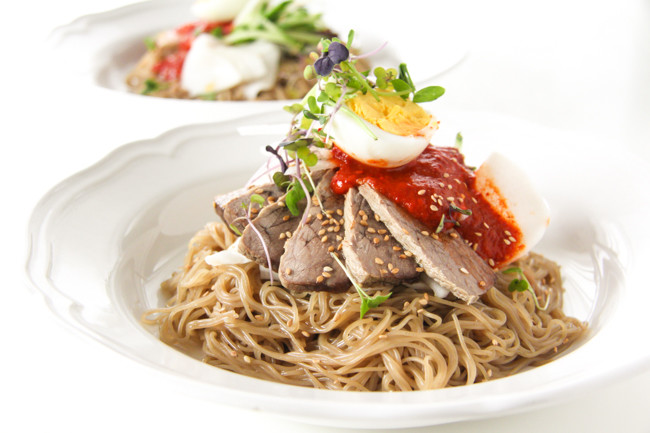 I remember walking around on a scorching hot day in Korea last summer, and the overwhelming feeling of relief we felt after taking that first bite of Naengmyeon, or cold buckwheat noodles.  There are two kinds of Naengmyeon dishes, one served in a chilled broth, and the one I'm sharing with you today, which is topped with a spicy sauce. Both versions feature sweet, crunchy, and tangy elements and that's what makes this cold noodle dish even more refreshing and addicting!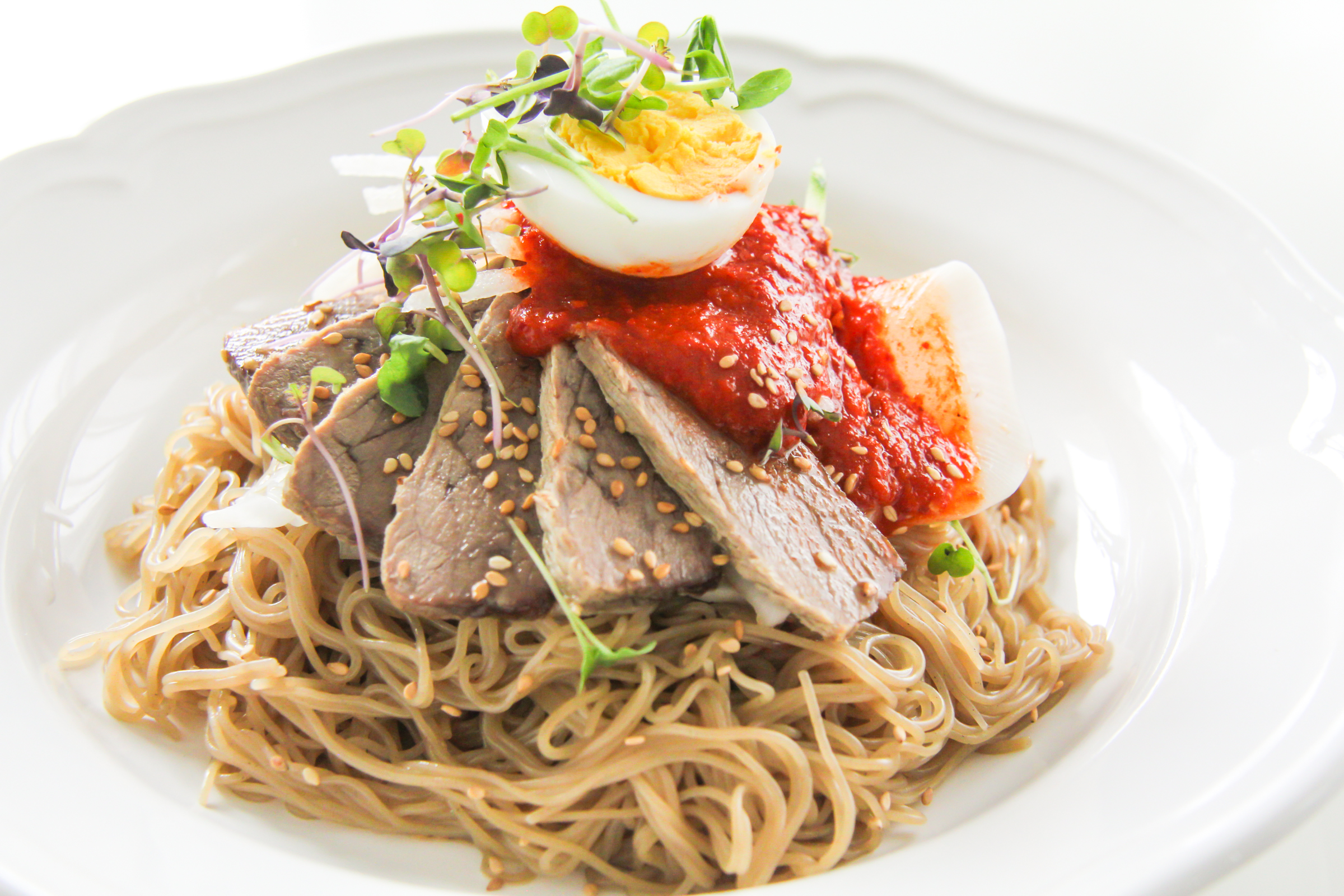 I usually order the one with the broth, but Joe opts for the spicy kind called Bibim Naengmyeon, which translates to "Mixed Cold Noodles."  I figured I might as well learn to make it at home so he could have it more often.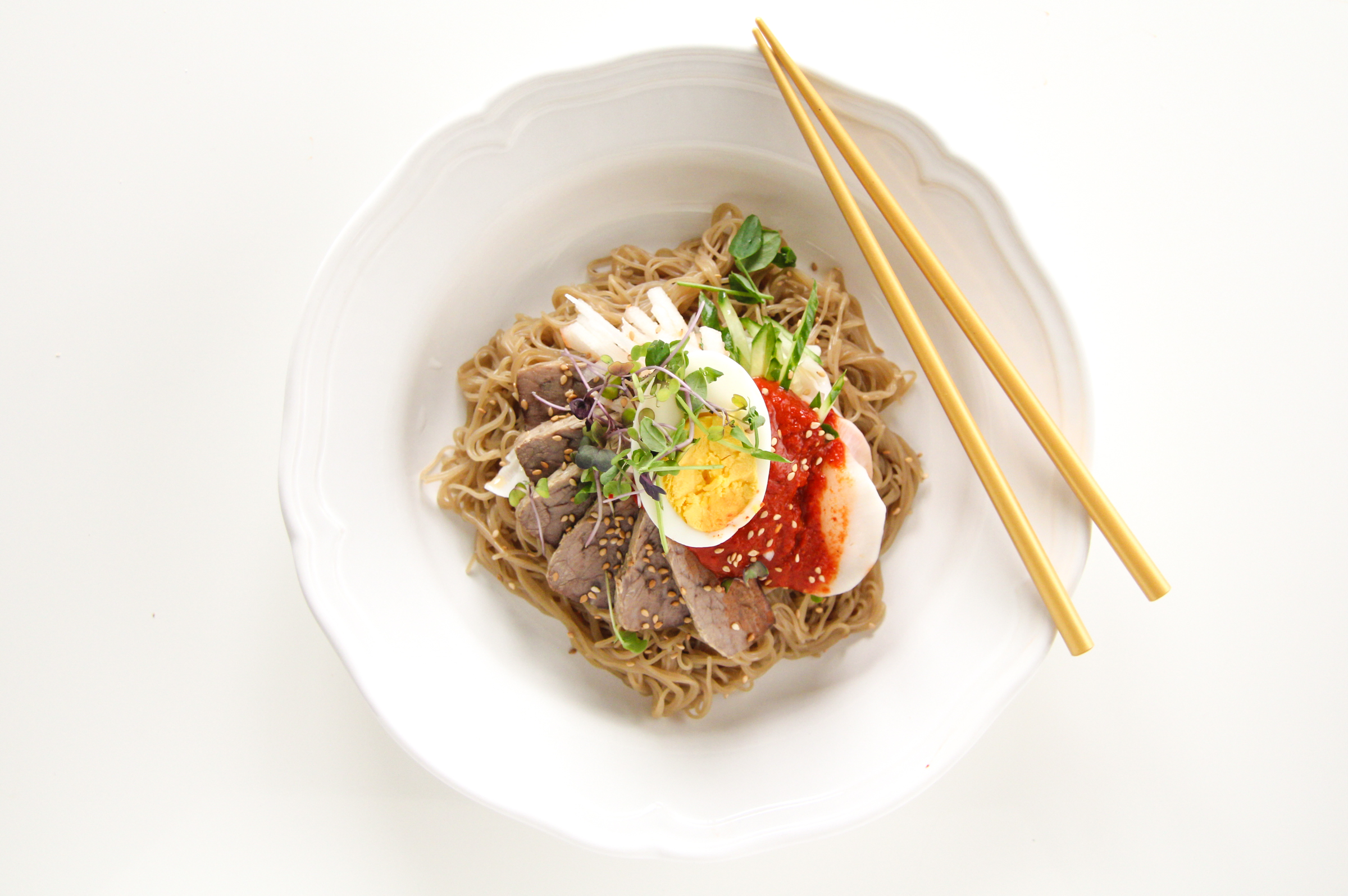 The toppings are traditionally cold sliced beef brisket, cucumber, Asian pear or pickled radish, and half of a boiled egg. I'm greedy so my recipe requires BOTH the pear and the radish. I just like the variety in crunchy textures and juicy flavors.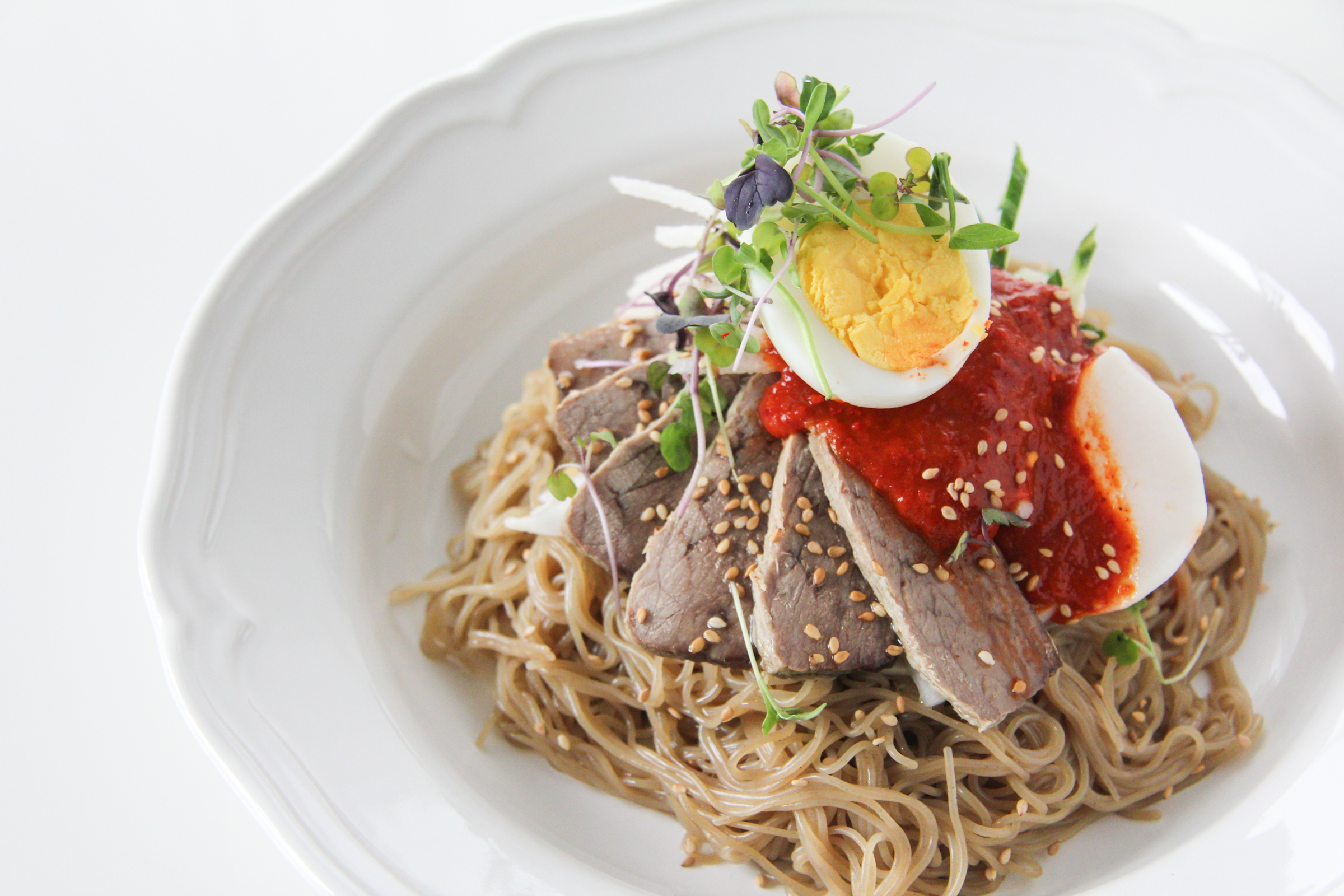 Everything works so well together and it's a completely hearty and satisfying meal even though it's a chilled dish.  And since the weather is FINALLY getting warmer around here, I knew it was time to feature this recipe.  By the way, we live in Chicago and this has been the longest winter ever. I predict we will skip right through spring and be suddenly hit with summer.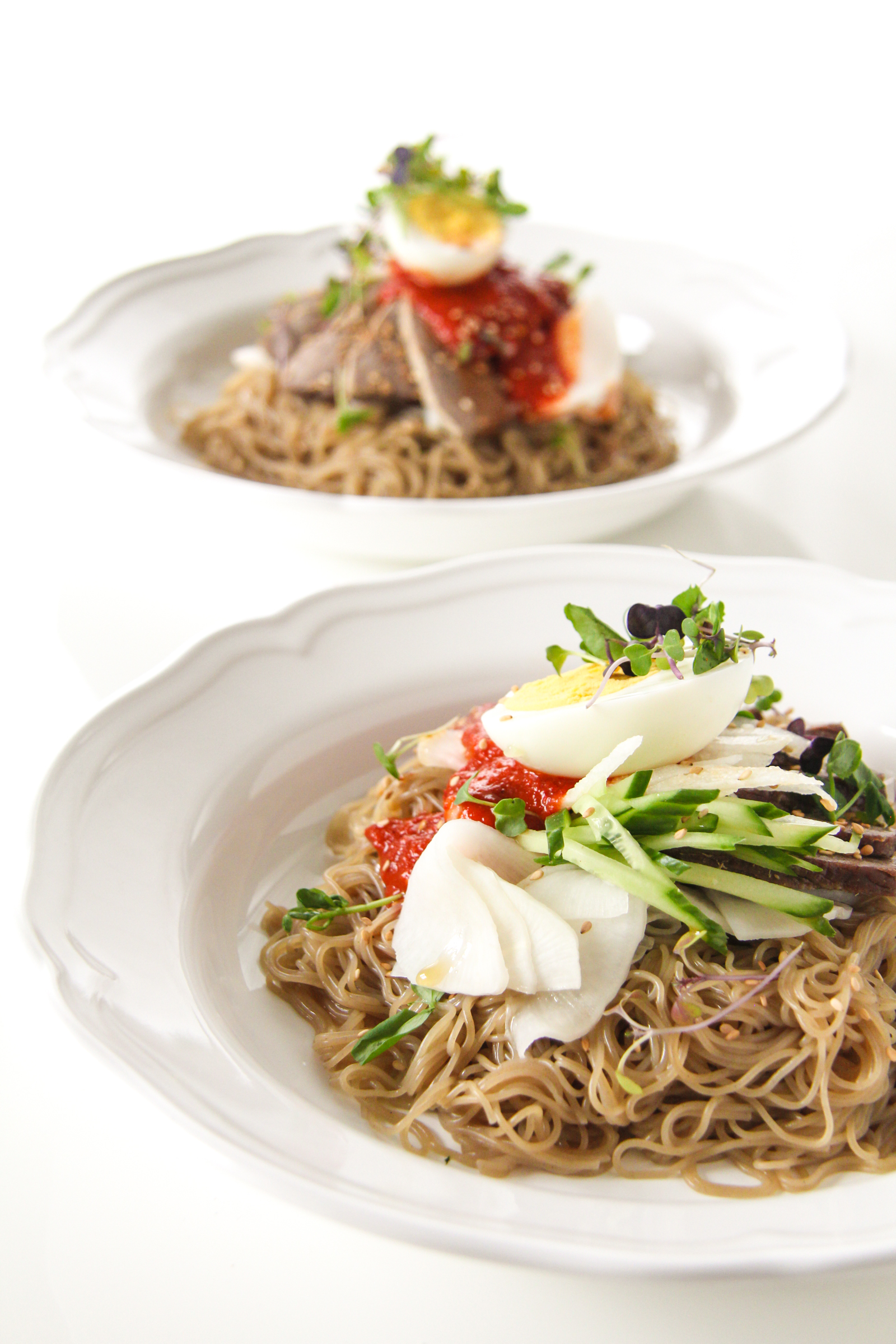 The spicy sauce is simply made, but it does taste better when you make it beforehand. As it sits in the fridge, the flavors just meld better together and become richer and more complex.  But you can totally make everything all in one day and it will still be scrumptious!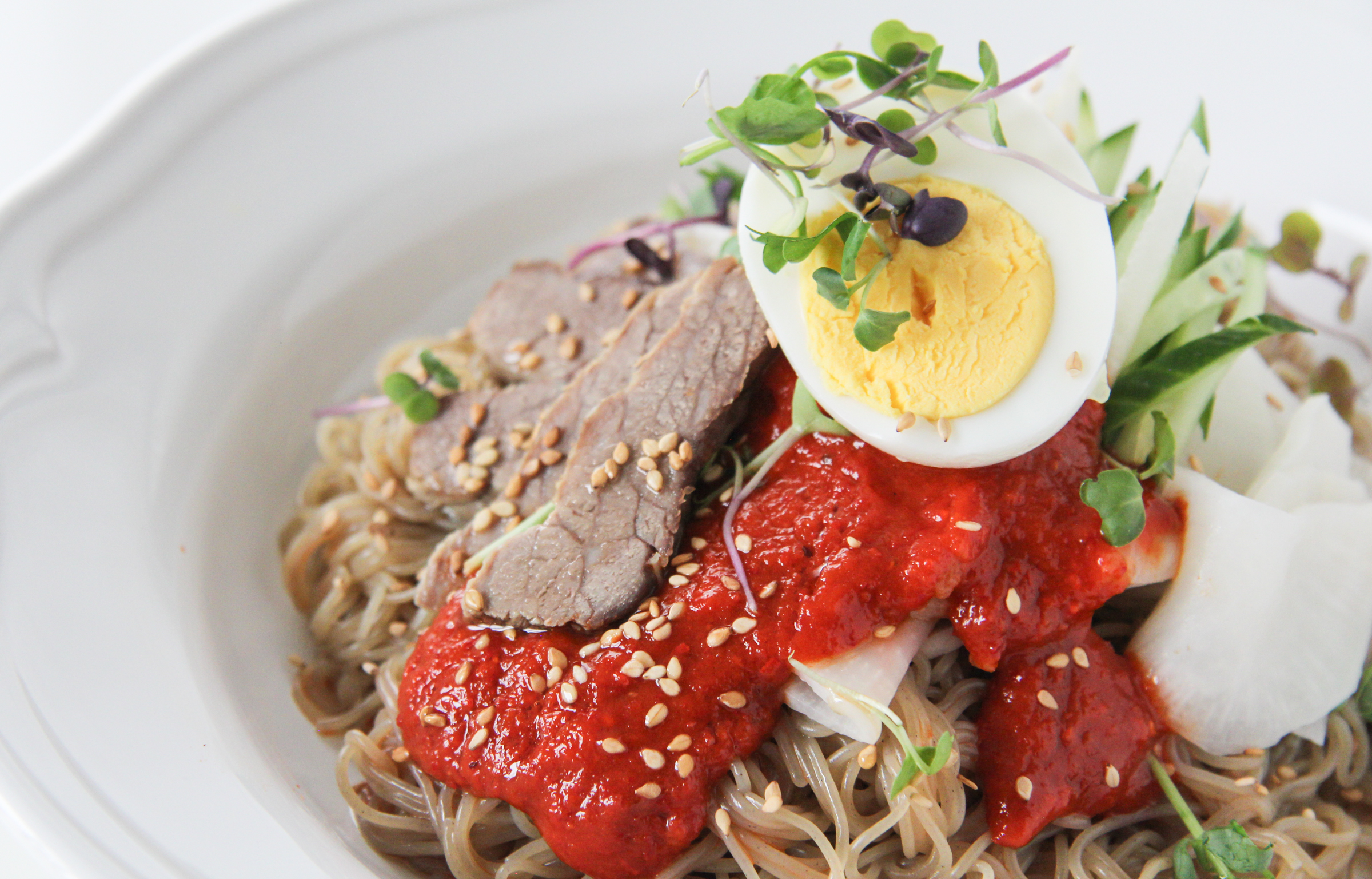 The best part is if if you make the sauce and cook the beef in advance, all the other elements are so easy to assemble, which means you can whip this tasty dish in a jiffy and spend less time in the kitchen, especially when it's scorching hot outside.  Watch how I make this spicy cold Bibim Naengmyeon in EPISODE 14 of Bits & Pieces SEASON 4 BELOW: