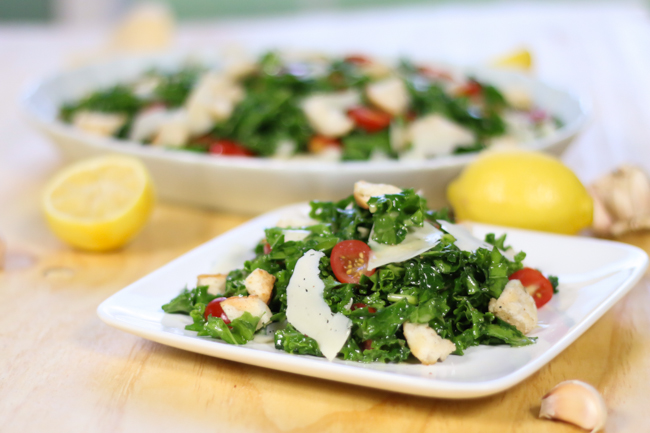 Don't you feel like eating a salad right about now?  I know I sure do.  I've been eating Thanksgiving leftovers all week and I'm filled to the brim with butter.  Time to detox!  But for those of you who fear healthy food, don't worry, there are yummy garlic croutons involved.  Crunchy, olive oil-drunk, garlic kissed homemade croutons.
Everyone's doing the kale thing, and I've always been in love with it, so I thought it was the perfect time to post a kale salad recipe.  That, and the fact that I somehow ended up with 4 blooming bunches in the fridge.  The best part of this salad is that the leaves are so hearty that they can take a beating and still come out looking fresh and cheerful.
But because the leaves are so strong, and slightly bitter, they do need a little massage with a drizzle of olive oil and salt first, in order to break down the tough fibers.  Then, they are left to sit in a citrusy bright vinaigrette.  When you eat kale raw this way, the once tough and bitter greens turn soft, silky, and delicate.
It's a great "make-ahead" salad especially during busy holiday entertaining times when you're looking for a healthy and tasty side that can be made early on in the day.  That works perfect for me, because the thing I try to avoid when I have guests over is being a crazy hostess.  You can see how I make this low-stress scrumptious salad in EPISODE 5 of Bits & Pieces:
This lemony, honey touched salad is super tasty and pretty healthy, so it's a definite win-win.  And as always, feel free to jazz up this simple salad with anything your little heart desires, from dried fruit, to nuts, to chicken, shrimp, or steak!