Tuna Gimbap (참치 김밥)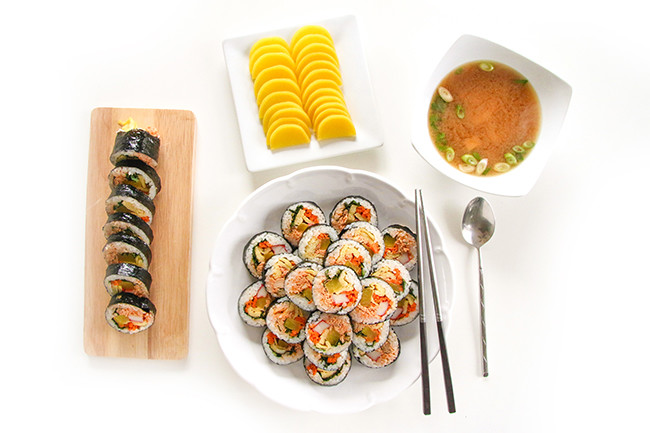 Maybe it's because I've really grown to like tuna fish lately that I was particularly attracted to Tuna Gimbap when we were in Korea last summer.  One day after a busy day of shopping, Joe and I stumbled into this tiny gem of a place where one woman was seriously hustling, making roll after rice roll without skipping a beat. 
We ordered the classic Beef Gimbap that we were familiar with, and a Tuna Gimbap.  Even though you could never go wrong with the classics, I gravitated more towards the tuna version.  I think it's because it was hot outside, and the light and fresh flavors were a welcome surprise.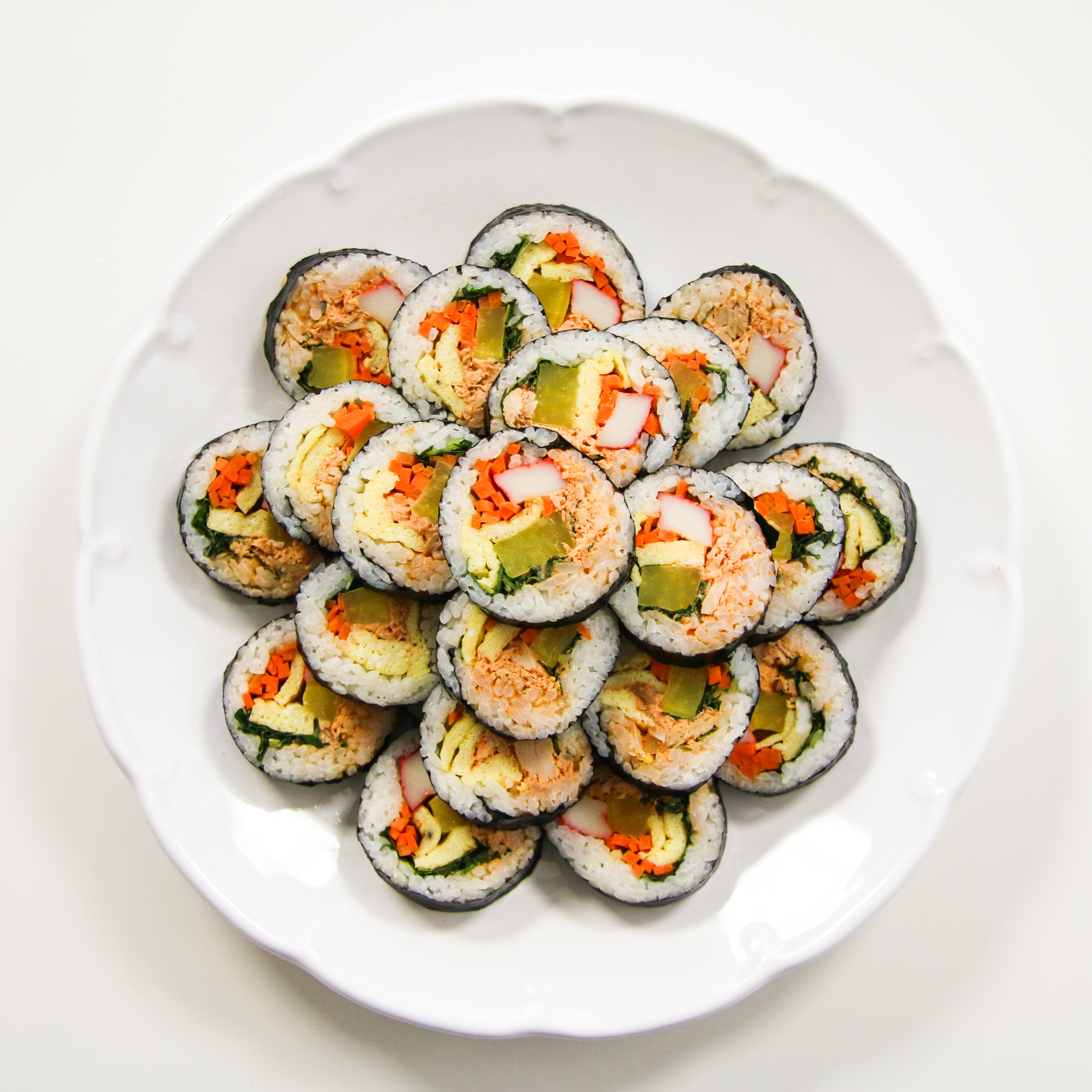 Before you get too excited, there's still mayo involved, so even though it tastes lighter, it's not exactly diet food.  But because of the fresh and crunchy vegetables, it feels more appropriate for warmer weather, and it's just a nice change of pace.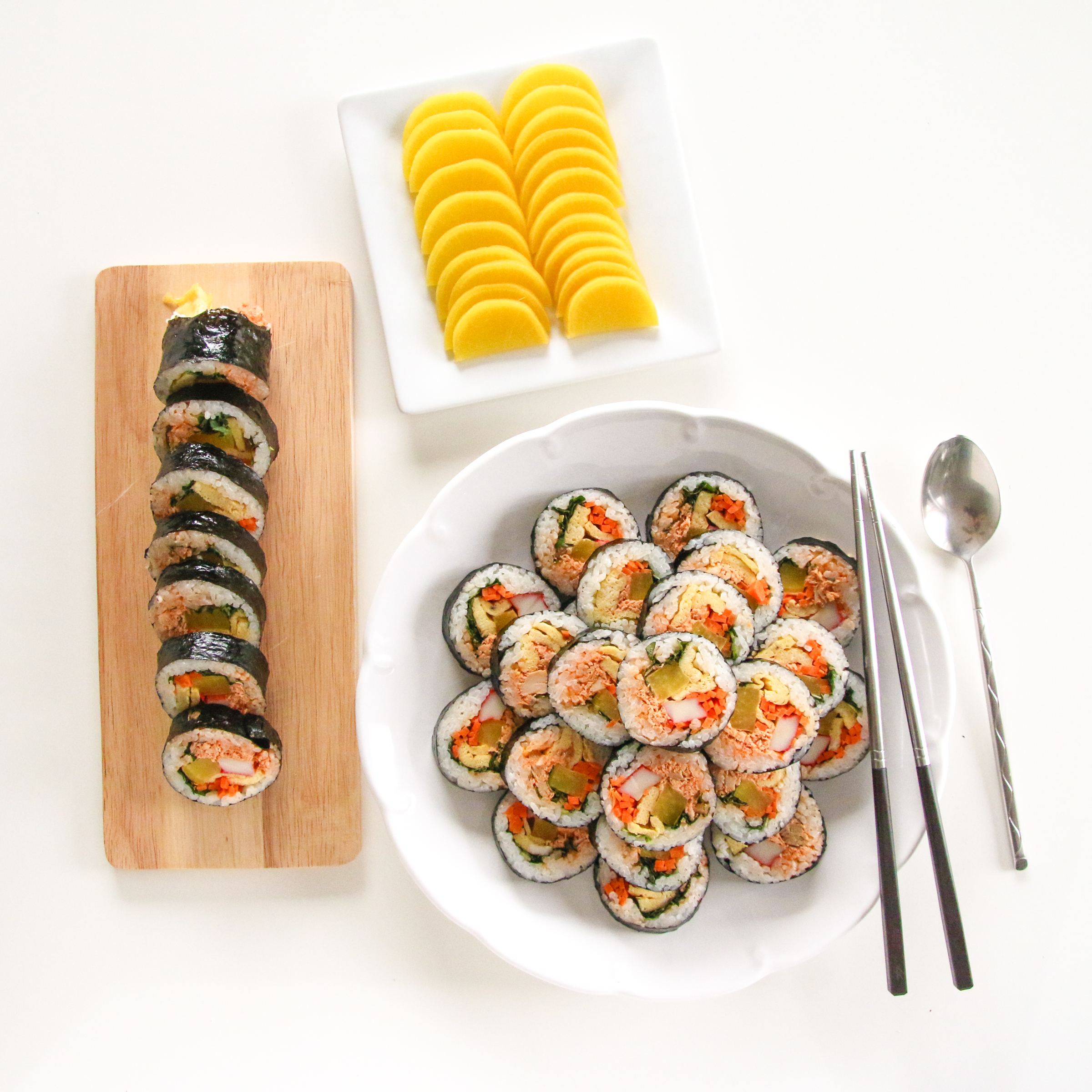 Maybe that's why I wanted to make it now… because I have a major case of spring fever.  This Chicago winter seems relentless.  Just as I'm about to put my jackets and sweaters away, we get hit with a freak snow storm!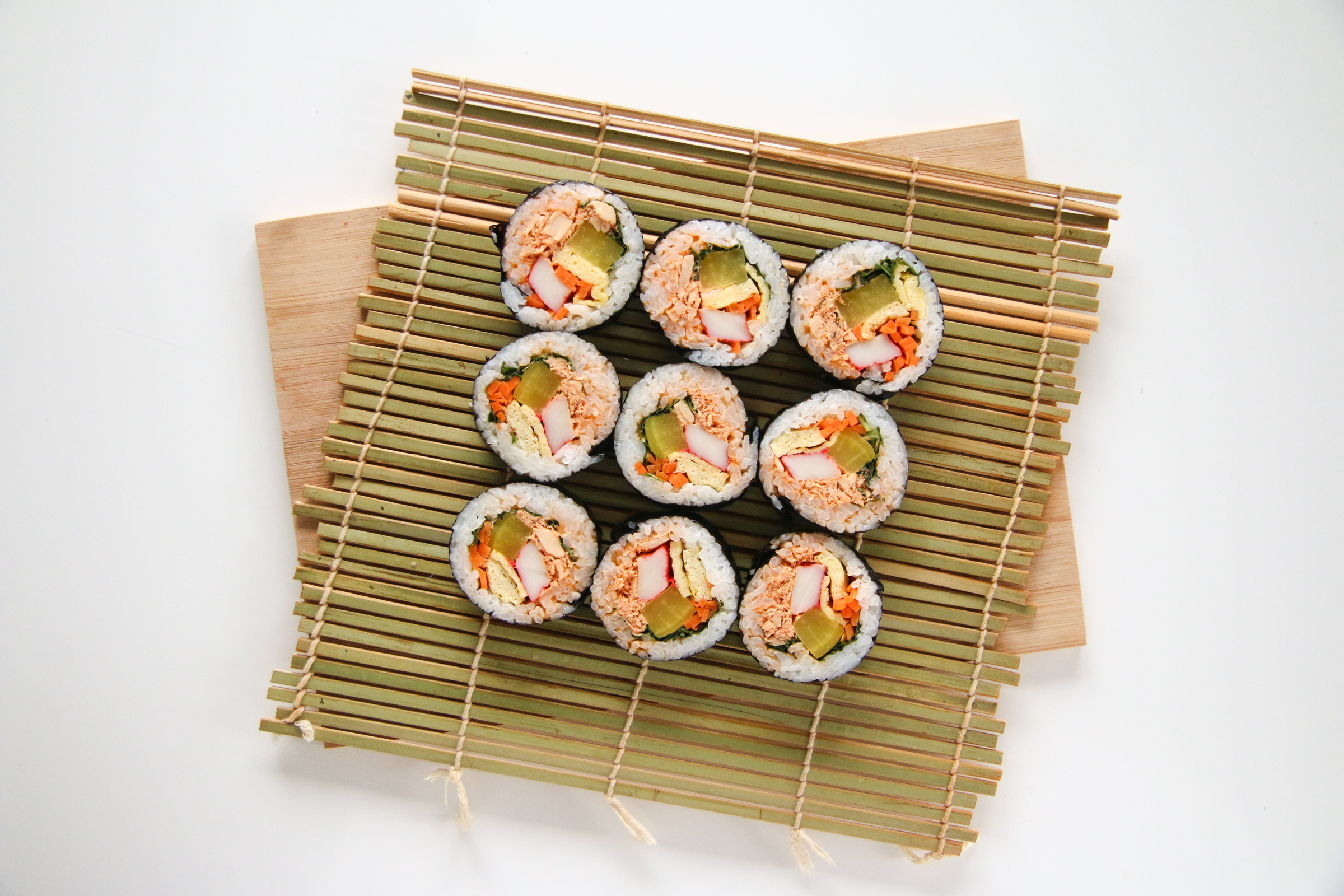 But sunnier days are finally upon us and all I want to do is go on a picnic or a road trip with some Tuna Gimbap.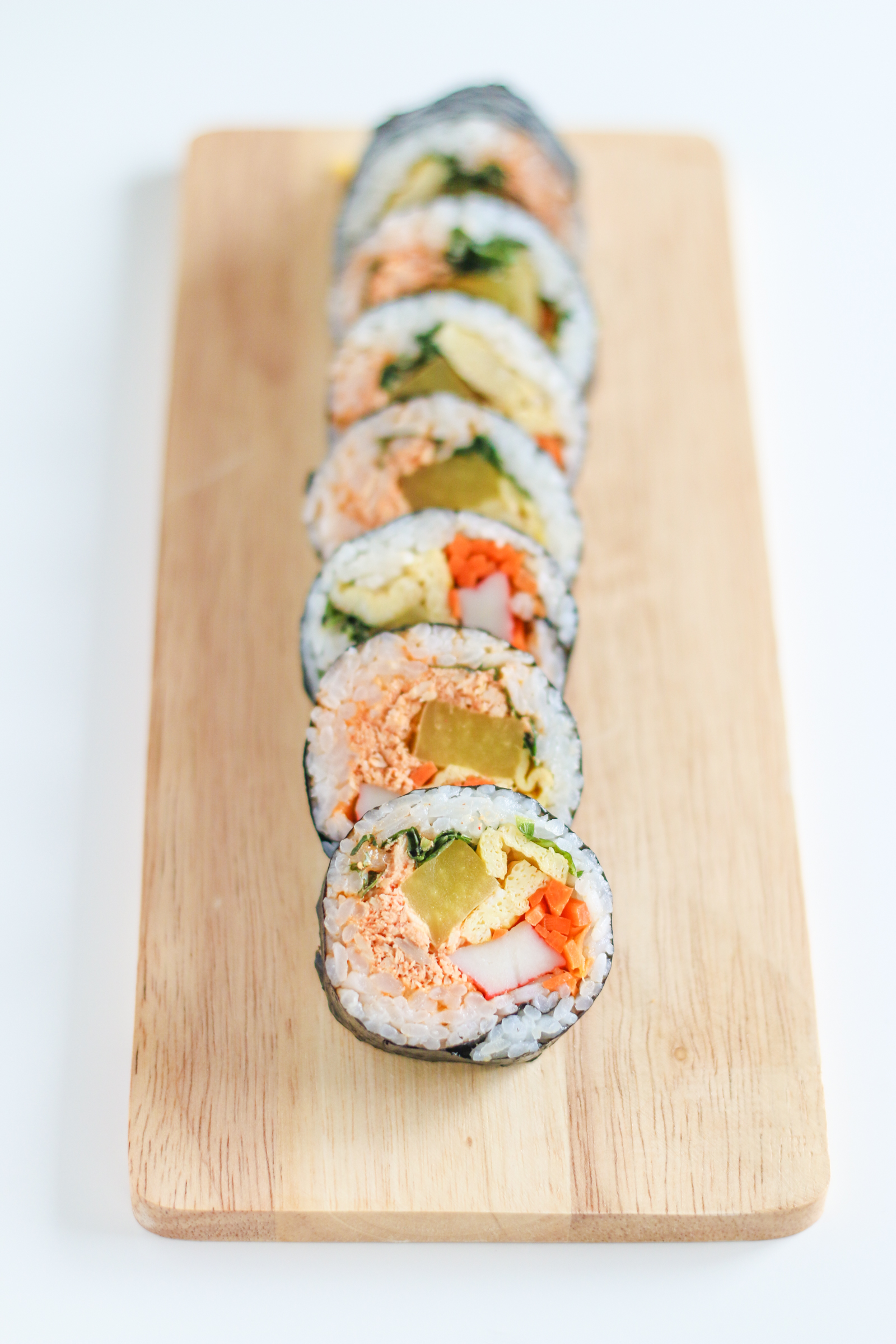 I made mine a little differently than what we experienced in Korea.  I chose to season my tuna with a touch of heat from Gochugaru, or Korean hot chili flakes which is really nice.  But you can choose to omit it and keep things on the milder side.  You can see how I make my version in EPISODE 11 of Bits & Pieces SEASON 4 below:
WATCH HOW I MAKE TUNA GIMBAP HERE:

The best part of these Tuna Gimbap is that you can have free range with what you want to put inside them.  You're just looking for something fresh and something with crunch.  If you can't find perilla leaves, substitute with romaine lettuce or fresh basil… it will still be good!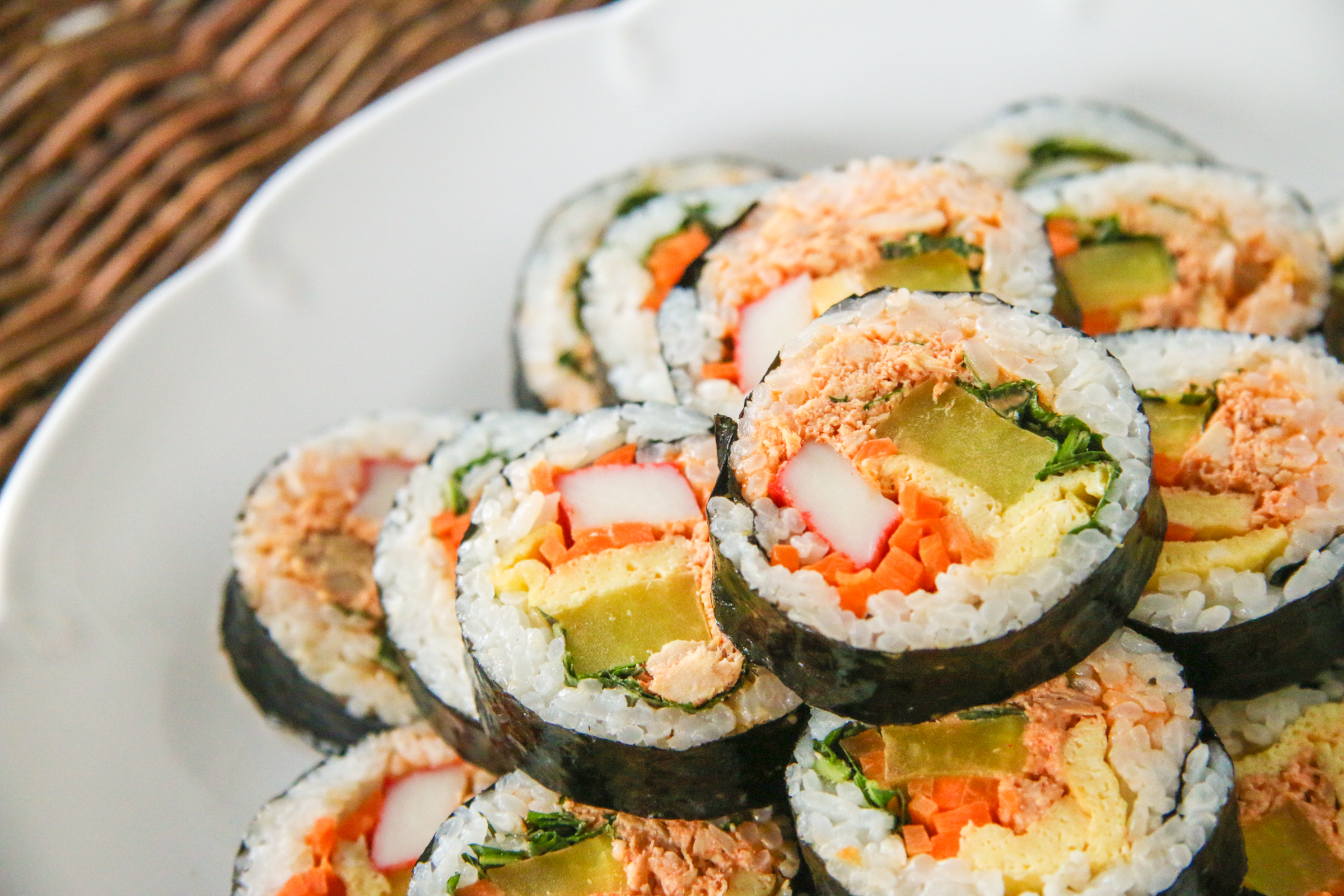 And why is it called Gimbap? Because Gim means "seaweed" and bap means "rice."  If you're not familiar with Gimbap at all, although they look similar to Japanese style maki, the flavor is uniquely different.  The sushi rice isn't seasoned with rice vinegar.  In fact, it's simply seasoned with sesame oil and salt.  Then the outside of the rolls gets rubbed with a little sesame oil too.  This gives the seaweed or gim a nice sheen as well.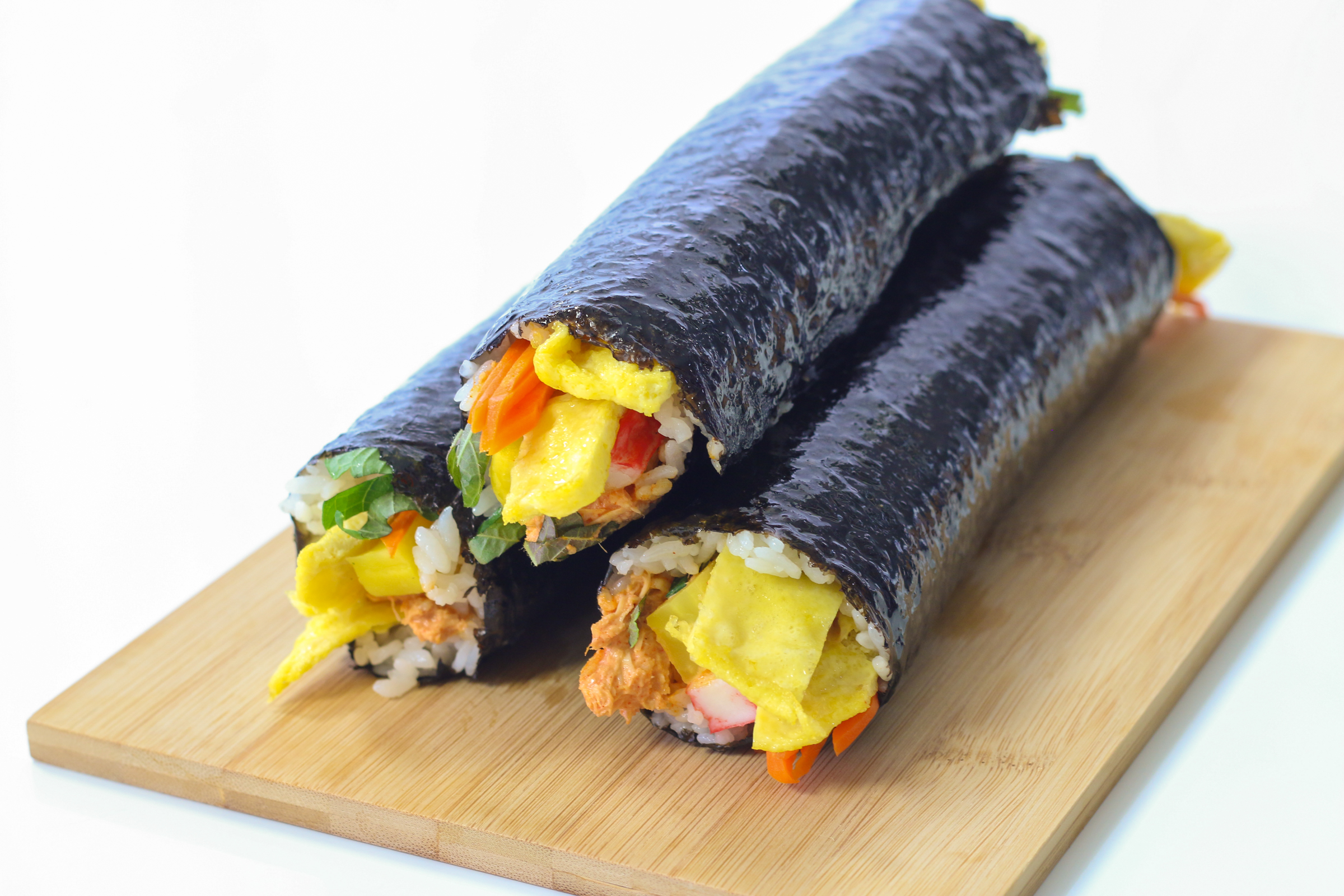 If you've never rolled Gimbap before, it might seem a little intimidating at first, but even if you do it one time, you'll realize, "oh that wasn't so bad."  Once in a while I'll still get a roll that refuses to stay shut.  Usually this happens when I get too greedy and try to overstuff my rolls with tons of ingredients…okay so this happens a lot.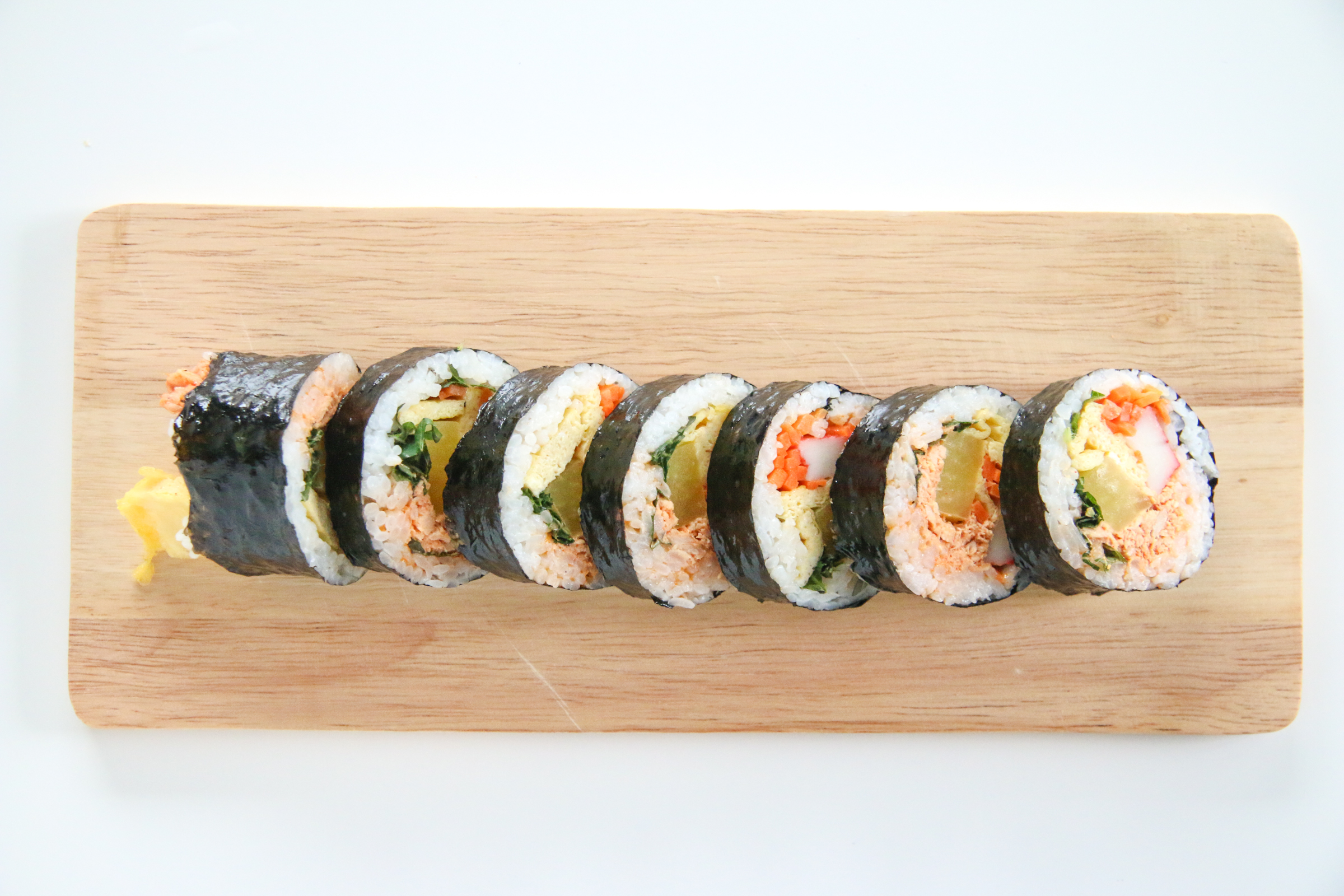 So don't feel bad if yours falls apart on the first try.  We've all been there and it's still good to eat.  Just grab it and take a bite like it's a burrito! But slicing it makes it a whole lot easier to share and eat on the go.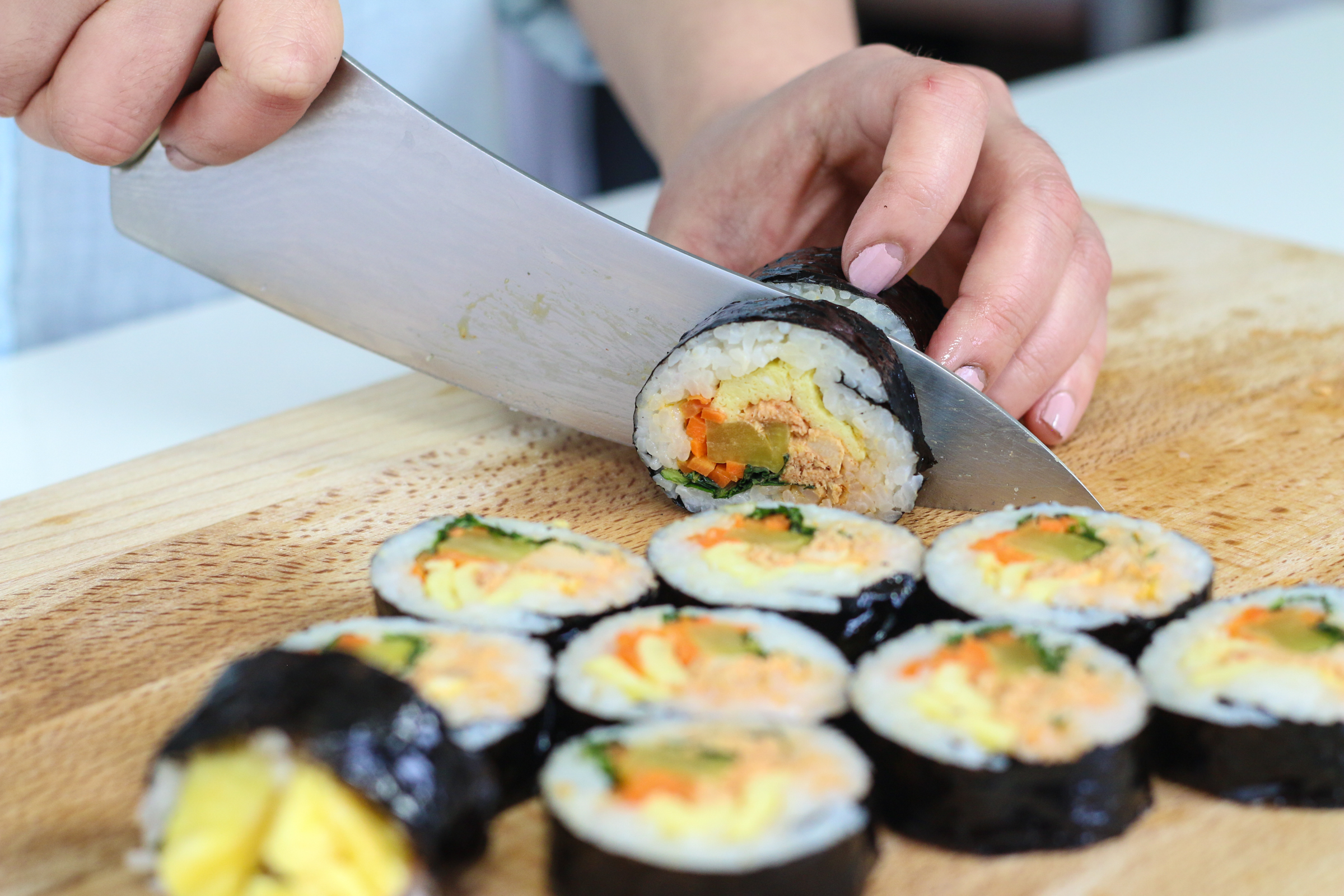 Ideally you want the slice to be thin enough so it fits into your mouth in one bite.  But because I'm a confessed over stuffer of my Gimbap, I usually have to tackle it in a couple of bites, and then it falls apart, which is why the two-bite method is a no-no to Gimbap enthusiasts!  My apologies in advance.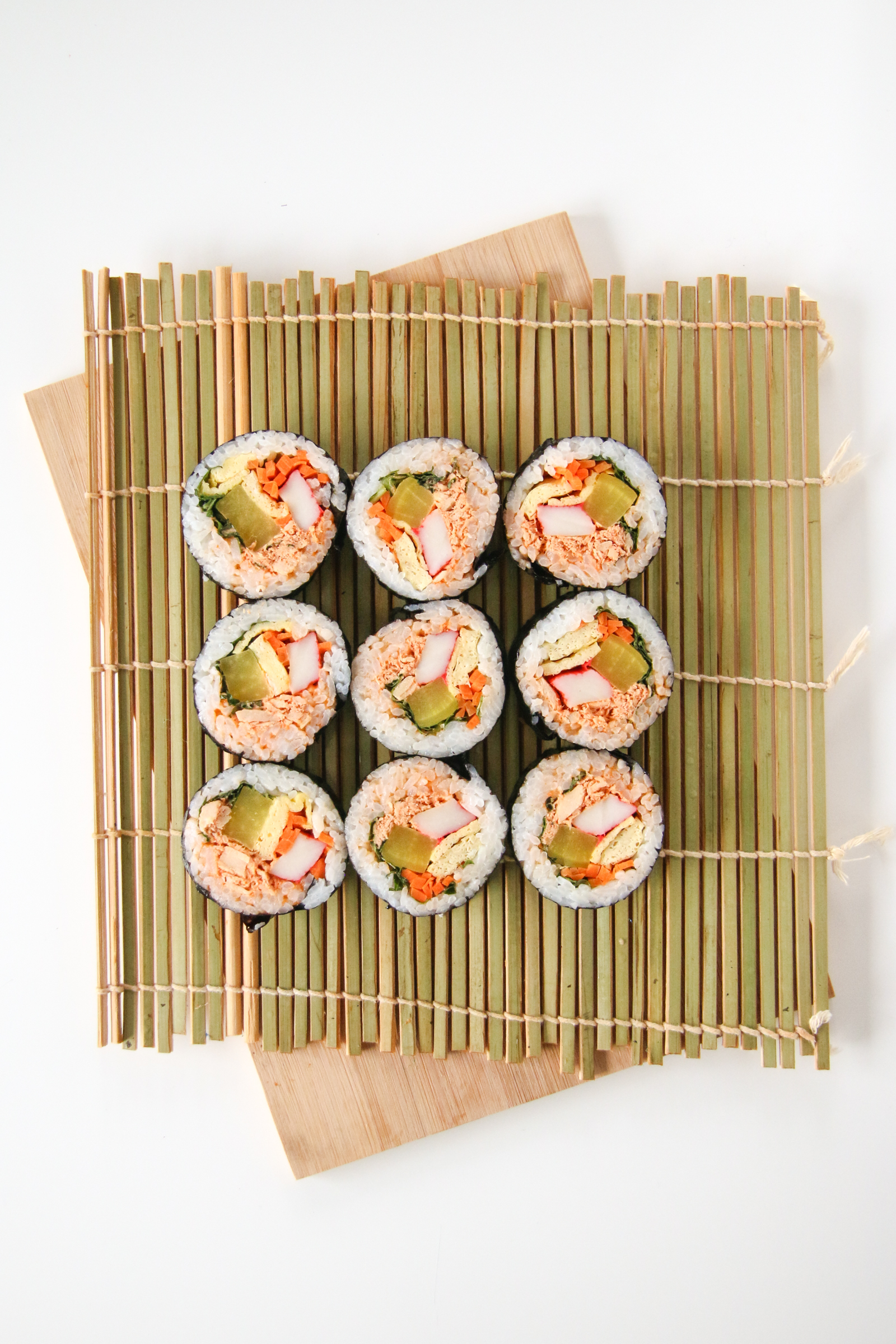 But no matter how you roll or slice it, the important thing is the taste.  So I choose to add egg inside of my rolls because I tried it the first time without it, and I really felt like it was missing something. I just went along with what's normally found in traditional Gimbap, and that's usually crab sticks, julienned crisp tender carrots, and egg.  And you gotta balance out the creamy tuna with that sweet and crunchy pickled radish!  It's just not the same without it.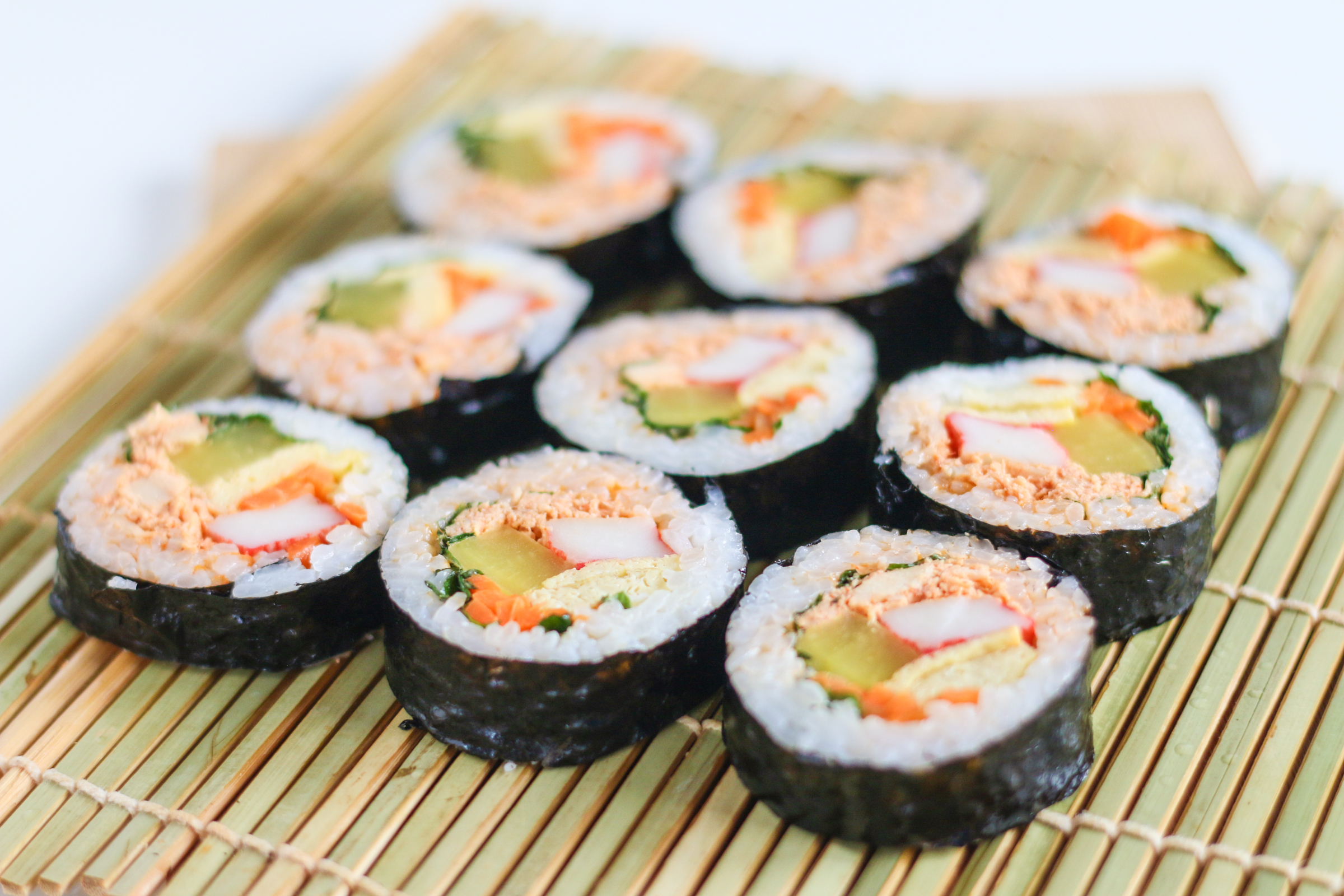 The best part of Gimbap is how portable it is.  It's a meal in a bite and it's great on the go.  But I tend to like to eat it at home and wash it down with a piping hot bowl of Miso Soup.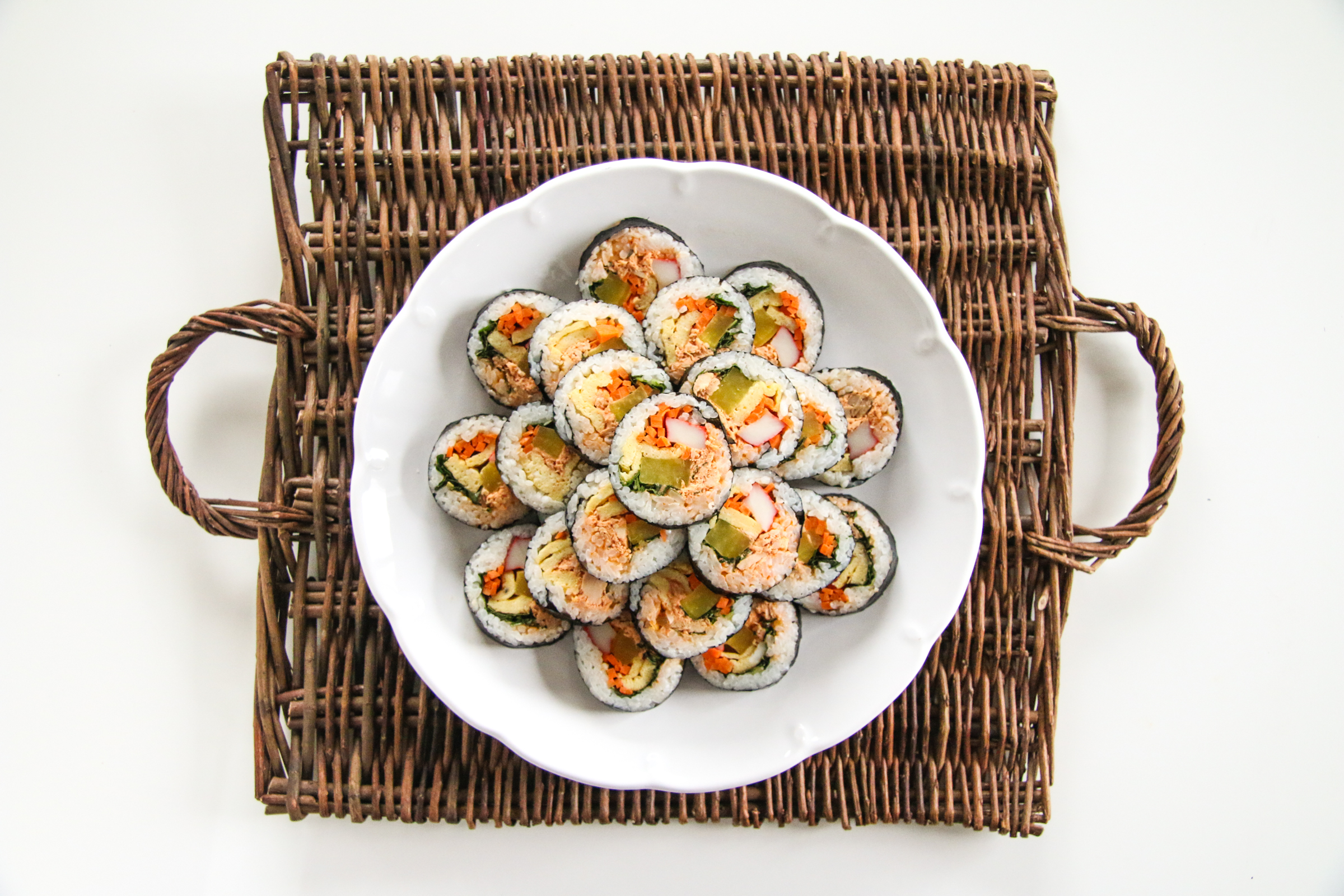 But no matter how you eat it, the important thing is to know that this is a labor of love.  It will take time and there are quite a few steps and ingredients involved.  But everyone who eats it will appreciate your efforts. So have a party and invite your friends, because Gimbap is best eaten on the day you make it.  But if you do have leftovers, don't fret my pet because I've got you covered. Here's what to do with your leftovers.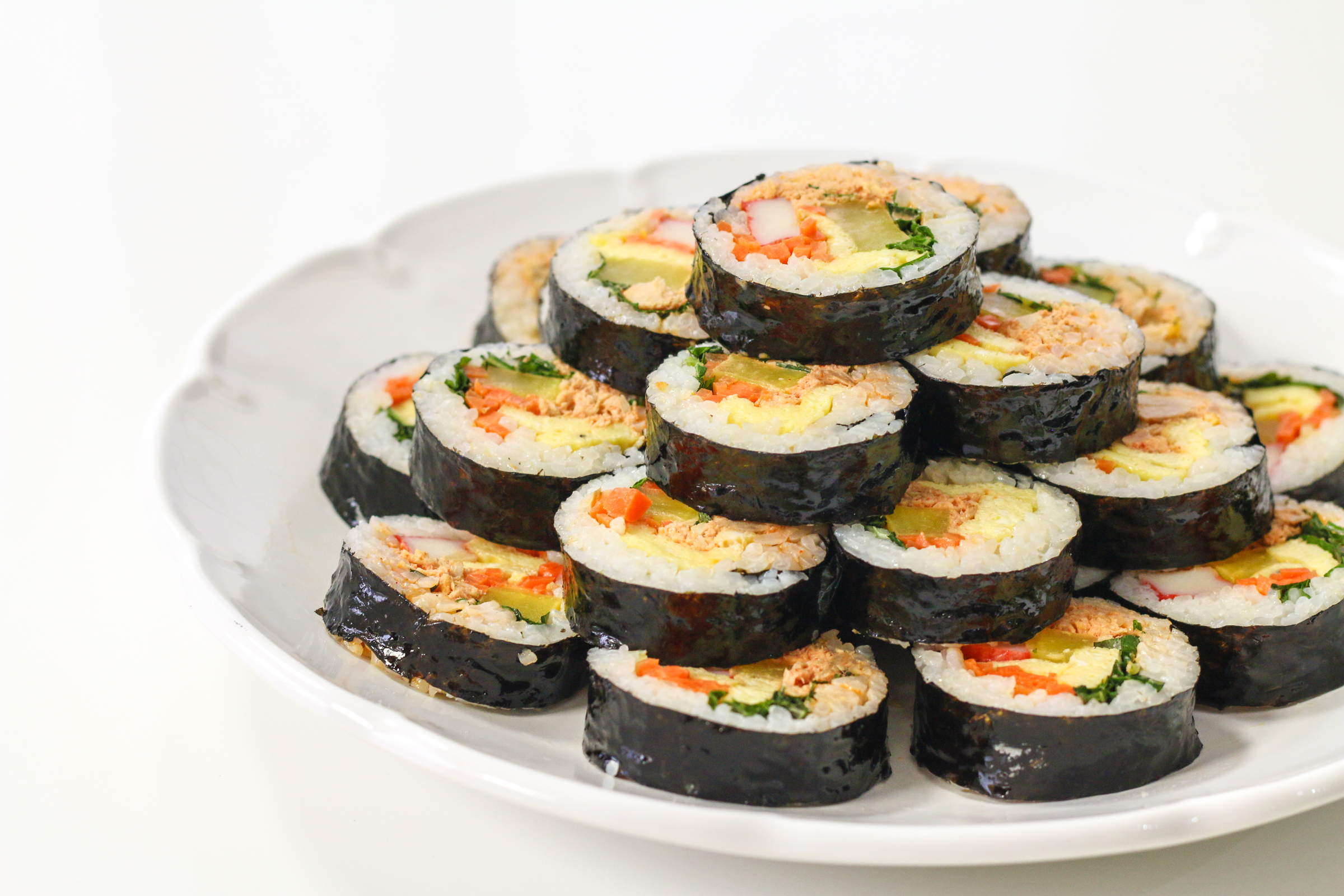 Next time you have a humble can of tuna in your pantry, don't go for the same old sandwich again. Try to mix things up a bit and give this Tuna Gimbap a try. Everyone will be happy you did.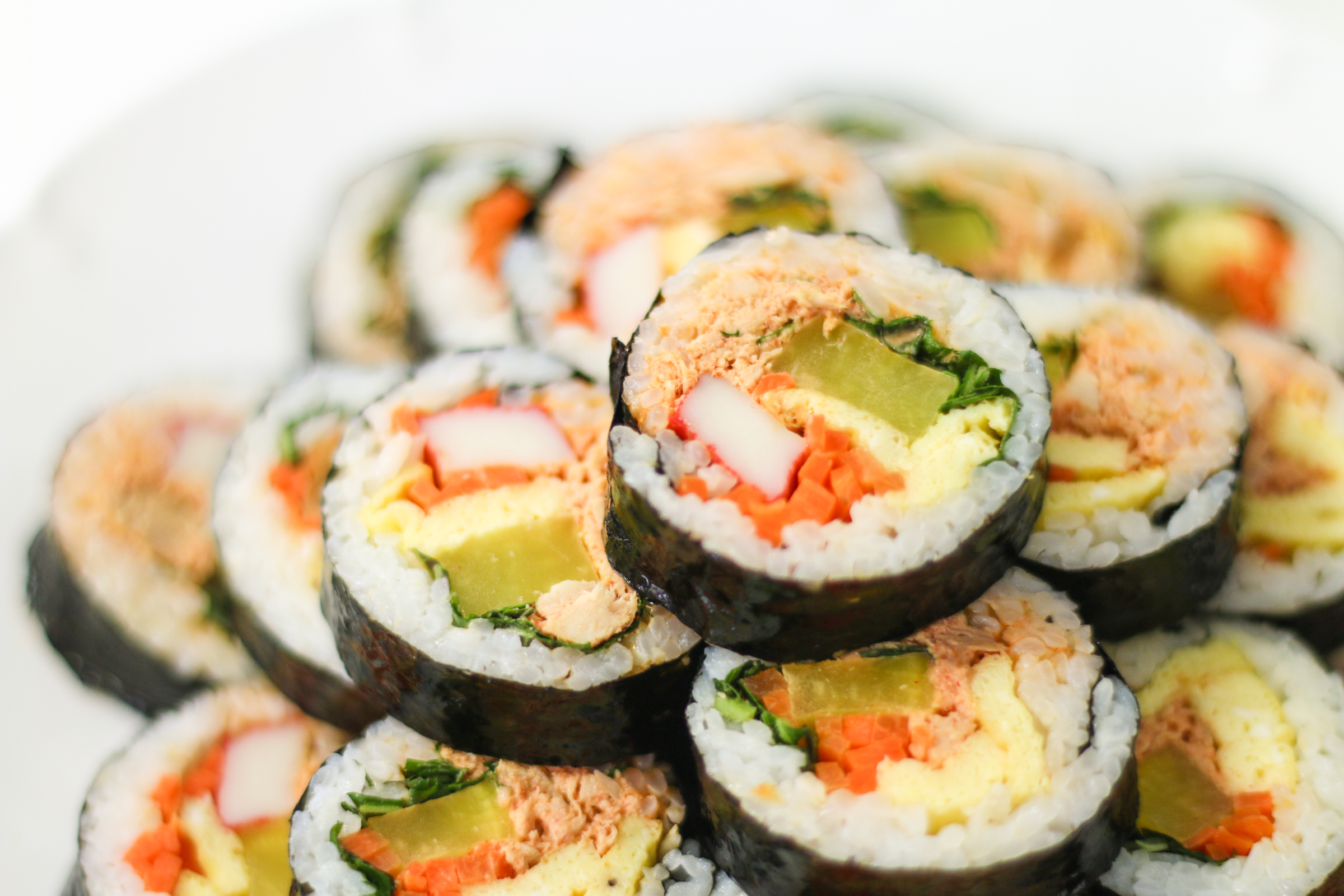 If you enjoyed this VIDEO, SUBSCRIBE to our COOKING SHOW CHANNEL HERE.  It's FREE! : Chef Julie Yoon
If you want to follow us on our journey, SUBSCRIBE to our VLOG CHANNEL HERE. It's FREE! : Our Yooniverse

Tuna Gimbap (참치 김밥)
Ingredients
For the rice
6 cups cooked short grain rice
1 tablespoon sesame oil
½ tablespoon olive oil
½ teaspoon Kosher salt

For the tuna
2 cans (5 to 6 ounces each) tuna, drained well
3 tablespoons mayonnaise
1 teaspoon dijon mustard
1 tablespoon lemon juice
2 teaspoons Gochugaru (Korean chili flakes)
Pinch of salt and pepper to taste

For the other ingredients
10-15 perilla leaves, julienned (or more!)
1 carrot, peeled and julienned
5 eggs (or less if you want less egg)
5-6 strips pickled radish (Danmuji 단무지)
10 long strips of imitation crab meat sticks
5-6 sheets Gim (Roasted Seaweed for Gimbap)
Vegetable oil for the pan
Sesame oil for the pan and the Gimbap
Salt and Pepper to taste
Instructions
Cook the rice (make sure it's freshly cooked and hot), and scoop out into a large bowl. While the rice is still hot, add the sesame oil, olive oil, and salt. Mix the ingredients by folding them into the rice with a rice paddle or spoon until evenly seasoned. This helps the rice to cool down too.
Drain the tuna well. Mix with the mayonnaise, Dijon mustard, lemon juice, and Gochugaru. Season with salt and pepper to taste.
In a large pan, add a little bit of sesame oil and the carrots. Sprinkle lightly with salt and saute for about 1-2 minutes, or until crisp tender. Remove to a plate. In the same pan, add some vegetable oil. Whisk the eggs in a bowl and pour into the pan. Make an omelet. Season lightly with salt and pepper. Flip the omelet so it's cooked on the other side. Remove to a cutting board. Slice the omelet into strips. Prepare the other ingredients. Make sure that the crab sticks and pickled radish are dry. Pat with a paper towel if needed.
Put a sheet of Gim, shiny side down with the longer side towards you, on a bamboo rolling mat. Spread a thin layer of rice evenly over the Gim using a rice paddle and your fingers dipped in a bowl of water so the rice doesn't stick to you. Do not cover the entire Gim with rice. Leave about a 1 ½ -inch border at the top.
Add a layer of all the ingredients in rows about halfway on the rice, making sure to leave about an inch border of rice on the bottom. Add a row of julienned perilla leaves, a row of tuna, a row of julienned carrot, 1-2 strips of egg, 1 crab stick, and 1 strip of pickled radish.
Lift the bottom edge with the bamboo mat, and roll over the filling away from you, bringing it to the other end of rice, and tucking in the filling with your fingers. Put firm pressure over the roll with the bamboo mat to close everything in tightly. Pull the mat away from you a little more, then continue to roll again, putting pressure evenly over the roll using both hands. If the Gim flap is not sealing, dip your finger in water and dab it to help close it. Pick up the roll in the mat and give it a squeeze all over to ensure it's sealed. Rub a little sesame oil on the roll, to give it flavor and a sheen. Cut the roll into ½-inch pieces.

TIP:
Gimbap is supposed to be eaten on the same day you make it. Once it's in the fridge, the rice gets hard and it doesn't taste as good. But no worries, here's
what to do with leftover Gimbap!