Beef Kimbap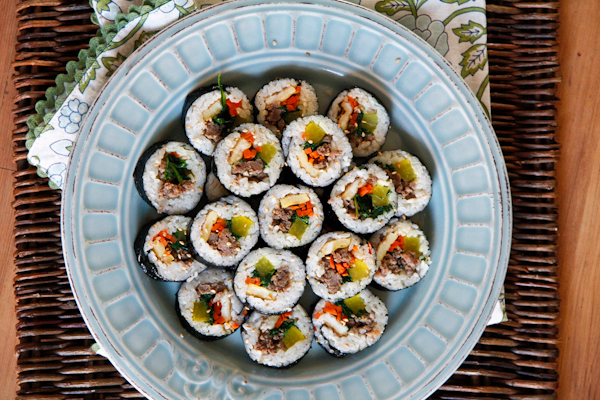 We were on en route to watch a Christmas presentation at our church, when we decided to grab something quick to eat along the way.  Luckily, there was a Korean grocery store nearby, so we grabbed a $3.00 package of kimbap and ate our dinner in the car.  Normally I would not have given the saran wrapped, cheap, and convenient kimbap much thought, but after being challenged to make it for a guest blog spot on rasamalaysia.com, I have a new-found appreciation for it.  
The ladies at the Korean market always make it seem so effortless to make, but I realized that it's because first of all, they're probably used to it, and secondly, they have all the ingredients already prepped in bulk.  The assembling part goes quickly, once you get the proper drop, tuck and roll method going, but getting to that point requires a little prep time and several different ingredients. Here's the how-to.
Now you know that I'm usually all about keeping things simple and ingredient lists short, so for this recipe, I tried my best to cut it down to the bare necessities. But alas, it's still pretty long. But if you break it down, every step is actually pretty easy. Traditional kimbap can include fish cake, imitation crab sticks, and burdock root, but I chose to omit them for the sake of prep time and my sanity.  The one thing I don't suggest omitting is the "danmuji" or bright yellow pickled radish you find at the Korean market.  It's what is considered to be the "heart" of Korean kimbap.  In my opinion, it just wouldn't taste the same without it.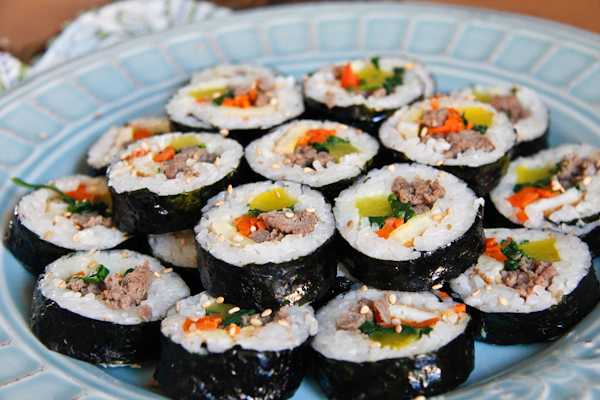 So what is kimbap?  It's the Korean version of the Japanese "maki" or rice rolls.  The outside is dried laver seaweed, and the flavor comes mostly from sesame oil and individually prepared meats and vegetables.  There is no need to dip it into a sauce because everything should be properly seasoned in one well-balanced bite.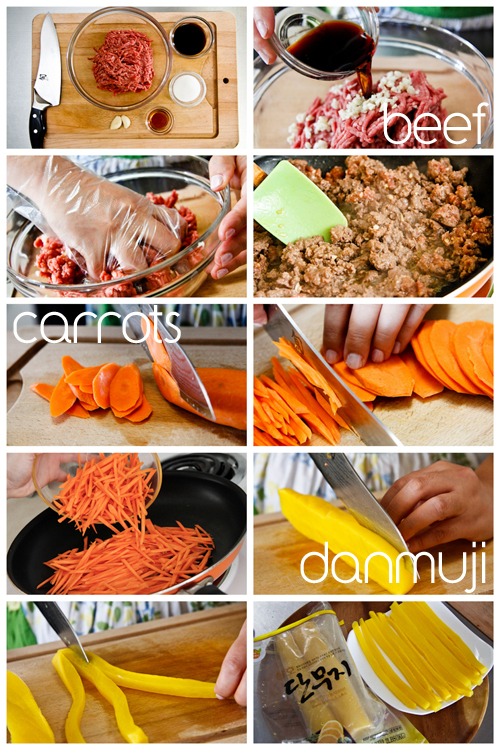 You gotta start by marinating and cooking some ground beef.  Then you julienne a large carrot and saute it with olive oil and salt.  The sweet "danmuji" usually comes in the form of a log, which you have to cut into thin strips.  Sometimes they sell them already sliced into strips, specifically for the use of kimbap, so you can just grab that if you want.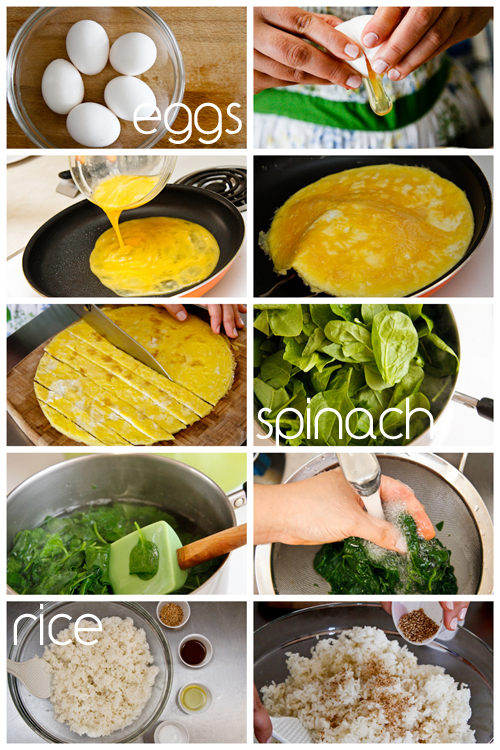 Crack your eggs and make a flat omelet.  Season with salt and pepper, and then cut into thin strips.  And here's my short cut step.  Grab a bag of ready-to-use spinach and dump it into a pot of salted boiling water.  Swish the spinach leaves around for about 30 seconds and drain.  Rinse with cold water, then squeeze out all the excess moisture.  Season with sesame oil and salt.  Leave the rice for last.  Make sure it's made fresh, but cool enough to touch.  Season with sesame oil, olive oil, salt, and roasted sesame seeds.
Once you have everything ready, grab a bamboo mat that you can find easily in any Asian market, or even certain specialty food stores.  You fill, roll and slice.  The key is to rub the outsides of the rolls with a touch of sesame oil to make sure they're nicely seasoned and glistening.  Then all you have to do is kick back and enjoy your labor of love.  Then make someone else do all the dishes!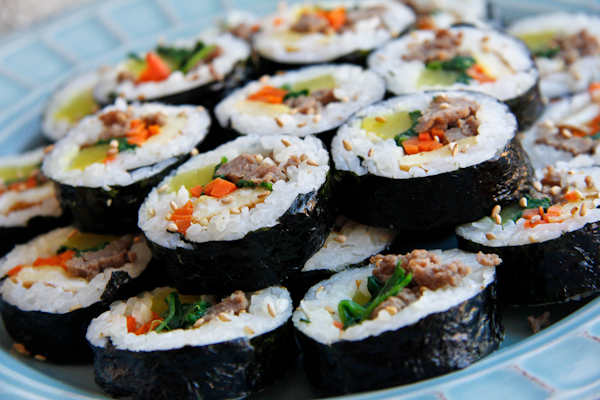 Whew!  All I know is that I will never take those hard working Korean ladies at the market for granted again.  So even though you may not make this on a regular weeknight after work, why not save it for the weekend or a party?  Hey, New Years Day is coming around the corner. And you can even have kimbap making parties where guests are in charge of assembling and rolling their own, by filling theirs with whatever they want.
I have a less traditional "Julie" version coming up soon so be on the look out for that recipe as well.  And although kimbap is meant to be eaten on the same day it was made, be sure to check out what to do with the leftovers. 

Beef Kimbap
These Korean style maki (rolls) are perfect picnic food. They're a little time consuming to make, but so easy to eat!
Ingredients
6-7 Sheets dried laver seaweed
A 9 or 10 oz bag of ready to use spinach
1 log of yellow pickled radish, or "danmuji"
1 large carrot, or 2 medium sized carrots, peeled
5 Eggs
Kosher salt, divided
Sesame oil, divided
Olive oil, divided
Roasted sesame seeds, divided
Beef Ingredients:
1 lb ground beef
2 cloves garlic, finely minced
3 Tbsp soy sauce
2 Tbsp sugar
2 tsp sesame oil

Rice Ingredients:
6 cups cooked (3 cups uncooked) short grain or sushi rice
½ Tbsp sesame oil
½ Tbsp olive oil
½ Tbsp toasted sesame seeds
¼-½ tsp kosher salt, or to taste
Instructions
For the beef:
In a bowl, combine all the ingredients for the beef. Mix everything together by hand and set it aside to marinate while you prepare the other ingredients. When all the other ingredients are prepped, and the beef has had time to marinate, heat a large pan with some olive oil and fry the beef until it is nicely browned. Remove the beef with a slotted spoon into a bowl and set aside.
For the carrots:
Peel and slice your carrot(s) thinly on a diagonal. Lay the slices flat and run your knife through them lengthwise to create thin julienned slices. Saute them in a pan with some olive oil and season with a couple pinches of salt to taste. Set aside.
For the "danmuji," or pickled radish:
Slice the log of radish into ½" thick slices. Cut each slice into strips, so that you end up with thin long strips, about ½" thick in diameter. Set aside.
For the eggs:
Break 5 eggs and add a couple pinches of salt. Whisk well. Heat a large pan with olive oil over medium low heat. Use a paper towel to wipe the pan so that it is evenly coated. Pour in the eggs and let it cook until the bottom is firm and light golden brown. Flip the egg over and cook until light golden brown. Remove to a plate and cut the egg into half-inch strips. Set aside.
For the spinach:
Add the entire 9 or 10 oz bag of ready to use spinach in salted boiling water. Boil for 30 seconds, and drain. Run cold water over it to stop the cooking, and squeeze out all the excess moisture with your hand. Transfer to a bowl and season with 1 teaspoon sesame oil, and a couple pinches of kosher salt. Mix well. Set aside.
For the rice:
Mix the rice last. After all the ingredients are prepped and the beef is cooked, place the 6 cups of cooked rice into a large bowl, along with the other ingredients for the rice. Mix gently, and get everything ready for assembly.
Assembly and slicing:
Place a sheet of dried laver seaweed, shiny side down, on a bamboo mat. Starting from the bottom, spread some rice in a thin even layer, filling about ⅔ of the seaweed sheet.
All of the filling that goes on top of the rice should start at 1" from the bottom, and have 2" of rice above it. Place the danmuji and egg first, leaving a gap in between them. In that gap, add your beef in a neat row. On top of the beef, place the carrot and spinach side by side, also in neat rows.
Starting from the bottom, roll the seaweed sheet, using the mat. The first roll should land right where that excess rice is. That will help it stick together. Gently push and squeeze down on the bamboo mat. Move the mat a litttle further away from you, allowing the kimbap to roll with it. Again, squish down and press with your hands. Then wrap and roll the entire kimbap up in the mat. Squeeze firmly across the entire length of the mat to make the sure the kimbap is tight. If you're having trouble keeping the seaweed shut, add a few grains of the rice at the edge of the seaweed sheet.
Use a brush or a gloved hand to put some sesame oil on the surface of the kimbap rolls. This adds flavor and helps keep the kimbap shiny. It also helps to add a little sesame oil to your knife blade. With a sharp knife, slice the kimbap into thin half inch or bite sized pieces. Kimbap is characteristically sliced thinner than Japanese maki. You can then sprinkle with some more roasted sesame seeds if you want. Pop it into your mouth and enjoy your hard work!
TIPS: For the summer time, instead of the marinated beef, you can use strips of cooked ham, and instead of spinach, you can either use thin strips of cucumber, or julienned perilla (sesame) leaves to lighten it up and keep it easy! Also, they sell roasted sesame seeds in a plastic canister at the Korean market, so you don't have to toast your own.