Cilantro Peanut Pesto Pasta with Shrimp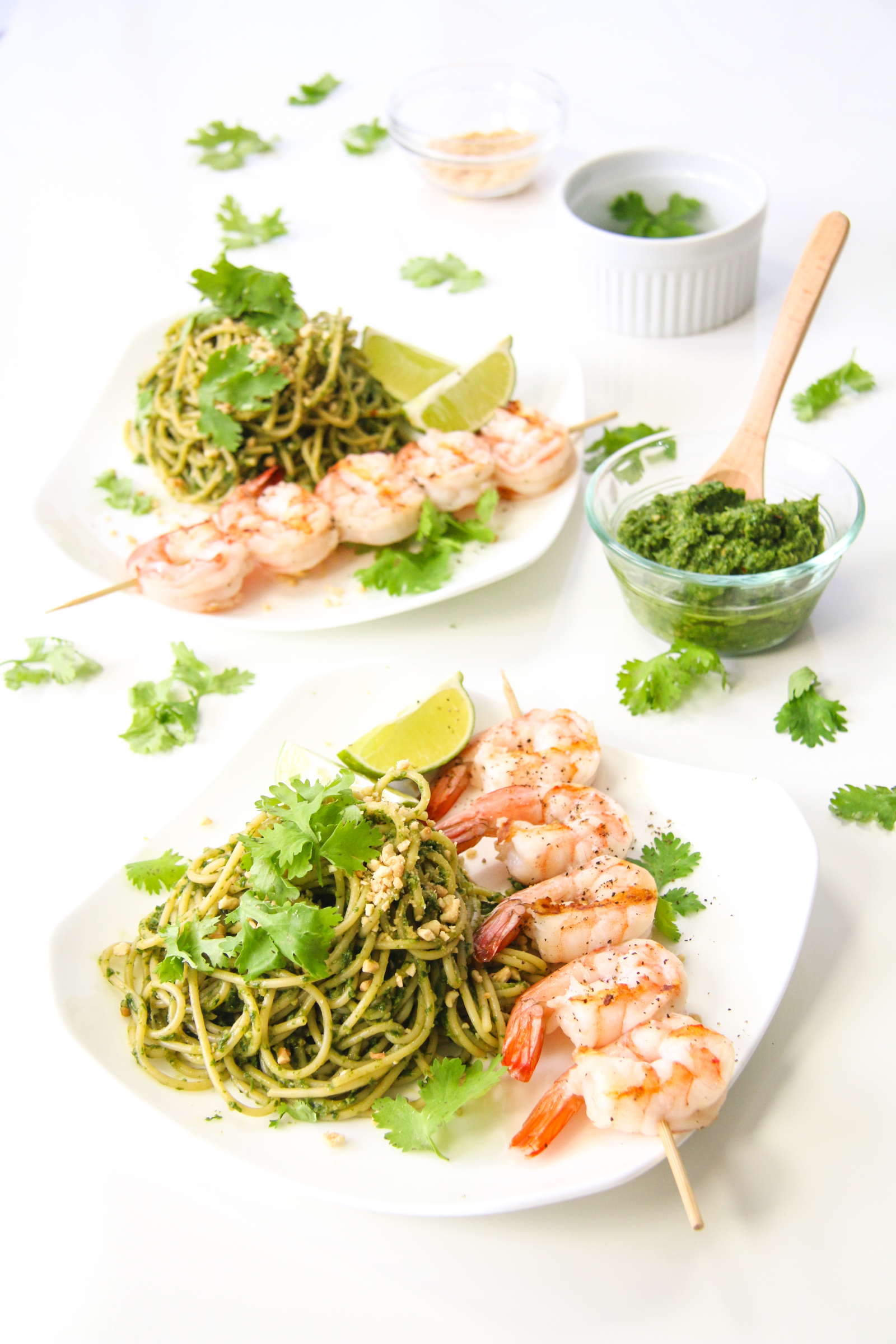 It all began when I went a little crazy over the cilantro that was on sale at the store.  I guess the shipment they got in was a little dirty, so people weren't buying it.  So they were selling 3 huge (dirty) bunches for $0.99.  After washing and spinning them dry, I found different ways to incorporate cilantro into my meals for the week.  But then I was still stuck with the hugest bunch of all and it was starting to die in my fridge.  So I decided to make a pesto out of it and my world hasn't been the same.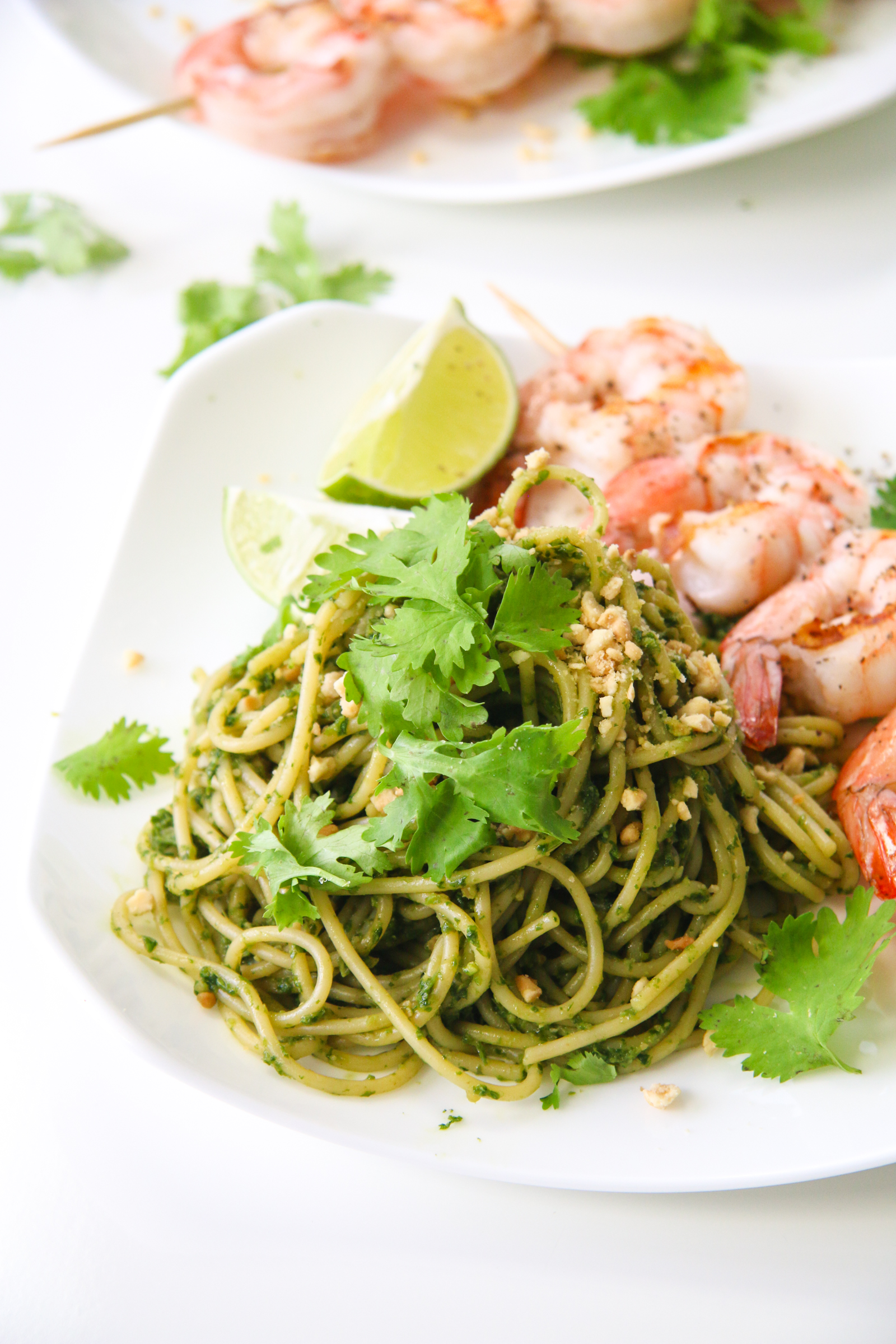 Why should basil have all the fun anyways?  The coolest thing about this pesto is that it has an Asian flair, so you can totally push that concept further and eat it over rice noodles.  But I chose to use good old spaghetti…and we really liked it!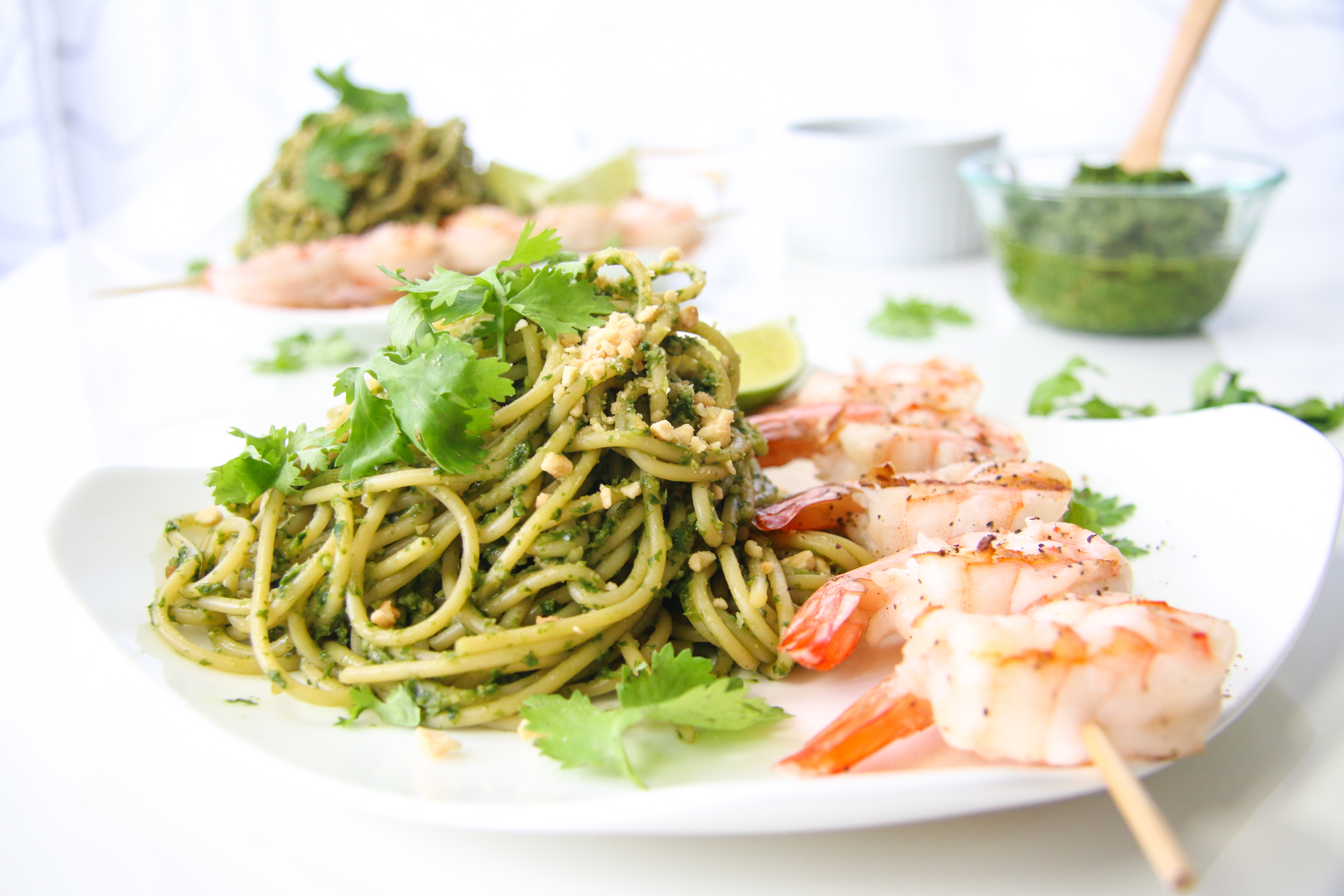 Instead of pine nuts, like you would find in a traditional pesto, I chose to use peanuts.  But if you have a peanut allergy, go ahead and substitute with whatever nuts or seeds you want.   Although you could totally eat this pasta on its own, I wanted to add some grilled shrimp…and this combo works!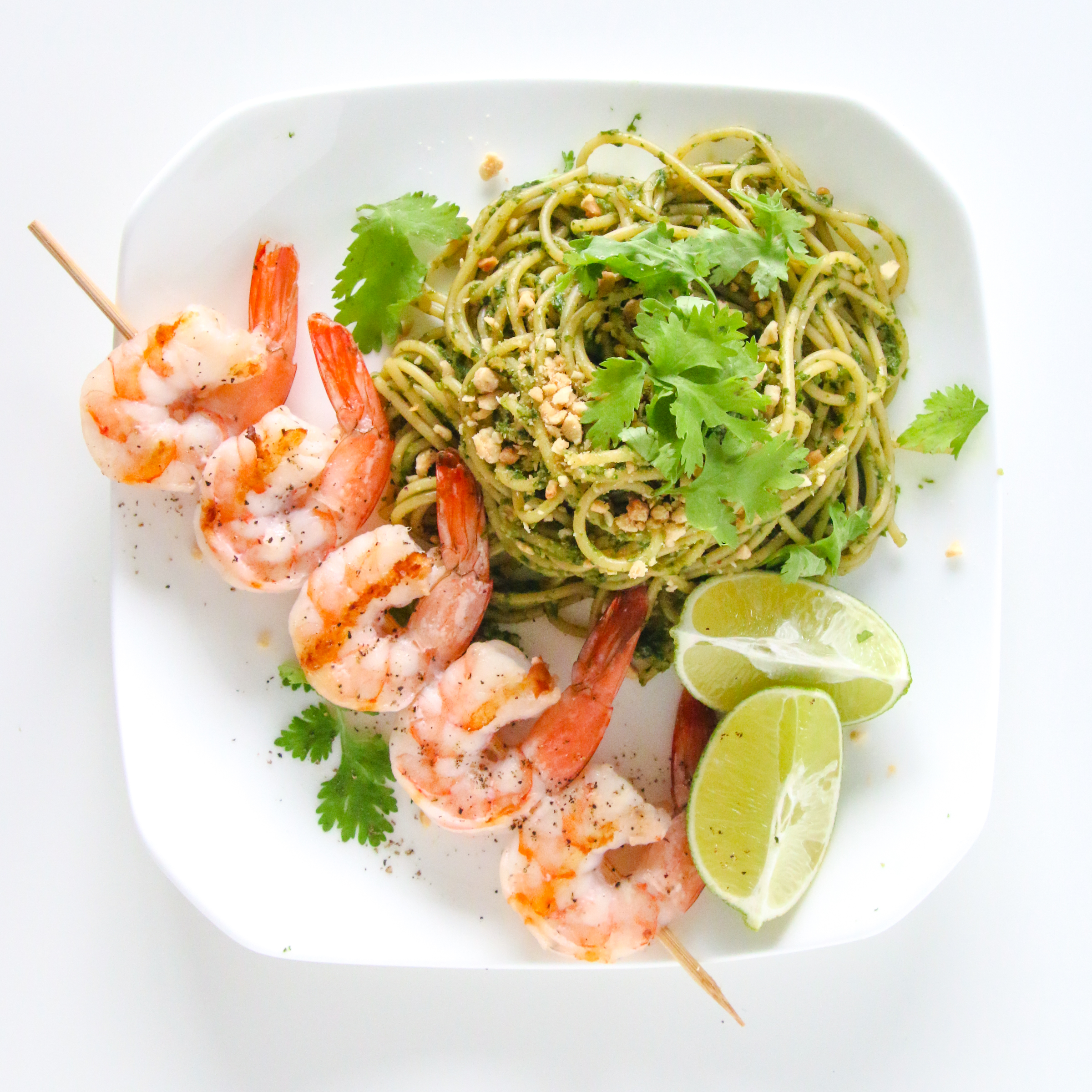 All you need is a fresh bright squeeze of lime, and dinner is done. I love how you can eat this dish cold too, which makes it perfect for the summer.  Watch how I make this easy and unique Cilantro Peanut Pesto Pasta with Shrimp in EPISODE 11 of Bits & Pieces SEASON 3 below.
WATCH EPISODE 11 HERE:
The thing I love about cilantro is that you can eat the stems and all.  I know we usually tend to throw them out and only pick off the leaves, but the stems are tender and full of flavor.  So blitz them up in the food processor as well and you'll have a tastier pesto in the end!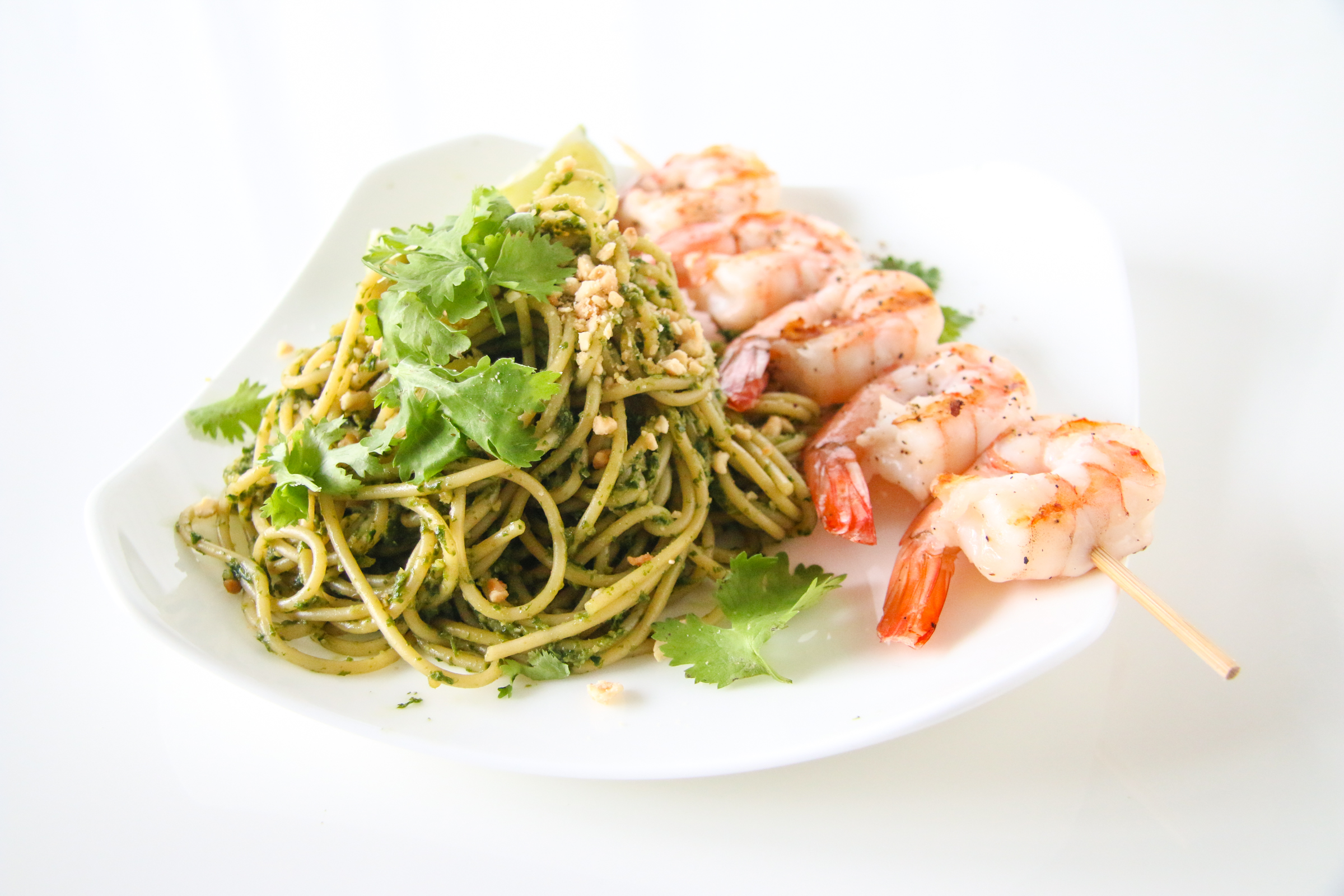 Since there's so much flavor going on in the pesto, I choose to season my shrimp simply with salt and pepper.  But you can add a sprinkle of something fancy if you wish. You can also pair your pasta with grilled chicken or slices of steak.  I just love how something old can become something totally brand new.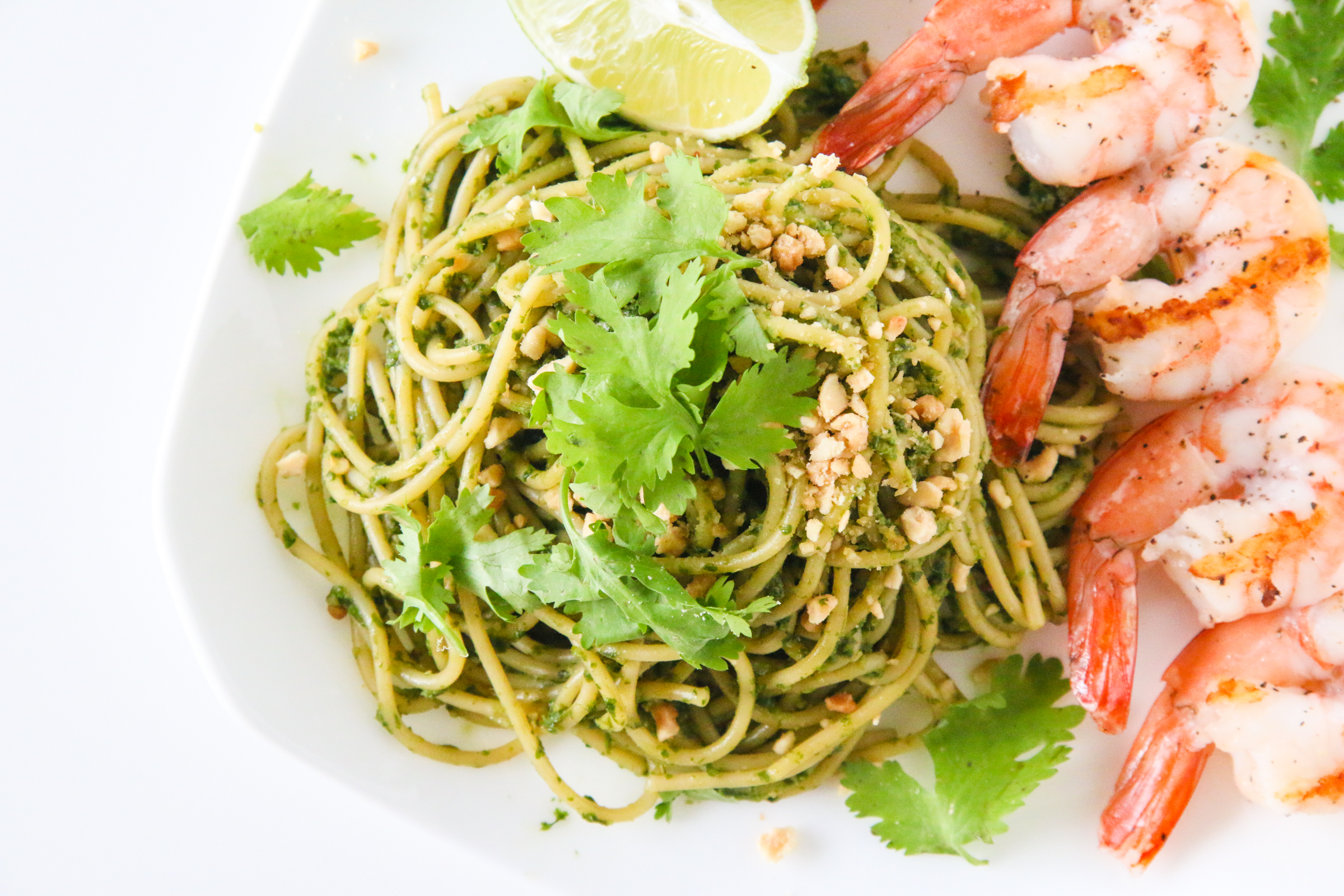 So the moral of the story kids is the next time you're tempted to throw out your sad looking herbs, try making a pesto instead.  You'll feel proud of yourself for not wasting food, and your stomach will be happy too.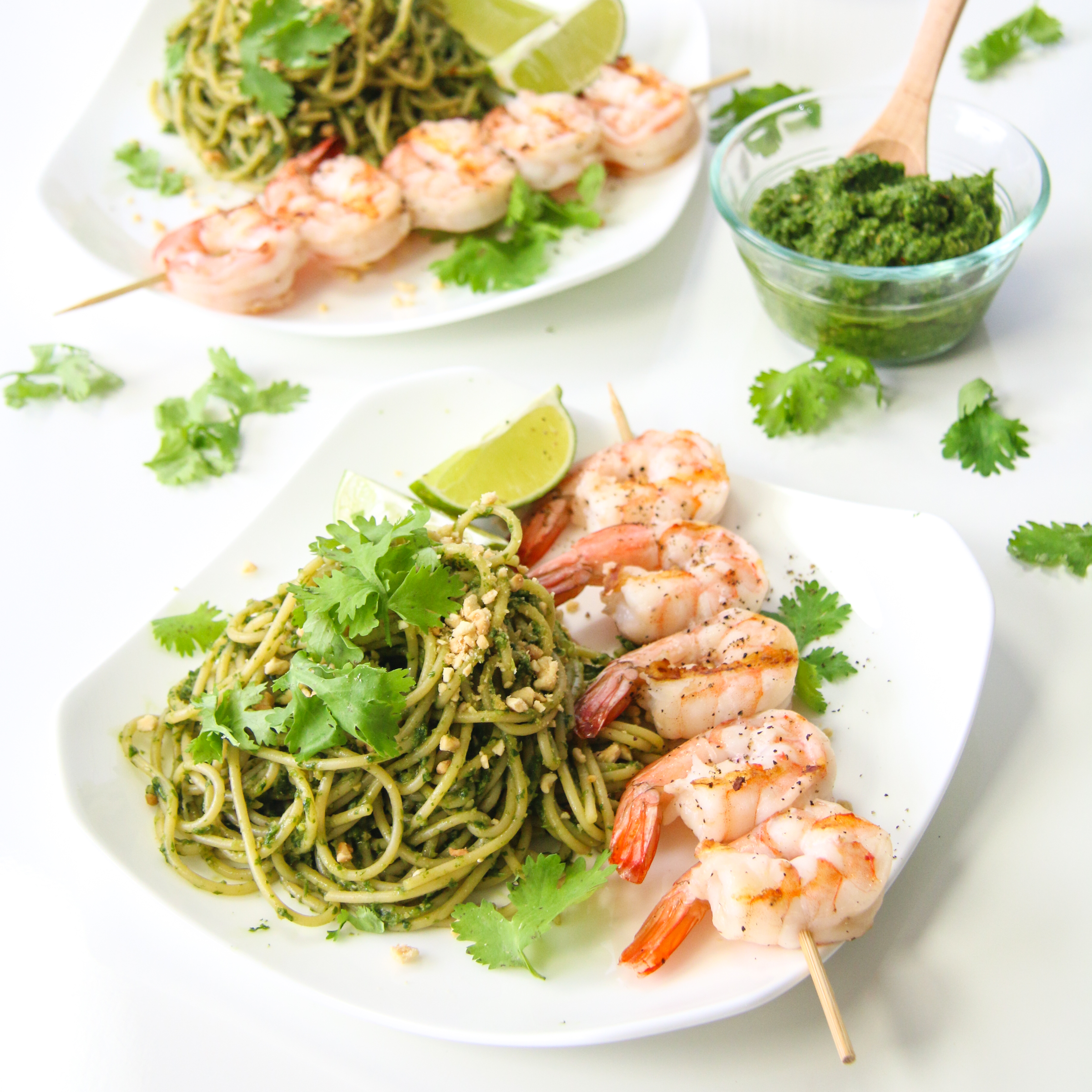 * COME BEHIND THE SCENES WITH US AND WATCH THE MAKING OF THIS EPISODE HERE: BEHIND THE SCENES
If you enjoyed this VIDEO, SUBSCRIBE to our COOKING SHOW CHANNEL HERE.  It's FREE! : Chef Julie Yoon
If you want to follow us on our journey, SUBSCRIBE to our VLOG CHANNEL HERE. It's FREE! : Our Yooniverse

Cilantro Peanut Pesto Pasta with Shrimp
Why should basil have all the fun? You can make pesto with cilantro too!
Ingredients
1 bunch cilantro (stems and all), ¼ cup leaves reserved for serving
1 clove garlic, smashed and peeled
¾-inch piece fresh ginger, peeled
2 tablespoons vegetable oil
1 tablespoon toasted sesame oil
½ teaspoon crushed red-pepper flakes
½ teaspoon grated lime zest plus 2 tablespoons juice
1 teaspoon light-brown sugar
⅓ cup roasted salted peanuts, divided
2-3 tablespoons soy sauce
¾ pound spaghetti or linguine, cooked according to package instructions
Large shrimp (optional)
Salt and pepper to taste
Instructions
In a food processor, pulse peanuts and pour some out for topping at the end. To the processor, add cilantro, garlic, ginger, vegetable oil, red pepper flakes, lime zest, lime juice, and brown sugar. Pulse until a coarse paste forms. Season with the soy sauce and sesame oil and pulse to combine.
Meanwhile, in a pot of salted water, cook pasta according to package instructions. Reserve ¼ cup of the starchy salted cooking water and drain. In a large bowl, toss pesto with pasta while the pasta is still hot. Loosen the pesto with the reserved pasta water if necessary. Sprinkle remaining pulsed peanuts over pasta along with cilantro leaves.
Season shrimp lightly with salt and pepper and a drizzle of oil. Grill for about 1-2 minutes per side, or until they turn pink and the tails start to curl. If you have a lot of shrimp, you can cook them on wooden skewers that have been soaked for about 30 minutes, so they're easier to turn on the grill at the same time. This also makes a beautiful presentation. Serve with the cilantro pesto pasta.

TIP: The whole point of this recipe is to not waste the cilantro stems. They're tender and fragrant and can be used in this recipe.