Cilantro Peanut Pesto Pasta with Shrimp : Behind the Scenes
Oh my goodness… I forgot how funny our bloopers were for this episode!  We shot this a little while back (before we left for Korea), so I had to re-watch it just now to know what to write about for this entry.  I remember laughing so hard during the shoot.  Joe was saying the funniest things without even trying.  But that really made my day and it was much needed comic relief.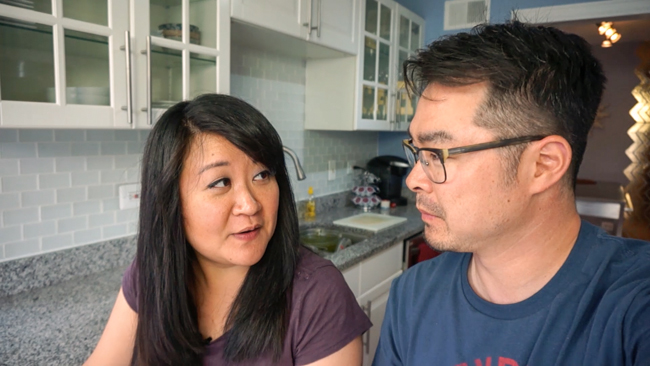 I was a little low-energy at the beginning of this shoot because of a tough week.  There was a lot going on and we were balancing multiple projects.  So our brains were a little preoccupied, and our kitchen was a mess before we even started.
But everything went decently well… until the end. I hadn't cried from laughing that hard in a long time.  I remember editing our recipe video and having to cut out so much dead space footage of us just trying to gain our composure.  Our Cilantro-Peanut Pesto Pasta with Shrimp episode is out now and you can watch it HERE.  But If you're curious as to why I was crying a river, then watch our behind the scenes video below.
WATCH OUR BEHIND THE SCENES VIDEO HERE:
By the way, did you ever notice how good of a cleaning job Joe does in our behind the scenes videos?  He's either scrubbing the table or in this case, wiping the floor with such precision and care.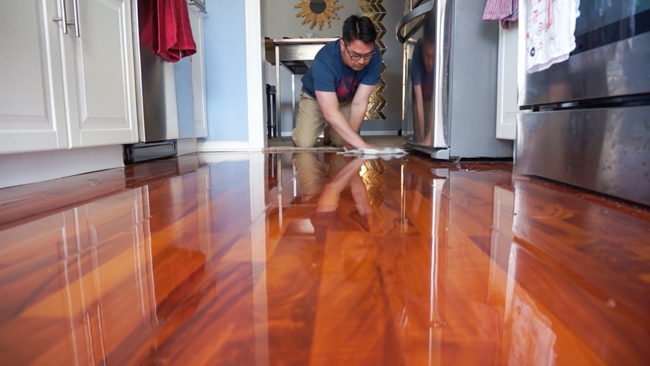 I guess it's because we each have our roles when filming and now we do them without even speaking to each other.  I'm glad things have evolved over time.  I also like that we can take moments to have fun.
Sometimes the routine of filming and doing the photoshoot can get mundane, so I'm thankful for funny moments that catch us by surprise.  I hope you enjoyed our bloopers. Thanks for coming behind the scenes with us!
Our Cilantro Peanut Pesto Pasta with Shrimp episode is out now and you can watch it HERE.
If you enjoyed this VLOG, SUBSCRIBE to our VLOG CHANNEL for more videos like this one. It's FREE! : Our Yooniverse
Watch our cooking show on our MAIN CHANNEL by SUBSCRIBING here.  It's FREE! : Chef Julie Yoon