Korean Spicy Kimchi Noodles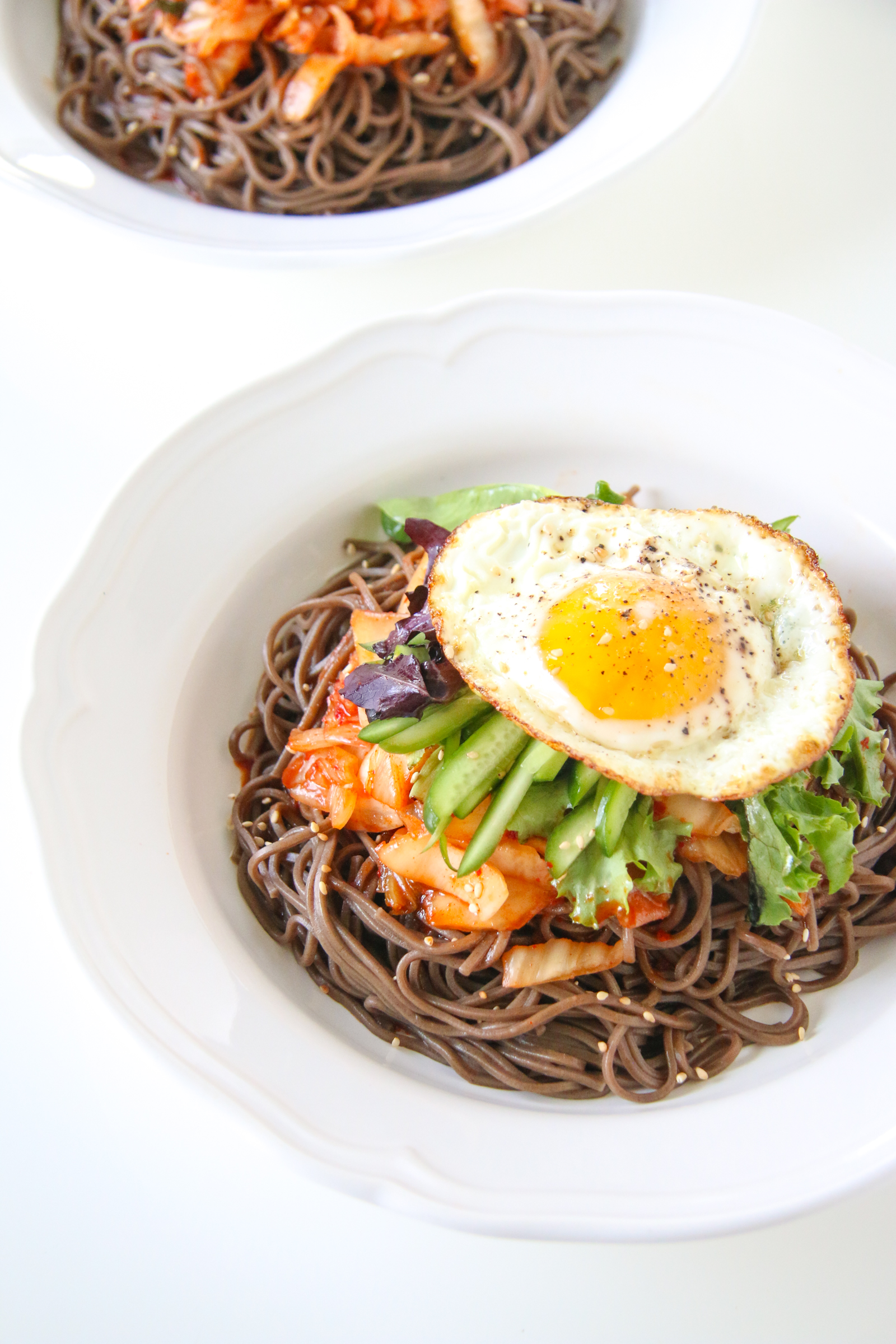 I'm pretty beat right now. I feel like I walked through a car wash.  I'm definitely no spring chicken anymore!  Yesterday, I was busy preparing and plating food for a great event in Chicago called "Eat for North Korea," so if I met you there, hi!  And if I looked busy and unfriendly, it's because we were just trying to get the food out as fast as we could.  Now my body aches and I feel like a zombie, so if this blog entry doesn't make sense, forgive me!
But I think it's really fitting that we're launching our FIRST Korean recipe video in the same week that we did an event where I had to make Korean food for 200 people!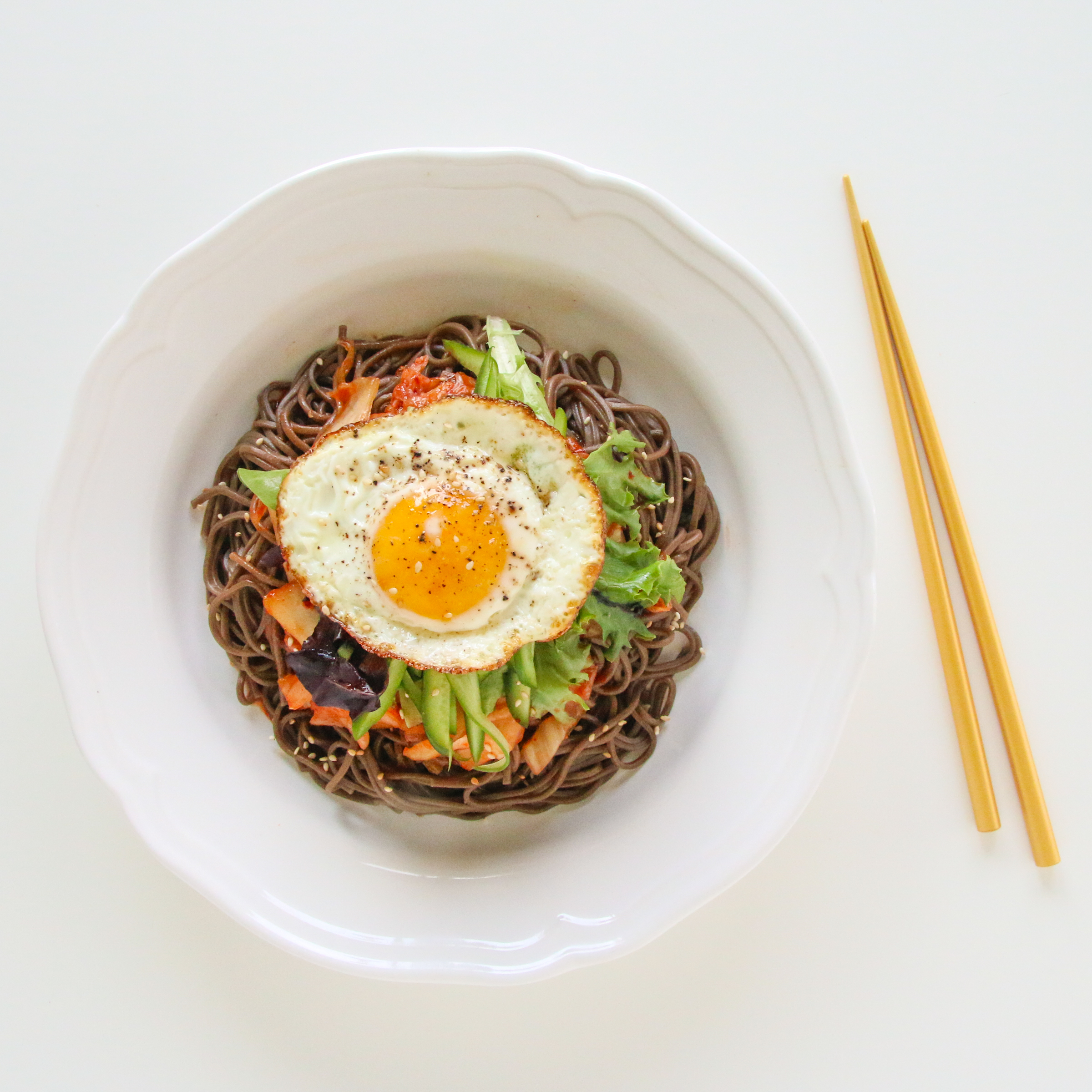 But the truth is that Korean food is a big part of my life.  I ALWAYS have Korean ingredients in my house.  I don't always have kimchi though, so when I did have just a little bit left in a huge jar sitting in my fridge, I knew it was time to make use of it and give you a recipe.
These noodles are PERFECT for the summer because there's barely any cooking involved and they're eaten cold!  I use soba noodles because that's what I already had in my pantry, but you can go more traditional and use white somen noodles if you prefer.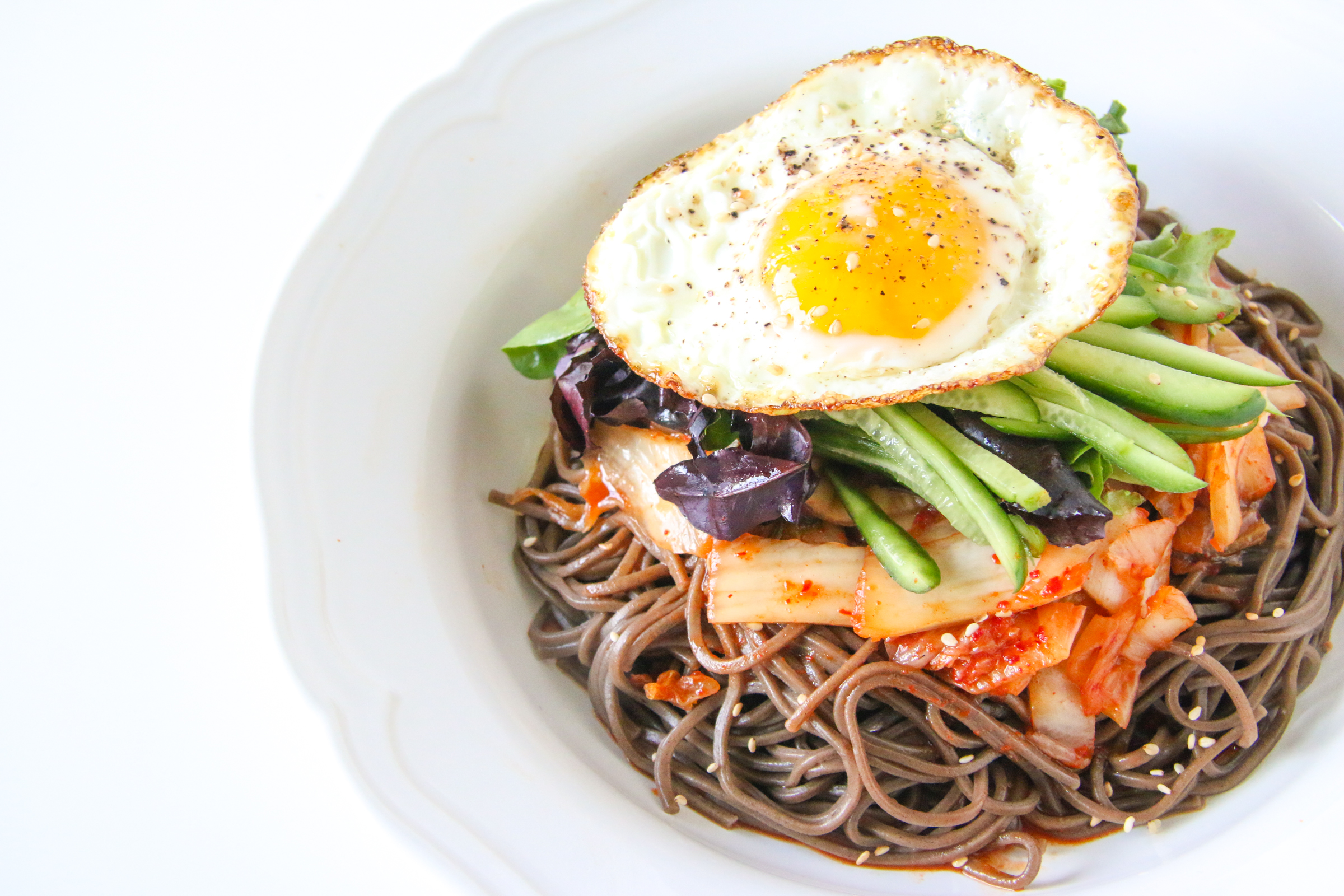 It's all about the sauce anyways.  It's spicy, sweet, tart, and addicting. I like to add some veggies and a fried egg on top to make it more WONDERFUL.  I like the runny yolk to mix in with everything to add more flavor and mouth-feel.  Traditionally, you'd see it served with nothing more than a few strips of cucumber and half a boiled egg, so if you want to keep things classic, that's the way to go.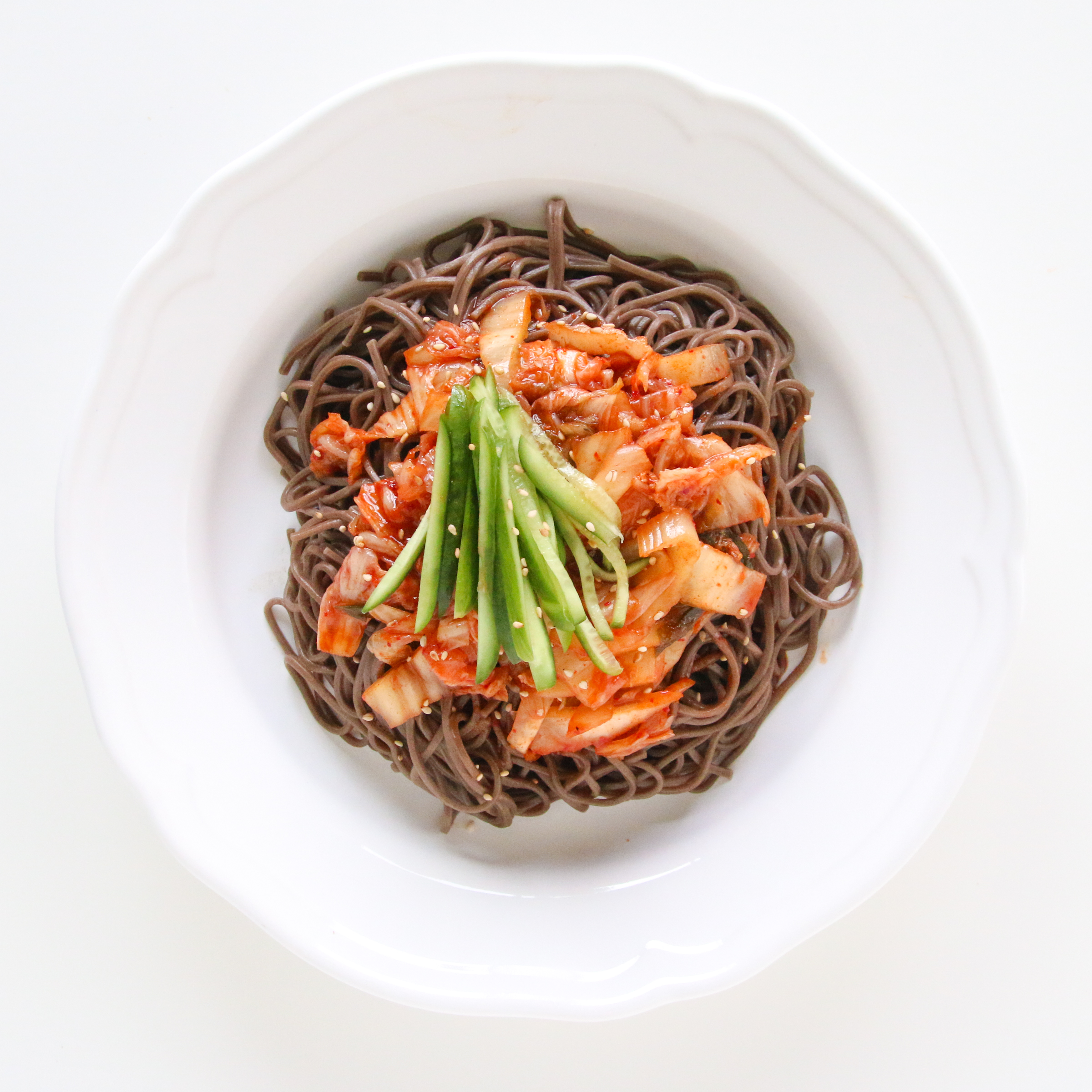 But if you're not used to cooking Korean food, no fret my pet…you can watch how I pull these easy and exciting Korean Spicy Kimchi Noodles together in EPISODE 6 of Bits & Pieces SEASON 3 below:
WATCH EPISODE 6 HERE:
The name of these noodles is slightly deceiving because although kimchi is an important part of the recipe, the star of the show is really the Gochujang.  It's a spicy and slightly sweet red pepper paste that's important to Korean cuisine.  So please don't try to substitute it with Sriracha or something else.  You won't achieve the same flavor.
But speaking of Sriracha, it has been rumored that Gochujang is supposed to be "the next Sriracha," meaning that it's going to get mainstream soon.  So why don't you jump on the bandwagon right now?  Usually you find it in only in Korean markets, but lately, I've seen it sold in the Asian aisle of regular grocery stores too!
And the kimchi you use should be slightly over-ripe or a bit tangy. The longer it sits in your fridge, the more fermented and sour it gets.  You don't want to eat it raw when it's TOO sour… that's when you cook it up into stew or fried rice.  But your kimchi should not taste raw or underripe, like pure salted cabbage either.
Once your sauce is ready, you just have to boil up some noodles and mix everything together.  But I prefer to keep mine separate for presentation purposes, and I let people mix their noodles on their own.  That's right… put your friends and family to work!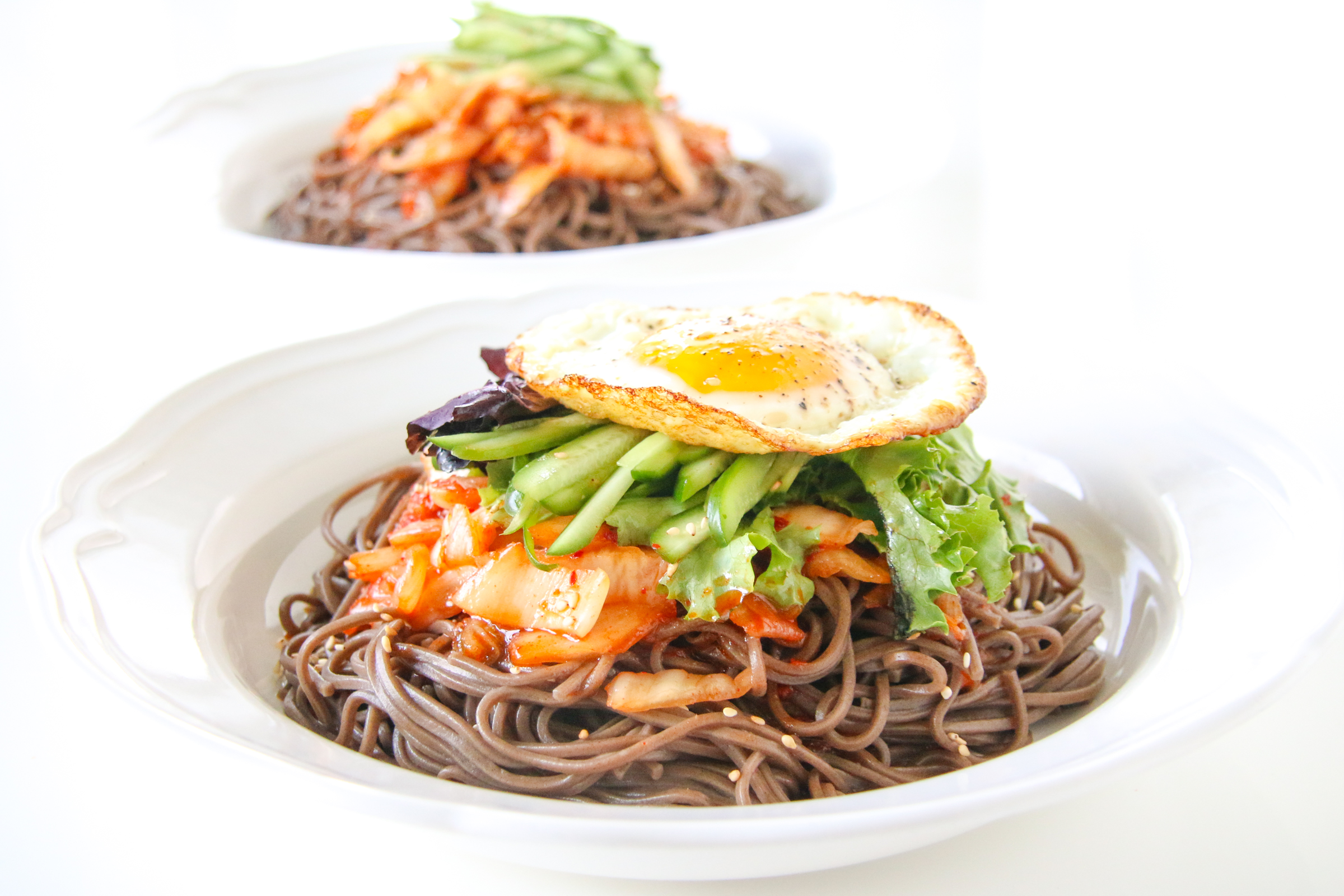 Then I top the noodles with julienned cucumbers and spring mix lettuce to add a pop of color and contrast.  And don't forget the egg… it's the crowning glory.  That's why I fry it instead of boiling it.  Joe actually prefers it this way too.  But there are no rules in my house and I'm not going to yell at you if you do something different.  We eat these chilled noodles while kicking back on the couch watching TV. That's the way to do things in the summer!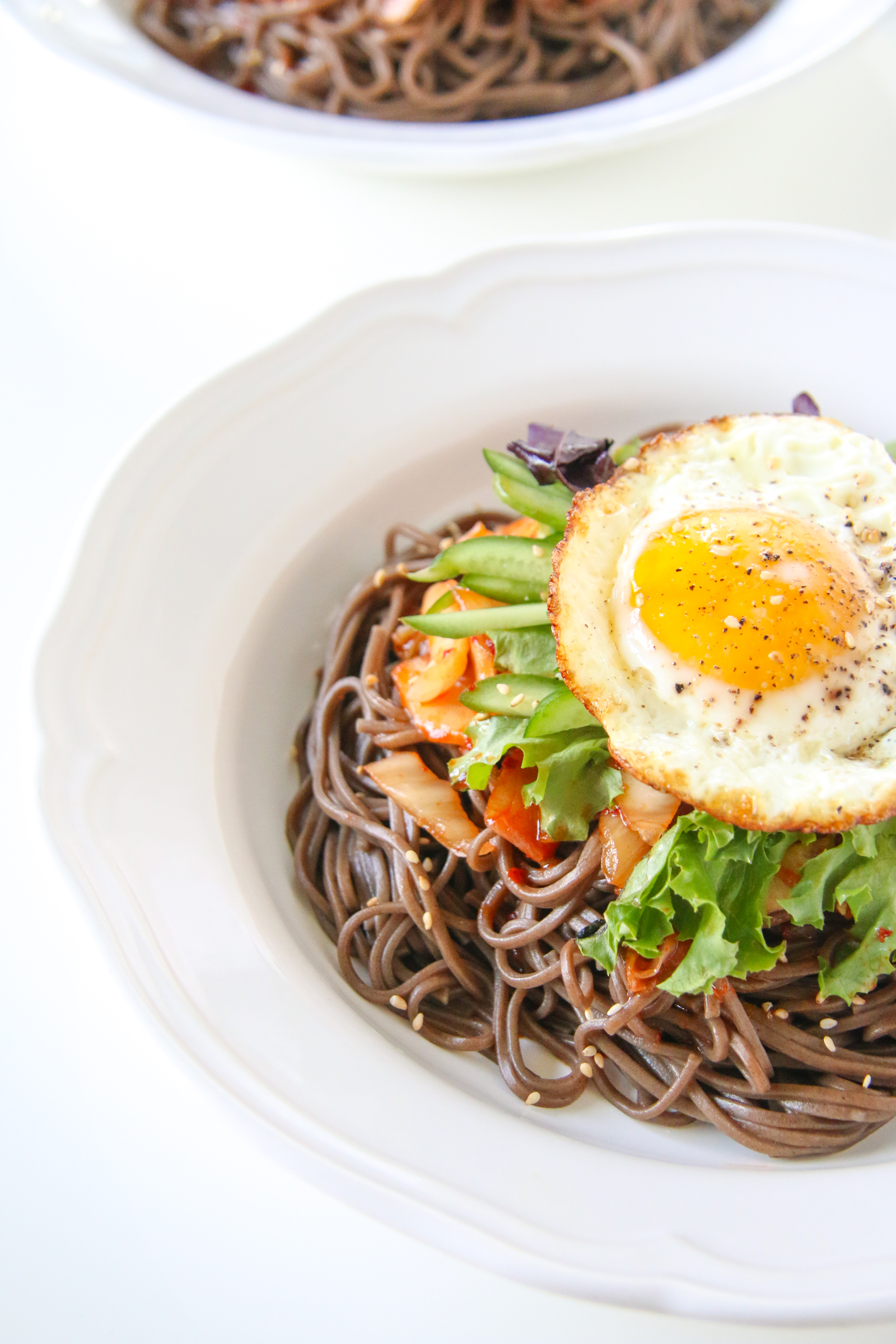 * COME BEHIND THE SCENES WITH US AND WATCH THE MAKING OF THIS EPISODE HERE: BEHIND THE SCENES
If you enjoyed this VIDEO, SUBSCRIBE to our COOKING SHOW CHANNEL HERE.  It's FREE! : Chef Julie Yoon
If you want to follow us on our journey, SUBSCRIBE to our VLOG CHANNEL HERE. It's FREE! : Our Yooniverse

Korean Spicy Kimchi Noodles
These Korean noodles are cold, spicy, sweet, tangy, and everything you crave in the summertime!
Ingredients
8 – 10 ounces soba or somen noodles
1 cup ripe kimchi, thinly sliced
2 tablespoons kimchi juice
1 tablespoon Korean red chili pepper paste, gochujang
1 tablespoon soy sauce
1 tablespoon (light) corn syrup or honey
1 tablespoon sugar
1 tablespoon rice wine or apple cider vinegar
1 tablespoon sesame oil
½ a small cucumber, thinly sliced
Spring mix lettuce (optional)
2 eggs
Toasted sesame seeds for garnish (optional)
Instructions
Bring a medium pot of water to a boil while preparing the kimchi sauce.
Add the sauce ingredients into a bowl and mix well. Thinly slice the kimchi and place it into the bowl with the sauce.
Add the noodles to the pot of boiling water. Cook the noodles according to the package instructions (about 4 minutes). Drain rinse in cold water to stop cooking. Rinse until the noodles become cold. Drain well. Meanwhile, fry your eggs and season lightly with salt and pepper.
Divide noodles into bowls and top with the kimchi sauce. Garnish with cucumbers, spring mix lettuce, sesame seeds, and fried eggs.