Chicken Koftas with Couscous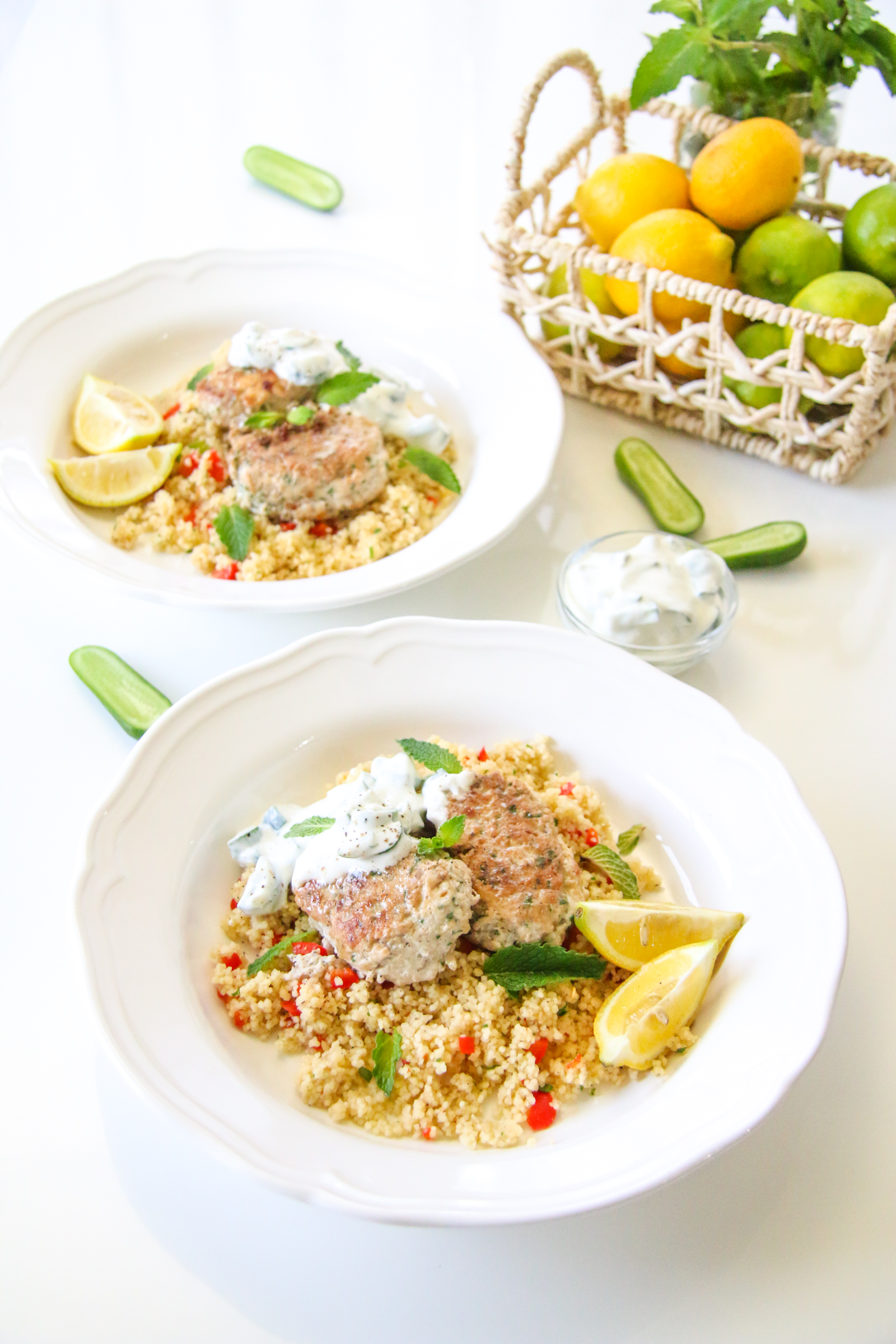 Couscous is a summertime secret weapon of mine because all you have to do is add it to hot liquid, cover tightly, and boom… instant side dish!  And what goes better with couscous than koftas and cucumbers? Hehe. I love the alliteration.  In it's simplest form, a kofta is basically a spice filled flavor-bomb meatball or meat patty.  Sometimes they're on a skewer and referred to as kofta kebab.  Many different countries have their own versions of them, but they all start with some sort of ground meat and seasonings.  They're not something I grew up eating, but I formed a true appreciation for them when I lived in New York.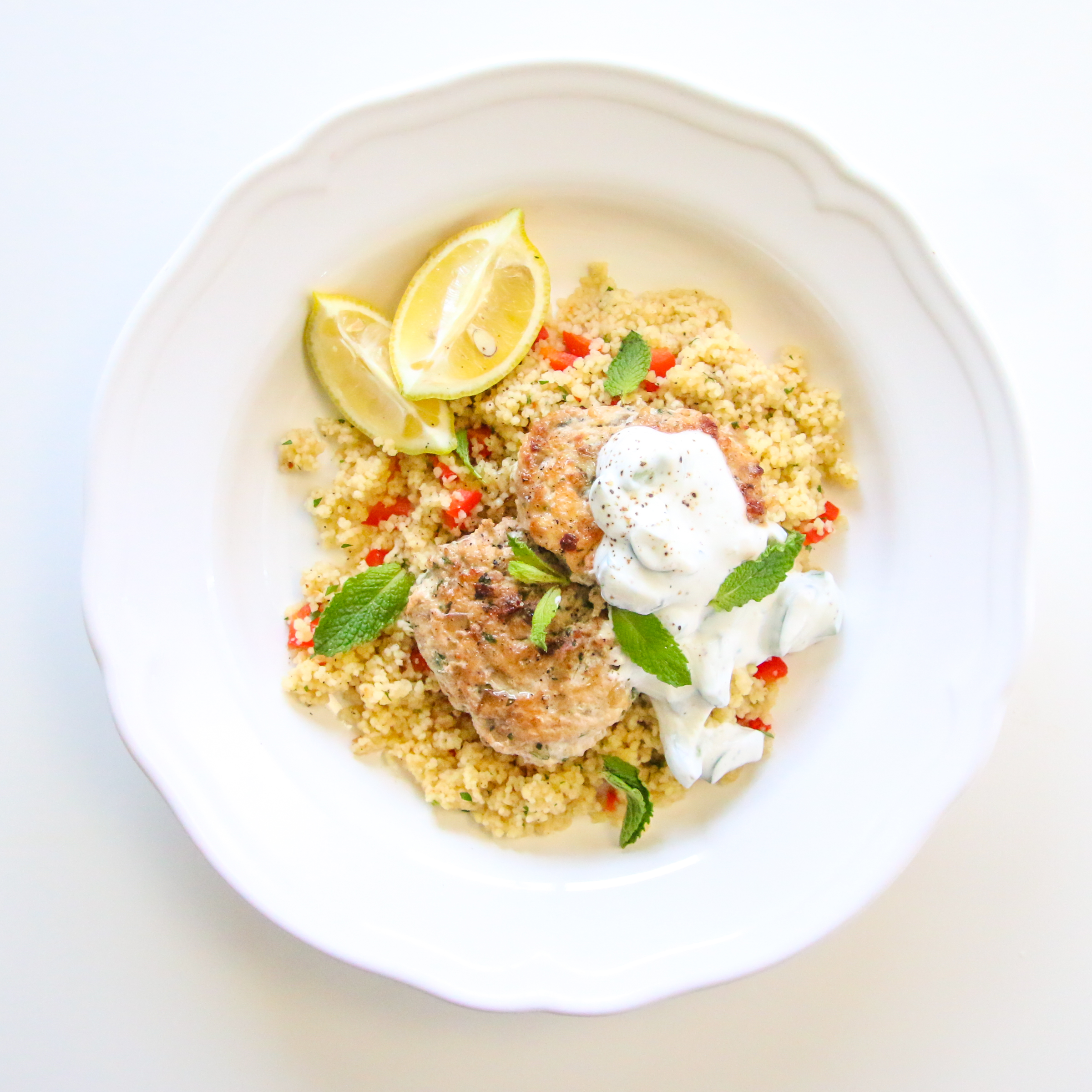 My version uses ground chicken instead of traditional lamb, beef, or pork because I wanted to keep things a little lighter for the summer.  The minced up onion in the mixture keeps them moist and tender.  But even if you do overcook them a tad and they dry out on you, that's why you have the cucumber yogurt sauce.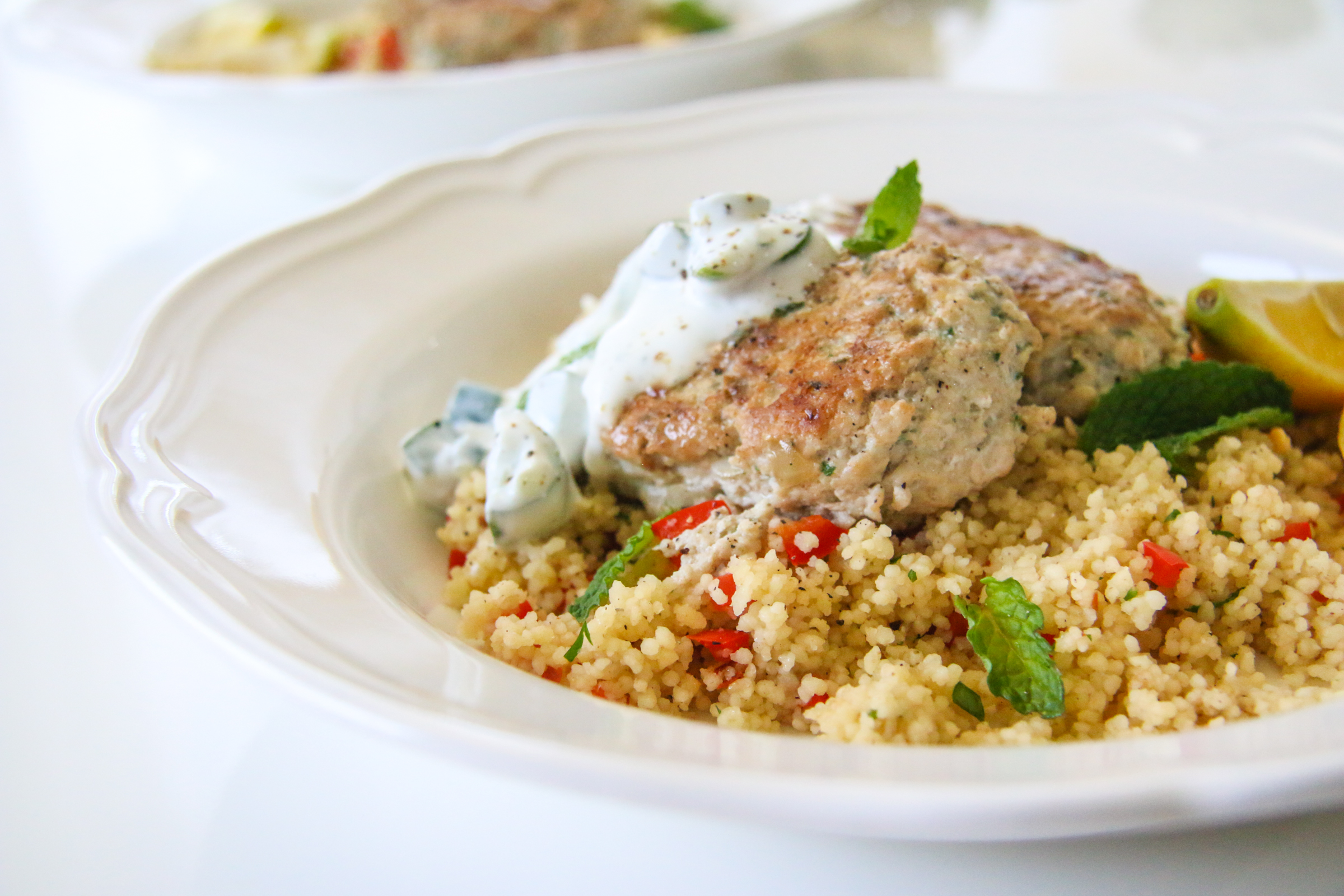 Cumin is my spice of choice.  I've grown to appreciate cumin over the years and realize it's a nice "yum… what is that" seasoning.  Honestly, half the time I eat something and it's so delicious beyond words, there's usually cumin involved.  It's what makes tacos addicting and chili so comforting.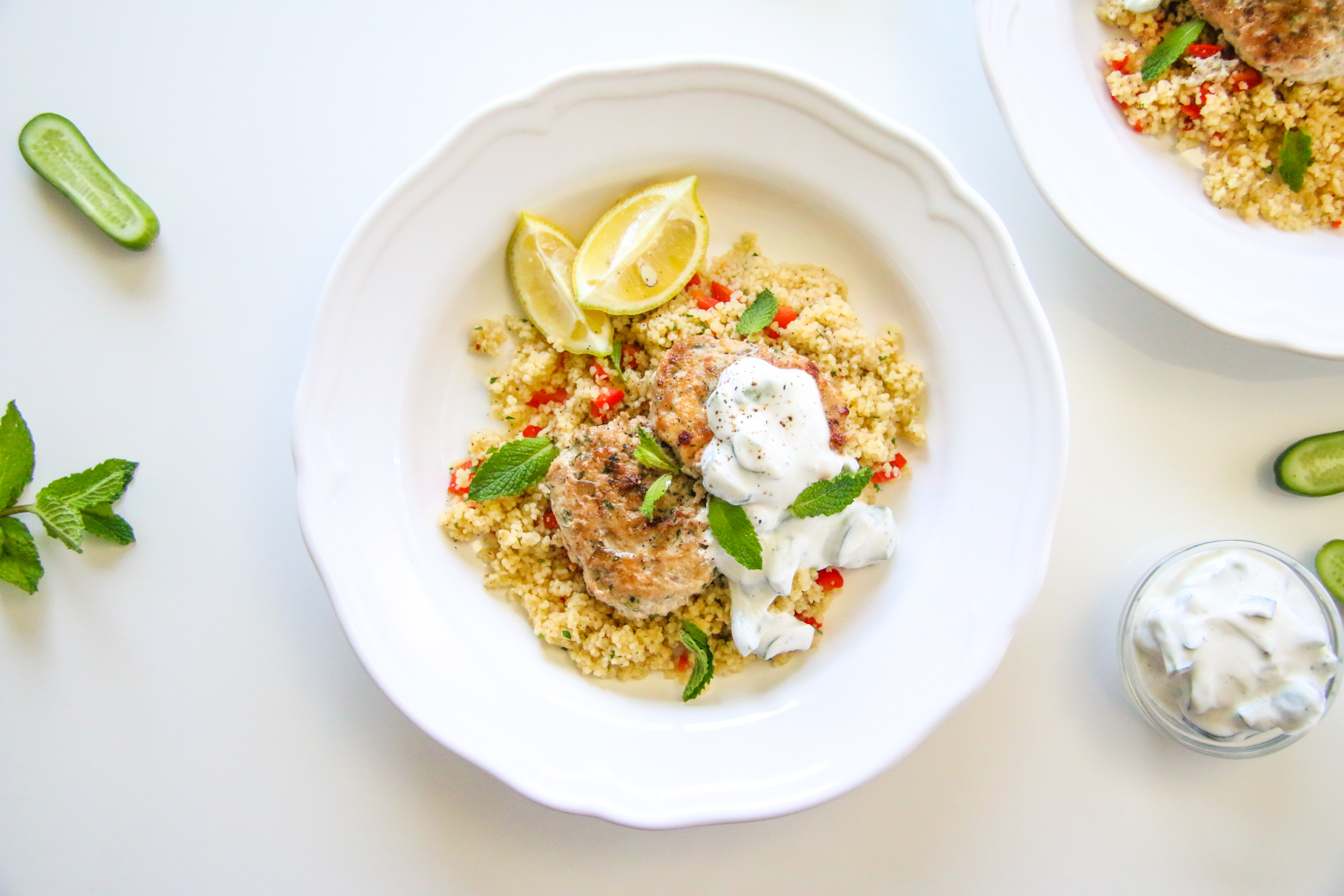 But what I love most about this dish is that all the flavors are balanced with each other and every bite feels like you're discovering something new.  It's hearty enough to make you feel like you had a substantial dinner, but somehow light at the same time.  You can see how I pull this pretty plate together in EPISODE 7 of Bits & Pieces SEASON 3 below:
WATCH EPISODE 7 HERE:
Even as I write this, my window next to me is open.  There's a cool breeze flowing in and I can hear my neighbor's wind chimes.  This dish is so fitting for a day like this and I wish I had all the ingredients in my fridge right now to make this again.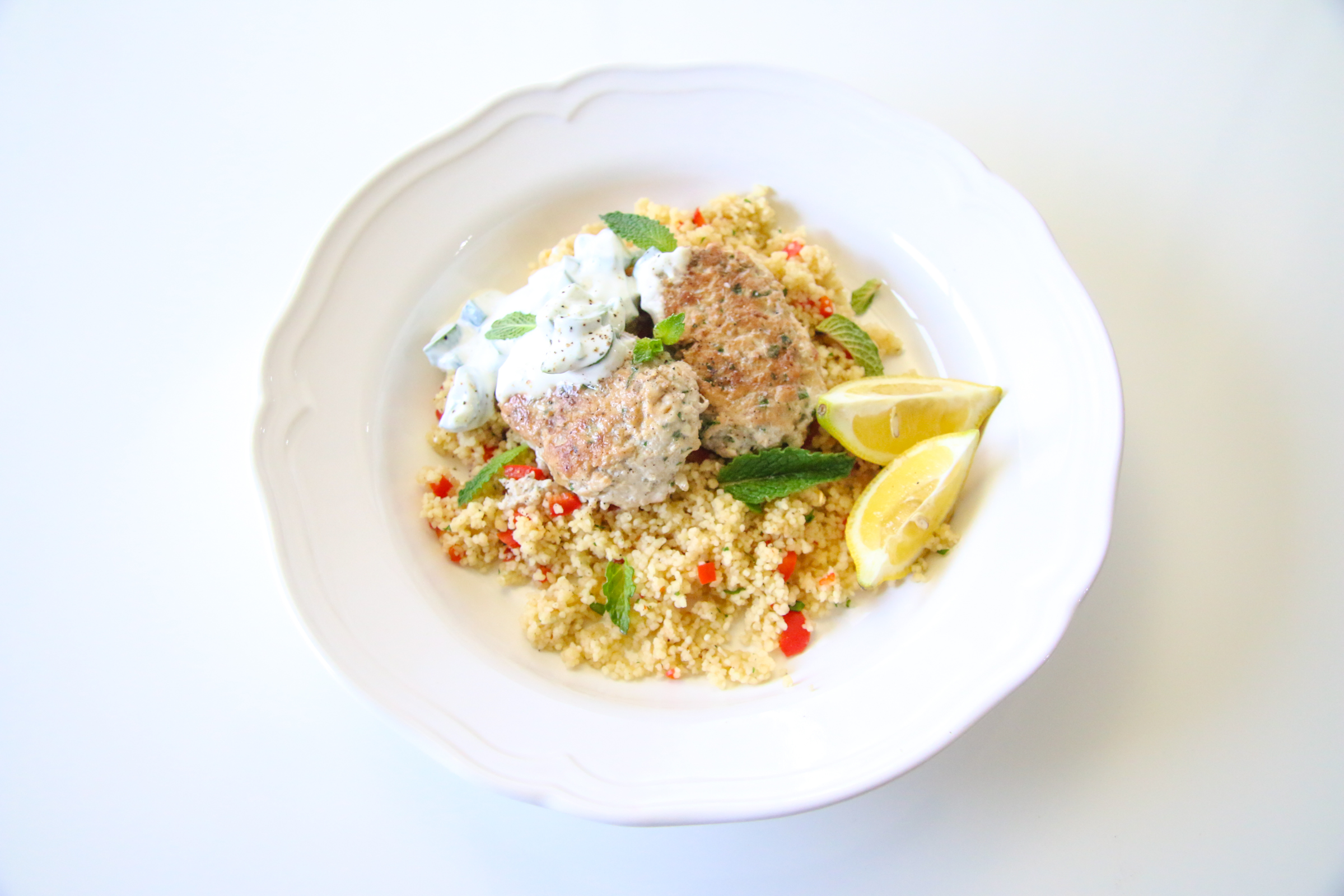 You don't have to add the final touch of mint leaves to the dish if you don't feel like you use it often enough and it will just go to waste.  But I'm just warning you that your experience won't be as good as mine.  I think that last pop of green and fresh fragrance really rounds out the plate nicely.  But you can just use parsley, basil, or even green onions if you want!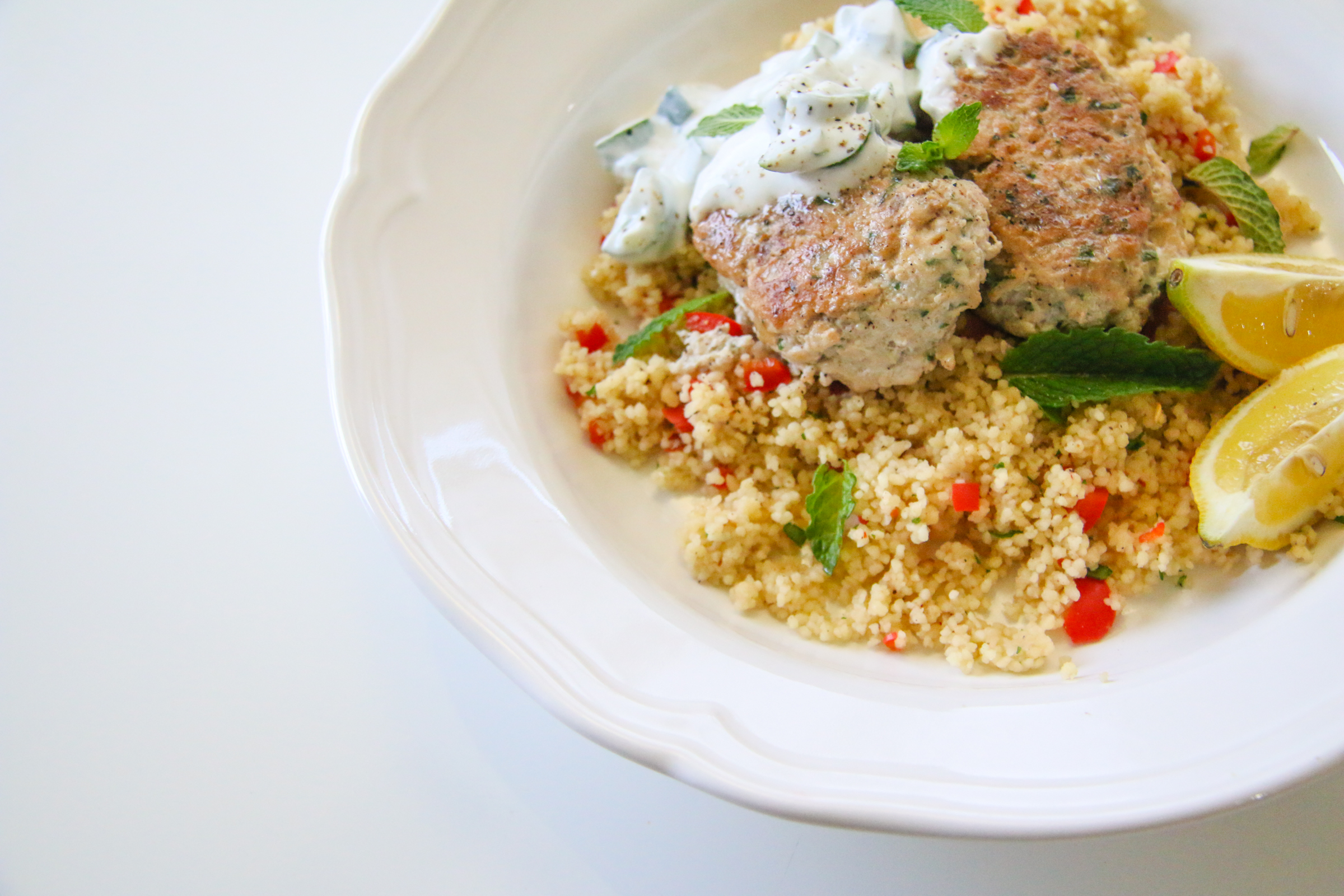 Just don't skip the cucumber yogurt sauce and extra lemon wedges.  That cool bright citrus flavor really compliments the chicken meatballs.  I usually also squirt a little bit of hot sauce on top too.  I love the play of heat with the cooling element of the yogurt.  And for variation, put the chicken koftas and yogurt sauce into pita bread instead and eat it like a sandwich.  I would just add some extra veggies like tomatoes and thinly sliced onions.
Great now I just made myself hungry…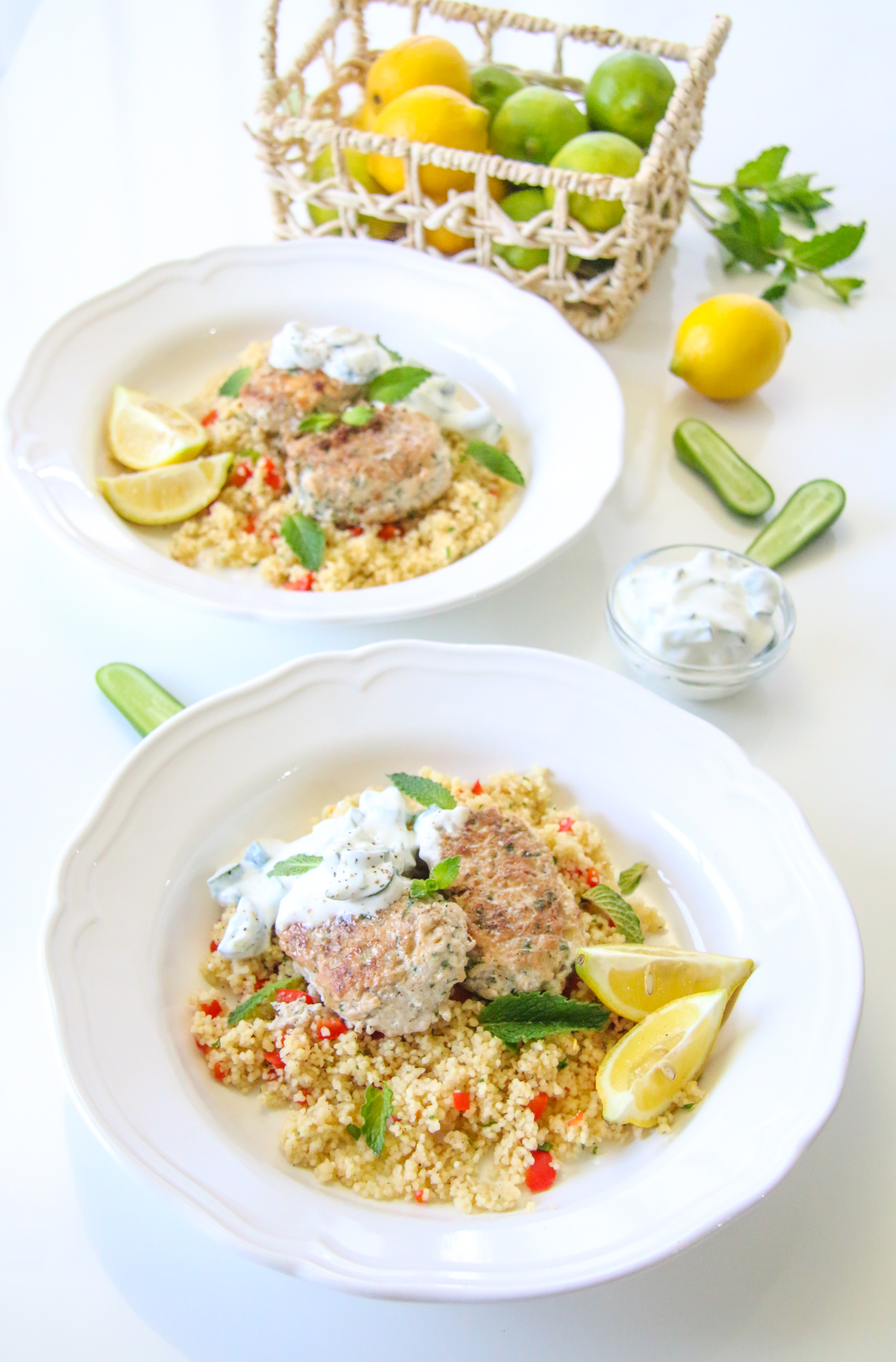 * COME BEHIND THE SCENES WITH US AND WATCH THE MAKING OF THIS EPISODE HERE: BEHIND THE SCENES
If you enjoyed this VIDEO, SUBSCRIBE to our COOKING SHOW CHANNEL HERE.  It's FREE! : Chef Julie Yoon
If you want to follow us on our journey, SUBSCRIBE to our VLOG CHANNEL HERE. It's FREE! : Our Yooniverse

Chicken Koftas with Couscous
Light and flavorful chicken koftas are served over couscous and topped with a cool and creamy cucumber yogurt sauce. This dish is pretty much summertime all on one plate.
Ingredients
Chicken Koftas
1 ¼ pounds ground chicken
½ white onion, finely diced
⅓ cup chopped fresh parsley leaves
1 teaspoon ground cumin
½ teaspoon kosher salt, and ground pepper to taste
2 tablespoons vegetable oil

Cucumber Yogurt Sauce
½ cup plain Greek yogurt
1 tablespoon lemon juice, plus lemon wedges for serving
½ of a cucumber, diced
Salt and pepper to taste

Couscous
1 cup couscous
1 ¼ cup chicken broth
½ teaspoon ground cumin
¼ teaspoon crushed red pepper flakes
½ cup finely diced red bell pepper
1 tablespoon finely chopped fresh parsley
Fresh mint leaves for garnish (optional)
Salt and pepper to taste
Instructions
In a large bowl, combine chicken, cumin, onion, salt, pepper, and parsley. Using your hands, mix until well combined. Form mixture into 8 oval patties and put on a plate.
In a medium bowl, toss together cucumber, yogurt, and lemon juice. Season with salt and pepper.
In a large skillet, heat oil over medium-high. Cook patties until browned on all sides and cooked through, about 12 minutes total.
Meanwhile, heat chicken broth in a pot with cumin and red pepper flakes. When it comes to a boil, add the red bell peppers and couscous. Place a lid on top and turn off the heat. Let the couscous sit for 5-7 minutes, or until cooked. Fluff with a fork, add chopped parsley, and season with salt and pepper. To serve, scoop couscous onto plates, top with two koftas each, dollop with some cucumber yogurt sauce, and lemon wedges for squeezing. Top with fresh parsley or mint leaves.