Shrimp and Avocado Summer Rolls (Fresh Spring Rolls)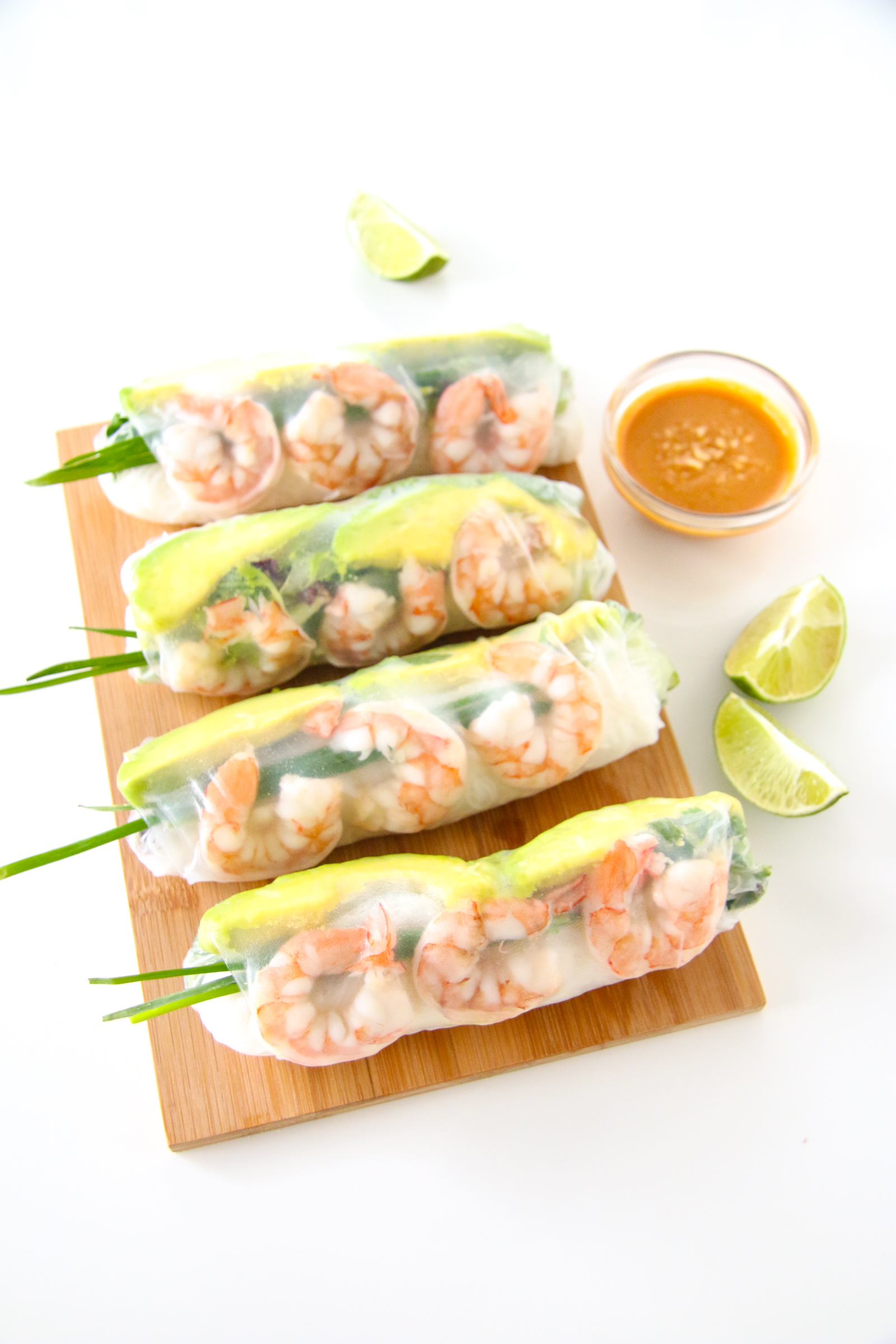 When it's sticky, hot, and humid outside, all I crave are these Shrimp and Avocado Summer Rolls.  They're stuffed with fresh herbs and cold crisp veggies…that's definitely my kind of food!  You can obviously use whatever fillings you want, but there's something about this shrimp and avocado combo that really makes me swoon.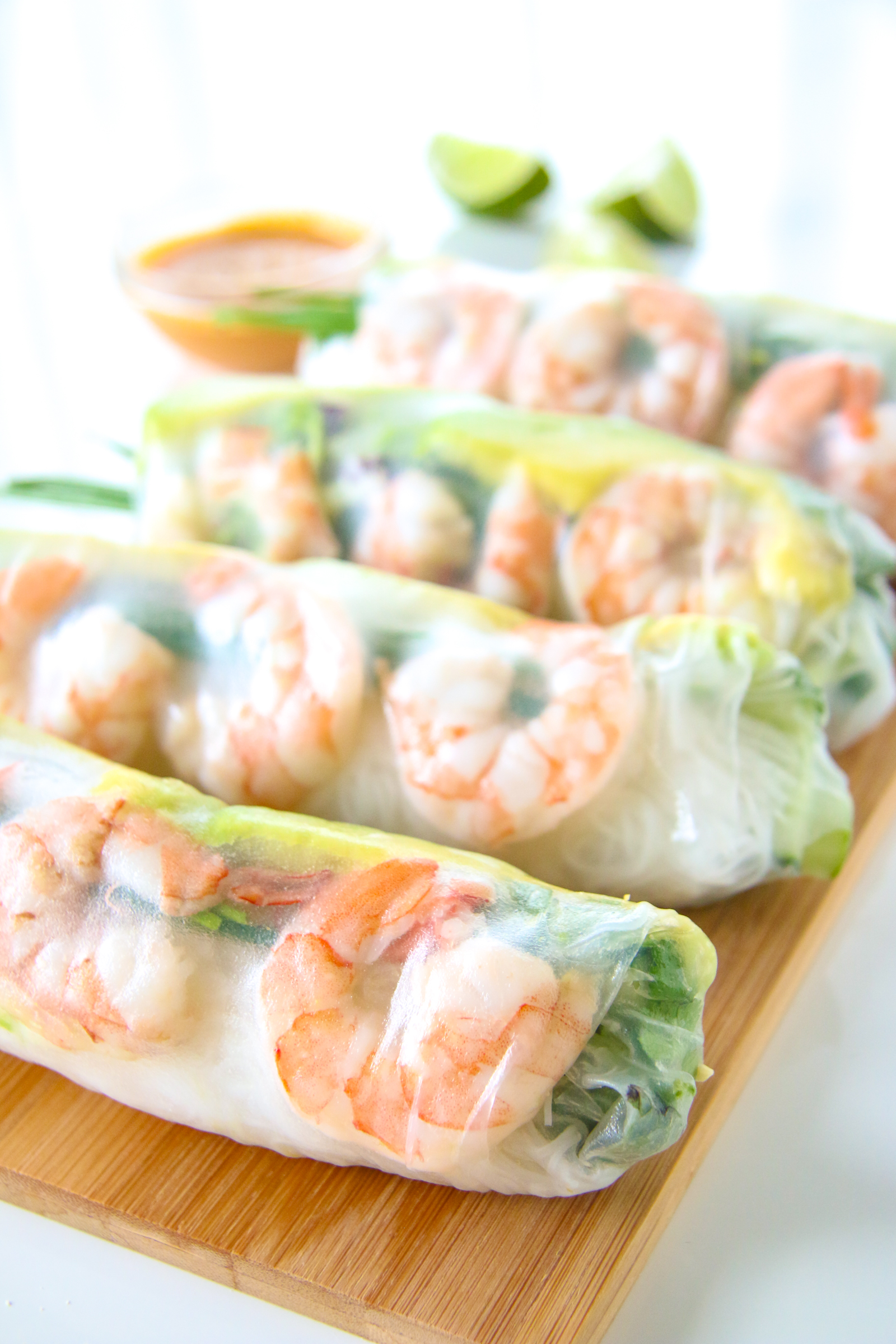 By the way, do you like to say summer rolls or spring rolls?  I've heard it both ways but I kind of like the ring of summer rolls better.  I was introduced to them pretty late in life, when I was in college.  But I fell in love with them instantly and made them part of my world.  In fact, I regularly keep rice paper wrappers and vermicelli noodles stashed away in my pantry at all times now.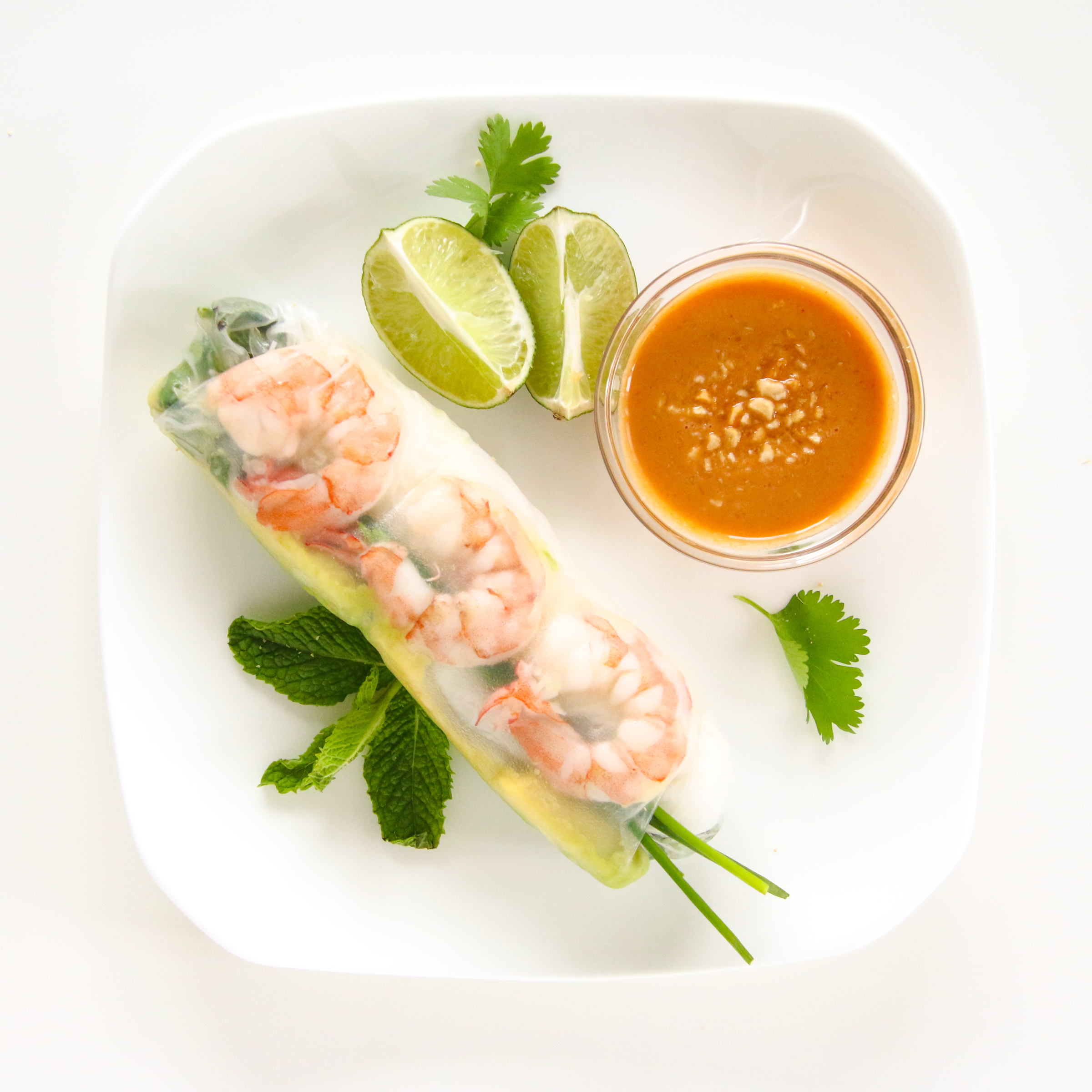 I'm surprised it took me this long to share this recipe.  Maybe it's because I always considered these summer rolls to be a "non-recipe," because they're so easy to make and nearly impossible to get wrong.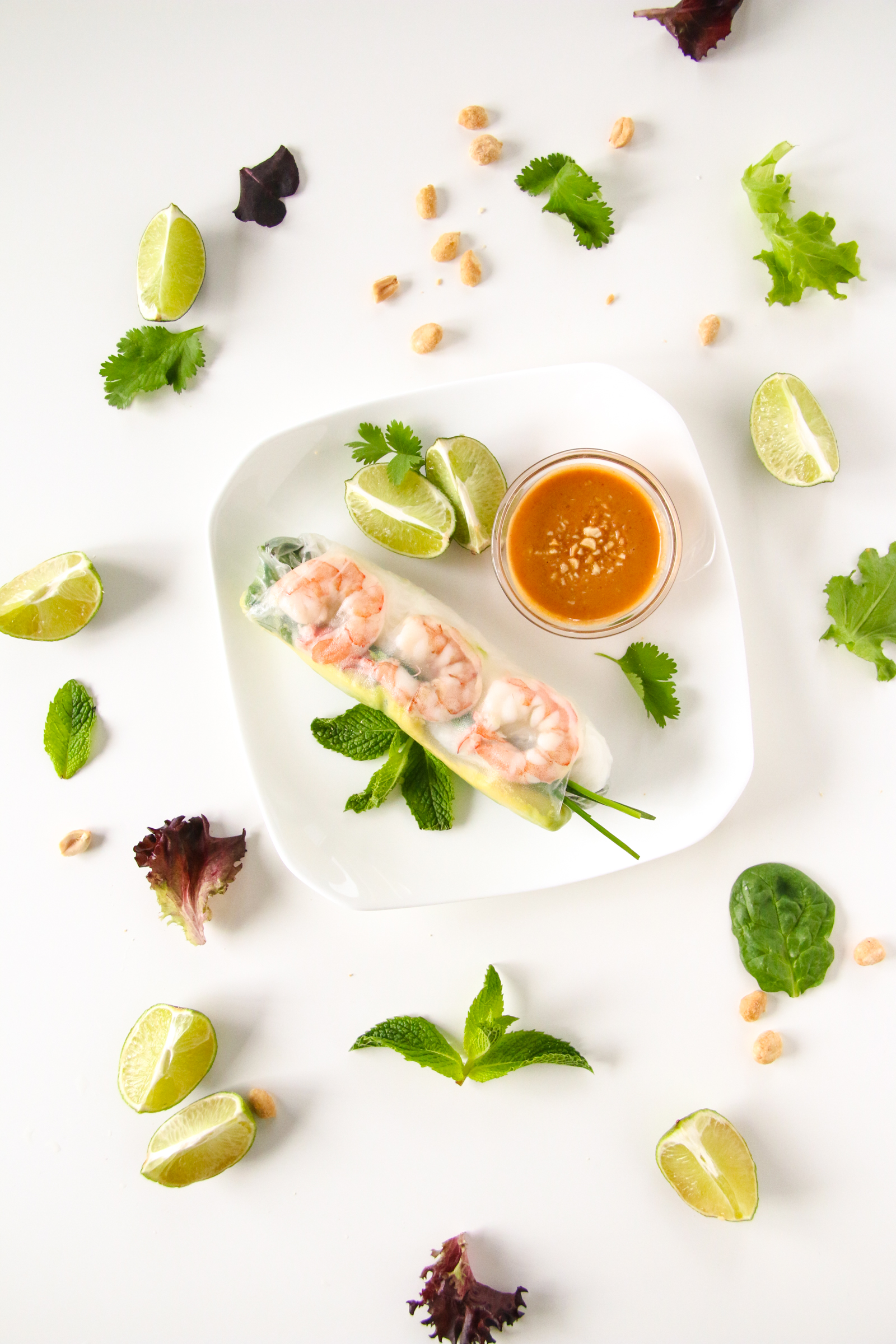 But I finally decided to make a video about these summer rolls after being inspired by one scorching hot day in particular.  For whatever reason, we chose THAT day to paint our wall.  After all our hard work in the unbearable heat, all I wanted were these summer rolls for dinner. So I whipped them up in a flash, and realized I had to share the wealth.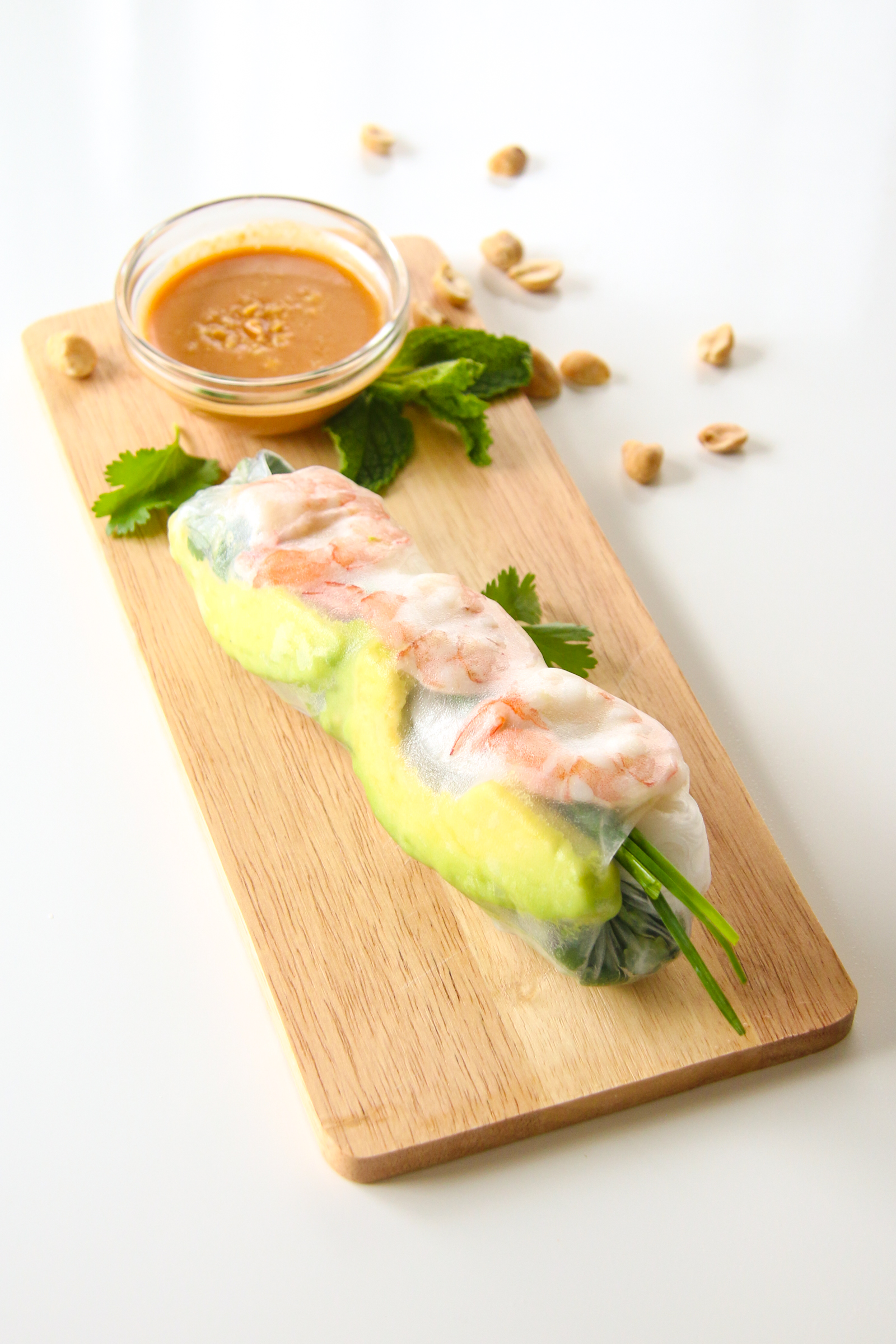 You can just haphazardly throw all your ingredients into a piece of rice paper and call it a day, but the key to making these summer rolls look a little more like how you'd see them in a restaurant is to stuff and roll them in a particular way.  Luckily, that's why we film videos.  You can watch how I make these delightfully fresh and easy Shrimp and Avocado Summer Rolls in EPISODE 3 of Bits & Pieces SEASON 3 below:
WATCH HOW I MAKE THESE SUMMER ROLLS HERE:
Okay…now let's talk about the dipping sauce.  There's no real seasoning inside of the roll.  You can sprinkle a little salt here and there on the shrimp and avocado if you want to, but this sauce is so flavorful on its own that there's no need to throw in anything extra.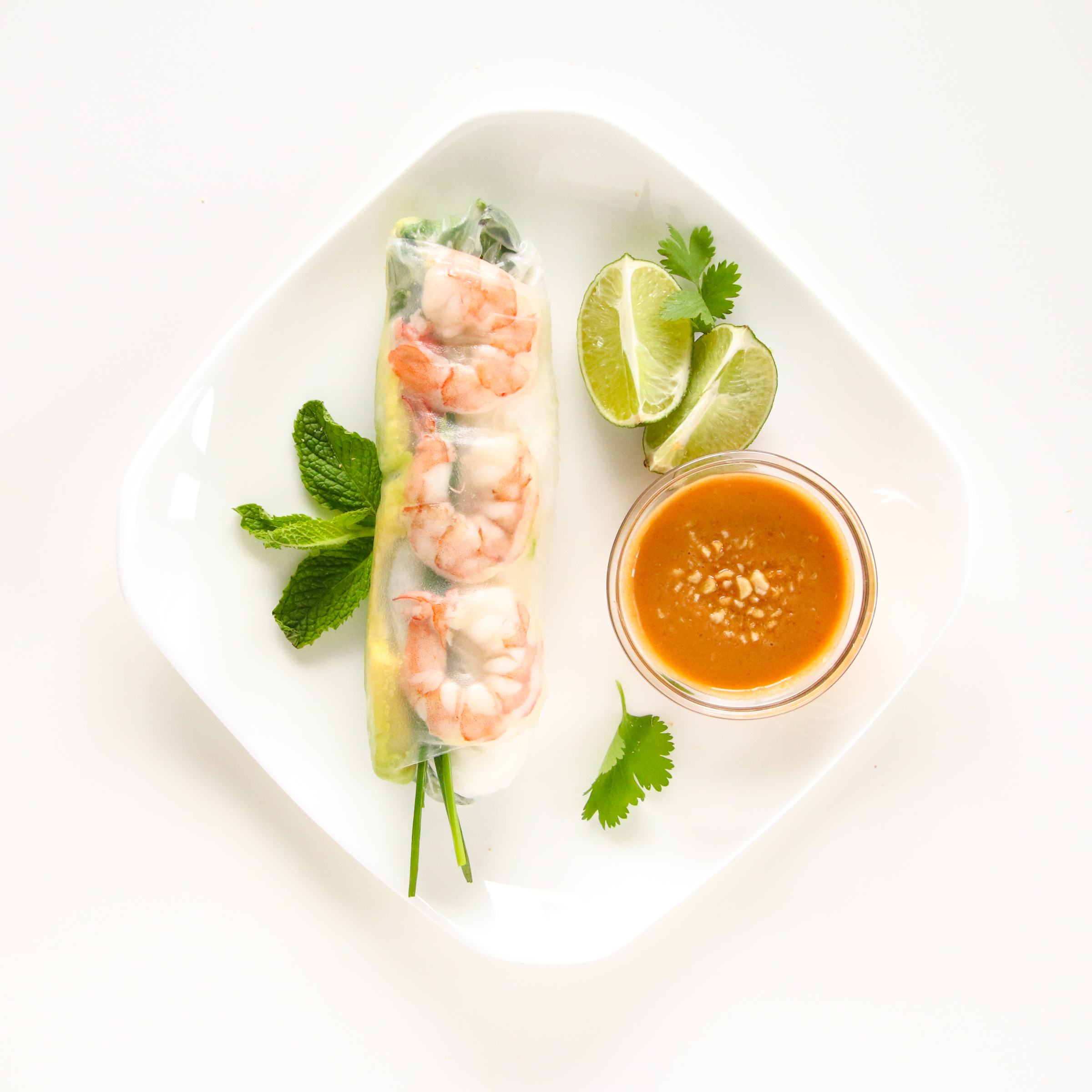 It's made with creamy peanut butter, lime juice, and possibly kisses from an angel.  It's spicy, tart, nutty, and lightly sweetened.  I think it would make an awesome salad dressing or a sauce over cold noodles too!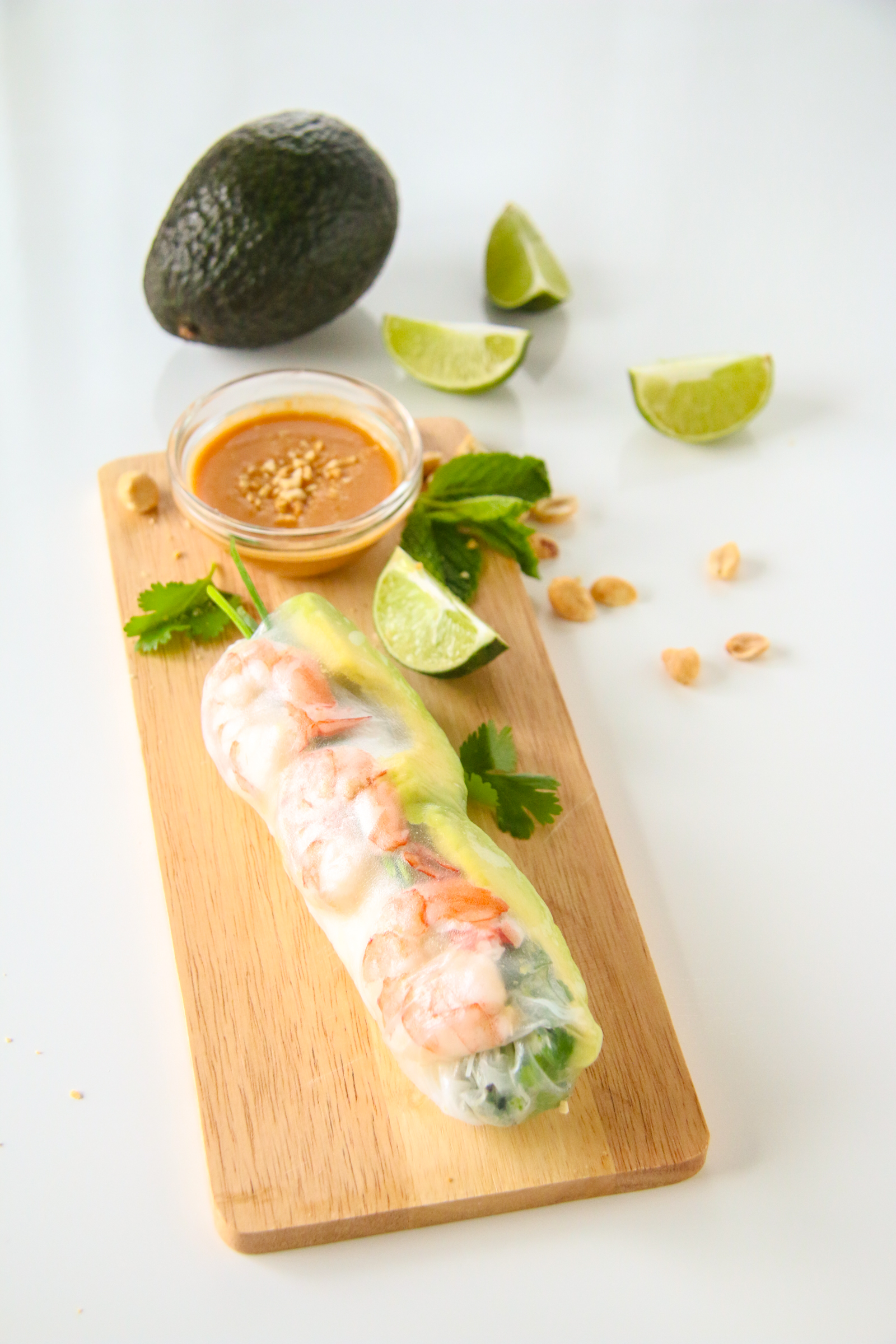 But if you're allergic to peanuts, try dipping these guys in some hoisin sauce instead…just as magical!
If I wanted to give you one walkaway tip, it would be to not soak the rice papers too long.  In the past, I would wait until they were soft like fabric before attempting to clumsily spread them out on my surface.  But if you do that, they turn into a glutinous clumped up ball that you can't pry apart with the jaws of life.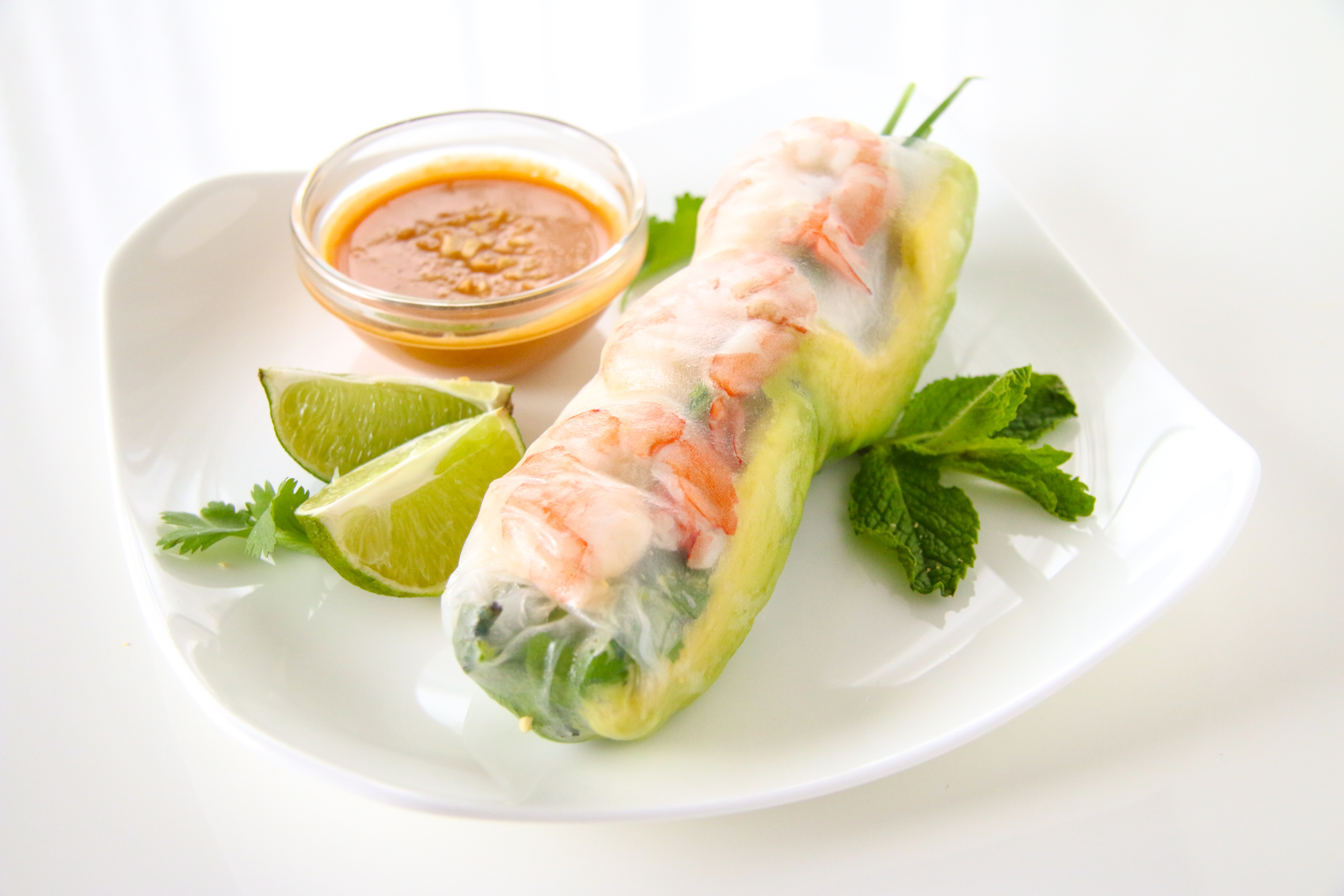 So instead, just let them remain just a tad bit firm, almost like a plastic sheet.  They will soften a little more as they sit on your surface.  It took me a while to get this part right.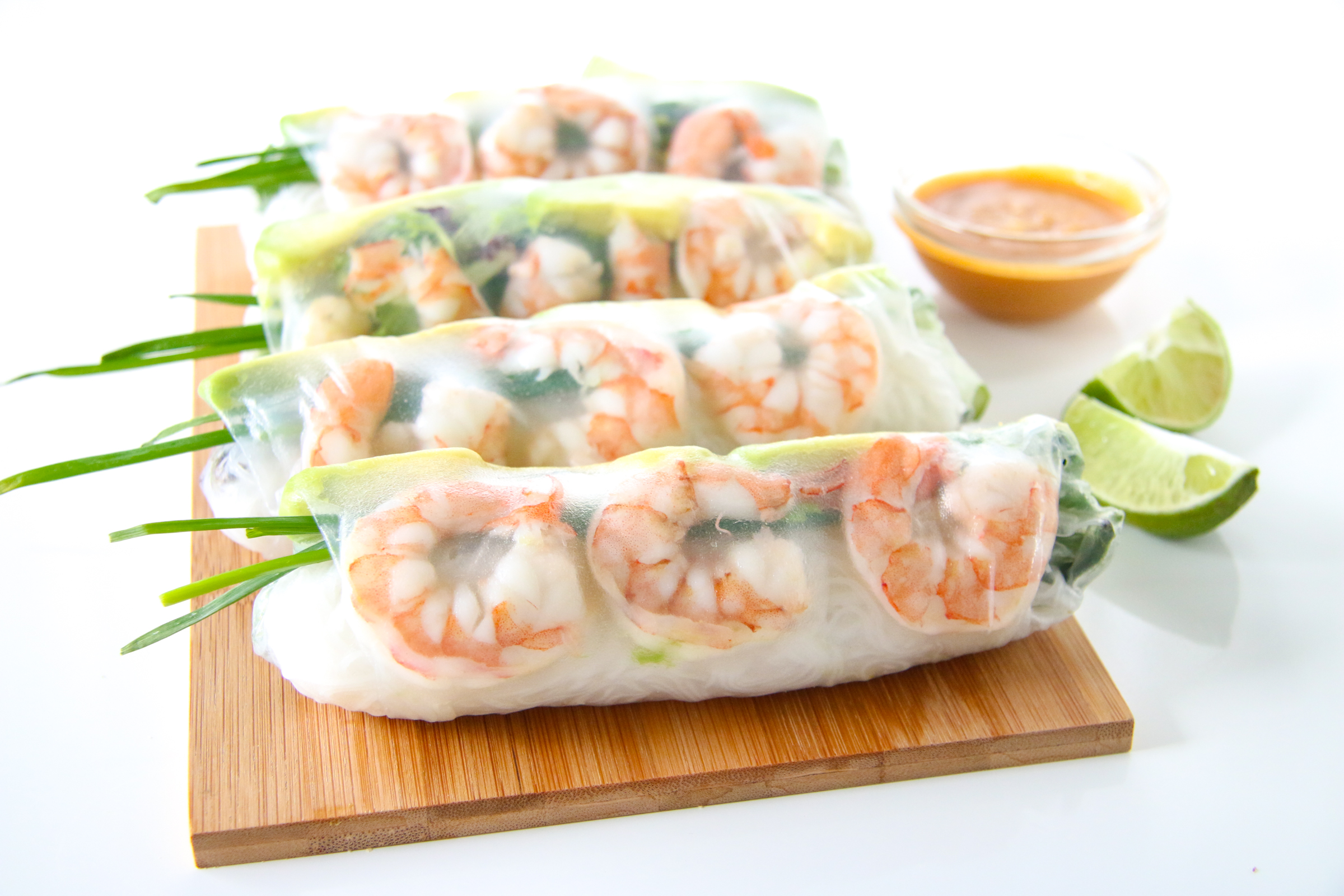 And the way you place your ingredients and roll them matter.  Adding a pop of chive makes them look more fancy. I think it's those little touches and details that make them worthy to be a meal or served as an appetizer at a party.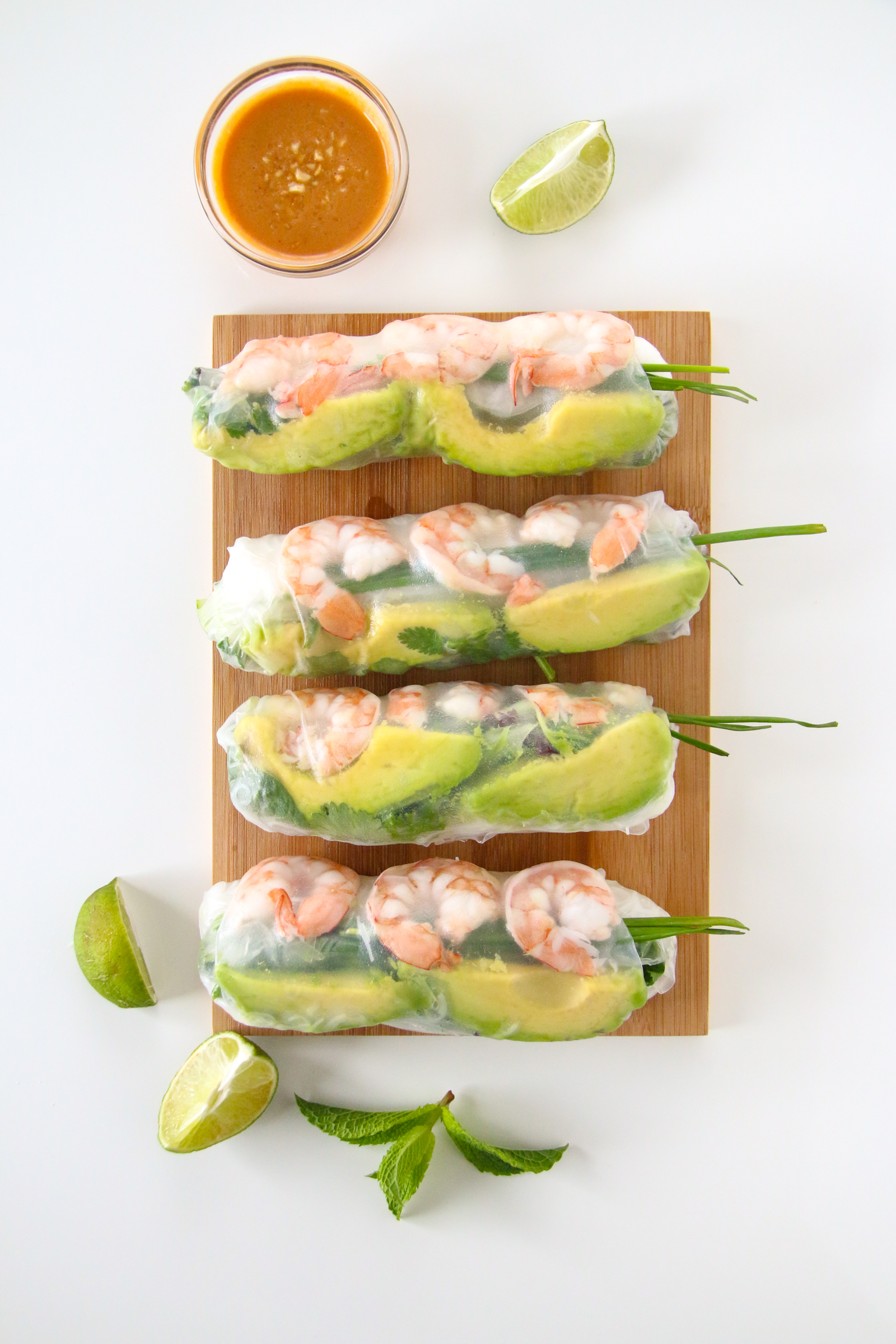 You can also go the truly lazy route and prep out the ingredients and let your dinner guests wrap their own rolls.  But if you're married to anyone like my husband, this might be a problem.  Joe prefers not to have to work for his food…haha!  If there's a lot of assembling and fuss involved with his meal, he gives up pretty quickly.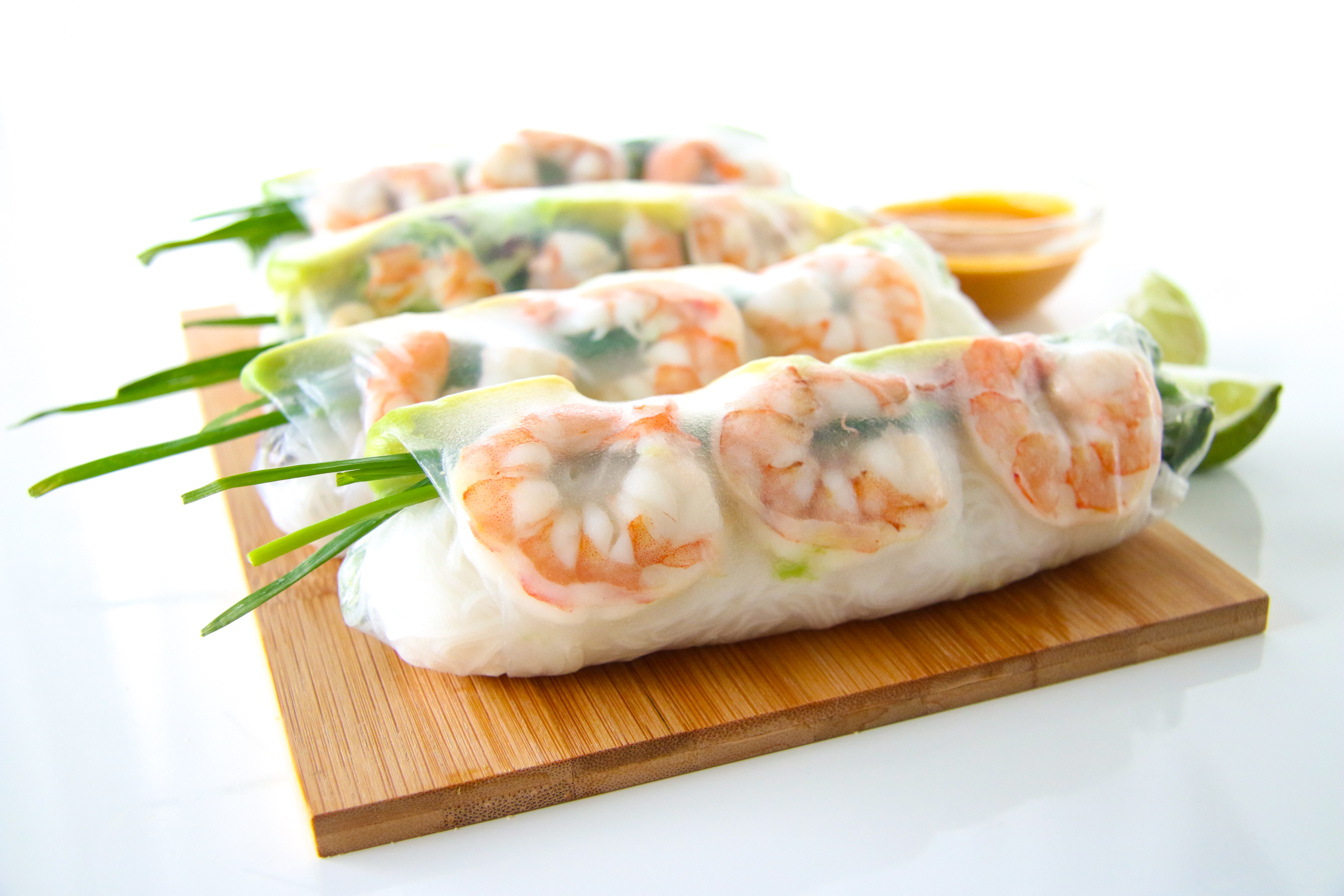 So out of love, I do all the wrapping in advance, and then we just kick back and enjoy our beautiful little presents.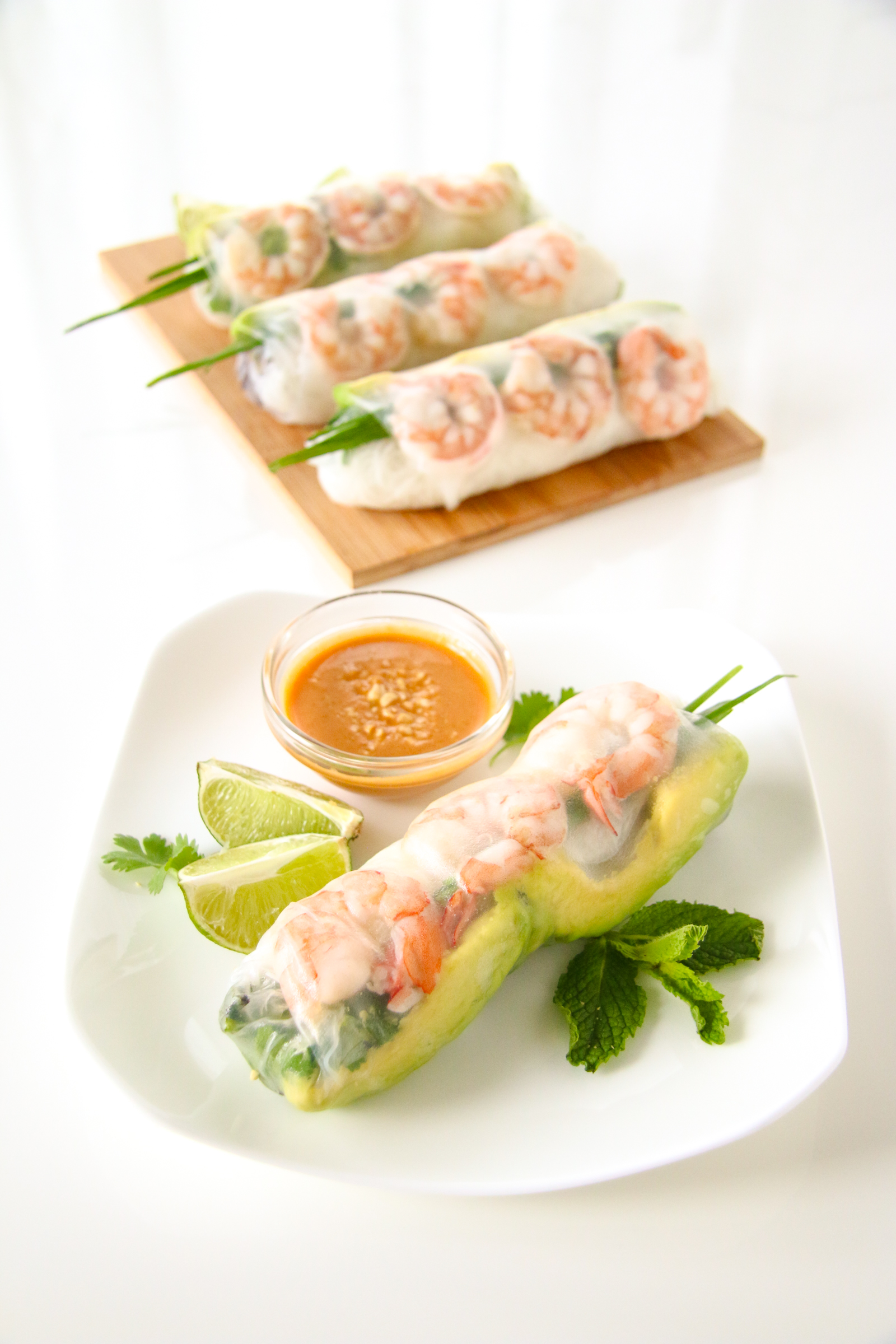 * COME BEHIND THE SCENES WITH US AND WATCH THE MAKING OF THIS EPISODE HERE: BEHIND THE SCENES
If you enjoyed this VIDEO, SUBSCRIBE to our COOKING SHOW CHANNEL HERE.  It's FREE! : Chef Julie Yoon
If you want to follow us on our journey, SUBSCRIBE to our VLOG CHANNEL HERE. It's FREE! : Our Yooniverse

Shrimp and Avocado Summer Rolls
These summer rolls are light, fresh, and perfect for hot weather. Eat one as an appetizer or two as a meal. In any case, in the summer time, this is all I want.
Ingredients
Four round spring roll rice paper wrappers, at least 8-inches
2 ounces vermicelli rice noodles
6 large shrimp (size 21-25)
½ of a small cucumber, halved lengthwise, and thinly sliced
1 avocado, halved, pitted, and sliced
Spring mix lettuce
Fresh mint leaves
Fresh cilantro leaves
Chives (optional)

Peanut Dipping Sauce:
¼ cup creamy peanut butter
3-4 tablespoons water
2 tablespoons fresh lime juice (from 1 lime)
1 tablespoon Sriracha sauce
1 tablespoon soy sauce
2 teaspoons sugar
1-2 tablespoons finely chopped roasted peanuts
Instructions
To make the peanut sauce, whisk together the ingredients in a medium bowl. Sprinkle the peanuts on top right before serving.
Bring a medium pot of water to a boil. Add shrimp and cook for 1-2 minutes or until they turn pink and their tails start to curl. Fish out of the water, peel and devein. Split the shrimp in half lengthwise and set aside. You will end up with 12 thinner pieces of shrimp.
Fill the same pot with fresh water, bring to a boil again. Turn off heat and add noodles. Place a lid on top and soak for 3-4 minutes, or according to your package directions, until soft but not mushy. Drain and rinse in cold water. Divide into 4 equal portions.
Fill a wide, shallow bowl or pan with warm tap water. Working with one spring-roll wrapper at a time, soak until pliable, but not completely softened, about 20 seconds. Transfer to a flat surface and smooth.
Place a pile of noodles on the bottom third of the wrapper and spread them out a bit, leaving a 1 ½-inch border. Add lettuce on top of the noodles. Add cucumbers and herbs on top of the lettuce. On the row above the noodle and lettuce pile, add slices of avocado. In the next row, right above the layer of avocado, add 3 pieces of halved shrimp, making sure the pink-orange sides face down. Start folding the bottom of the wrapper tightly over the "lettuce layer." Tuck in sides, and finish rolling over the "avocado layer." Add a couple pieces of chives, and then finish rolling over the shrimp layer. Watch my video if you're not sure how to do this. Transfer roll to a plate and cover with a slightly damp paper towel. Repeat to make 4 summer rolls. Serve with the peanut dipping sauce. Refrigerate up to 2 hours.

TIPS: Use extra peanut sauce as a dip for veggies. Or skip the rice paper all together and just make rice noodle bowls and top with peanut sauce!