Banh Mi Hot Dogs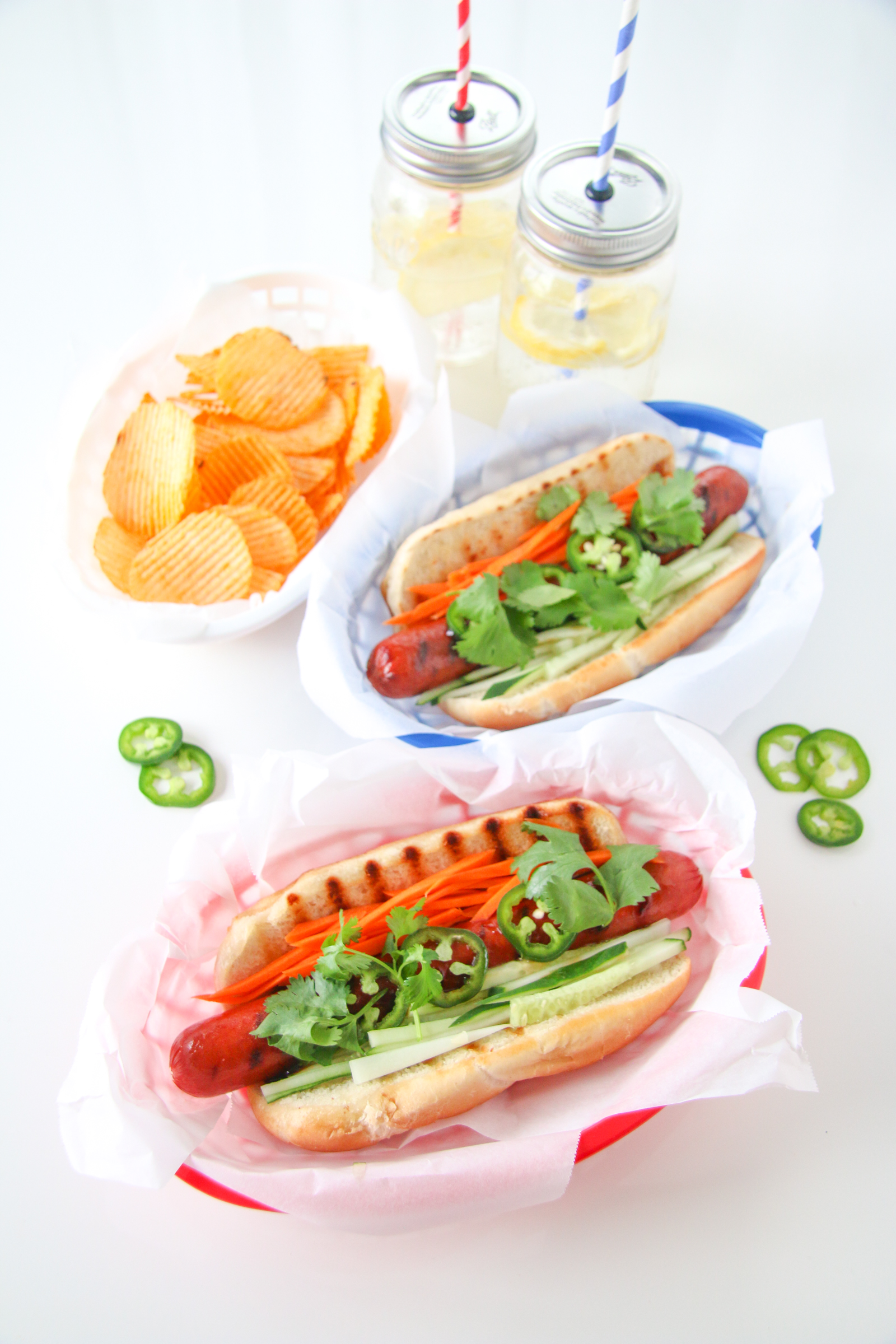 It's truly amazing what a few simple touches can do to ordinary hot dogs.  This is almost another "non-recipe," but it's too good not to share.  If you want to attempt something a little different for the 4th of July, you've gotta try making these Banh Mi Hot Dogs.  It all began with some leftover ingredients from my Shrimp and Avocado Summer Rolls.  I don't like waste so I had to put those ingredients to good use.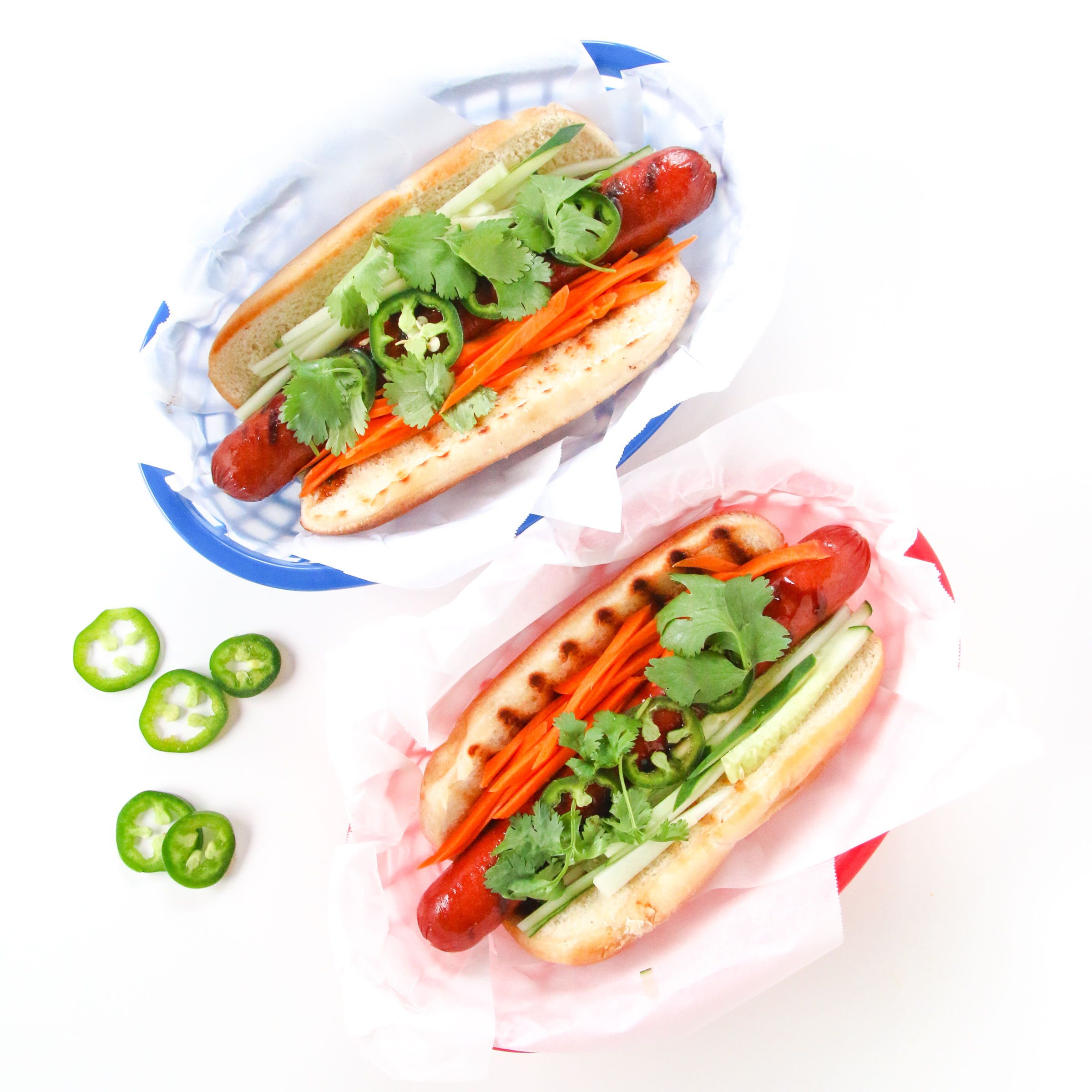 Now I don't know why I haven't been eating hot dogs like this my entire life!  This fantastic combination of flavors REALLY works!  In fact, we tried eating regular hot dogs not too long ago and realized that our tastebuds were permanently ruined forever.  So if you don't want to be spoiled like us, then don't attempt this recipe.  You'll be sorry you did because you might not be able to eat a normal hot dog again.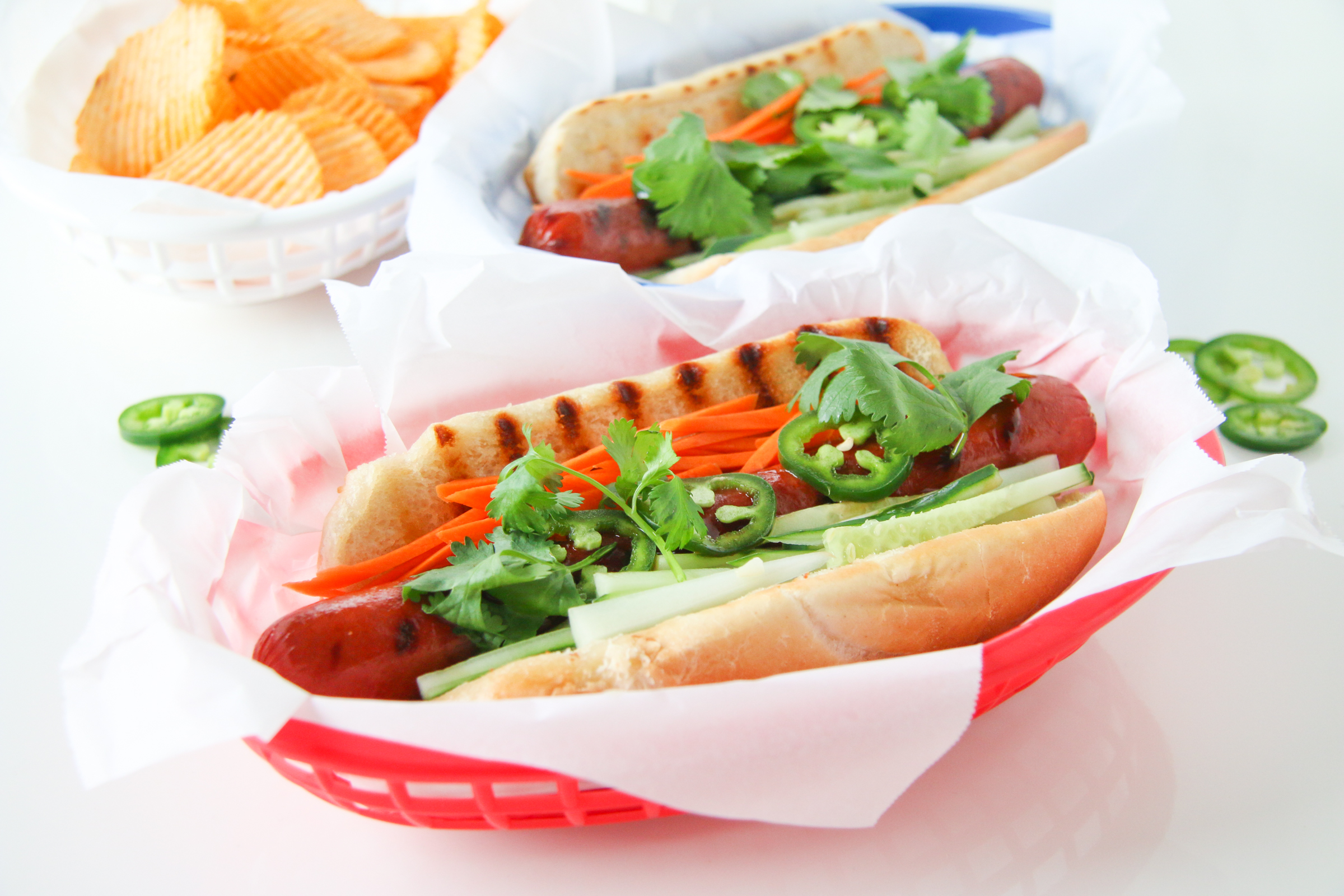 In a traditional Banh Mi sandwich, you have a pile of delightful meats (usually pork), topped with crispy pickled vegetables, fresh herbs, and spicy jalapenos.  When we lived in California, we kind of got used to eating Banh mi sandwiches whenever we wanted.  There was a great Vietnamese deli down the street from us and we'd often walk over there to grab lunch.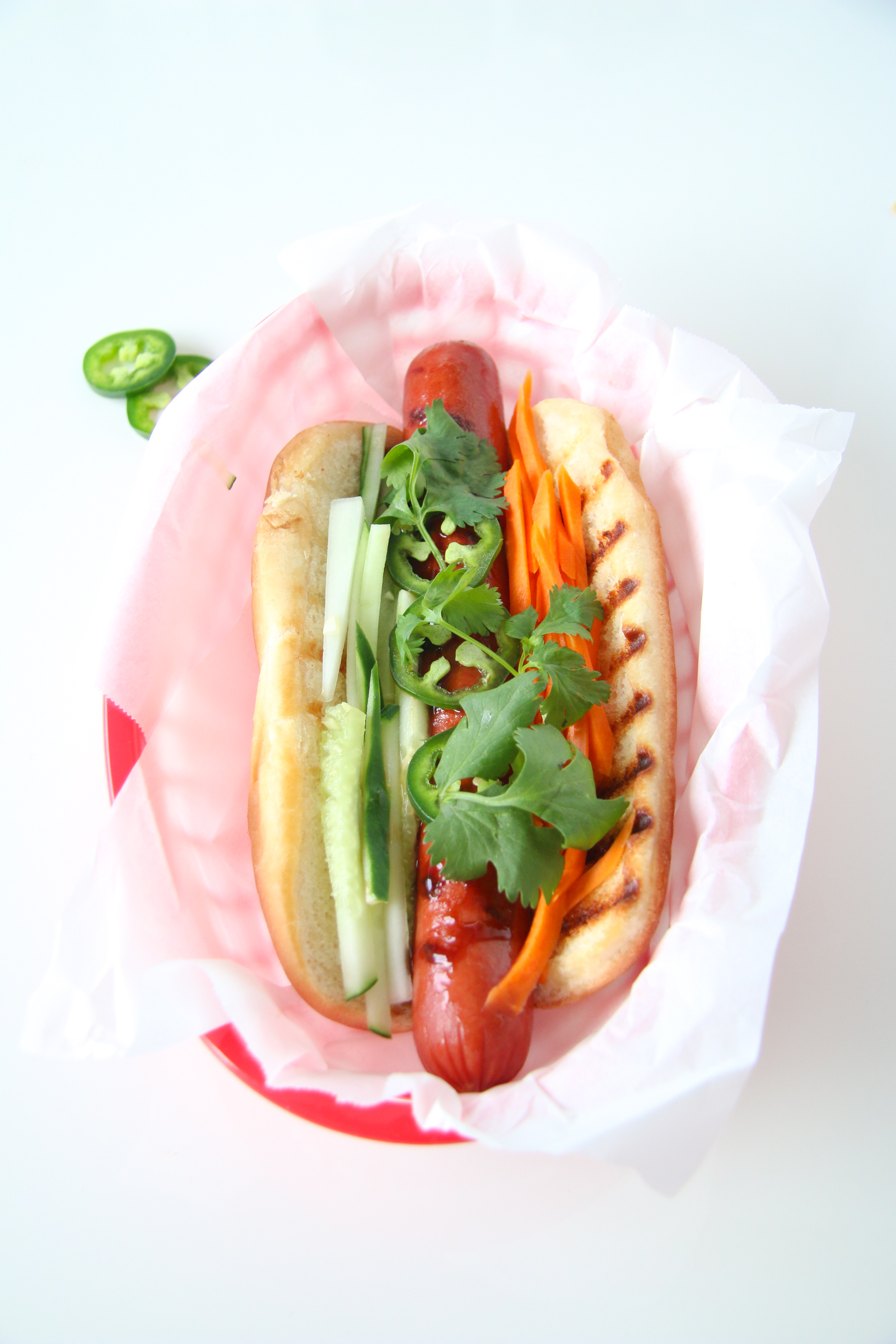 Joe can't get enough of the fresh aromatic cilantro, crusty bread, and pickled veg.  And if you think about it, pairing those same flavors and textures with a beefy meaty hot dog just makes sense!  You can see how I put it all together in EPISODE 4 of Bits & Pieces SEASON 3 below.
WATCH EPISODE 4 HERE:
In lieu of ketchup and mustard, I opt to use hoisin sauce.  I tried this recipe once without it and even though it was fine, that last touch of sweet and savory Asian BBQ sauce really does the trick.  It adds another complex layer of flavor that just makes sense.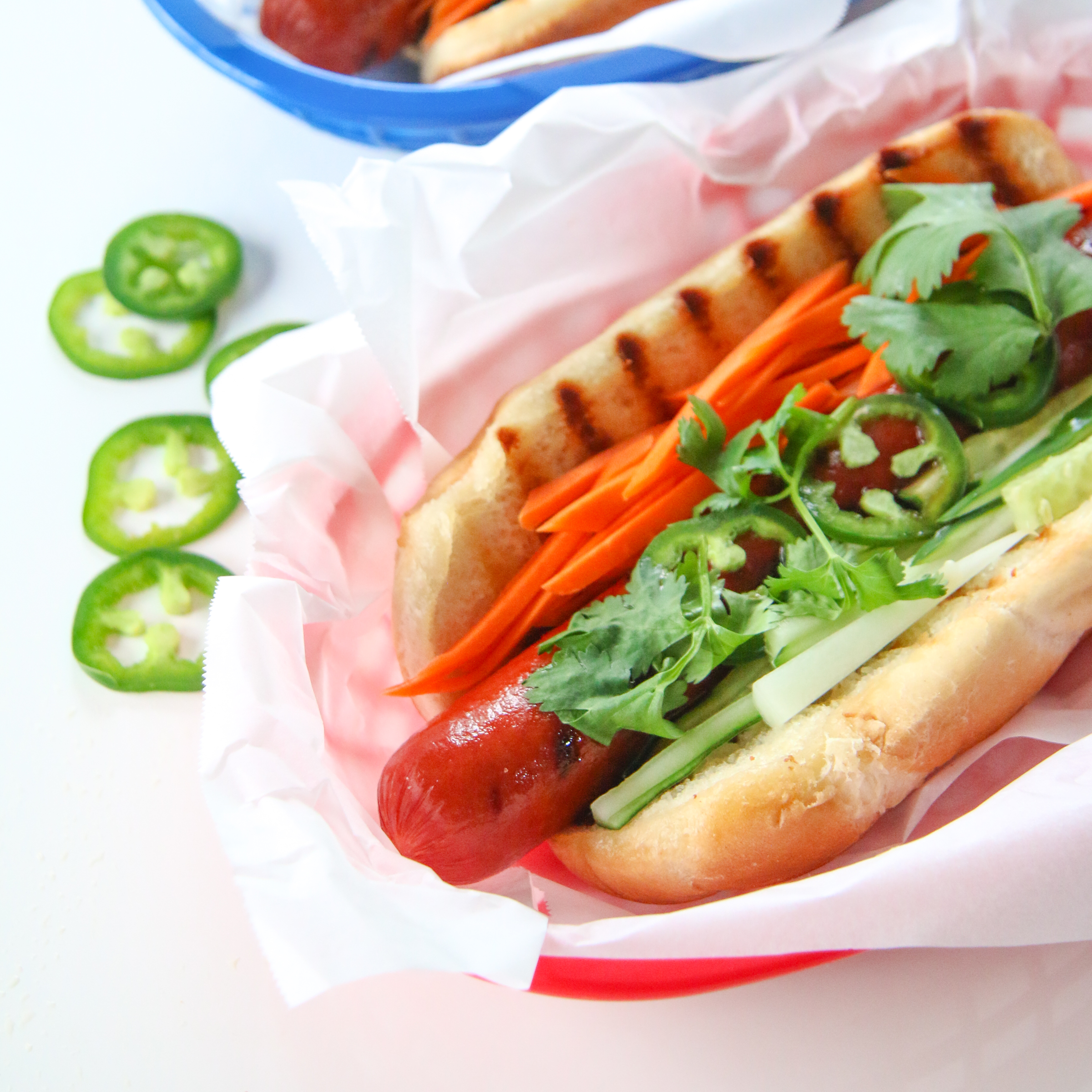 If you want, you can also add mayo too, because that's what you find in a traditional Banh Mi.  I chose to brush the buns with olive oil and grill them instead.  This gives sturdiness and texture to the bread so it can hold the pickled vegetables with confidence.  Let me tell you, when you first sink your teeth into the soft yet crisp bread, the crunchy vegetables, and the juicy hot dog, all is right with the world and your summer is complete.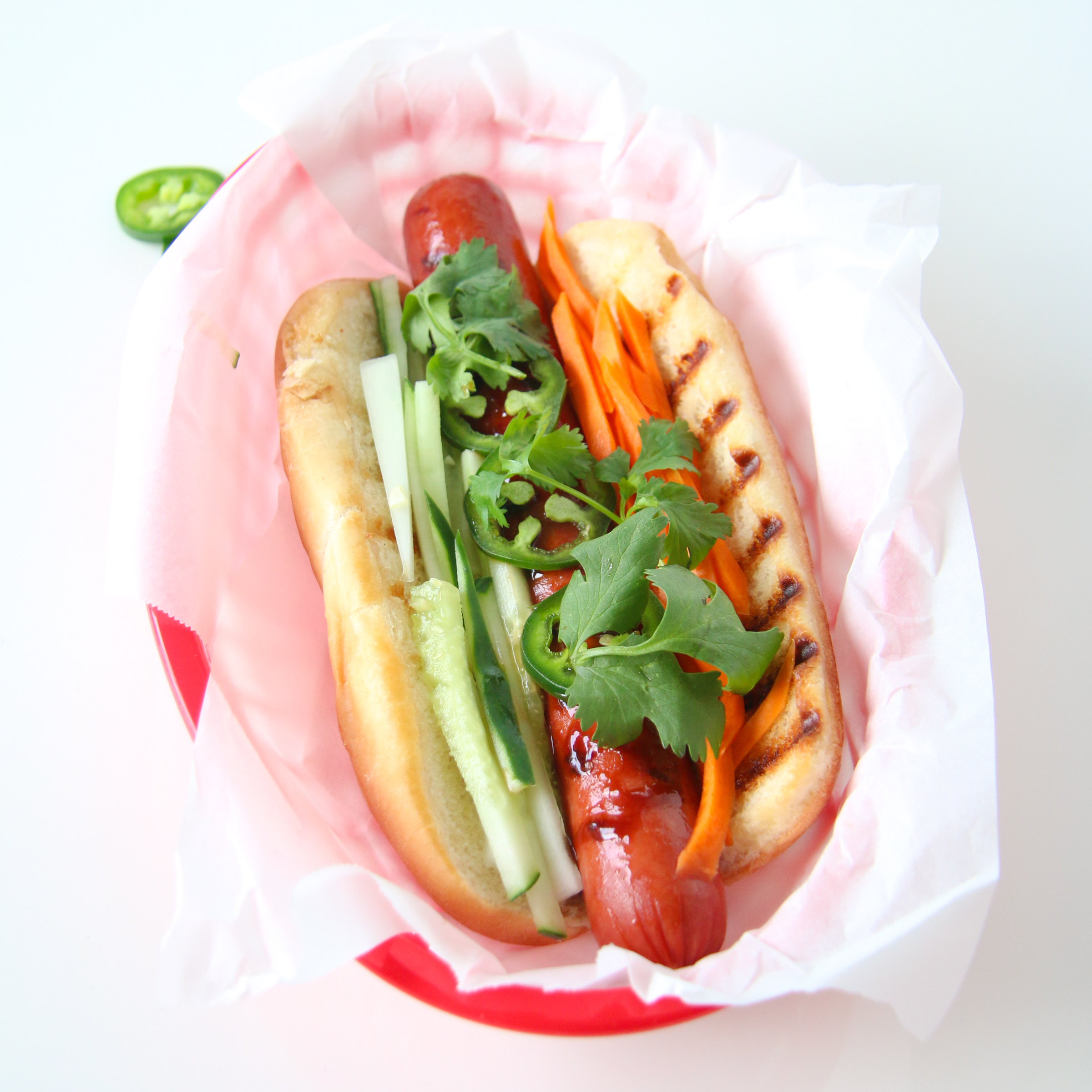 I think this would be a great idea for entertaining because it would be unexpected.  Keep the toppings on the side and let your guests assemble their own dogs to their liking.  Hey, kick it up a notch and give them even more international topping choices to chose from like kimchi or salsa!  That would be really fun!
What do you have planned for the approaching holiday?  As of now, I'm still not sure what we'll be doing this year.  It always coincides with our wedding anniversary because we got married on the 5th of July.  But maybe instead of going on an extravagant date, we'll hang out with friends and eat these Banh Mi Hot Dogs.  Hey, that doesn't sound bad at all to me!  Happy 4th of July!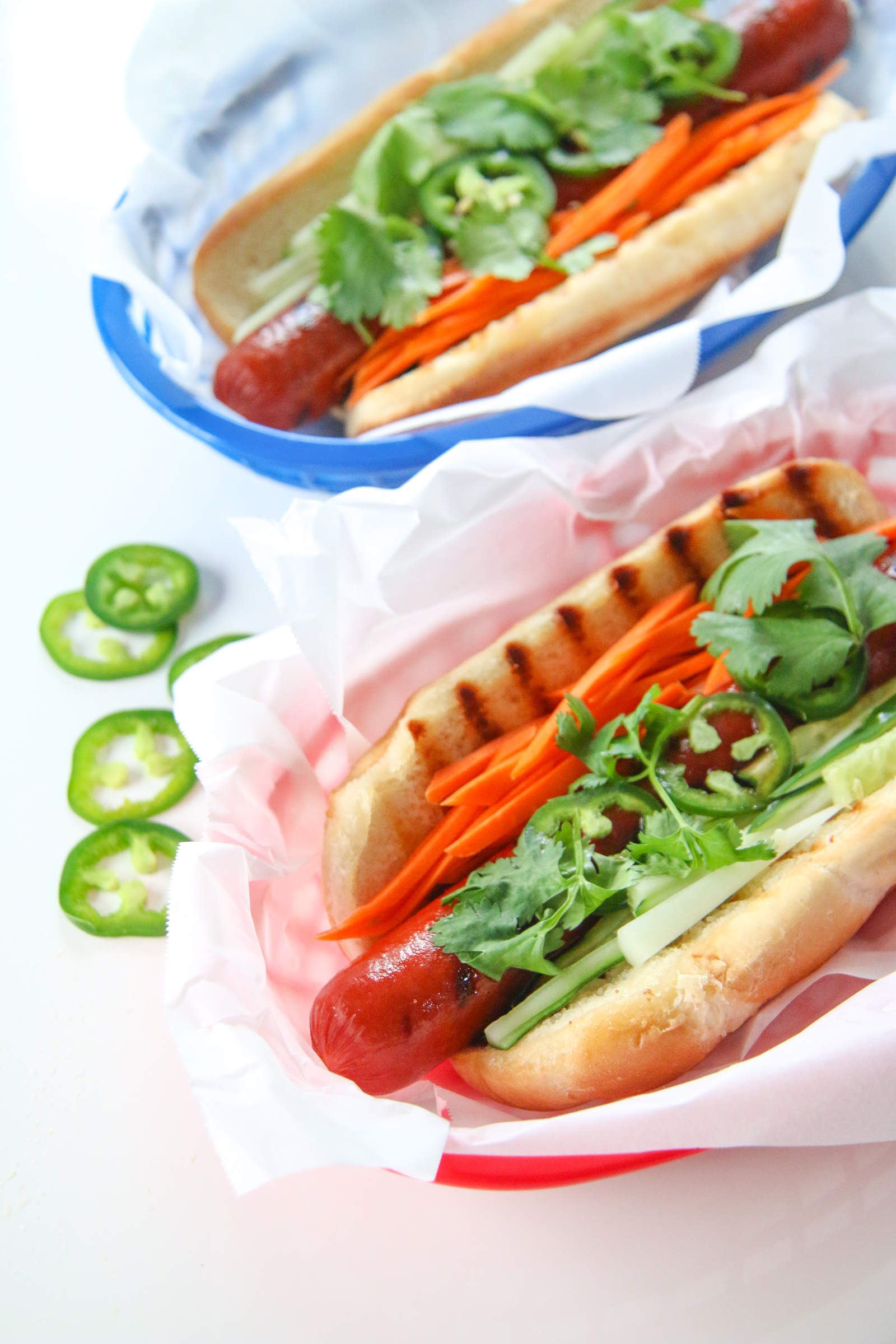 * COME BEHIND THE SCENES WITH US AND WATCH THE MAKING OF THIS EPISODE HERE: BEHIND THE SCENES
If you enjoyed this VIDEO, SUBSCRIBE to our COOKING SHOW CHANNEL HERE.  It's FREE! : Chef Julie Yoon
If you want to follow us on our journey, SUBSCRIBE to our VLOG CHANNEL HERE. It's FREE! : Our Yooniverse

Banh Mi Hot Dogs
These Banh Mi Hot Dogs are fun, festive, and well balanced in flavor. They're the perfect food for any summer BBQ.
Ingredients
2 tablespoons white vinegar
1 teaspoon sugar
1 large carrot, cut into matchsticks
½ teaspoon kosher salt
4 hot dogs
4 hot dog buns
Olive oil for brushing on buns
Cucumber, cut into matchsticks
Sliced Jalapeno
Cilantro leaves
Hoisin Sauce for topping
Instructions
Stir together the vinegar, sugar, and salt until dissolved (it's okay if salt doesn't dissolve all the way). Stir in the carrots and let sit for 10 minutes.
Split open the buns (while making sure they still stay together at the hinge), brush the cut sides generously with olive oil and toast on the grill, cut sides down until lightly charred and toasty. Grill hot dogs until plump and slightly crisp on the outsides.
To assemble, place a grilled hot dog on top of a bun, top with hoisin sauce, pickled carrots, julienned cucumber, jalapeno, and cilantro leaves.

TIP: If you don't want to grill the hot dogs or the buns, just use a regular pan instead.