Steak and Scallion Stir Fry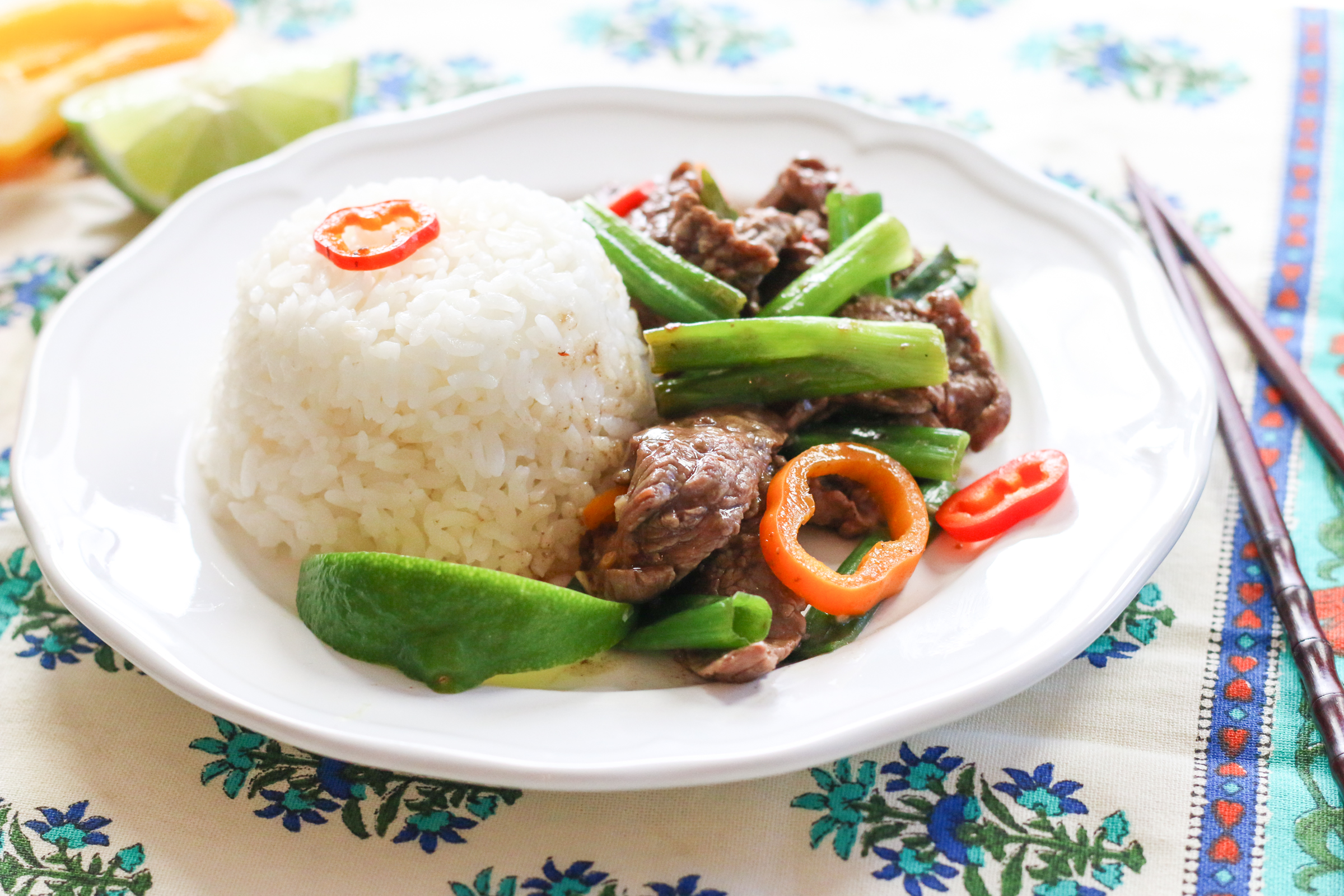 Let's be honest here, I'm always trying to figure out different ways to stretch a steak.  So sometimes I make a steak salad, and other times I make a stir fry!  This all came about when I was trying to defrost a piece of flank steak from the freezer.  You all know by now that I always keep meat on hand in the freezer.  I'm all about the family packs.  Forget diamonds… Ziplock bags are a girl's best friend.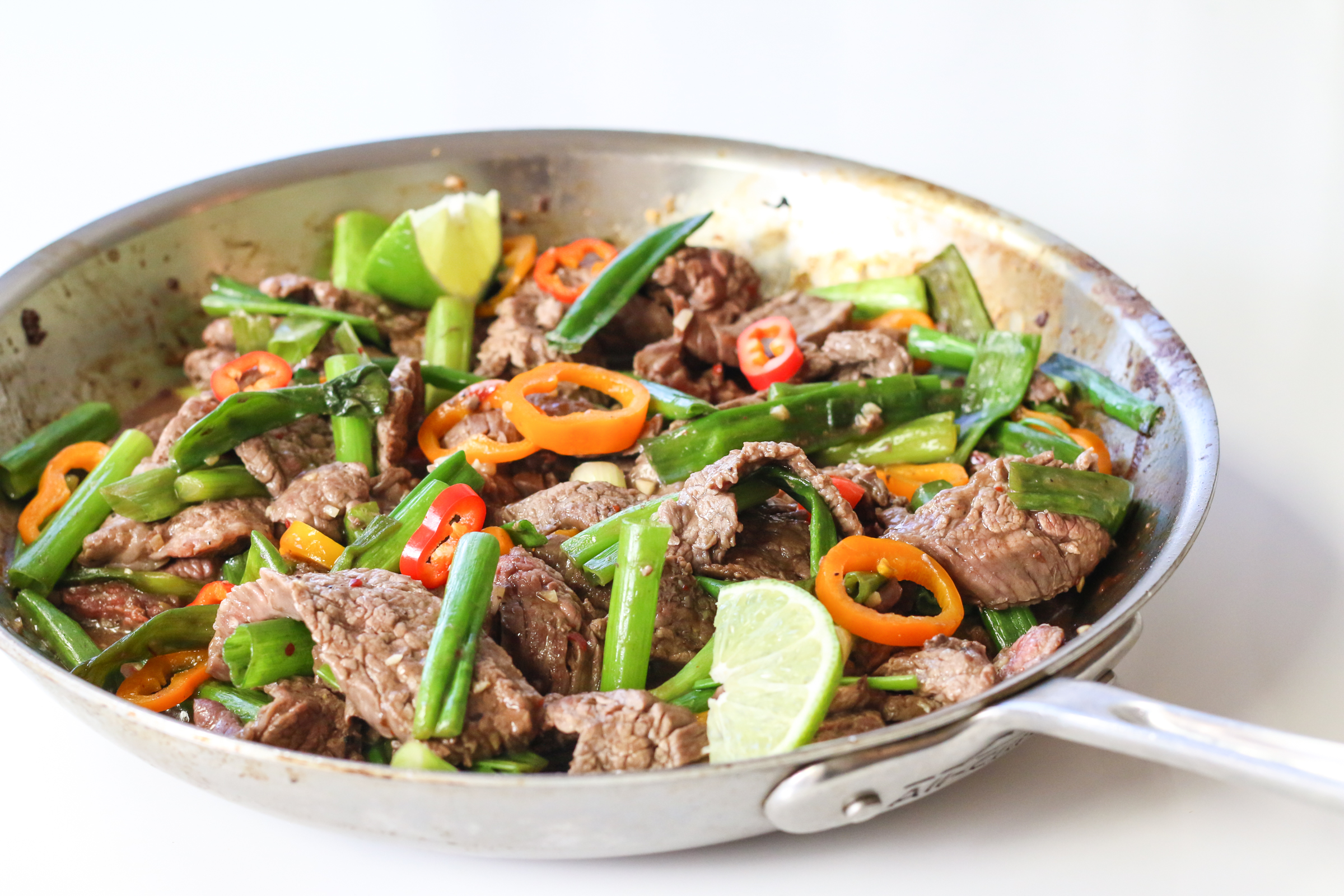 The steak wasn't thawing fast enough for me, and I knew I wouldn't be able to get a good sear out of it if I tried to cook it whole while it was still icy in the center.  My impatience got the best of me, so I decided to slice it up and turn it into a stir fry instead.  Best… idea… EVAR!!!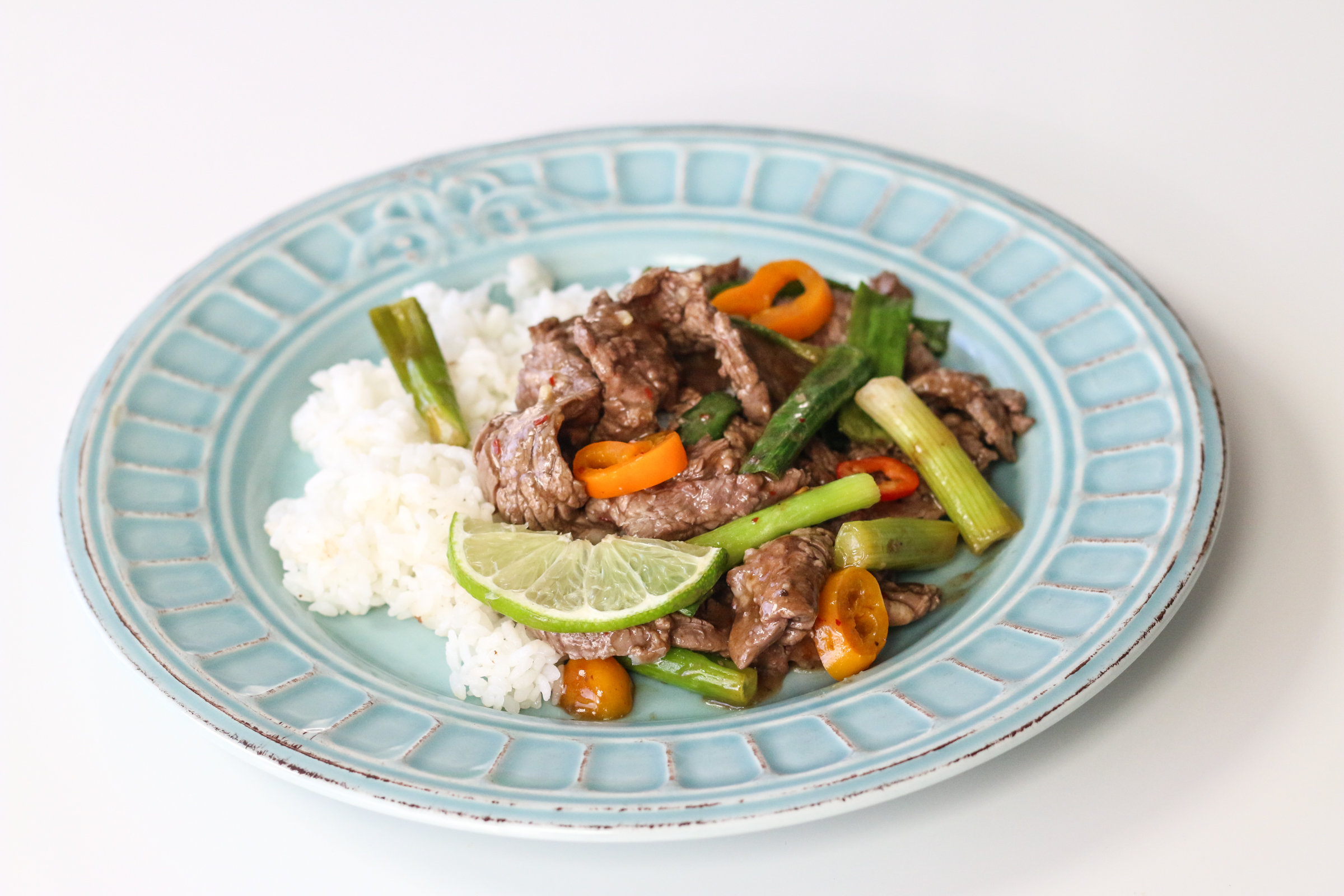 The beauty of it being partially frozen was that it was actually much easier to slice.  But if you don't already have a hunk of frozen beef in the freezer, you can always pop it in there for about 15-20 minutes and it should be easier for you to make thinner slices.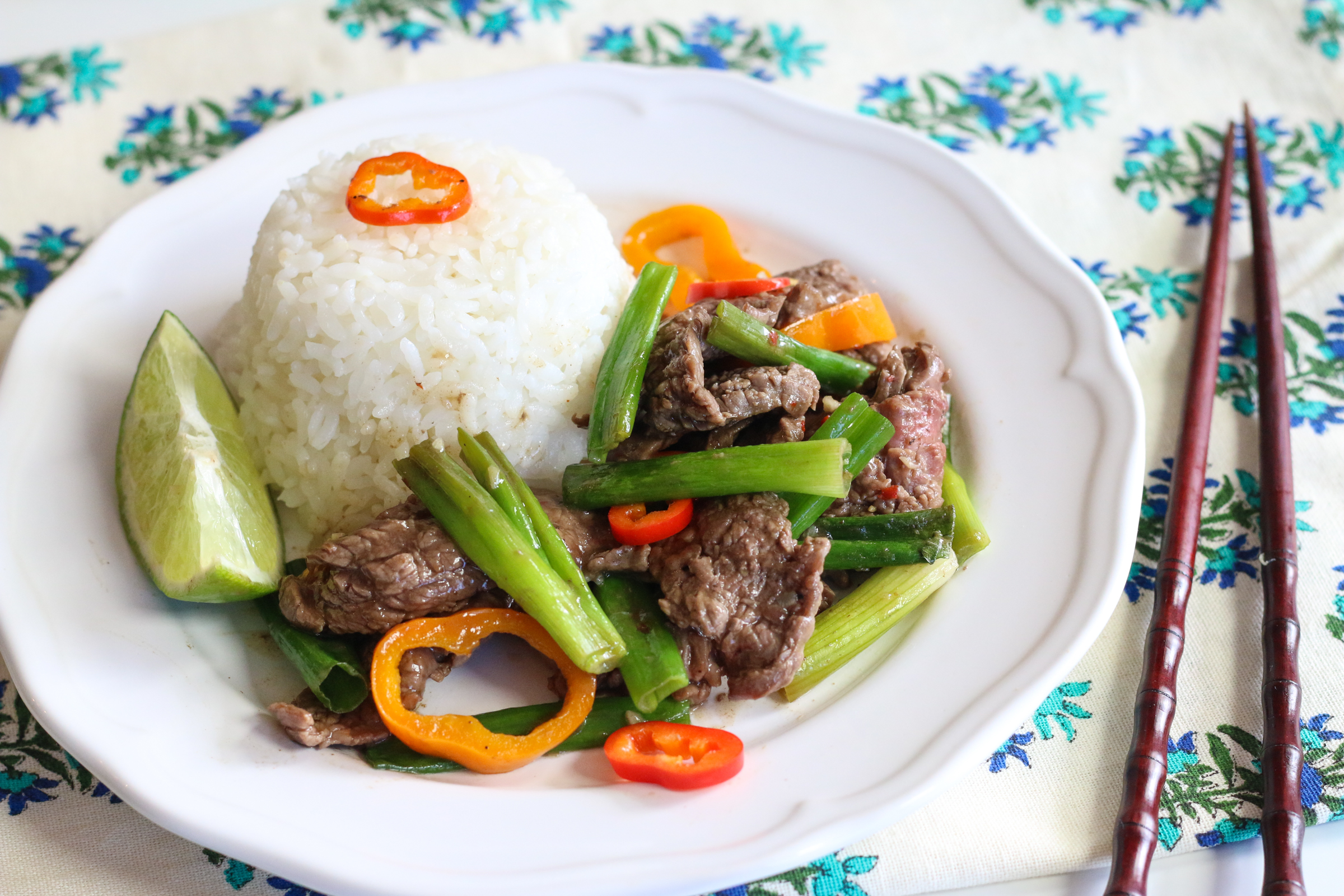 Then you add two BUNCHES of gloriously green scallions in there, and you have a succulent one pan wonder in minutes.  Hold the phone…two whole bunches of scallions?  Uh huh.  The scallions cook down and turn slightly caramelized.  The thin slices of steak are tender as can be.  Eat them together and you've done something right with your life.  But you can watch how I make this Steak and Scallion Stir Fry step-by-step in EPISODE 13 of Bits & Pieces: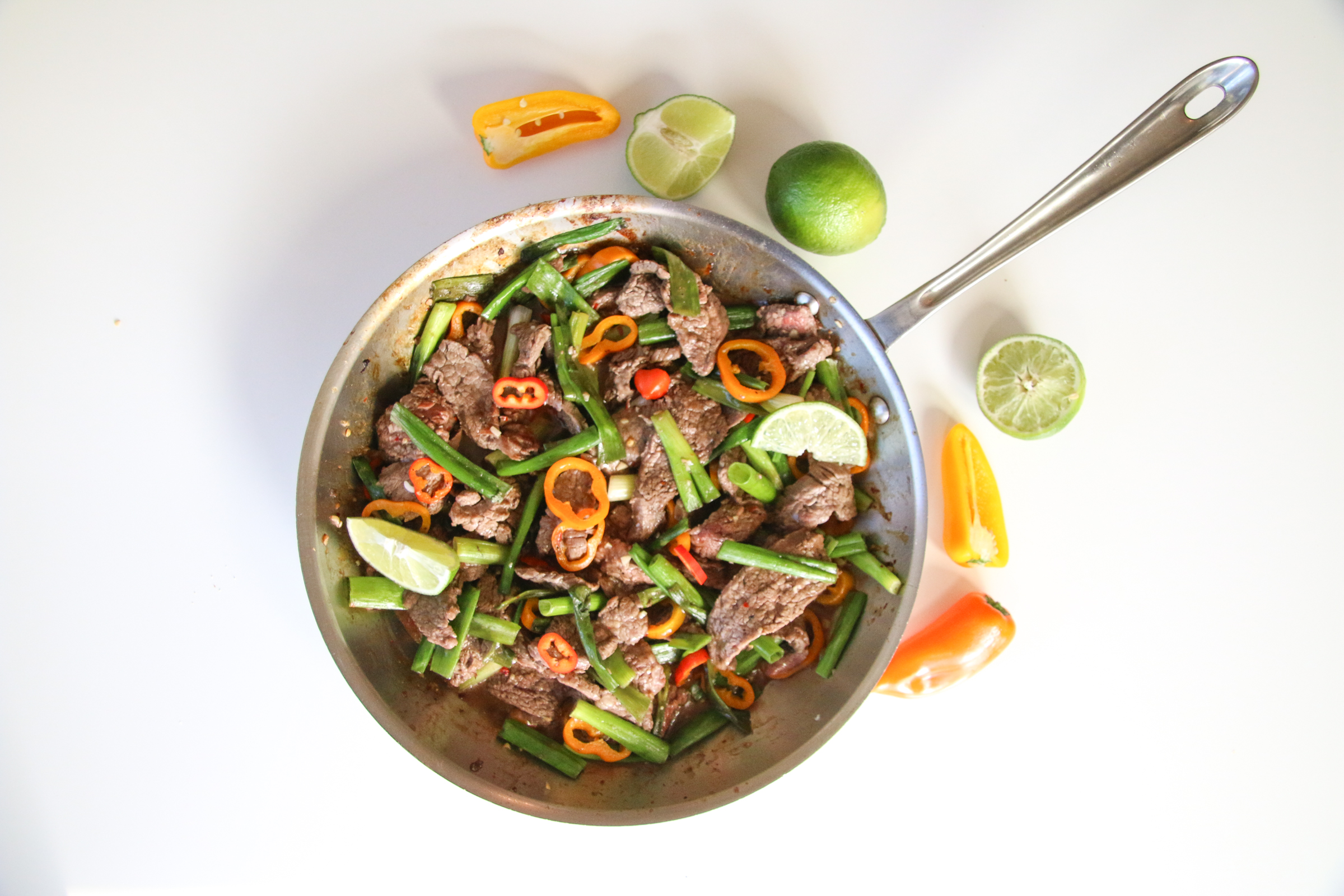 I chose to add mini bell peppers to the mix since that's what I found on sale in the front of the produce section, but come on… don't they really work?  I love that their colors are so fiery orange and red, to contrast with the green.  And their sweet crunchy goodness only makes things better.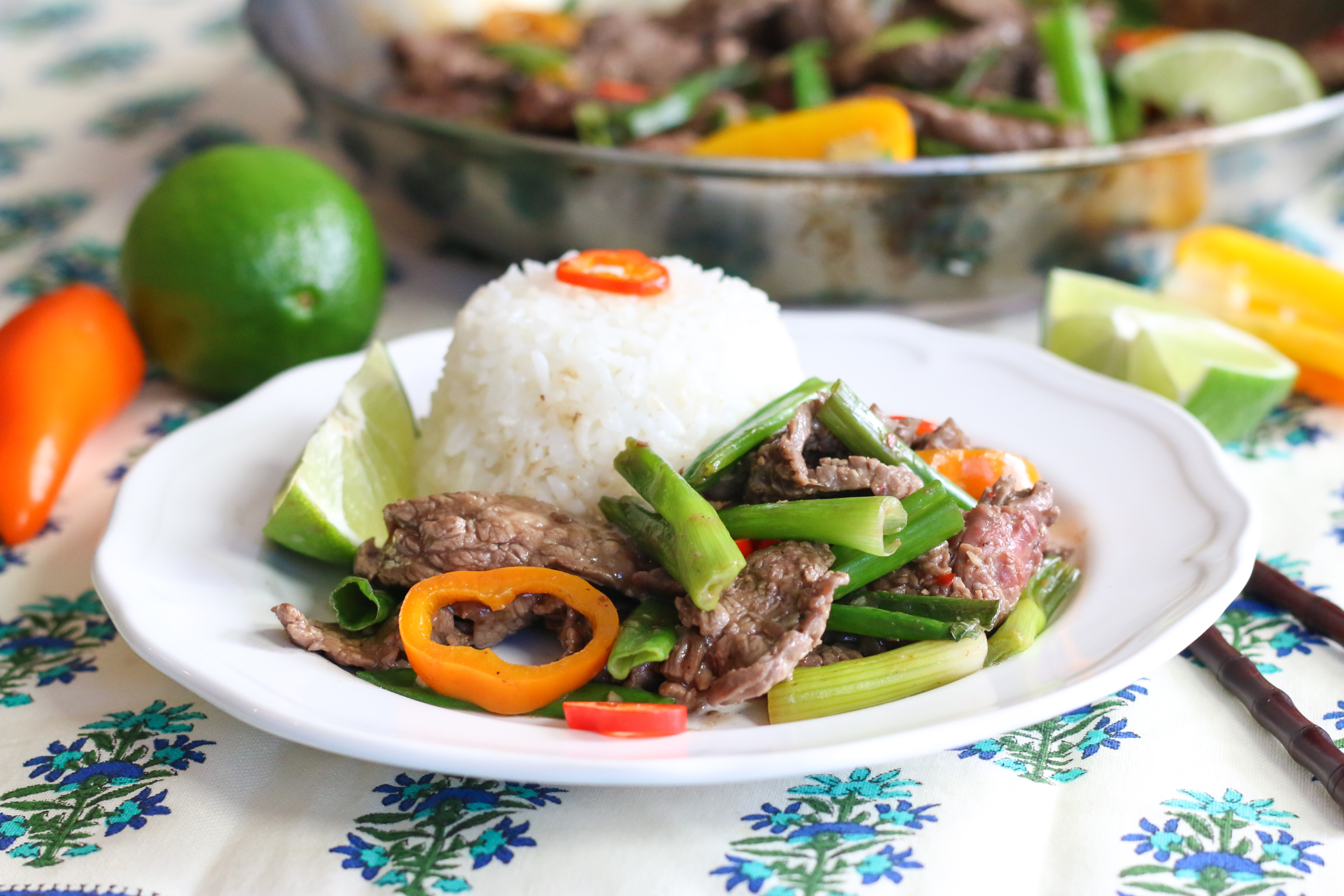 And then you grab a bottle of oyster sauce and some fresh lime.  Then there you have it.  That's basically the whole gist right there.  Simple, fast, and fresh…what's not to love?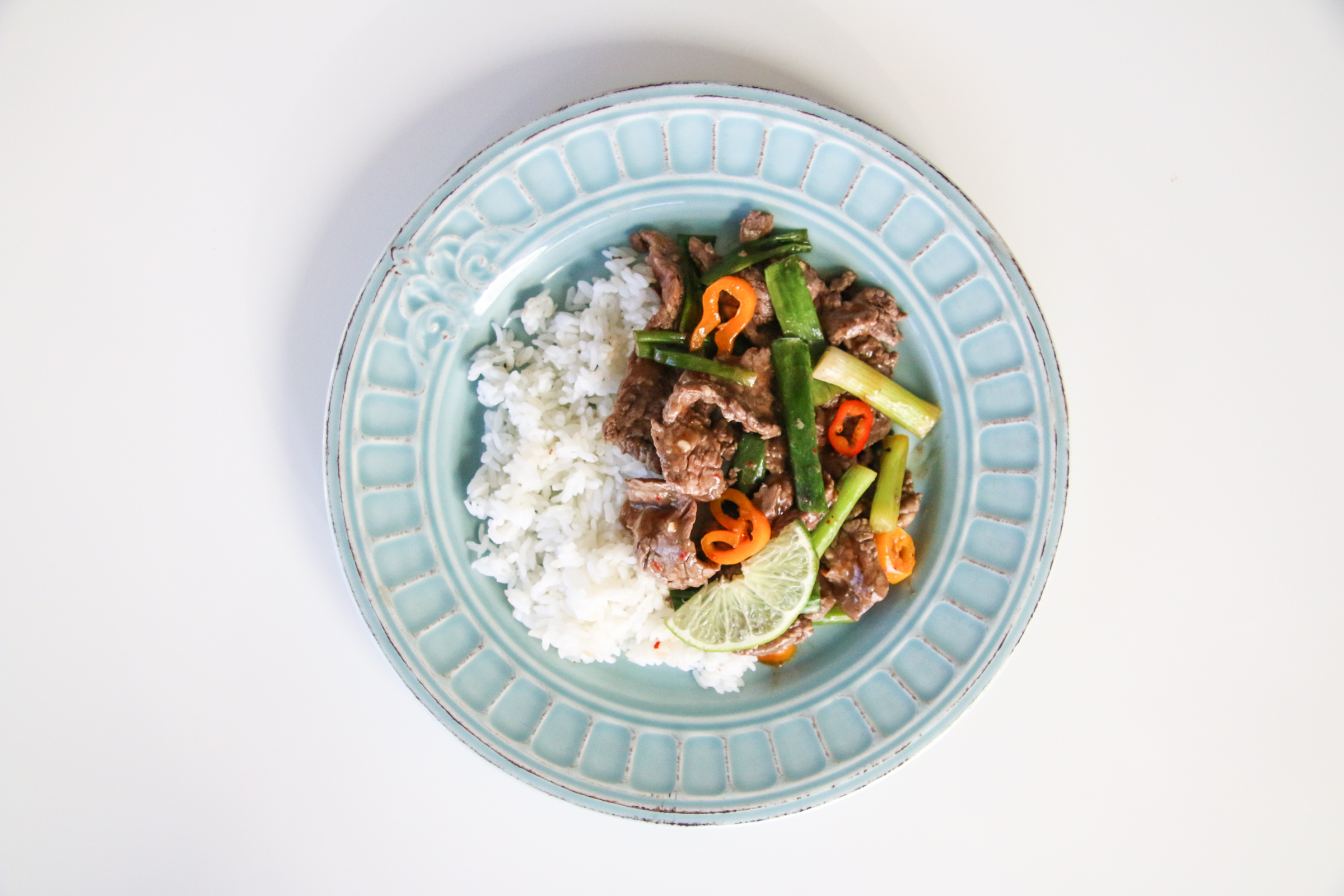 The funny thing about flank steak is that it used to be considered a cheap cut of meat, probably because when you over cook it, it can get tough.  But nowadays, it's getting kind of pricey!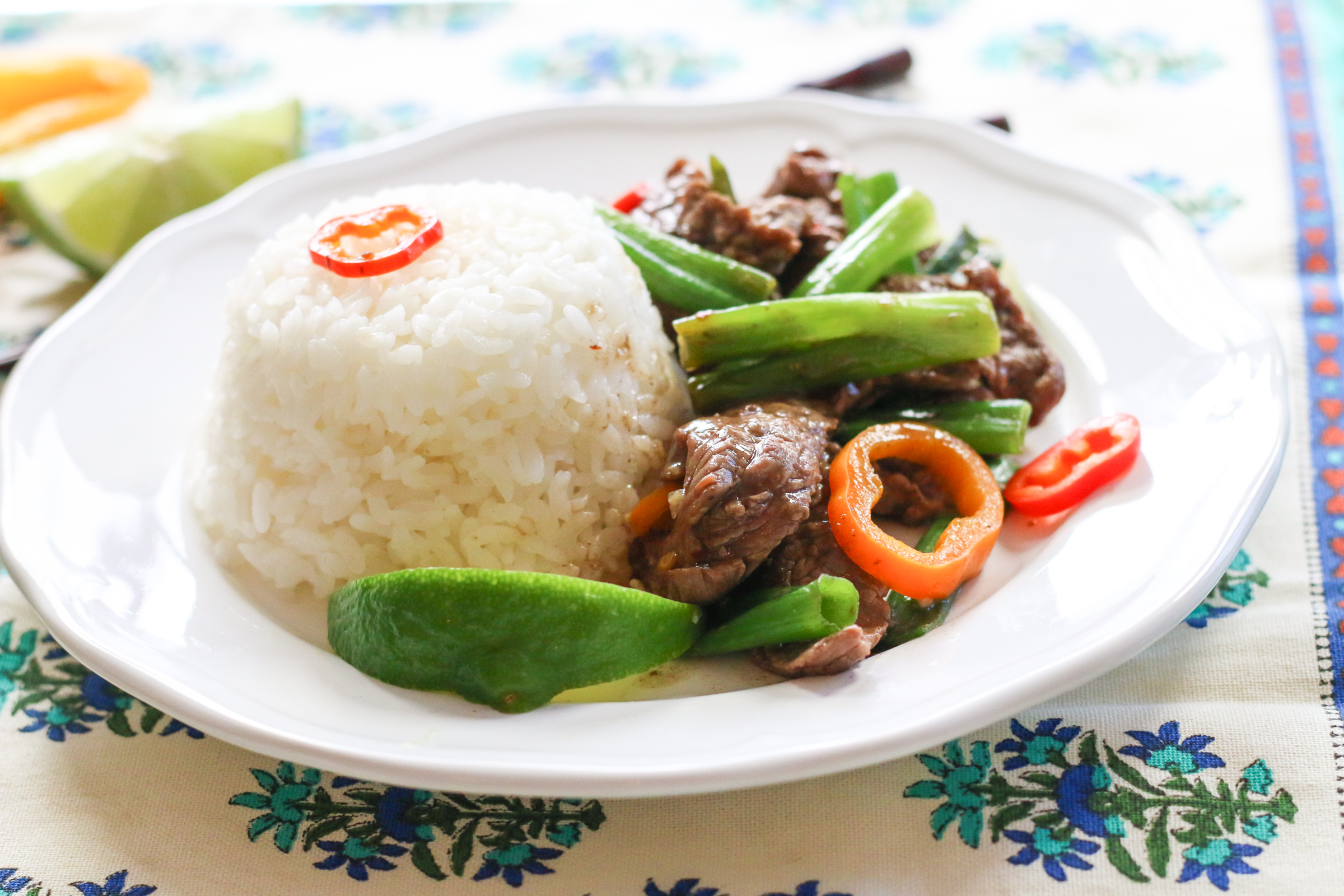 But that's probably because more and more people are starting to realize that it's actually the BOMB DIGGITY when you cook it right.  Slice it thin, cook it quickly, and you'll have a tender but toothsome piece of beef with tons of natural flavor.  So you're already at a good start right there.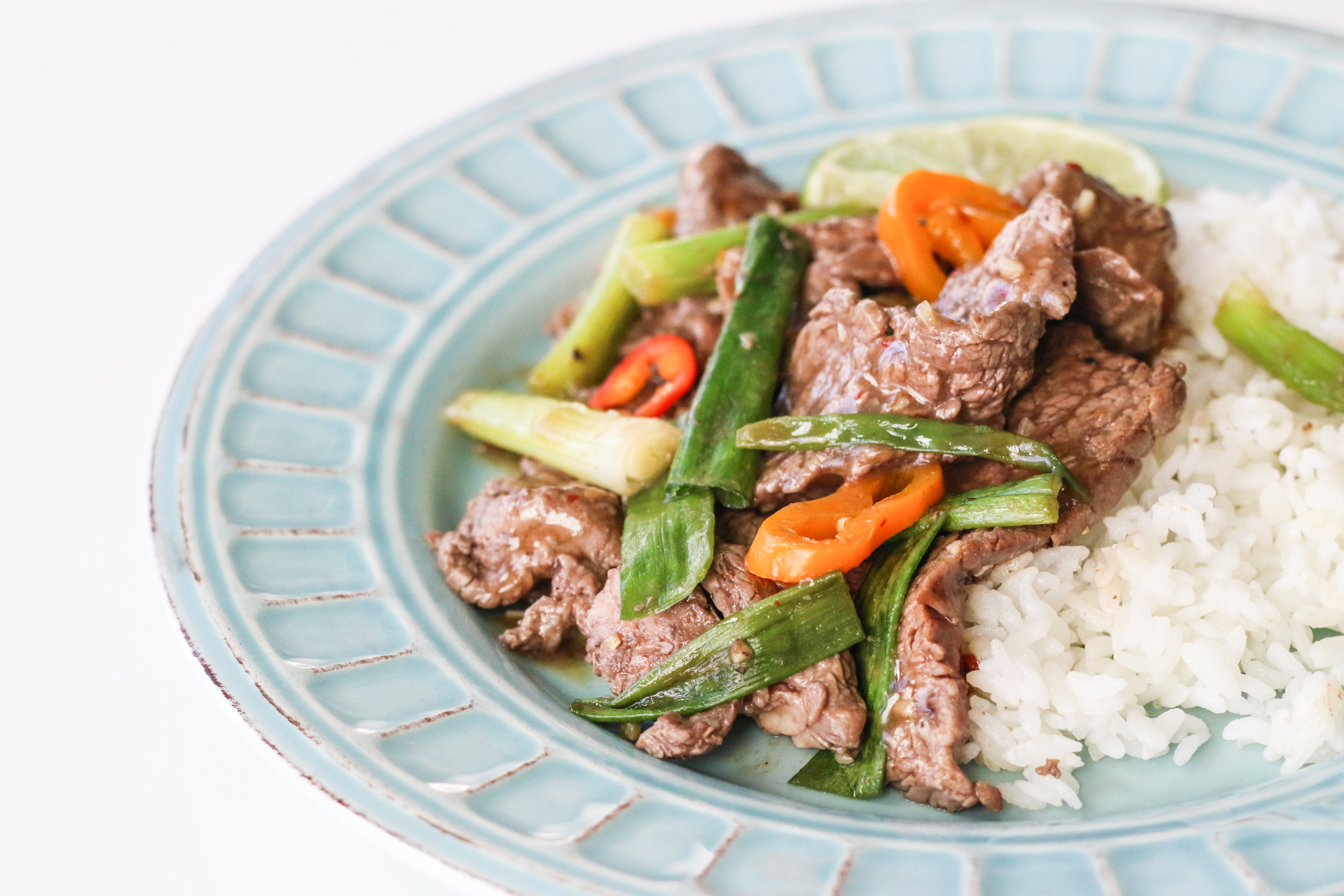 But if you don't have flank steak, use skirt steak, sirloin steaks, or boneless short ribs!  I dunno… I'm just listing all the cuts of beef I usually find at Costco right next to the flank steak.  And then all you need is a side of rice, quinoa, or noodles!  So make this stir fry when you have guests over… or eat it happily all by yourself in front of the TV.  Leftovers are great too!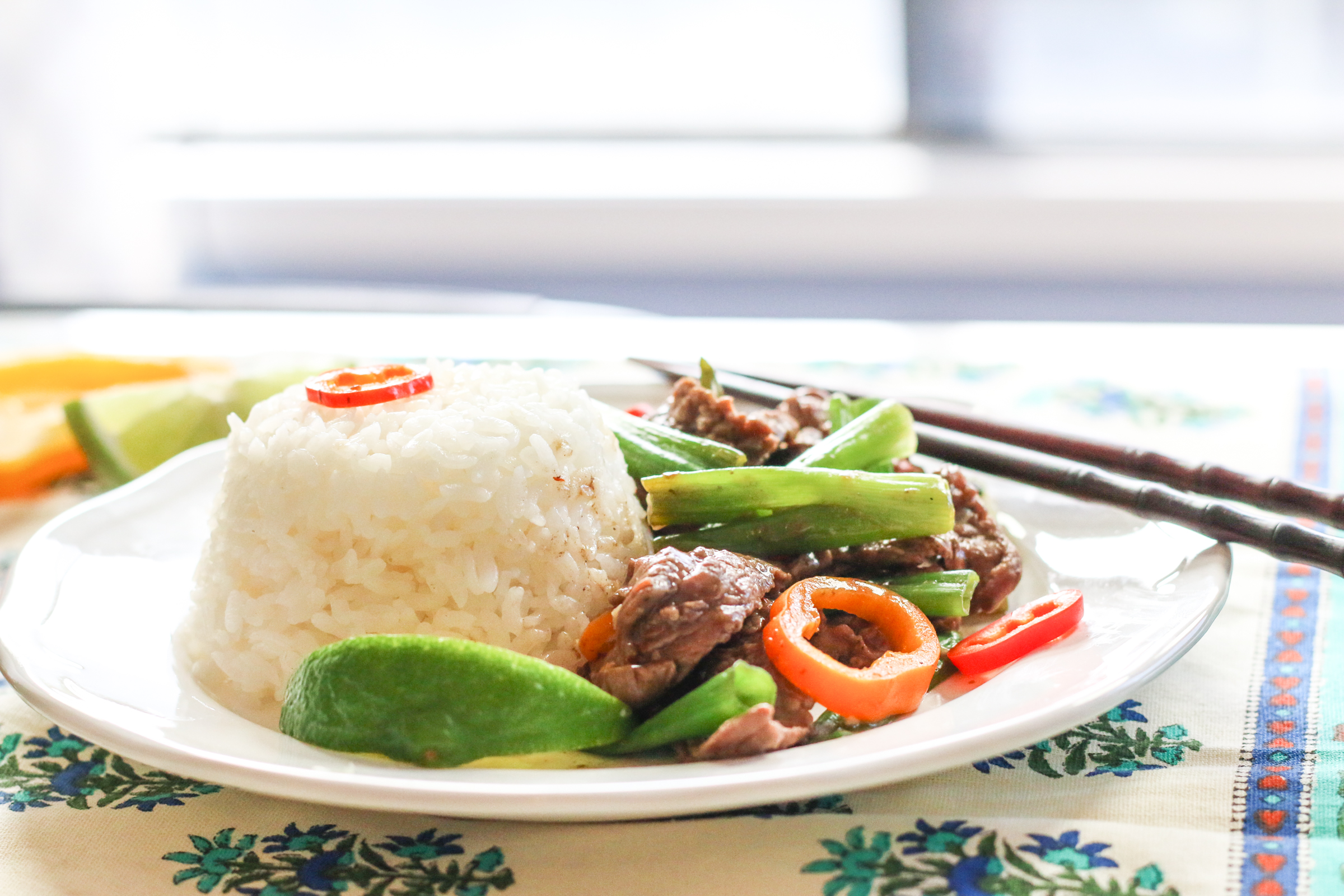 Steak and Scallion Stir Fry
The scallions turn slightly sweet, and compliment the hearty but tender slices of beef. This is a scrumptious and easy way to stretch a steak!
Ingredients
1.5 lbs of flank steak, cut on a diagonal, against the grain into ½" thick slices
2 bunches of scallions, white & green parts separated, cut into 2" pieces
4 cloves of garlic, minced
1 cup thinly sliced mini bell peppers (optional)
Salt and pepper to taste
Vegetable or Canola oil for the pan


For the Sauce:
¾ cup water
½ teaspoon Kosher salt
2 tablespoons oyster sauce
2 tablespoons fresh lime juice
1 tablespoon cornstarch
½ teaspoon crushed red pepper flakes
Instructions
In a measuring cup, mix together the water, oyster sauce, lime juice, cornstarch, salt, and red pepper flakes. Mix well until the cornstarch is dissolved.
In a large pan or wok, heat some oil on high. If your steak slices are really long, cut them down into about 3" pieces. Pat the pieces of steak dry with a paper towel. When the pan is hot, sear the meat in 2 or 3 batches, so that you don't overcrowd the pan and steam the meat. Sprinkle each batch lightly with salt and pepper and cook for about 2 minutes total, or just until browned and almost cooked through. Transfer to a plate.
Add more oil to the pan, along with the scallion whites and garlic. Saute together, for about 1 minute. Whisk the sauce one more time, and add it to the pan. Cook the sauce, while scraping the bottom of the pan with a wooden spoon or spatula, to pick up the brown bits. When the sauce comes to a bubble, add back the steak, along with the peppers and scallion greens. Toss and cook for 1 minute more. Remove from the heat and serve with rice.