Hamburger Stir Fry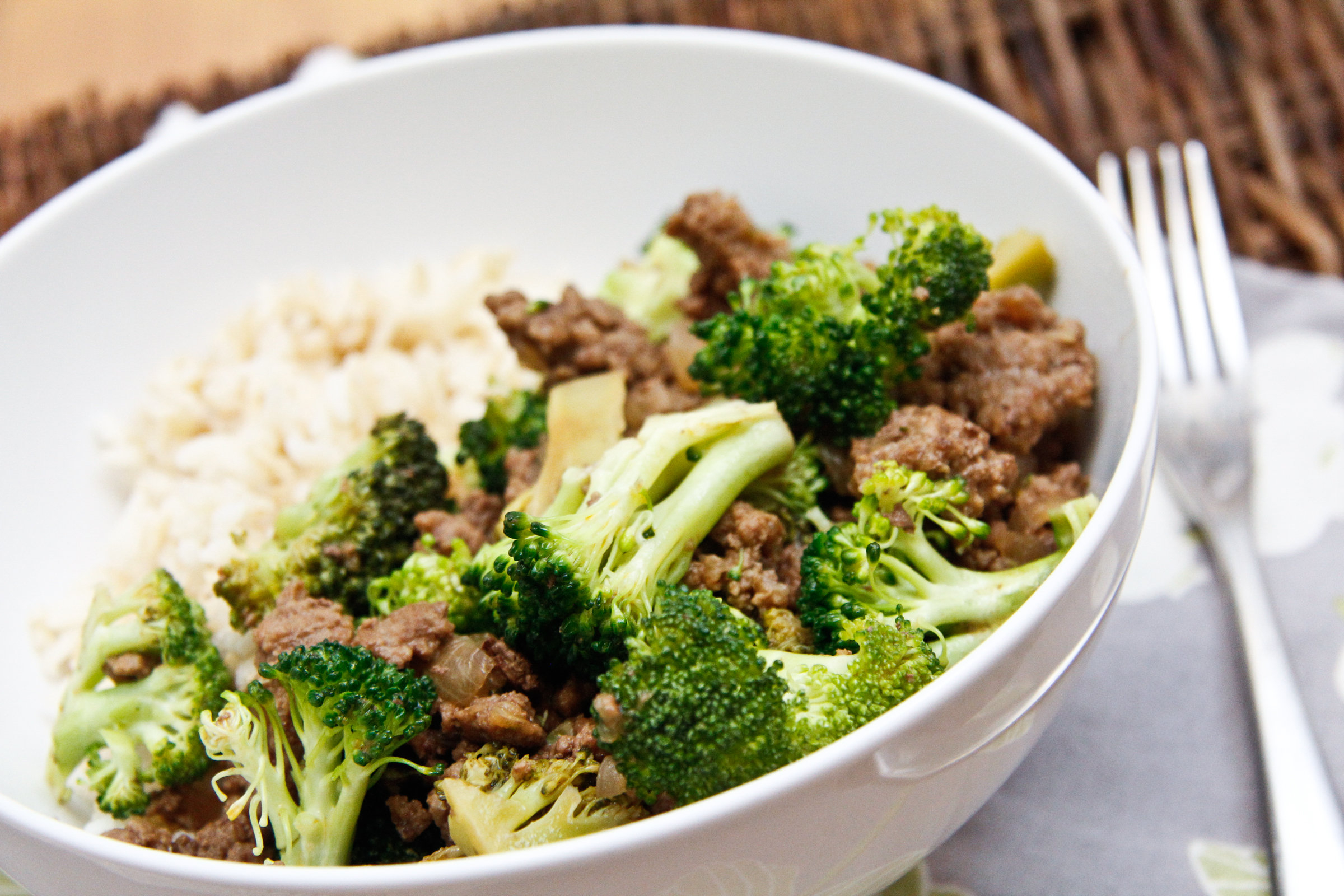 Good thing we live in California. My husband loves in-n-out burgers. In fact, any time we're on the road somewhere and have to grab a quick bite, without fail, he rhetorically asks me, "so what do you want to eat…(polite pause)…in-n-out?" In fact, he just asked me this on our way home from Vegas last week, from our impromptu Thanksgiving trip there.  
I thought it was fitting to post this recipe as a tribute to Joe since we actually did not end up grabbing in-n-out this time.  This dish tastes like a yummy hamburger in a bowl, mainly because the sauce is made with a little ketchup and mustard!  Sounds weird, I know, but I guess you can say it's kind of like my American take on "beef and broccoli."
On another note, I'm pretty sure that right now, most bloggers are probably writing about what to do with your leftover turkey. But what about the rest of us who ate at a sushi buffet for Thanksgiving and have no leftovers? Oh okay, maybe that's just us. But in any case, why not take a break from turkey sandwiches and try out an easy hamburger stir fry instead?
So you start out with a little soy sauce.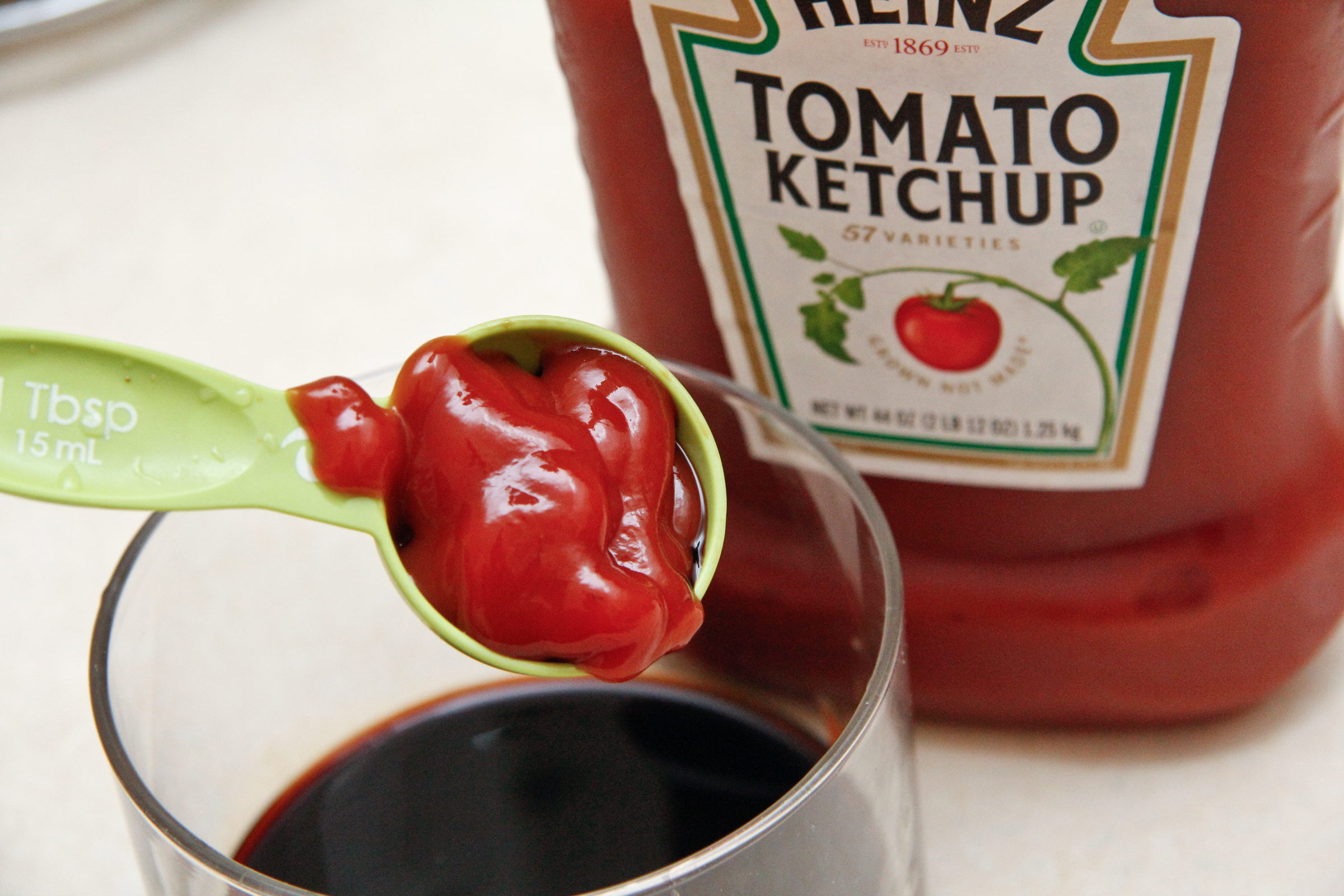 Then you squirt in some ketchup…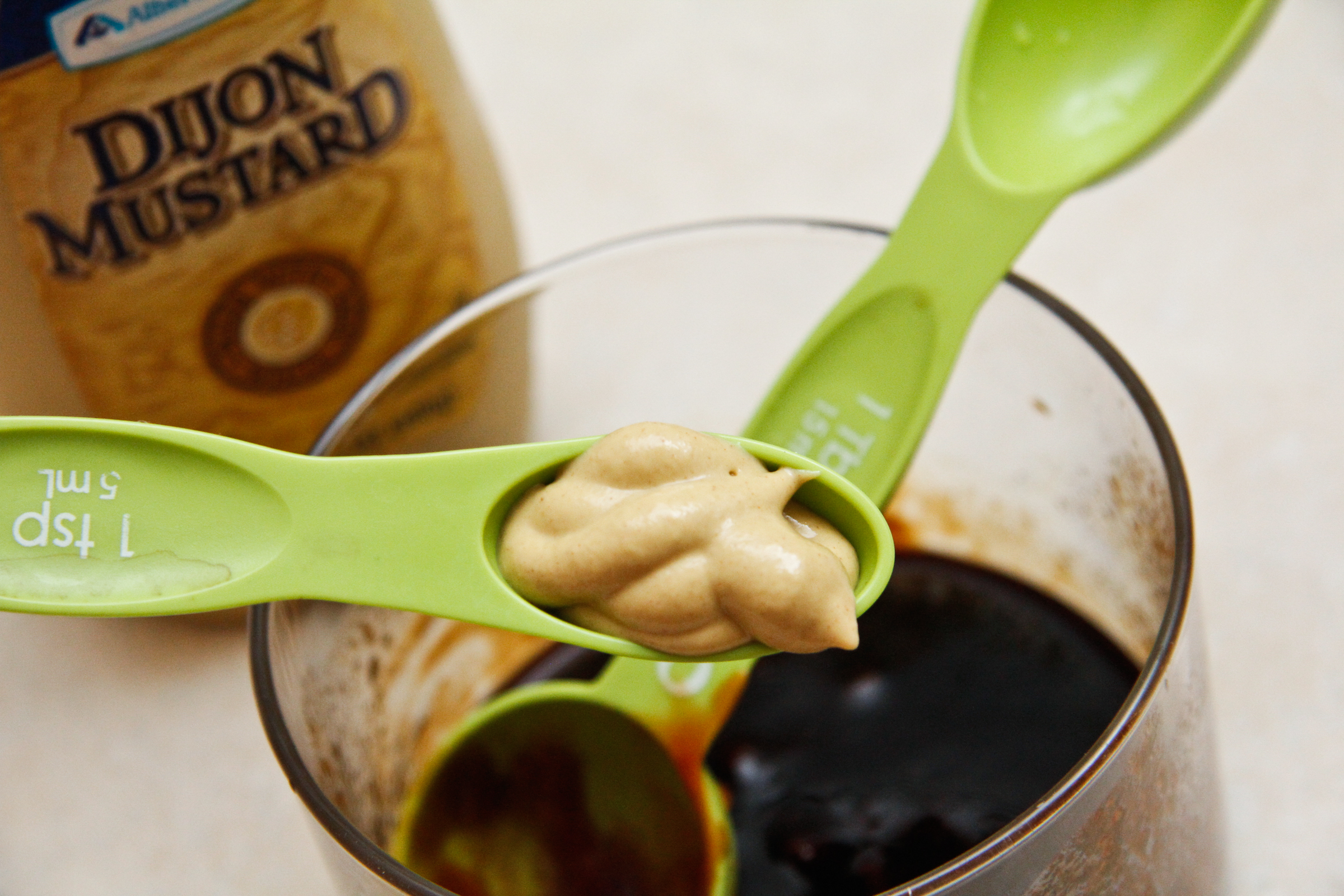 and dijon mustard. If you don't have dijon, just use good ol' yellow mustard.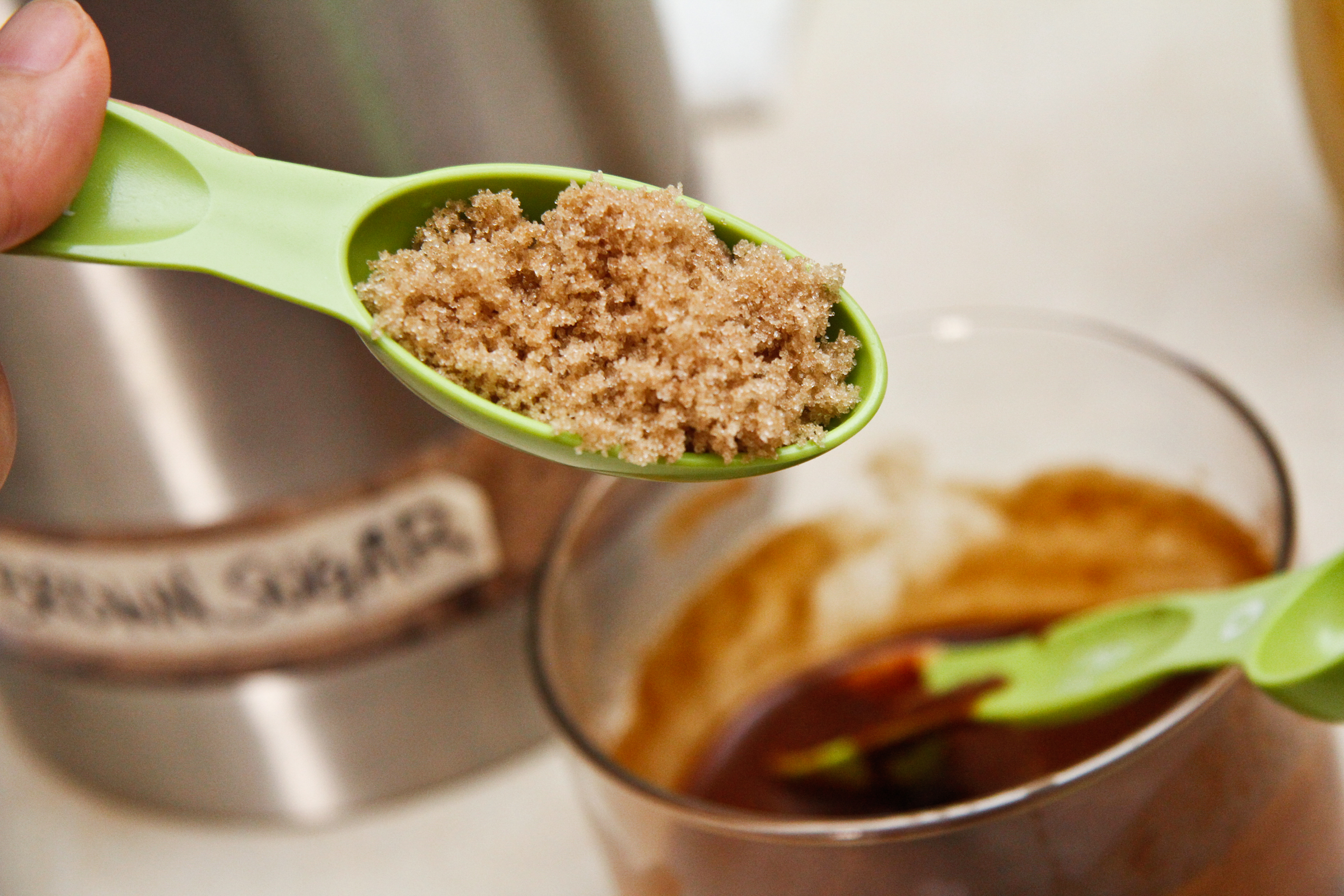 Sweeten it up with some brown sugar.  And add a little sriracha sauce and water.
Give it a stir.  You will have a glossy thick sauce.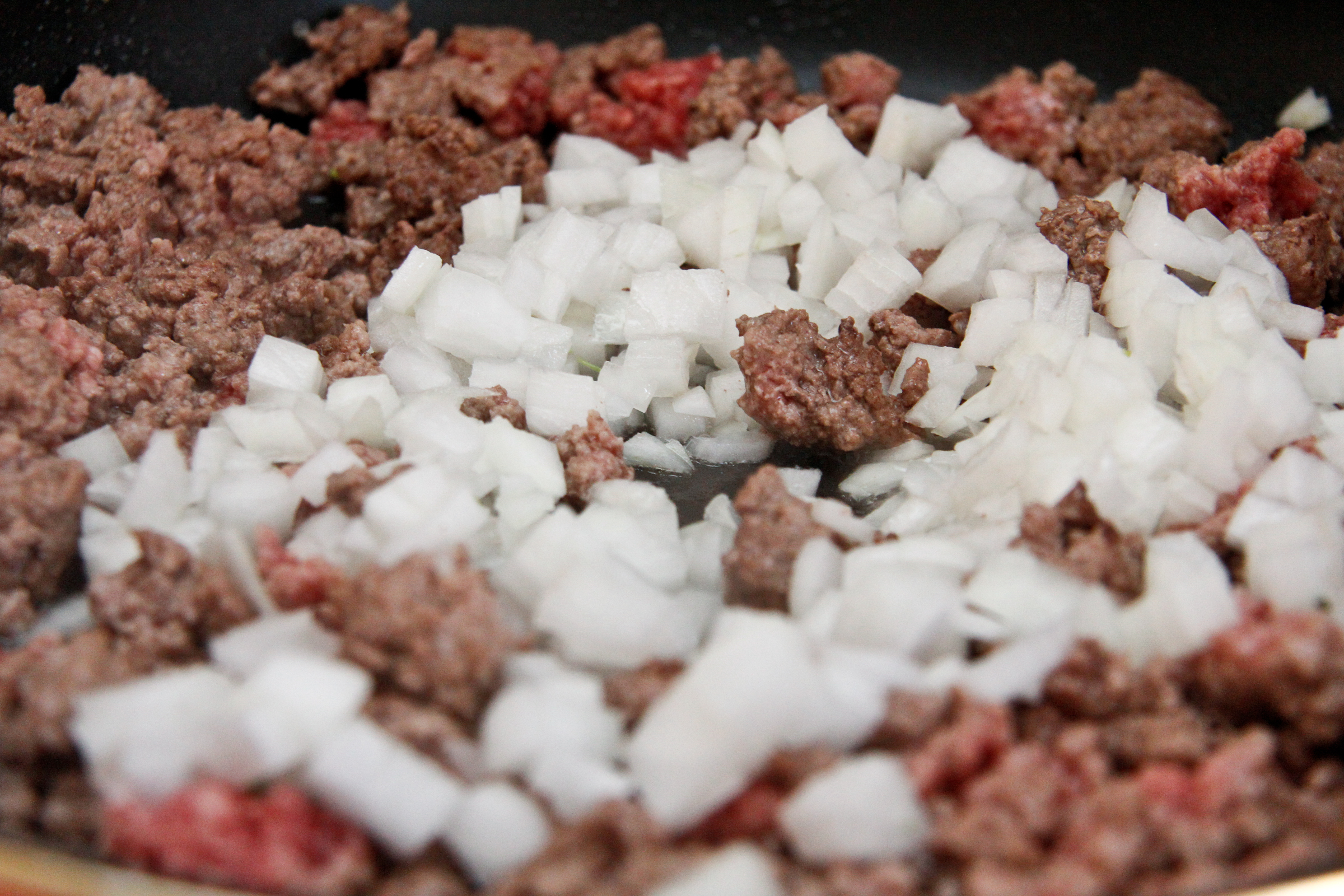 Brown your ground beef in the pan, and just when the pink starts to disappear, add your diced onions.  Saute together until the onions are softened.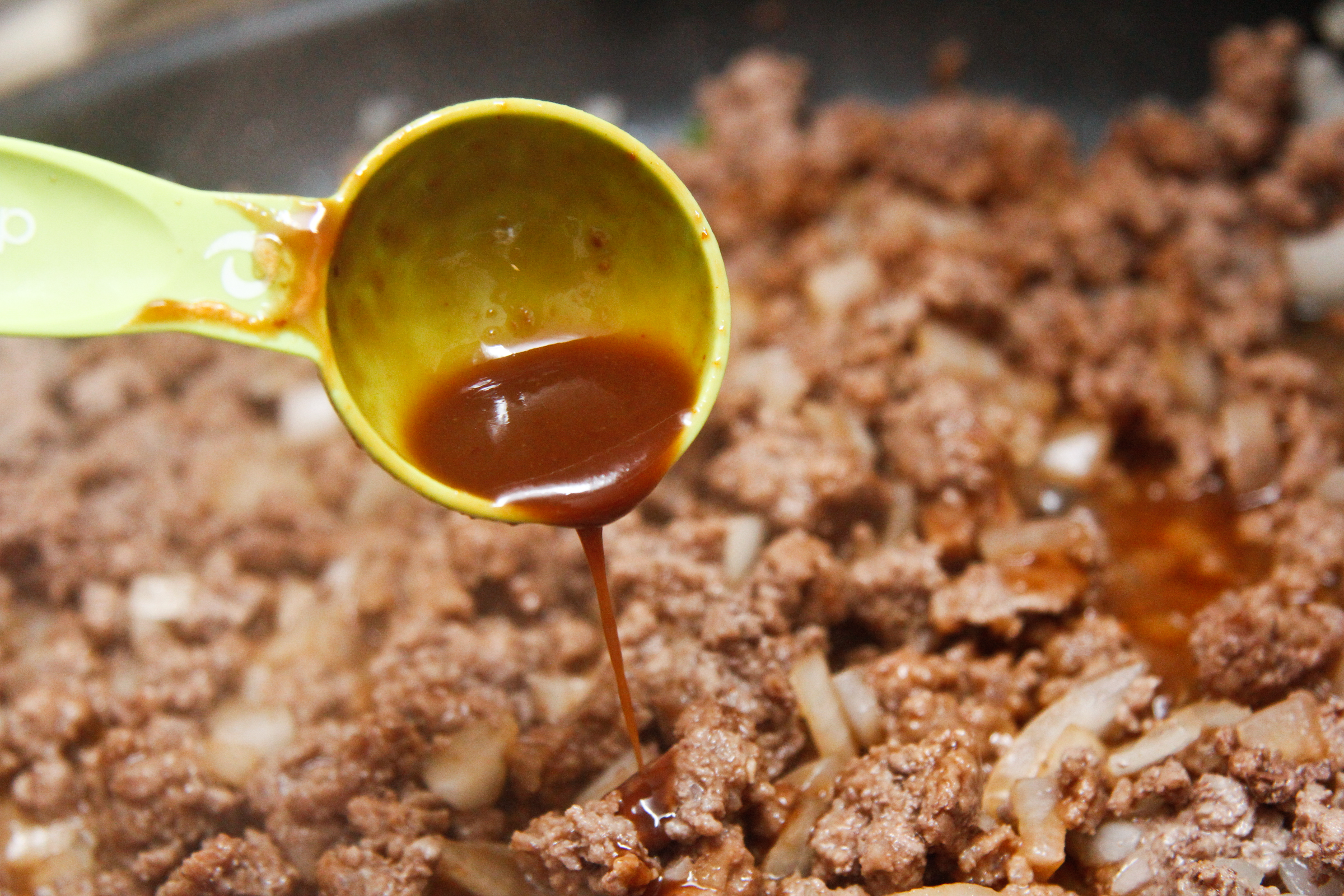 Then drizzle in some of your sauce to add the flavor!  But save the rest for your broccoli.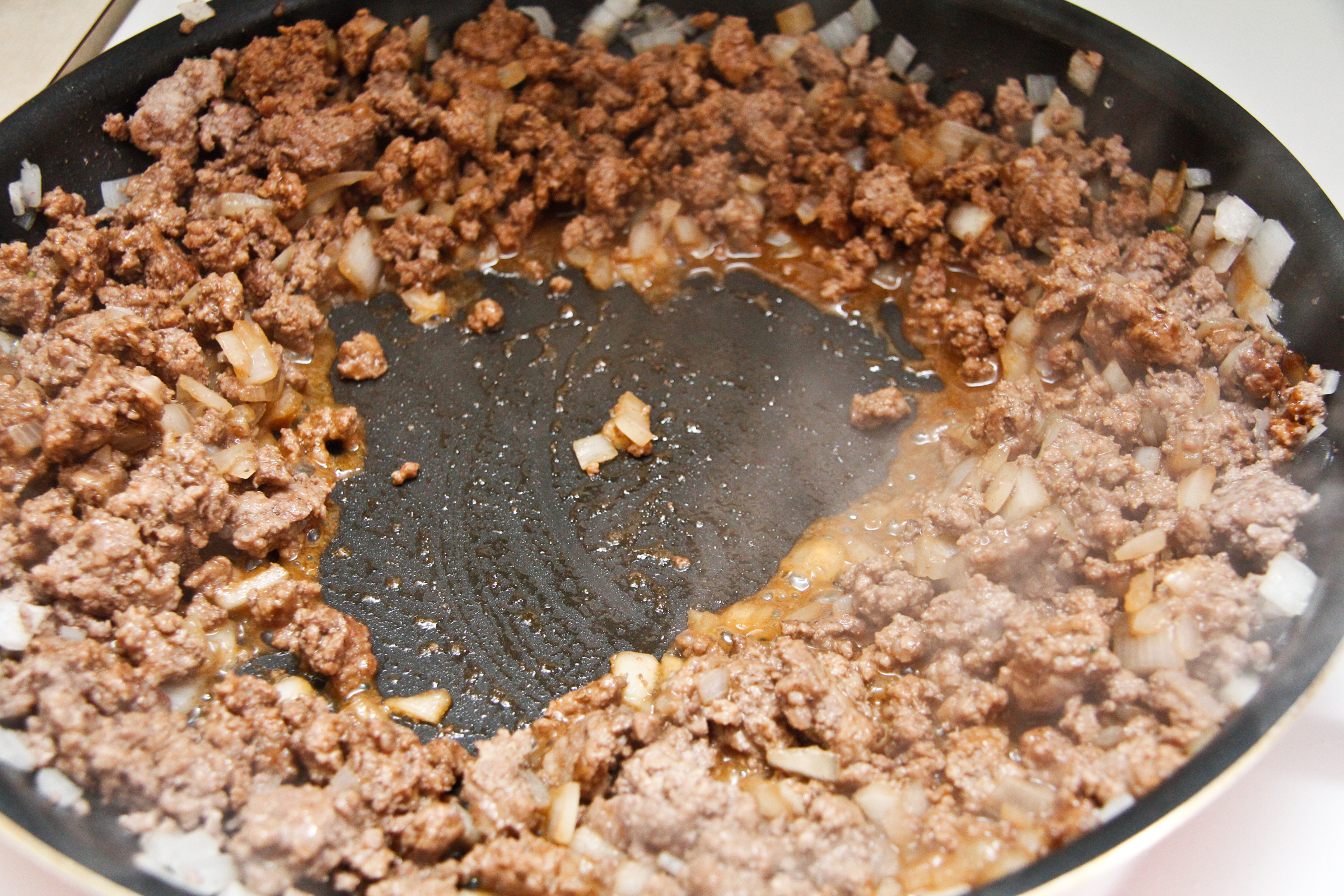 Make a well in the center of your pan.
And add your florets of broccoli.  Ever since I was a kid, eating broccoli always made me feel like I was a giant who was eating trees.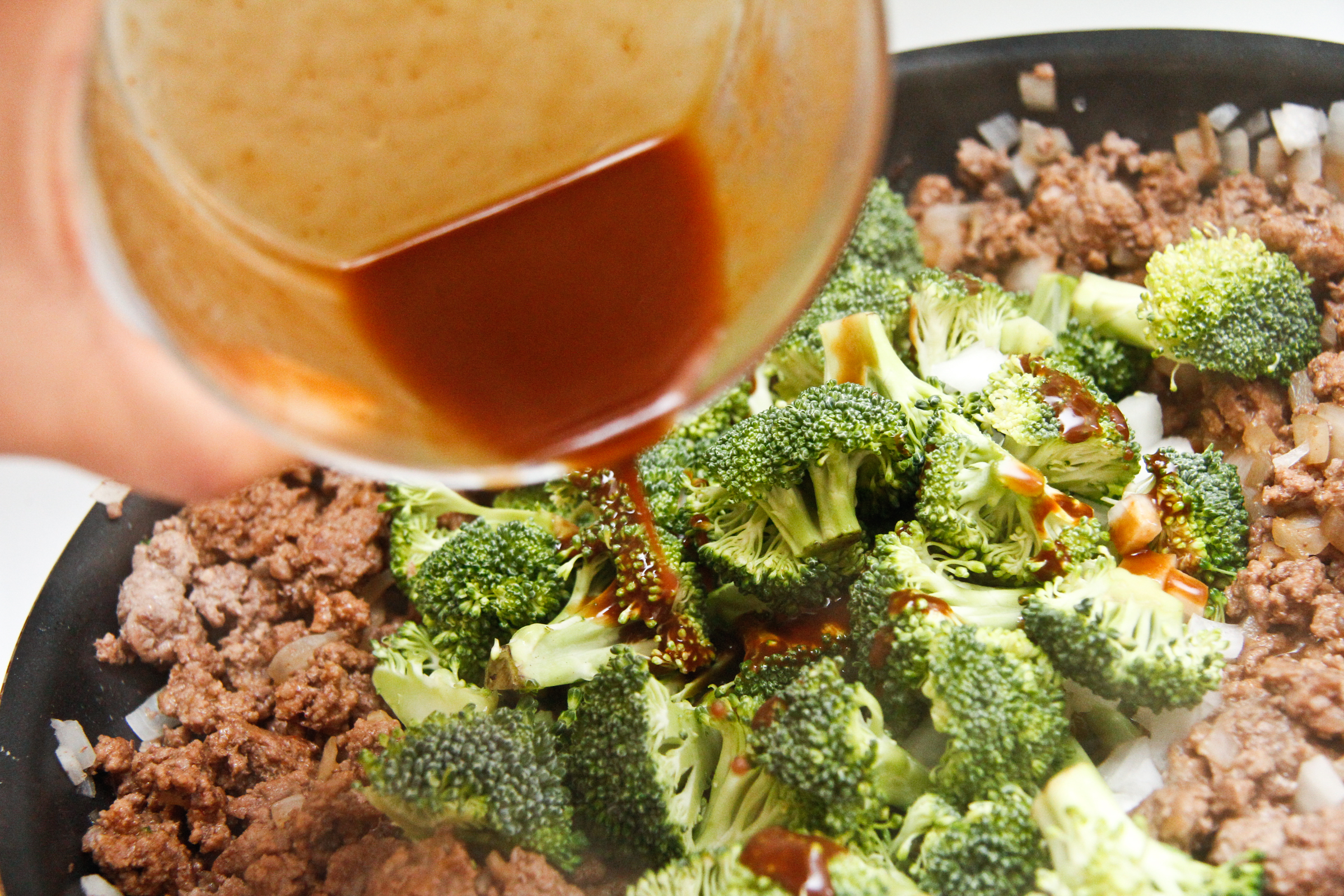 This is where you pour in the rest of your sauce.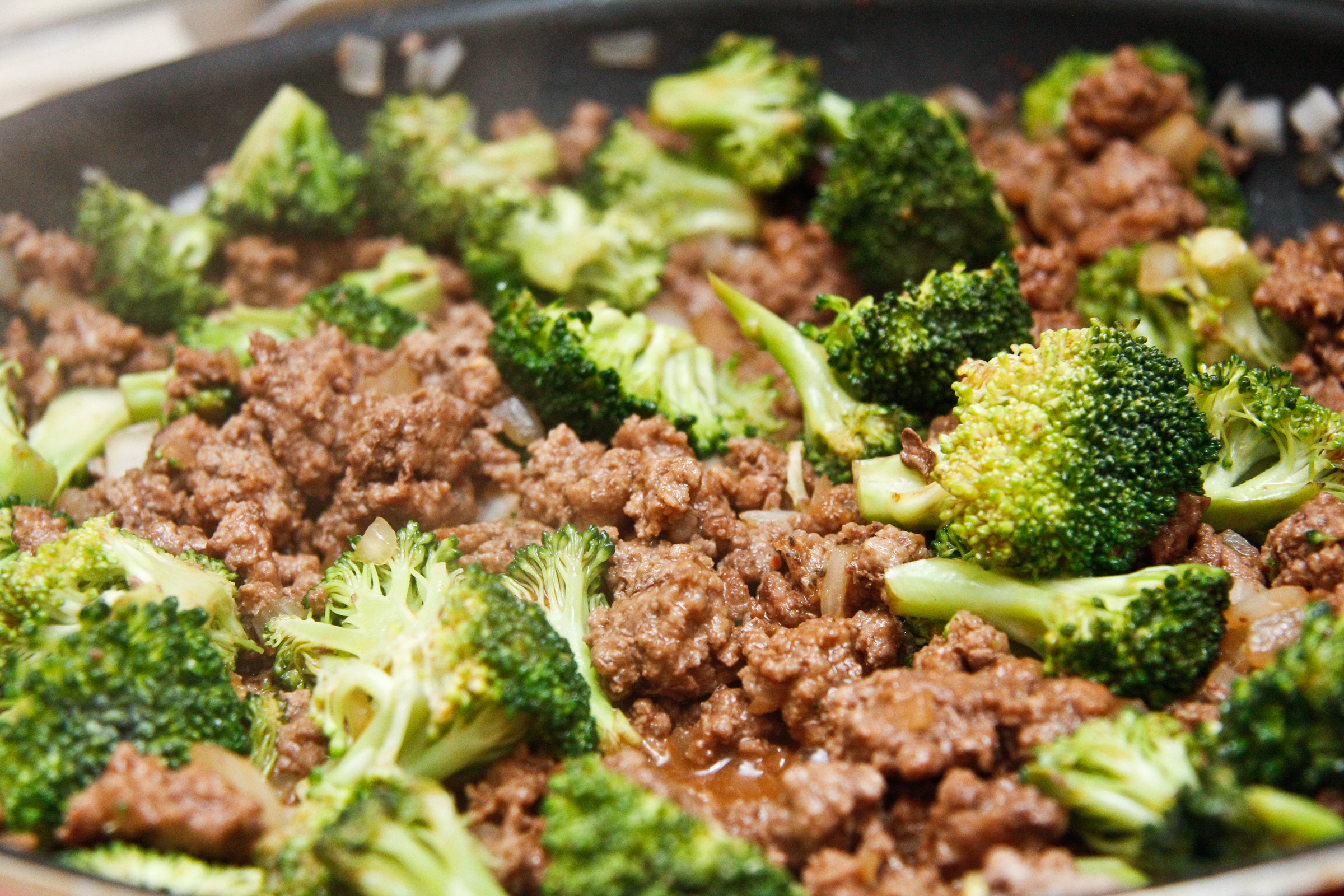 Stir and coat until the broccoli is just crisp tender.  Mushy brown broccoli is no good.  And then you're done!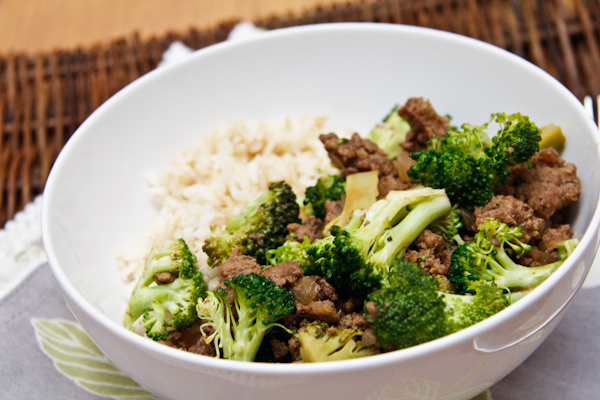 Scoop it over some rice and you have hamburger beef and broccoli in a bowl.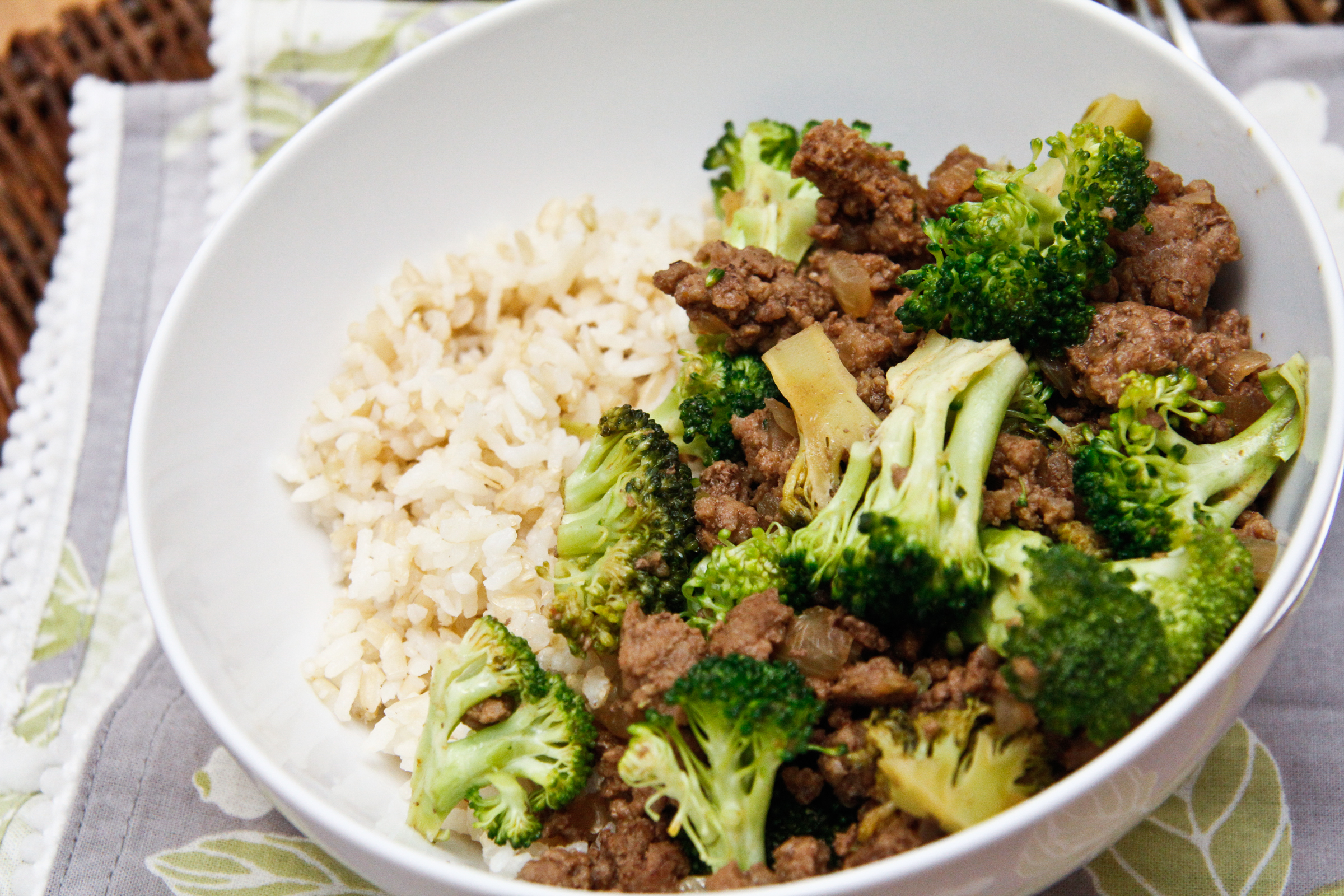 It is easy and delicious!  So next time you have that package of ground beef sitting in your fridge, instead of turning it into a burger or meatloaf, think about making a stir fried hamburger in a bowl. It's a quick one-pan dish that also makes use of the condiments in your fridge.  Squirt on some extra hot sauce or pull out your kimchi.  In any case, it will be a nice change of pace from your mashed potatoes and stuffing, and you will have yourself a "happy meal."

Hamburger Stir Fry
A quick and different take on beef and broccoli
Ingredients
1 lb ground beef
4 cups broccoli florets
1 cup onion diced
For the sauce:
1 tablespoon ketchup
2 teaspoons dijon mustard
2 tablespoons soy sauce
2 tablespoons brown sugar
1-2 teaspoons sriracha sauce
2 tablespoons water
Salt and pepper if needed
Instructions
Heat a large pan with a little oil and saute the ground beef until just cooked through. Add the onions. Cook together until the onions are soft.
In a bowl, mix together the ingredients for the sauce. Add 4 tablespoons of the sauce mixture to the pan and cook for 1 minute more.
Make a well in the middle of the pan and add the broccoli florets. Drizzle on the remaining sauce over the broccoli and then stir to combine. Cook everything together until the broccoli is vibrant green and crisp tender. Taste and adjust with salt and pepper if needed. Serve over a bowl of rice.

TIP: If you want to take the suggestions of some of my readers, you can double the sauce if you tend to like things on the saucier side.