Pork Chops with Balsamic Apples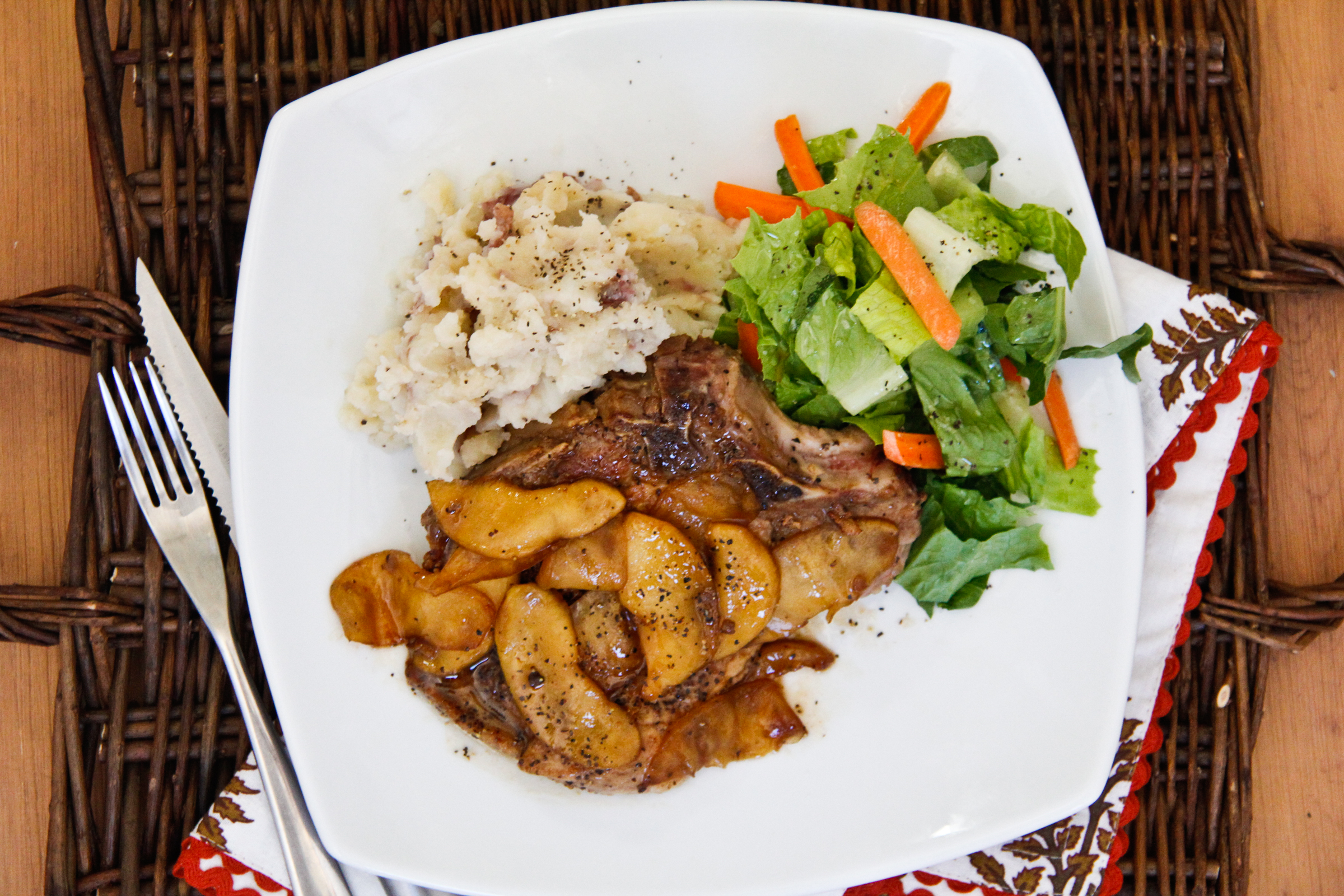 "That's the way they all became the Brady Bunch."  We recently watched the Biography of "The Brady Bunch" on TV, and it made me reminisce of all the great episodes I watched after school as a latch key kid, through syndication of course.  That's probably why I thought of making pork chops with applesauce, with my own twist.  If you don't know what I'm referring to, just watch our video.  It might trigger your memory.  
On that note, this dish is quite perfect for Fall, which by the way, is my favorite season.  Give me crisp weather, denim jackets, scarves and hot apple cider any day!  Man, just writing about this makes me miss the east coast even more than ever!  But thankfully, it's also getting a bit chilly right here in good ol' SoCal.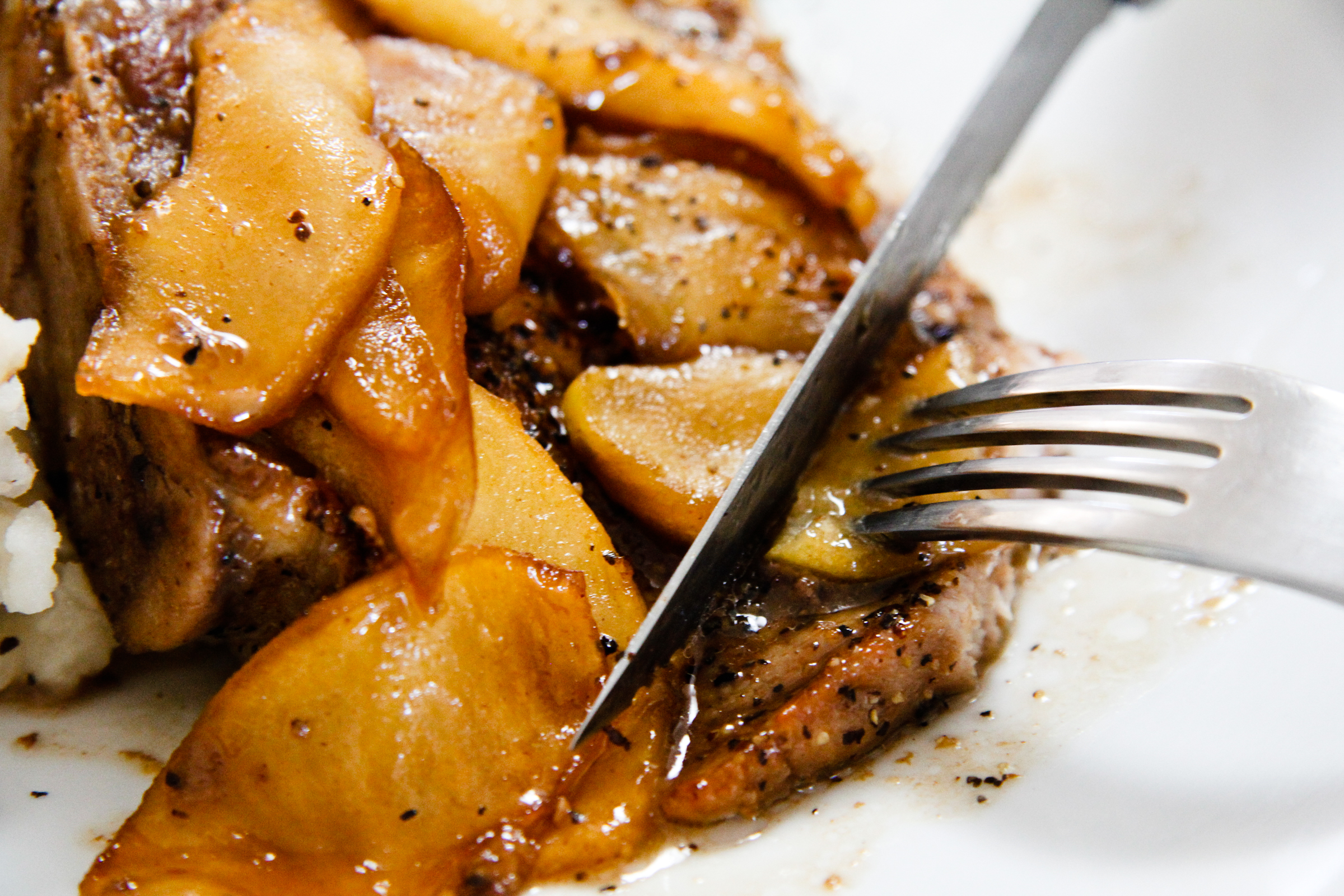 I know there's plenty of you who don't like fruit with main entrees, and yet here I am, giving you recipes such as steak salad with oranges, and now pork chops with apples.  But really, don't knock it til you've tried it.  I'm all about balanced flavors, and these incredible combos really work.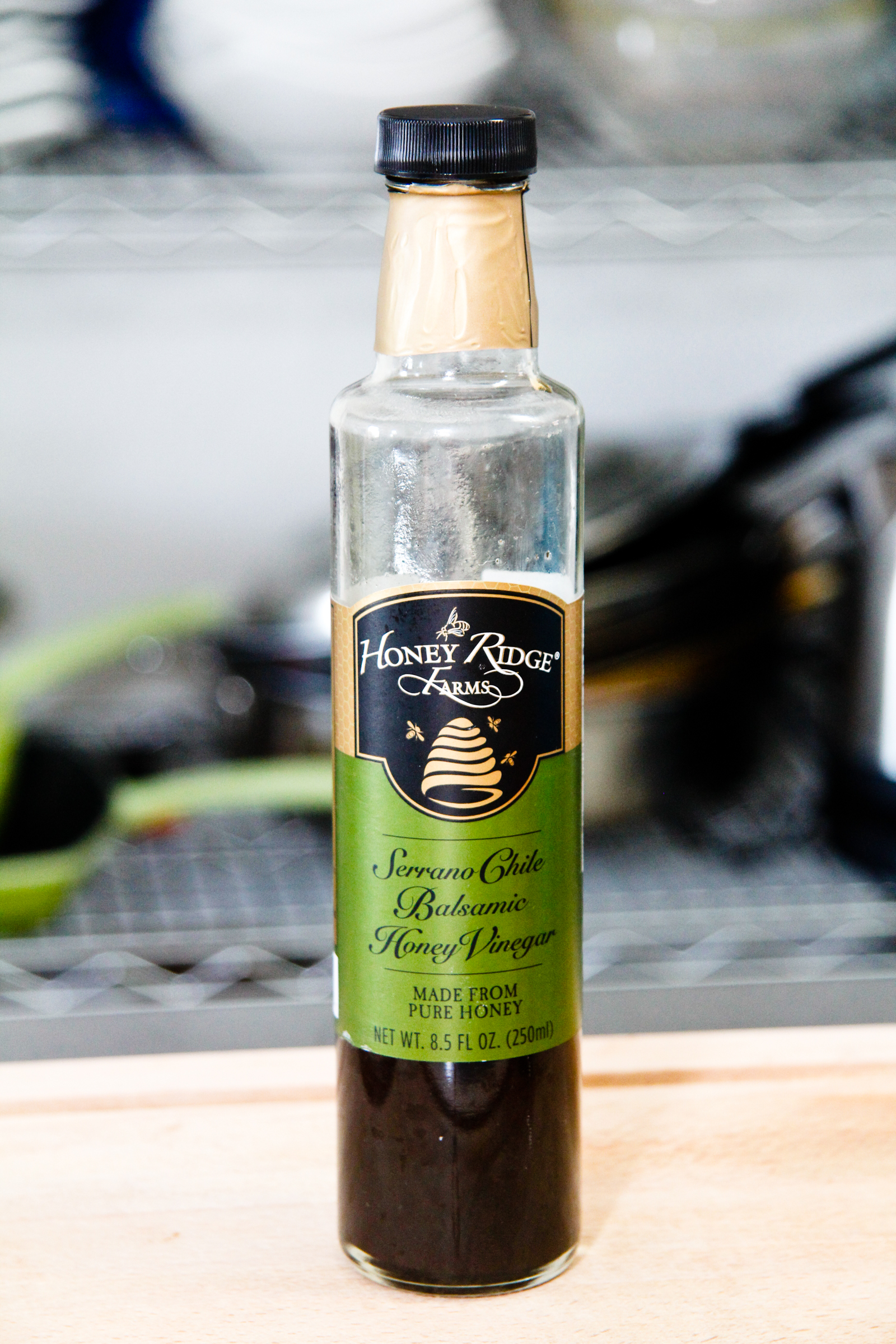 The pan sauce is pulled together really quickly with Serrano Chile Balsamic Honey Vinegar from Honey Ridge Farms.  That's right.  They sent this to me, along with the Clover Honey Creme, through ifood.tv, so we made a second product placement video.  This adds a nice sweet, sour and spicy kick to the dish.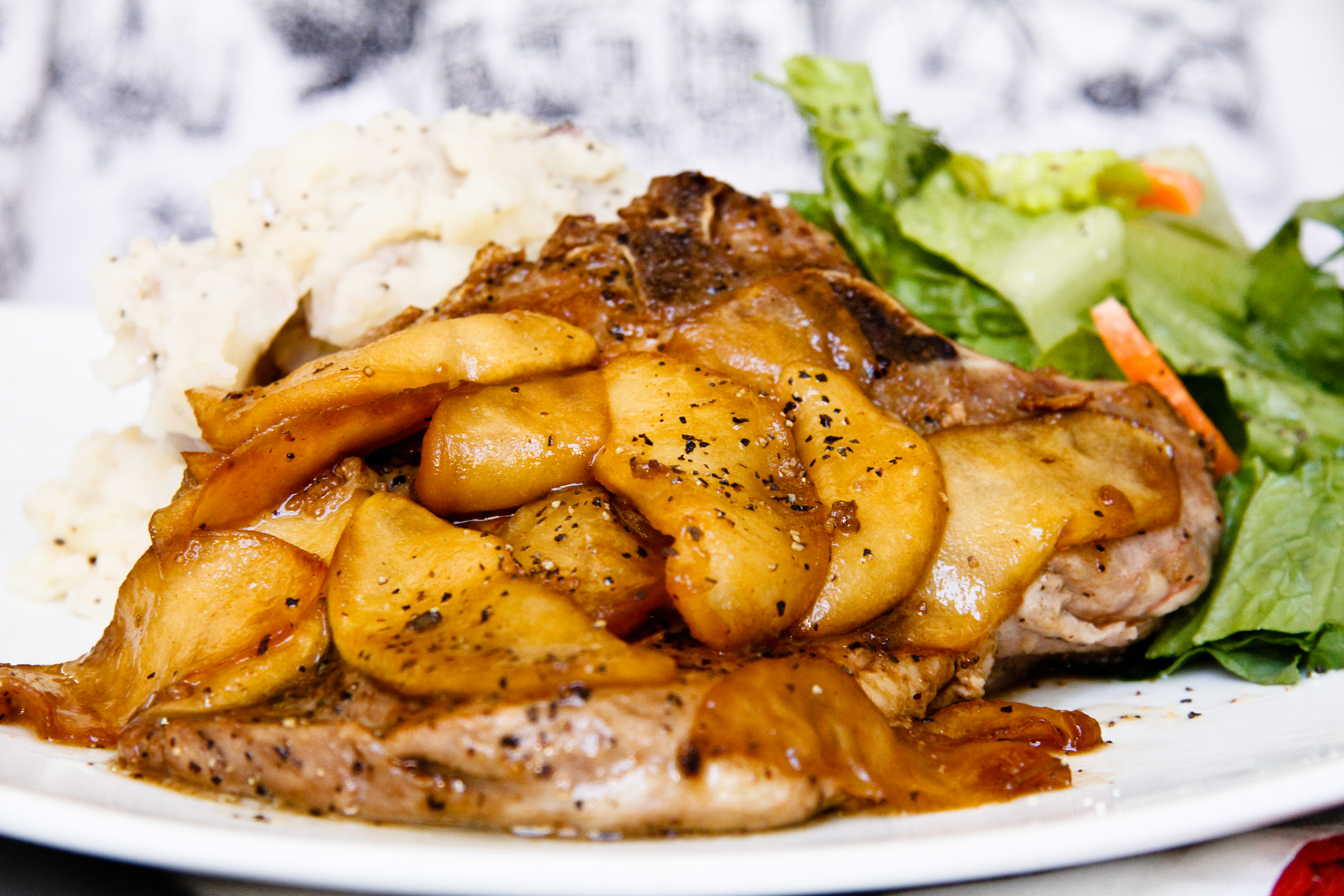 Sizzling hot pork chops topped and sweet glazed apples were just meant for each other, so I hope you give it a try.  Watch how I make pork chops with balsamic apples in our video below:
Savory, juicy pork chops with sweet and tart apples are everything you need in one bite.  It goes well with mashed potatoes and salad, or even rice and kimchi!  Trust me, I know by experience.
So thanks to Honey Ridge Farms, ifood.tv, and of course, Peter Brady for helping me think up the idea for this dish.  It was so good, it made it into our dinner menu rotation twice within the same week.  It's a great Fall time dish, and it's easy enough to make on the fly for your guests.

Pork Chops with Balsamic Apples
In the Fall time, I make this dish a lot. Pork chops and apples were made to go together.
Ingredients
1 pink lady apple, peeled, cored & thinly sliced
2 bone-in pork chops, flattened to ½" thickness
2 Tablespoons unsalted butter, divided
2 Tablespoons olive oil, divided
2 Tablespoons HONEY RIDGE FARMS Serrano Chile Balsamic Honey Vinegar
1 Tablespoon brown sugar
2 Tablespoons water
Kosher salt and black pepper to taste
Instructions
Peel, core, and thinly slice the apple. Set aside. Flatten pork chops until they are about ½" thick. Season the chops with kosher salt and pepper on both sides.
In a large pan, add 1 Tablespoon of olive oil and heat on medium high. Add pork chops and brown on both sides, cooking for about 5 minutes total. Set aside and tent with foil to keep warm.
Add 1 Tablespoon of butter, with 1 Tablespoon of olive oil to the same pan, and slightly scrape with a rubber spatula or wooden spoon, to pick up the brown bits. Add sliced apples and season with a light sprinkling of salt. When the apples are slightly soft, add in brown sugar, water, and HONEY RIDGE FARMS Serrano Chile Balsamic Honey Vinegar. Cook the sauce down until thickened, and swirl in the last tablespoon of butter. Taste and adjust the seasoning with more salt and pepper if needed.
Add the pork chops back into the pan and coat in the sauce, turning with tongs to flip them, to make sure they're nicely coated on both sides. Remove to a serving platter and garnish with the apples and remaining sauce on top. Serve with a side of mashed potatoes and a salad.