Potluck Pesto Pasta
Yeah, there's nothing new about pesto pasta, but this particular recipe is poifect for potlucks and any other kind of event where you need to feed a crowd.  It's colorful, flavorful, fresh, and vegetarian-friendly.  You can choose to use my basic basil and mint pesto recipe, or this new one, which uses walnuts instead of pine nuts, and spinach to stretch out the basil, and add a little nutrition.  The ingredients are definitely humble, but the impact is impressive.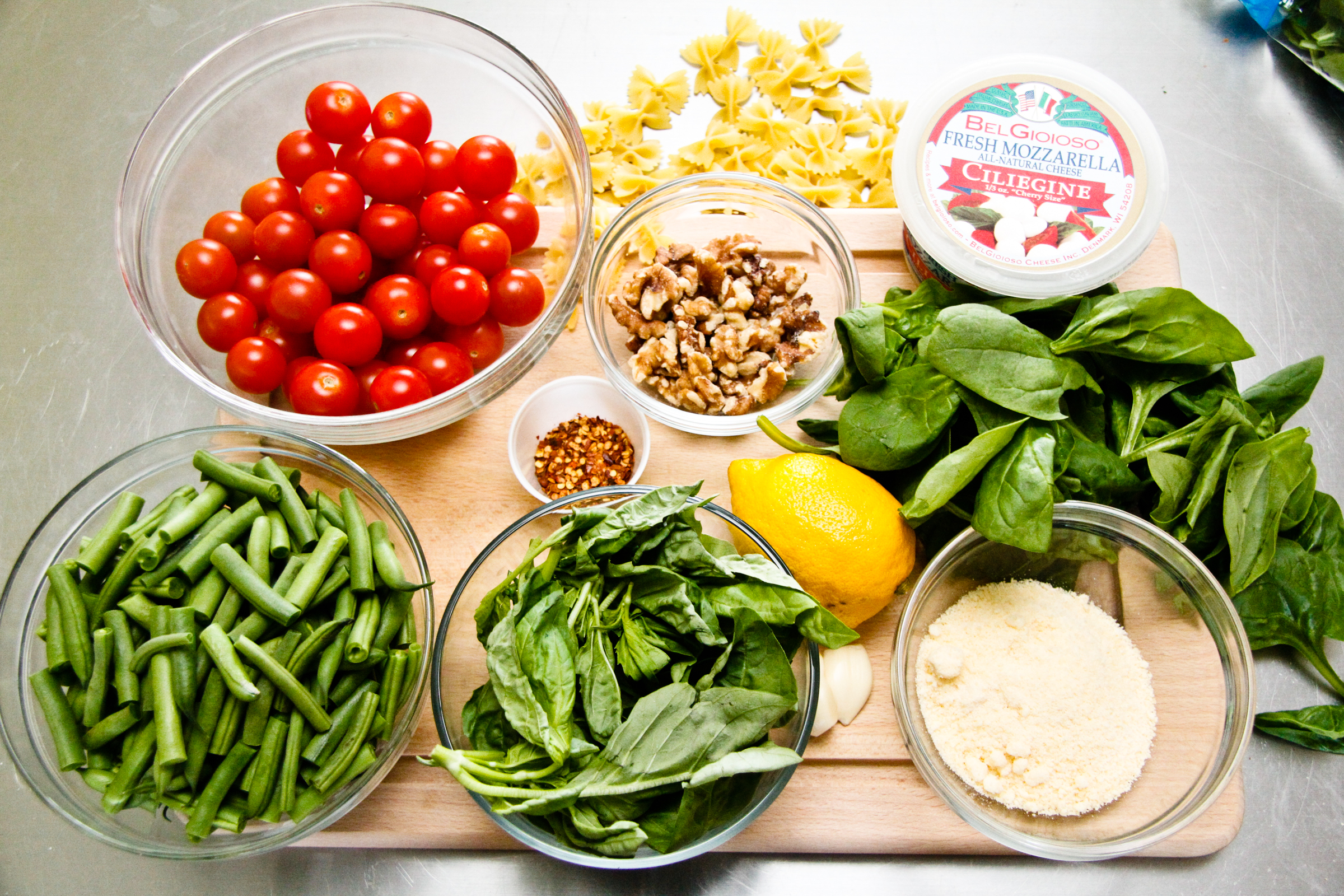 Once you make your pesto, toss it in some farfalle (bow tie) pasta, and add in bright cherry tomatoes, soft creamy bocconcini, and a surprising ingredient… green beans!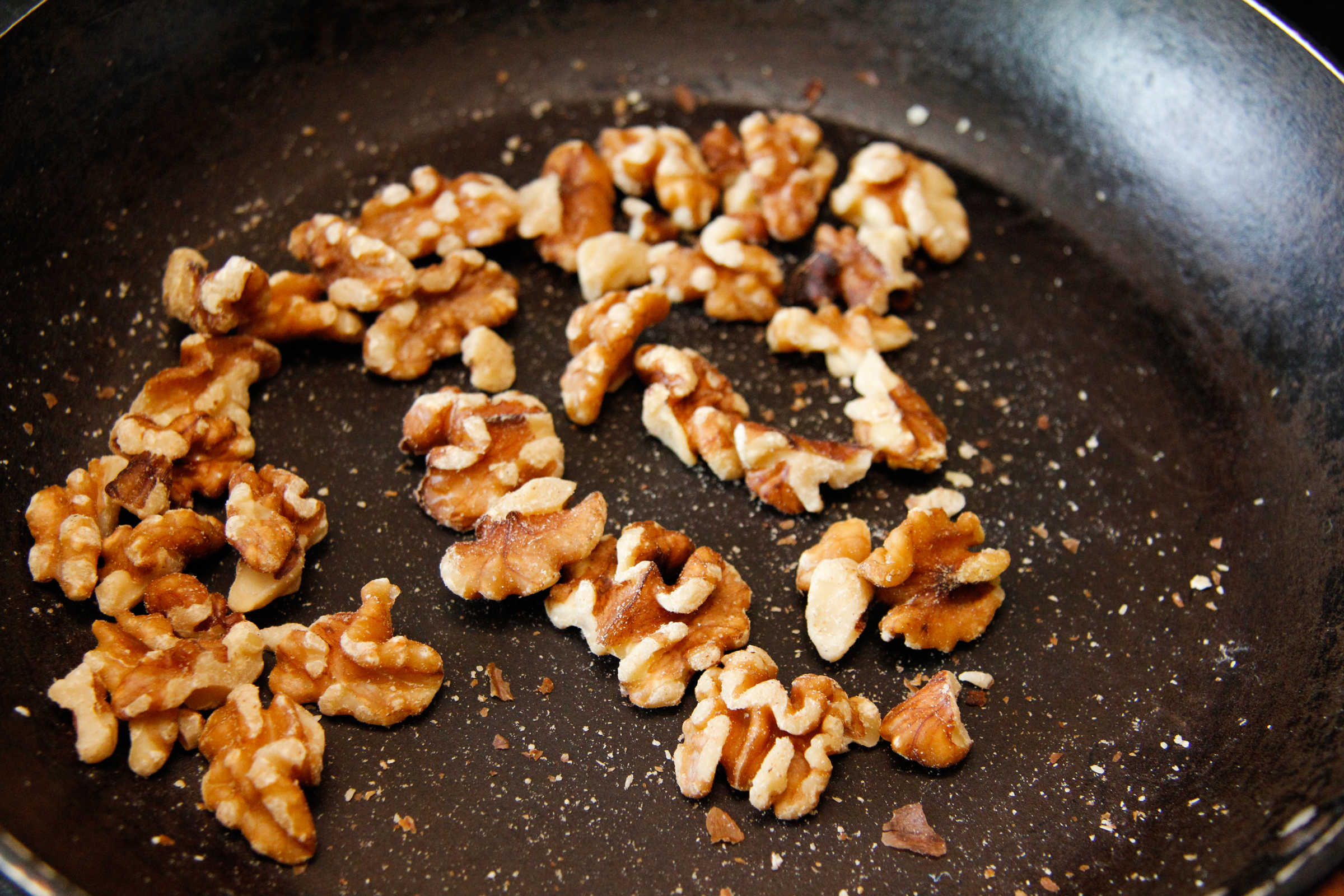 Walnuts are still pricey like pine nuts, but they're easier to find in any grocery store.  I almost always keep a bag of walnuts or almonds in my freezer, and use what I need whenever I bake or make pesto.  Why keep them in the freezer?  Because nuts have oil in them and the oils can turn rancid when you just store them in your pantry.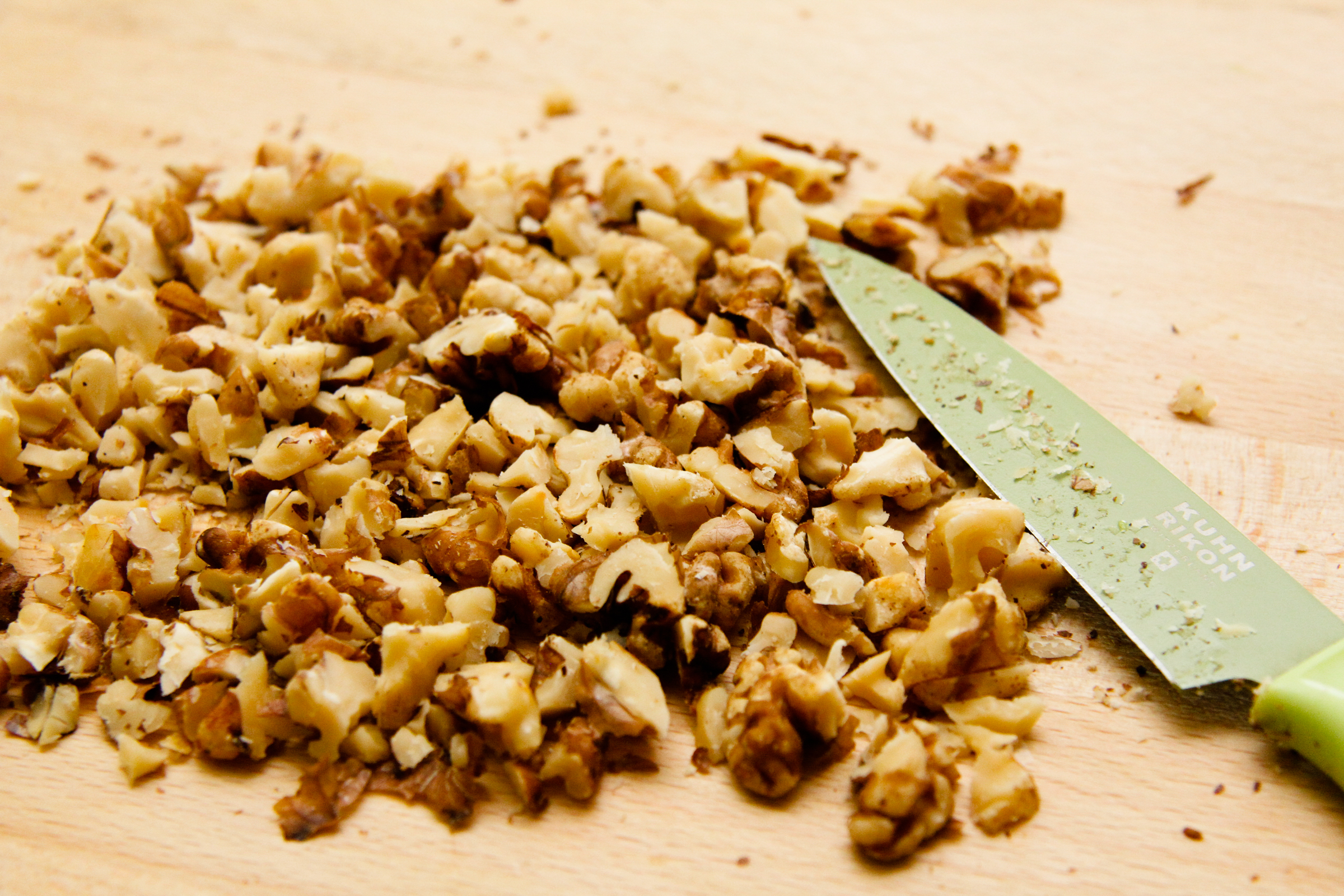 So toast them in a dry pan, until you can smell their fragrance.  Be careful that they don't burn.  Then give them a quick coarse chop.  You're gonna throw them into a food processor or blender anyhow, but give them a little start so you don't have broken up little chunks in your pesto.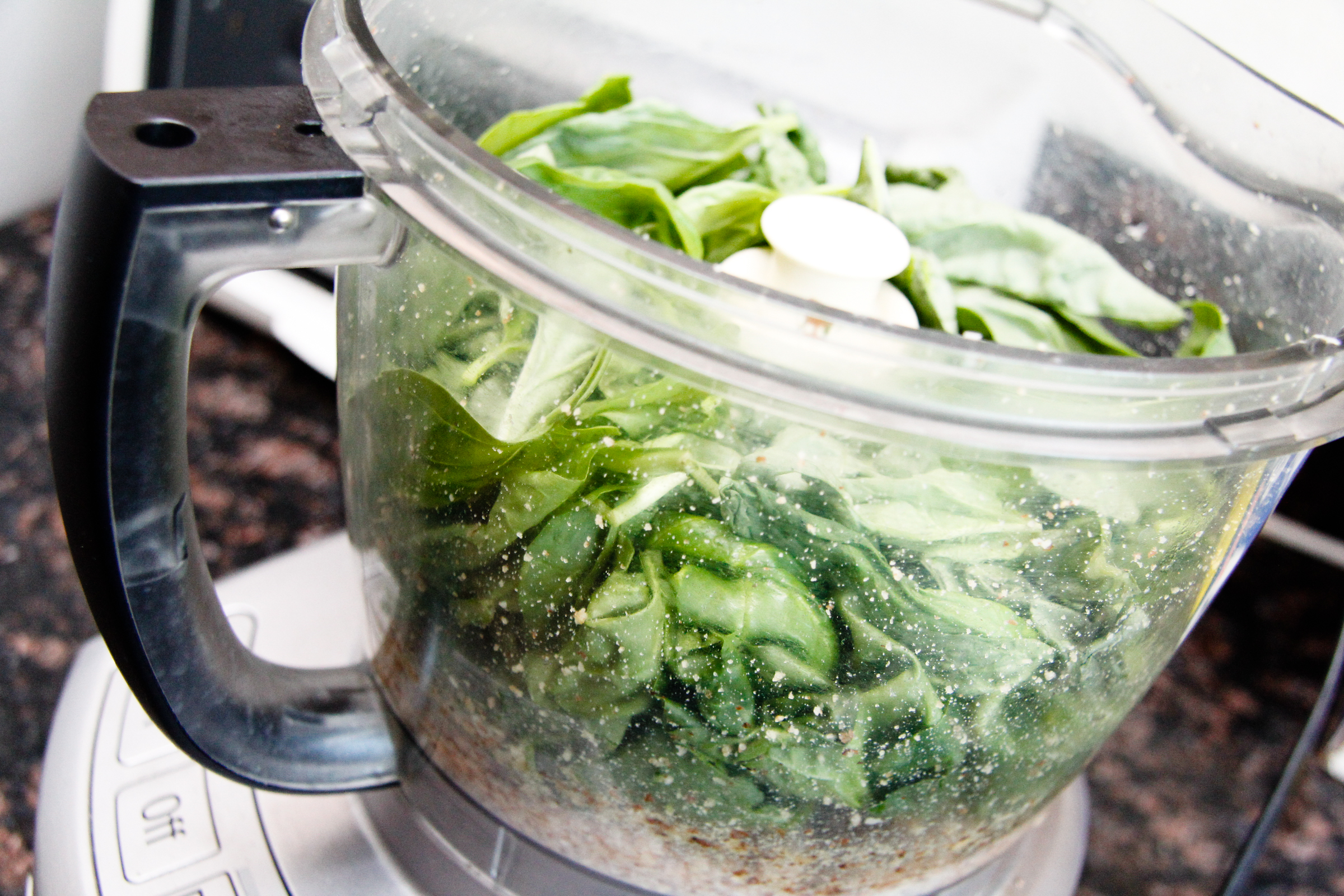 Once you whizz the garlic and toasted walnuts in your food processor, add in your basil, spinach, spices, and seasonings. This includes for me, the juice of half a lemon, and crushed red chili flakes. Both add a little kick!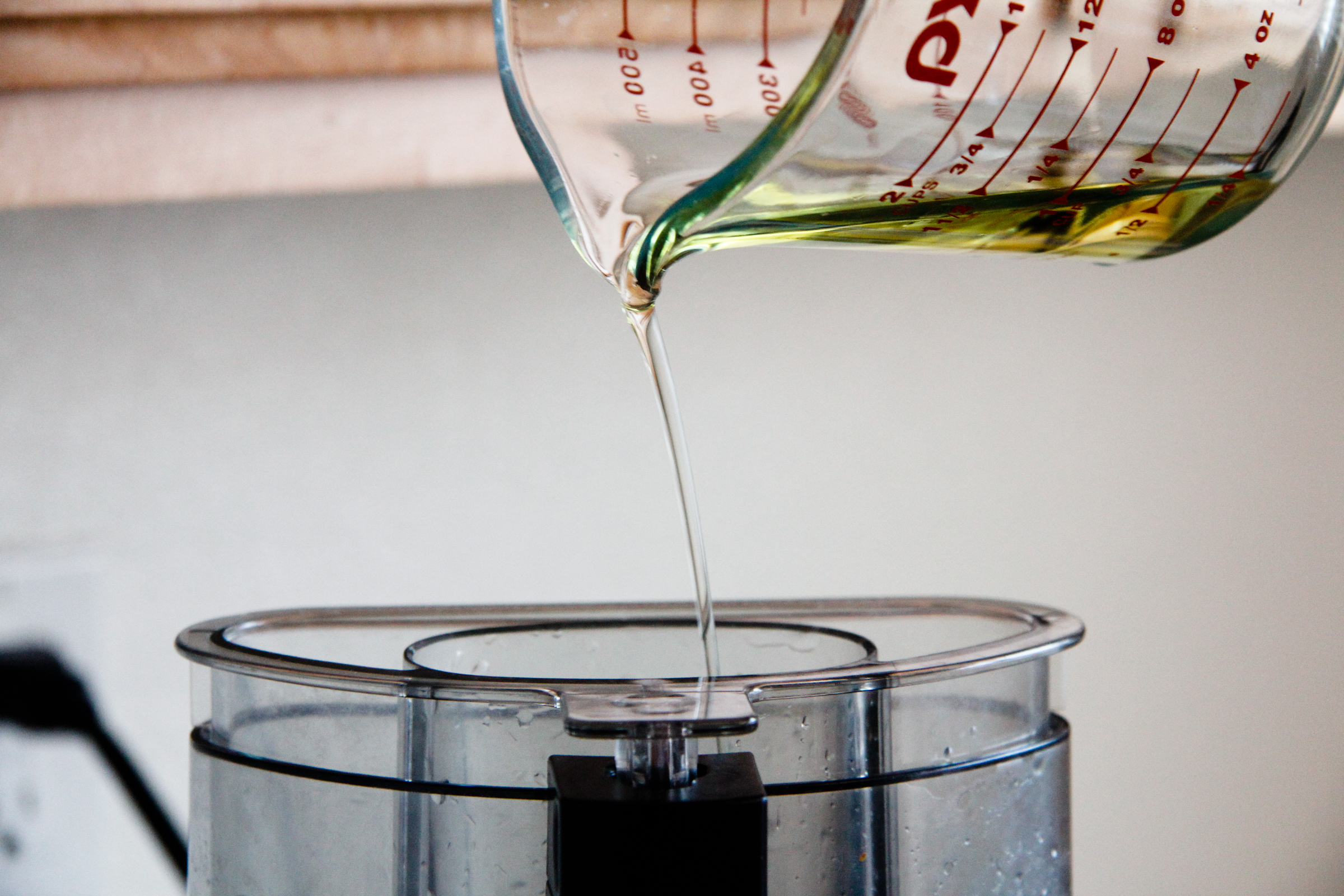 Slowly stream in your olive oil with the blades running, until the pesto comes together into a smooth sauce.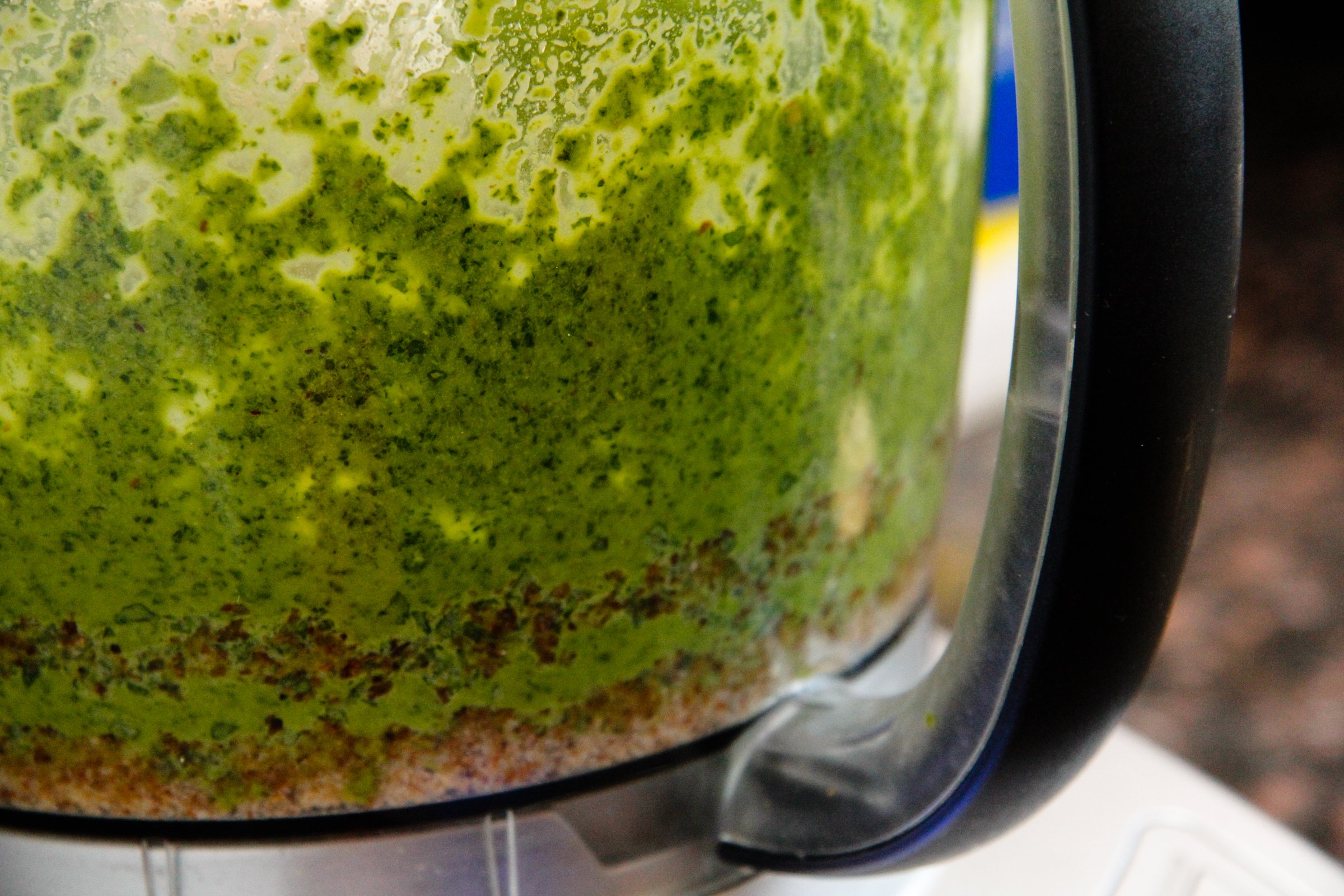 Remember to scrape down the sides and bottom of the bowl for any walnuts or spinach that may be stuck, so that they can join the party.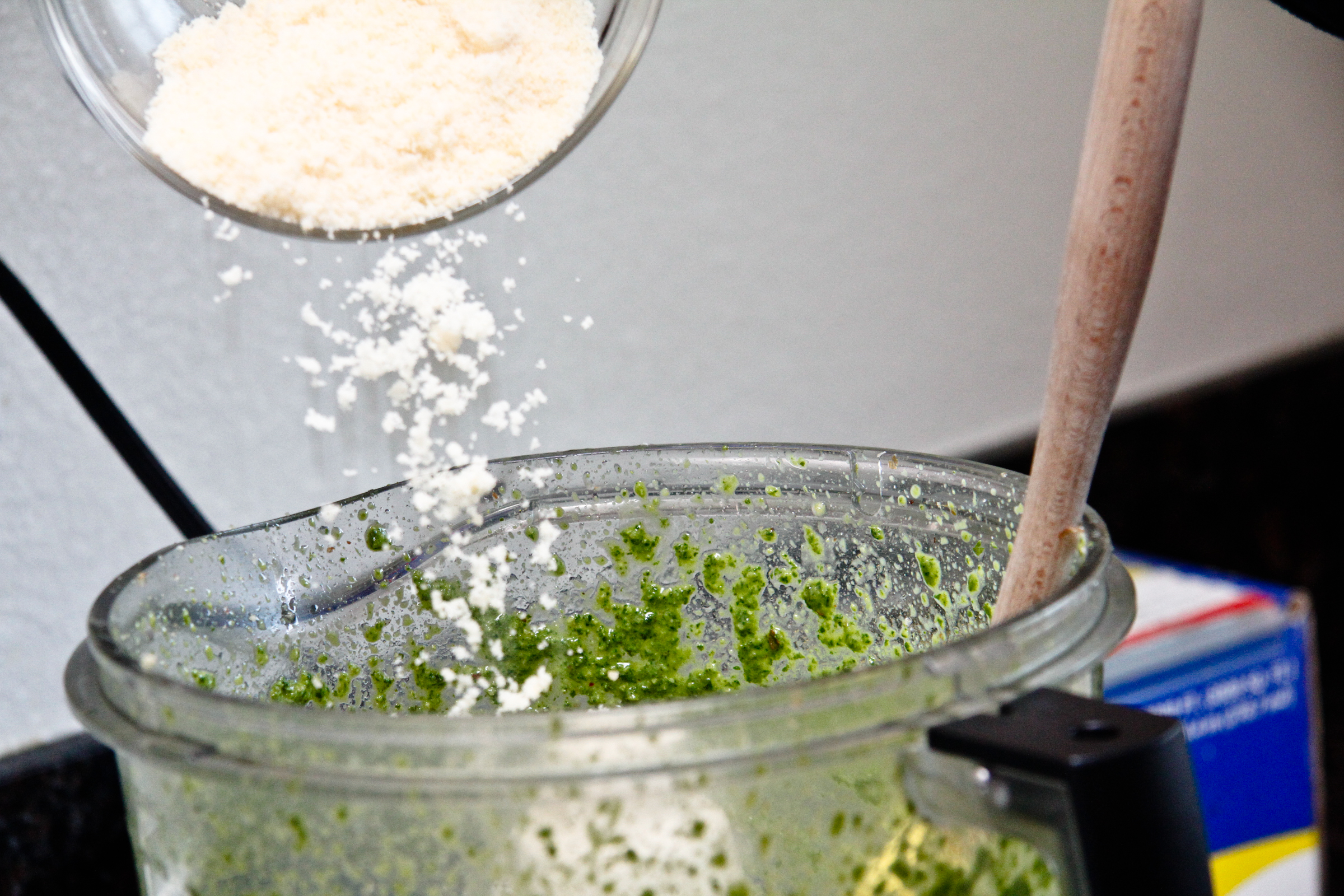 Then add your grated Parmesan cheese last.  Give it one last whirl and you're good to go.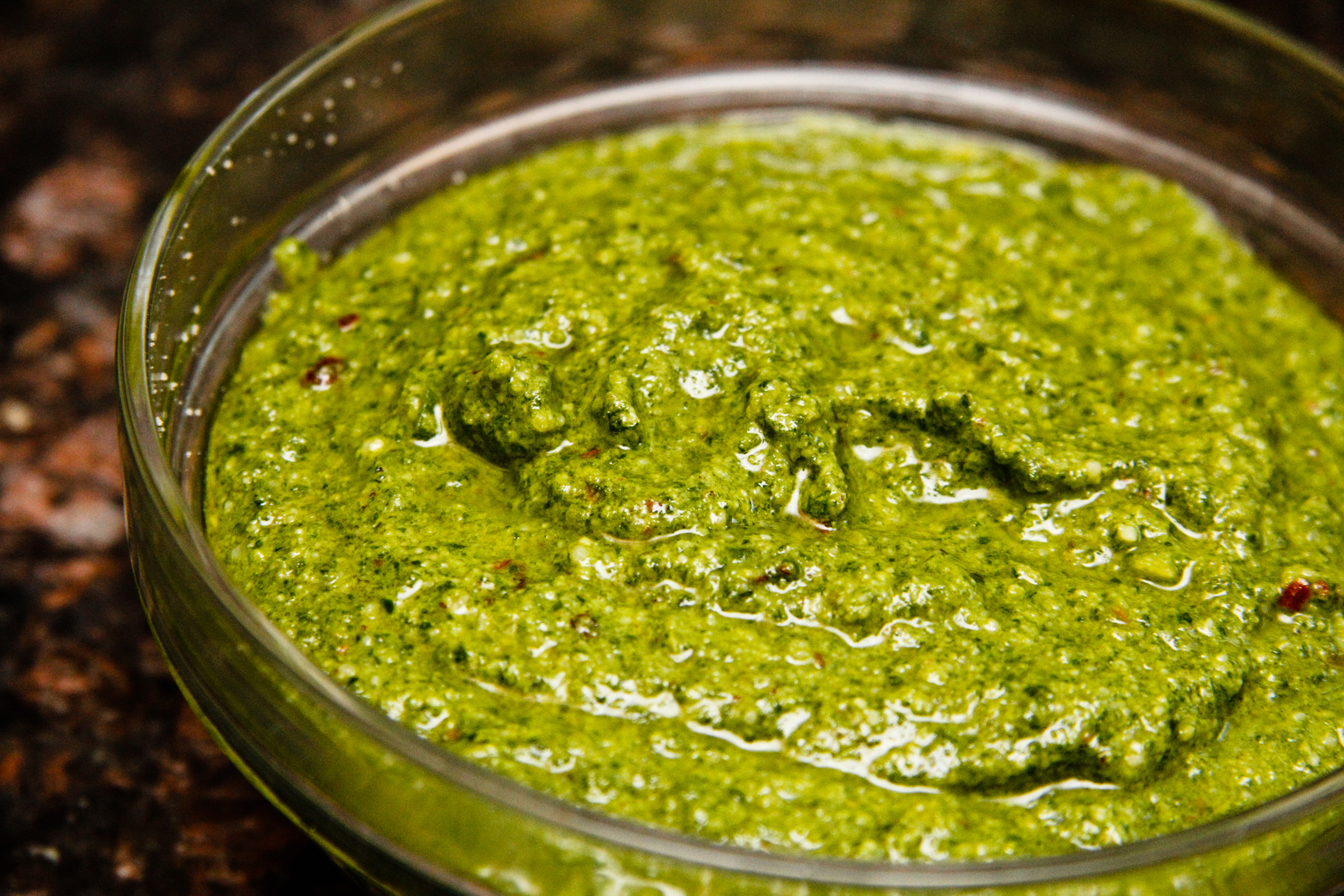 Keep your gloriously glossy green pesto at room temperature until you're ready to toss it in the hot pasta.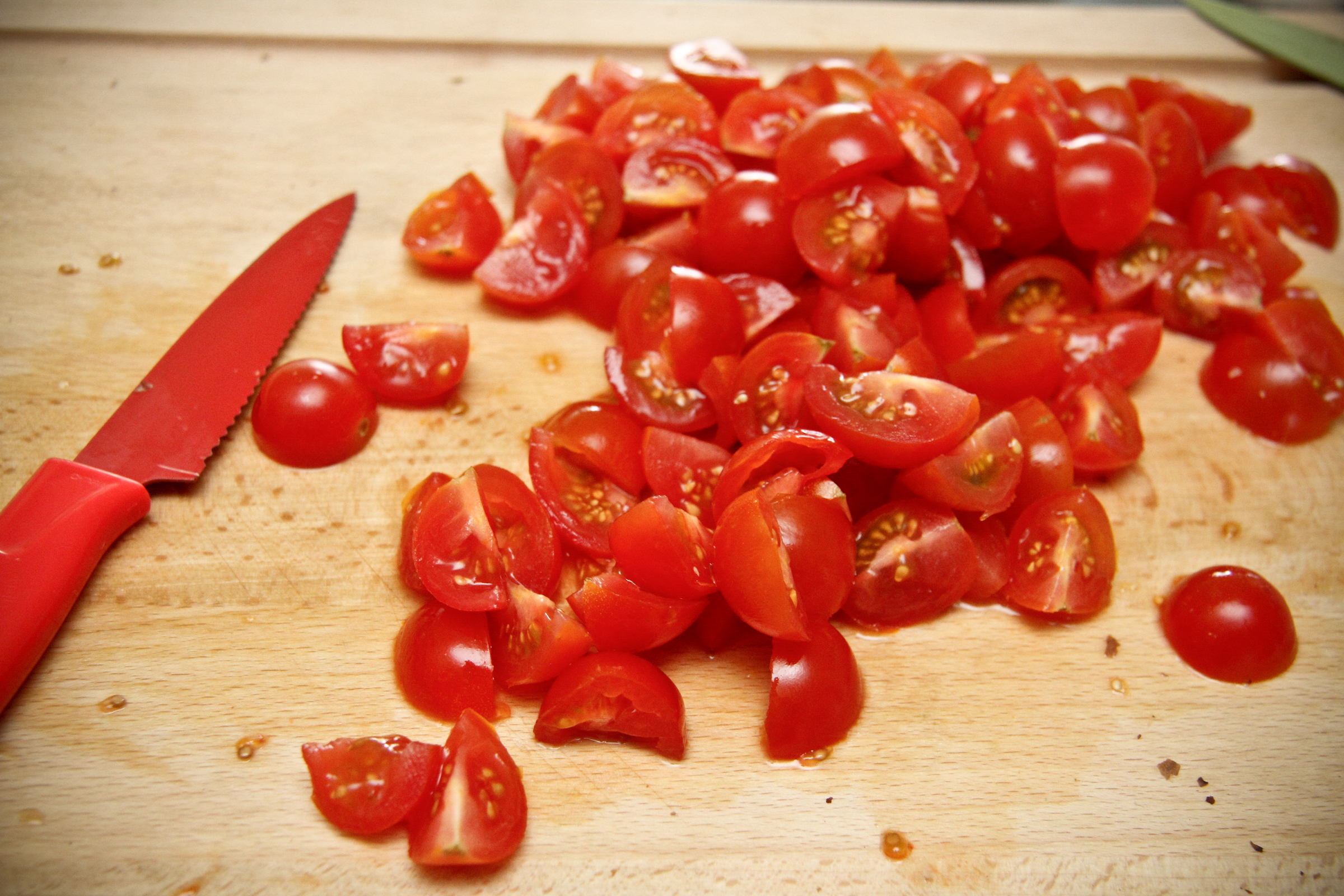 But before you do that, be sure that you quarter your cherry tomatoes and place them in a strainer or sieve.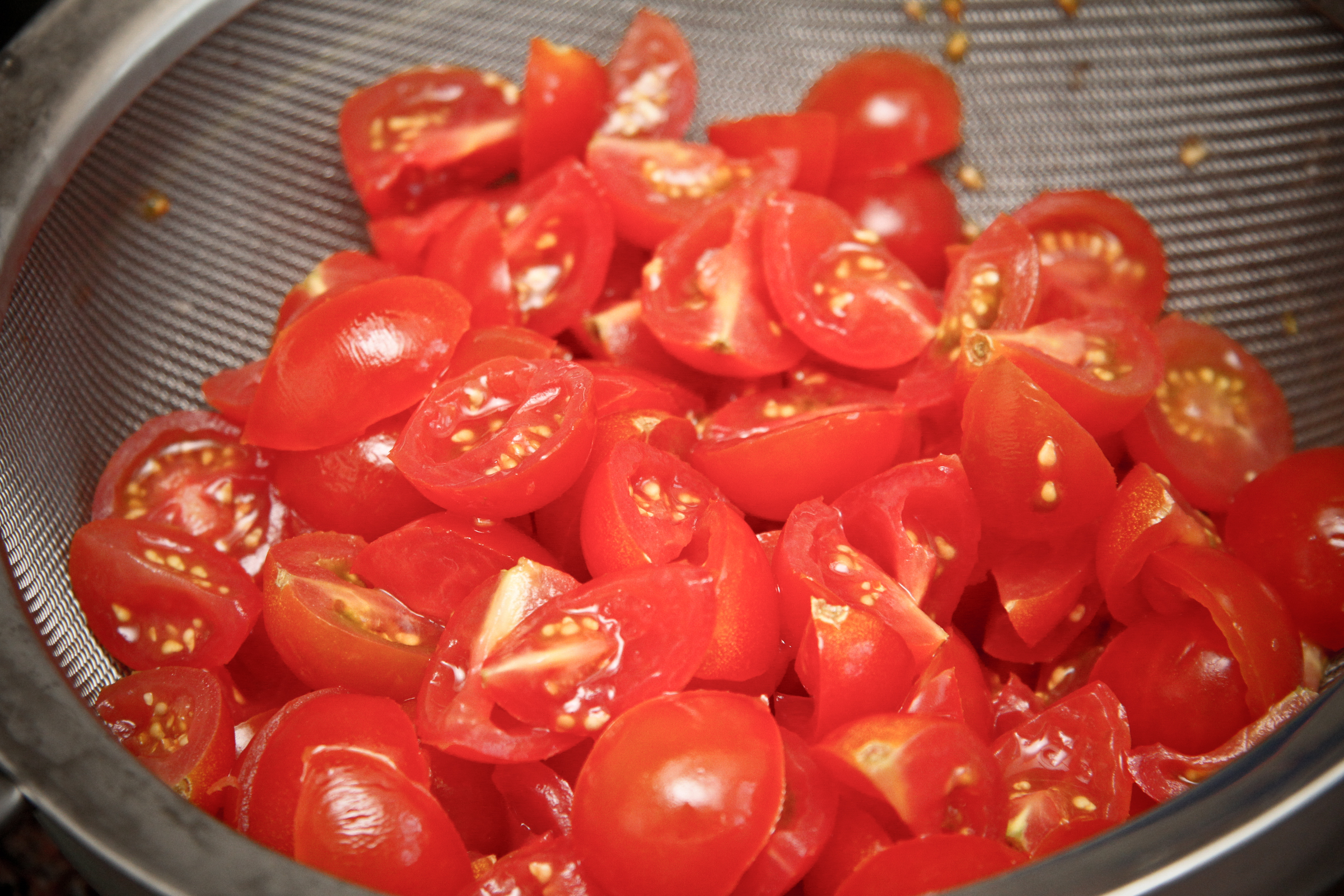 Sprinkle them with a little kosher salt and drain the excess moisture.  The salt also seasons the tomatoes.  You don't want overly watery tomatoes to dilute the flavor of your pasta.
Then cut your bocconcini in half, or if you're cheap like me, and want to make it stretch, cut it into quarters.  No one will even know or care.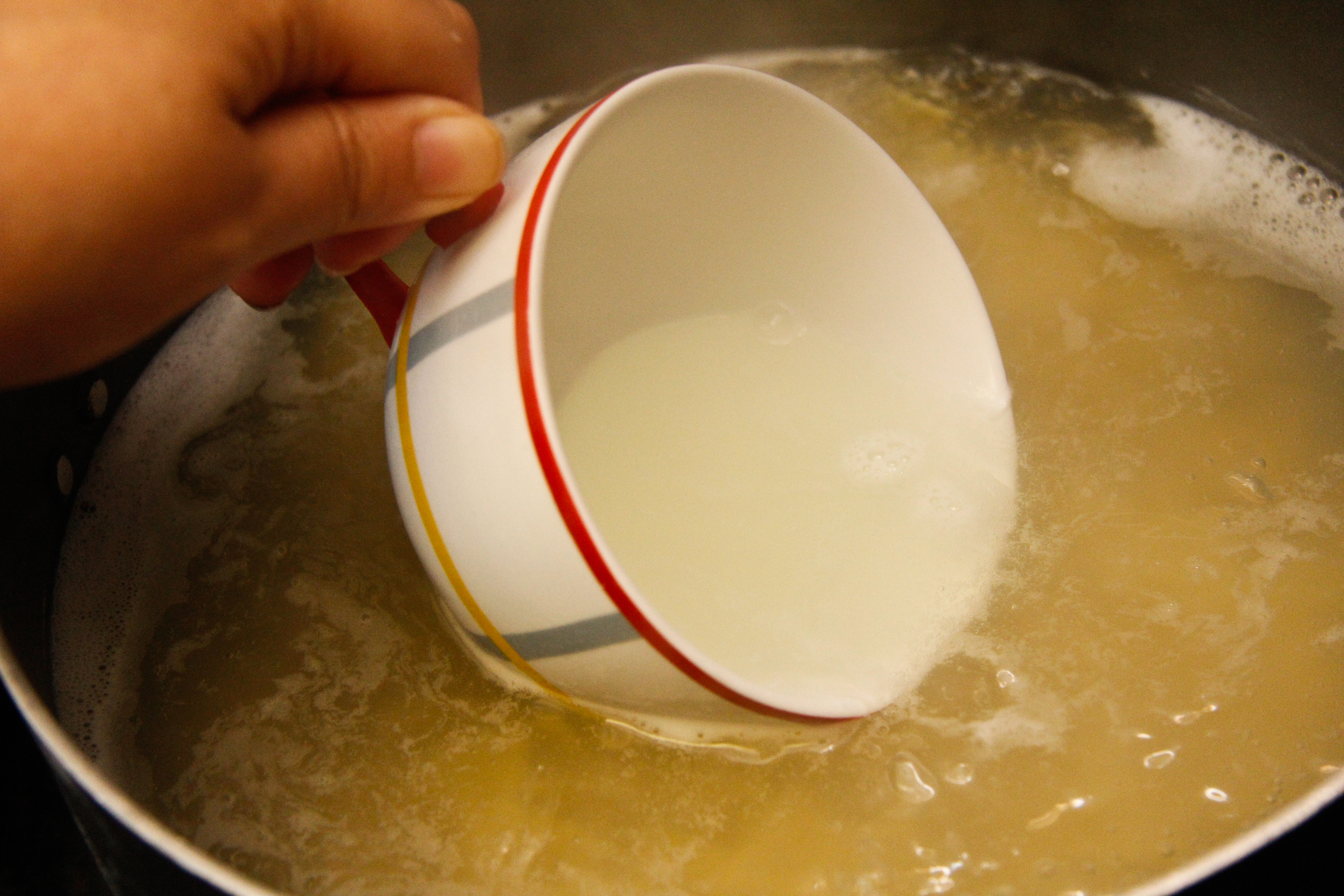 Then bring your slightly salted water to a boil and add in your bow ties.  Be sure to fish out a little of the starchy cooking water and set it aside.  You can use this liquid to help thin out your pesto when tossing your pasta in it.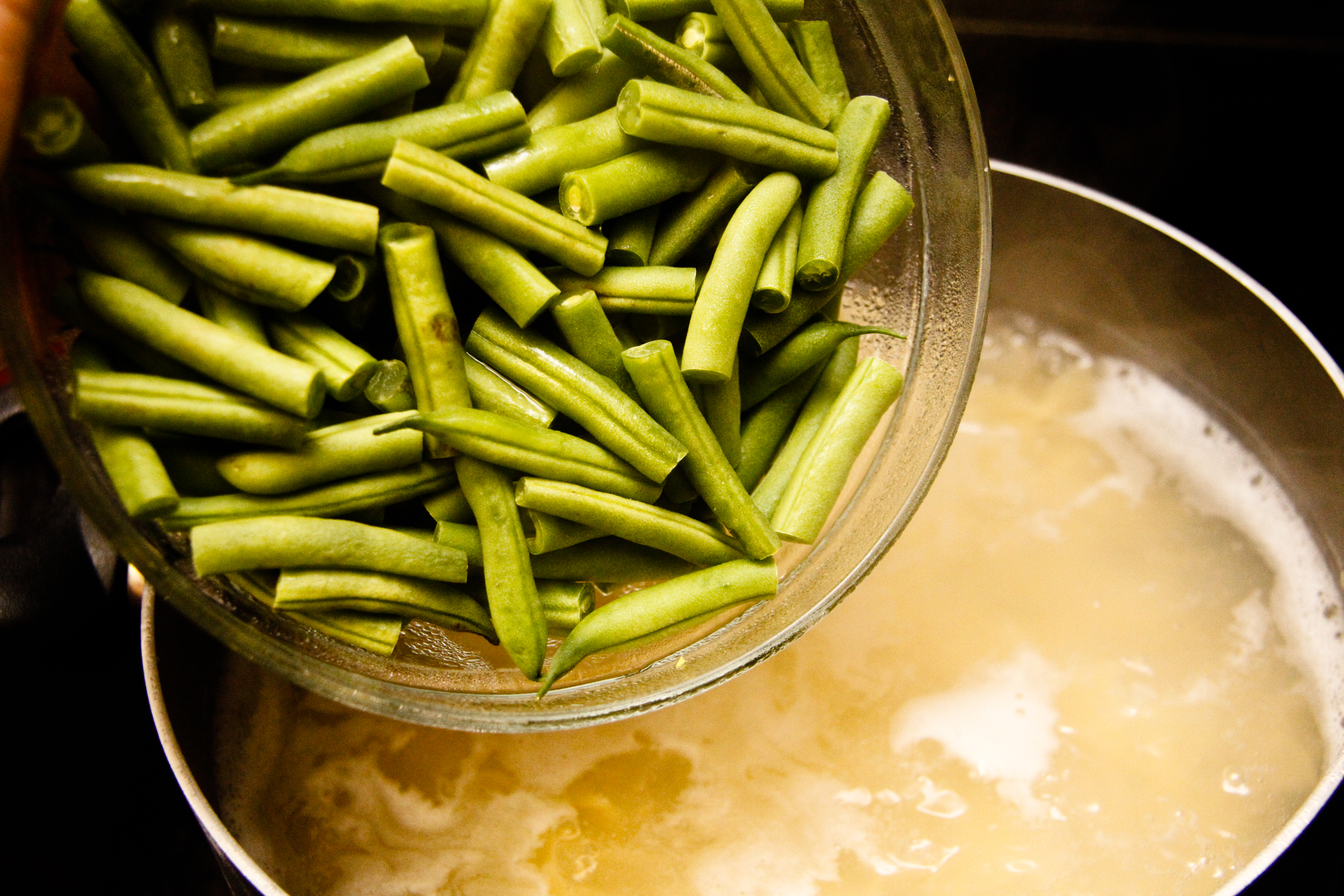 When your pasta is about two minutes shy of being done, cooked to al dente of course, add in your green beans.  Why green beans?  Because they add texture, nutrition, and heartiness to the dish without adding meat.  It's good.  Just do it.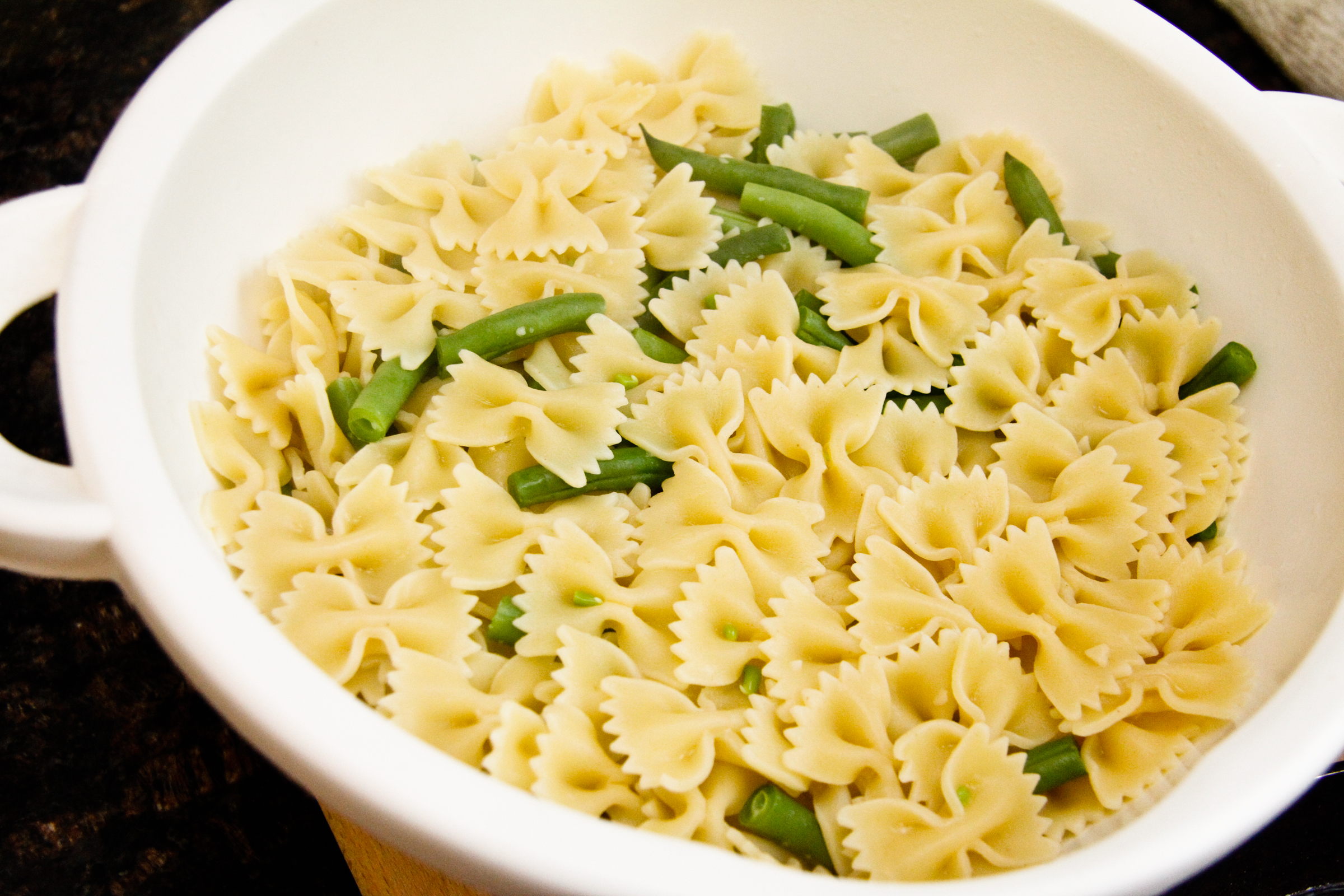 Drain them together and everything should be cooked perfectly.  You don't want your green beans or pasta to be mushy.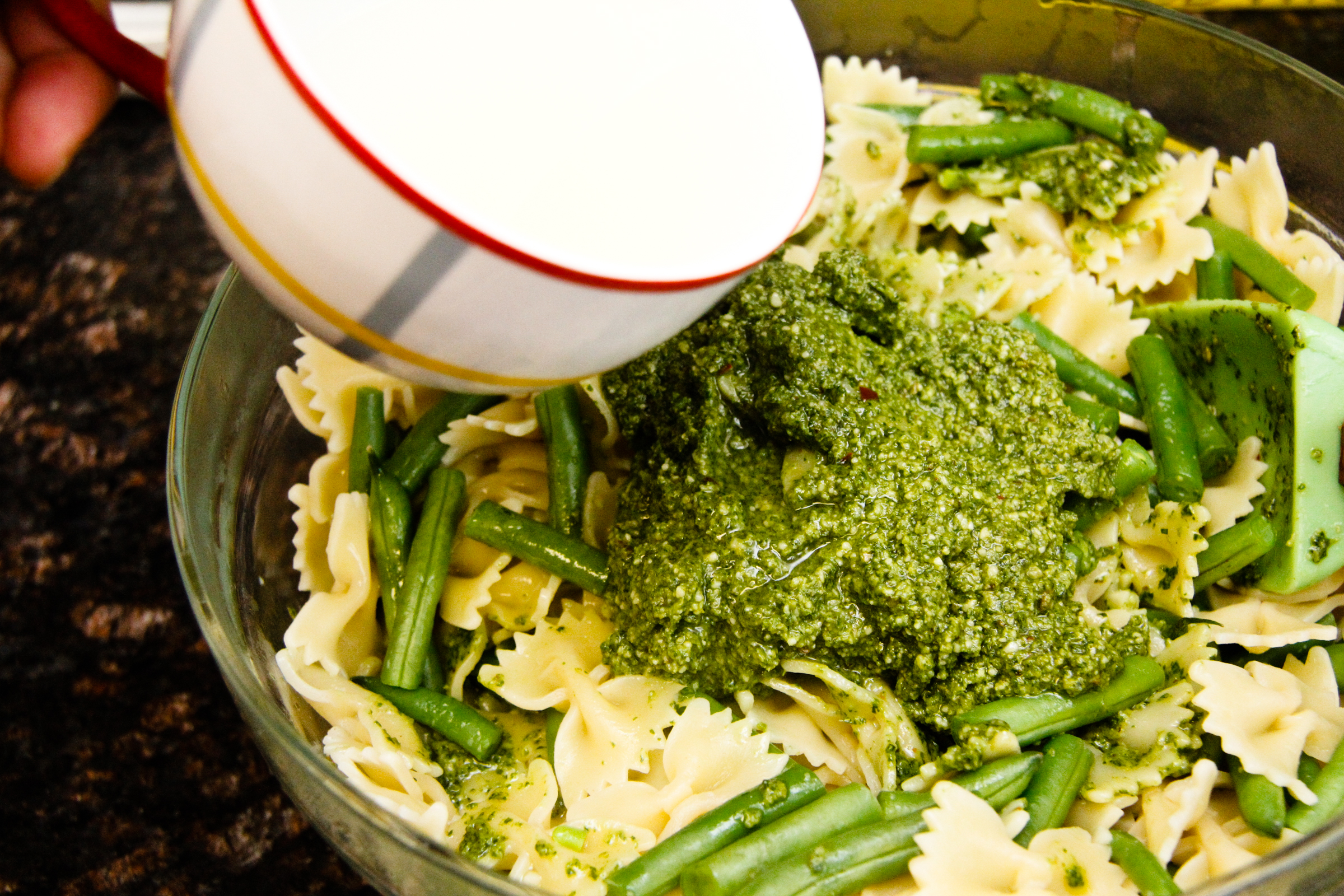 While your pasta is piping hot, toss it in the pesto, along with just a little bit of the reserved cooking water.  The water not only thins out the sauce, making tossing and coating easier, but the starches in it help to adhere the pasta to the sauce better.  Just don't go to town.  Water is water after all, and adding too much can make your dish taste bland, so add just a little at a time.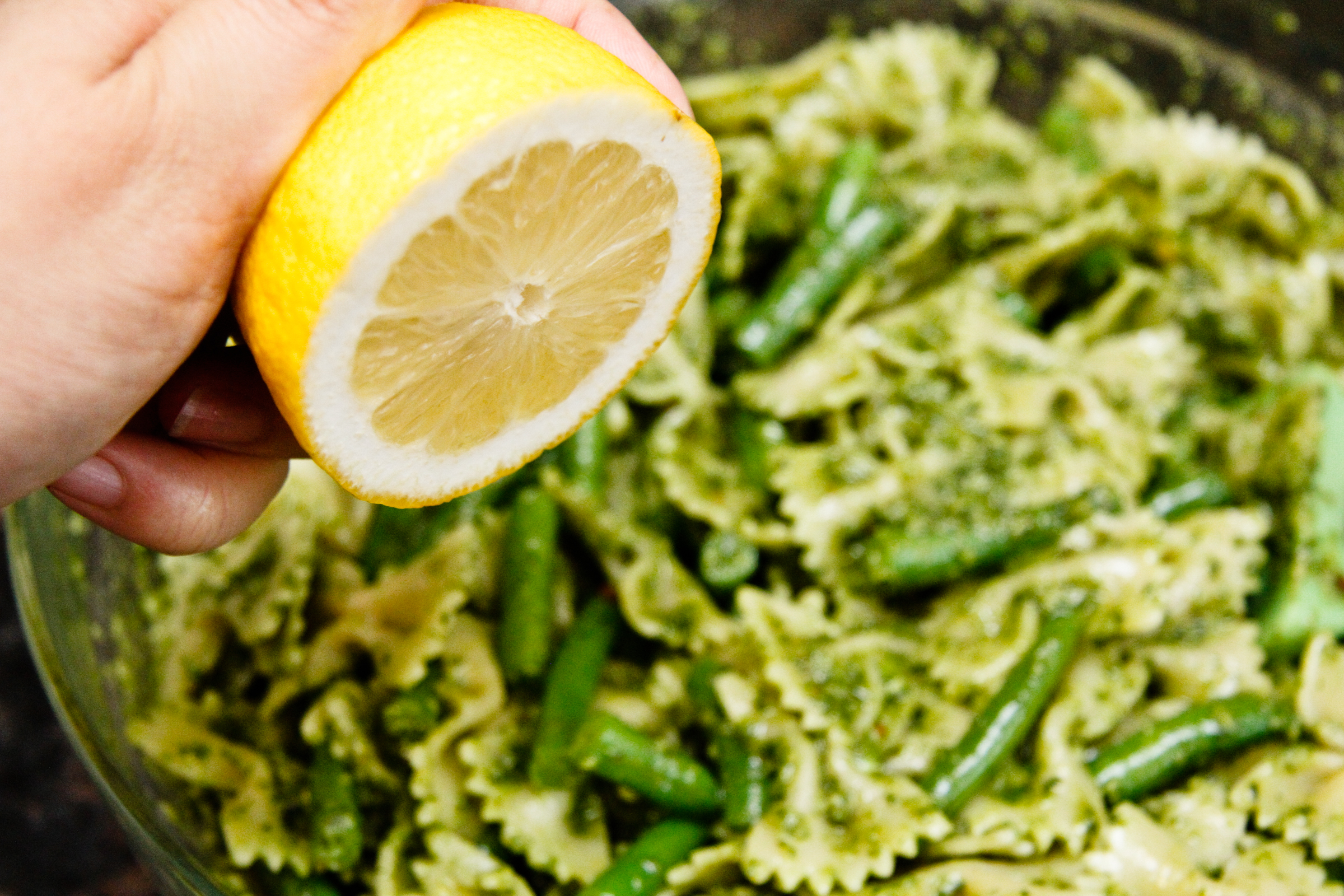 For freshness, use that other half of your lemon, and squeeze it right on top.  Give your pasta a taste and add salt and pepper if necessary.  Seasoning correctly is always important.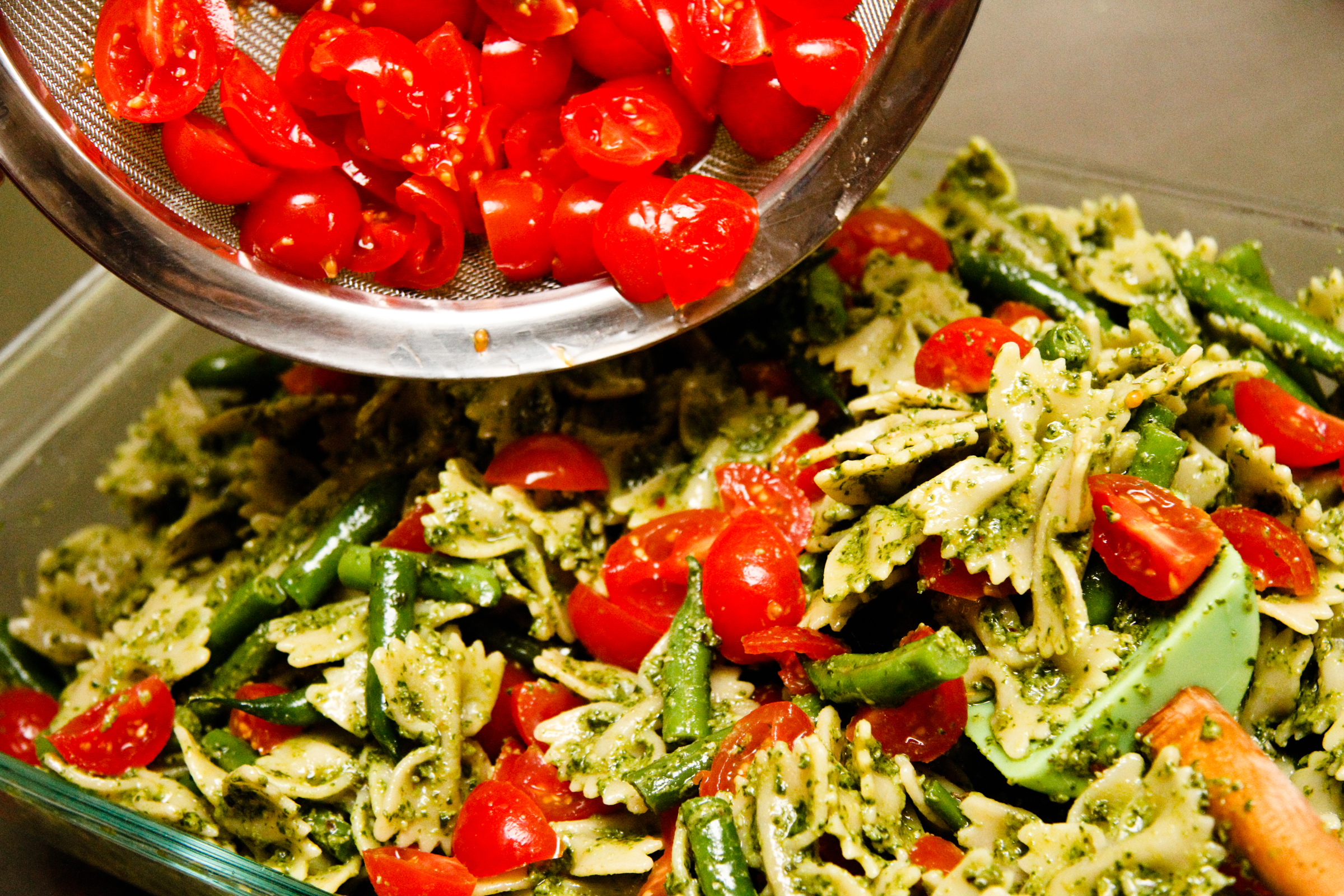 Then you can add in your drained tomatoes, along with your mozzarella.  Add in as little or as much as you want.  Wrap it, take it to your party, and be all that and a bag of chips.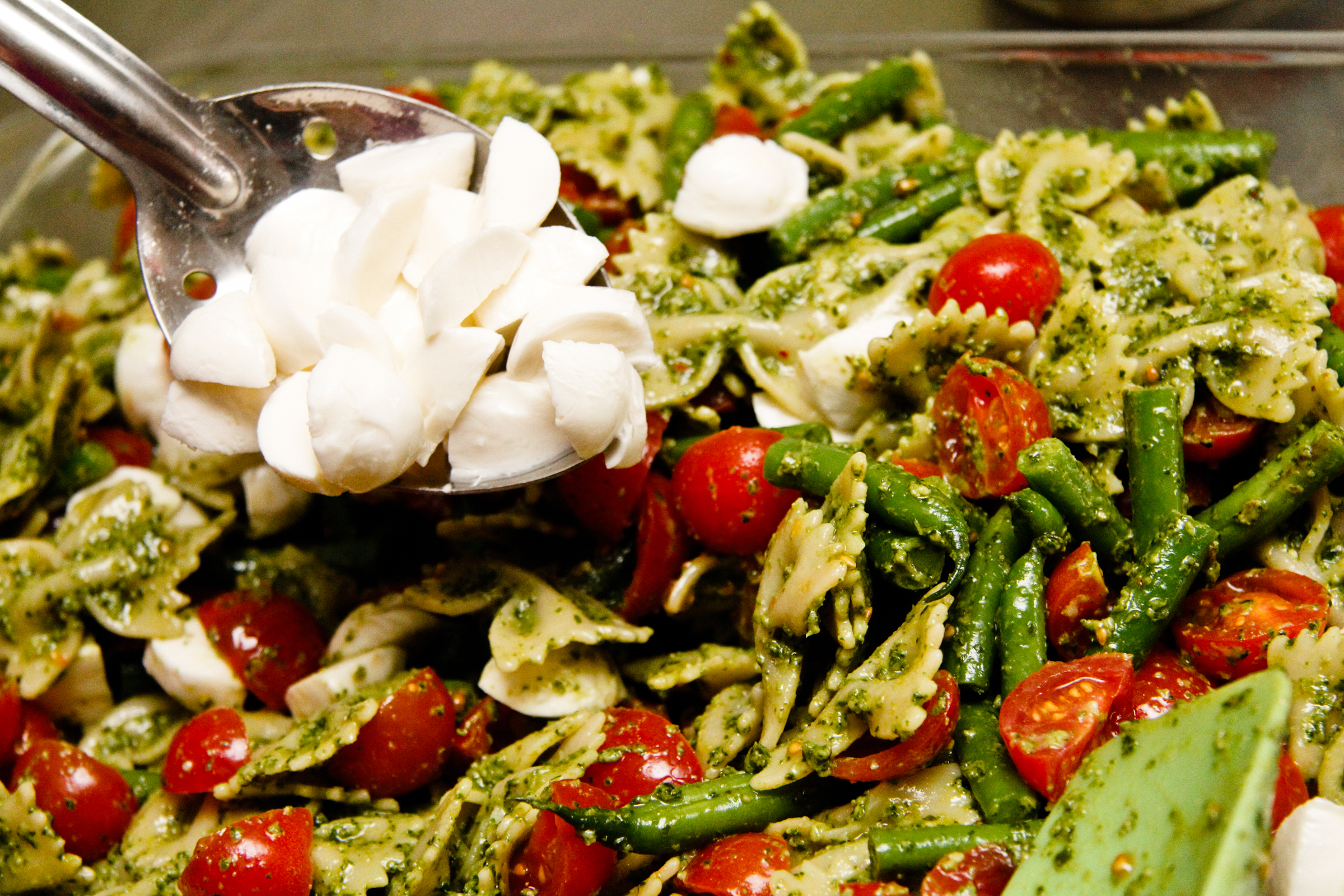 The best part of this whole contraption is that it's easy to transport, and stays fuss free at room temperature.  The vibrant colors will entice everyone to dig in, and the flavor really pops.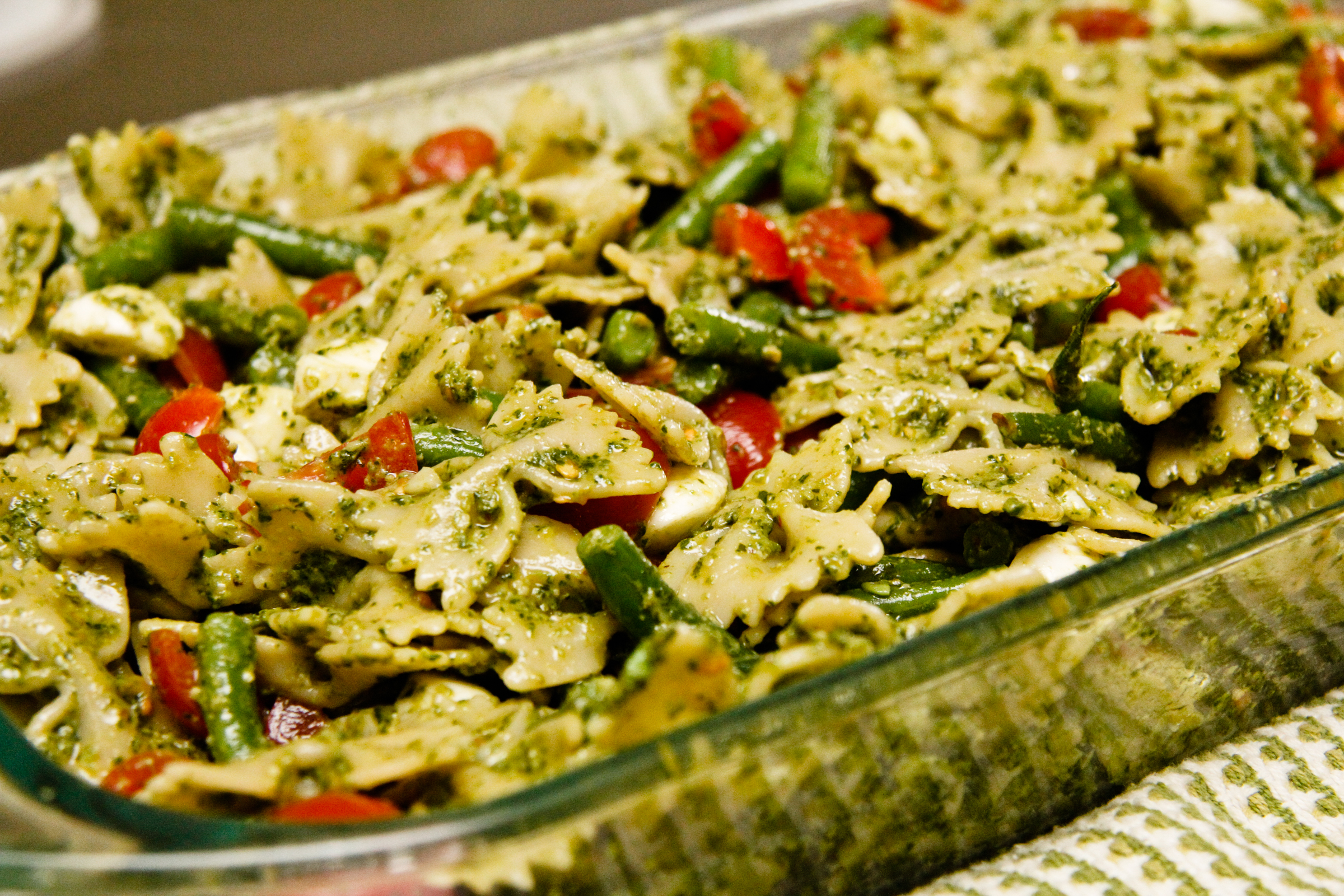 And once again, if you're not feeling the vegetarian thing, try adding in sauteed spicy sausage out of the casing, grilled shrimp, or even these lemon and herb chicken tenders.  Yeah girlfriend, you and everyone else will not be disappointed, so be sure to keep this recipe in the back of your mind until party time.

Potluck Pesto Pasta
The name says it all. This will easily become one of your staple potluck dishes.
Ingredients
For the spinach walnut pesto:
2 cloves garlic, coarsely chopped
½ cup walnuts, toasted
1 cup fresh basil
2 packed cups fresh spinach leaves
½ teaspoon kosher salt
½ teaspoon crushed red chili flakes
½ a lemon, squeezed
½-¾ cup olive oil
½ cup grated Parmesan cheese

For the pasta:
1 lb farfalle (bow tie) pasta
All of the pesto
¼ cup reserved salted pasta cooking water
1 pint cherry tomatoes, quartered, with ¼ tsp. kosher salt
½ lb green beans, cut into 2" pieces
1 cup boccocini cut in half, or fresh mozzarella diced
½ a lemon, squeezed
Salt and pepper to taste
Instructions
Place your quartered cherry tomatoes in a strainer or sieve, sprinkle with ¼ teaspoon of kosher salt, and toss lightly. Set aside to allow the moisture to drain from the tomatoes.
Toast the walnuts in a dry pan, and coarsely chop them with a knife. Add them to a food processor, or a blender, along with 2 cloves of garlic, also coarsely chopped. Blitz them until they are like fine crumbs.
Add in the basil and spinach, along with the salt, pepper flakes, and lemon juice. Blend again until finely chopped. Slowly stream in the olive oil with the blades running, or add it in increments between blending, until smooth. Add in the Parmesan cheese and blitz again.
Meanwhile, bring a pot of slightly salted water to a boil, and cook the pasta to al dente, but add in the green beans in the last 2 minutes of cooking time. Pull out a small cup full of starchy cooking water and reserve for later. Drain together.
Toss the hot pasta immediately with the pesto, making sure to add a little of the reserved cooking water if needed to thin out the sauce. But don't add too much or it will dilute the flavor. Squeeze in the other half of the lemon for freshness, and then give it a taste. Season with salt and pepper if necessary. When the pasta is slightly cooled, add in the drained tomatoes and bocconcini. Serve at room temperature.
TIP: You can make the pesto a day head, and keep in the fridge. Just bring to room temperature and toss with the hot pasta on the day you want to serve it. You can serve this as is, or with a protein of your choice, such as sausage, shrimp, or chicken.