Avocado Tomato Bruschetta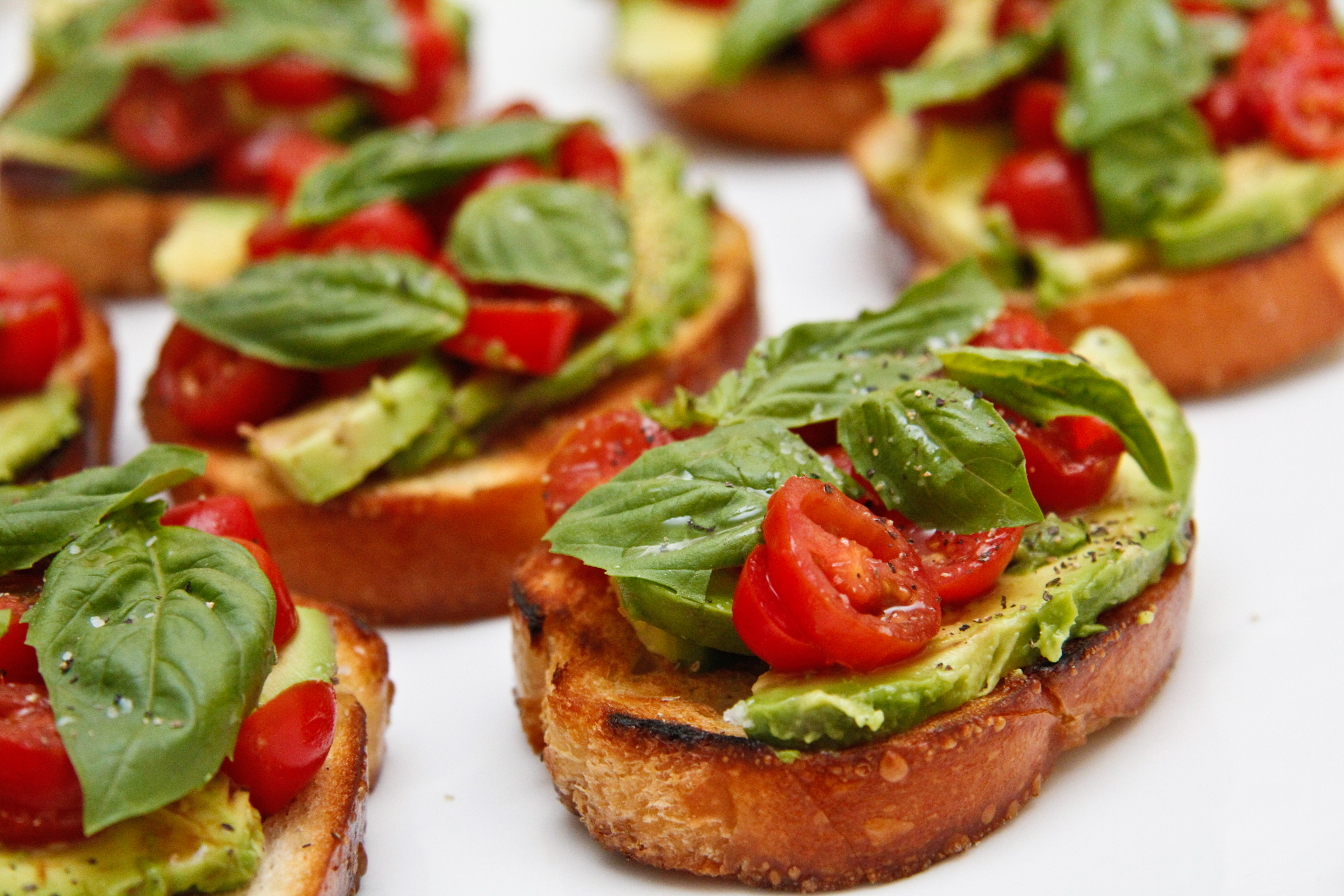 Whenever I make this avocado tomato bruschetta, I may as well serve nothing else along with it.  It ends up being a waste.  I've already given you my grape tomato bruschetta recipe, but ever since I starting adding avocado to it, it became a different game entirely.  Every time my friends sink their teeth into this humble bruschetta, I might as well pull out my Gladware and pack the rest of the food up for them. This is because without fail, they will fill up on these puppies, and leave my other dishes hanging in the dust.  
Here's my theory on this: I think it's because at first glance, these guys look pretty basic and unexciting, but the taste & texture take people by surprise. I mean, bruschetta is pretty standard, but it's all about perfecting the technique, and adding a personal twist to it.  Once you plunge into the soft avocado, juicy tomatoes, and crispy, yet chewy bread, be prepared to fight your friends for the last piece.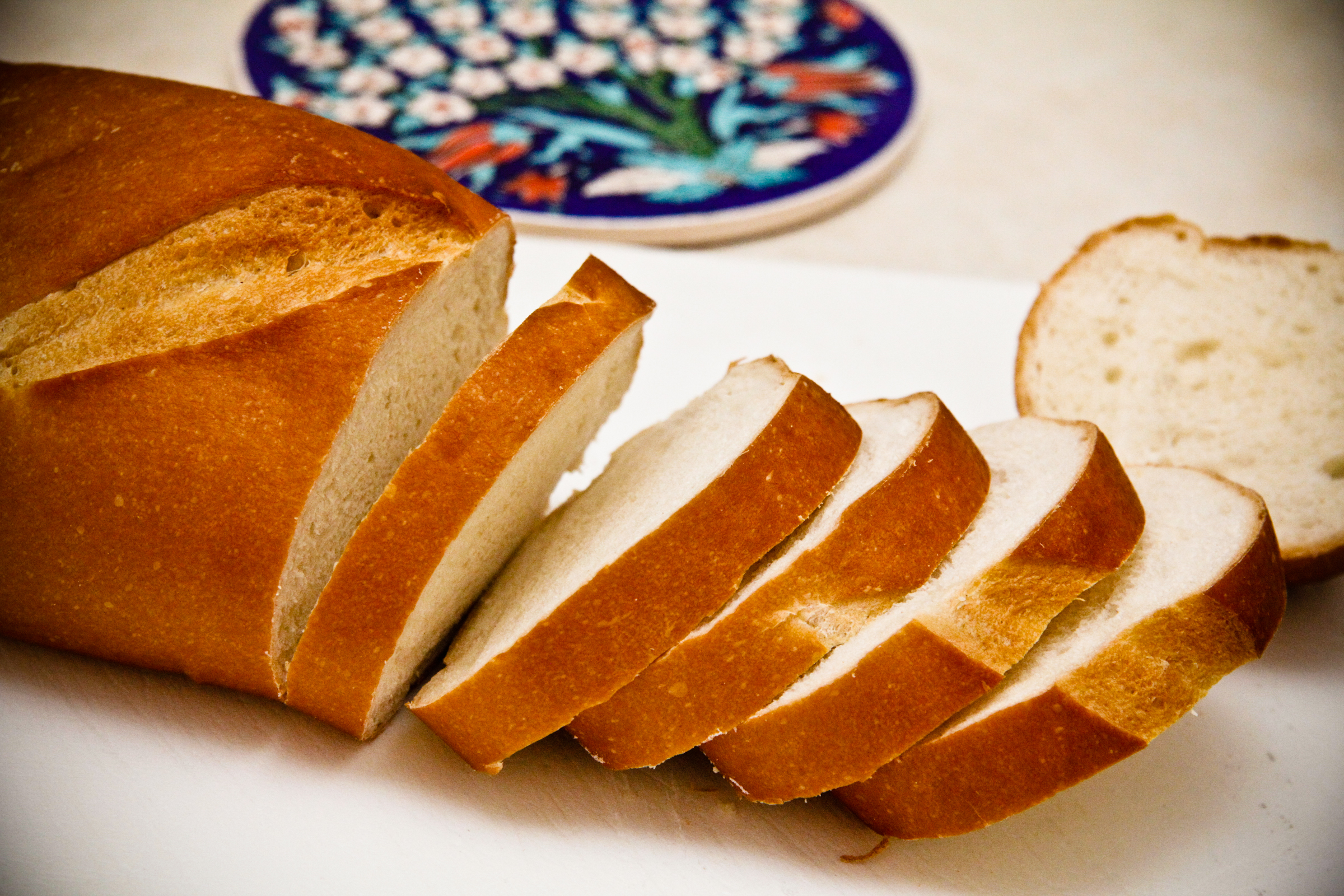 It all starts with the bread.  Choose wisely, grasshopper.  Don't be getting some skinny baguette. This is not dainty finger food. You're gonna want a larger softer platform.  I like to use a fat French or Italian loaf.  If you get it at the grocery store, scope out their bakery section and get the one that was baked in house.  Sometimes they're still warm, which means it's fresh.  Yeah, you want that one.  Secondly, slicing it is just as important.  Too skinny, and they turn more crunchy than chewy.  Got that?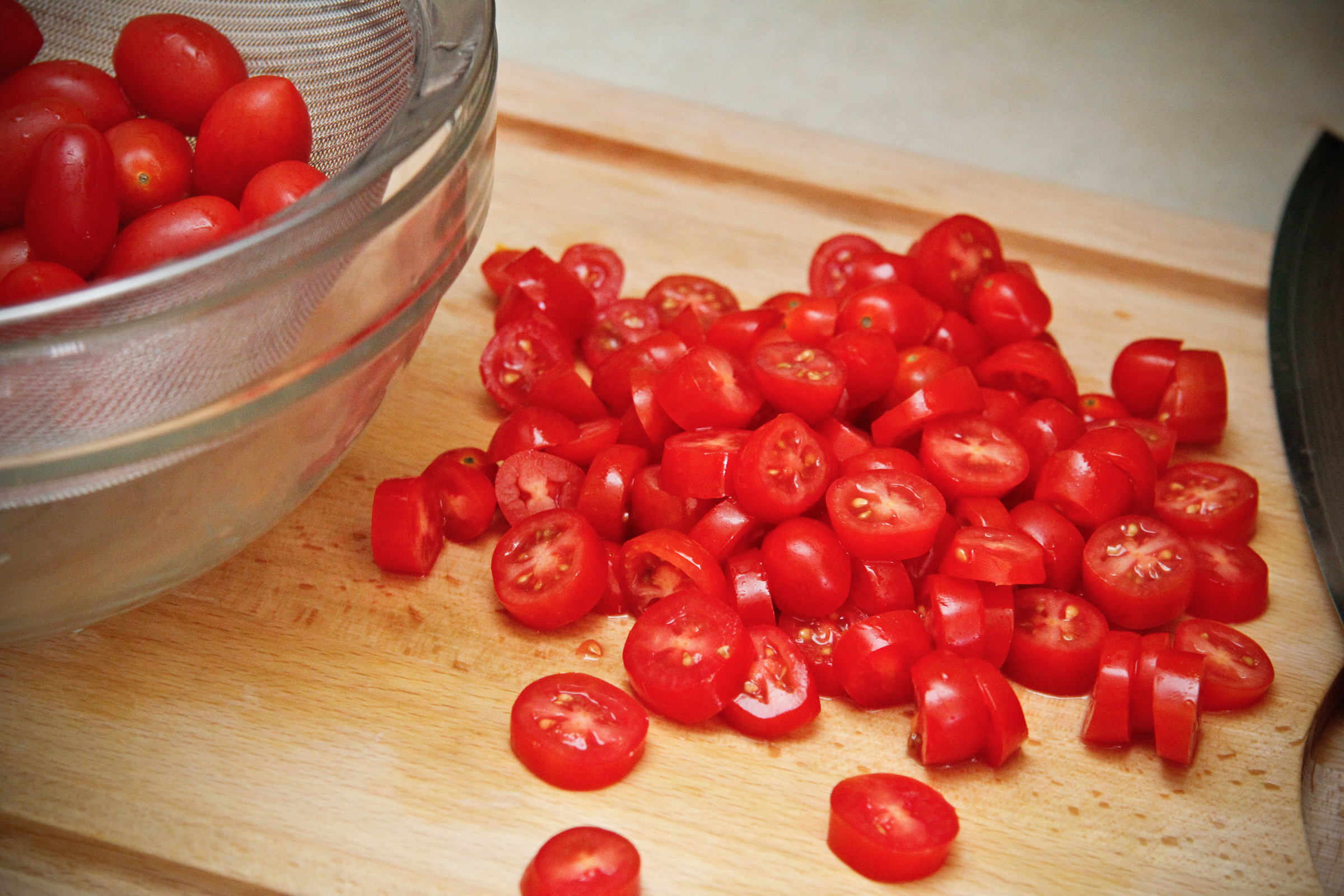 Next, turn your attention to your tomatoes.  Many bruschetta recipes call for chopped tomatoes.  I like to use grape or cherry tomatoes… anything on the sweeter side. Plus regular chopped tomatoes, in my opinion, makes the bruschetta too watery, hence, watered-down tasting and soggy.  Slice your grape tomatoes into little circles.  They're cute this way.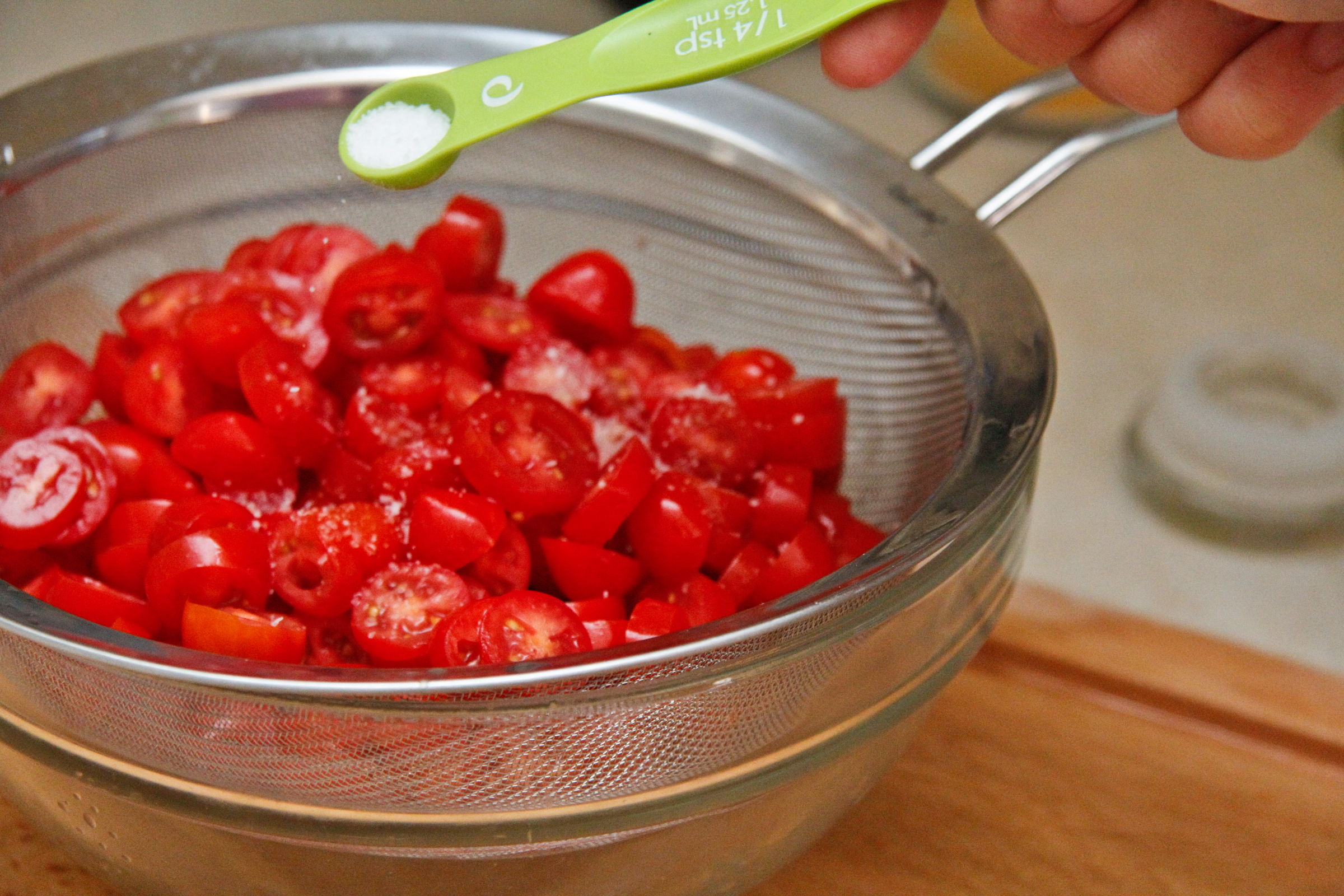 But here is the technique part: Put your sliced tomatoes into a sieve, and sprinkle with a 1/4 teaspoon of Kosher salt.  If you use regular table salt, use a little less.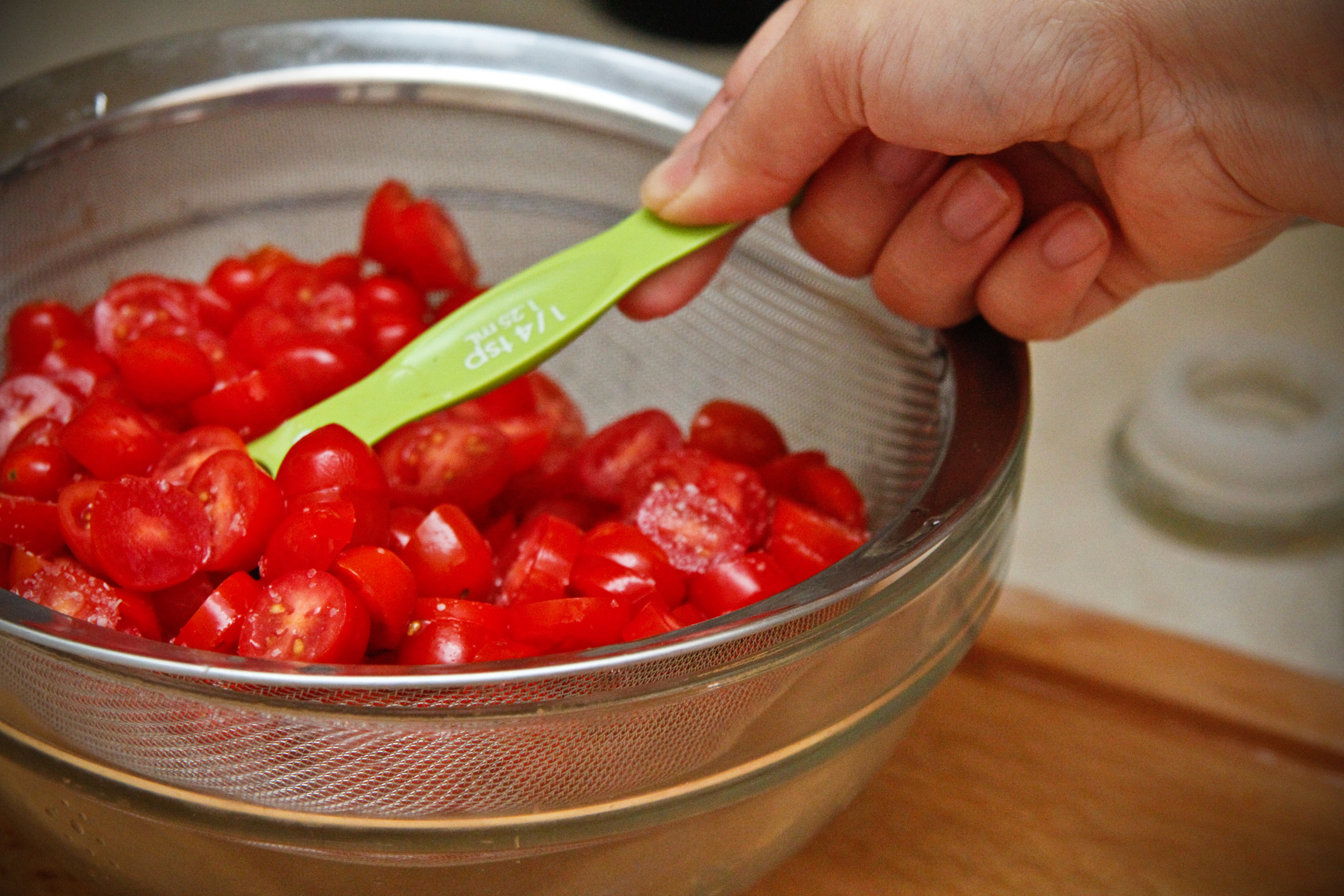 Be sure to stir it around, and get that salt everywhere.  Then let it sit.  Watch all that excess liquid drip out of your tomatoes.  This step also seasons them.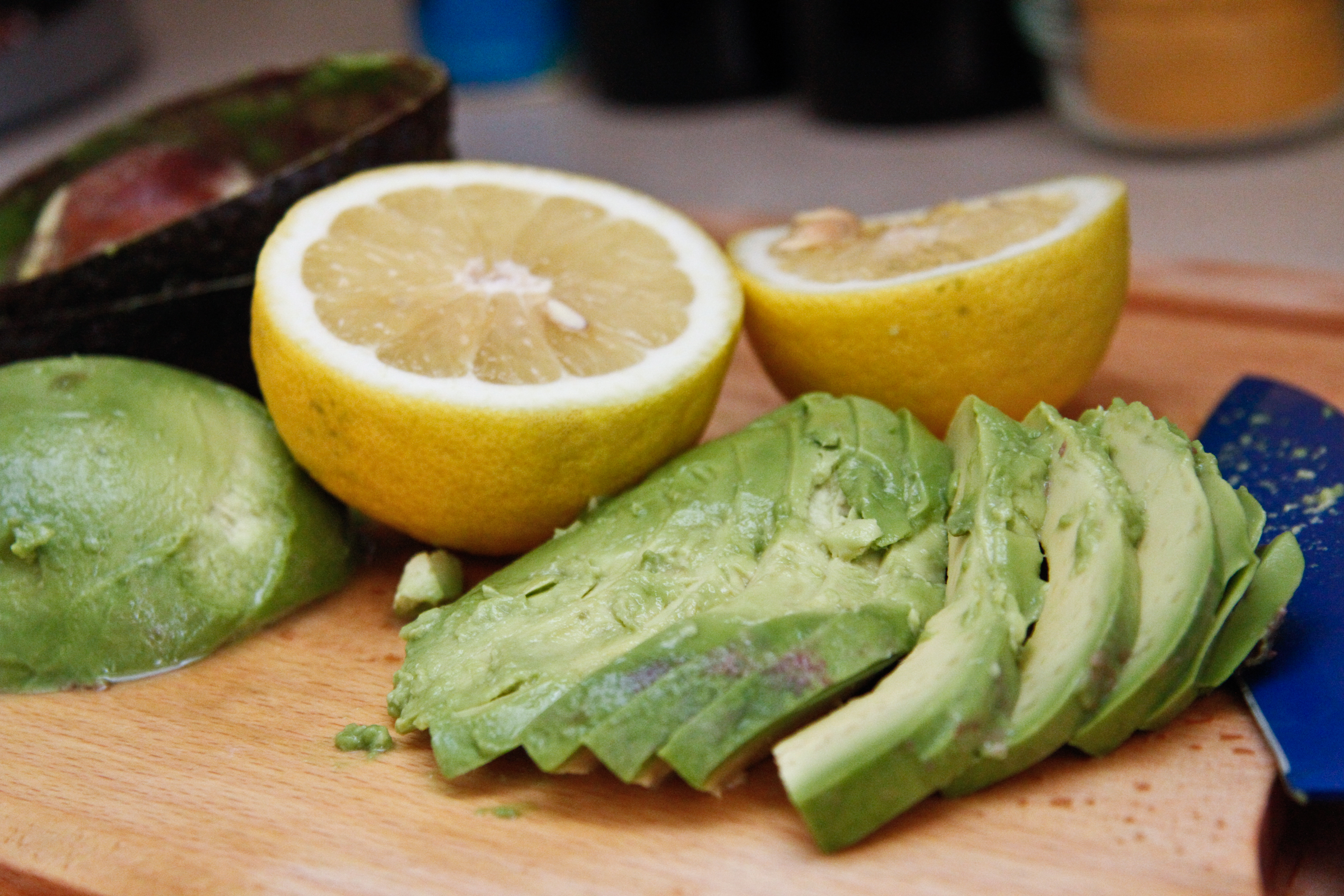 Meanwhile, slice up your avocado, use 1 or 2, depending on how many slices of bread you have.  Be sure to squeeze fresh lemon juice on the slices.  This not only seasons the avocado, but also keeps it nice and green.  Otherwise, you would have oxidized brown avocado slices.  Not appealing.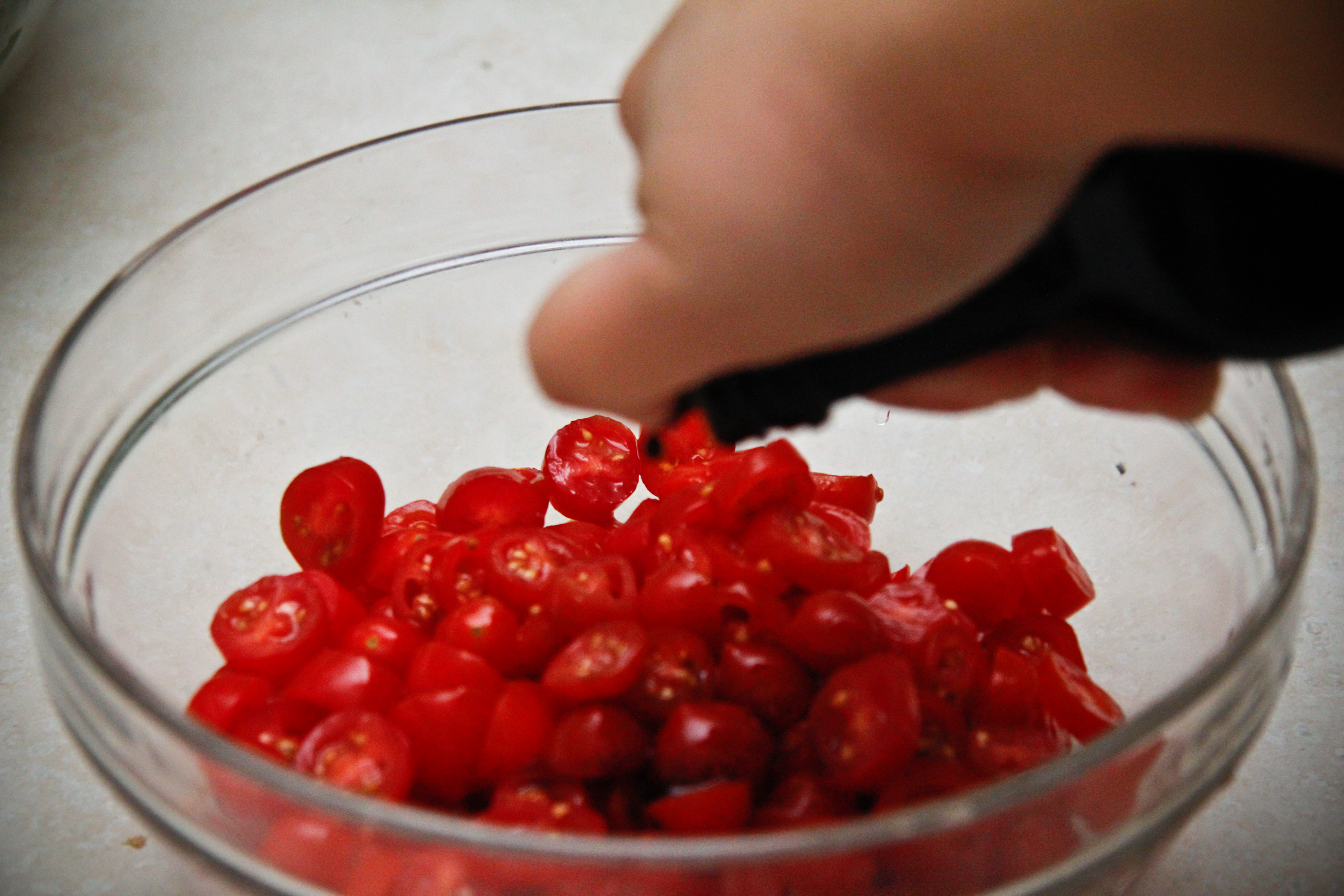 When your tomatoes are drained to your liking, transfer them to a bowl, and add in your splash of balsamic vinegar.  This is the secret weapon.  It makes a world of difference.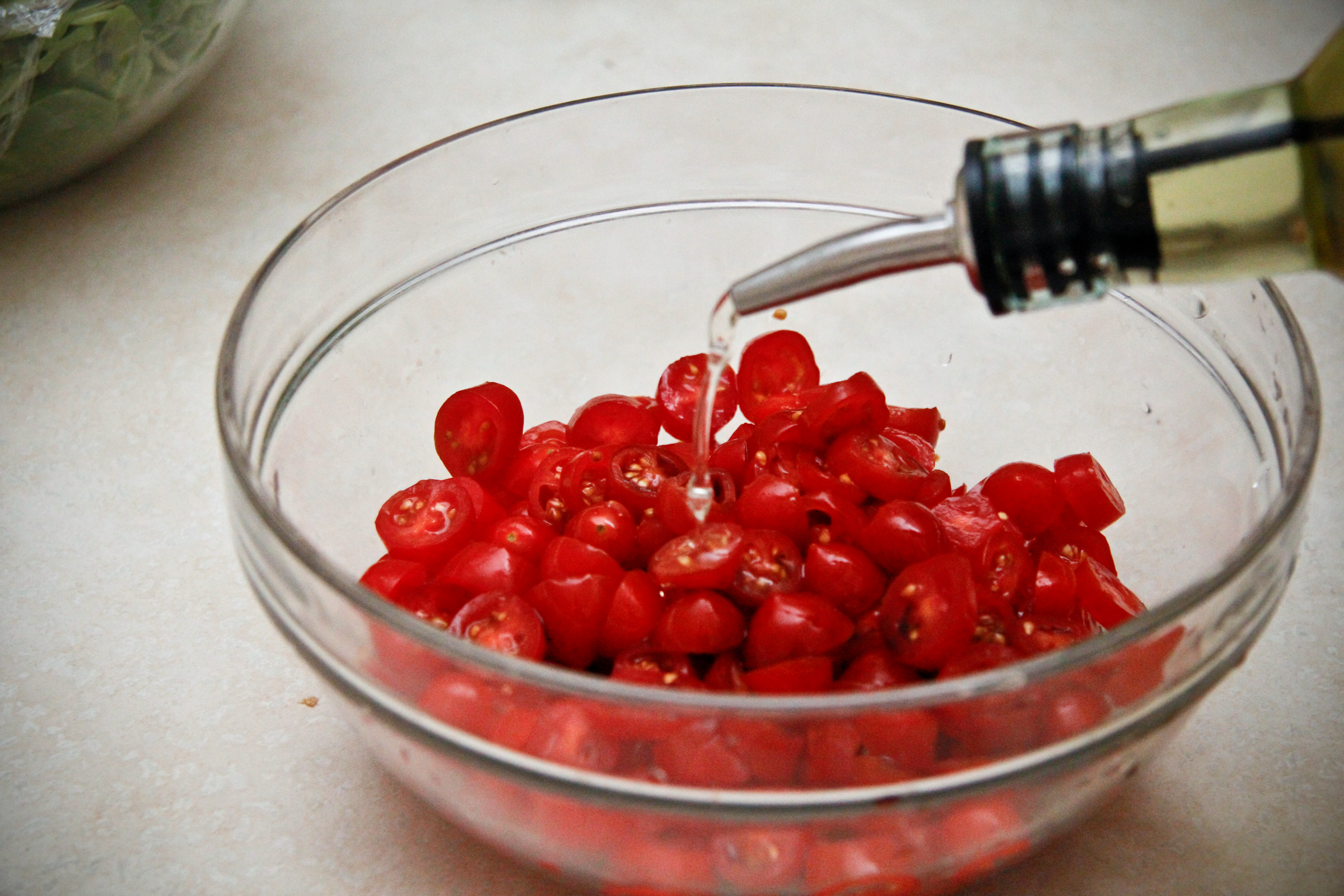 But that acidic balsamic needs to be balanced out with a fat, otherwise, it would be over powering in taste.  So you grab your olive oil, extra virgin, if you have it.  If you don't, no sweat.  Use the regular kind.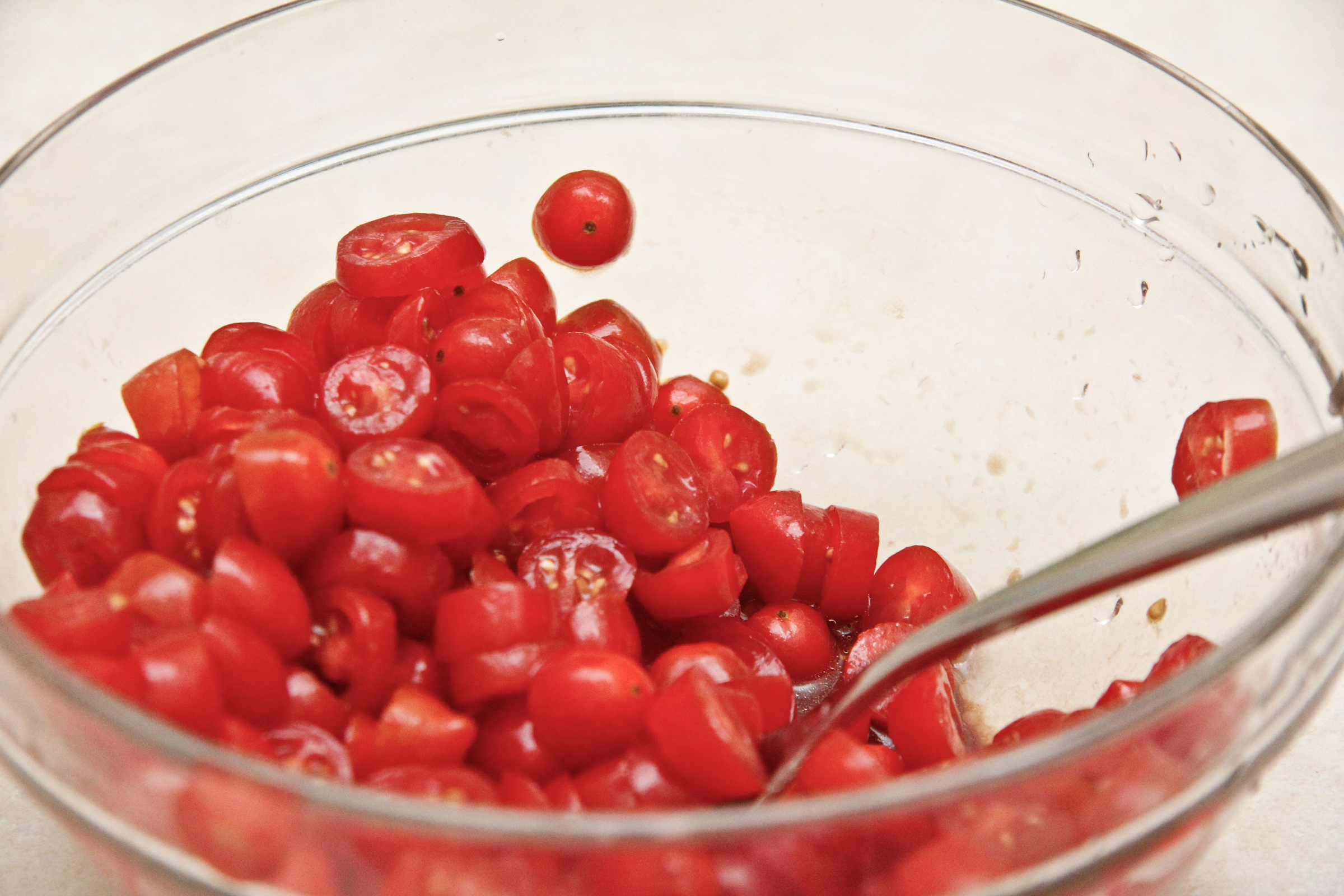 Give it a toss, and coat your edible rubies in that quickie dressing.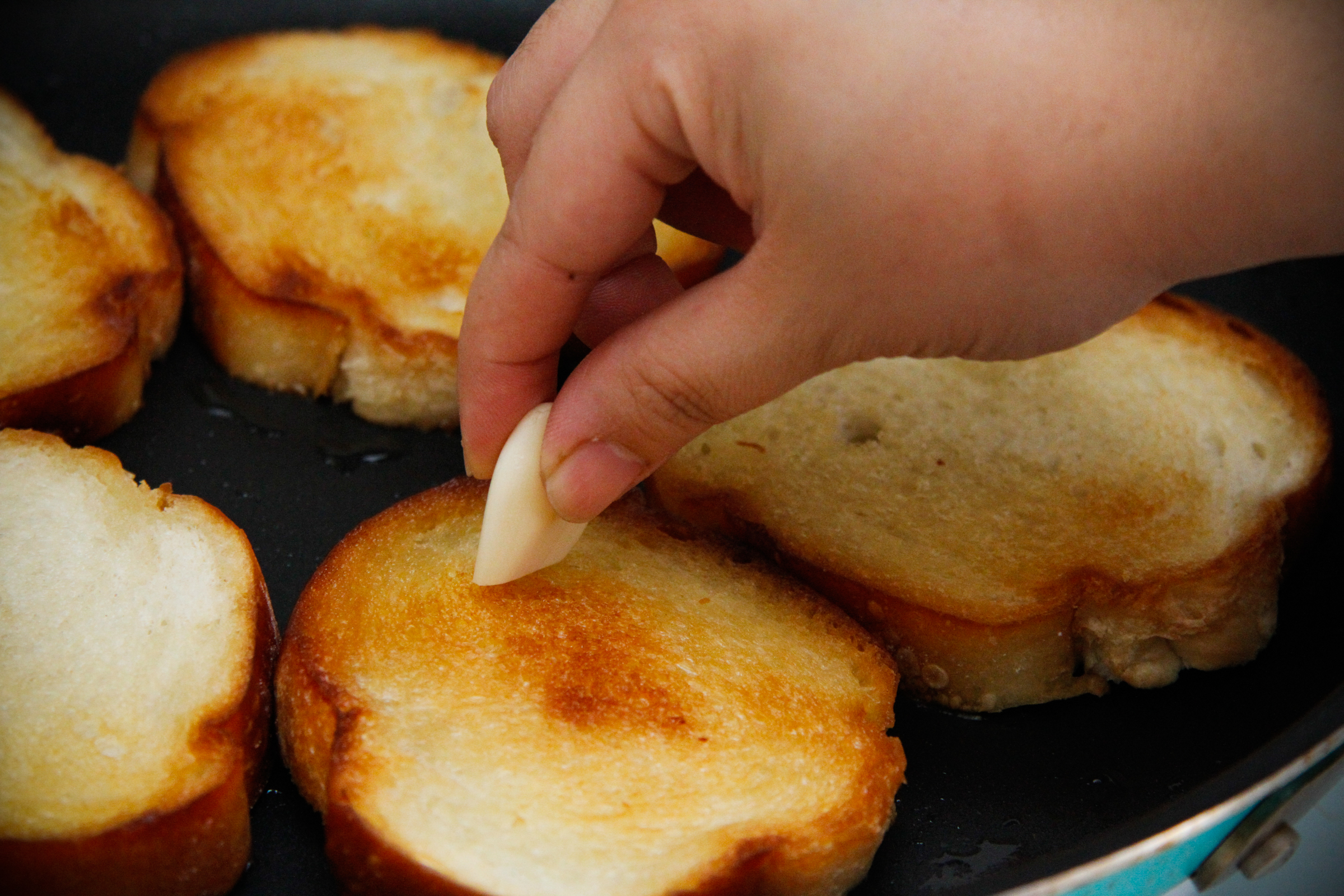 You can toast your bread in the oven if you really want to, but I think it tastes better in a frying pan.  Yeah, not the healthiest thing in the world, but DEFINITELY worth it.  Add a generous splash of olive oil to the pan, and put your bread on there, low and slow.  Don't rush it, or it will burn.  Yep, that's the trick… low heat. The point of this is to let that bread drink up that olive oil while turning into a nice golden brown.  Add some more olive oil and flip to the other side.  This will ensure that your bread is crisp on both sides, but soft and chewy in the middle. Cut the tip off of a piece of fresh garlic and rub it on both sides of the hot bread.  Instant intense garlic bread!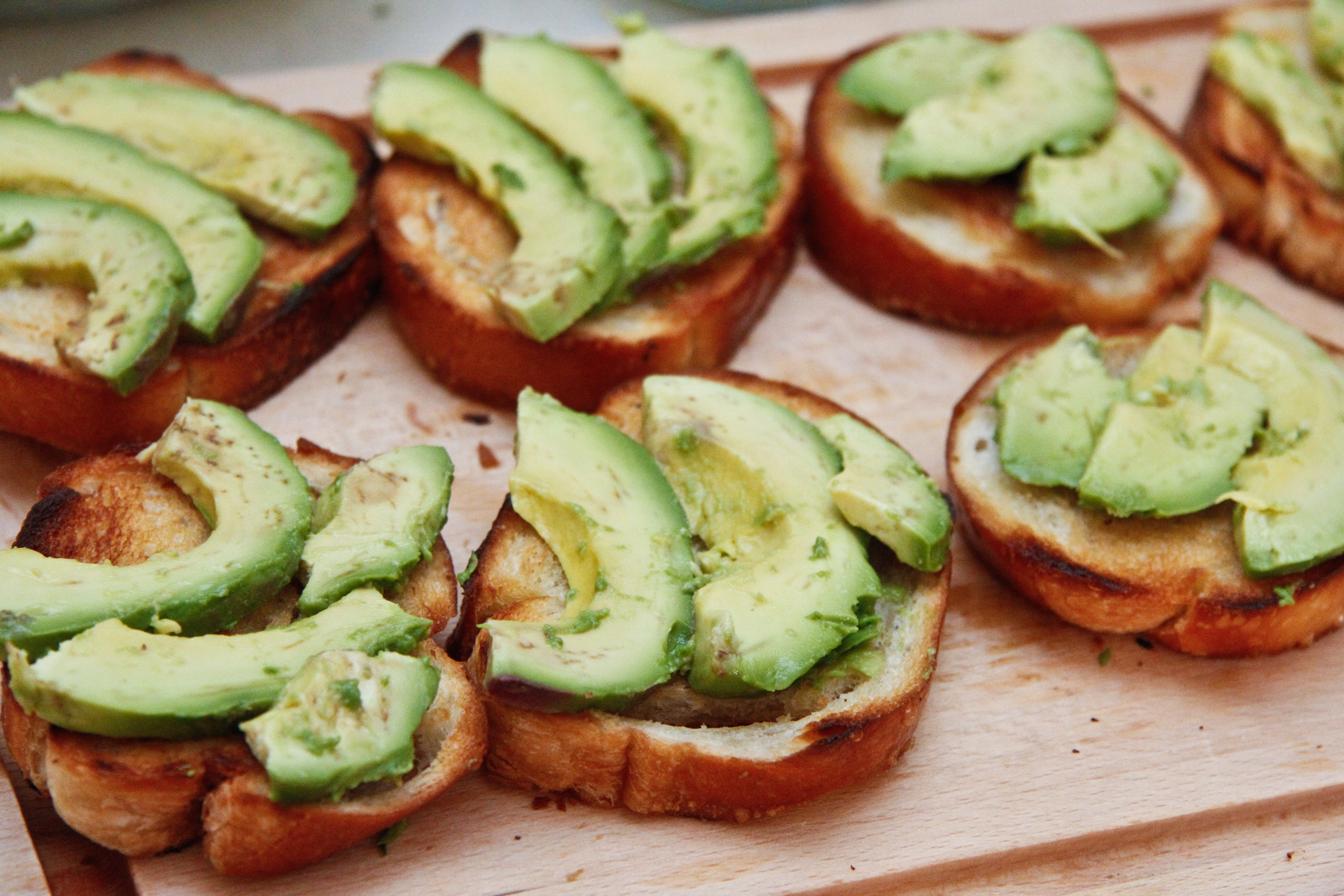 Lay your toasts out and pile on the lemony avocado slices.  Don't be stingy. The avocados act like a protective mattress against overly juicy tomatoes. Thus, non-soggy bread!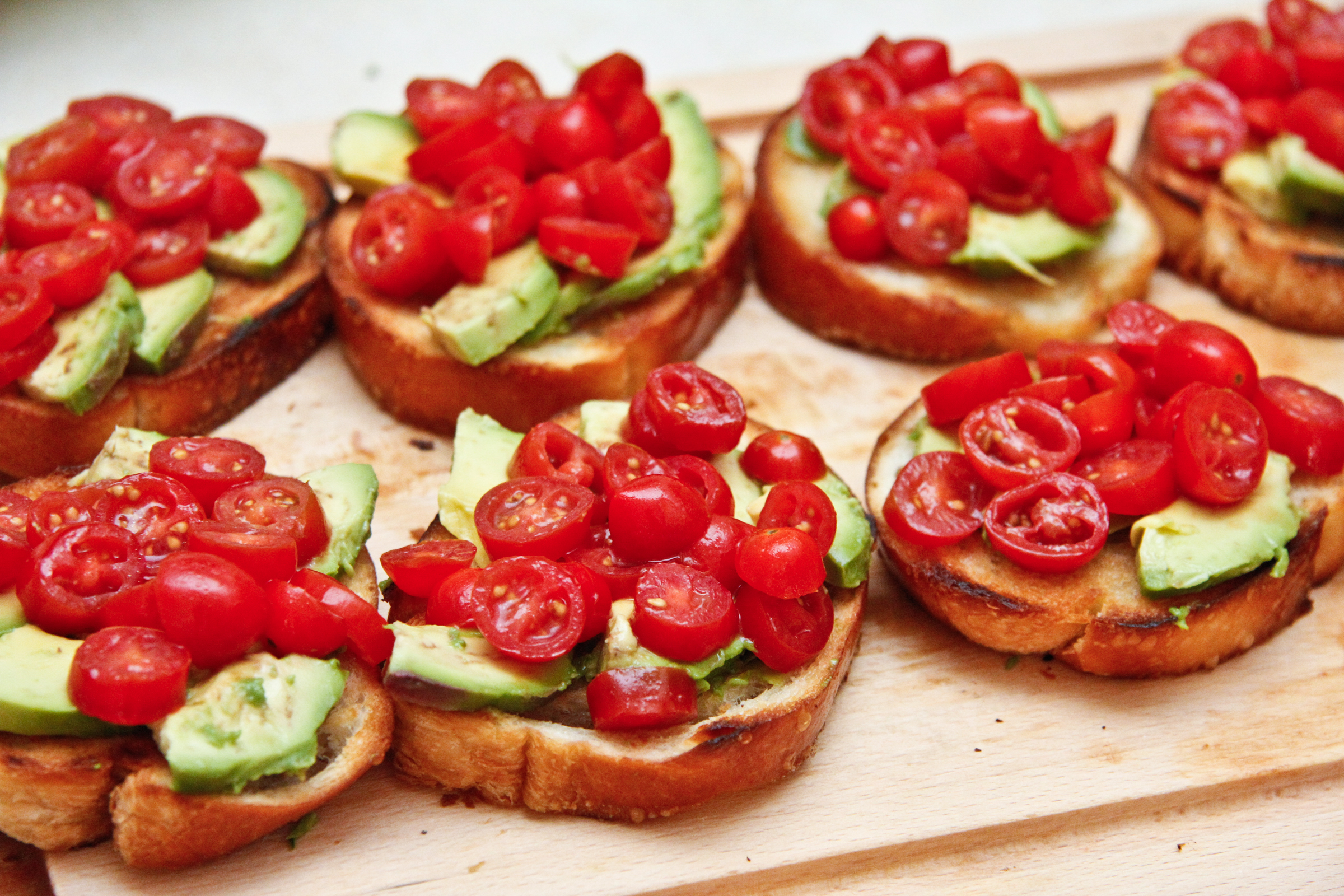 The dressed tomatoes can now go to the dance too.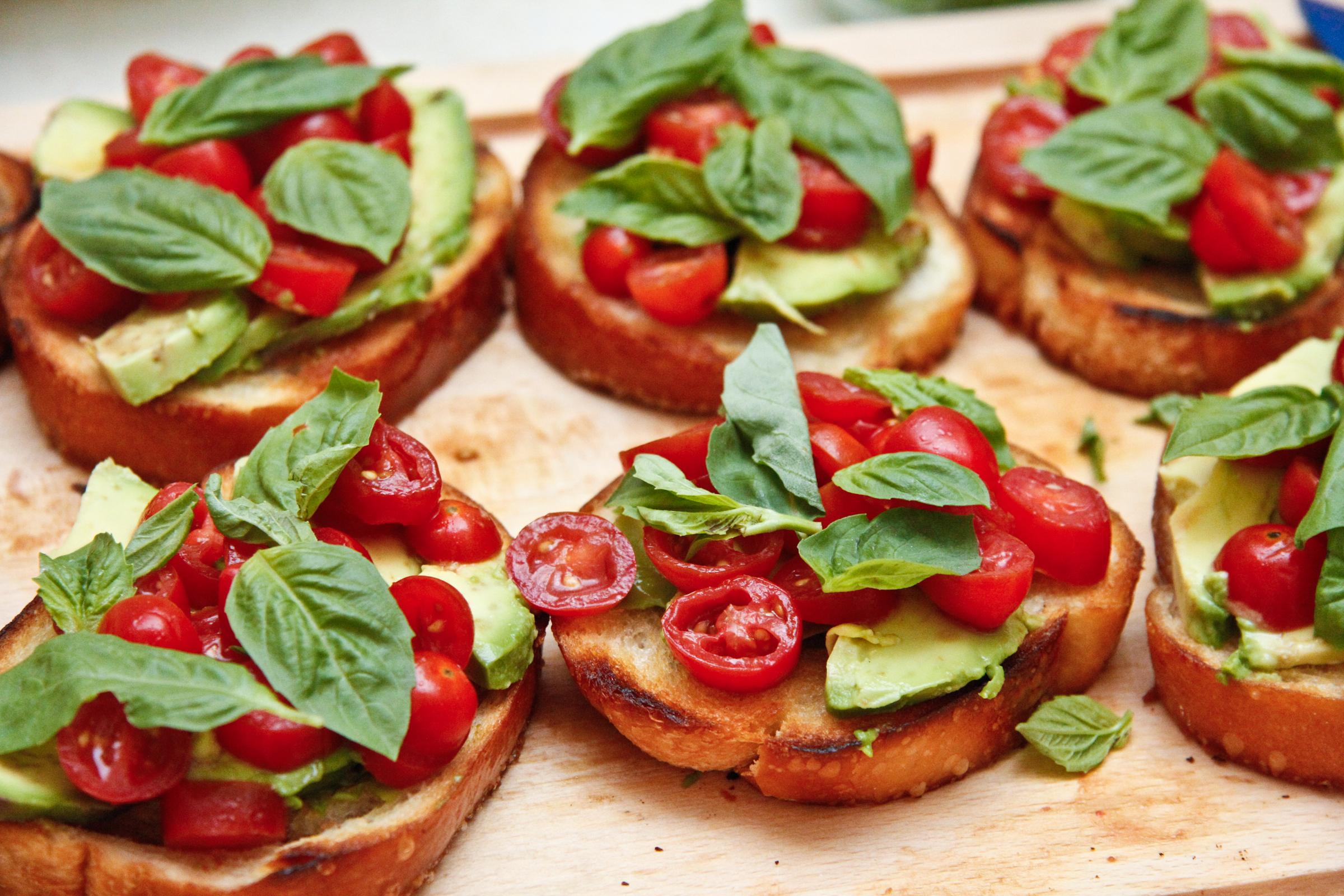 Top with fresh fragrant basil leaves, and you're almost there…
Just remember this important step: Don't skip it or forget it!  Finish off your bruschetta with a little drizzle of olive oil and extra sprinkling of salt and pepper right on top.  This will bring out all the flavors full blast.  You want to actually be able to see that slight glimmering glossiness from the olive oil, along with the light dusting of kosher salt and black pepper.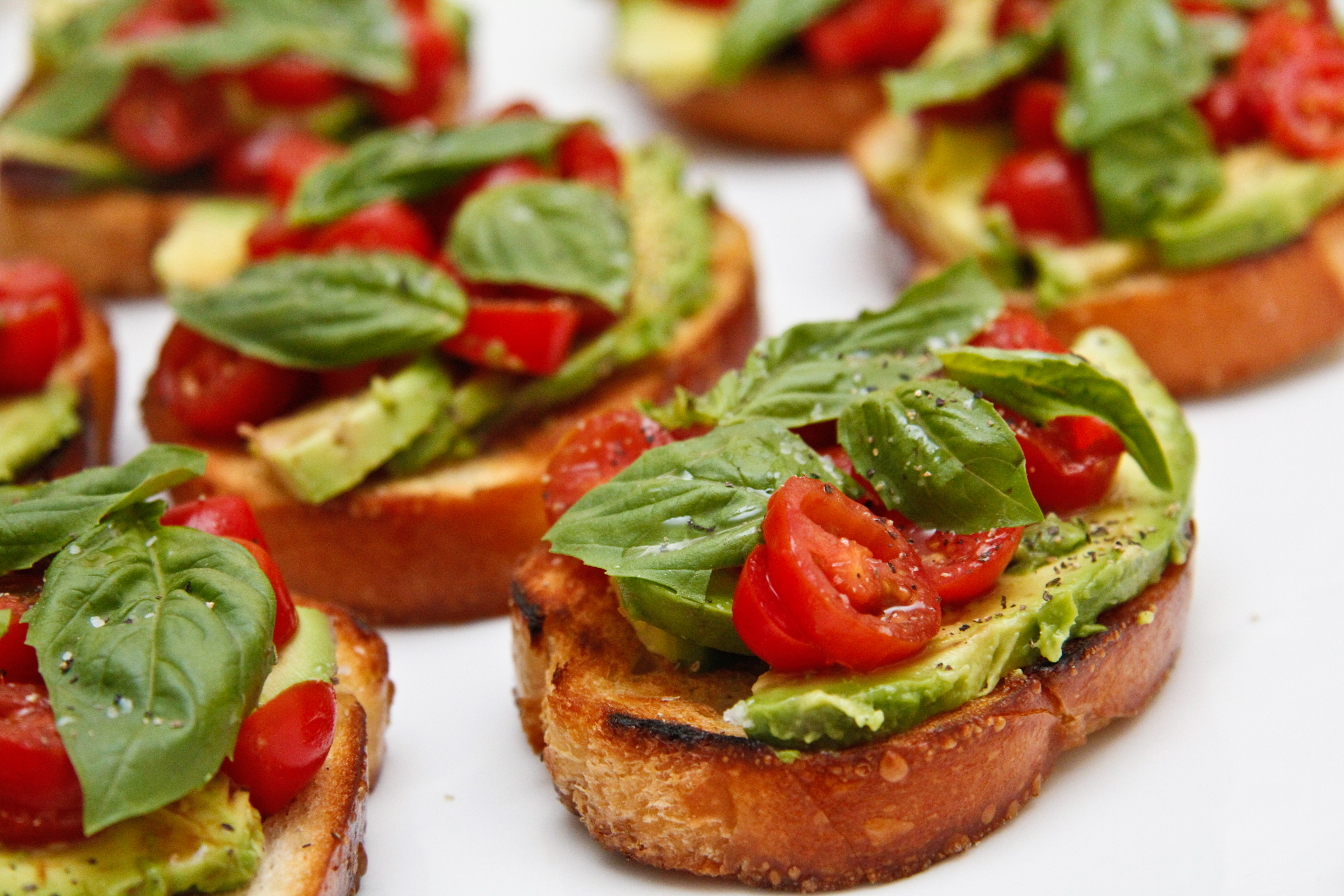 So that's it.  It's easier to make than it is to explain.  So go ahead and make it. I assure you that if you follow these steps, you will bite into one deliciously crispy, chewy, creamy, and flavorful bruschetta.  And I'm pretty sure that you will want to be my best friend.

Avocado Tomato Bruschetta
The avocados make all the difference. Your family and friends will gobble these up.
Ingredients
2 cups grape tomatoes, sliced into rounds
¼ teaspoon kosher salt for sprinkling on tomatoes
1 teaspoon balsamic vinegar for tomatoes
2 teaspoons extra virgin olive oil for tomatoes, plus more for drizzling
1-2 avocados
1 lemon, for squeezing on avocado
1 fat loaf of French or Italian bread, sliced into ½" pieces
Olive oil for the pan
1 clove of garlic, with the tip cut off
Whole basil leaves for garnish
Salt and black pepper to taste
Instructions
Slice all the grape tomatoes into rounds, place in a sieve, sprinkle with the ¼ teaspoon of salt, toss, and let stand for 15-20 minutes to remove excess moisture. Then place the drained tomatoes into a bowl and add the balsamic vinegar and extra virgin olive oil. Stir to coat. Set aside. Slice up your avocados and squirt with some lemon juice, to prevent them from browning, and to add brightness. Set aside.
Cut as many pieces as you want of the French loaf into ½" thick slices. Heat a large pan with a generous amount of olive oil and crisp the bread on both sides, over medium- low heat until golden brown. Add more oil for the second side. Rub the garlic clove on both sides of the hot toasted bread with the cut tip.
To assemble, top the bread with the avocado slices, then tomatoes. Spoon on any remaining dressing from the tomatoes. Garnish with the whole basil leaves. Finish with a drizzle of extra virgin olive oil, and a light sprinkling of salt and pepper.
TIP: Although best when eaten right away, these bruschetta can hold up for a bit, so feel free to serve them at room temperature.