Grape Tomato Bruschetta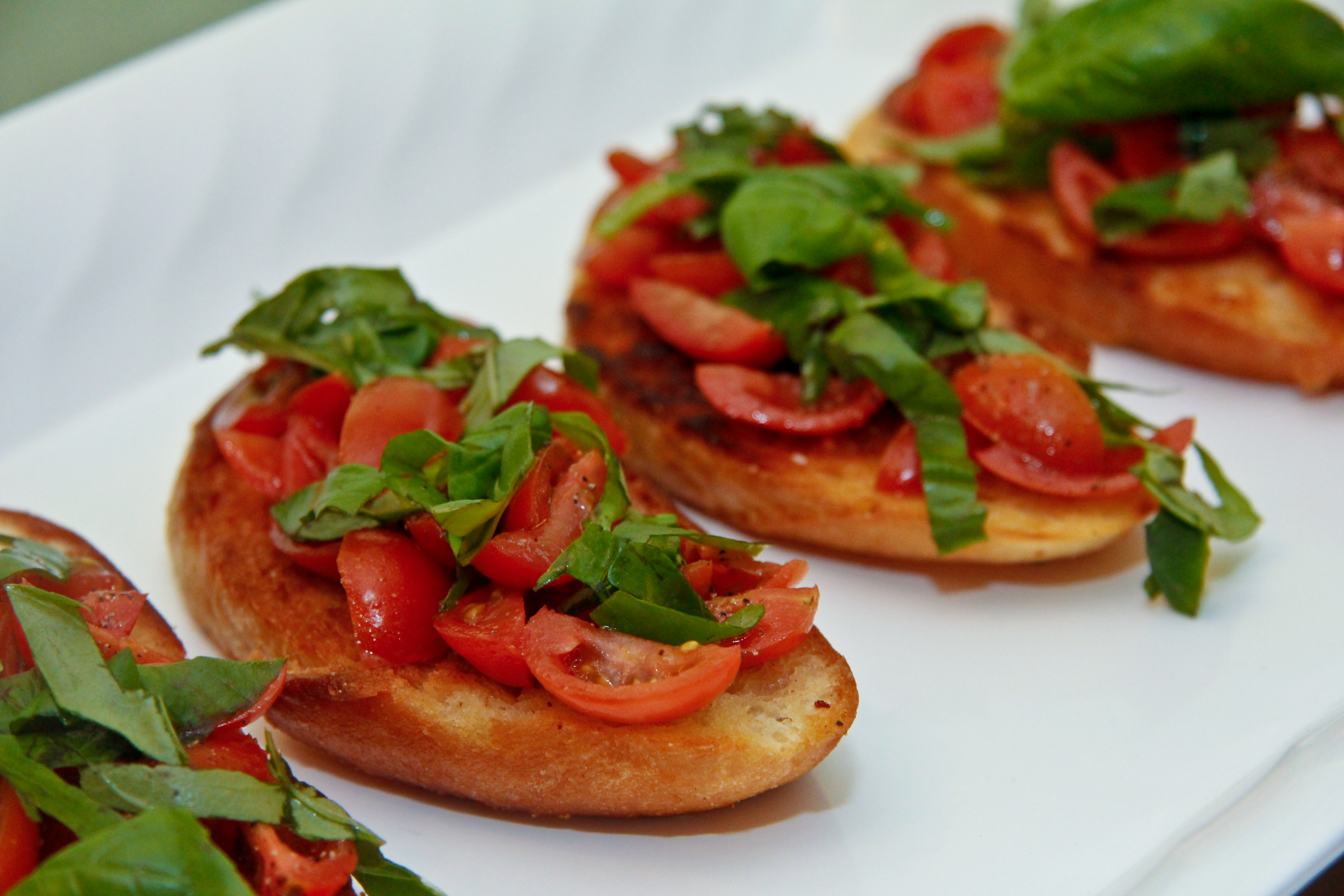 I woke up this morning to Joe suggesting we go to I-HOP for breakfast.  We had a buy one get one free breakfast coupon and we thought we'd treat ourselves for Valentine's Day.  Yes, this is about as romantic as it gets for us lately, but don't judge.  We've been trying to save money and don't get to eat out much.  We discussed business briefly over pancakes and waffles and headed back home.  I then went grocery shopping for this week's worth of blog entries and decided then to put in a little effort and actually cook a special dinner for us too.  
I walked into the store and chuckled to myself as I saw 3 or 4 men hovering over the flower section that they strategically placed right by the door.  Then I let whatever looked good determine what I'd make tonight.  Immediately my herb alert went off when I saw this beautiful bouquet of basil just looking so green and luscious.  Then I saw a big fat French loaf of bread (not a skinny baguette) on sale for $1.00.  Done and done.  I knew I'd have to make some bruschetta finally!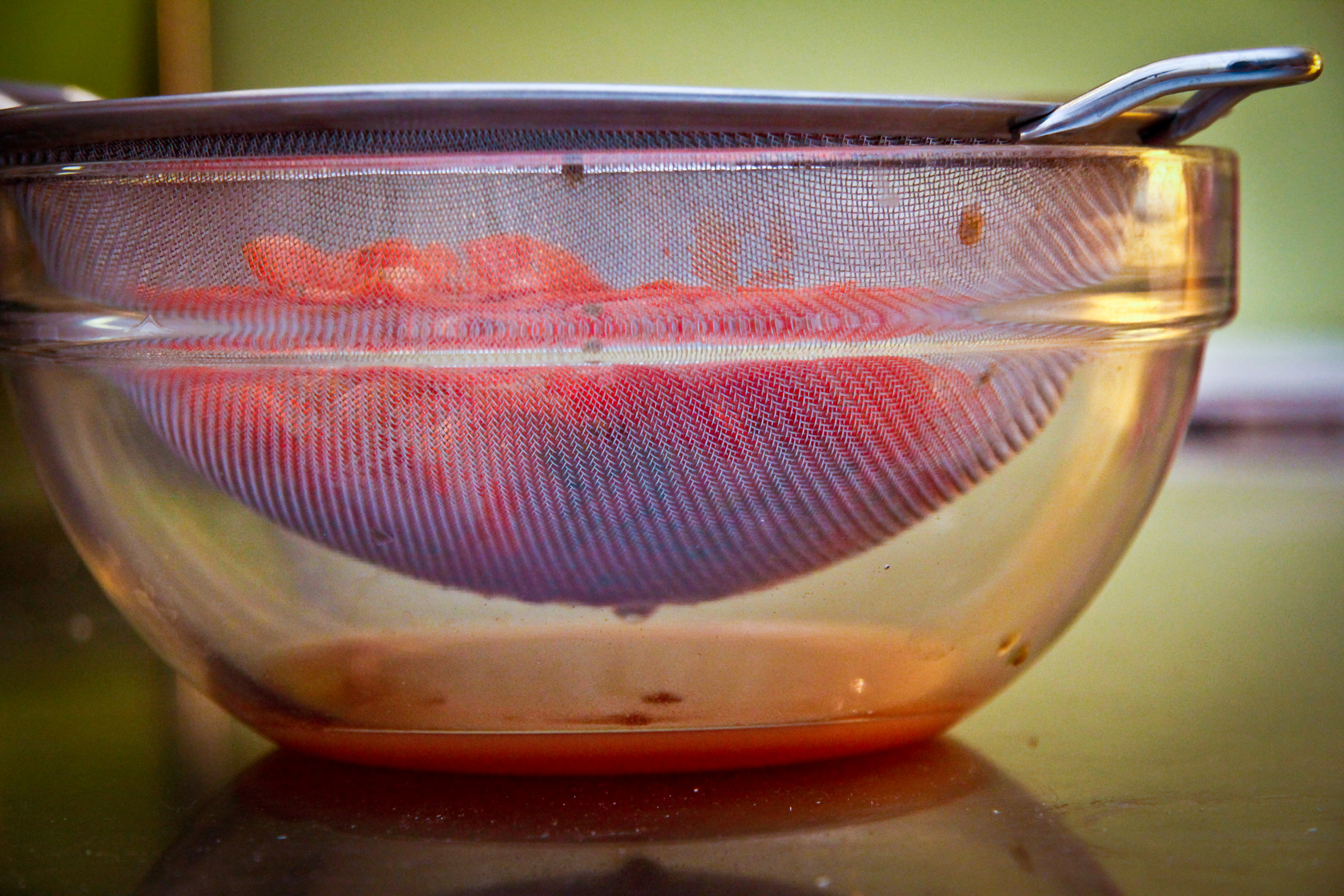 That one scene in the movie Julie & Julia started the obsession.  This is before the character Julie decides that she wants to start a blog, but doesn't know what the topic would be, and she sits there with her husband, scrumptiously munching on gorgeous over-sized looking bruschetta, made with what looks like a mixture of heirloom tomatoes and what not.  I mean, the tomatoes look lovely, but the part that gets me salivating the most is when she pan fries the big slices of bread and you hear that sizzle!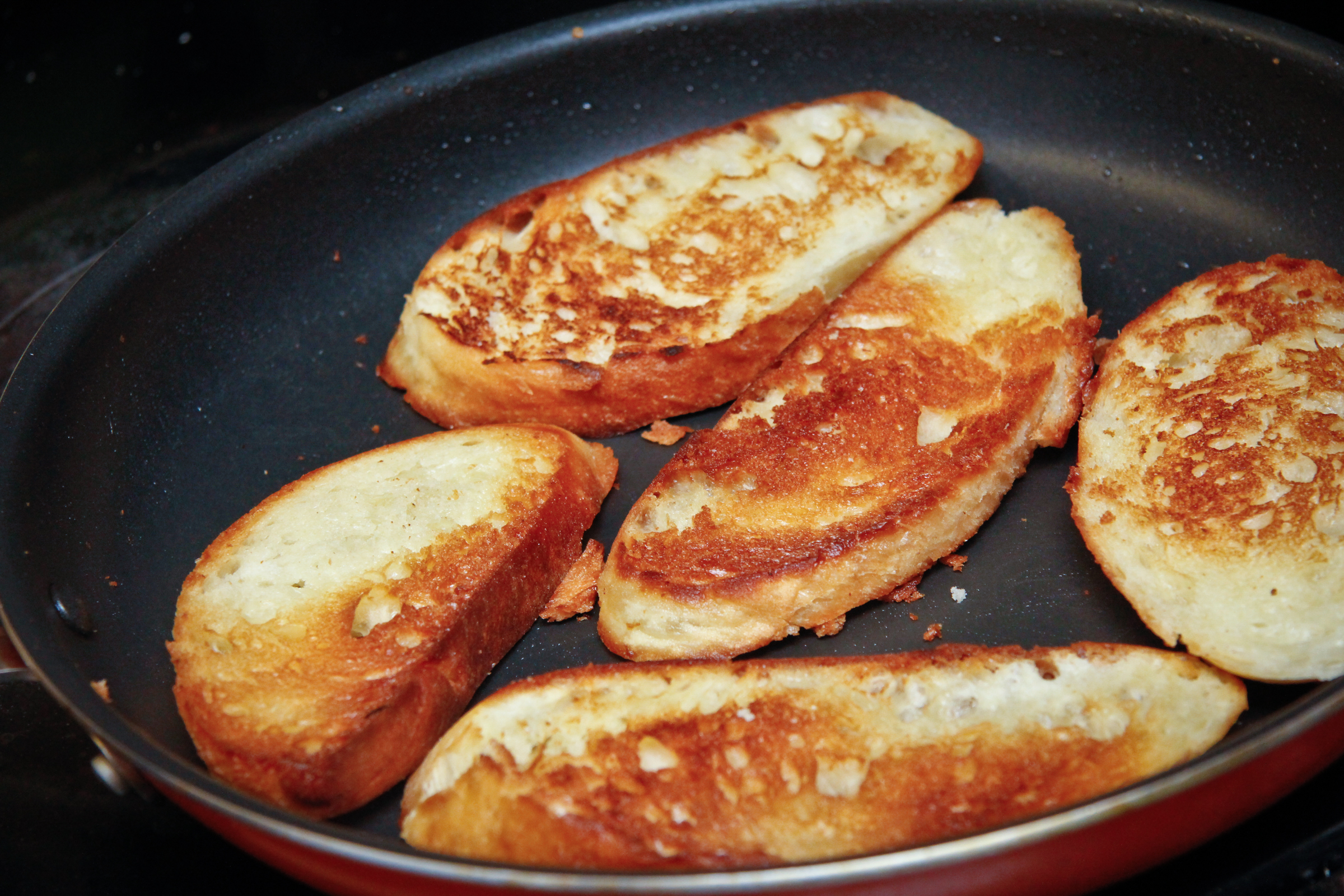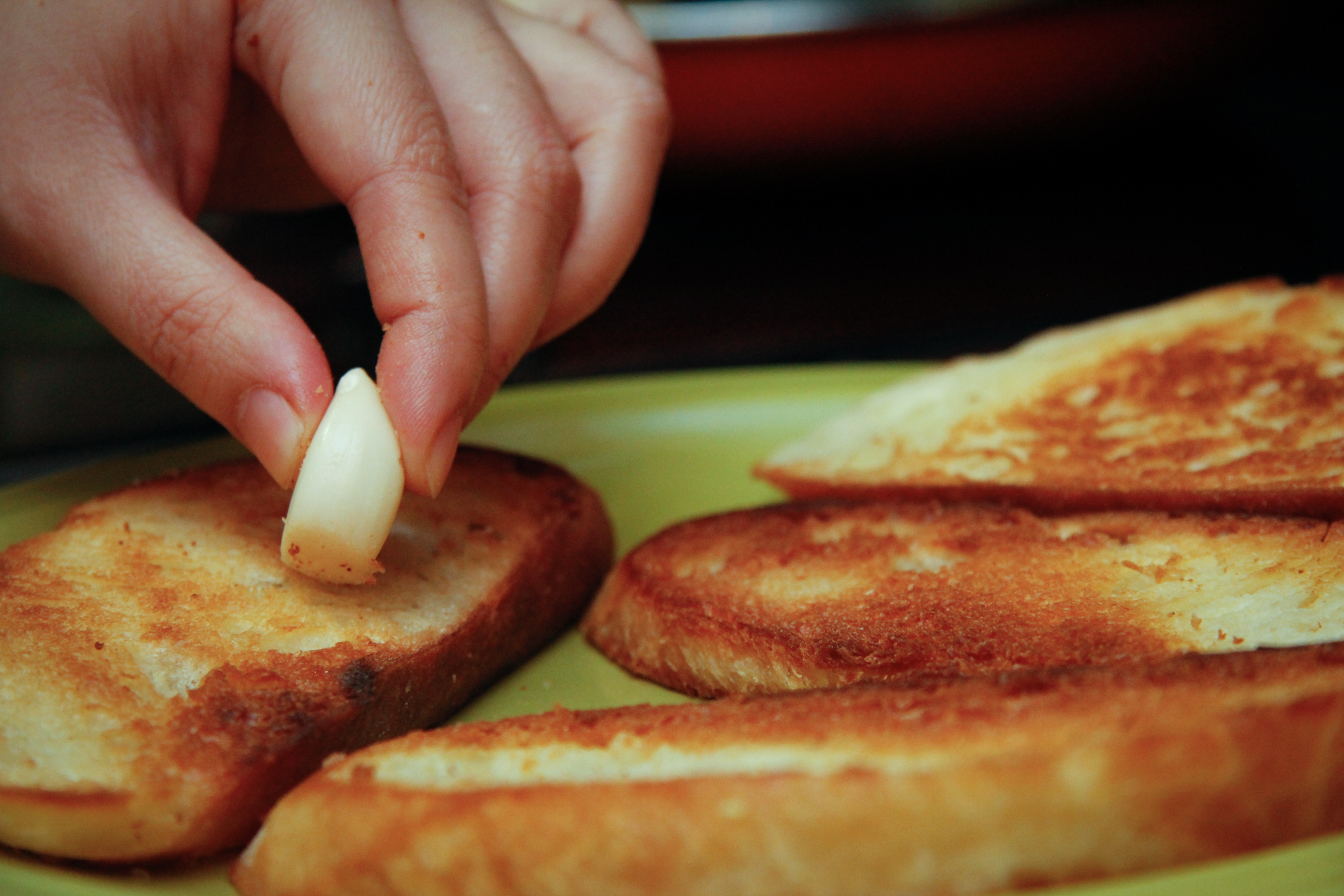 Well without a recipe in mind, I saw some grape tomatoes sitting next to the basil and knew that's all I needed to make a simplified version of an already easy classic.  Grape tomato bruschetta served alongside with store-bought meatballs, which I pan-seared and then simmered in spicy creamy tomato sauce did just the trick for an easy, red-themed V-day dinner for two.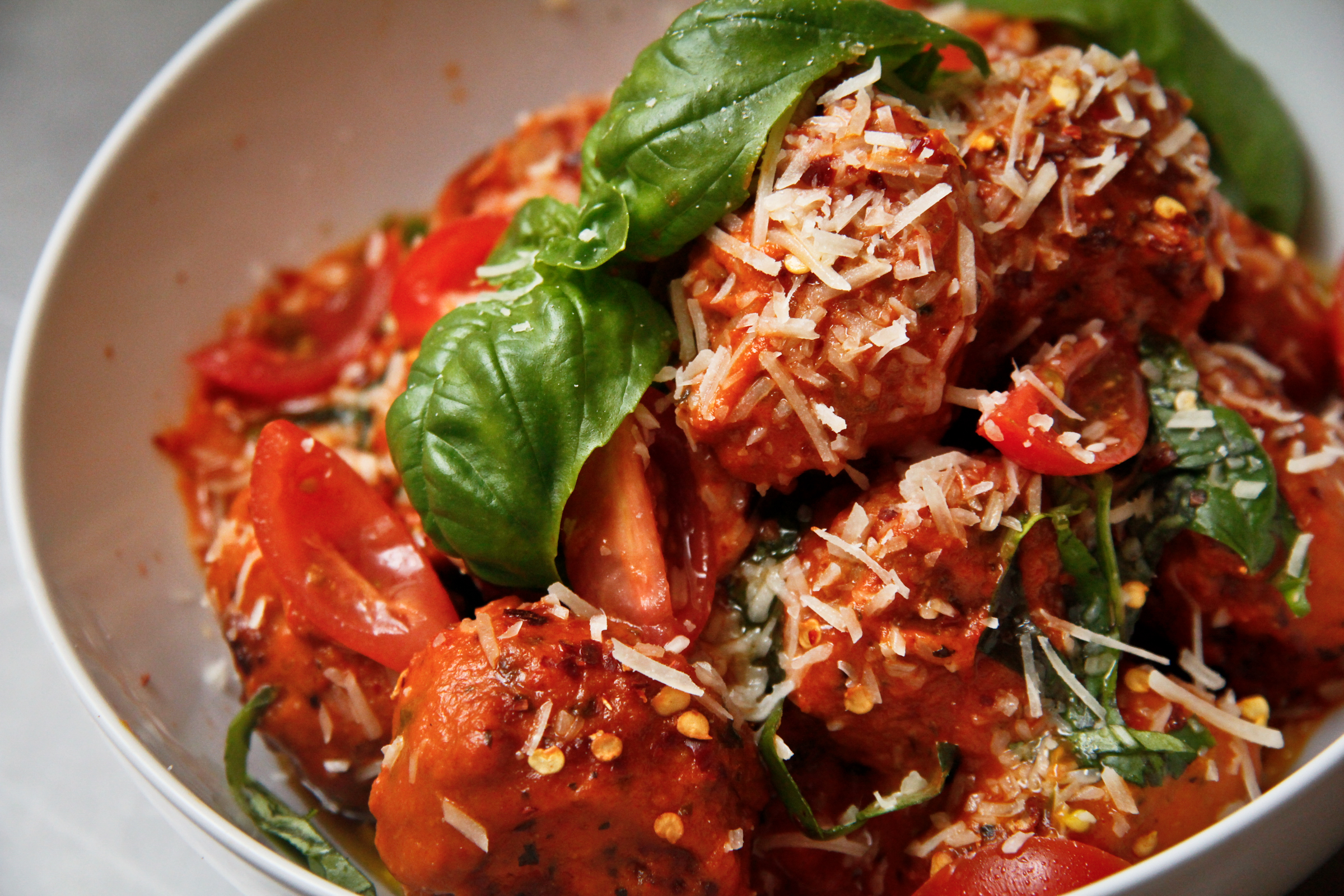 All that was left was to kick back our feet and watch the movie, Valentine's Day at home to end the night.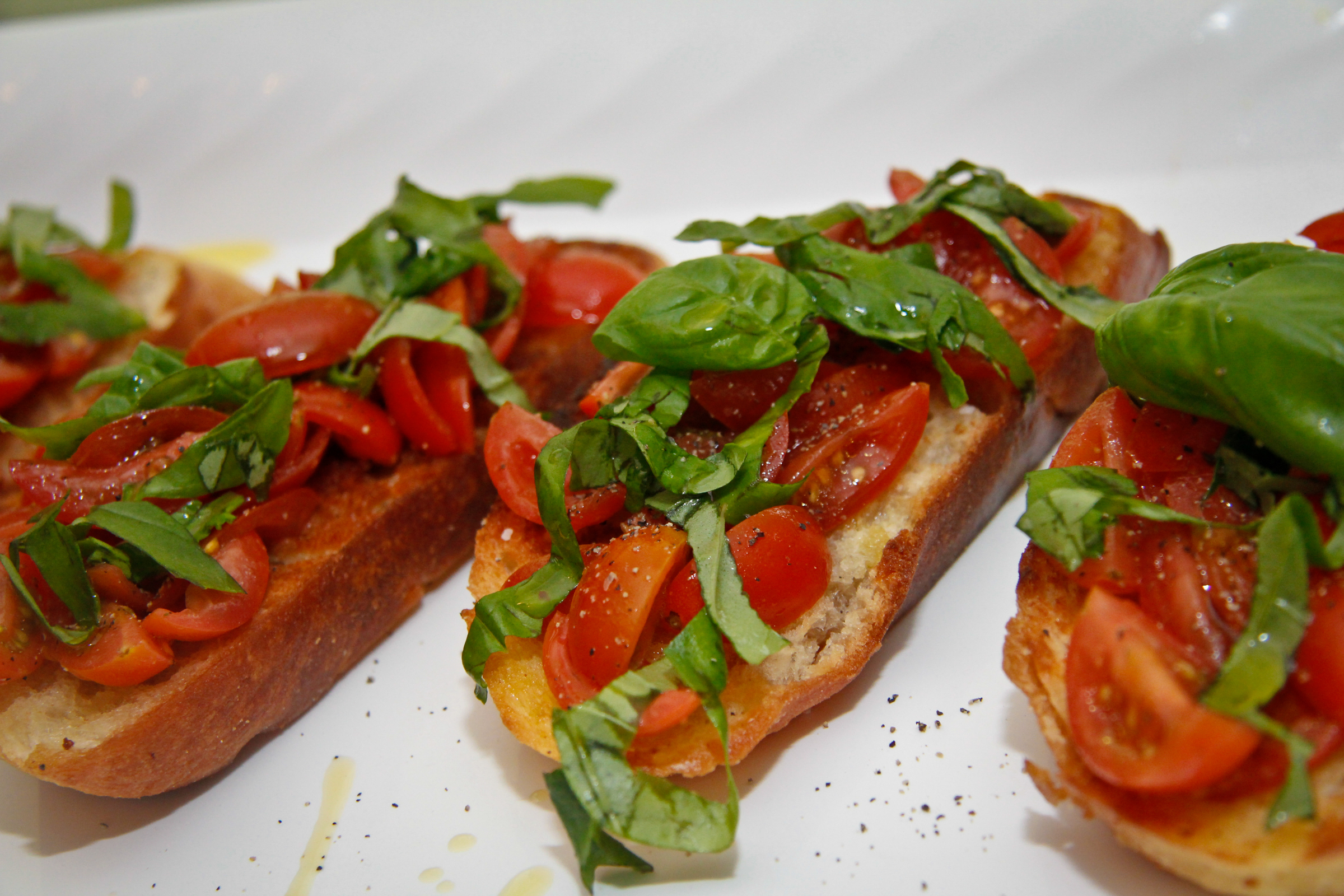 Grape Tomato Bruschetta
If you're in a rush, just pop the bread pieces in the oven, but frying them in a pan makes them so scrumptious!
Ingredients
1 fat loaf of French or Italian bread, sliced on the bias
1 fat loaf of French or Italian bread, sliced on the bias
Olive oil for the pan
2 cups grape tomatoes (or 1 pint), cut into quarters
1 clove of garlic, with the tip cut off
1 teaspoon balsamic vinegar
2 teaspoons extra virgin olive oil, plus more for drizzling
¼ teaspoon salt, plus more for sprinkling
Basil leaves, cut into thin ribbons
Black pepper to taste
Instructions
Slice all the grape tomatoes into quarters, sprinkle with the ¼ teaspoon of salt, toss, and place in a colander for 20 minutes to remove excess moisture.
After 20 minutes, place the drained tomatoes into a bowl and add the balsamic vinegar and extra virgin olive oil. Stir to coat. Set aside.
Cut as many pieces as you want of the French loaf into ½" thick slices. Heat a large pan with a generous amount of olive oil and crisp the bread on both sides until golden brown. Rub the garlic clove on both sides of the hot toasted bread with the cut tip.
Top the bread with the tomatoes and garnish with the ribbons of basil. Finish with a light sprinkling of salt, pepper and a drizzle of extra virgin olive oil. Serve immediately.