Wasabi Edamame Fish Tostadas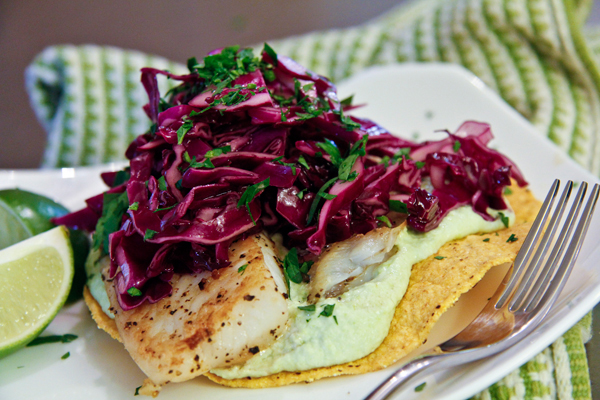 Okay before you go all, "hey you already posted about fish tostadas before," on me, let me explain. Yes, I have posted about fish tostadas before, but this is a deliberate variation on the first recipe. I created this recipe as my entree submission for Kraft's Real Women of Philadelphia Cream Cheese Contest….. and lost. Boo. Yeah I was pretty bummed about it. But then I got over it and thought of it as great experience. The point of the contest was to incorporate Philadelphia Cream Cheese into an original, and tasty entree recipe. I figured since my spicy fish tostadas did so well, I might as well ride on its coat tails and do a spin off of it. Well, I may have lost the contest, but I believe this recipe is a winner!  
I make a pretty popular side dish of wasabi edamame puree. So I thought, hey… why not add the cream cheese to that and turn it into a creamy, spicy, smooth mixture to put on top of the tostada? It ends up being a soft pale green blanket to nestle my fish on top of, and of course, you can't forget the cabbage slaw. Since the cream cheese edamame is creamy enough, I thought that crunchy cabbage sprinkled with some vinegar with a touch of honey would do the trick to balance out all the flavors. The end result was a delicious treat that three taste testers approved greatly of before I submitted it. So seriously, I thought I had a real chance to win… maybe for the originality, or maybe for the weirdness of the dish… but alas, it was not my time to shine… yet.
And so now that the contest is over, all we're left with is a recipe to share and a video with no music or special editing. It wasn't allowed to have any of that because the second part of the contest was to showcase your personality and ability to cook and talk at the same time, without distractions. So as you'll notice, it's a bit of a departure from our normal style of videos, and also a little longer. Don't force yourself to watch the whole video if you don't want to… seriously, I won't be offended, and I'll never know. But if you're curious to see me cook and talk at the same time, give it a go.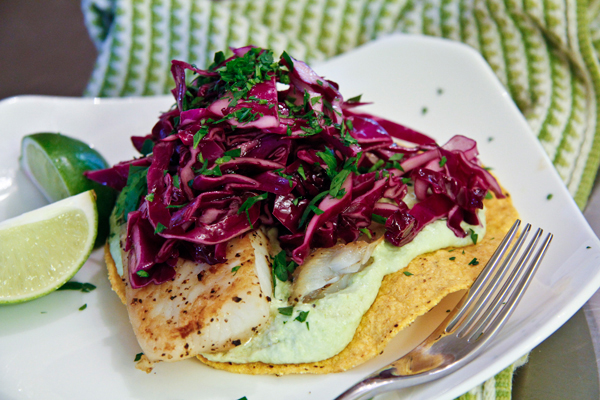 This colorful dish is crunchy, creamy, and savory with a little kick! Hope you try out the recipe one day, or just the cream cheese edamame puree. It's even great cold when smeared on a steak sandwich with fresh arugula and tomatoes…. mmm mmm… trust me, I know. That's how we ate our leftovers. Enjoy!

Wasabi Edamame Fish Tostadas
I made this recipe for a PHILADELPHIA cream cheese contest, but the combination of all these interesting ingredients together really works. Serve it up at your next dinner party.
Ingredients
6 tilapia filets
Salt and pepper
Olive oil for sauteeing
6 store bought tostada shells
Chopped cilantro for garnish
Lime wedges for squeezing

For the cabbage
1 lb or half a head of a small red cabbage, cored and thinly sliced
½ tsp. kosher salt
4 tbsp unseasoned rice vinegar
4 tbsp olive oil
1 tbsp honey

For the Wasabi Edamame
2 cups frozen shelled edamame
1 cup chicken stock
1 clove of garlic, coarsely chopped
8 oz. softened PHILADELPHIA cream cheese
1 tsp. wasabi paste
Instructions
Place sliced cabbage in a colander and sprinkle with ½ tsp. of salt. Toss and massage lightly to distribute salt evenly. Let stand for 20 minutes. This will season the cabbage, as well as make it slightly softer and even sweeter. Make the dressing by whisking the rice vinegar, olive oil and honey together in a bowl. Set aside until later.
Place edamame and chicken stock in a small pot and when it comes to a boil, cook uncovered for 2 minutes. In a food processor, add the coarsely chopped garlic and edamame, along with all of the broth. Pulse until nicely pureed. Add softened cream cheese and wasabi paste. Puree again for about 1 minute or until the mixture is smooth and slightly thickened, like hummus.
Season both sides of the tilapia filets lightly with salt and pepper. In a large skillet, add a little olive oil and place over high heat. Add the tilapia, but work in batches, as to not overcrowd the pan. Saute for 3 minutes on the first side, then 2 minutes on the second side. Remove to a plate or tray and keep warm with aluminum foil until all the batches are done.
Arrange the tostadas on individual plates. Place some edamame puree on top of each one. Add the tilapia filets. Toss the softened cabbage with the dressing and place a nice mound on top of each of the filets. Sprinkle with chopped cilantro and serve with lime wedges. To eat, squeeze fresh lime juice on top and break the tostada apart with a fork. Eat everything with a fork, or use your fingers and enjoy as fancy nachos!