Spicy Fish Tostadas
Ever since moving to California, my palate has been craving more and more Mexican food.  Living in New York, I got my fix from a Chipotle down the block.  Now, I have access to a delicious mom and pop Mexican restaurant or stand at every corner.  But I especially have been into fish tacos, with the crunchy cabbage slaw and creamy white sauce.  I wanted to make a twist on this dish by laying the fish on a sturdy tostada mattress.  
Tostadas are basically deep fried corn tortillas, usually made when the tortillas are no longer fresh, but it's too wasteful to throw them out.  They are usually served with the regular taco fixings, like beef, lettuce, salsa etc, but I wanted to see if it would be good with the soft spicy fish and crunchy shredded cabbage.
They sell tostadas made in-house at Mexican grocery stores, but of course you can just deep fry your stale corn tortillas at home yourself.  You can also buy pre-packaged factory produced ones, nearly at any regular grocery store.  Just to test out the quality, I tried out the pre-packaged ones, even though the freshly fried in-store ones were sitting right next to them.  Turns out, they are what you'd expect…crunchy and tasty.
I think what you might find interesting in my recipe is what I do to the cabbage to make it a little softer and sweeter.  This step is critical in getting the right flavor and consistency, so I suggest not skipping it, even though you might find it unnecessary.
Tostadas are meant to be eaten by picking the entire guy up and biting into it, but I find that to be messy, especially with this recipe. So I just assemble them, then break them with my fork to hear that oh so satisfying "crack" from the crisp corn tortilla.  And I pick up bite-size pieces to consume as fancy nachos. See how I make them and eat them in our 4th video!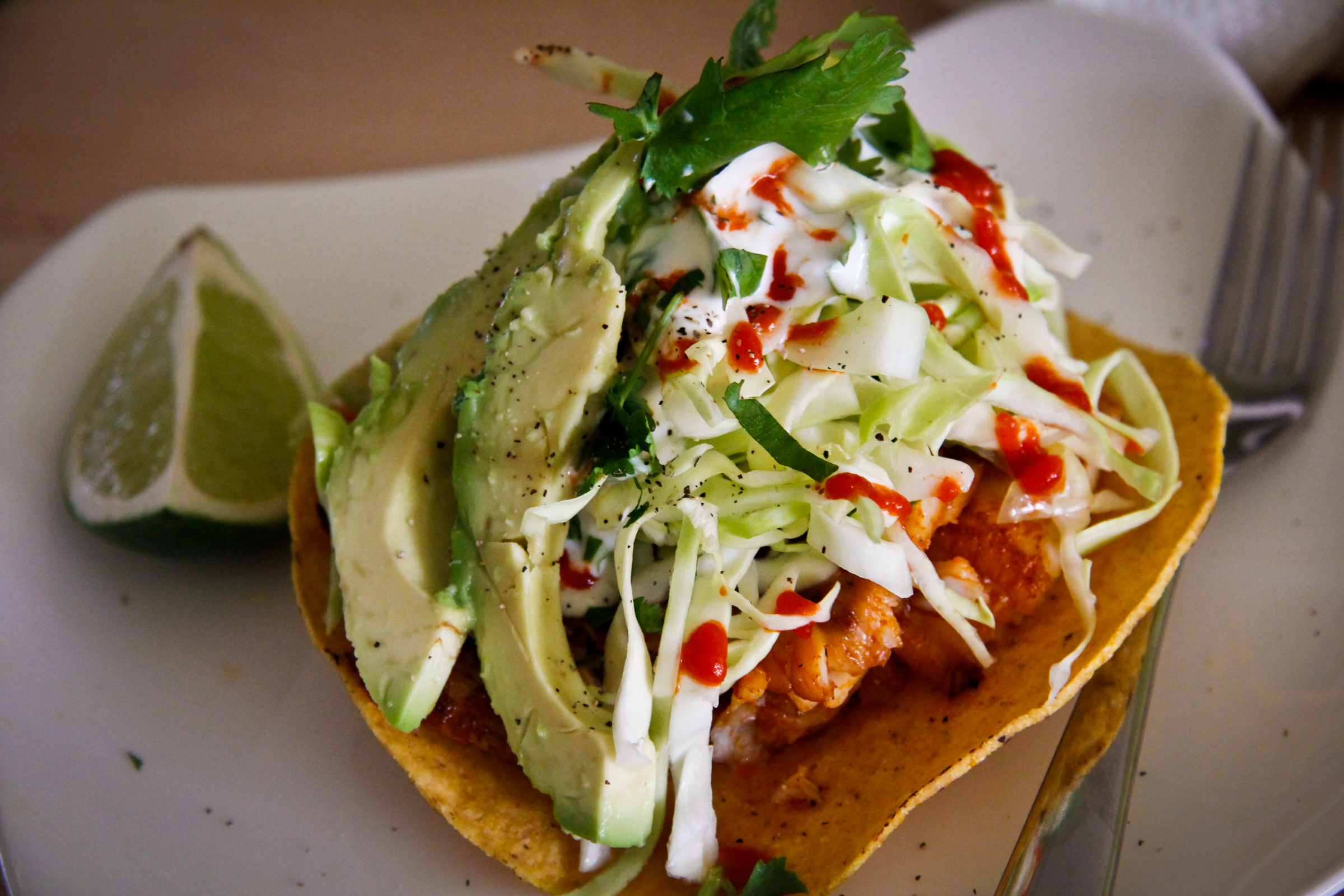 Yeah I get it… holy a lot of ingredients and steps! But dude… you can do it. Just make it on a weekend or when you want to do something schmancy for your guests. All I can say is enjoy my friend, enjoy.

Spicy Fish Tostadas
This is a spin on a fish taco. Add any toppings you want and eat it like fancy nachos!
Ingredients
For the fish
4 tilapia filets or any firm white fish of your choice
1 tablespoon of chili powder
½ teaspoon salt
½ teaspoon garlic powder
Juice of half a lime
1 teaspoon of agave nectar (or 2 teaspoons of plain sugar)
4 tablespoons vegetable oil
For the toppings
½ of a small head of cabbage, core removed and thinly shredded
¼ teaspoon kosher salt (or less if cabbage is very small)
5 tablespoons Greek yogurt
1 tablespoon of mayonnaise
Juice of half a lime
1 tablespoon chopped cilantro (or mint!)
Store-bought tostada shells
Sriracha sauce or any hot sauce you like
Instructions
Mix the ingredients for the marinade in a large bowl. Add the tilapia filets, coat well and marinate for 20 minutes.
Meanwhile, place your shredded cabbage in a colander and add the salt. Massage the cabbage with the salt a few times and set aside for 20 minutes. After 20 minutes, taste the cabbage, which will now be softer, sweeter and seasoned. If it is too salty for your taste, give it a quick rinse. Otherwise, it's ready to use.
Make the white sauce by mixing all the ingredients together. Thin it out slightly with a couple drops of water. Set aside.
Heat a large pan. Take the filets out of the marinade and sear them on one side for about 2-3 minutes, or until the sides of the fish turn opaque. Flip for 2 more minutes or until the fish is fully cooked through and can be flaked easily with a fork into big chunks.
Assemble your tostada by placing a few chunks of fish on top, followed by some cabbage and yogurt sauce. Drizzle with some hot sauce and garnish with fresh cilantro. Enjoy as is or with any additional garnish you like, such as sliced avocado, chopped tomatoes or another squeeze of lime. To eat, break with a fork and enjoy as glamorous nachos!