Crispy Glazed Salmon
I started making this dish when I used to work at Whole Foods as a demonstration chef.  I would get off work, take a spin around all the meat or seafood counters, and check out what looked good that day.  One day, I spotted some steel head filets, that still had the skin on. They looked very similar to salmon filets, but were cheaper than salmon.  My friend behind the counter told me to buy them, so I did.  As I was walking home, carrying my two steel head filets, I thought about how I should prepare them.  
I immediately thought about my miracle balsamic glaze, you know the glaze that I made during my interview, which ended up getting me the job.  I thought about how it would taste if I made the skin crispy, and poured that glaze over it.  Then I almost started running home.  It was a hit, and I found that you can do this method with just about any type of fish and it will be awesome.
I had a version of this recipe up on our old blog, and I received many compliments from people who tried this dish out for themselves.  In the recipe, I served it over plain rice and shelled edamame.  You can do it that way too.  It's great this way, especially when you're tired or in a rush on a busy week night.
However, last week we posted a video about a thank you dinner I made for our friends Brian & Amy Park, because Brian made all of the great music you hear on the videos.  Brian is a seafood fanatic, and I know he likes salmon, so I thought about making him and Amy some crispy glazed salmon on top of a bed of risotto, instead of plain rice.  Part 1 featured my easy asparagus risotto that I served as a delicious base.  Today, watch how I make the crispy glazed salmon, as well as how I pull the entire dish together in part 2 of our 7th video.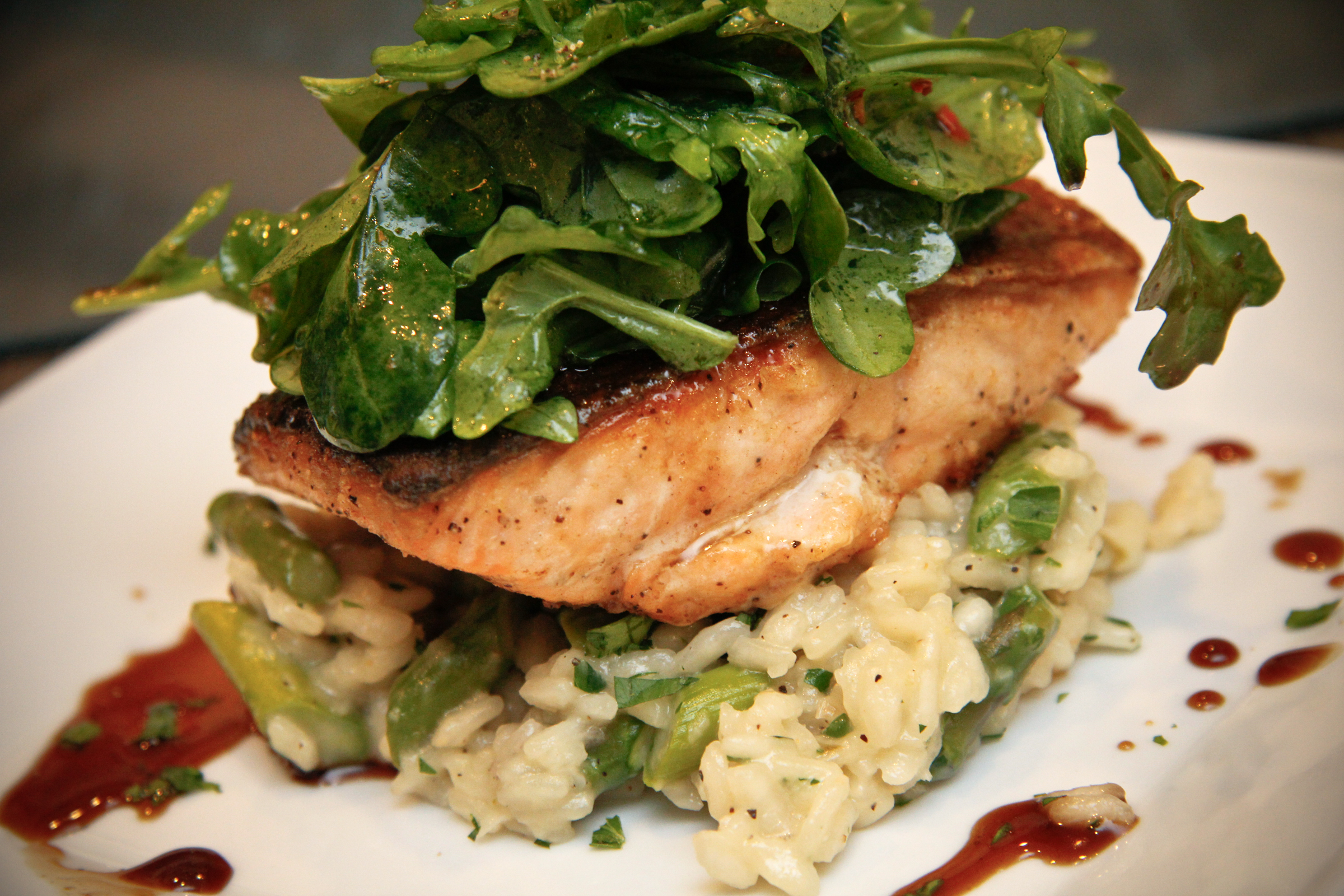 The meal was a success!  Brian and Amy were so thankful for the food, but we wanted to let them know how much we appreciate them.  I only hope this means that Brian will be making us some more songs…(hint hint)…
Make this dish for someone you want to thank in your life, and I know that they'll feel appreciated and loved.

Crispy Glazed Salmon
This glazed salmon is crispy, sticky, and sweet. If you can't find salmon with the skin on, don't fret. Just skip the flour dredging part and spoon some glaze on top after it's cooked.
Ingredients
2 lbs of salmon filets with skin, cut into 4 even pieces
½ cup of flour for dredging
Salt and pepper
Vegetable oil for frying
⅓ cup balsamic vinegar
⅓ cup sugar
2 tablespoons soy sauce
2 tablespoons unsalted butter
Instructions
Set your oven to "warm" or at a very low temperature, such as 200 degrees
Place the sugar and balsamic vinegar in a small pot, stir together and cook until it is thickened by half, and slightly syrupy- but not so much that it burns or gets too thick. Take it off the heat and add the soy sauce. Set aside until later. You will add the butter later.
Sprinkle some salt and pepper on the flesh sides of the salmon pieces. Place flour on a plate for dredging. Dip the skin sides only in the flour and shake off the excess.
Heat a large skillet with some vegetable oil, and when it's hot, add the salmon, skin side down in the pan. Move the filets gently in the oil to make sure the skin doesn't stick, then leave them alone until the skin gets browned and crispy. Then flip the filets over on the flesh side and cook until the sides of the fish get opaque and you can flake the flesh with a fork when you poke it on the sides. Make sure not to over-cook the filets, or they might get dry. The fish will continue to cook through "carry-over cooking." So keep that in mind.
Place the fish flesh side down on a baking sheet and pop it into the warm oven so the fish stays heated while you finish your sauce.
Heat the glaze and whisk in the 2 tablespoons of butter until it is slightly foamy and frothy. Generously drizzle some glaze on top of the crispy skins of the salmon filets, letting the excess drip off onto the sheet pan. Then plate by serving the fish on a bed of risotto, rice, cous cous or mashed potatoes, flesh side down, and the sticky crispy skin facing up. You can then garnish with herbs or mixed greens. To be fancy, drizzle some extra sauce around the plate!
TIP: This sweet crispy glazed salmon tastes amazing with a garnish of a peppery, lemony arugula salad: Whisk together the juice of a lemon, extra virgin olive oil, salt, pepper, and red crushed chilli flakes. Drizzle lightly over arugula, toss gently, and place a nice mound on top of the salmon, to enjoy as a garnish and salad in one.