Asparagus Risotto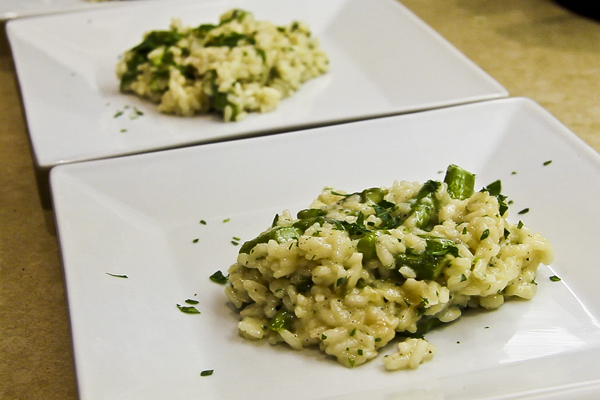 Risotto's one of those dishes that seem fancy and elegant, but it's really just rice, right? That's why you shouldn't be intimidated to make it. I was influenced to make an asparagus risotto as a nod to Spring. I got a fresh, juicy looking bundle of asparagus that came in the farm box that my friend Janice sent me. Remember I said that I'd be posting things that I made from the produce in there?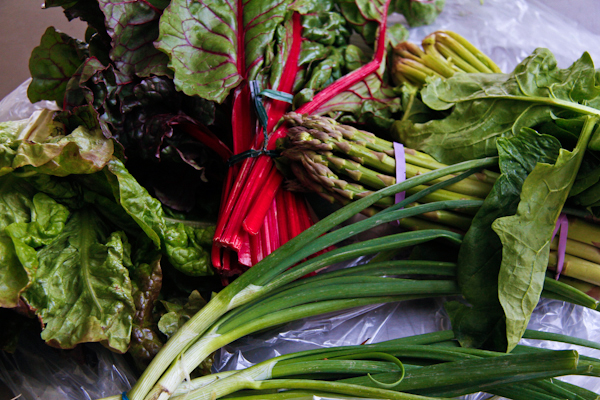 I actually get a lot of requests for me to post a recipe for risotto.  I don't know why, but this request is very popular amongst men, especially married men!  This is a true fact, according to the Julie-pedia.  So if you're one of those people who have hounded me to post a risotto recipe, you're in luck today.
I wanted to make a dinner for our friends Brian and Amy Park, because Brian is the guy who wrote and produced all the music on our videos. But the pressure was on because I know he has a sophisticated palate, and he loves seafood. To me, something about risotto just screams fancy. I felt like it was the perfect thing to make, paired with an easy fish dish.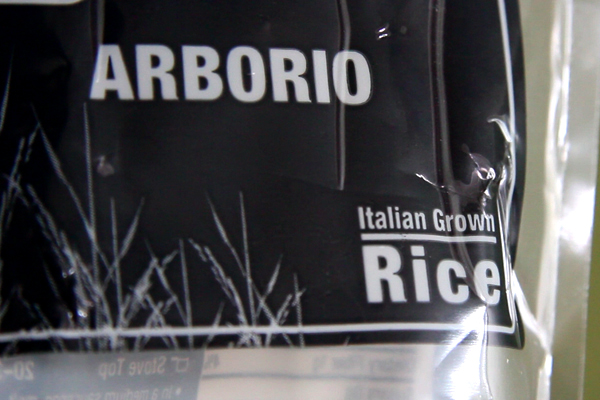 Start out by using either arborio or carnaroli rice. In this case, you can't use just any old rice you want. It must be this specific short grained rice. For my recipe, I used arborio, but you can use either one. The key to risotto is to cook it slowly.  Have some patience.  Let the starches of the rice come out and become creamy.  Also, use reduced sodium chicken broth. That way you can control the salt content of your dish.
And here's a thing you may not know, but you can actually make risotto in advance and serve it later!  Say what? Yeah, think about it. When you order risotto at a restaurant, they might warn you and make you wait for your dish, but I almost guarantee there's no chef in the back completely devoted to your dish alone, stirring away at it for 30 minutes straight from scratch.  At least some of it has to be cooked in advance, and then finished off when it's ordered. I wanted to use this same technique since I needed to transport it. Watch how I do this in part 1 of our 7th video!
Keep an eye out for when we post the video for part 2 next week to see how I served the entire dish. Brian and Amy really enjoyed this luscious asparagus risotto, and I know you will too.  Now stop hounding me and go make your wife some risotto.

Asparagus Risotto
Risotto takes some stirring and baby sitting, but it's super easy and still seems impressive. The asparagus adds a nice fresh touch.
Ingredients
1 small bundle of asparagus, stems trimmed, and cut into 1" bite size pieces.
5-6 cups reduced sodium hot chicken broth
4 tablespoons unsalted butter, divided
1 tablespoon olive oil
2 shallots, finely diced
1 ½ cups arborio rice or medium-grain white rice
½ cup dry white wine
¼- ½ cup grated Parmesan cheese
Salt and pepper to taste
Chopped fresh parsley for garnish
Instructions
Bring the chicken stock to a gentle simmer in a pot.
Trim off the tough ends of the asparagus and discard. Cut the stalks into 1" bite sized pieces on a diagonal. Add to the simmering broth and cook until slightly tender, but still firm and a little crisp. Remove the pieces with a skimmer and set aside.
Melt 2 tablespoons of butter and 1 tablespoon of olive oil in a large wide pot over medium heat. Add the diced shallots and cook until softened, or translucent, about 2 minutes. Add the rice and coat the grains with the butter until they just begin to turn translucent, about 3 minutes.
Add the wine and stir until almost all the liquid is absorbed, about 1 minute.
Add 1 cup of hot simmering broth. Wait until the broth is almost absorbed, stirring often, about 2 minutes. Add more broth, 1 cup or ladle full at a time, allowing each addition to be absorbed fully before adding the next and stirring often, until the rice is tender and the mixture is creamy, anywhere from 20-30 minutes. Add back the cooked asparagus pieces and stir.
When the rice is cooked and soft, but still a little firm, stir in 2 tablespoons butter, Parmesan cheese, and chopped parsley. Check for seasoning and adjust with salt and pepper if needed. Garnish with more fresh chopped parsley or Parmesan cheese if desired. Serve immediately. You're looking for the risotto to be creamy and soft, but not mushy and overcooked like porridge. Good risotto still has a little bite to it.
TIP: If you want to make risotto in advance, cook as above until it is about ¾ of the way done. Reserve the remaining chicken stock. Pour the risotto into a half sheet pan or shallow casserole dish to cool. Cover and store in the fridge. When ready to serve, add cold risotto back into a large pot and heat with the remaining simmering chicken stock. Stir in the butter and Parmesan cheese right before serving.