The Miracle Balsamic Glaze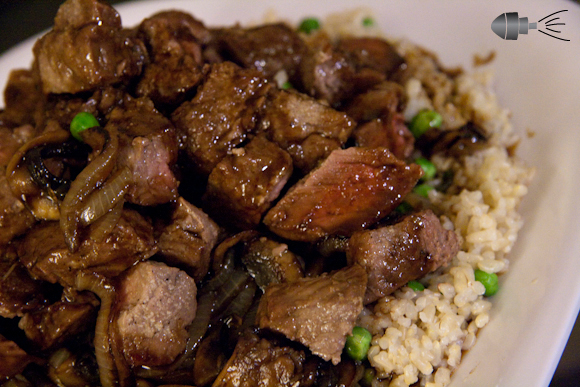 Anytime I make this sauce and drizzle it over ANYTHING, I usually get excited and happy reactions over it. In the words of my friend, "Yo, that sauce is the BOMB!" And according to the husband, it's equally as good on fish as it is on steak.  This is why I think it's a miracle glaze.  The best part of it all is that it's so easy to make!  
I came up with this idea when I was trying to get a job at Whole Foods as a demonstration chef and department demo coordinator.  They asked me to come to the interview with a cooking demonstration using any one of their products.  So I thought about using their 365 brand balsamic vinegar and pairing it with a typical Asian ingredient: soy sauce.  Of course butter makes everything better, so in that went.  I served this glaze over shrimp stuffed with sage and wrapped in bacon.  And yes, I got the job.
For those of you who don't like vinegar, you might pass out during the cooking process because while the balsamic is reducing down, you will get hit in the face with the pungent vinegar smell.  However, if you get past it, the actual taste of the resulting sauce has just the very slightest hint of vinegar to it.  Funny how that happens, huh?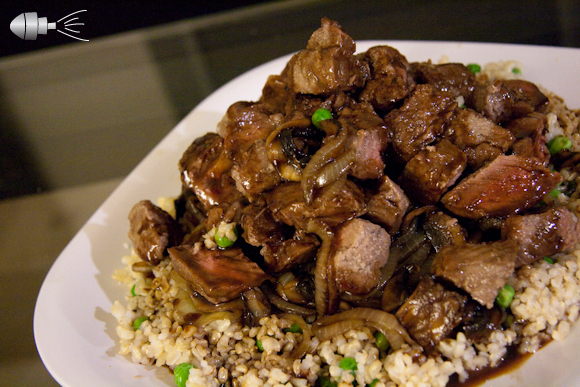 Here I featured some regular steak meat cooked with salt, pepper and garlic powder. I sauteed some onions and sliced mushrooms in olive oil, salt and pepper in a skillet, separately and plated it over a bed of brown rice mixed with frozen green peas. After the beef had a chance to rest, it was cut into smaller bite size pieces and placed on top of the onion mixture.  It was drizzled with glaze and was a creamy, sweet and salty delight.

The Miracle Balsamic Glaze
This sauce is a crack glaze that tastes good on just about anything. You want it to be less sweet? Add less sugar.
Ingredients
⅓ cup balsamic vinegar
⅓ cup sugar
2 T soy sauce or to taste
2 T butter to finish the sauce (it makes it rich and glossy!)
Instructions
In a small sauce pan, over medium heat, cook the balsamic and sugar down until it is reduced by half and turns into a thicker syrup. But be careful, and don't walk away while it cooks. If it reduces too much, or gets too thick, it can scorch and the sauce will be ruined. Take it off the heat and add the soy sauce, more or less to taste.
Right before serving, at the very last minute, heat the sauce again and add the butter and whisk it together until it froths a little bit. Take it off the heat and drizzle over whatever you are using, whether it is fish, veggies, chicken or beef.