Spicy Cold Buckwheat Noodles (Bibim Naengmyeon : 비빔냉면)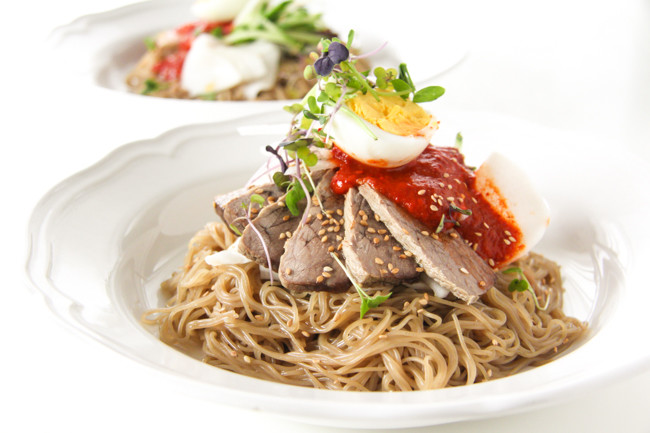 I remember walking around on a scorching hot day in Korea last summer, and the overwhelming feeling of relief we felt after taking that first bite of Naengmyeon, or cold buckwheat noodles.  There are two kinds of Naengmyeon dishes, one served in a chilled broth, and the one I'm sharing with you today, which is topped with a spicy sauce. Both versions feature sweet, crunchy, and tangy elements and that's what makes this cold noodle dish even more refreshing and addicting!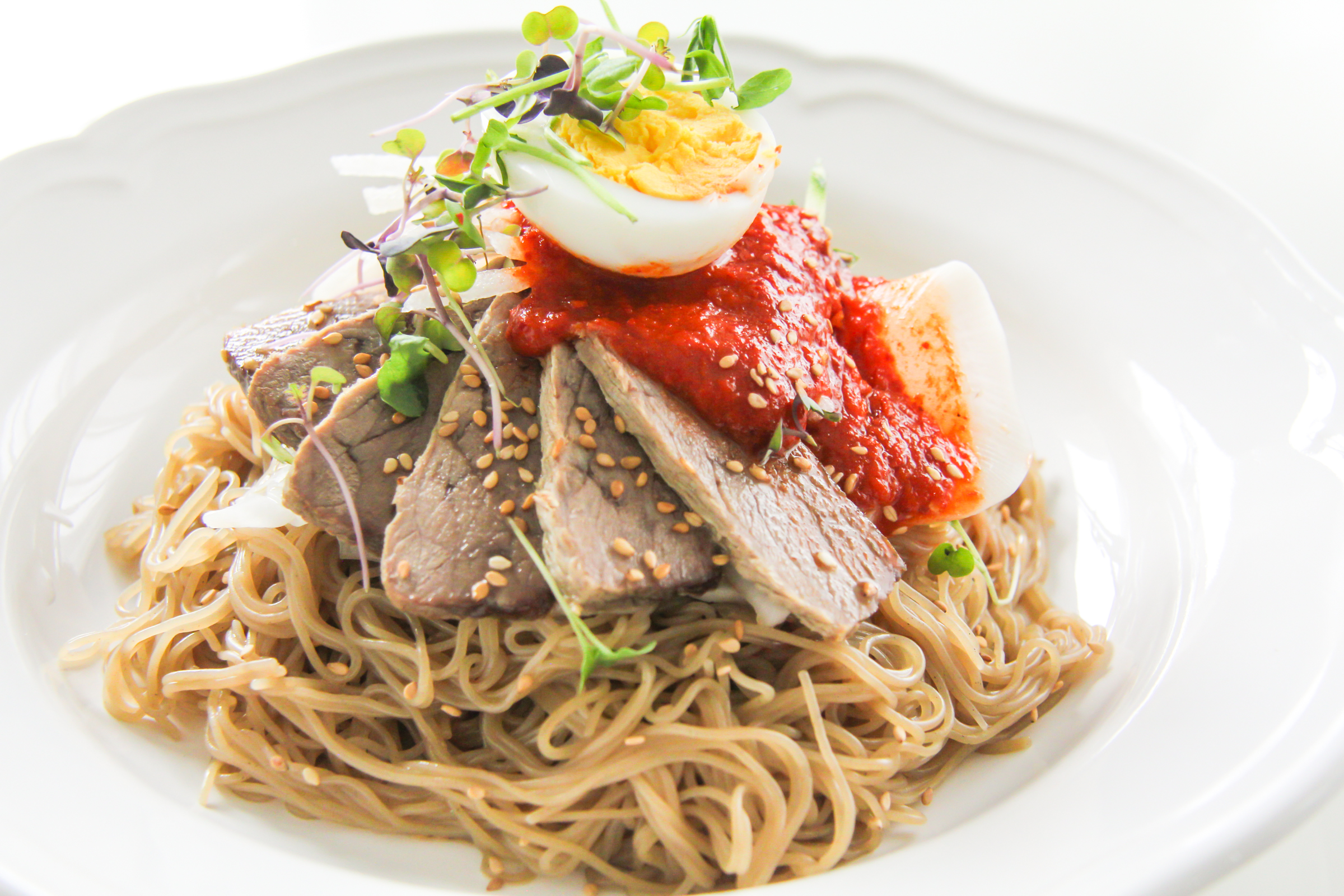 I usually order the one with the broth, but Joe opts for the spicy kind called Bibim Naengmyeon, which translates to "Mixed Cold Noodles."  I figured I might as well learn to make it at home so he could have it more often.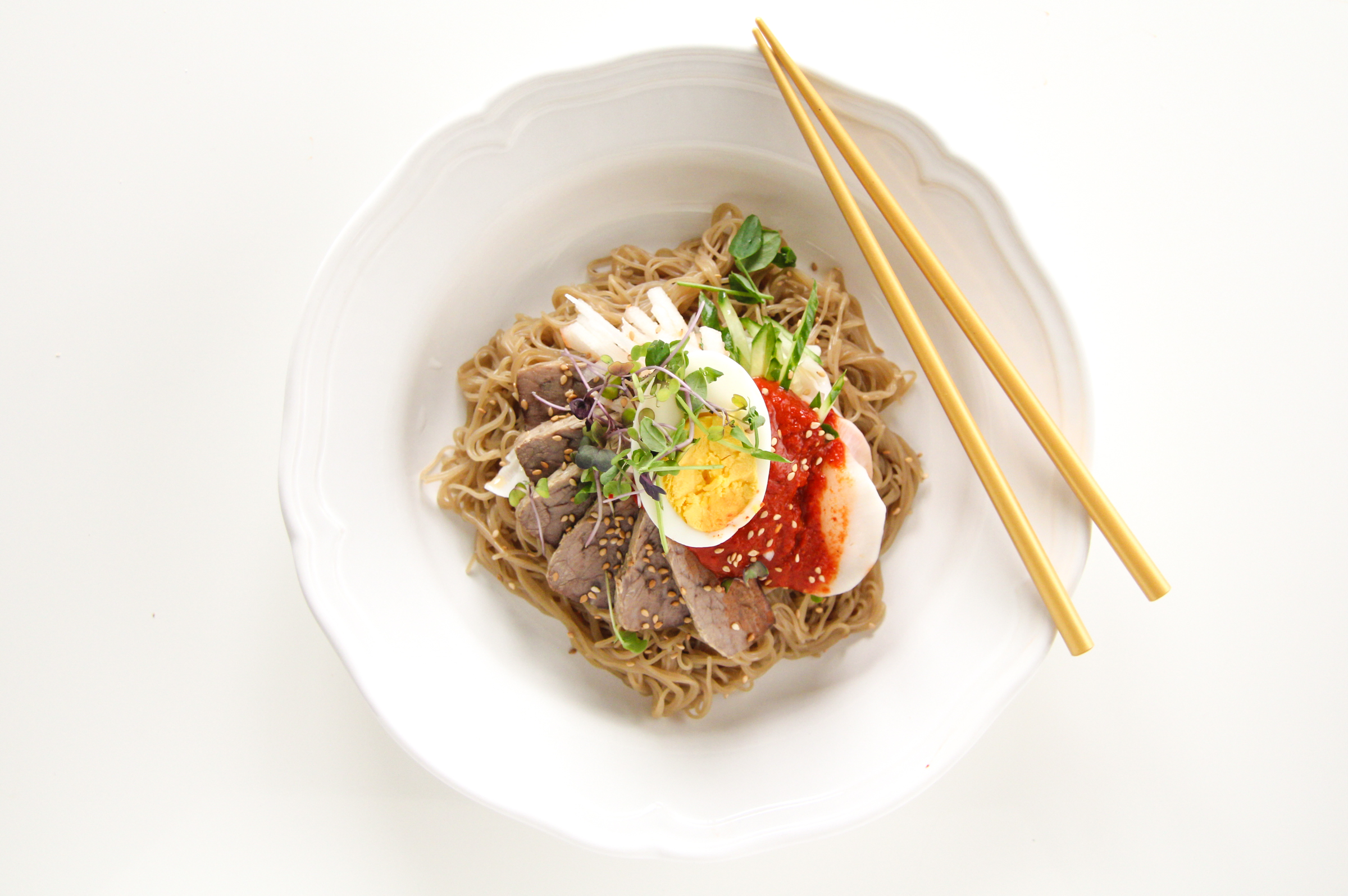 The toppings are traditionally cold sliced beef brisket, cucumber, Asian pear or pickled radish, and half of a boiled egg. I'm greedy so my recipe requires BOTH the pear and the radish. I just like the variety in crunchy textures and juicy flavors.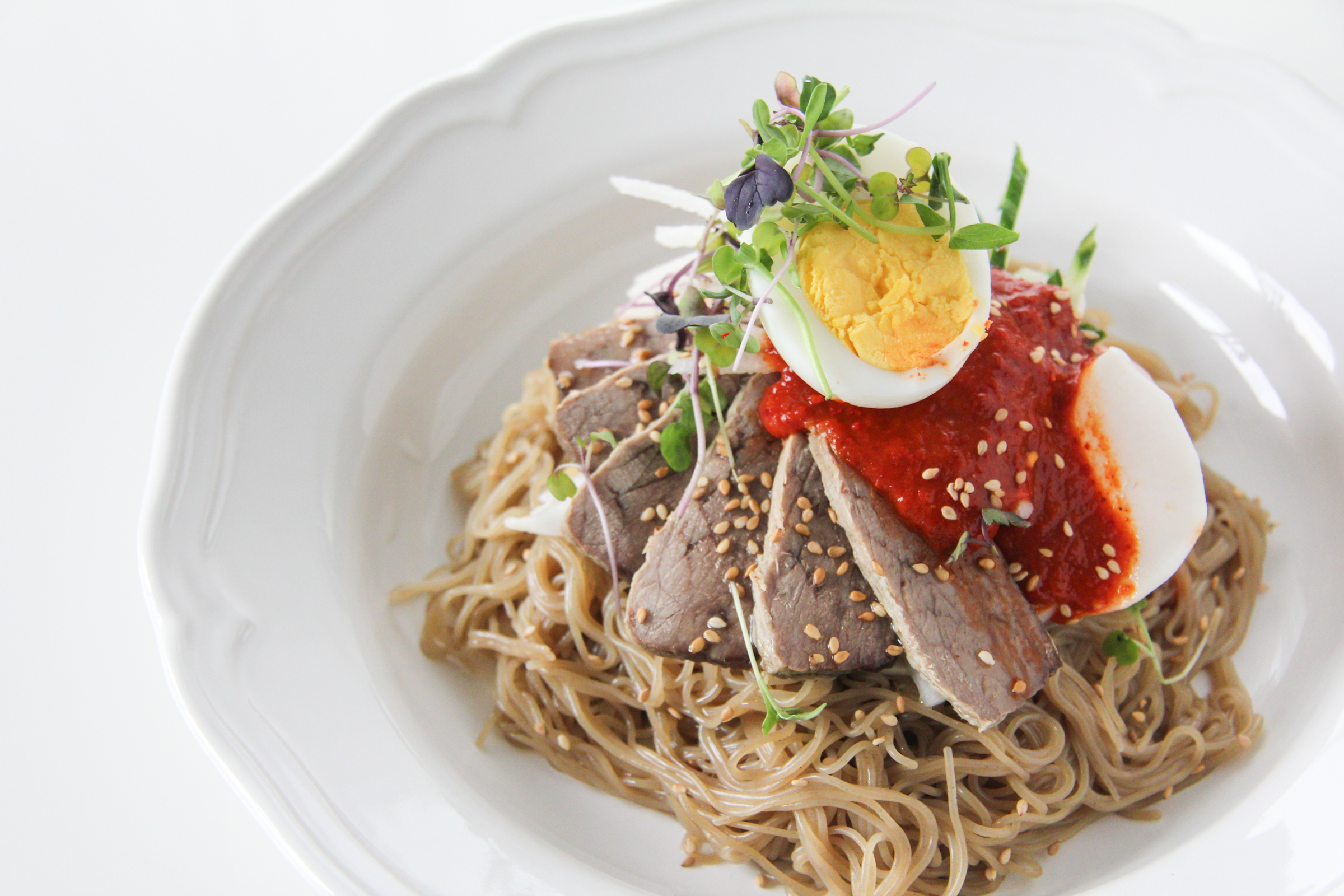 Everything works so well together and it's a completely hearty and satisfying meal even though it's a chilled dish.  And since the weather is FINALLY getting warmer around here, I knew it was time to feature this recipe.  By the way, we live in Chicago and this has been the longest winter ever. I predict we will skip right through spring and be suddenly hit with summer.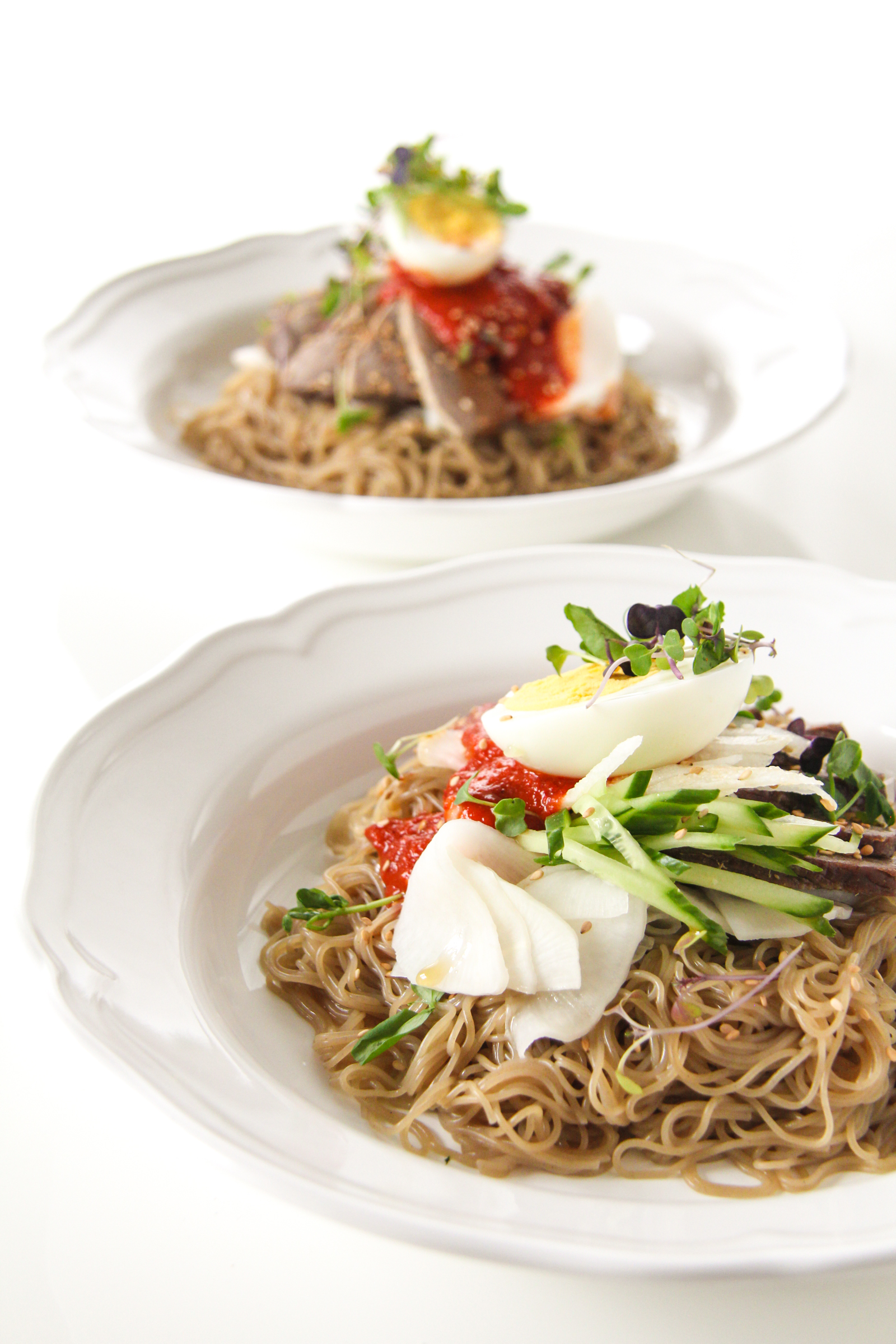 The spicy sauce is simply made, but it does taste better when you make it beforehand. As it sits in the fridge, the flavors just meld better together and become richer and more complex.  But you can totally make everything all in one day and it will still be scrumptious!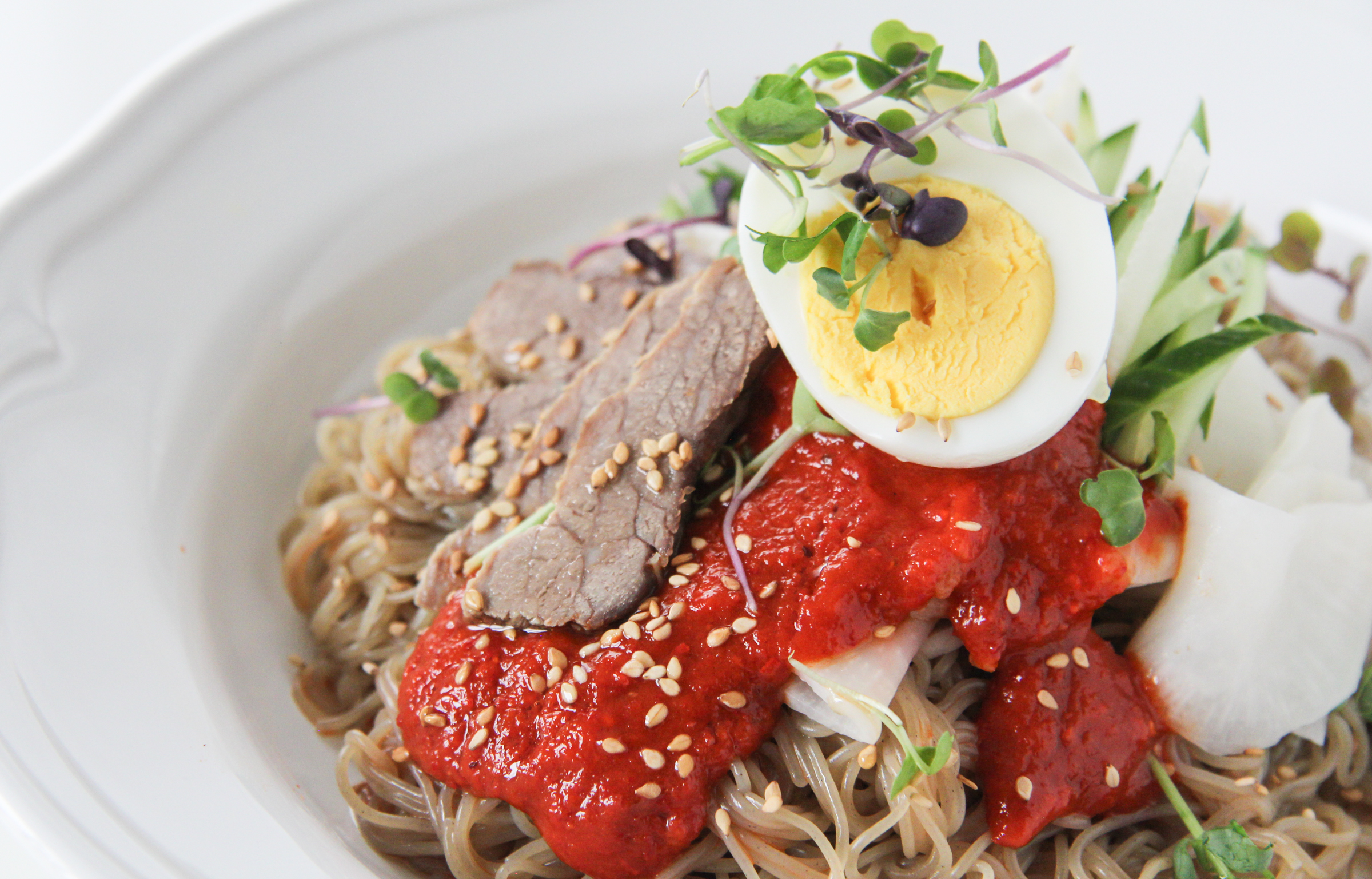 The best part is if if you make the sauce and cook the beef in advance, all the other elements are so easy to assemble, which means you can whip this tasty dish in a jiffy and spend less time in the kitchen, especially when it's scorching hot outside.  Watch how I make this spicy cold Bibim Naengmyeon in EPISODE 14 of Bits & Pieces SEASON 4 BELOW:
WATCH HOW I MAKE BIBIM NAENGMYEON, SPICY COLD BUCKWHEAT NOODLES HERE:

I think the most unique feature about these noodles is how chewy and elastic they are.  You have to be careful not to overcook them or they won't have that bite.  And don't cook them too far in advance.  Only plop them into the boiling water when you're absolutely ready to serve.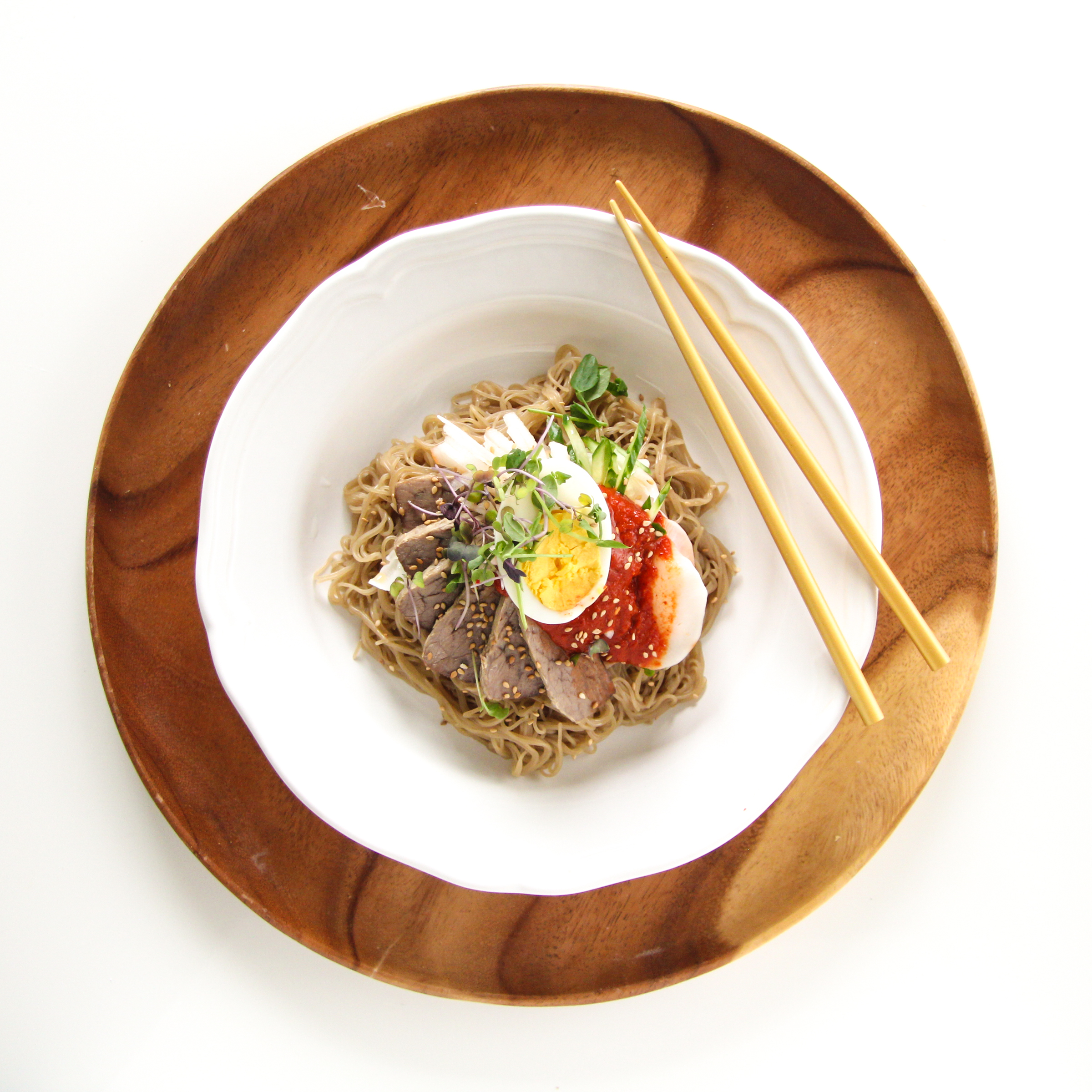 That's the challenging thing about making videos and being a food blogger.  By the time we finished taking our photography and sat down to eat it, our noodles became one congealed blog.  But after a bit of coaxing and poking with our chopsticks, they loosened their grip and still tasted delightful.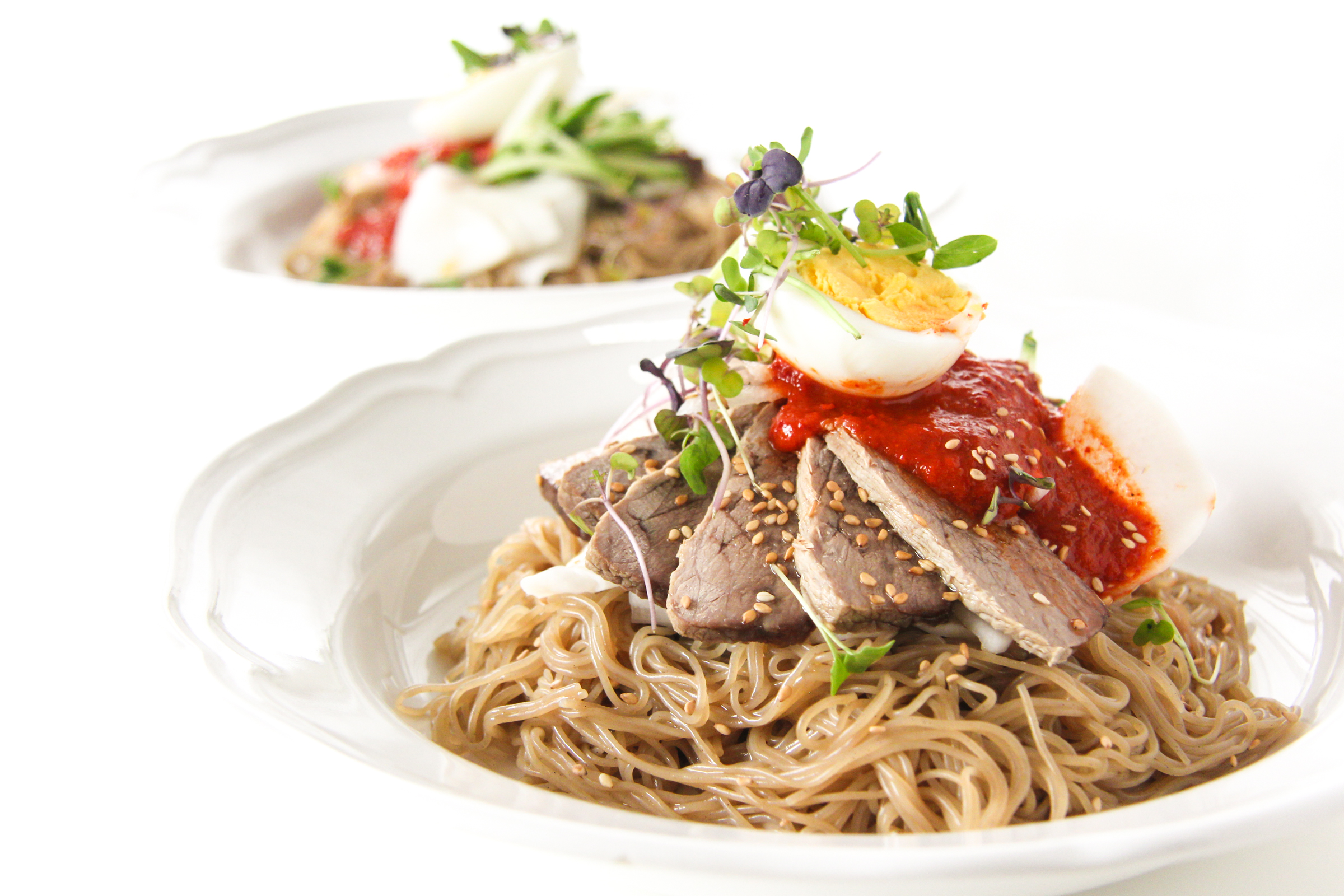 Kitchen scissors are your best friend as well. Even at the restaurant, the server will usually ask if you want your noodles cut and they bring the scissors to the table and cut through your noodles in one swift motion. It makes it easier to coat each strand with the savory, sweet, and spicy sauce.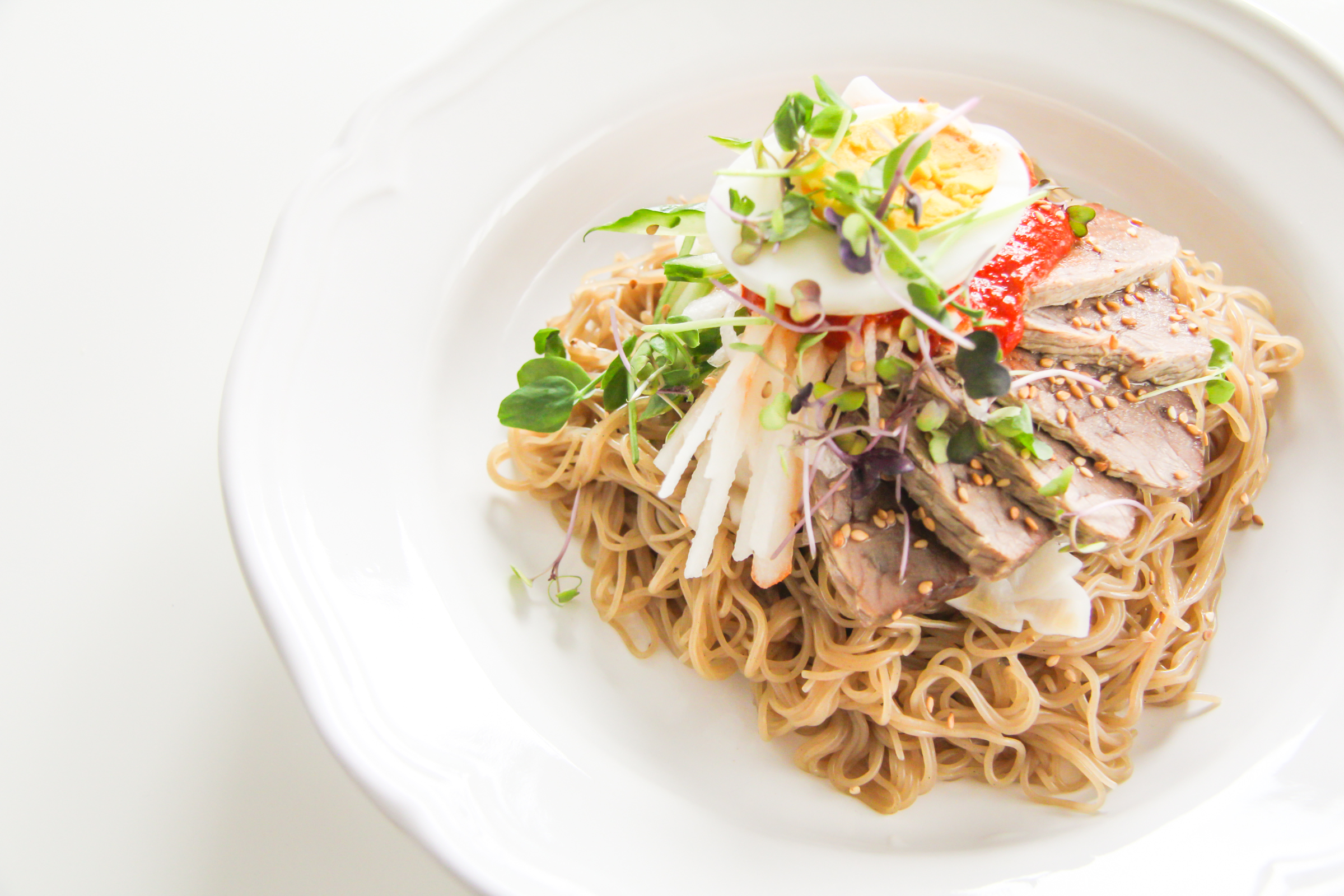 The most time consuming part of this recipe is boiling the beef brisket, but it's not hard to do. You just need to plop it into boiling water and call it a day. But it's so worth it because not only does the tender beef add flavor to the dish, but the resulting broth gets added into the sauce as well!  If you're vegetarian, of course you can skip this step, and just make the sauce with water instead.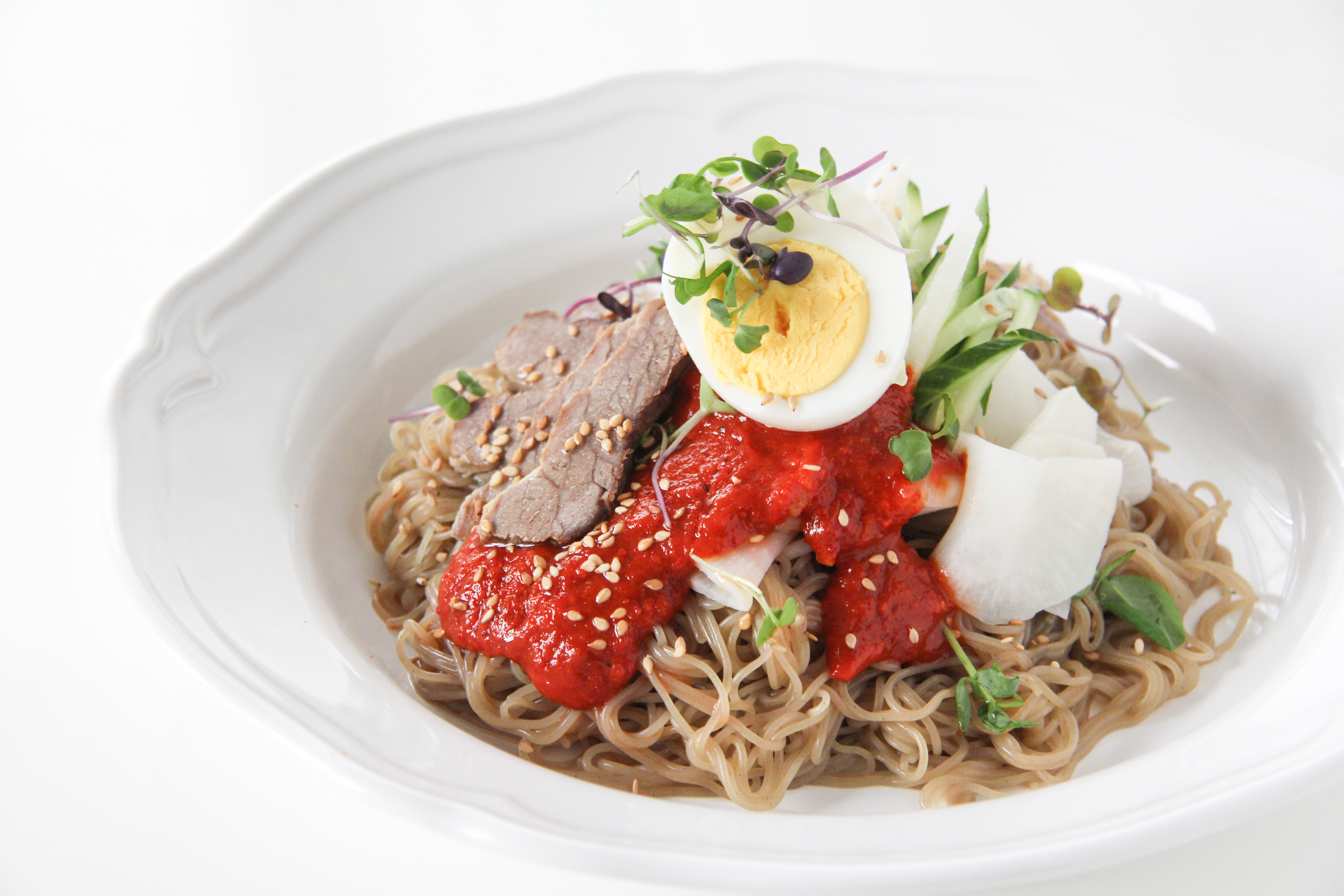 But my favorite part of this recipe (as well as Joe's) is the sweet and sour pickled radish.  It's crunchy and bursting with flavor.  It adds so much dimension to the whole dish in both texture and flavor.  I say it's a key element, but the good news is that since it's a quick pickle, it's easy to make too!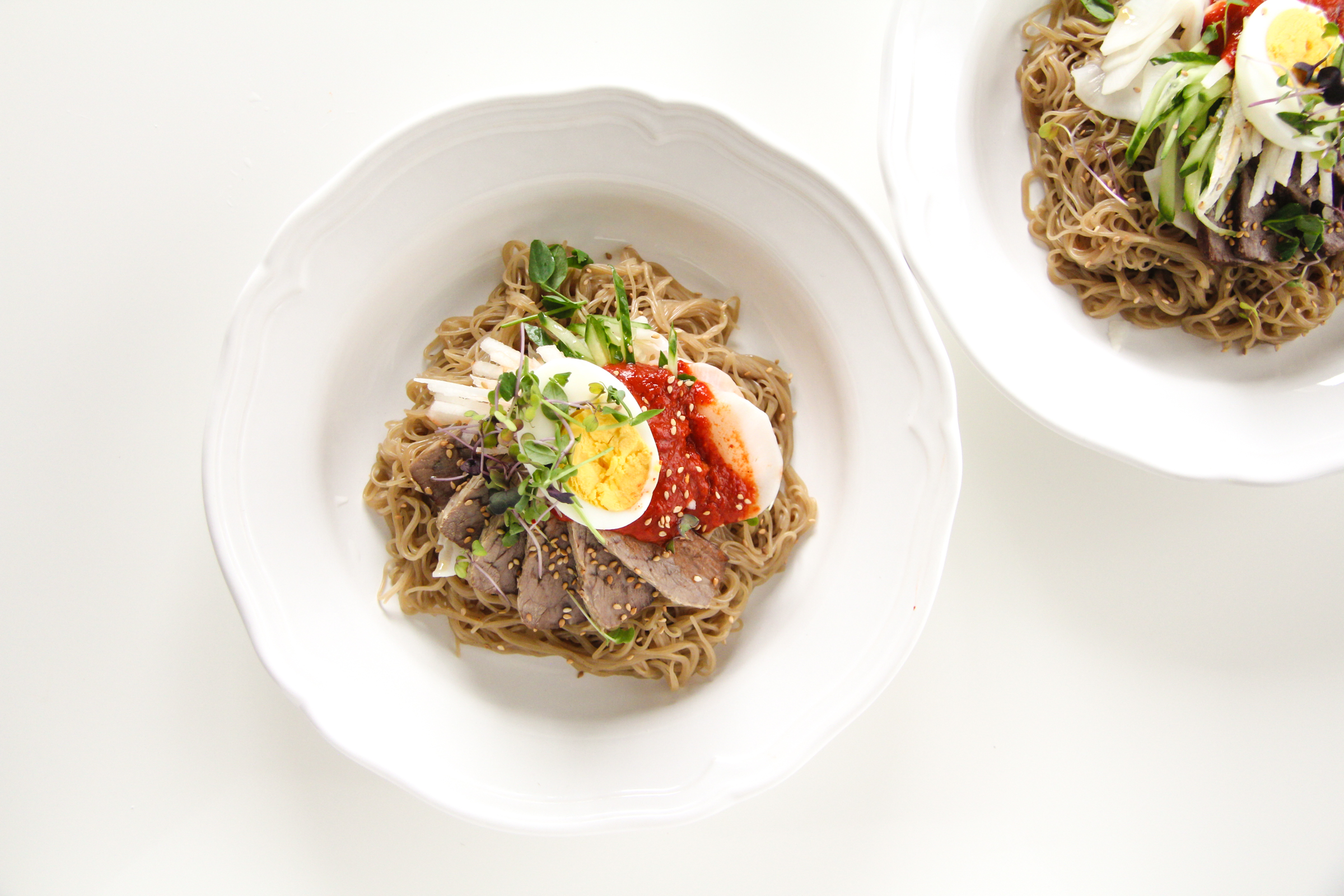 Asian pear is hard to find sometimes, although it's gaining more and more popularity in even regular grocery stores.  It's so watery, crisp, and sweet.  It adds that perfect little touch to make this dish truly refreshing. But if you can't find it, you can always substitute with a Bosc pear. It won't be exactly the same, but you'll get the idea.
I just love taking the time to plate it nicely, even though in the end, it's just going to turn into one huge old mess.  I like to place the ingredients fanned out in a circle so that it looks gorgeous from every angle… even from the booty side.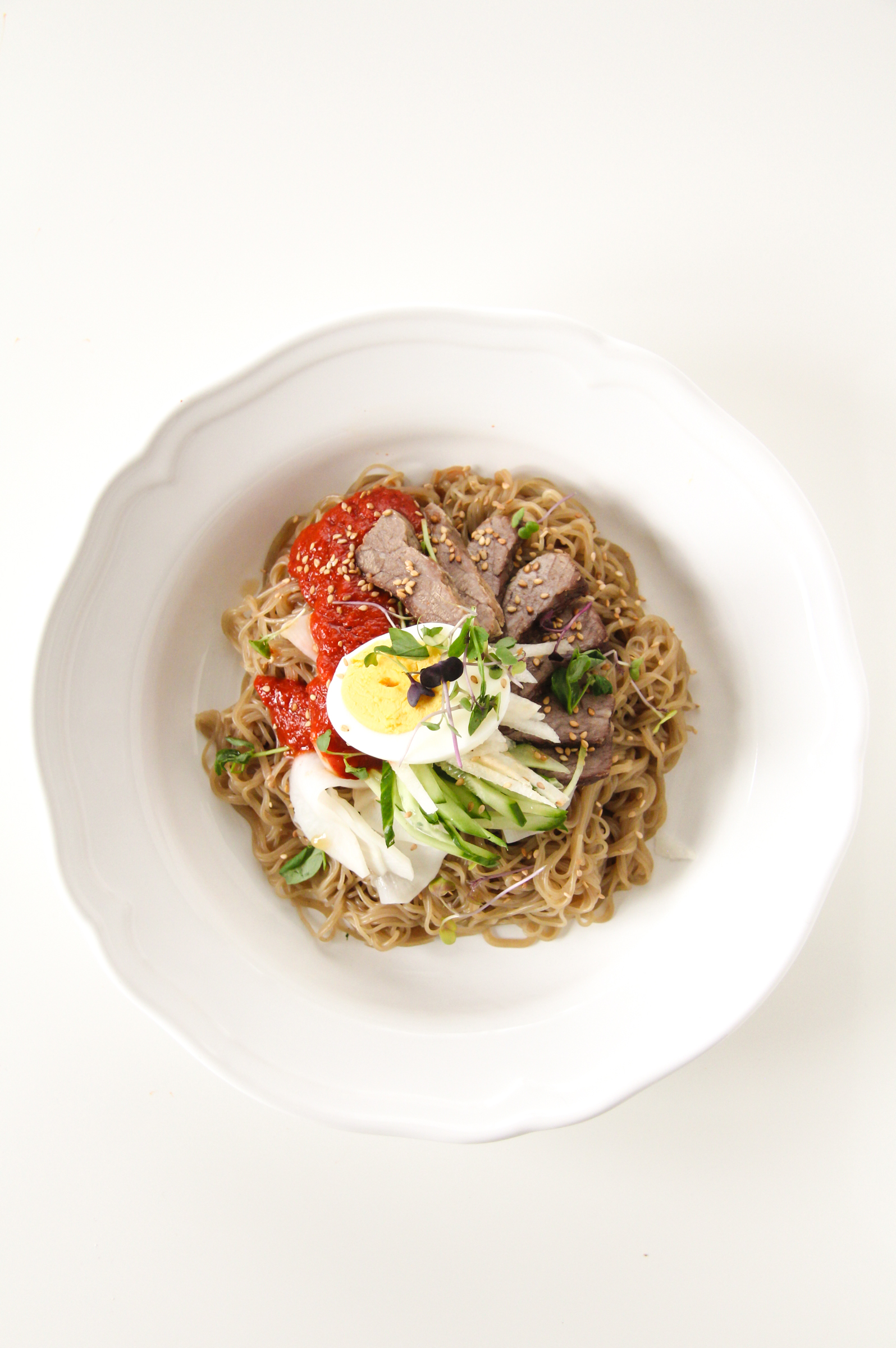 And if you're worried about the spice level, don't fret my pet… simply add less sauce on top.  Likewise, if you're a fan of heat, before you go crazy and dump a truckload on top of your noodles, be warned that there will be a slow burn. The first bite will be okay and then as you keep eating, you'll be sweating like you just came back from the gym!  I've witnessed my spice-loving husband wave his white flag.
But don't be scared to try this, because besides the heat, there are savory, sweet, and sour notes that make this dish crave-able. So when it's too hot outside to think, make sure you have a package of Naengmyeon noodles in your pantry so you're ready to go.  I predict this will be your go-to recipe all summer long.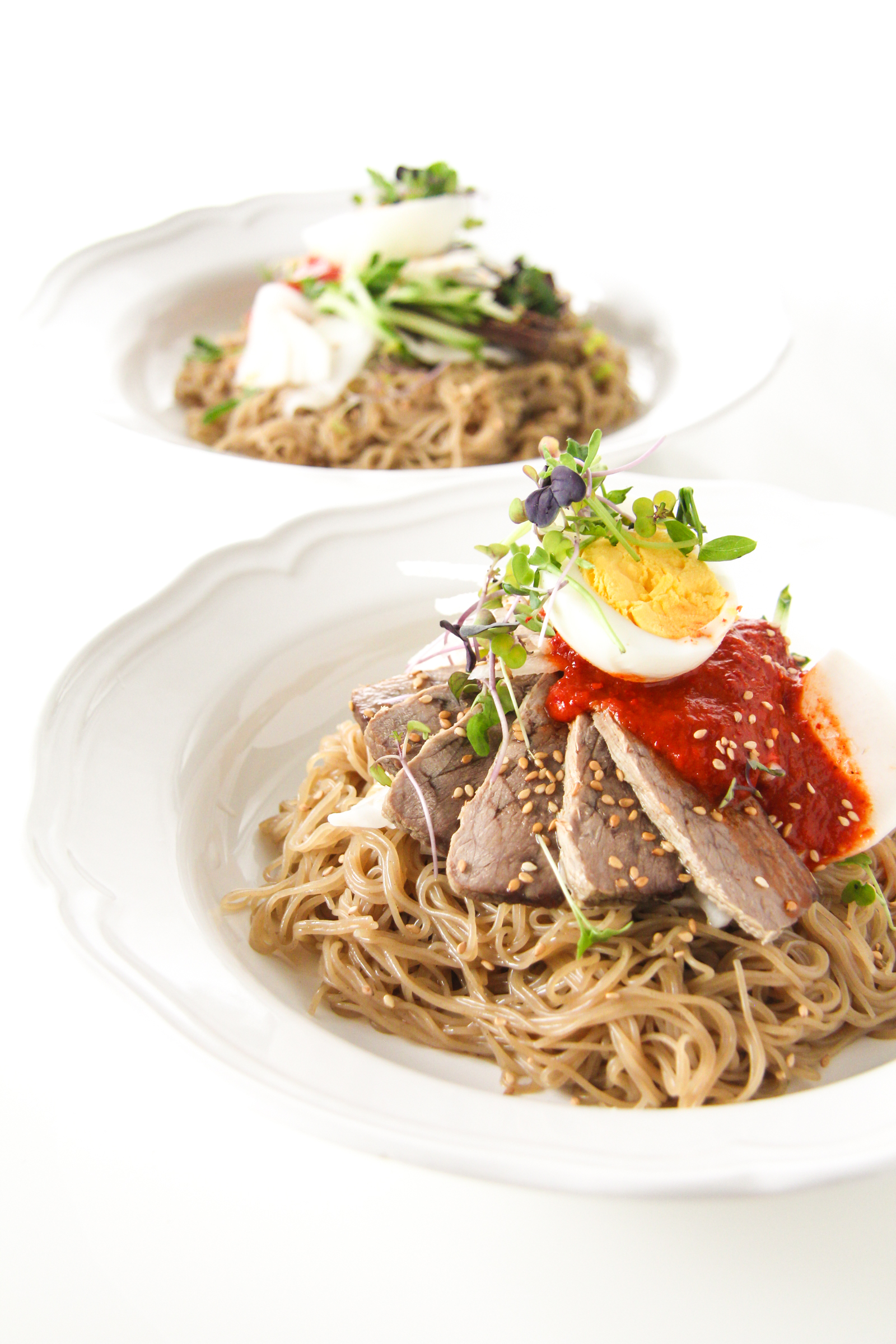 If you enjoyed this VIDEO, SUBSCRIBE to our COOKING SHOW CHANNEL HERE.  It's FREE! : Chef Julie Yoon

Spicy Cold Buckwheat Noodles (Bibim Naengmyeon : 비빔냉면)
Nothing is more refreshing than a chilled bowl of Bibim Naengmyeon, or Korean buckwheat noodles with spicy sauce and toppings. When its hot outside, this dish is pretty hard to beat.
Ingredients
1 (16 oz) package of dried Naeng Myeon noodles (Korean buckwheat noodles)
1 lb. beef brisket (you can keep this dish vegetarian and omit beef)
2 hard boiled eggs
½ of an English Cucumber, cut into matchsticks
½ of an Asian Pear, cut into matchsticks
Sesame oil for drizzling
Toasted sesame seeds for garnish

Quick Pickled Radish:
8 ounces Korean radish, peeled, halved, and sliced very thinly into half moons
2 tablespoons white distilled vinegar
3 tablespoons sugar
2 teaspoons kosher salt

Spicy Bibim Sauce :
½ of a small onion, roughly chopped
1 teaspoon minced garlic
2 tablespoons Gochujang (Korean red pepper paste)
1 tablespoon white distilled vinegar
2 tablespoons sugar
3 tablespoons Gochugaru (Korean red pepper powder)
1 teaspoon Kosher salt
About ½ cup of reserved cooled beef broth (or water)
Instructions
*NOTE: Although you can make everything in this recipe in 1 day, It's best to cook the beef and make the sauce the day before. Not only does the beef take a couple hours to cook, but you can use the resulting chilled broth to make the sauce more flavorful. Likewise, the sauce tastes better made the day before, because the flavors have more time to meld together as it sits in the fridge.

In a bowl, soak the beef in cold water for about 20 minutes to draw out the blood, then drain. In a medium pot, add enough water to cover the beef. Over high heat, bring to a boil. Skim off any scum that forms. Lower the heat to medium low and simmer covered for about 1 ½- 2 hours, or until tender. Add more water as needed. Remove beef from water and let it cool. Set aside in the refrigerator and save reserved broth in a separate container. Remove any fat that forms. This is easier to do when the broth is chilled.
In a blender, purée the ingredients for the sauce until smooth. Set aside the mixture, cover, and refrigerate until ready to use. If you can't prepare this sauce the day before, place in the refrigerator for about an hour or two before serving to give the ingredients a chance to meld.
In a medium bowl, whisk together the pickling ingredients for the radish (salt, sugar, and vinegar). Add the slices of radish, toss to coat, and set aside for 20 minutes to wilt. Make sure to toss the radish in the liquid occasionally. Rinse with water, and squeeze gently to remove excess moisture. Set aside.
Cook the noodles only when you're ready to serve. In a large pot, bring water to a boil. Cook the noodles for about 2-3 minutes, until soft, but slightly chewy and elastic. Drain and rinse with cold water well. Hold the noodles in your hands and rub them under the running water, as if you're doing the laundry by hand. Divide the noodles into 4 piles. It's okay for the noodles not to be well drained. This will help to thin out the sauce slightly, making it easier to mix with the sauce in the bowl.
Cut the beef along the grain in very thin slices. Cut hard boiled egg in half lengthwise. Place a mound of noodles in the center of the bowl. Place a pile of pickled radish on one side of the noodles. Next to the radish, fan the sliced beef, and next to the beef, add the julienned pear and cucumber. Leave a space to spoon some of the bibim sauce on top of the noodles. Drizzle with some sesame oil (especially over the beef), and sprinkle with sesame seeds. Add half of a hardboiled egg in the center. Serve immediately.

TIP: Use kitchen scissors to cut through the noodles a couple of times to make them easier to mix and eat.