Korean Fried Chicken (Dakgangjeong : 닭강정)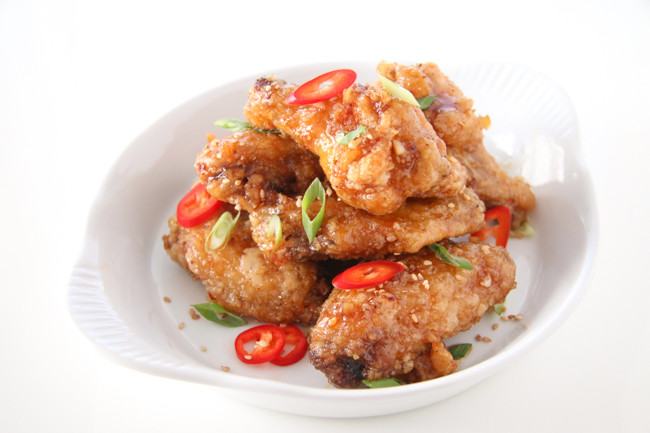 I love fried chicken in any form…seriously it's my weakness and all my friends know it…but Korean fried chicken is something extra special.  Dakgangjeong is sweet crispy fried chicken.   Dak means chicken and Gangjeong is a type of Korean sweet that is fried and coated in a sticky sauce. Can the name be any more self explanatory? They crackle when you bite into them, but they remain juicy and soft on the inside.
This is due to TWO reasons:
1. They are coated in potato starch
2. They are DOUBLE fried.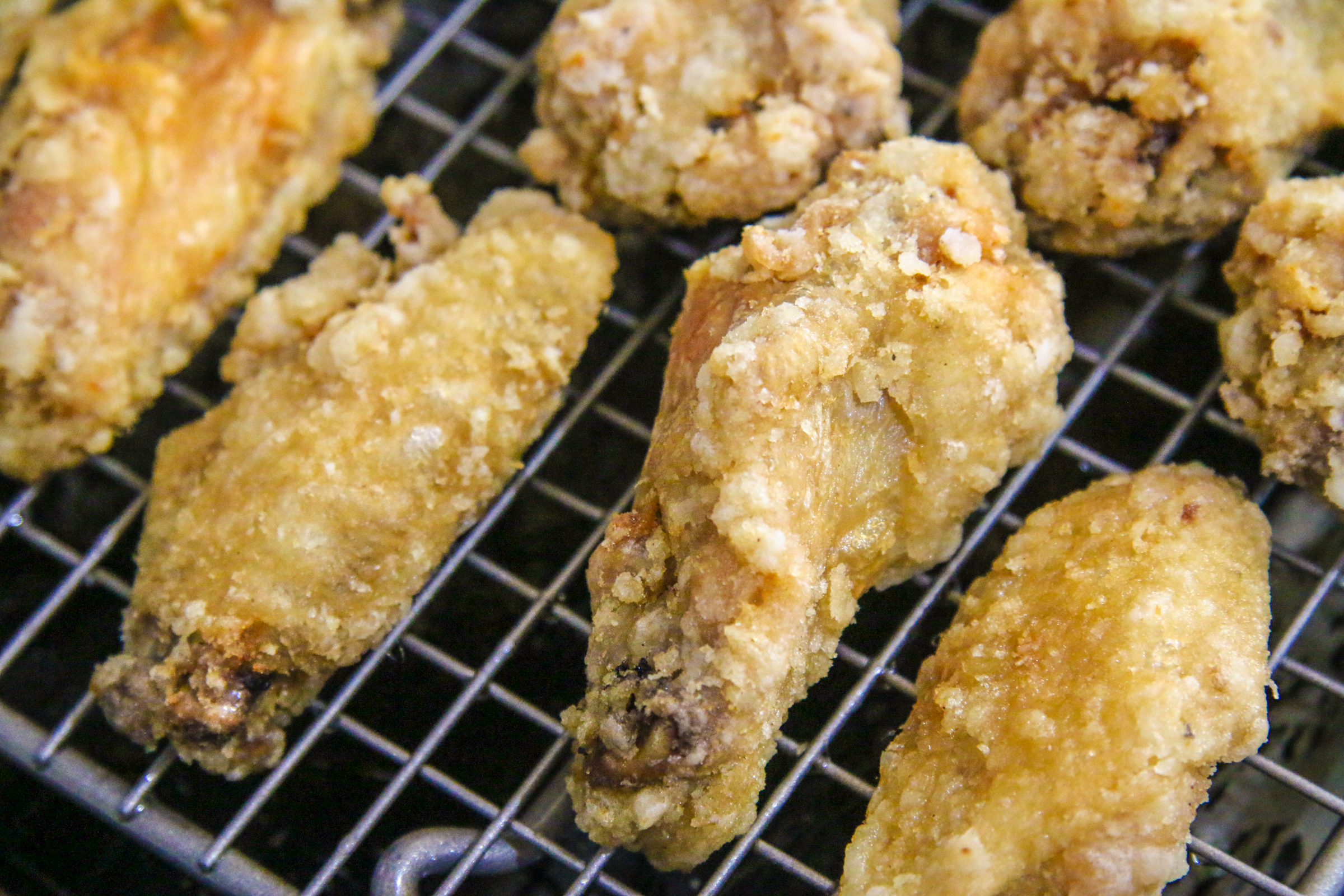 What I love the most is that these wings are exceptional party food because you can make them in advance and hold them at room temperature.  Even though they're covered in a sauce, they somehow remain super crispy.  There's nothing worse than soggy fried chicken right?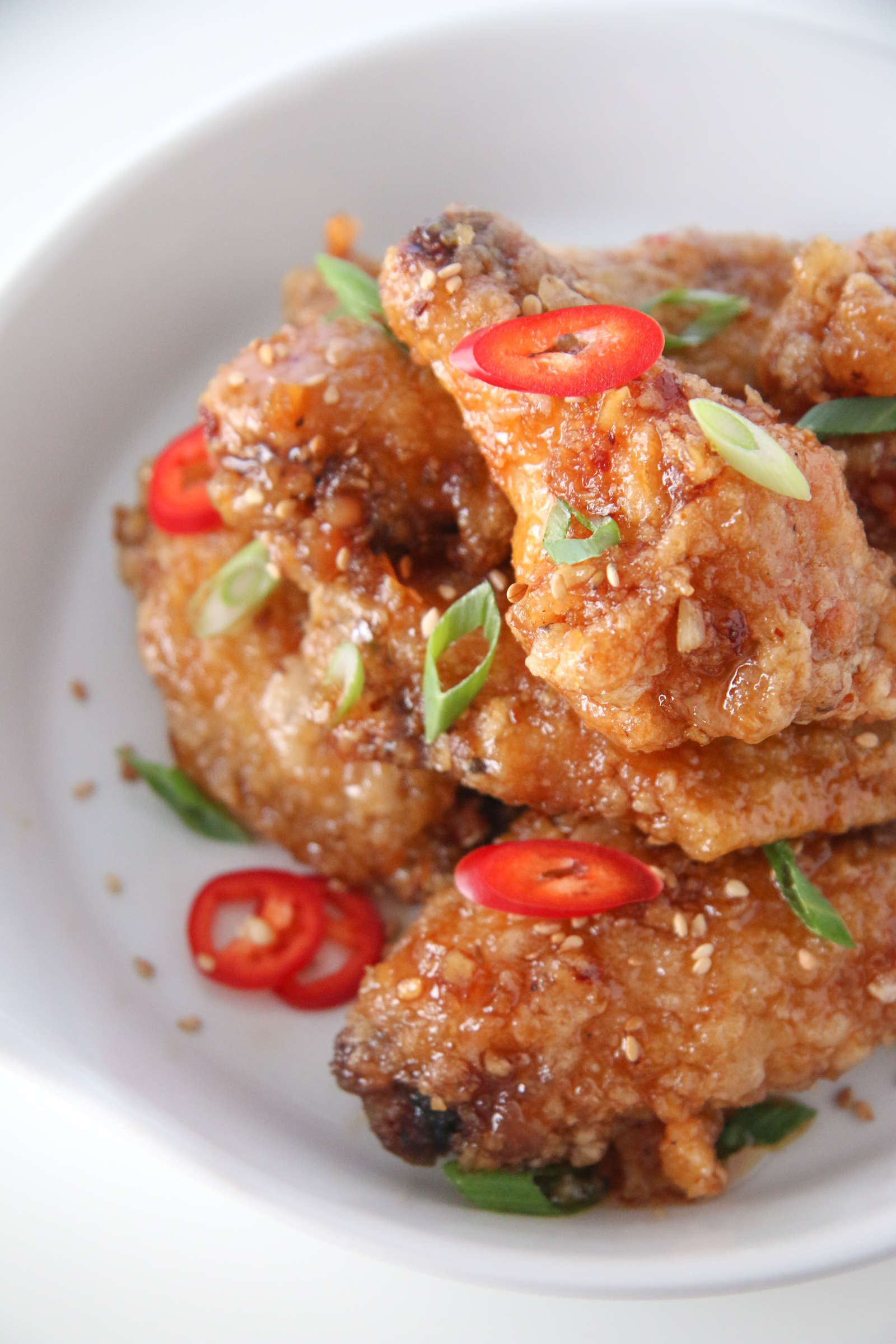 In fact, in a Korean household, you will most likely see these wings on the table whenever there's a special occasion.  And you bet they get snatched up in an instant. These are crowd pleasing wings because they're sweet rather than spicy, so kids love them too.  I remember this being one of my childhood favorite dishes and I'd love whenever we'd go to a Korean wedding at our church because I knew these wings would be there!
But there's no need to wait for a special occasion to make them because even though there are a few steps required, they're all pretty easy to tackle.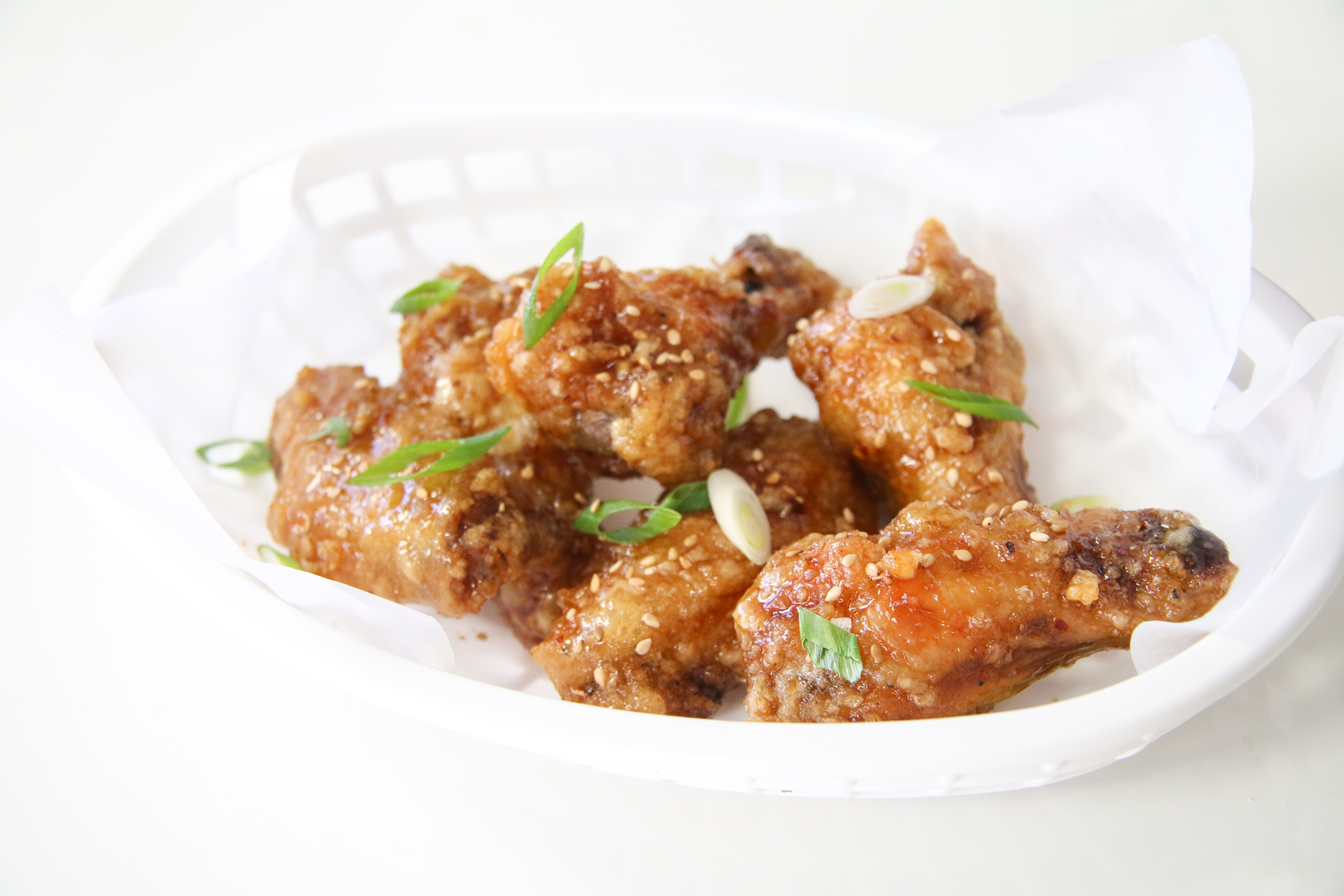 I'd honestly make them more often for a potluck or party, but the problem is that I know I'd have to make A LOT, maybe even doubling or tripling this recipe, because they'd be gone as soon as I put the platter on the table!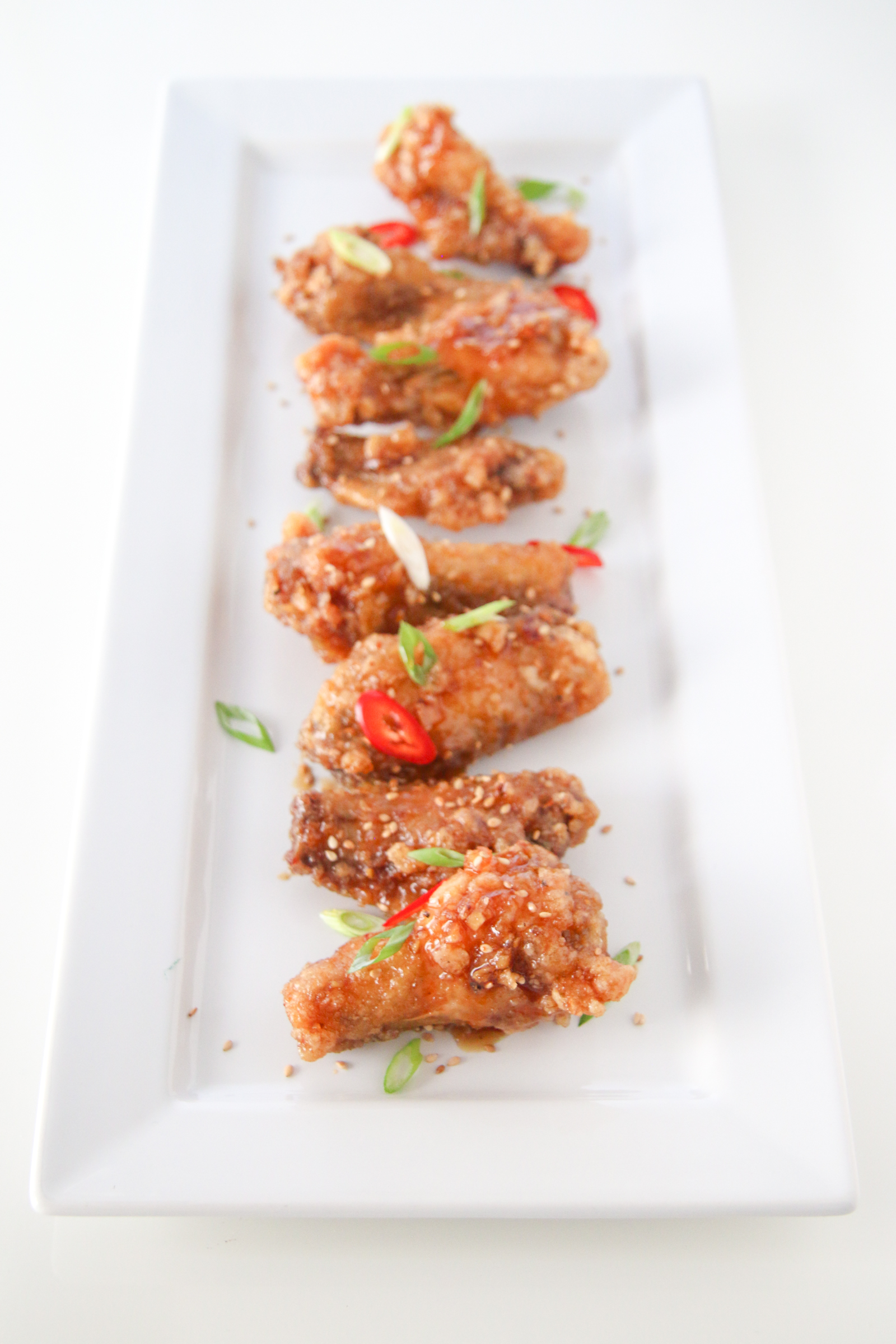 So for now, I selfishly make them at home and EAT THEM ALL (cue maniacal laughter).  You can see how I make these addictively sticky sweet Korean fried chicken wings, Dakgangjeong in EPISODE 15, our SEASON FINALE for Bits & Pieces SEASON 4.  But I should probably be a pal and warn you not to watch this video late at night when you're about to go to sleep because it will make you CRAVE these wings like no other!  Watch how I make them BELOW:
WATCH HOW I MAKE KOREAN FRIED CHICKEN WINGS IN OUR SEASON FINALE HERE:

You guys, I can't believe this is our LAST episode for Season 4 already. I'm not going to lie, it was really challenging for me to come up with all Korean inspired recipes for this season.  It's not natural for me to be cooking only Korean food all the time.  But I had a blast coming up with these recipes (while ripping out my hair) and I hope you enjoyed them!  If you're new here and have no idea what I'm talking about, just look back at the last 14 episodes I made before this one!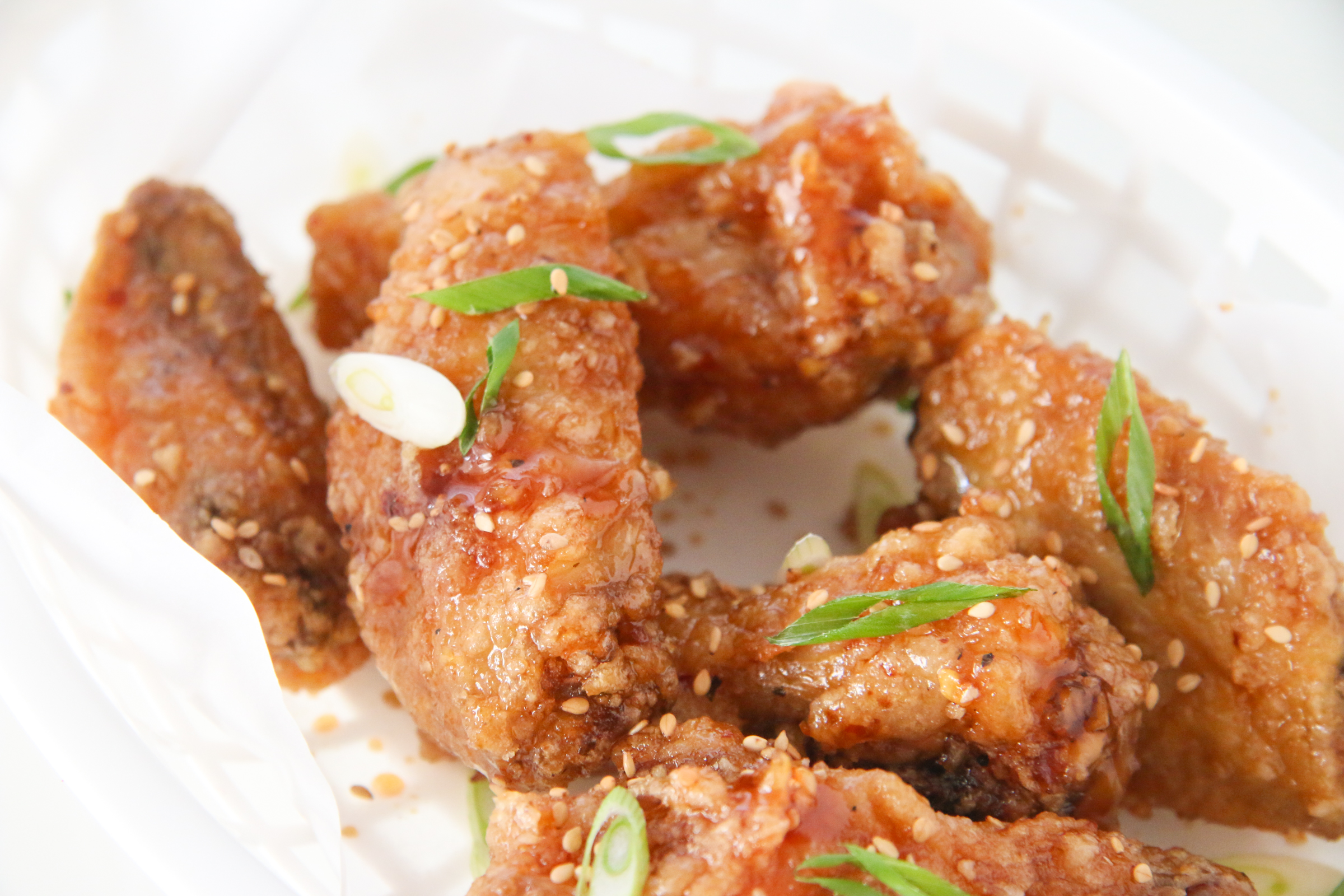 Okay enough with the cheers and tears…back to the chicken…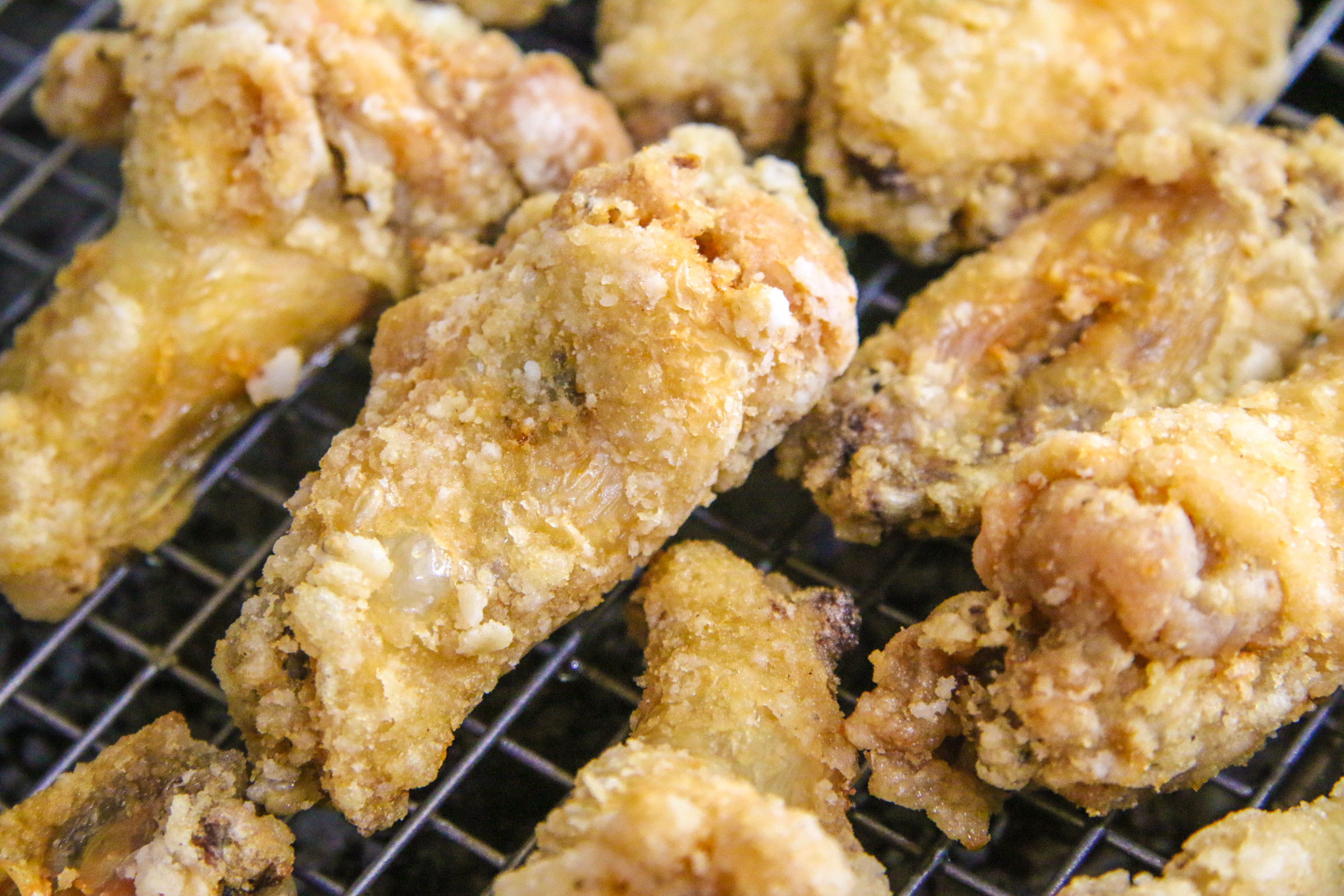 You know…even though I LOVE the sticky sweet sauce that clings onto these wings, I also like eating them plain and undressed!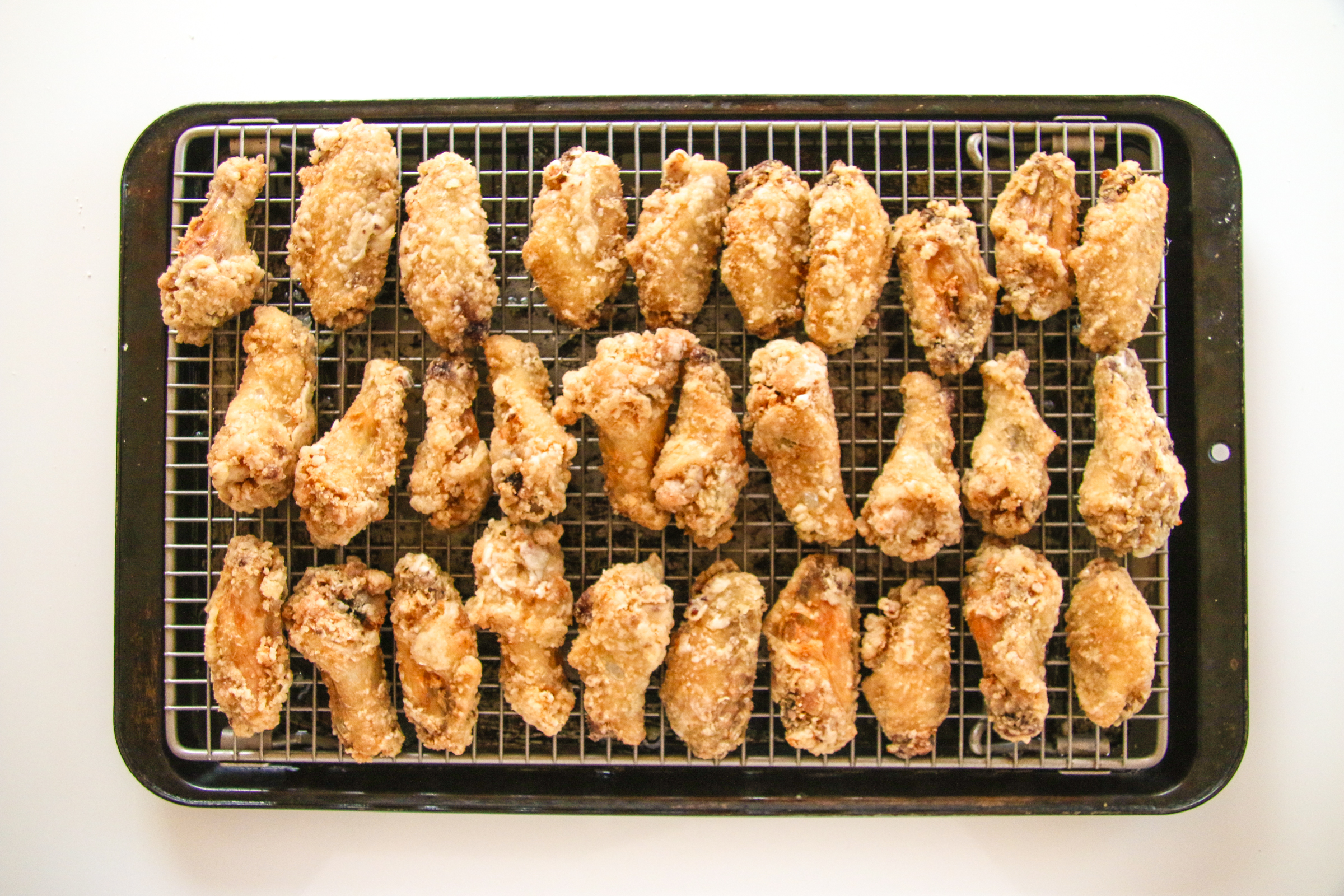 If that's more your style, just be sure to sprinkle them with salt and pepper, or any creative seasonings of your choice after their second fry, and while they're still hot. I promise you that they'll be BOMB!  I'm already thinking about how amazing they would be with either a cajun or lemon pepper seasoning!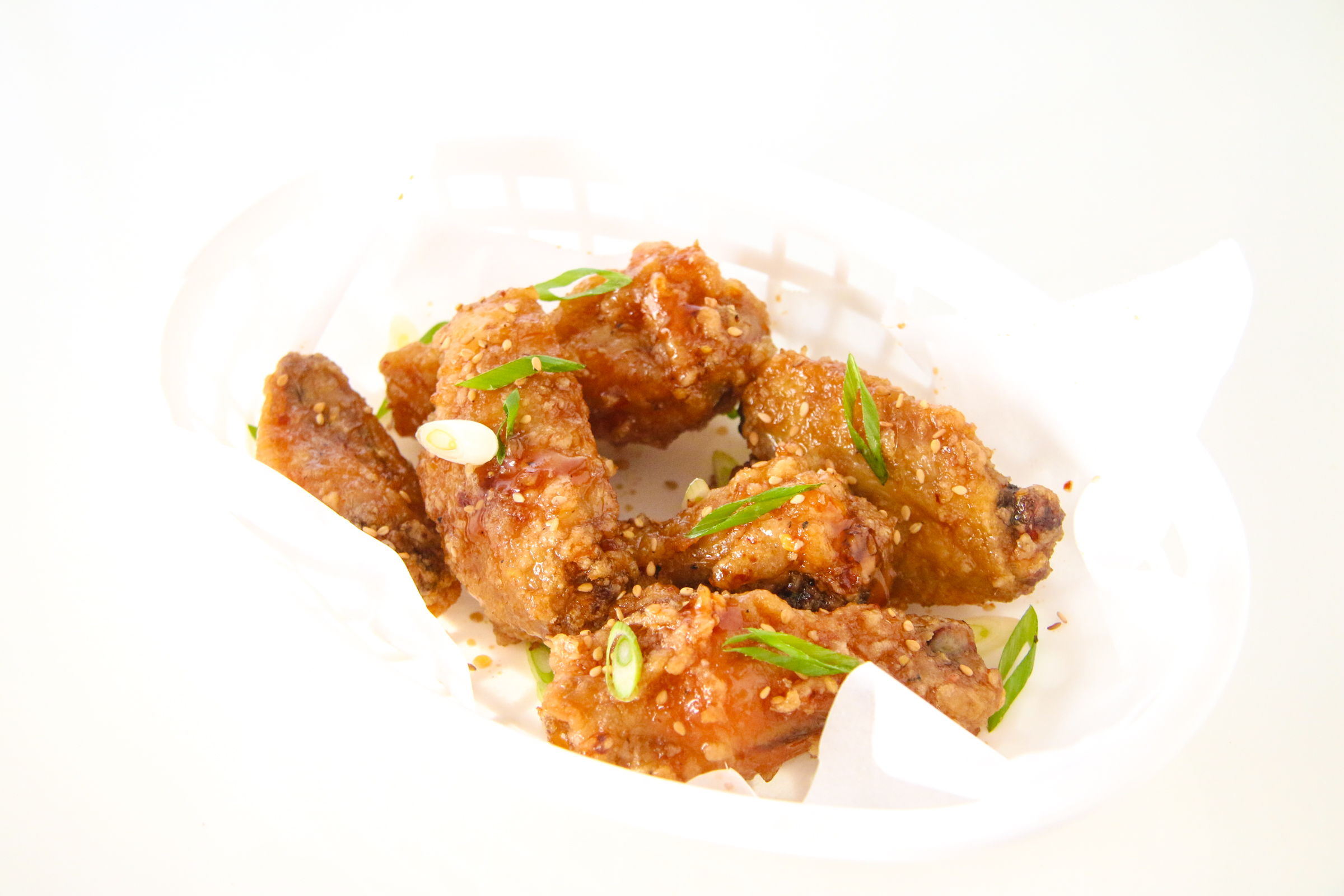 But come on…the sauce is boss and I don't want you to miss out on this flavor extravaganza!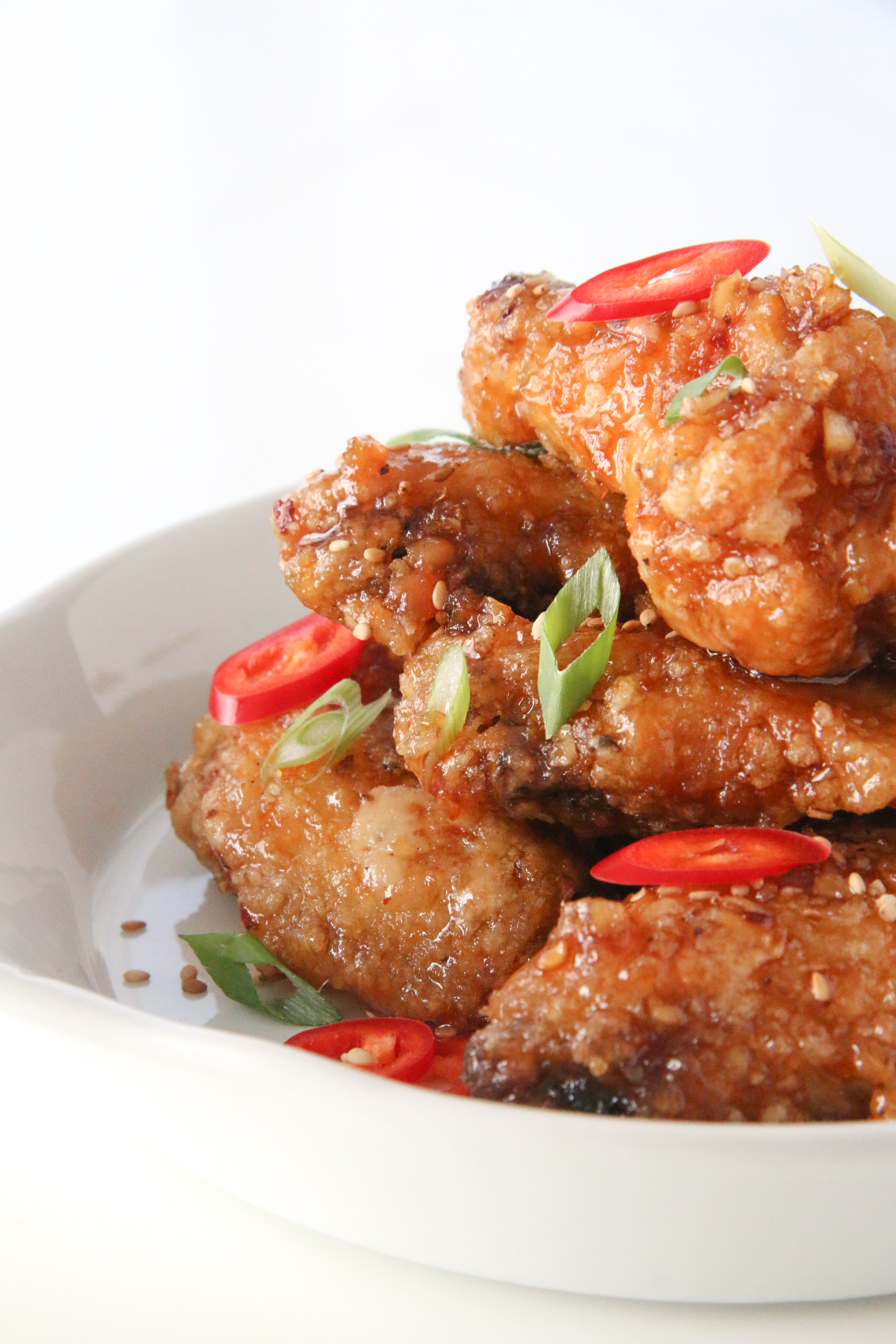 After they're tossed in the sauce, I usually choose to sprinkle them with sesame seeds and scallions just for that decoration, but you totally don't have to. Traditional Dakgangjeong actually incorporates peanuts too, so if that strikes your fancy, go for that as well.  They add a nice bit of texture and nutty flavor.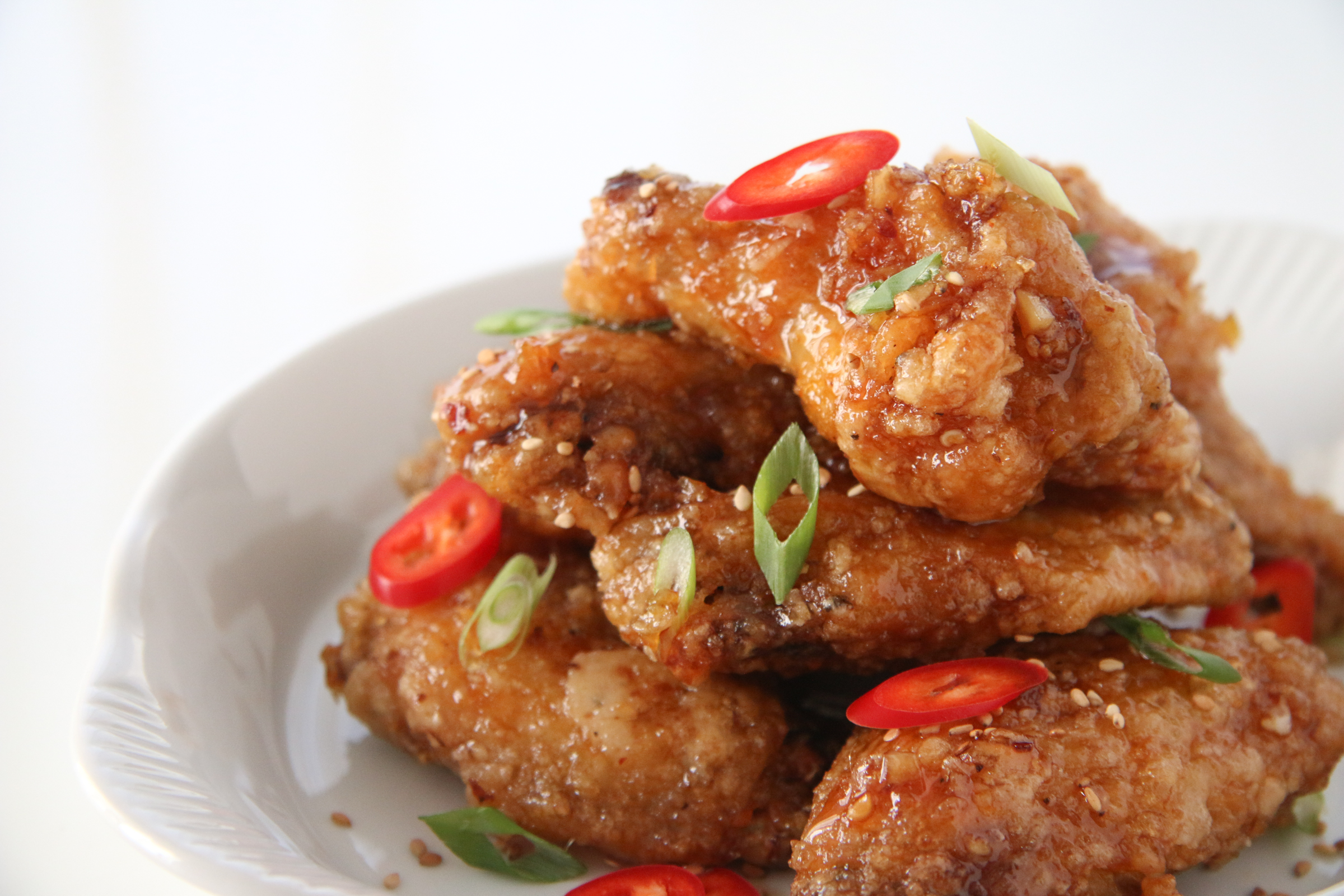 And I should mention that those sliced red peppers on top are just for the photographs kids.  These wings are not spicy at all.  I do add a dash of crushed red pepper flakes to the sauce… just because it's me and I can't seem to make a recipe without them, but you can barely tell they're there.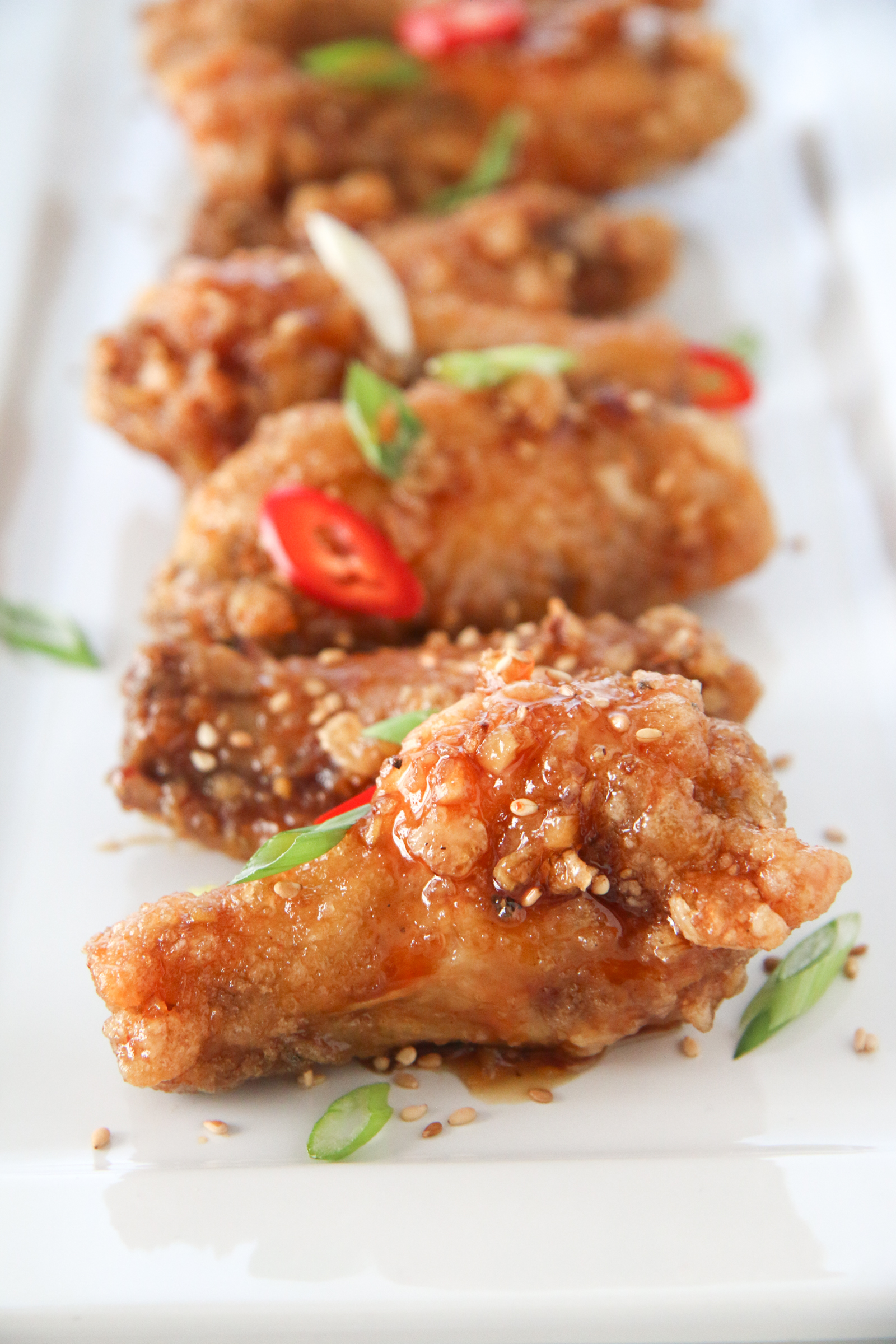 You'll be surprised at how just a little sauce goes a long way.  They don't need much.  Just make sure your glaze doesn't get too thick.  It should be somewhat runny and cooled down to room temperature before you douse your wings.  That's another way to guarantee that they'll stay crunchy for HOURS.
I love that you can eat these wings as a main meal, with rice and kimchi, or just as an appetizer or snack. They are a labor of love because double frying can take a while and you will have to work with oil and all that nonsense, but it will be totally worth it!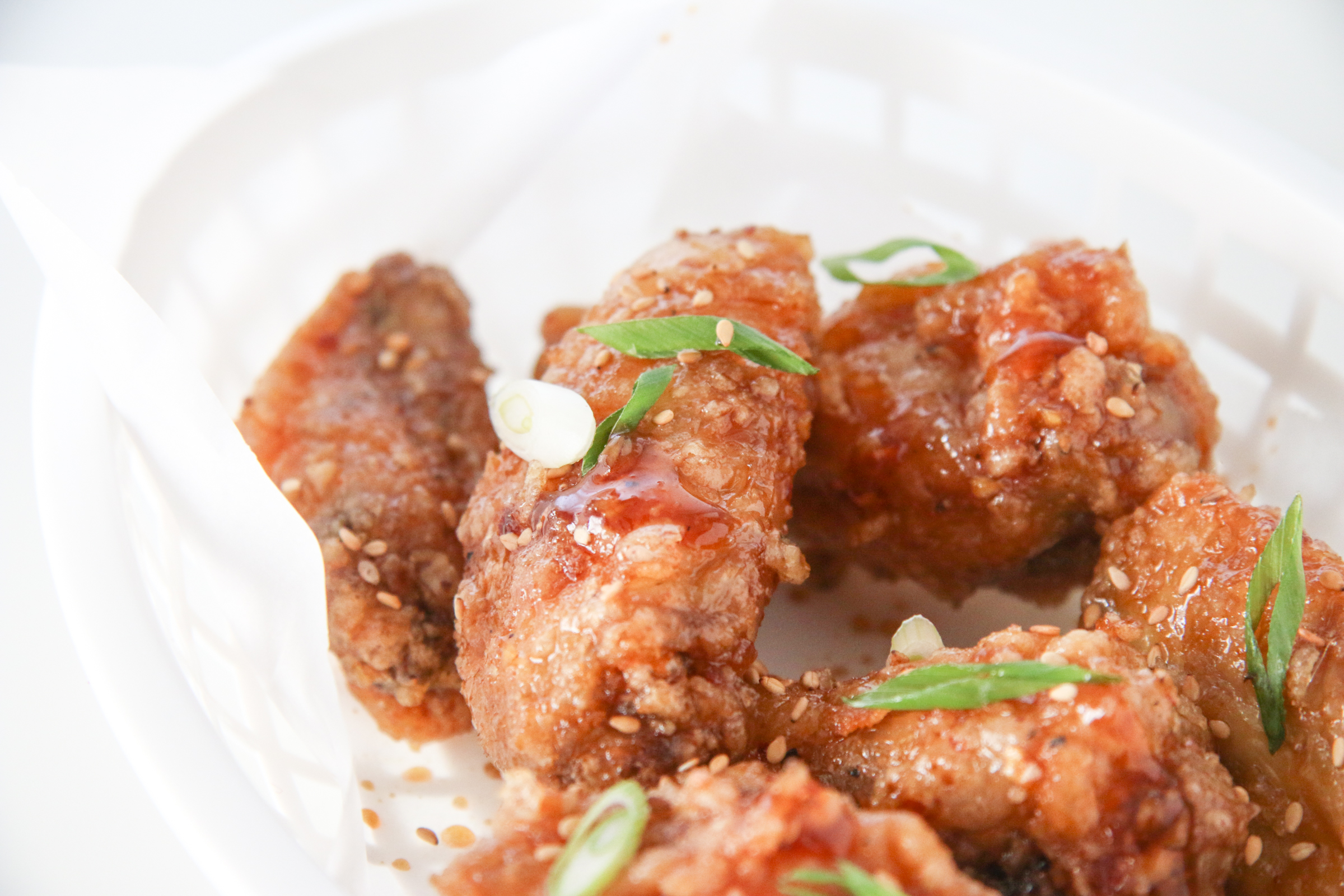 Okay, I don't make these casually for just me and Joe, because come on… that's way too much effort and mess for two people.  So on the day that we filmed this video, Joe went to town on his basket! I remember we ate nothing else with them because we didn't want anything else to pollute the experience of eating these wings…haha!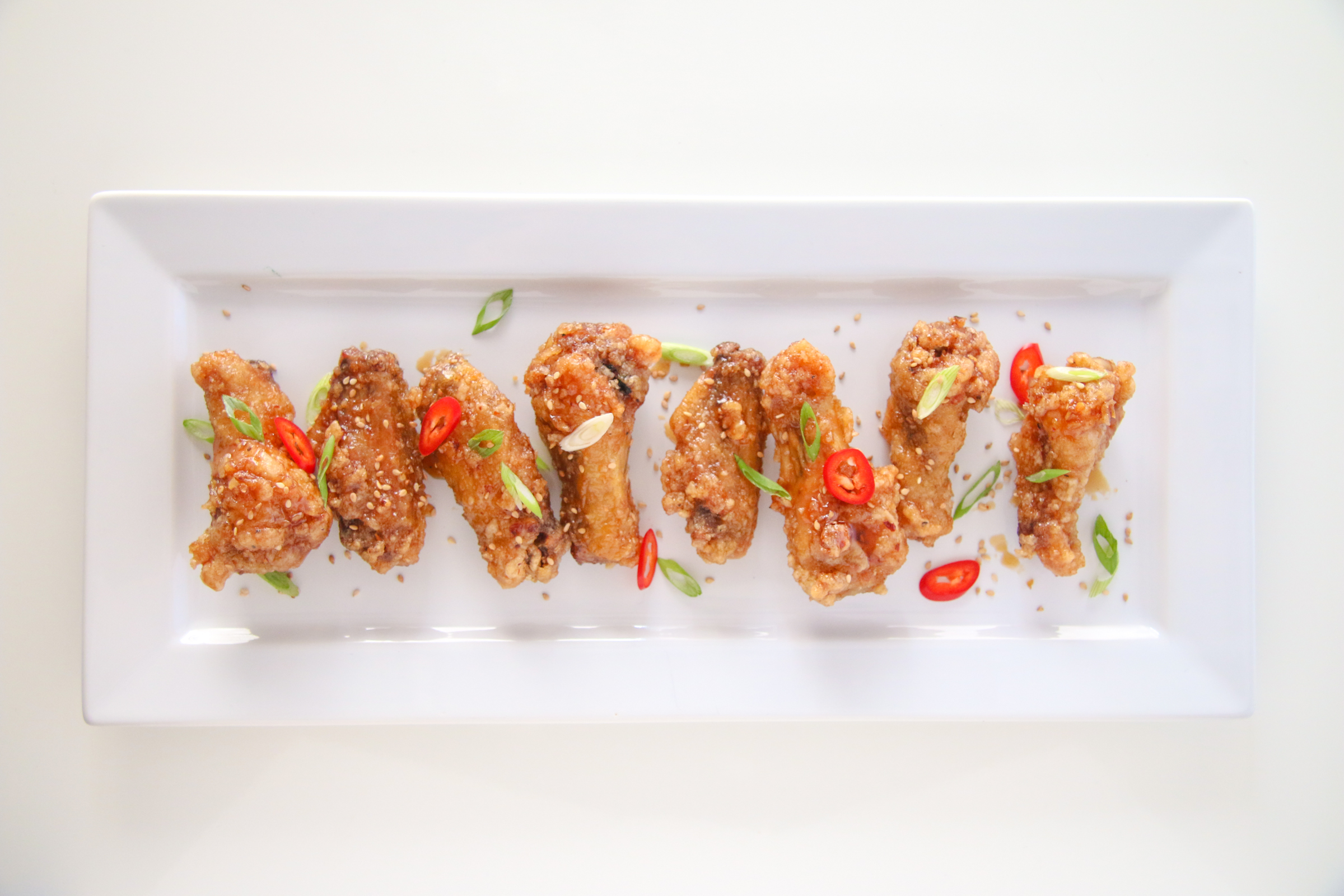 If you bring these to your next potluck party, it will be one of the most popular dishes on the table… I guarantee it.  So you might seriously want to consider doubling or tripling this recipe, depending on how many greedy people you will be feeding.  And if you have leftovers…hey that's never a bad thing!
If you enjoyed this VIDEO, SUBSCRIBE to our COOKING SHOW CHANNEL HERE.  It's FREE! : Chef Julie Yoon

Korean Fried Chicken (Dakgangjeong : 닭강정)
These sweet and crispy Korean fried chicken wings are addictively good. They're a definite crowd pleaser and if you take them to your next potluck, they will be gone in an instant!
Ingredients
3 lbs pounds chicken wings, tips removed (Start out with 3½ lbs)
½ teaspoon kosher salt
½ teaspoon ground black pepper
2 teaspoons minced ginger
3 cloves garlic, minced
1 cup potato starch
Vegetable or canola oil for frying

Soy Garlic Sauce
2 teaspoons sesame oil
4 cloves garlic, minced
1 teaspoon minced ginger
¼ teaspoon crushed red pepper flakes
¼ cup soy sauce
½ cup corn syrup
1 tablespoon rice vinegar
1 packed tablespoon brown sugar
Salt and Pepper to taste
Sesame seeds for garnish
Chopped scallions for garnish
Instructions
Cut off the tip of each wing and discard. Segment the wing at the joint, so you're left with two pieces. After this is done you should have about 3 pounds of chicken. Put the chicken in a large bowl and mix well with the salt, pepper, ginger, and garlic. Let stand for a couple minutes.
Meanwhile, put enough vegetable oil in a heavy-bottomed pot to have about 3-inches of oil, and heat it up for 7 to 8 minutes over high heat, or until a thermometer reaches 350 degrees F. While the oil is heating up, put the potato starch in a bowl and dip each wing in the powder to coat it, one by one. Press the coating onto each wing by gently squeezing it to make sure it adheres well.
If you don't have an oil thermometer, check to see if the oil's ready by dipping part of a wing into it. If the oil bubbles right away, it's hot enough to start frying. In batches, slide the coated wings one by one into the hot oil and cook for about 10-12 minutes, turning over a few times with tongs. If you overcrowd the pot, the temperature of the oil will drop too much. Take the wings out of the oil and place them on a cooling rack set over a tray. Turn off the heat, and let the wings sit for a few minutes. Skim the oil to remove any bits of cooked potato starch.
Meanwhile make the sauce by heating a small pot over medium high heat. Add the 2 teaspoons of sesame oil, minced garlic, ginger, and crushed red pepper flakes. Saute until fragrant, for about 30 seconds. Mix the soy sauce, corn syrup, and vinegar together and add to the pot. Stir with a wooden spoon and let it bubble on low for about 3 minutes, stirring occasionally, but do not let it get too thick. You still want it to be a little runny so it can coat the all the chicken pieces easily. Add the brown sugar and continue stirring for about 30 seconds to 1 minute more. Turn off the heat and season lightly with salt and pepper to taste. Set aside to cool to room temperature.
Reheat the oil to 350-375 degrees F and fry the wings again for another 8-10 minutes until they all look golden brown and feel crunchy to the touch. If your pot is not large enough to fry all the chicken at once, divide it into batches. Add more oil as needed. Place onto the cooling rack again as they come out of the oil. If you are not making a sauce, sprinkle lightly with salt and pepper or seasoning of your choice while the wings are still hot. If you are using the sauce, do not season your wings. Place wings in a large bowl. Drizzle wings with the slightly cooled sauce and toss well to evenly distribute. Place on a serving platter and garnish with sesame seeds and chopped scallions.