Korean Mapo Tofu (마파 두부)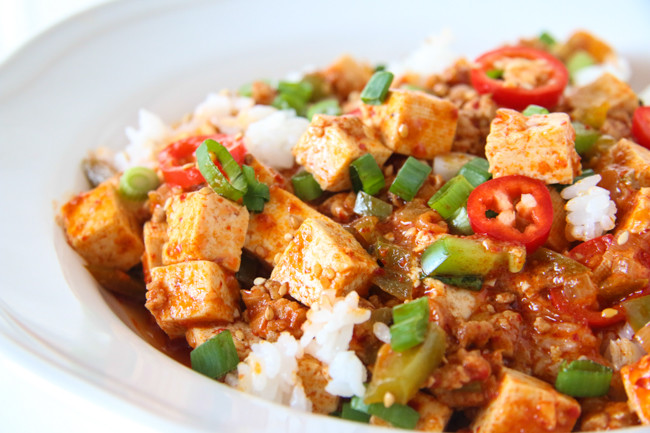 Tofu has always been a big part of my life.  Growing up, my mom made some kind of dish that involved tofu at least once a week, even if it was simply throwing it into a big pot of Kimchi stew, or pan frying it and sprinkling soy sauce on top.  In fact, I'm surprised I don't have more tofu recipes on here.  What a crying shame, right?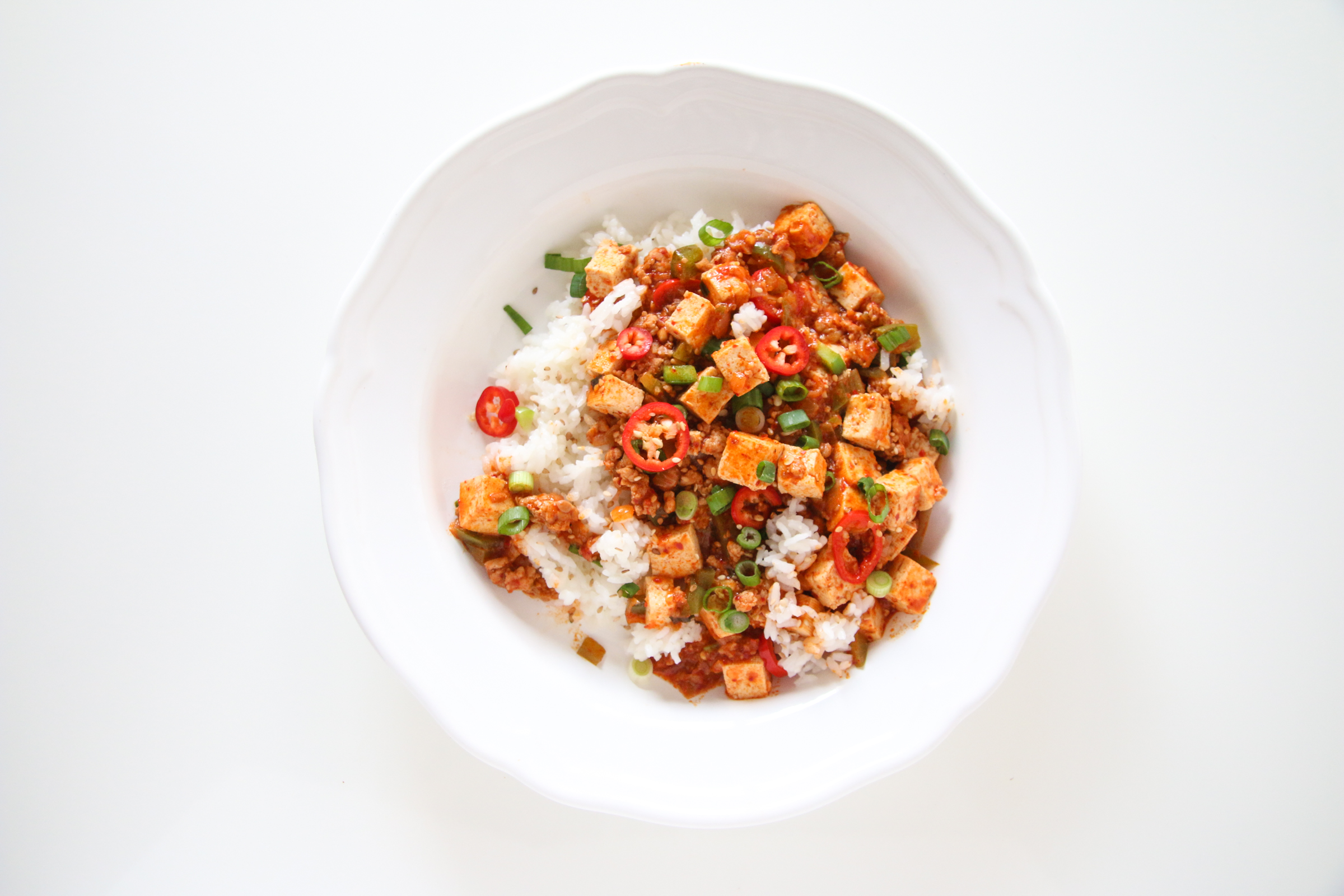 Whenever I go to the Korean grocery store, I tend to grab a package of tofu without much thought, even if I have no real plans for it, because I know I'll always find some use for it. But since I always have it in my fridge, I know that I can make this Korean Mapo Tofu anytime I want.
I'm already a huge fan of Mapo Tofu, which is mainly known to be a Chinese dish.  Something about that fiery red sauce, crumbles of ground pork, and soft cubes of tofu gets me every time.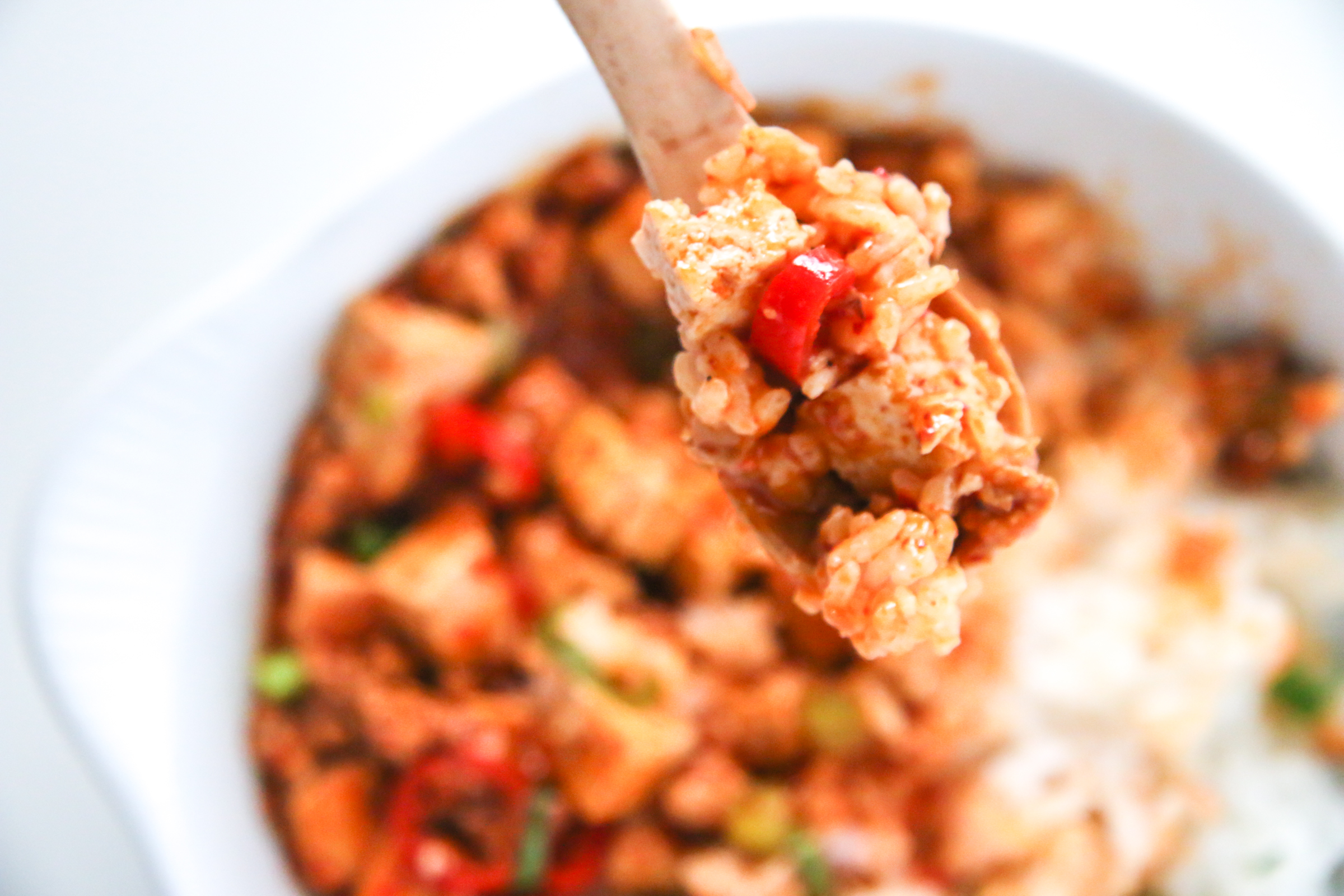 But this Korean version is wonderful too, and it uses staple ingredients that are quintessential to Korean cuisine… Gochujang and Doenjang!  In fact, if you do a lot of Korean cooking, chances are you'll have everything you need for this recipe in your fridge already.
What I love about this dish is how easy it is to whip up together in one pan.  All you need is a bowl of rice and dinner is done.  You need nothing else but a spoon.  It's complete Korean comfort food, and you can customize it with whatever veggies or meat you have on hand.  Watch how I make this in EPISODE 13 of Bits & Pieces SEASON 4 below.
WATCH HOW I MAKE KOREAN MAPO TOFU HERE:

Even though tofu in itself has no real taste, the best part is that it is a sponge that soaks up the flavors that surround it. The base of this sauce is made up of spicy Korean red chili paste and savory Korean fermented soybean paste.  There's a spicy, slightly sweet, and umami taste to it.  Once you take your first bite, you immediately want to go back for more.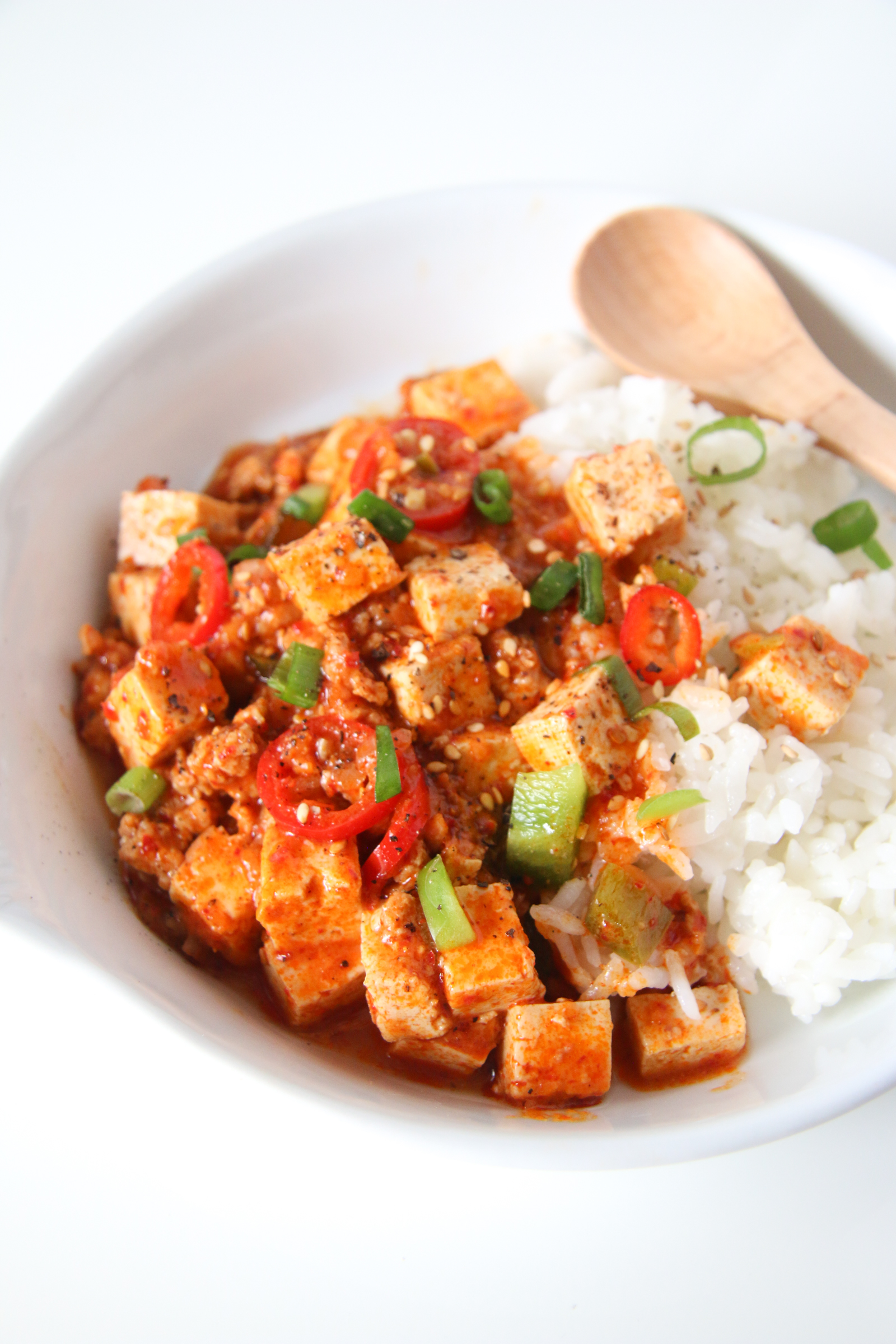 I chose to use ground pork to accompany the tofu, but if you want to omit it or use something else instead, that's fine by me.  I just stuck with what was classic. The green peppers add a little bit of a crunch which is nice against all the soft textures.  But if you want to go crazy, go ahead and add more veggies.  Heck…use this dish as an excuse to clean out your fridge!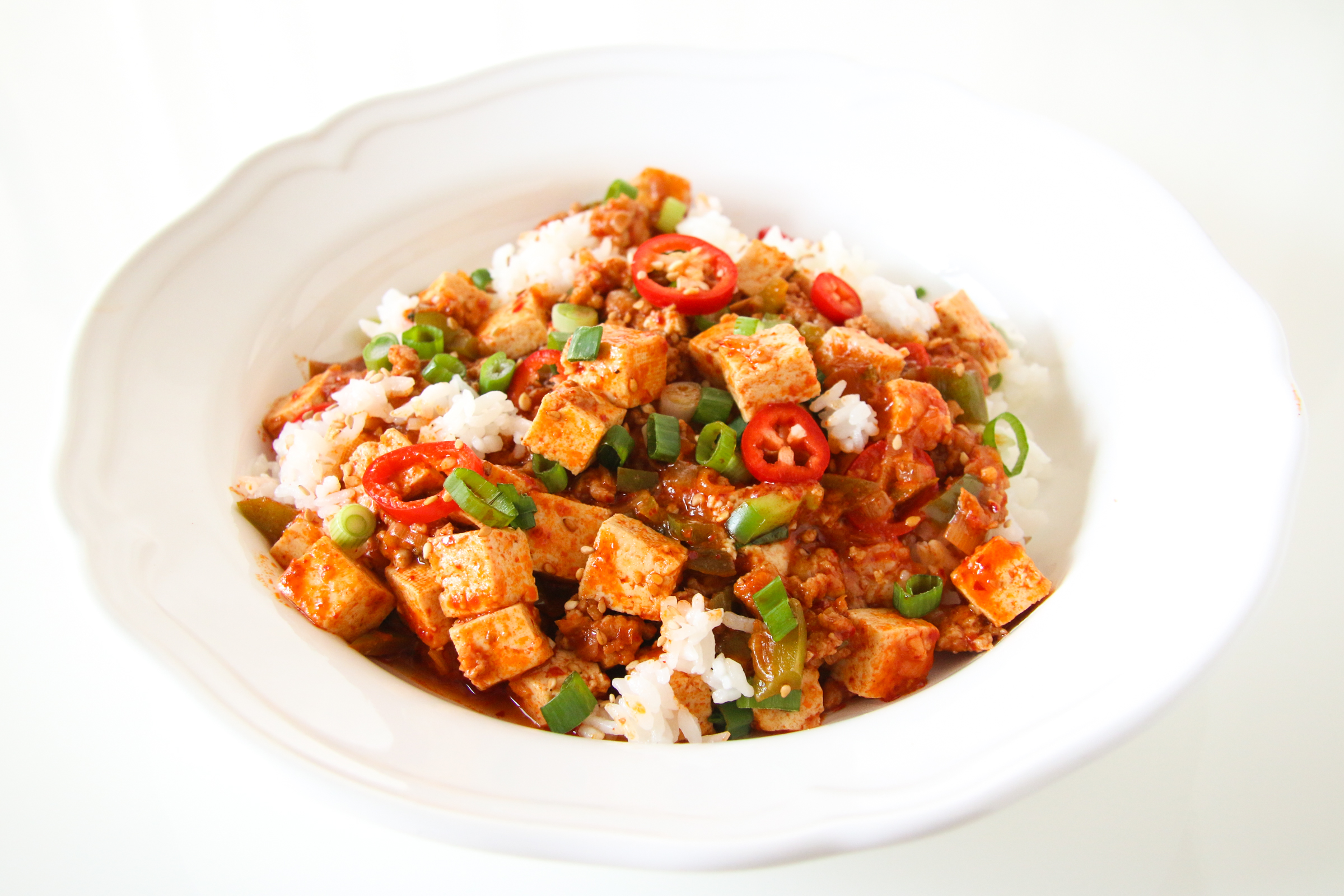 If you're worried it might be too spicy, don't have to fret my pet.  It's not an unbearable pain.  But you can always cut down the amount of Korean red pepper flakes. That's where you'll get most of the heat. Likewise, if you like to live dangerously, add more!
I love that it is a one-pan wonder and a great way to utilize tofu and whatever riff raff you already have on hand. It's easy to make and simple enough to stretch, especially if you have guests.  Make it for your next potluck and watch the contents of your pan disappear!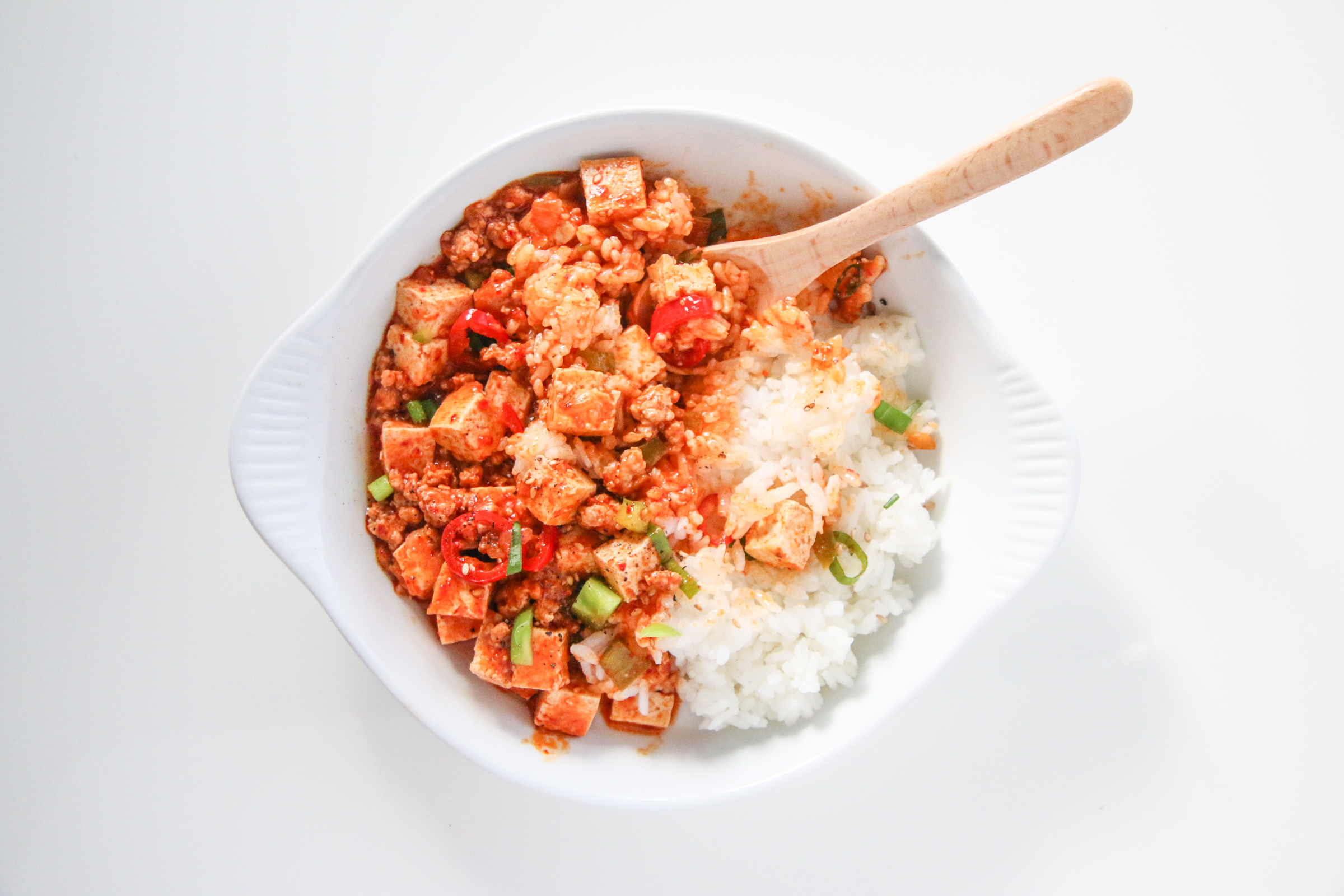 Just looking at the little squishy cubes of tofu swim in the bubbling hot tub of lava is so appetizing.  It's hard not to salivate when you see them bobbing in the savory spicy sauce. The best part is mixing it in with your rice and taking that first spoonful.  The heat hits you first, and then you taste everything else.  There's a lot of depth to the flavors and taste is quite surprising.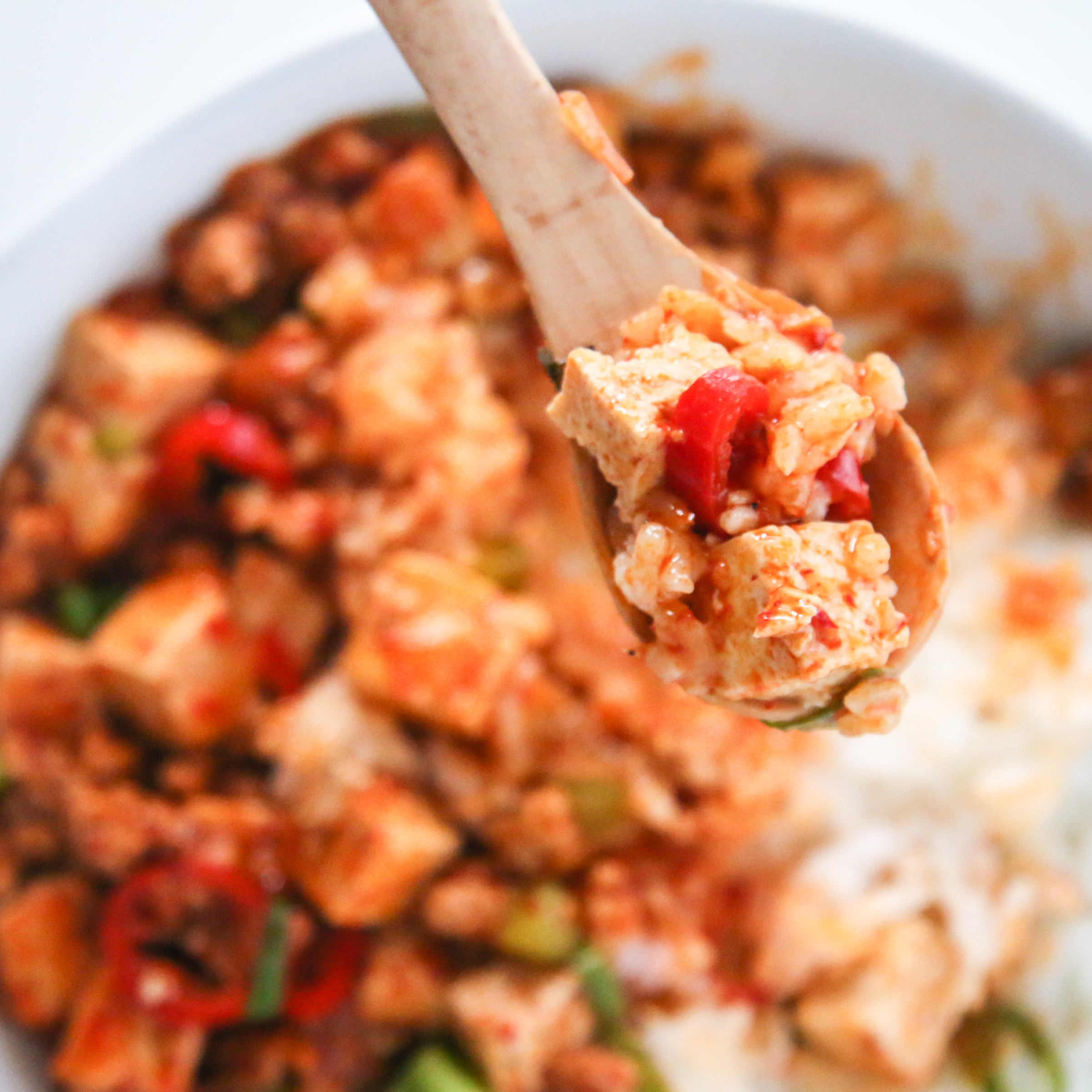 Don't forget to season with salt and pepper, or a little extra soy sauce at the end if you need it. Oh and please do not be like me…don't forget to add that last drizzle of sesame oil at the end.  In the couple times I was testing this recipe, I kept forgetting to add it and I was seriously sad.  You want to add it at the last minute so you can really taste that nutty toasty flavor.  It makes a WORLD of a difference.
This simple dish is complex in flavor and easy to make.  So the next time you're in a dinner rut, don't forget to grab that seemingly boring looking package of tofu at the store.  Keep this recipe in your back pocket and whip this up the next time you want a change of pace.  Umm..you're welcome… aren't you glad we're friends? 😉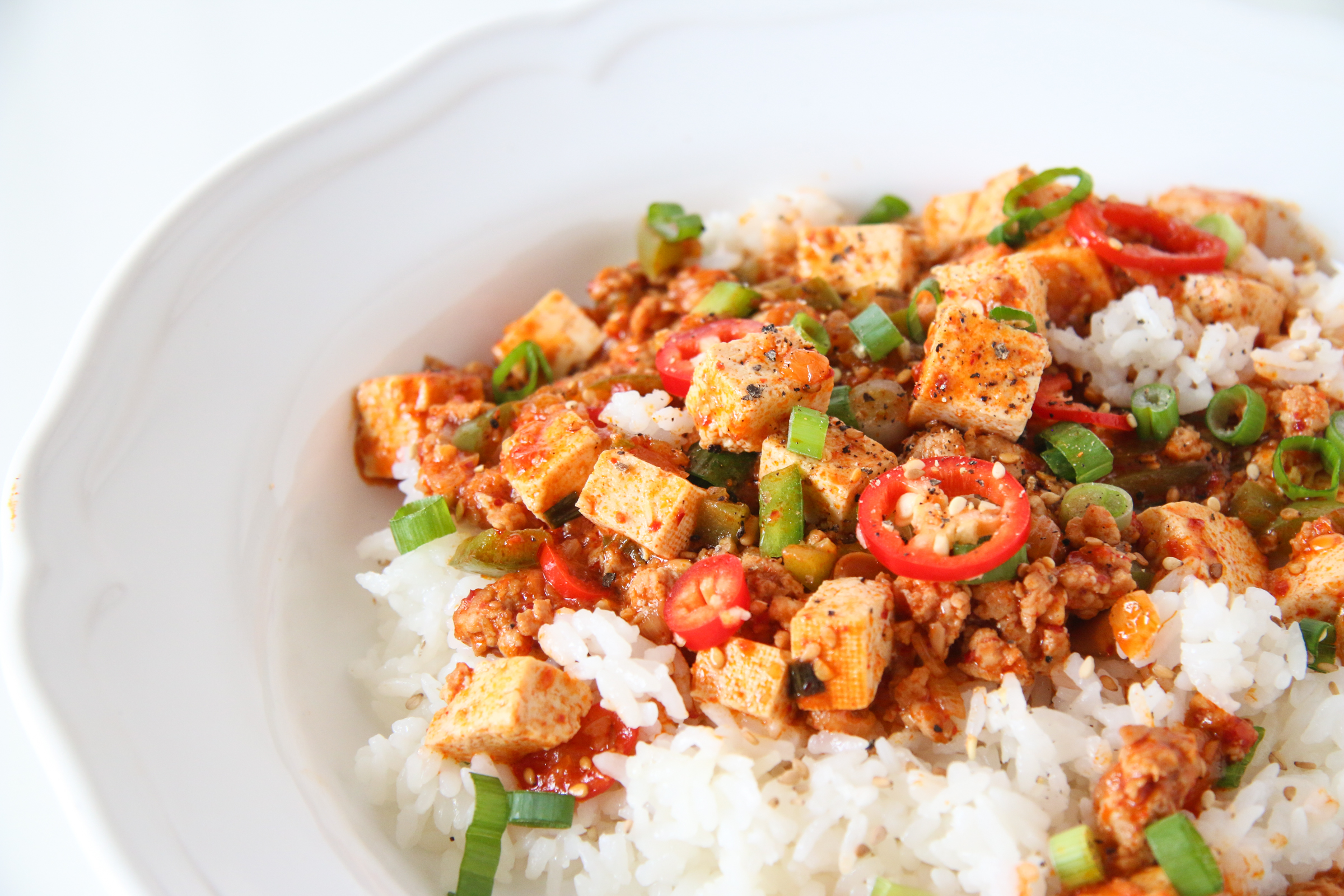 If you enjoyed this VIDEO, SUBSCRIBE to our COOKING SHOW CHANNEL HERE.  It's FREE! : Chef Julie Yoon

Korean Mapo Tofu (마파 두부)
This Korean version of Mapo Tofu is spicy, satisfying, and complete comfort in a bowl.
Ingredients
1 (14 to 16 ounces) package firm tofu, cut into ½-inch cubes.
8 ounces ground pork or beef
½ medium onion, diced
1 tablespoon minced garlic
1 teaspoon minced ginger
2 scallions thinly sliced, divided
½ a green bell pepper, diced
1 red chili pepper (Korean long hot), sliced thinly
Salt and pepper to taste
Toasted sesame seeds for garnish

Spicy Sauce
2 tablespoons vegetable oil
2 tablespoons Gochugaru, 고추가루, Korean red chili pepper flakes
2 tablespoons soy sauce, plus more if needed at the end
1 tablespoon Gochujang, 고추장, Korean red chili pepper paste
1 tablespoon Doenjang, 된장, Korean fermented soybean paste
2 teaspoons sugar
1-½ cups of water (or more if needed)
½ tablespoon cornstarch mixed with 1 tablespoon water
Salt and pepper to taste
1 tablespoon sesame oil to add at the end
Instructions
Heat a large pan with 2 tablespoons of oil over medium high heat. Add the onion, garlic, ginger, half of the chopped scallions, and Gochugaru. Saute until softened, about 2-3 minutes.
Add the ground pork, and sprinkle lightly with salt and pepper. Break it up with a wooden spoon and cook until the meat is no longer pink, about 3 minutes.
In a small bowl, stir together the soy sauce, sugar, Doenjang, and Gochujang. Add to the meat and stir to coat, about 1 minute. Add both of the peppers and cook briefly until slightly softened, about 1 minute.
Add 1 ½ cups of water to the pan, and bring it to a boil. Add the tofu to the pan, and spread into a single layer. Cook for 4-5 minutes, stirring once in awhile, to make sure the tofu doesn't stick to the pan.
Stir in the cornstarch slurry mixture to thicken the sauce, and then the sesame oil. Cook for another minute, or until slightly thickened. Season with salt and pepper or more soy sauce to taste if needed. Garnish with the sesame seeds and remaining chopped scallions, and serve hot over rice.