Beef & Barley Bibimbap Salad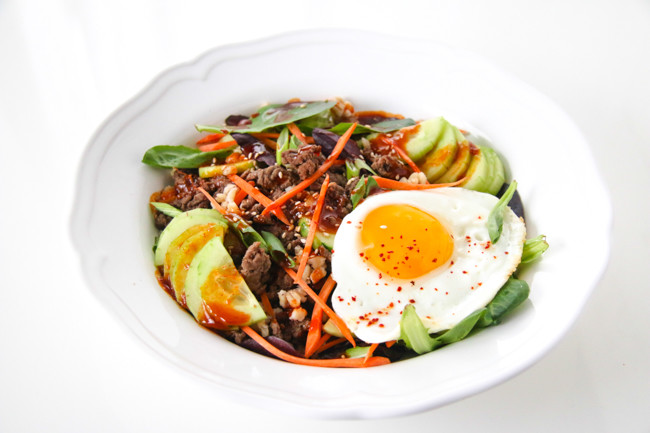 Ever since I was a kid, anytime our family would go out to eat at a Korean restaurant, Bibimbap was practically the only dish I'd order.  But the truth is that Bibimbap is super easy to make at home because all you need is a bunch of leftover ingredients, some rice, and a spicy sauce.  Bibimbap literally translates to "mixed rice," but I decided to make a version using barley instead.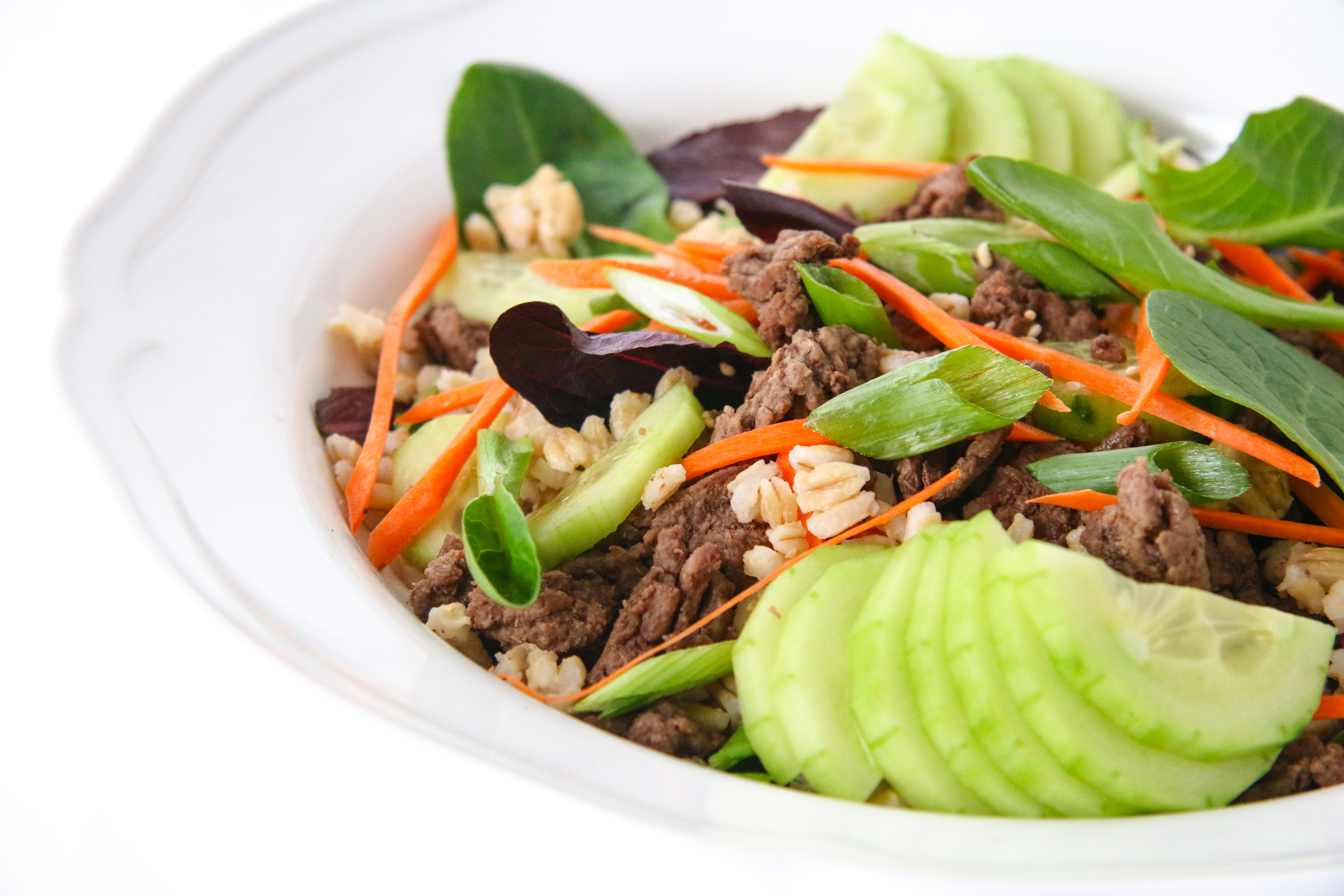 When we were in Korea last summer, we noticed that barley was all the rage and there were restaurants dedicated to it!  It seemed like the entire country was obsessed with this grain because of its health benefits, as well as its lovely chewy texture.  We even got to try a version of Barley Bibimbap at an outdoor market and I was surprised by how fresh and light it tasted.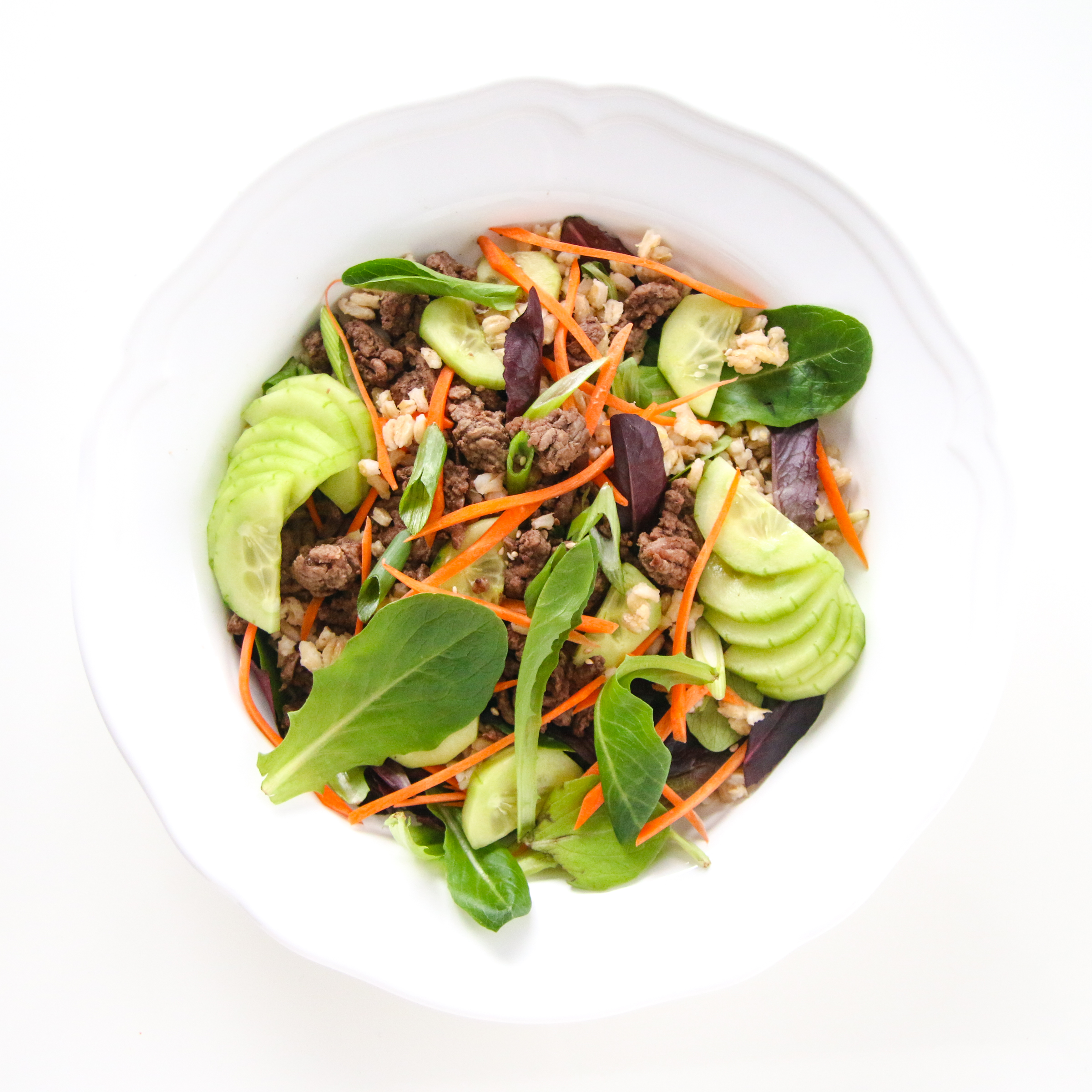 I decided to adopt that idea and turn my Bibimbap into a beef and barley salad, complete with a spicy Gochujang Vinaigrette, otherwise known as Chojang in Korean.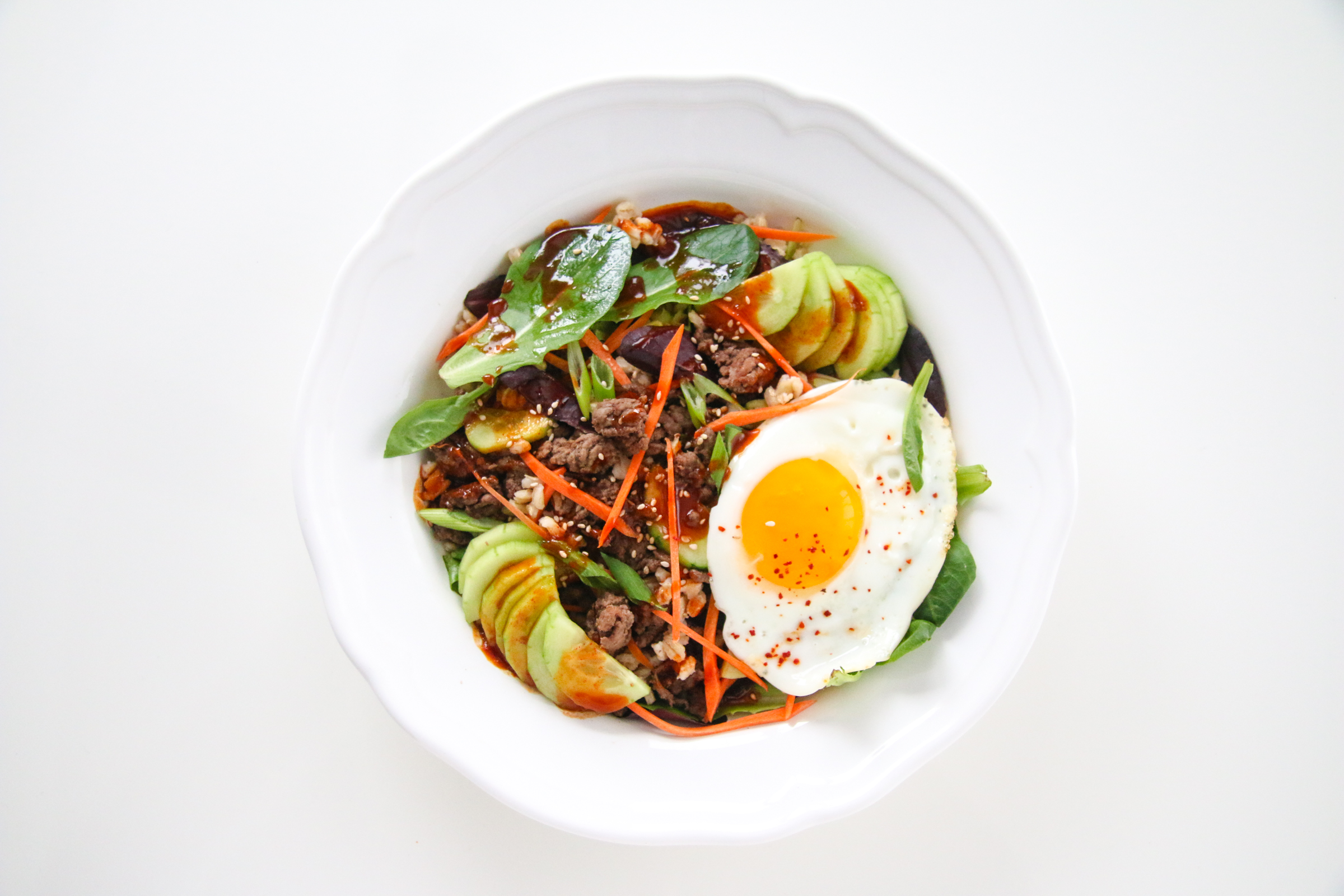 This episode is another collaboration between us and our friend/ former Kickstarter backer LK Toepfer AKA "Lee" from 6kidsProductions.  She's produced a few of our videos in the past, but this was the FIRST time we got to cook together.  She was visiting Chicago for a few days, and we knew we had to have her on our show while she was here.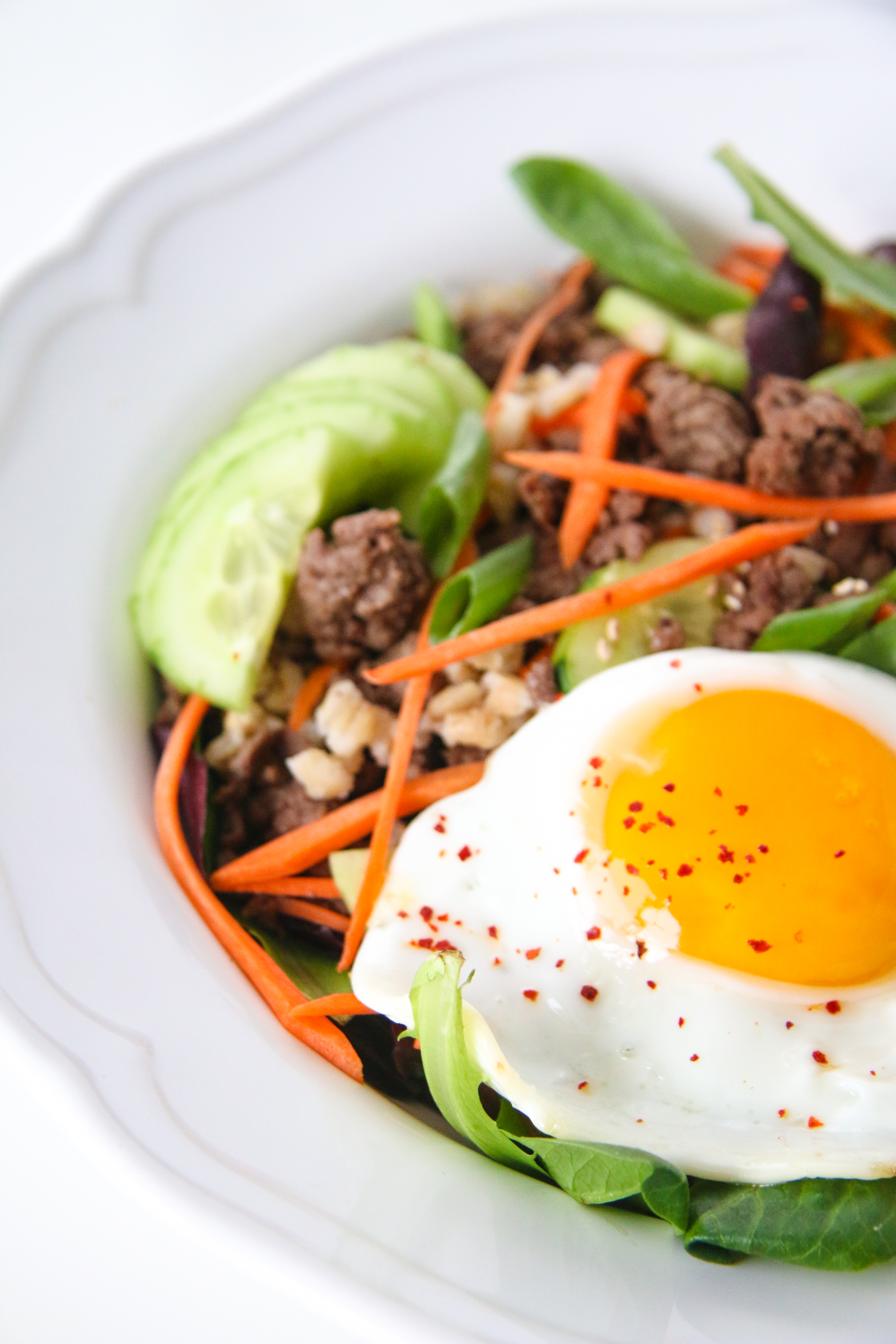 She always has great ideas and this time she challenged me to come up with a Korean inspired recipe where she could find the ingredients at any grocery store.  It was rough at first, and I wracked my brain for days until I realized that Bibimbap was perfect for this challenge!  I just decided to cut a few corners to keep it easy and approachable.  You can see us whip up this Beef & Barley Bibimbap Salad in EPISODE 9 of Bits & Pieces SEASON 4 below:
WATCH US MAKE BEEF & BARLEY BIBIMBAP SALAD HERE:

I have to admit… I felt proud that I was able to find Gochujang, or Korean hot pepper paste, at my local grocery store. This probably would not have been the case even a few years ago, but It's definitely becoming a more well-known ingredient now and I hope it becomes as commonplace as Sriracha soon!
I was truly worried about feeding this dish to Lee because she's not really familiar with Korean food, and this was her first time trying Bibimbap!  I wasn't even shy about holding back the spice, but she was able to handle it, and in her words, she really enjoyed the "zing!"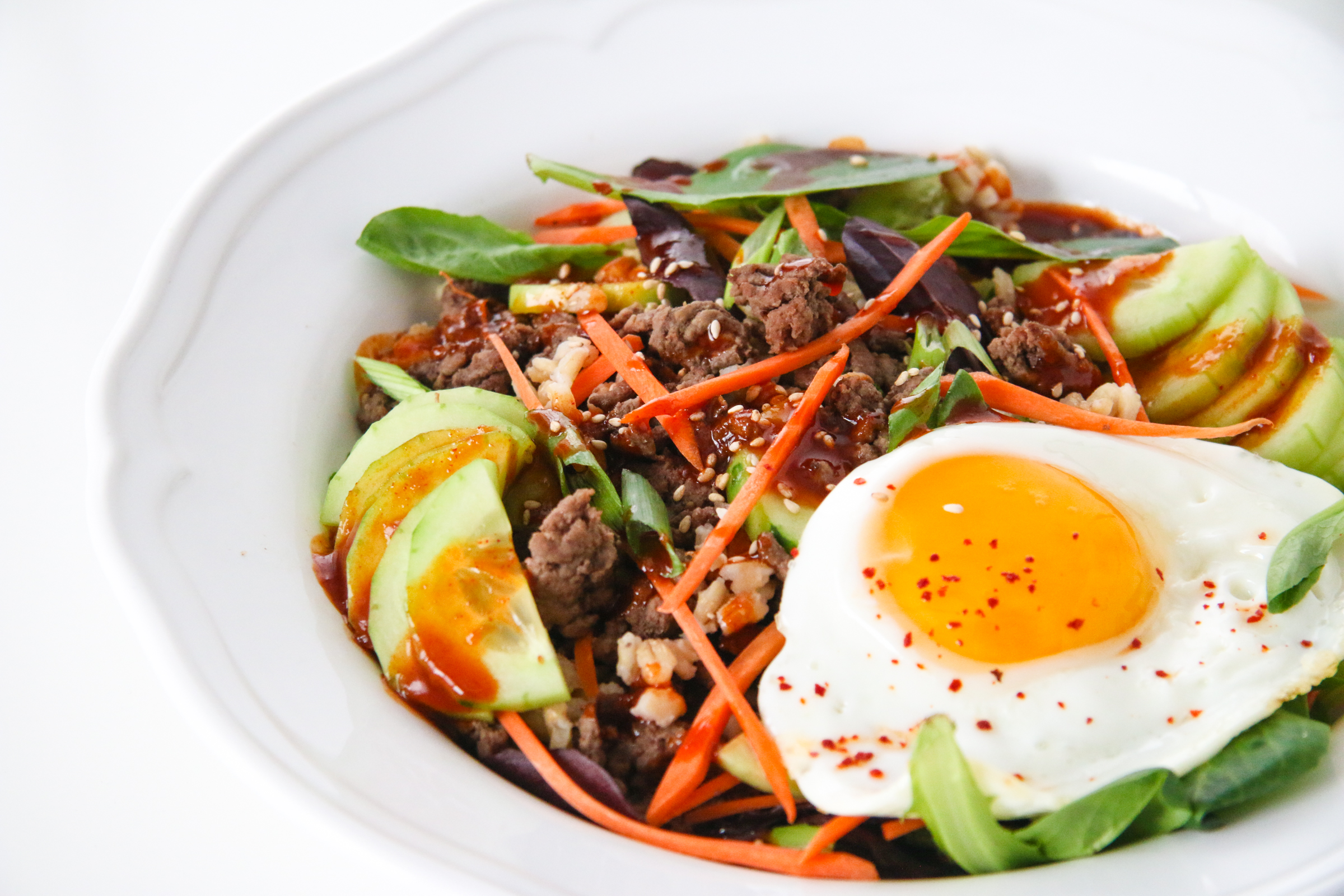 I think it helped that I used seasoned ground beef that tasted like Bulgogi… and come on… who doesn't like Bulgogi?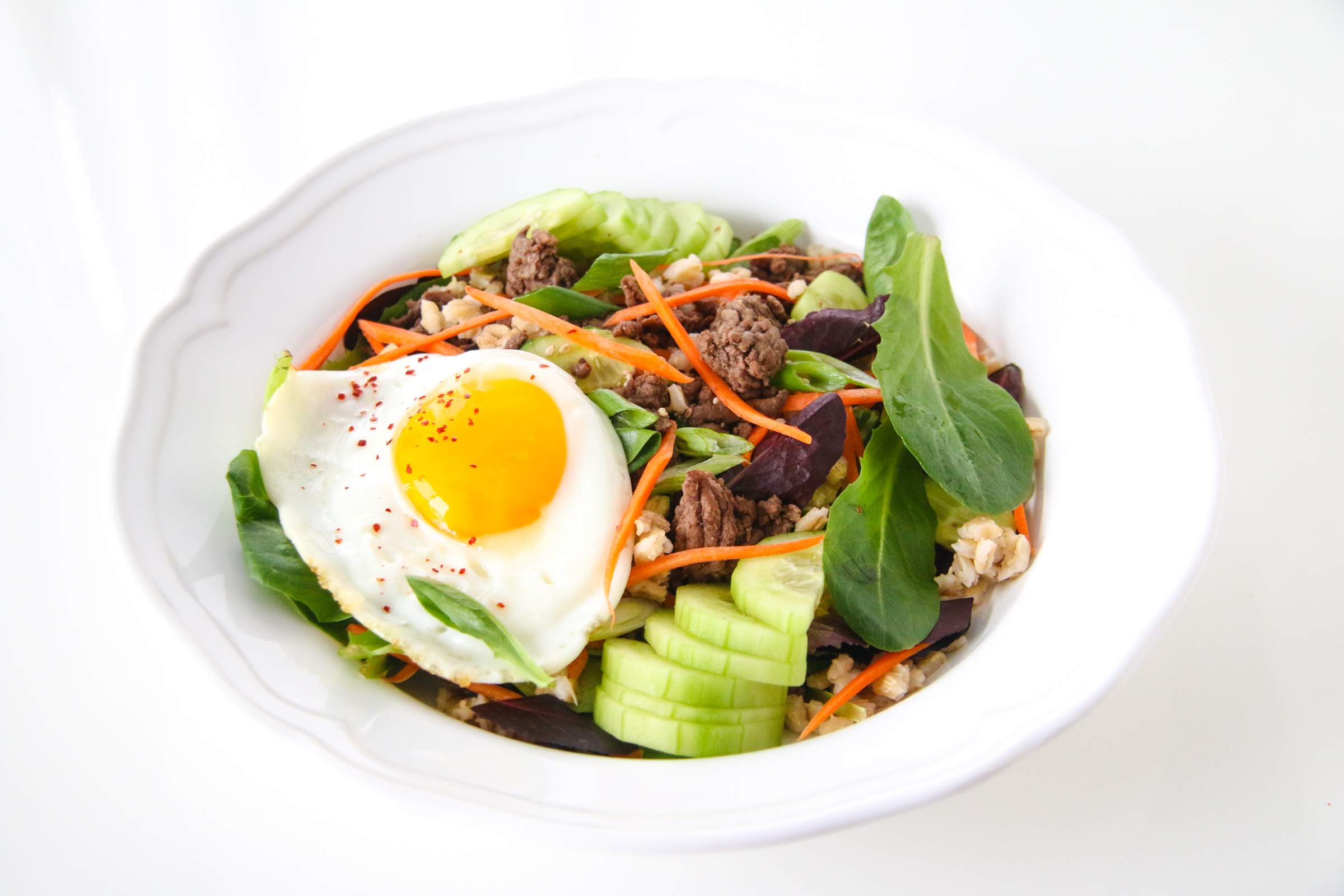 Because unlike in regular Bibimbap, I chose to keep the vegetables raw, the hardest part of this entire recipe was cooking the barley.  But all you do is put it on the stove and let it simmer away until it's done!  The catch is that it does take a while to cook, usually anywhere from 45 minutes to an hour.
But I usually tend to cook a big batch of it and keep portions in my fridge.  You can do that for this recipe too.  That will save you a lot of time, and you'll be able to whip up this Bibimbap Salad whenever it strikes your fancy.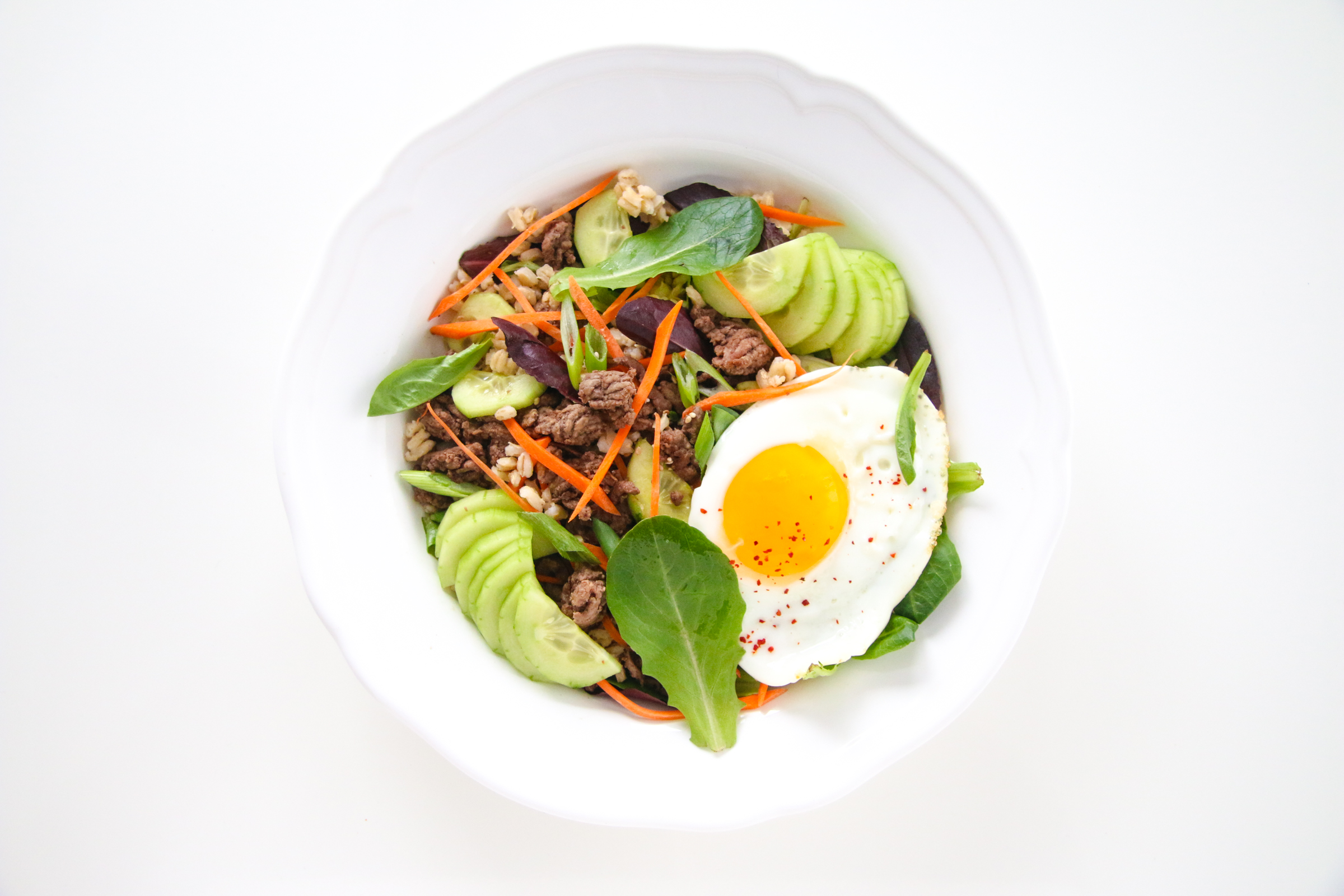 You can customize this salad to your tastes and according to what ingredients you already have in your fridge.  You really don't need to go out of your way and buy the same things I used.  Bibimbap was invented as a way to use up leftovers after all!
Just please PUH-LEASE don't skip out on that sunny side up egg because that runny yoke is EVERYTHING!  I might cry if word gets out on the street that you didn't add an egg.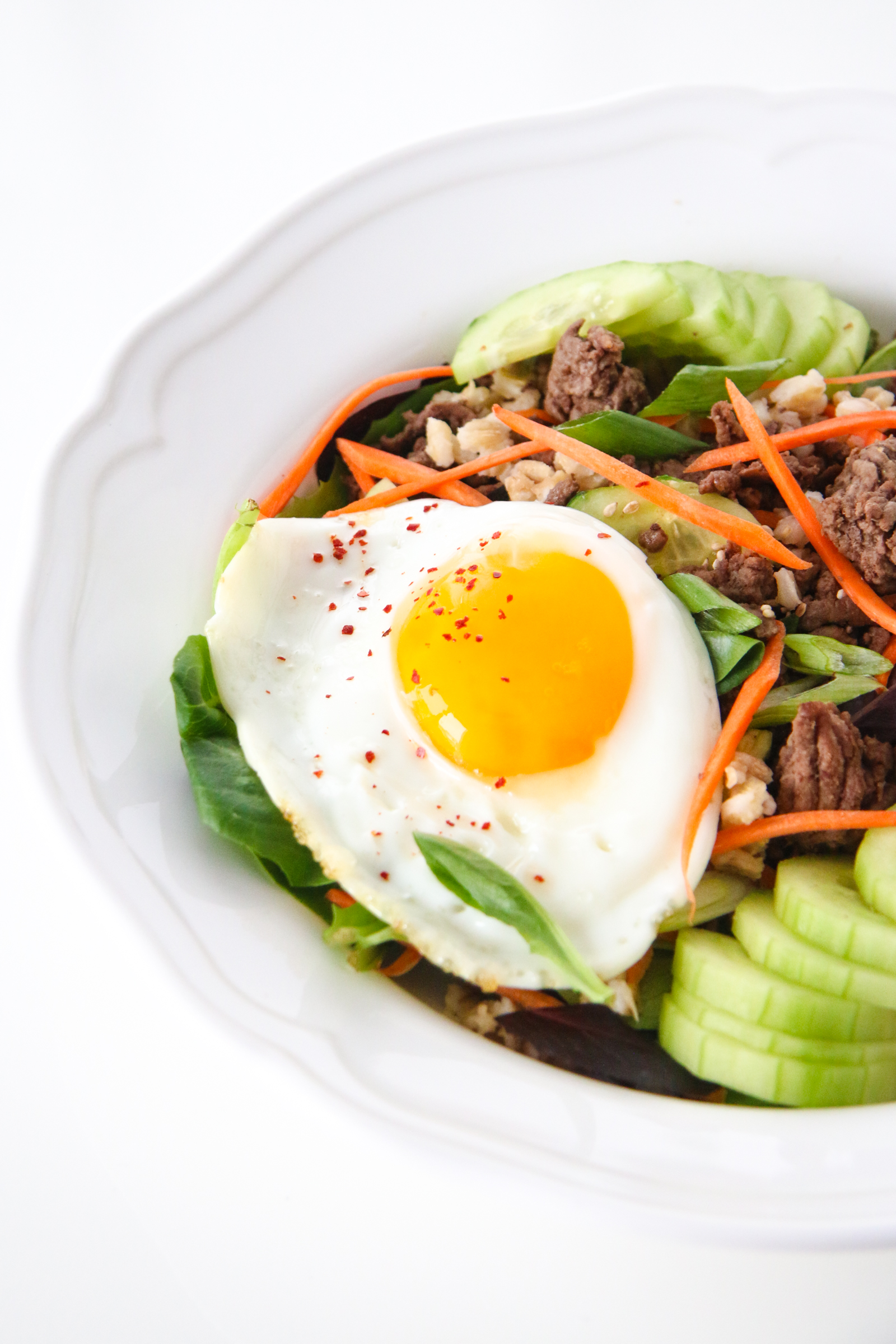 This was a fun day and I was so thrilled that Lee had a good time and enjoyed the food.  I didn't even tell her what I was making until the day she showed up in our kitchen! And since she never had Bibimbap before, I was sweating to the oldies waiting to hear her thoughts.
You can actually see the look of relief on my face when she tells me she likes it!  Even after we wrapped up filming, she continued to tell me that she really liked the chewiness of the barley, the flavor of the beef and spicy sauce, and the freshness of all the vegetables.  This was the first time she had a runny fried egg on her salad, but she really enjoyed it…yay!
I know that she's excitedly waiting for me post this recipe so she can make it at home for her husband John (who really enjoys spicy food).  It's a winner in her book…and I know it will be in yours too!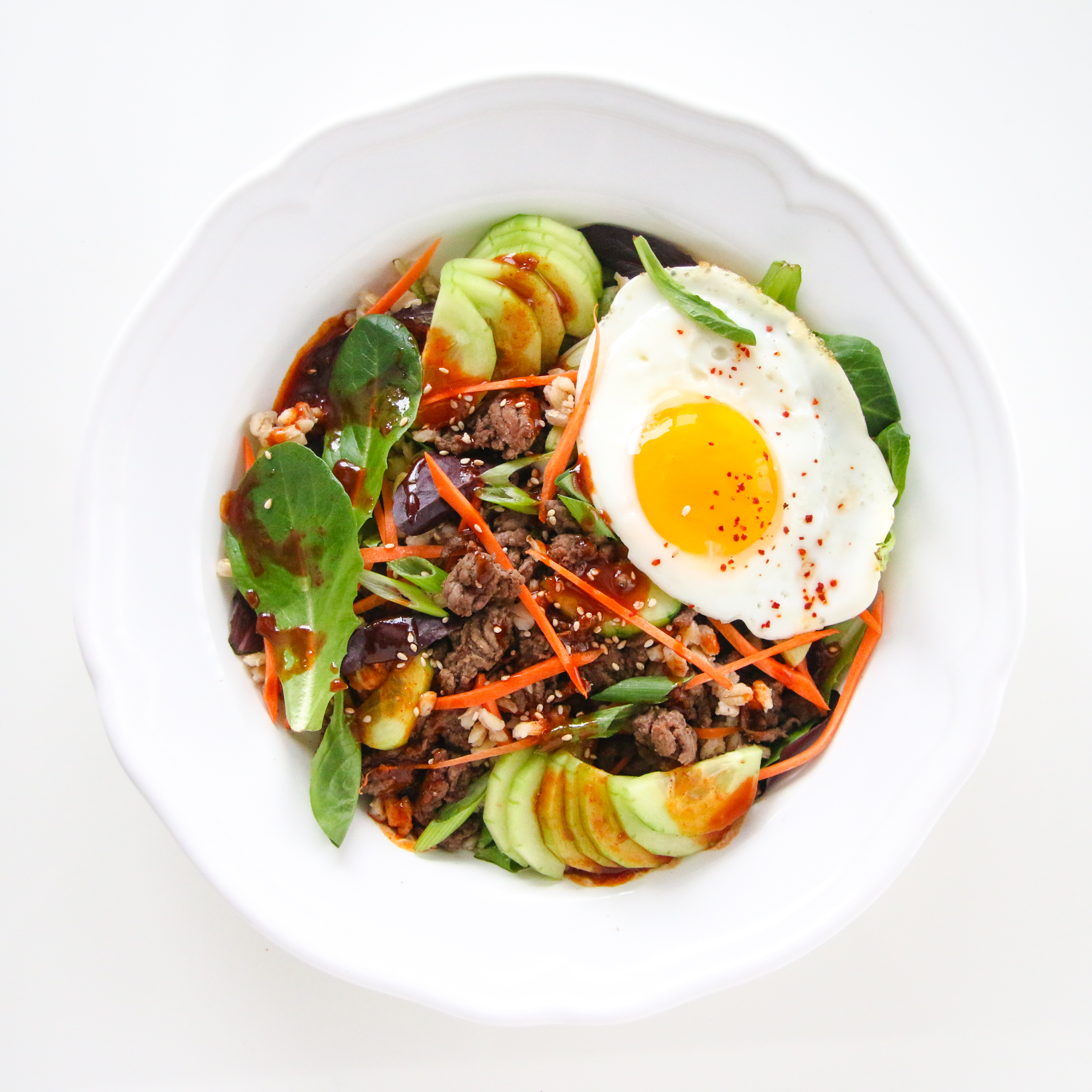 If you enjoyed this VIDEO, SUBSCRIBE to our COOKING SHOW CHANNEL HERE.  It's FREE! : Chef Julie Yoon
If you want to follow us on our journey, SUBSCRIBE to our VLOG CHANNEL HERE. It's FREE! : Our Yooniverse

Beef & Barley Bibimbap Salad
This Salad is my lighter and easier riff on traditional Bibimbap, or Korean "mixed rice" bowls. Drizzle on as little or as much of the spicy sauce as you like... just please don't forget the fried egg! ;)
Ingredients
1 cup pearl barley
3 cups water
1 carrot, peeled, and cut into matchsticks
½ seedless cucumber, peeled, halved, and sliced
2 scallions, sliced on a bias
Spring mix lettuce, arugula, or baby spinach
4 fried eggs
Toasted sesame seeds for garnish (optional)

Beef:
1 lb ground beef
2 tablespoons soy sauce
1 tablespoon sugar
1 tablespoon sesame oil, divided
1 clove garlic, grated on a microplane
Salt to taste

Gochujang Vinaigrette:
2 tablespoons Gochujang (Korean hot pepper paste)
2 tablespoons rice vinegar
2 tablespoons soy sauce
1 tablespoon sugar
1 tablespoon sesame oil
1 tablespoon olive oil
2 cloves garlic, grated on a microplane
Instructions
Bring the barley and water up to a boil, cover, and reduce to a simmer. Cook the barley according to your package instructions. This might take anywhere from 45 mins to an hour. It also depends on how chewy you want it to be. Let stand covered for 5 minutes off the heat and fluff with a fork. Toss with a little sesame oil if desired.
Mix all the ingredients for the Gochujang Vinaigrette together in a bowl. Set aside.
In a pan, heat ½ a tablespoon of sesame oil over medium-high heat. Add the beef and break it up with a wooden spoon. Season lightly with salt. Cook the beef until there's no more pink. Mix the soy sauce, sugar, sesame oil, and garlic together in a small bowl and add it to your beef. Stir well to make sure all the beef is covered with the sauce.
Assemble your individual bowls with lettuce, barley, beef, carrots, and cucumber. Top with the fried eggs and drizzle with the Gochujang Vinaigrette to taste. Sprinkle with sesame seeds if desired. Grab a fork and nom nom nom!