Bulgogi (Marinated Korean Beef BBQ)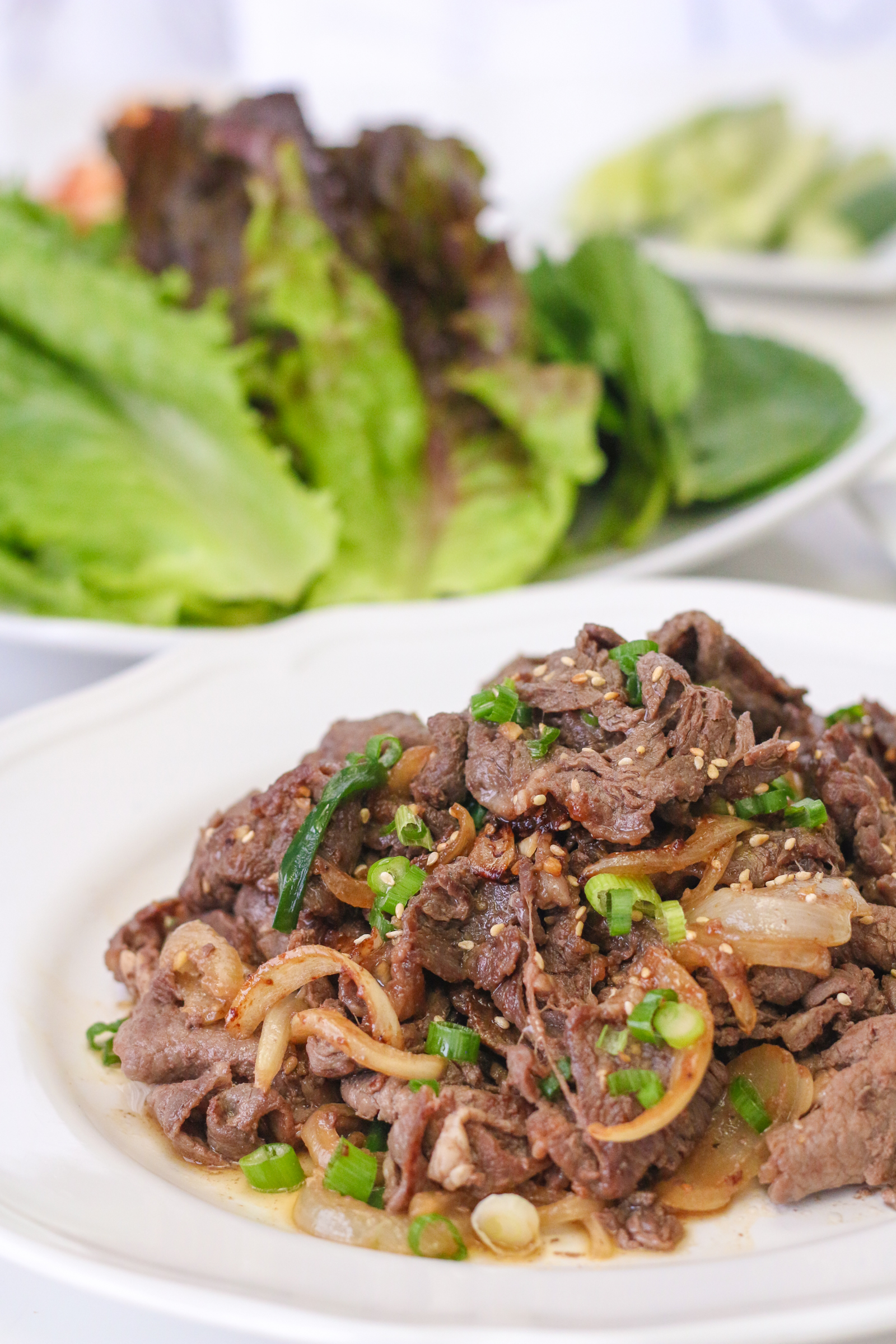 When anyone mentions Korean food, the first thing that comes to mind is "Korean BBQ."  What it refers to is marinated meat that is either quickly grilled or seared in a pan over high heat and eaten along with lettuce wraps.  And out of all the Korean BBQ meats, Bulgogi is probably the most well-known. It's pretty universally pleasing and a great "safe" introduction to Korean food.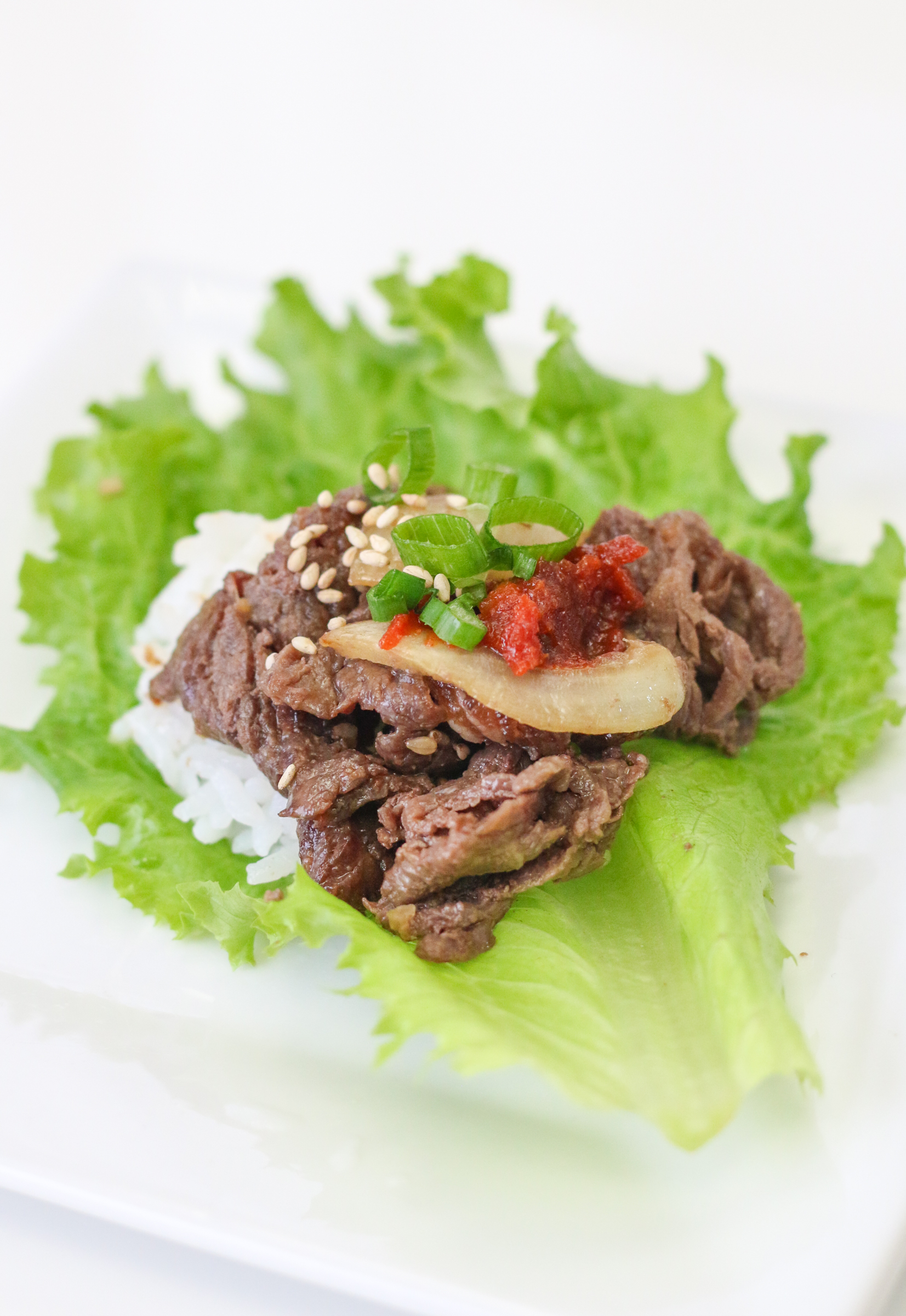 Every single Korean on earth probably already has their own personal recipe for Bulgogi, or thinly sliced and marinated beef rib eye.  You can't really go wrong with any of the recipes out there as long as the focus is on soy sauce, sugar, and a ton of garlic.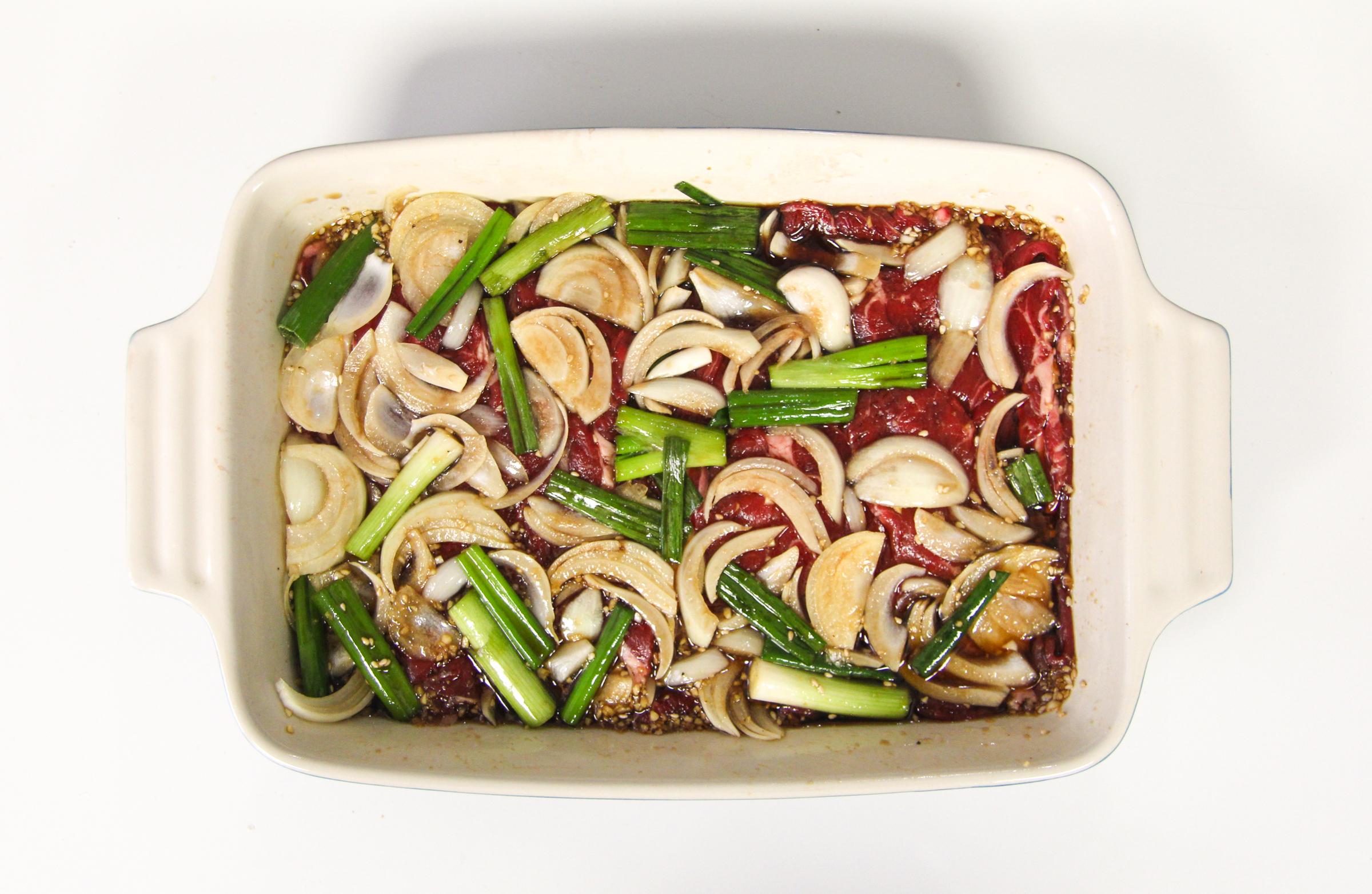 A lot of people choose to grate some kind of fruit like Asian pear or apple in their marinade to make it tender.  Others blend that up along with some onion and garlic and make a smooth puree.  I've done all sorts of methods and sometimes if I'm feeling fancy, I'll go through the trouble of dirtying my blender for the cause. But because the cut of meat you use is so thin, I find it somewhat unnecessary, so usually I like to keep my marinade simple.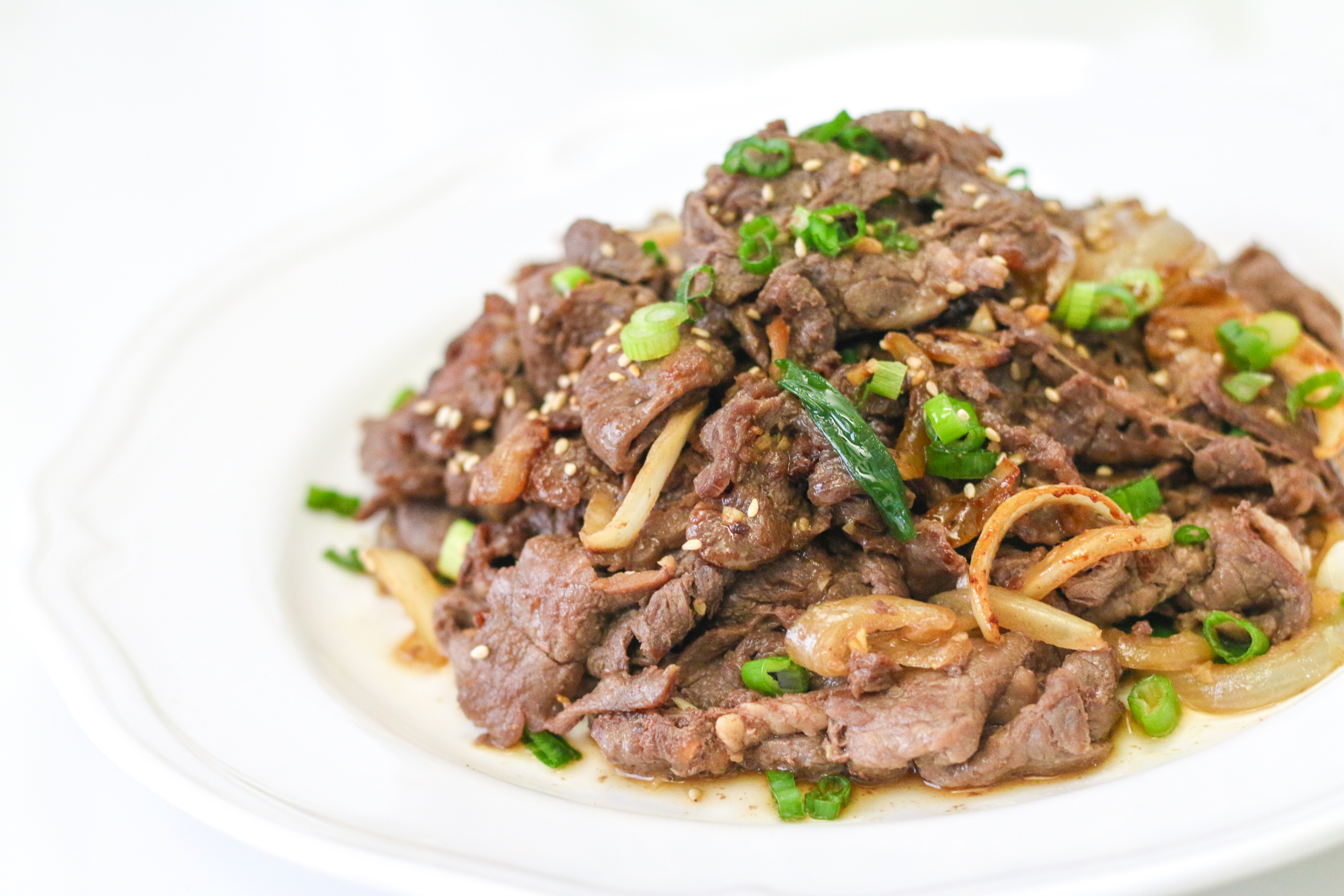 The best part of the thin cut of meat is that you only have to marinate it for an hour.  So even though Bulgogi is a popular dish that is ordered often at Korean restaurants, there's no reason you can't easily make it at home!  See how I pull together this Korean BBQ feast in EPISODE 1 SEASON 4 of Bits & Pieces Cooking Show below!
WATCH EPISODE 1 SEASON 4 HERE:
Once you know how to master bulgogi, you'll be able to make a lot of other Korean dishes that use it as a base, such as bibimbap, japchae, or gimbap. It's fun to see it used in fusion dishes too, like Korean tacos or Bulgogi sandwiches.  So if you're not feeling rice, ssamjang (Korean seasoned bean paste) and lettuce wraps, slap some Bulgogi on a toasted French roll and melt some provolone cheese on top.  It will be like a Korean Philly cheesesteak!  Mmmm…now I'm hungry.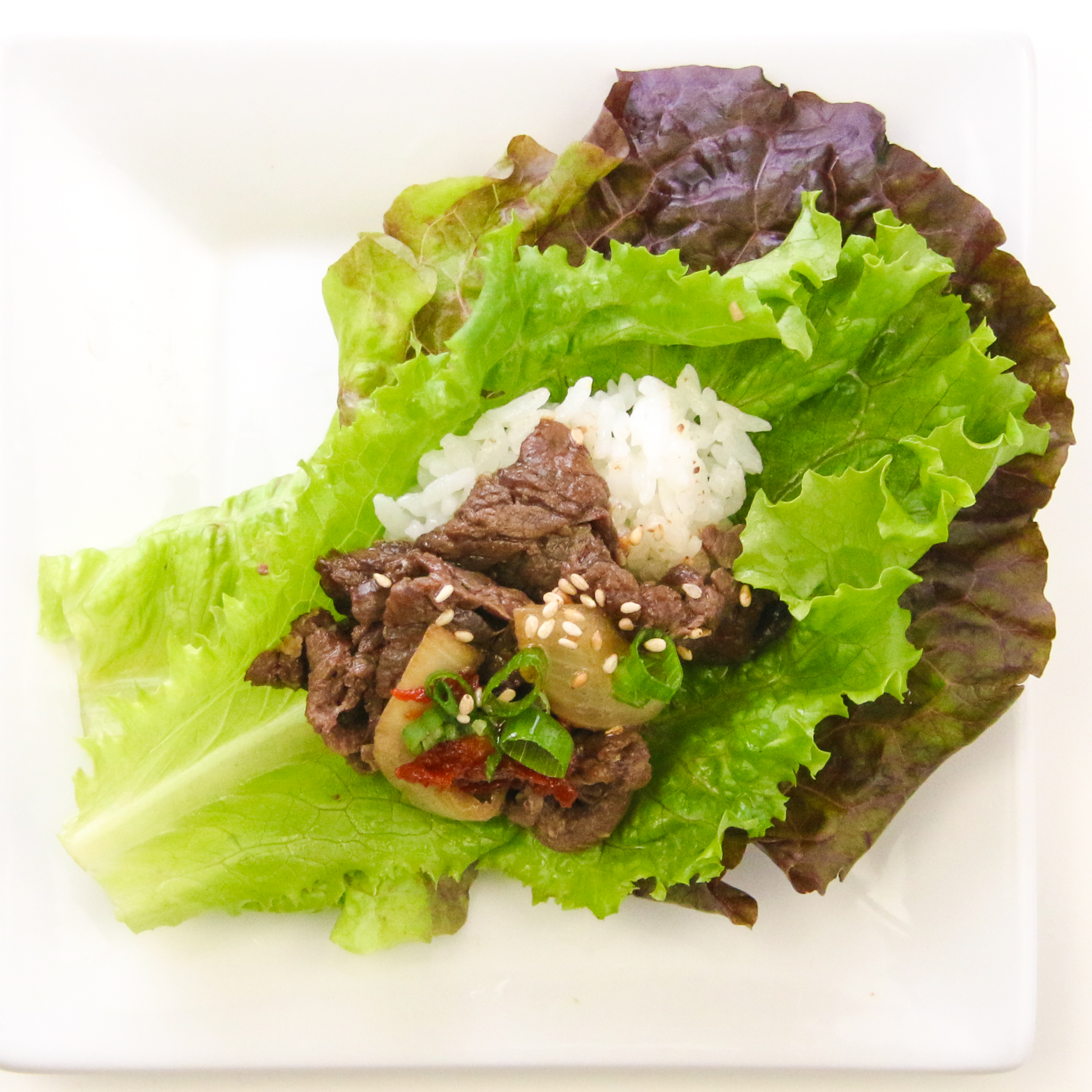 When we were in Korea over the summer, we did eat Korean BBQ, but oddly enough, we never ate grilled Bulgogi!  The only time we had it was when it was served in a stone pot along with some broth, kind of like a Bulgogi soup.  It was pretty good and I loved how you could pour the extra soupy sauce over your rice.  Talk about comfort food!
With that said, the method in which you choose to cook your Bulgogi will affect the look and taste.  If you grill it, the sugars in the marinade will caramelize and turn slightly charred, which results in a unique smoky unbeatable flavor.  If you cook it quickly in a crowded pan, you might end up steaming the meat rather than searing it, which will result in some juices forming.  But that's not necessarily a bad thing in this case since you can always scoop that resulting juice over your rice.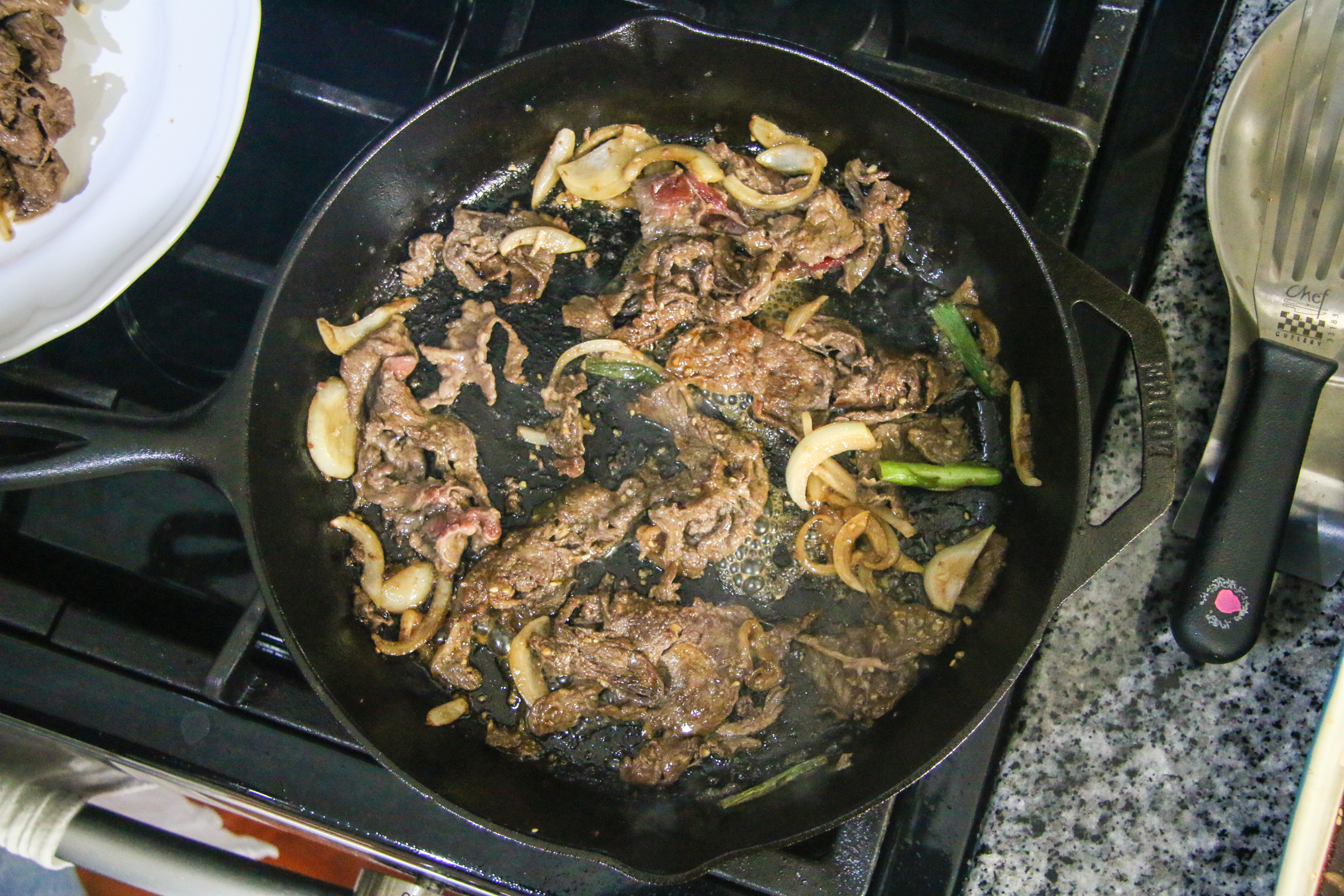 For our video, I cooked it in a cast iron pan and made sure not to overcrowd it.  I wanted the beef to look nicely browned and caramelized for our pictures, so I made sure to use a very hot pan and cook small batches at a time.  This resulted in having very little to no juice, but the beef was still moist and tender.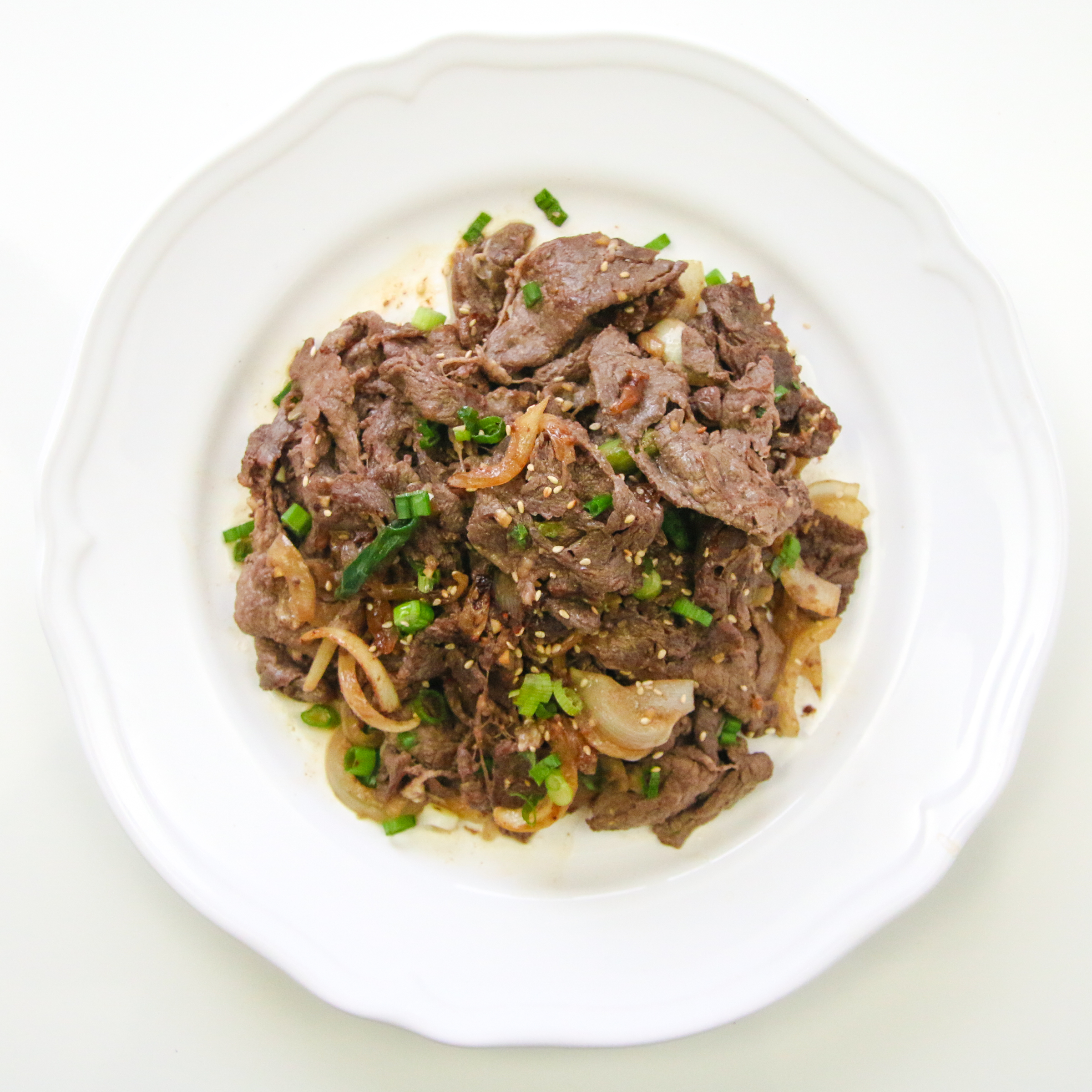 One thing I should mention is that since you're using very thinly sliced beef, be sure not to overcook it, or it will dry out, regardless of it being marinated. That's a secret pet peeve of mine, so I will come knocking at your door with my finger wagging in your face if you overcook your bulgogi.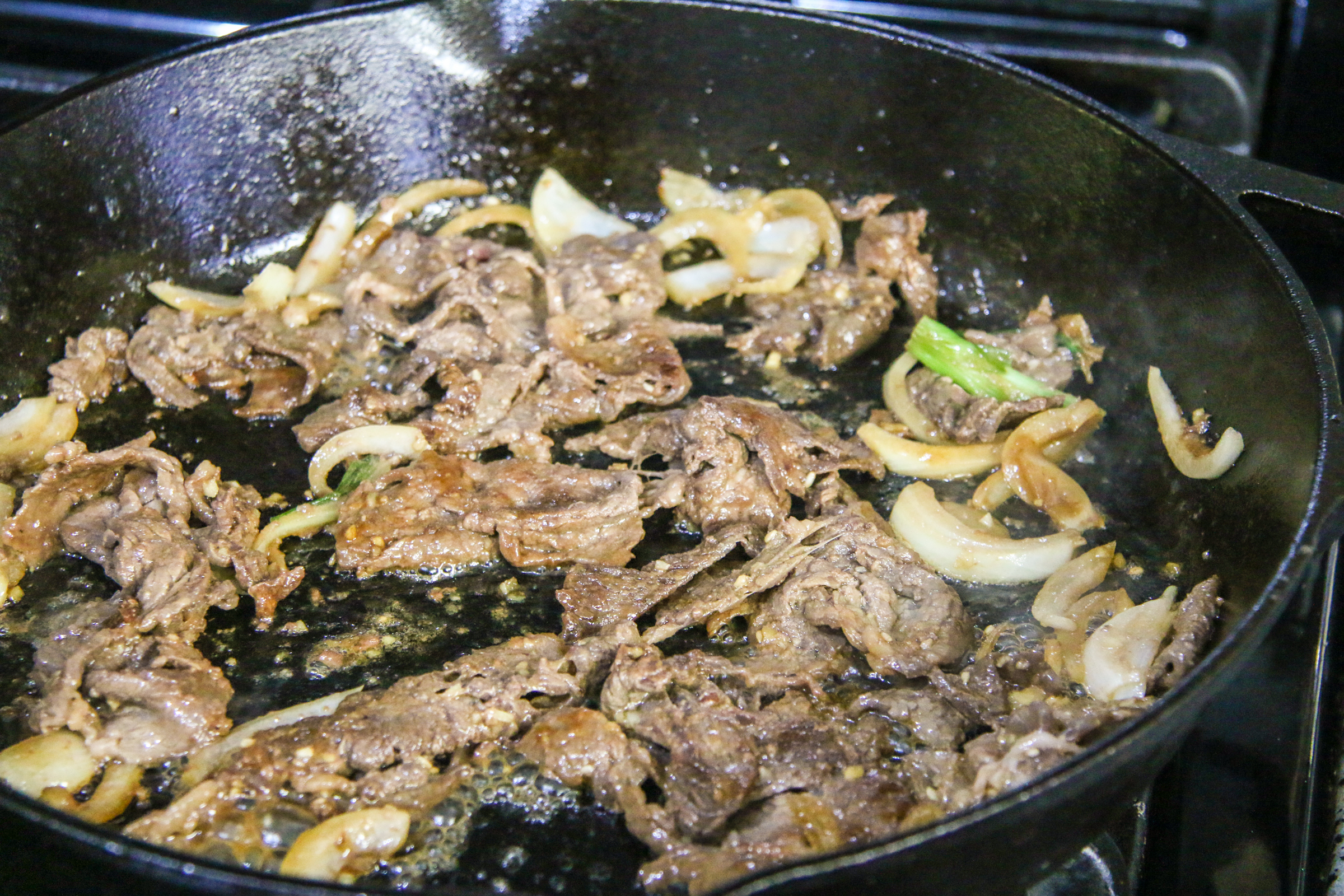 And don't worry about cooking it all in one shot.  Just cook what you need.  I love to freeze any leftover raw marinated meat in portions for a busy weeknight. This has saved me twice in the last couple weeks when I was too busy and tired to figure out what to cook.
Lastly, I won't be offended in the slightest if you want to personalize my recipe and add your own twists.  How sweet or salty you want it is totally up to you.  And if you want to add in some grated fruit, more power to you.
When it's cooking, try your best to be patient and not eat it all straight off the pan.  It will be hard to resist, but save some for everybody else.  You'll have more friends that way ;).
If you enjoyed this VIDEO, SUBSCRIBE to our COOKING SHOW CHANNEL HERE.  It's FREE! : Chef Julie Yoon
If you want to follow us on our journey, SUBSCRIBE to our VLOG CHANNEL HERE. It's FREE! : Our Yooniverse

Bulgogi (Marinated Korean Beef BBQ)
Thinly sliced rib eye is marinated in a savory and sweet sauce and cooked quickly on a hot grill or in a pan. Dinner is done.
Ingredients
2 pounds thinly sliced rib eye, tenderloin, or sirloin (from Korean market)
6 tablespoons soy sauce
3 tablespoons water
2 packed tablespoons brown sugar
2 tablespoons honey
2 tablespoons mirin
2 tablespoons minced garlic
1 teaspoon minced ginger
2 tablespoons sesame oil
⅛ teaspoon black pepper
1 teaspoon Roasted sesame seeds, plus more for garnish
1 medium onion, thinly sliced
2-3 scallions cut into 2-inch pieces, plus 1 scallion thinly sliced for garnish
Instructions
Mix all the marinade ingredients in a medium baking dish or wide bowl. Separate the thin slices as you add them to the marinade. Top with the onions and scallions. Gently press down on the meat to make sure the marinade hits and submerges all of the slices. Cover, and marinate the meat for one hour.
Place on a lightly oiled grill or sear in a skillet over high heat until slightly caramelized. Do not overcrowd your pan or overcook your meat. Since it's so thin, it cooks quickly! Top with sesame seeds and chopped scallions for garnish. Serve with lettuce leaves, rice, ssamjang (Korean seasoned bean paste), and kimchi!

TIPS: Pre-sliced beef used specifically for bulgogi is sold at any Korean market. But If cutting the beef at home, make sure you get marbled rib eye, tenderloin, or sirloin, because leaner cuts of beef will be too tough. Partially freeze for about an hour to firm it up for easier slicing. Cut against the grain into about ⅛-inch thick slices.