Bulgogi Glazed Salmon with Goguma Puree (and Mustard Greens)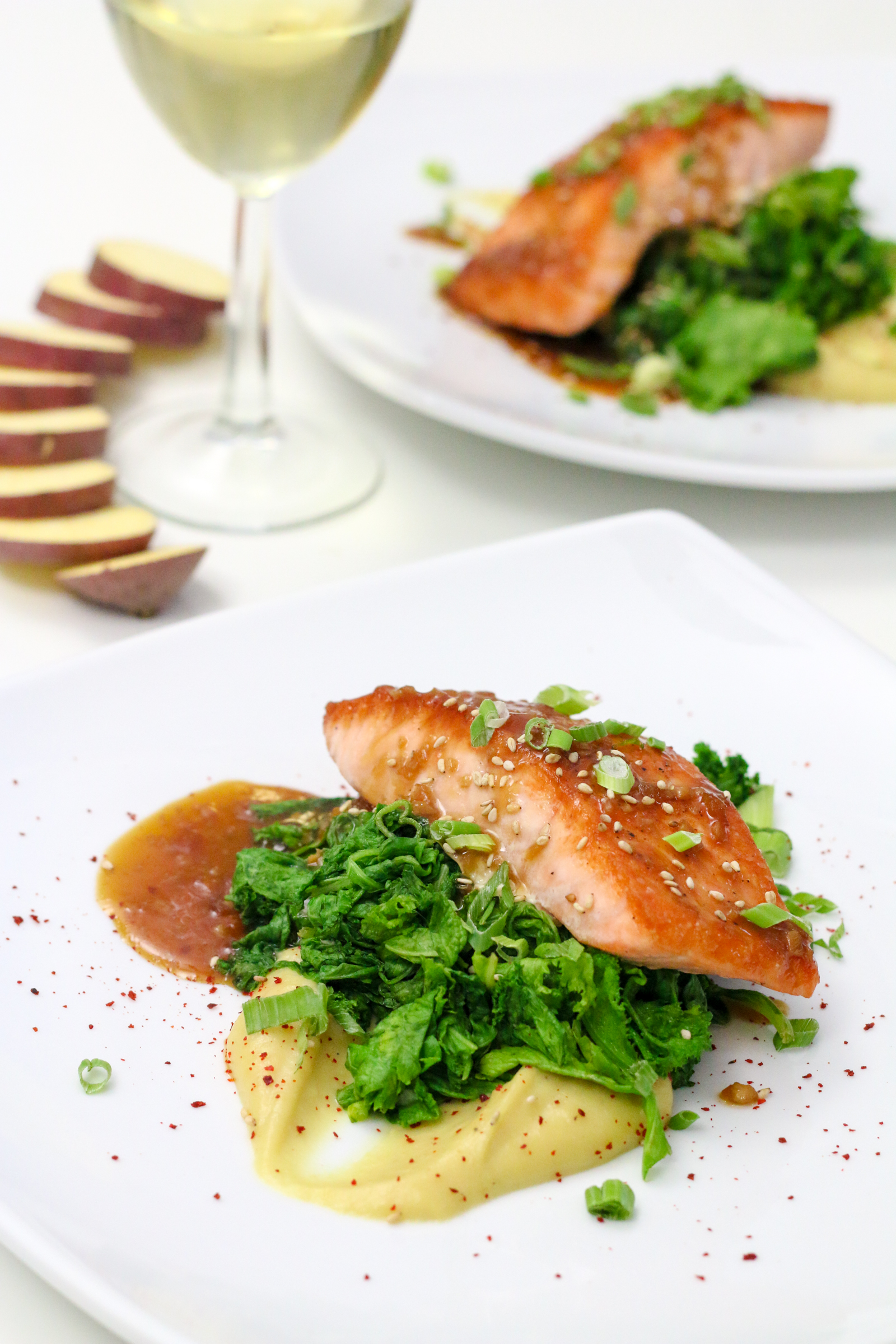 This is my first Korean fusion recipe of SEASON 4 and it's not even my recipe!  That's right…I got a mini break by having someone else wrack their brain for our show.  This is another collaboration with our friend Chef James and it's funny how we actually posted his last collab video around the same time last year!  Remember his Creme Brulee for Two Recipe for Valentine's Day?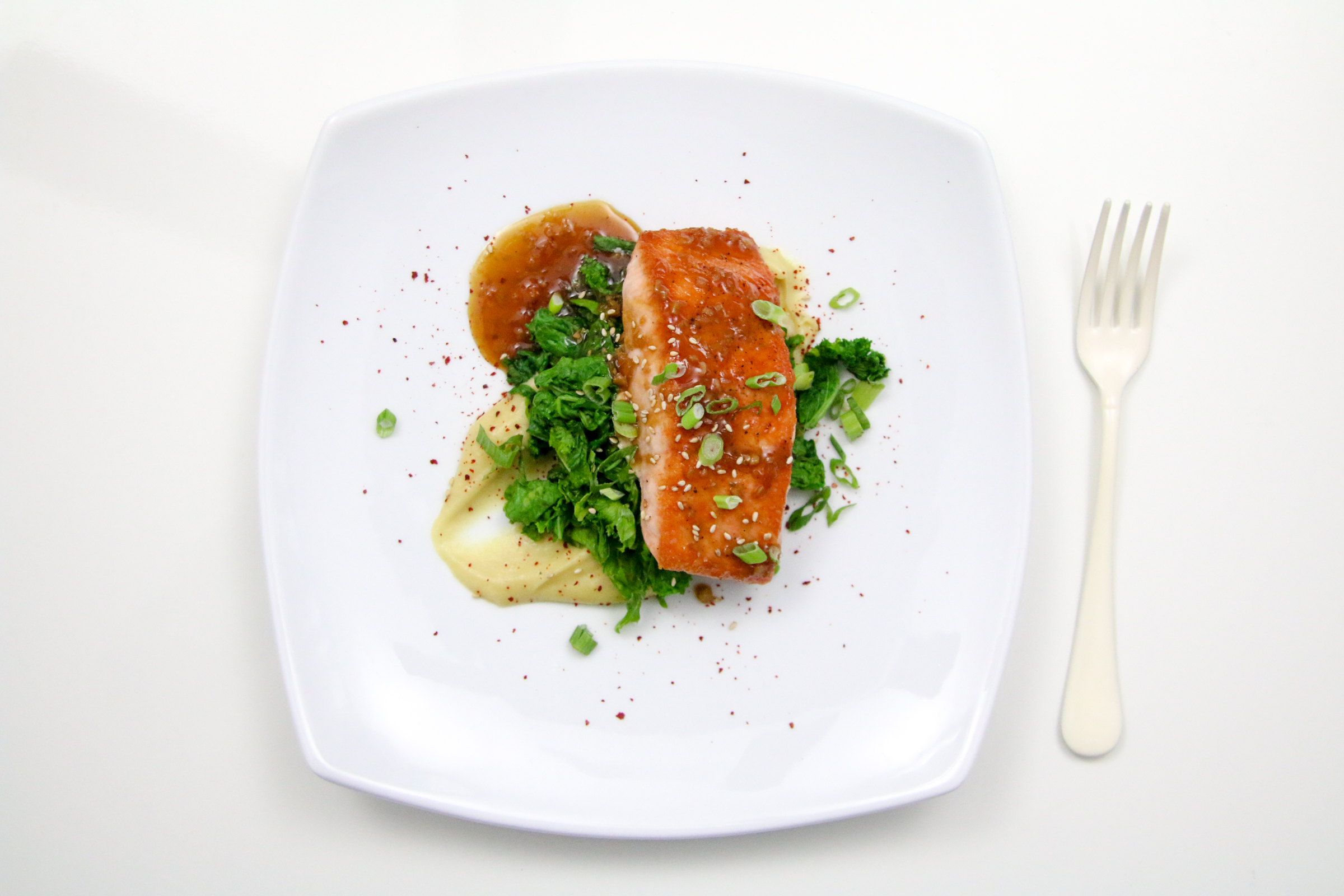 We weren't even trying to be intentional about this, but you could totally make this meal for Valentine's Day or any special occasion!  What I love most about this dish is how everything is so balanced.  The glaze and Goguma Puree is sweet, and the mustard greens are peppery.  It works so well together, and even though you're using simple ingredients, everything looks so fancy together!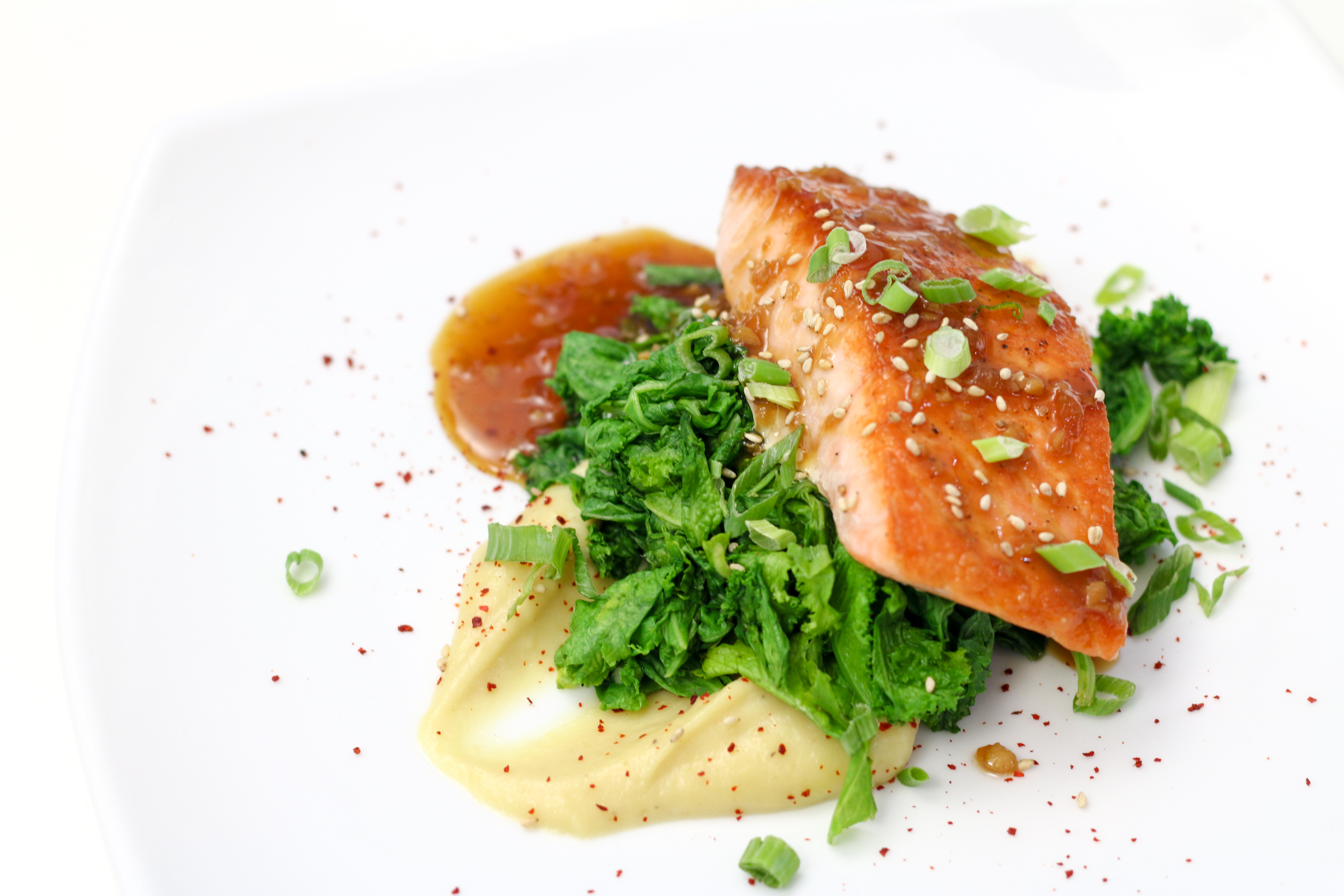 There are definitely a few more steps involved with this recipe, but I assure you that they're all doable and it's worth it as soon as you take that first bite.  Watch how we make this modern Korean fusion dish in EPISODE 5 of Bits & Pieces SEASON 4 BELOW:
WATCH US MAKE BULGOGI GLAZED SALMON WITH GOGUMA PUREE HERE:

And for those of you wondering what a "goguma" is, it's just a Korean sweet potato.  It's actually different in texture and taste compared to a regular sweet potato.  It's denser and in my opinion, a little sweeter.  It gives the puree a creamy velvety consistency, as well as a beautiful buttercup yellow color.  Then it's lightly sprinkled with a dusting of Korean hot pepper flakes.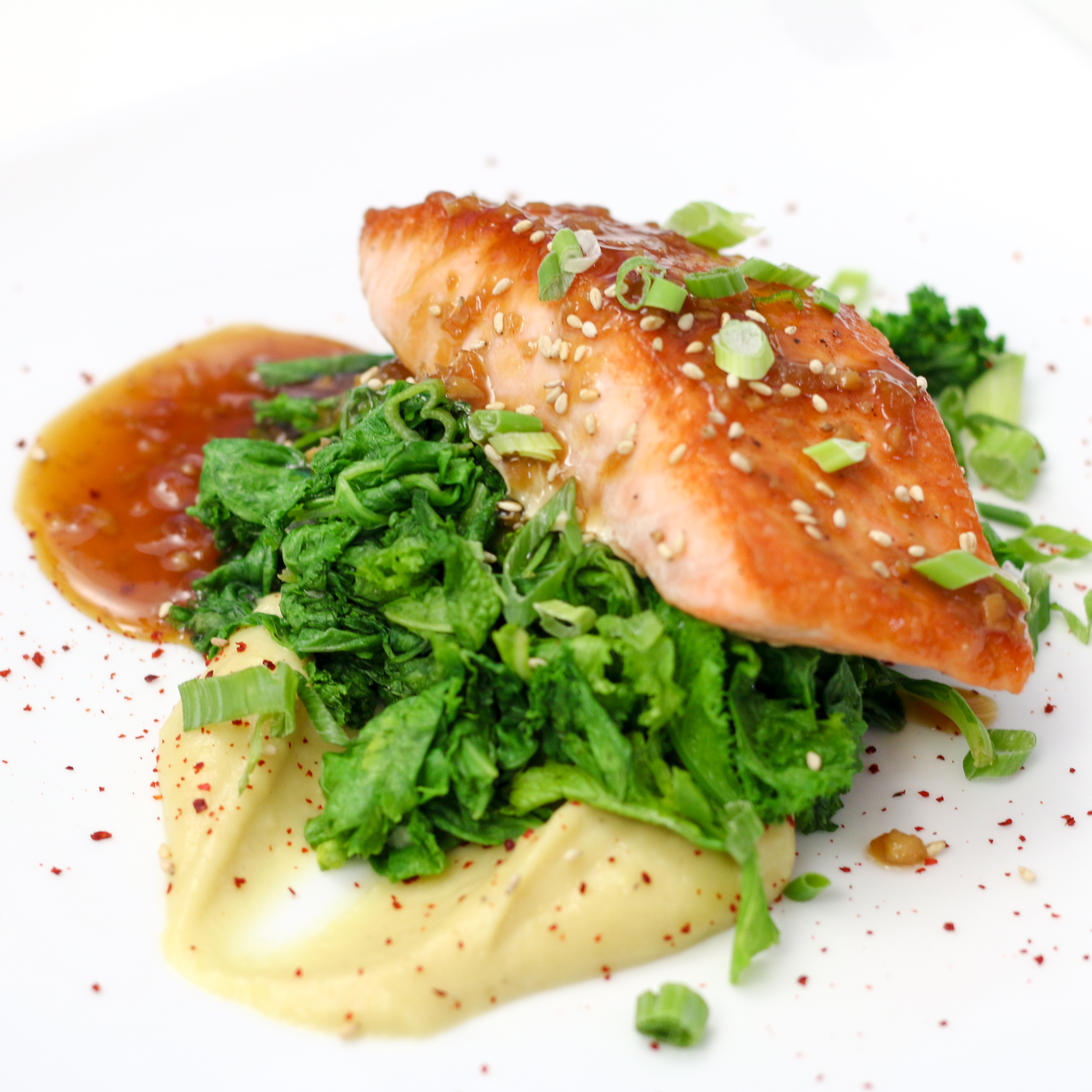 As for the salmon, James does something interesting that I never thought to do before… he seasons and sears the fillets only on ONE side!  I feel like I'm going to adopt this method from now on because the half seared salmon tucks into the oven for only a few minutes and comes out juicy, tender, and perfectly pink in the center.  Is there anything worse than dry salmon?  Maybe dry chicken…
But even if you overcook your salmon a tad, the sweet and sticky Bulgogi glaze will come to your rescue.  James tried to base it off of similar ingredients I used in my Bulgogi Recipe, but instead of making a marinade, he turned it into a shimmering sauce.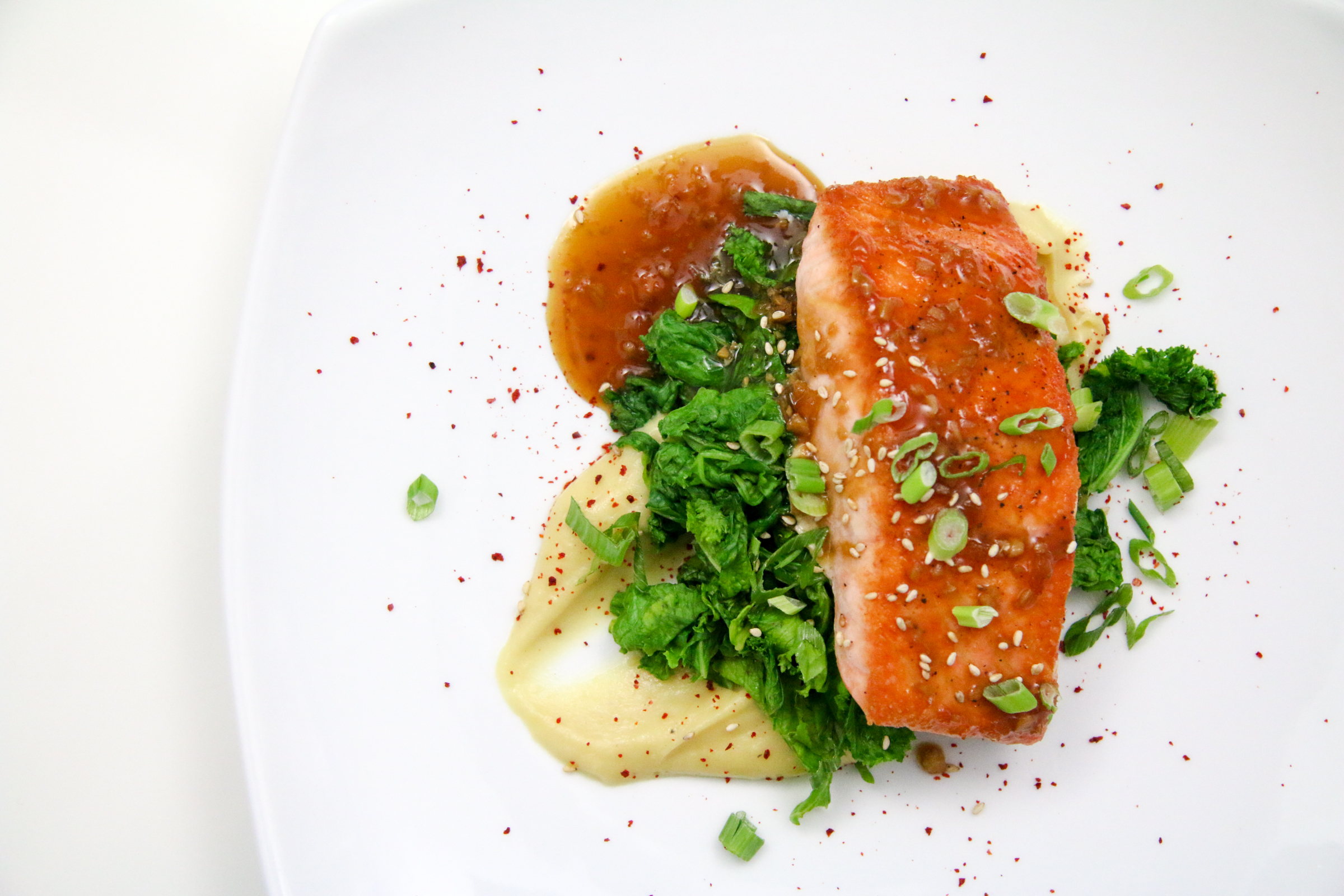 Now there are a few things you might want to remember when making your glaze.  We kind of discovered this the hard way, but keep your glaze WARM!  You can make it ahead of time, but you definitely have to make sure you keep your pot over low heat so that the sauce won't break. While we were filming, we let it get cold, and it separated into a runny sauce that we had to whisk into submission with more cornstarch slurry.  But don't worry… I actually wrote this tip into the recipe.
And lastly, don't let your greens wilt too much.  Mustard greens are just like kale or spinach in the concept that they start out huge, but shrink away to practically nothing if you let them.  When they're just slightly wilted, they taste more peppery, like horseradish, and they work beautifully with the rest of the elements on the plate.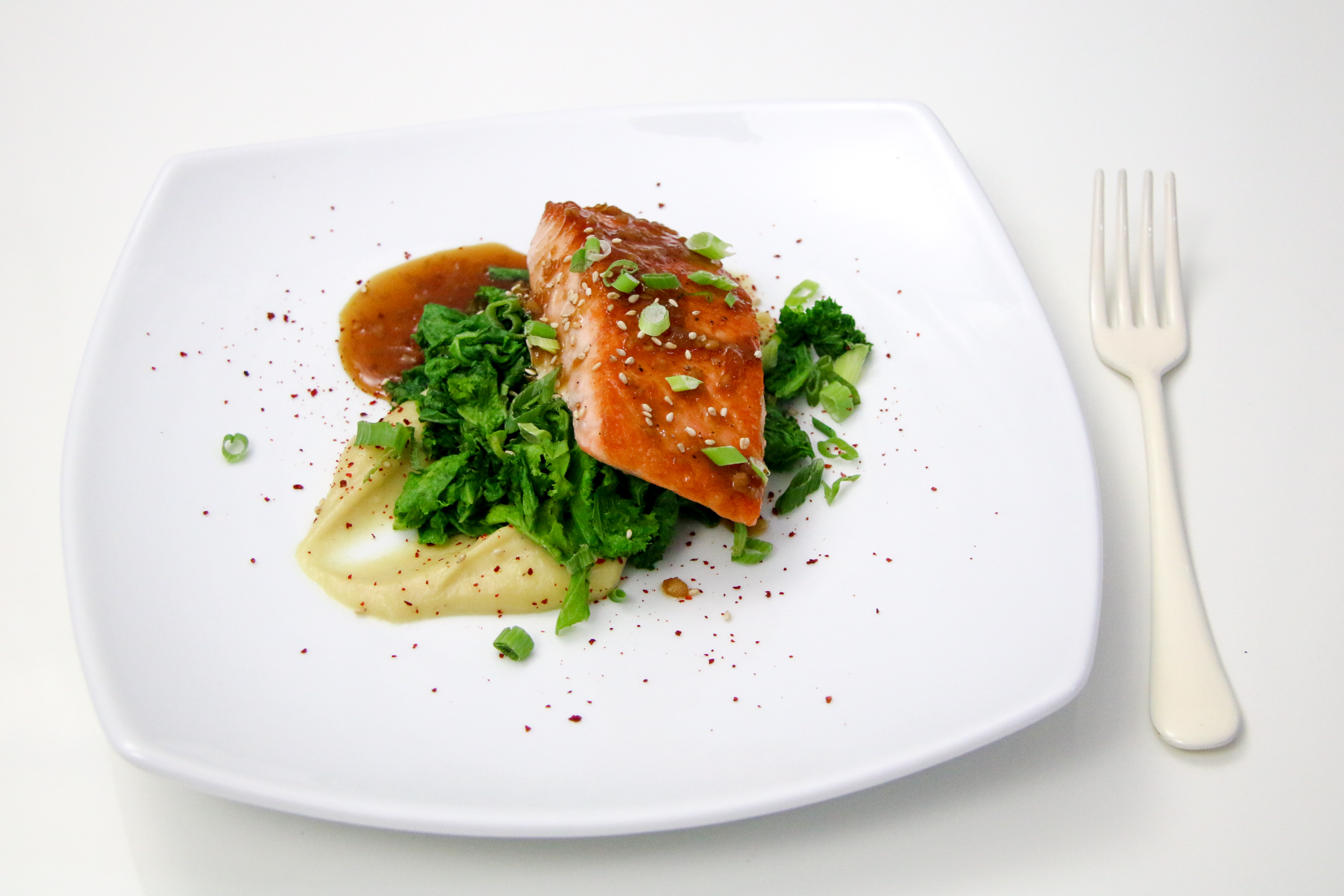 But I'm just being overly concerned for you. There's really no need to fret my pet.  Every single step is easy to do when you break things down.  You'll surely impress your date, your guests, and yourself!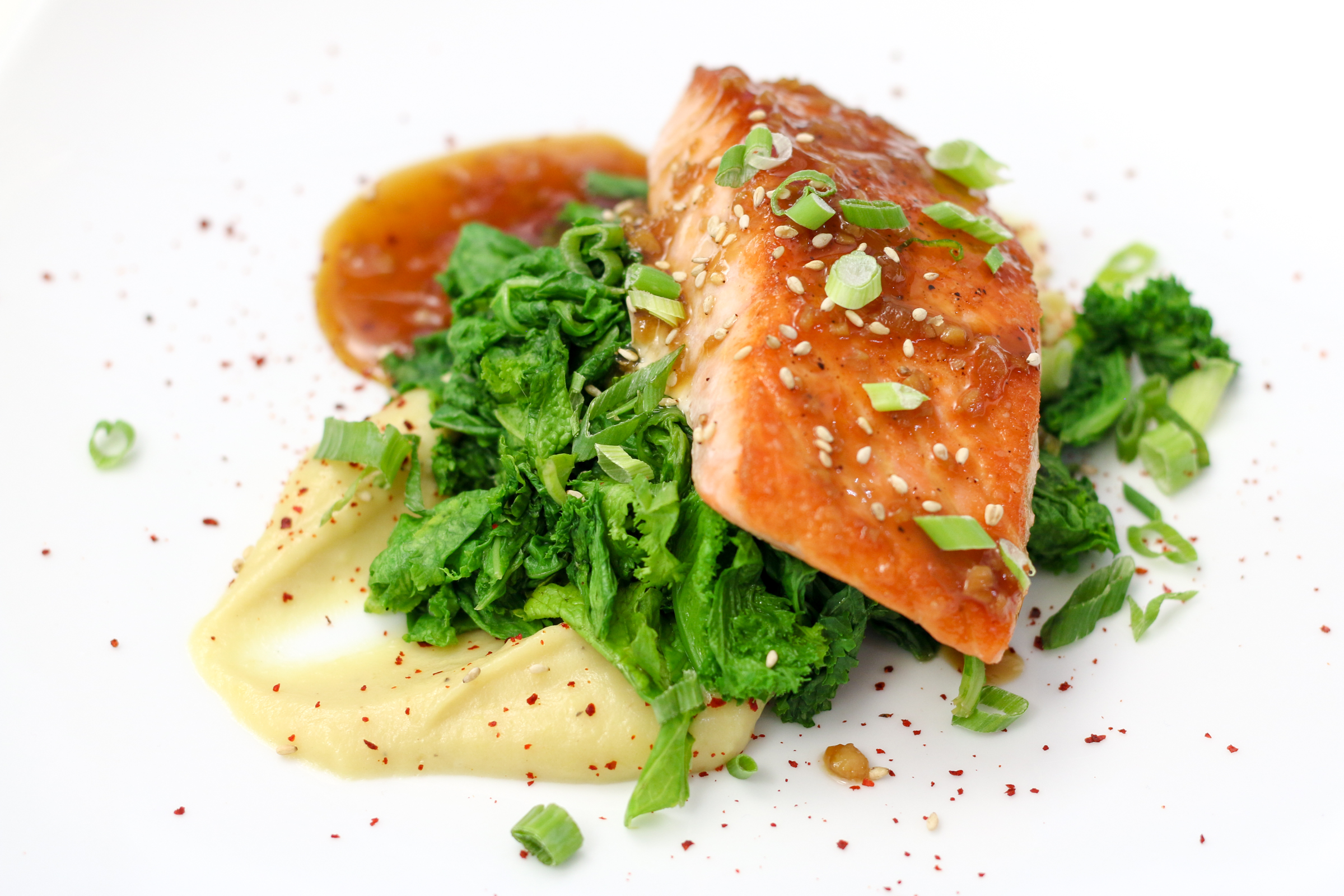 I love seeing classic Korean ingredients used in a new way.  It challenges and inspires me to come up with more of these kinds of recipes on my own.  Shout out to Chef James for sharing his bomb recipe with us… all of our happy stomachs thank you in advance!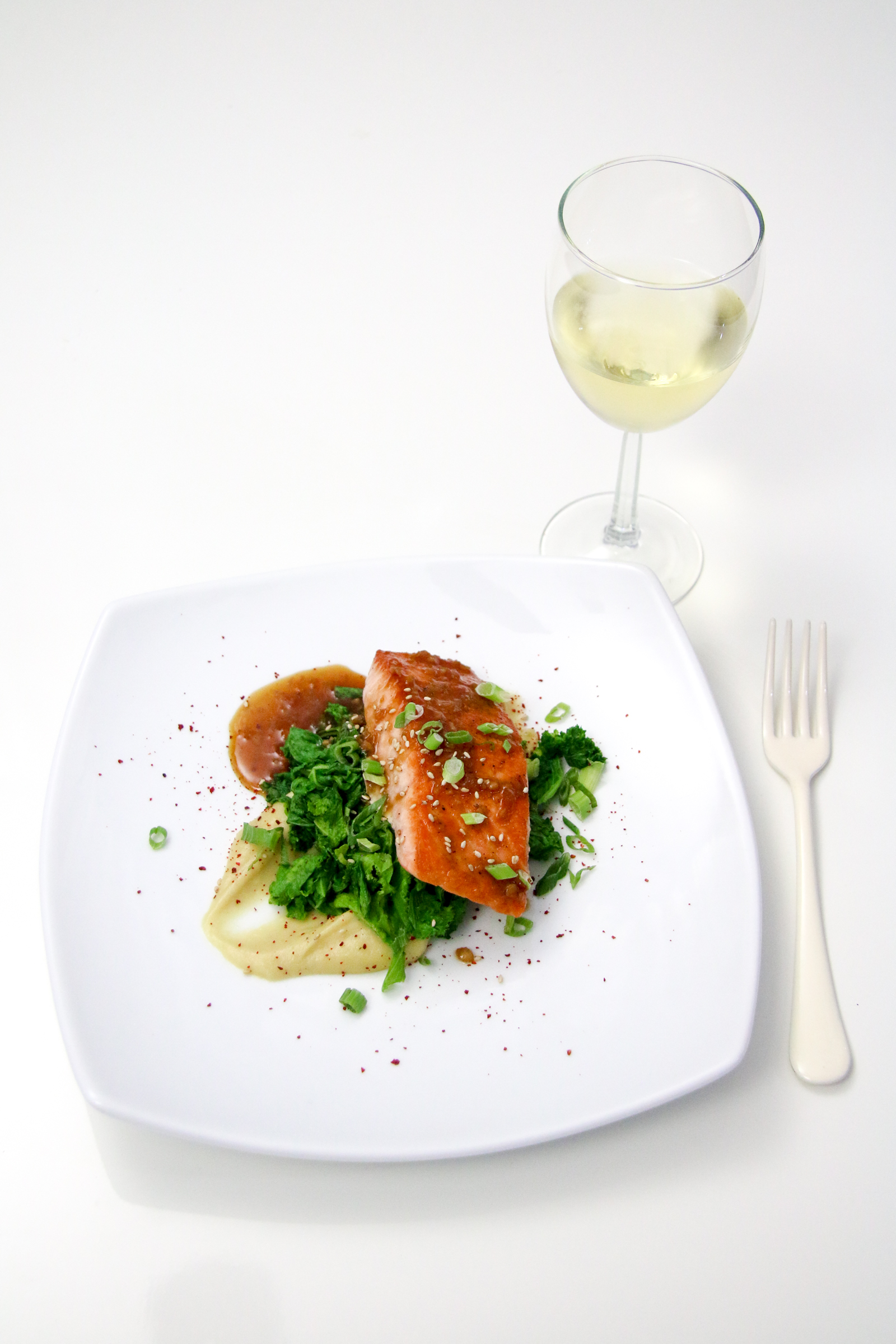 If you enjoyed this VIDEO, SUBSCRIBE to our COOKING SHOW CHANNEL HERE.  It's FREE! : Chef Julie Yoon
If you want to follow us on our journey, SUBSCRIBE to our VLOG CHANNEL HERE. It's FREE! : Our Yooniverse

Bulgogi Glazed Salmon with Goguma Puree (and Mustard Greens)
This modern Bulgogi Glazed Salmon dish is perfectly balanced and uses classic Korean ingredients in exciting new ways.
Ingredients
Salmon
4 (6 ounce) skinless salmon fillets
Salt and Pepper to taste
Vegetable oil for the pan
Bulgogi Glaze (recipe follows)
Chopped scallions
Toasted sesame seeds (optional)

Bulgogi Glaze
1 tablespoon sesame oil
1 tablespoon finely chopped onion
2 tablespoons minced garlic
2 teaspoons minced ginger
1 cup water
¼ cup soy sauce
2 tablespoons brown sugar
1 tablespoon honey
1 ½ tablespoons mirin
2 tablespoons cornstarch dissolved in 2 tablespoons water

Gogoma Puree
2 medium sized Korean sweet potatoes, roasted until tender
½ cup heavy cream, or more if needed
2 tablespoons unsalted butter
Salt and Pepper to taste
Korean chili flakes (Gochugaru), for sprinkling

Mustard Greens
2 bunches mustard greens, washed, stemmed, and torn in pieces
2 tablespoons sesame oil, divided
2 teaspoons minced garlic, divided
Salt and Pepper to taste
Instructions
Roast the Korean sweet potatoes in a 400 F degree oven until tender. This could take from 45 mins to 1 hour depending on size. Peel the roasted Korean sweet potatoes and place them in a blender while they're still hot. Add butter, cream, and blend. Add more cream if your puree isn't getting smooth. Season with salt and pepper to taste. Transfer to a bowl and keep covered with aluminum foil so it stays warm.
Make the Bulgogi glaze. In a bowl, combine water, soy sauce, brown sugar, honey, and Mirin and mix. Set aside. In a small pot over medium heat, add sesame oil, onion, garlic, and ginger, and sweat for 2-3 minutes. Add the sauce mixture to the pot and bring to a boil. Reduce heat slightly and let it cook for 4-5 minutes more. Raise the heat again and add about HALF of the dissolved cornstarch mixture. Make sure the sauce comes to a boil to activate the cornstarch. It should thicken into a glaze consistency. You might not use all of this cornstarch mixture, but add what you need if it doesn't get thick. Season with salt and pepper to taste. Keep the sauce warm on very low heat while you cook your salmon.
Preheat your oven to 350 F degrees. Heat a large pan with vegetable oil and place over high heat. Pat salmon fillets dry with a paper towel and then season on one side only with salt and pepper. Place seasoned side down in the hot pan until seared and golden brown, about 3 minutes. Only sear that one side. Place the salmon fillets presentation side up (the seared side) on a baking sheet and spoon on some of the glaze on each fillet. Reserve some of the glaze for spooning onto the plates at the end. Keep the glaze warm on low heat until you're ready to plate. Pop salmon into the oven and cook for 3-5 minutes for a medium doneness, slightly coral pink in the center.
Wipe out the pan you used to cook your salmon and add half of the sesame oil, and half of the garlic. Add half of the mustard greens and stir until they slightly wilt down. Don't let them wilt too much. Season with salt and pepper to taste. Dump into a bowl. Repeat this process for your second batch of greens.
To plate and serve, place a dollop of warm Gogoma Puree on each plate and drag it with the back of a spoon. Sprinkle with Korean pepper flakes. Add a pile of greens on top, and then one salmon filet on top of the greens. Spoon on any leftover glaze and garnish with sesame seeds and chopped scallions.