Noodles in Black Bean Sauce (Jjajangmyeon: 짜장면 / Jajangmyeon : 자장면)
As funny as it may seem, one of the things I was DYING to do while we were in Korea was order Chinese food….huh? Yeah because I knew Jjajangmyeon would be on the menu.  It's a Korean-Chinese fusion dish of noodles covered in a thick savory black bean sauce.  It's especially popular in Korea because it's considered cheap, no-frills food that can be delivered to your door in minutes.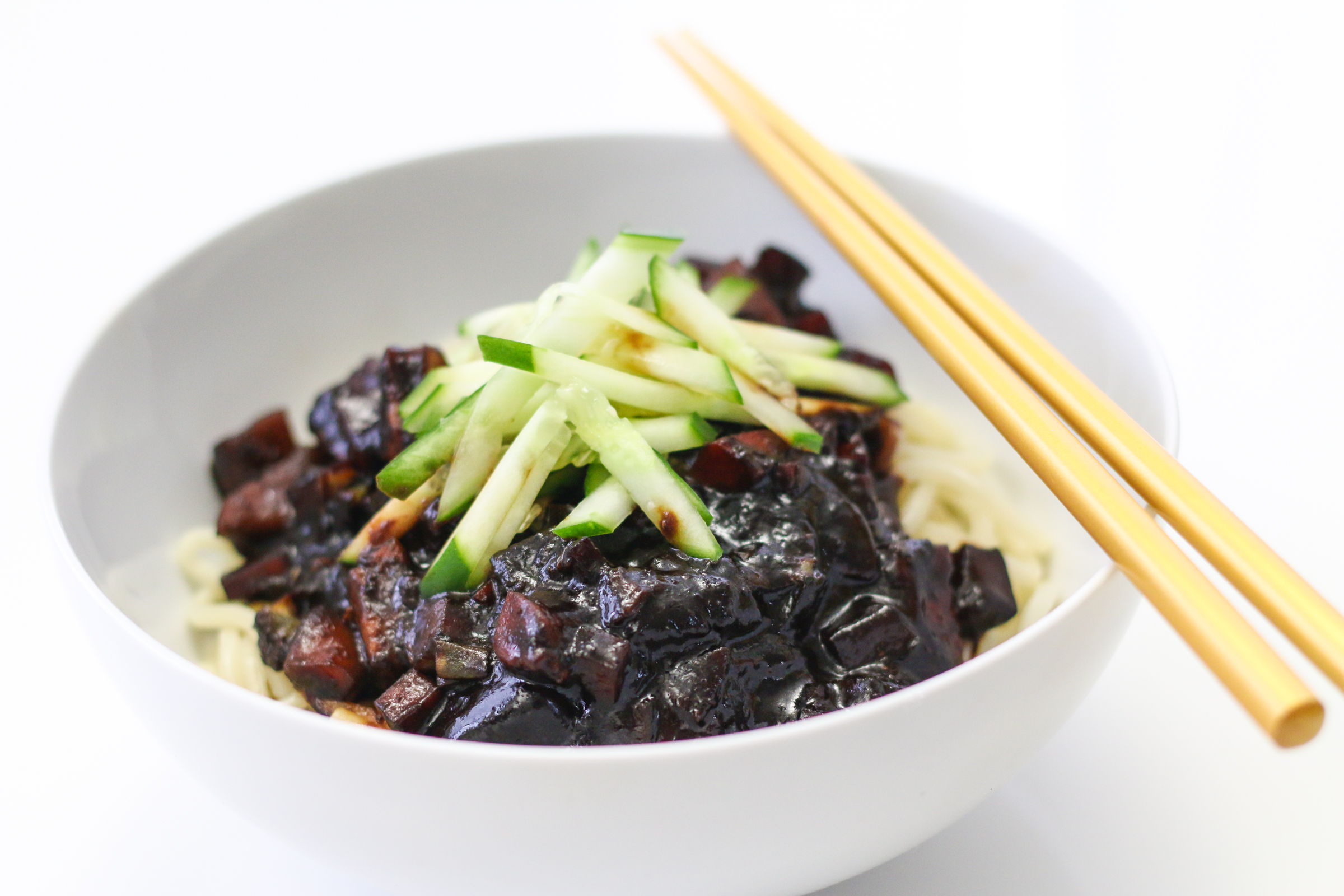 The delivery man usually brings it in a metal box, and it arrives piping hot, saran wrapped in real bowls, almost seconds after you hang up your phone.  But the best part of the whole experience is that after you're done with your meal, you just have to place your dirty dishes and trash in the plastic bag they provide for you and plop it outside your door.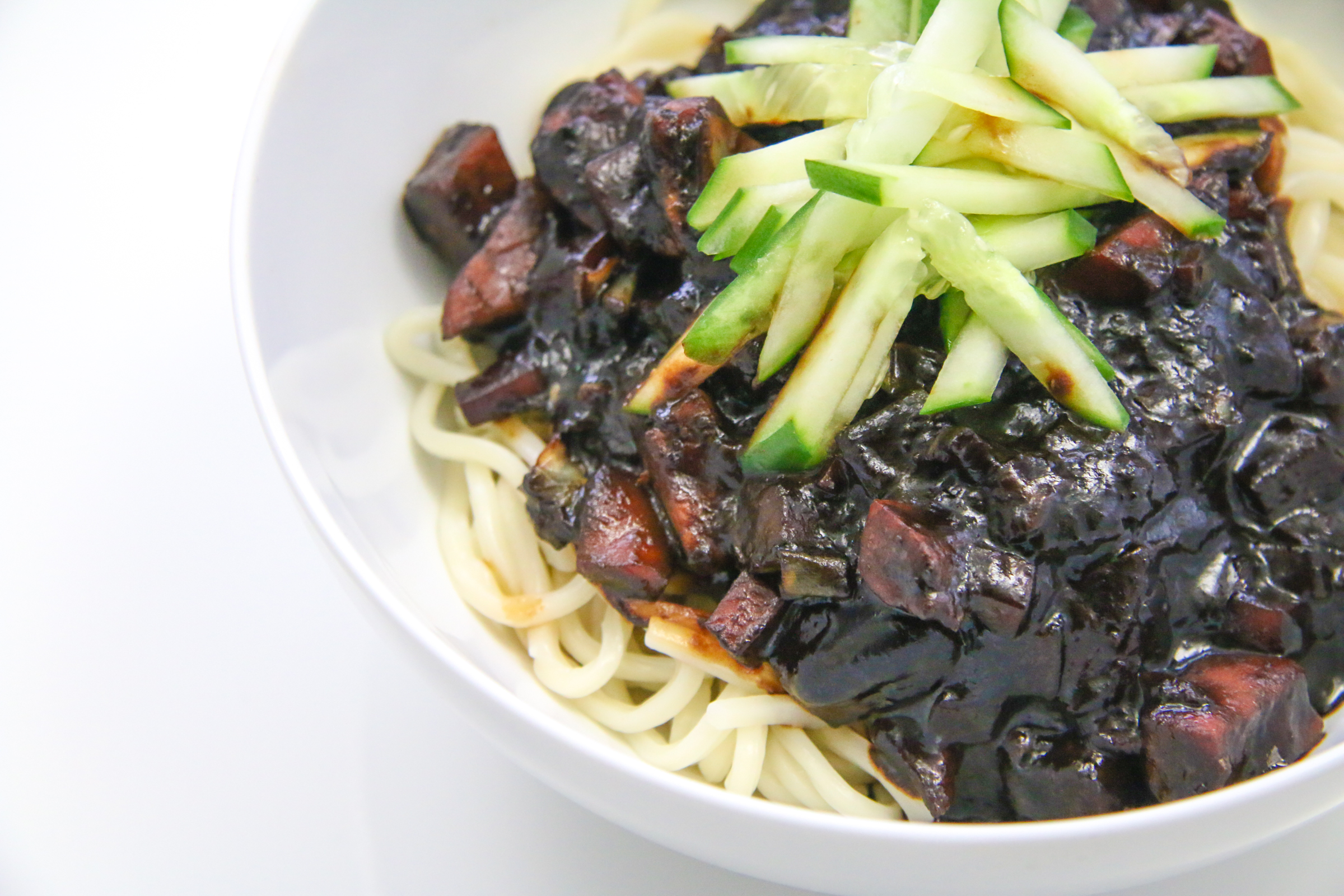 Then the delivery man comes back and picks it up for you!  You don't even have to call him because he's a wizard that just somehow KNOWS when you're done!  A quick, cheap, tasty, and hot meal brought to your door with no cleanup? Yes please!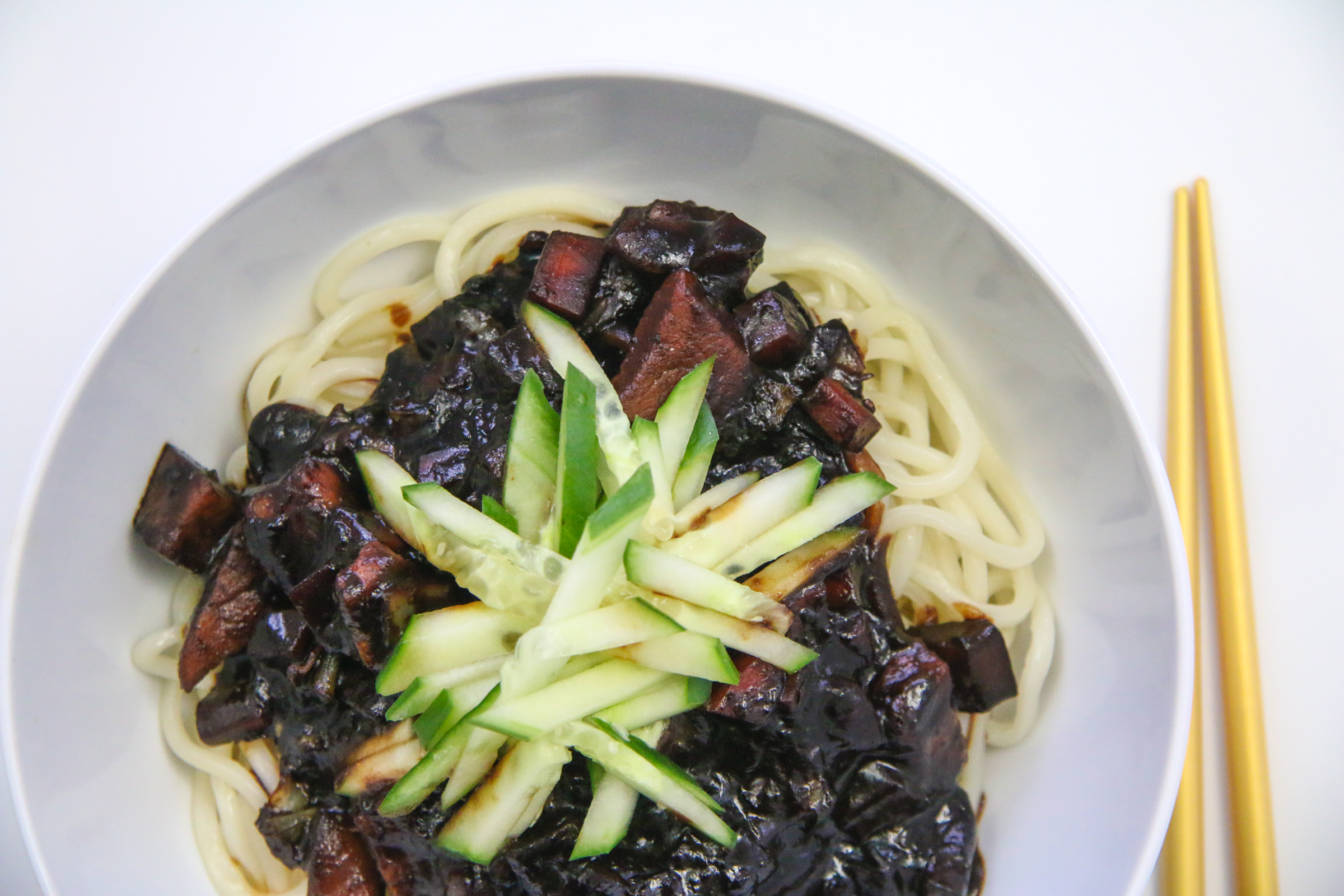 I'm glad we got to experience that in Korea, but now that we're back home in Chicago, we can't simply call up the local Korean-Chinese take out restaurant and expect that same kind of service. So I had to figure out how to make Jjajangmyeon myself.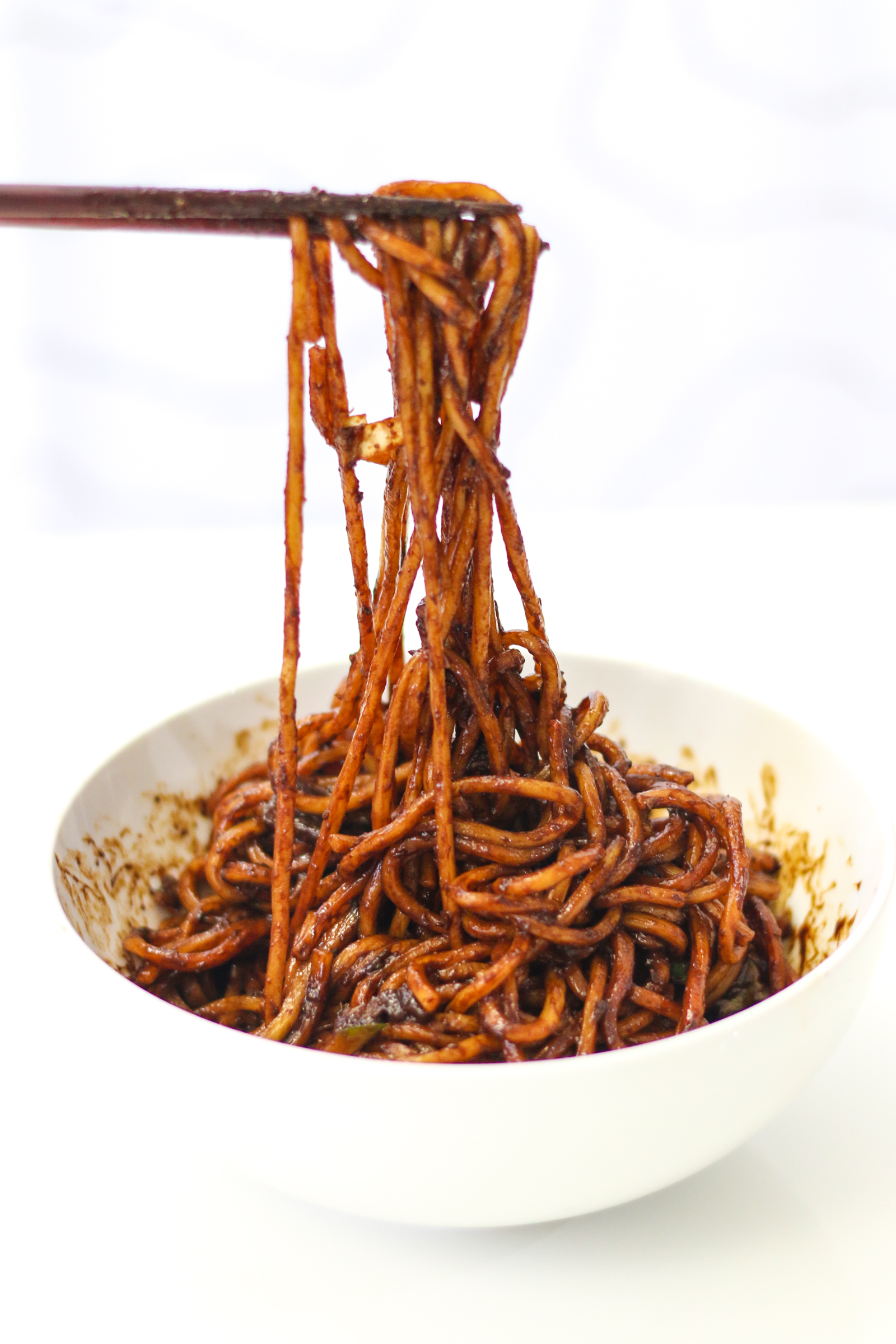 The good news is that it's not so hard to do, and it's every bit as tasty.  Plus, if I keep a few staple items in my fridge and freezer, I can have Jjajangmyeon anytime I want! See how I make this wonderfully messy and addicting noodle dish in EPISODE 3 of Bits & Pieces SEASON 4 below:
WATCH HOW I MAKE JJAJANGMYEON HERE:

Jjajangmyeon is a dish I grew up eating, but what I've come to realize is how you like it to taste is totally personal.  Some people prefer a slightly sweeter sauce, while others don't like it sweet at all.  Some like the sauce to be thick and chunky while others prefer a more runny sauce.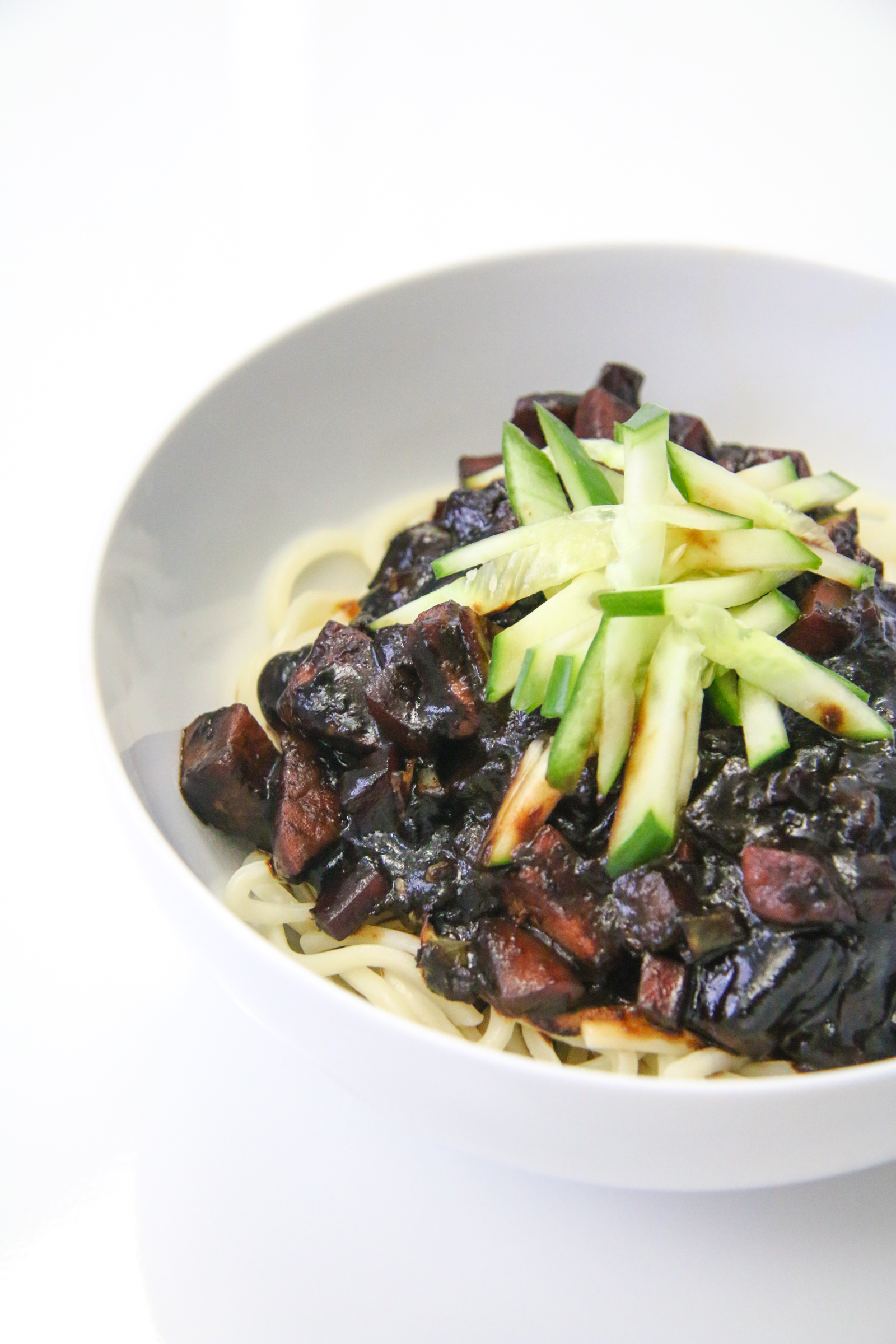 I'm somewhere in between the two camps.  I like it to be slightly thick, with just a hint of sweetness.  In my opinion, if it's too thin, the sauce won't coat your noodles well and they may even end up tasting bland.  What's the point of that?  But on the flip side, if it's too thick, good luck trying to mix it at all!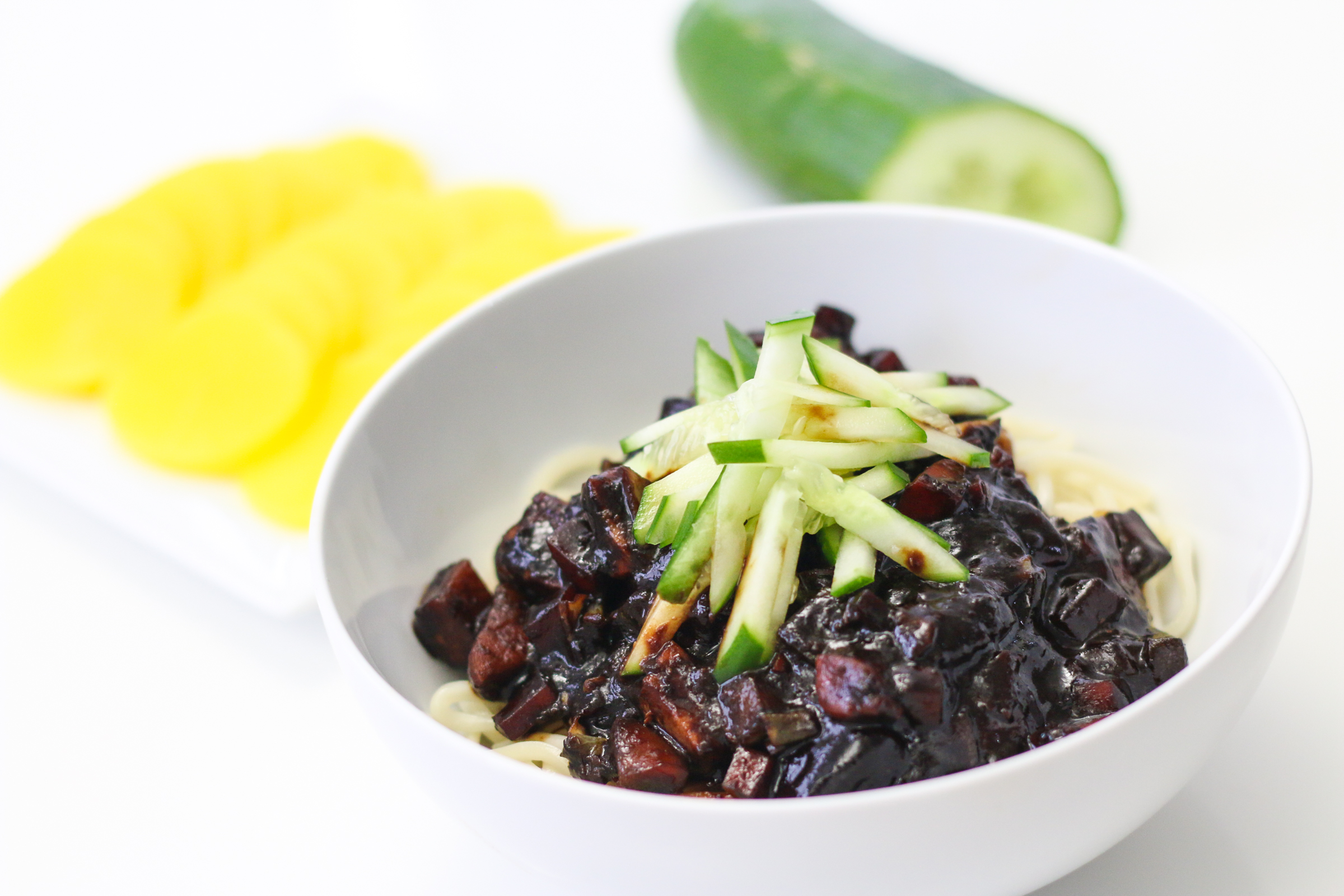 But you can adjust this sauce according to how you want it to be.  If it's too thick, thin it out with a splash of water.  If it's not sweet enough for you, just sprinkle in a bit more sugar!  This sauce is totally forgiving and it stretches well too.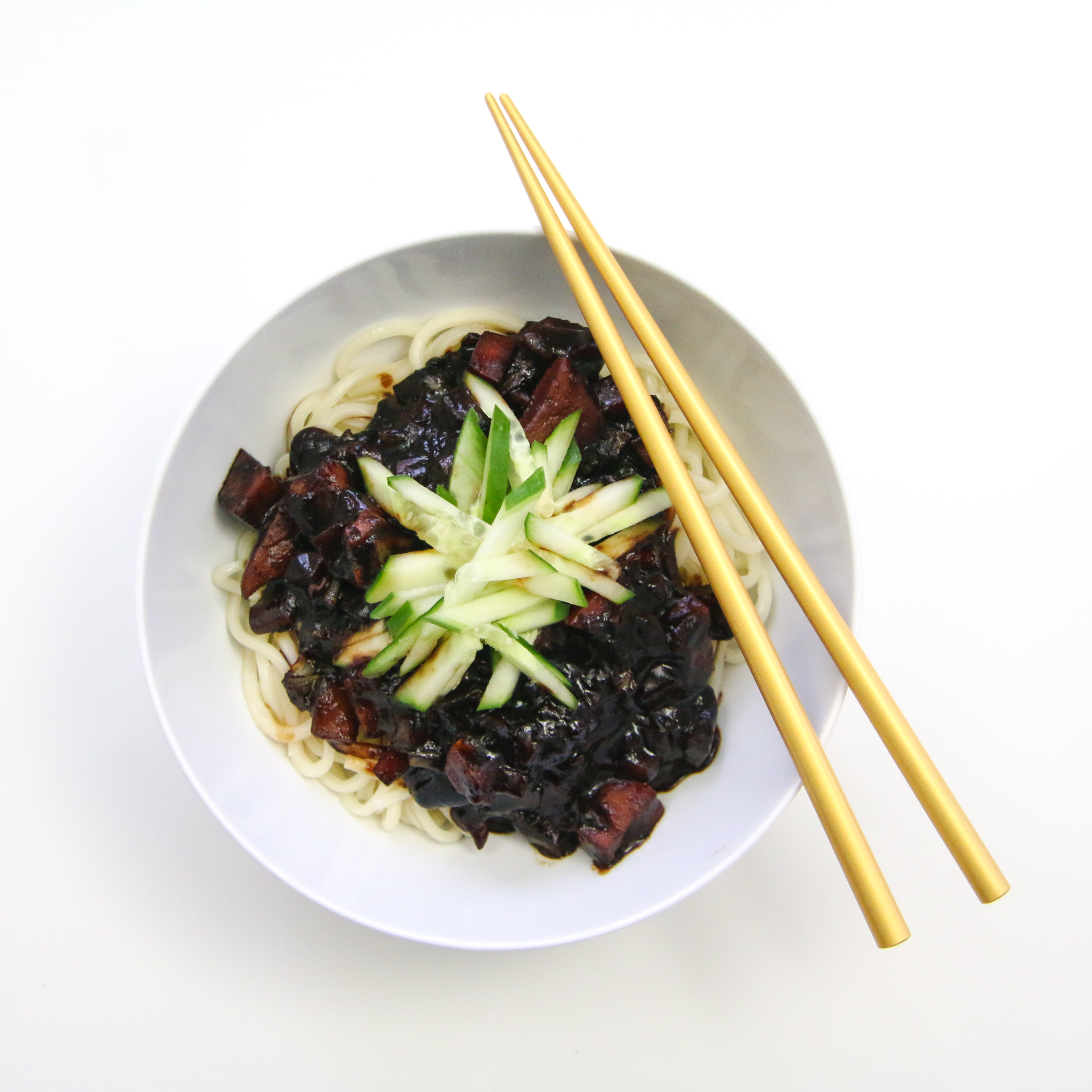 Garnish your bowls with some refreshing crunchy cucumber matchsticks and that's all you need.  However, I've seen some people plop a fried egg on top too.  Come to think of it, I totally should've done it…I'm a sucker for anything with a fried egg on top!  But I usually save that for when I pour any leftover sauce on top of rice the next day.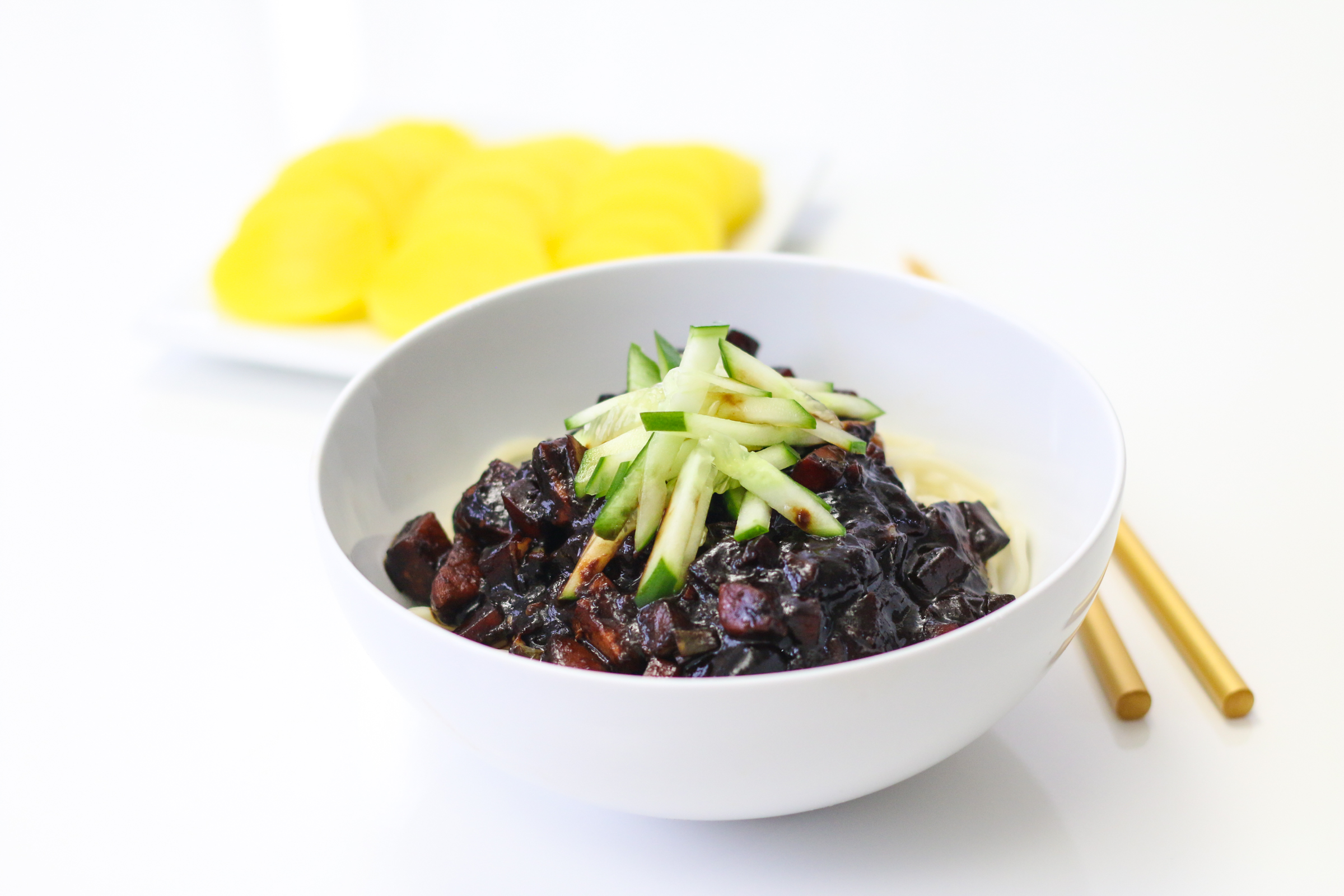 But no matter how you choose to adorn your Jjajangmyeon, no one can deny that you MUST eat it with a side of neon yellow sliced pickled radish (called either Danmuji or Dakgwang).  It's delightfully sweet, tart, and crunchy.  You can easily pick up a package of it at the Korean market.  Don't even try to eat Jjajangmyeon without it.  Ok… you can, but I wouldn't!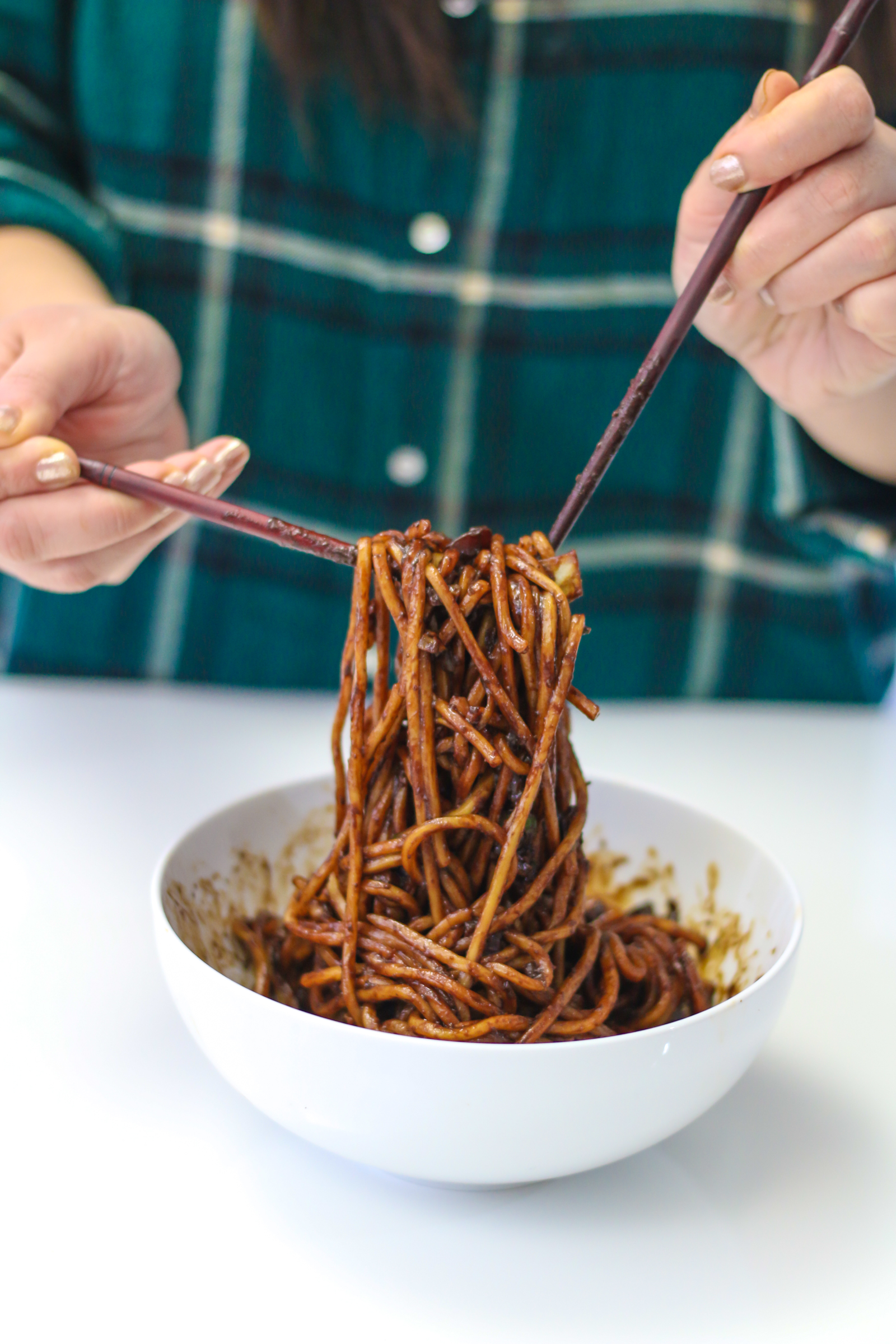 So grab a big bowl with plenty of room for mixing, and a handful of napkins to wipe your smiling sauce covered face.  You will get messy because slurping the noodles are definitely required.  And even though singles tend to eat these noodles in Korea on something called "Black Day," to signify their "loneliness," it's more fun to eat them with someone. So dig in my friend and let's eat some Jjajangmyeon together!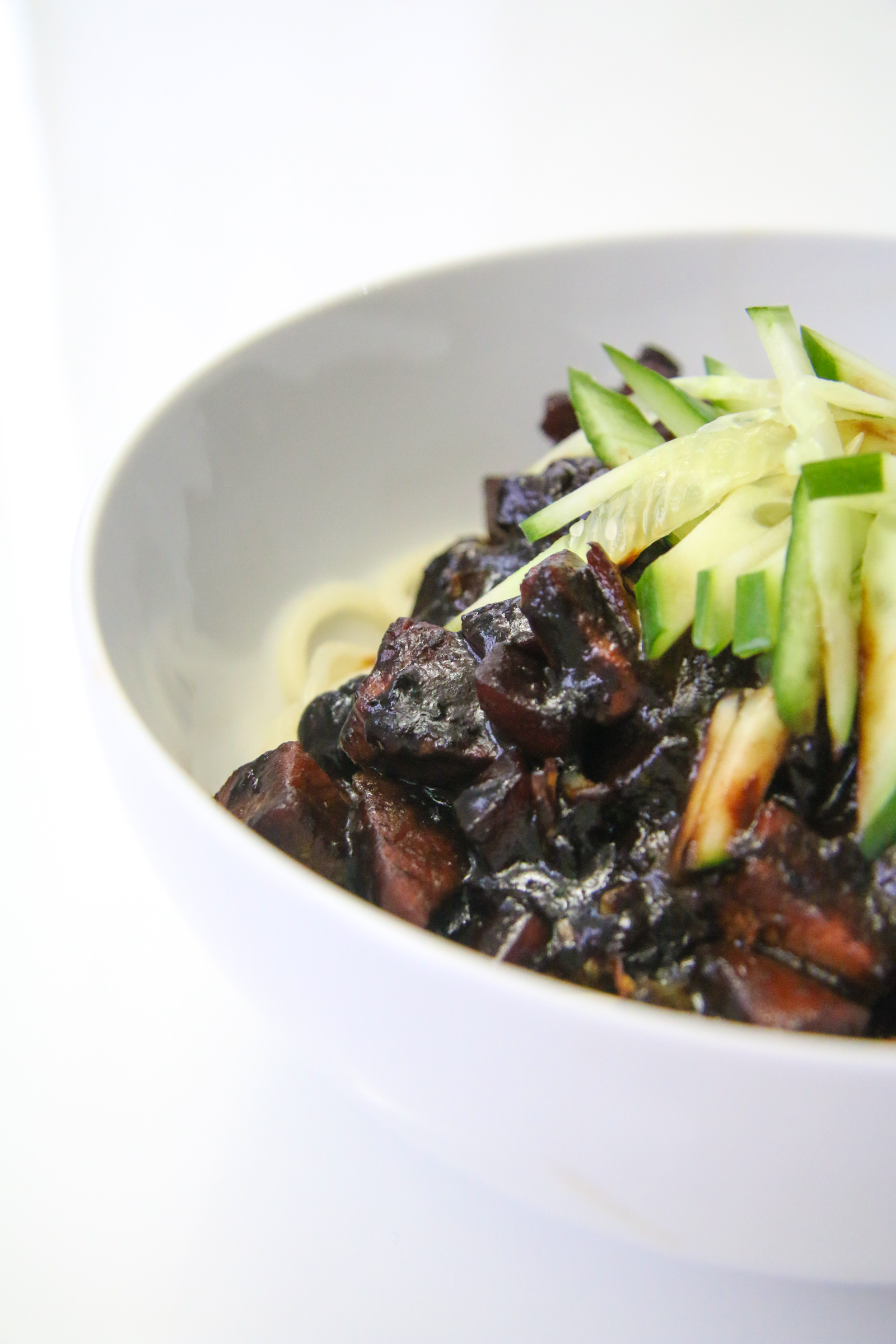 If you enjoyed this VIDEO, SUBSCRIBE to our COOKING SHOW CHANNEL HERE.  It's FREE! : Chef Julie Yoon
If you want to follow us on our journey, SUBSCRIBE to our VLOG CHANNEL HERE. It's FREE! : Our Yooniverse

Noodles in Black Bean Sauce (Jjajangmyeon: 짜장면 / Jajangmyeon : 자장면)
These delightfully messy and addicting noodles are easier to make at home that you think. No need to order take-out!
Ingredients
12 – 14 ounces fresh Jjajangmyeon (or udon) noodles
1 boneless pork loin chop (about 1 ½ inches thick), cut into ½ inch pieces
1 tablespoon Mirin
Salt and pepper to taste
Vegetable oil for the pan
1 medium onion, diced
1 small carrot, peeled and diced
½ of a zucchini, diced
1 cup of chopped green cabbage
5 tablespoons of Jjajang sauce (Korean black bean paste. Make sure it says "roasted.")
1 tablespoon sugar
1 tablespoon Oyster sauce
1 cup reduced sodium chicken broth
½ tablespoon cornstarch dissolved in 2 tablespoons water
½ a cucumber, cut into matchsticks for garnish
Instructions
Toss the pork with the mirin, as well as salt and pepper to taste. Marinate for a few minutes. Heat a large pan with a little oil. Brown the pork in the pan, then transfer to a plate. Add a little more oil to the pan if needed, along with all the vegetables. Cook until soft, stirring occasionally, about 5 minutes. Meanwhile, bring a pot of water to a boil.
Stir the black bean paste, oyster sauce, and sugar together in a small bowl. Add to the vegetables in the pan and coat well with the paste. Pour in the chicken broth and bring it to a boil. Cook for about 3-4 minutes. Add the dissolved starch to the pan and cook briefly until the sauce is thickened. Add back the pork. Taste the sauce and adjust seasonings to your liking ie: add more sugar, a splash of water, etc.
Add the noodles to the boiling water. Cook according to the package instructions, or whenever they float to the top (if using fresh noodles), and drain. Do not overcook. The noodles should have a bit of a bite to them. Place some noodles in each bowl. Spoon the sauce over the noodles and garnish with the cucumber matchsticks. Mix and eat!

TIP: If your noodles get a little clumpy before plating them in the bowl, spray them with a little water to loosen them up. If you're worried about getting the timing right, aim to get your sauce done before your noodles because the noodles tend to get sticky if they're cooked too far in advance.

Eat these noodles with a side of sweet, tart, and crunchy yellow pickled radish you can get at the Korean grocery store. It's called either Danmuji or Dakgwang, and it's so complimentary to Jjajangmyeon!

Any leftover sauce is great over rice the next day. Add a fried egg on top!