Kimchi Soondubu Jjigae (Kimchi Soft Tofu Stew: 김치순두부찌개)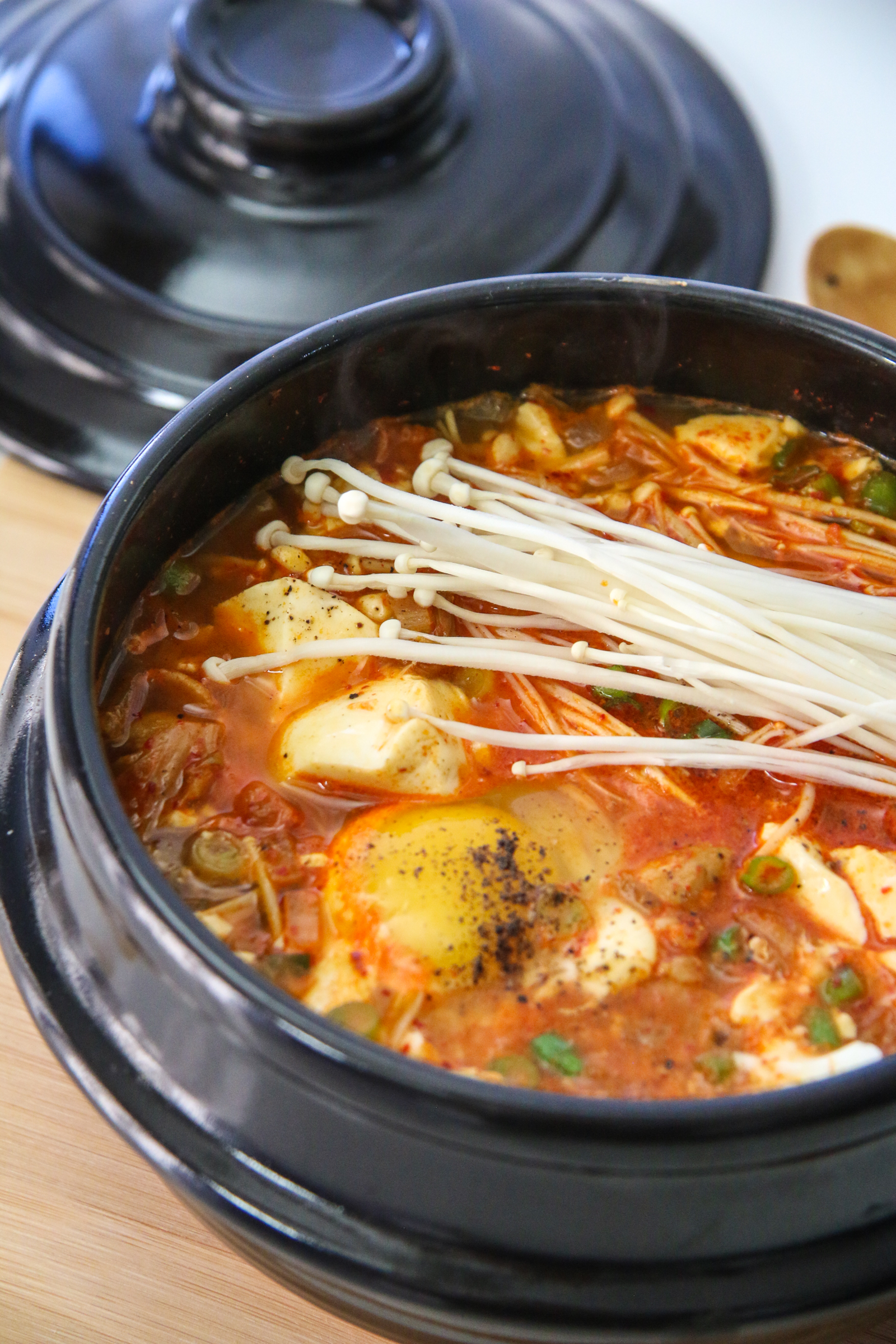 I used to think that I didn't like Soondubu Jjigae, or Spicy Soft Tofu Stew.  Whenever anyone suggested going to get some at a restaurant, I was usually less than thrilled. But I've come to realize that it's not that I don't like it… I just don't like ones that aren't made well!  I think I've had some really awesome bowls of stew, but I've also eaten some bland and lifeless ones too.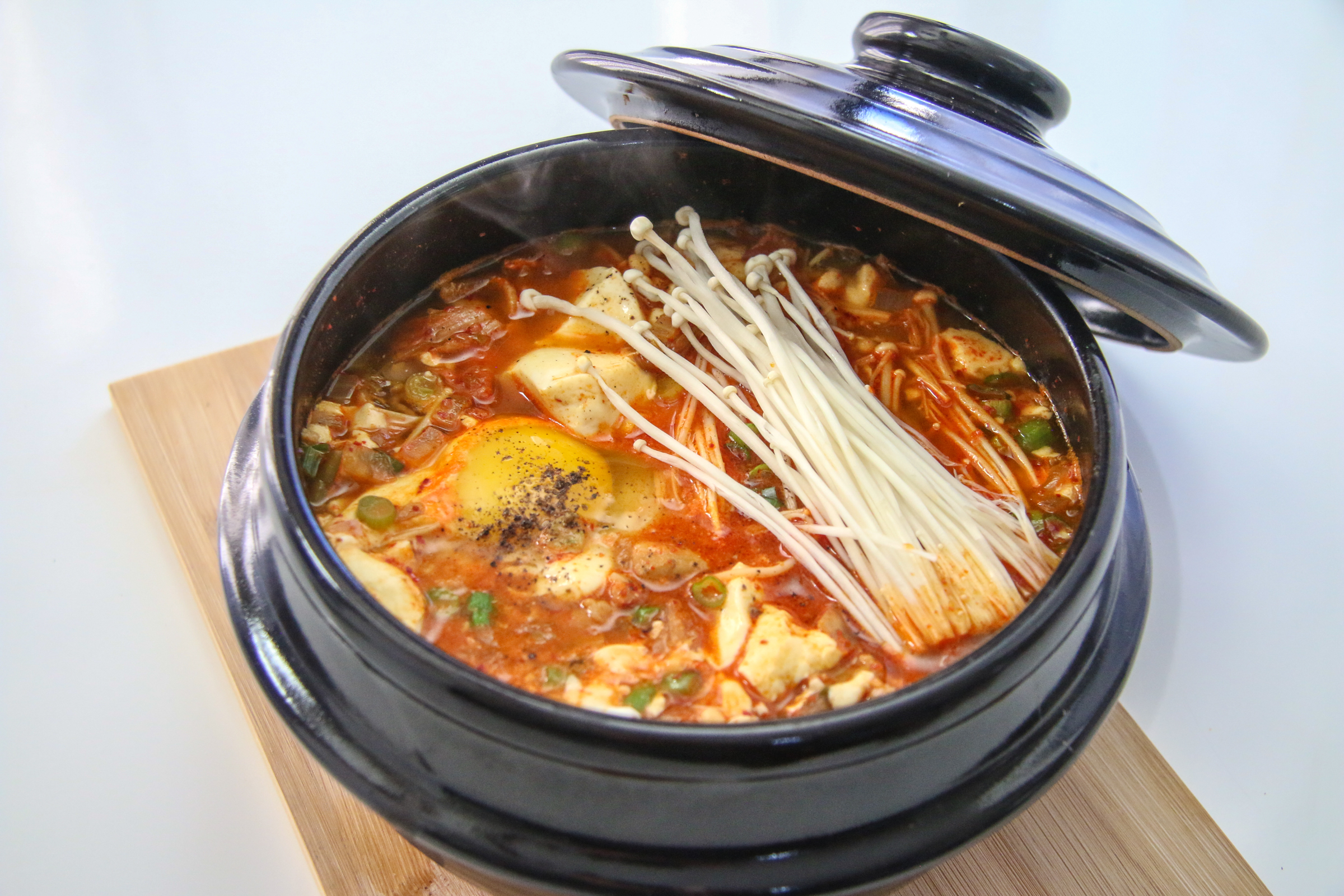 The key to a good Soondubu Jjigae is to have a really flavorful broth.  That's probably why I prefer the Kimchi version…it's spicy and bold!  Once I started making Soondubu Jjigae at home, I actually started to crave it!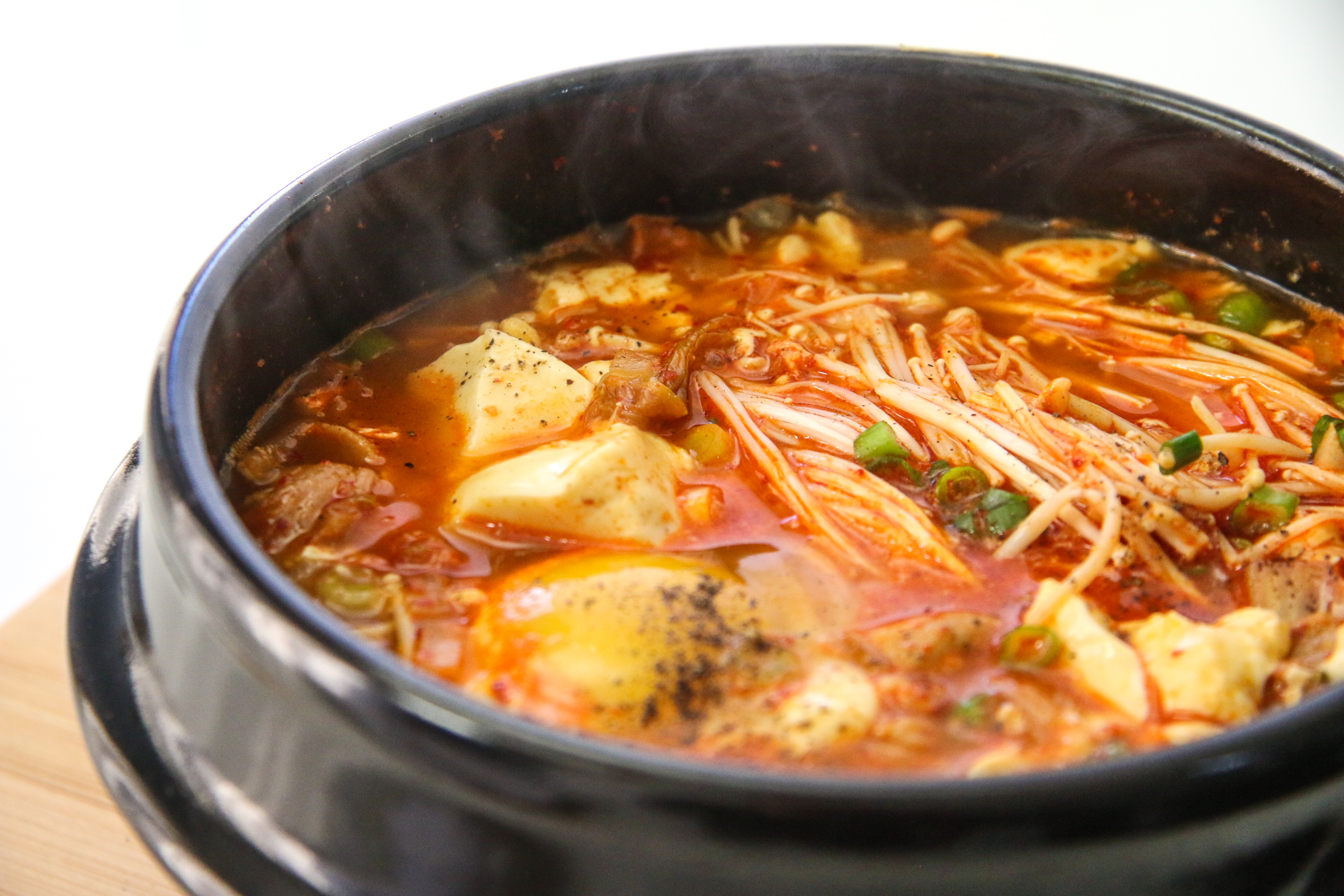 In fact, lately whenever I get off an airplane after a long trip, this is often the first dish I want to eat!  My friends and family are probably in shock right now.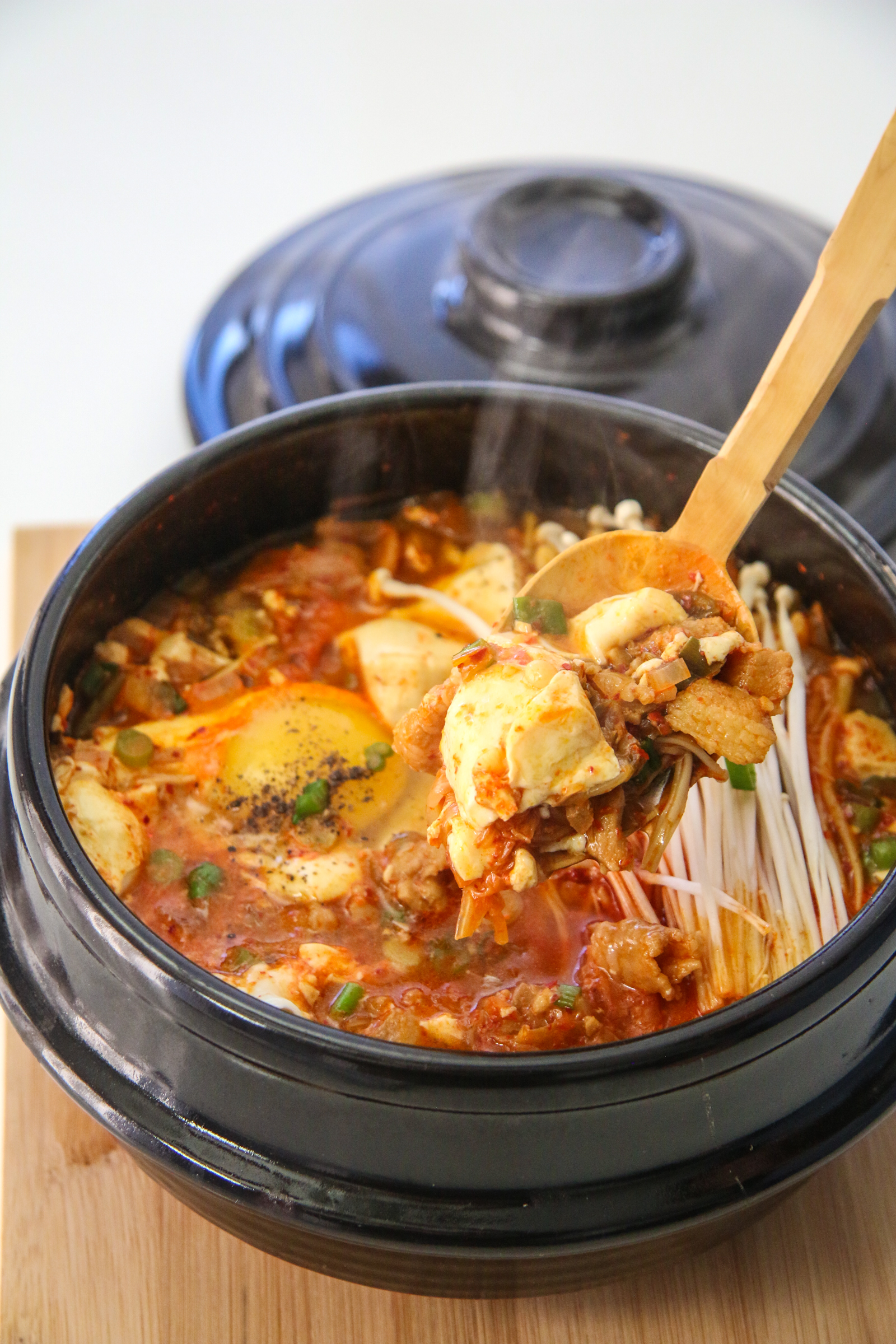 But c'mon… an inviting pot of steamy stew is pretty hard to resist when you're feeling tired and hungry!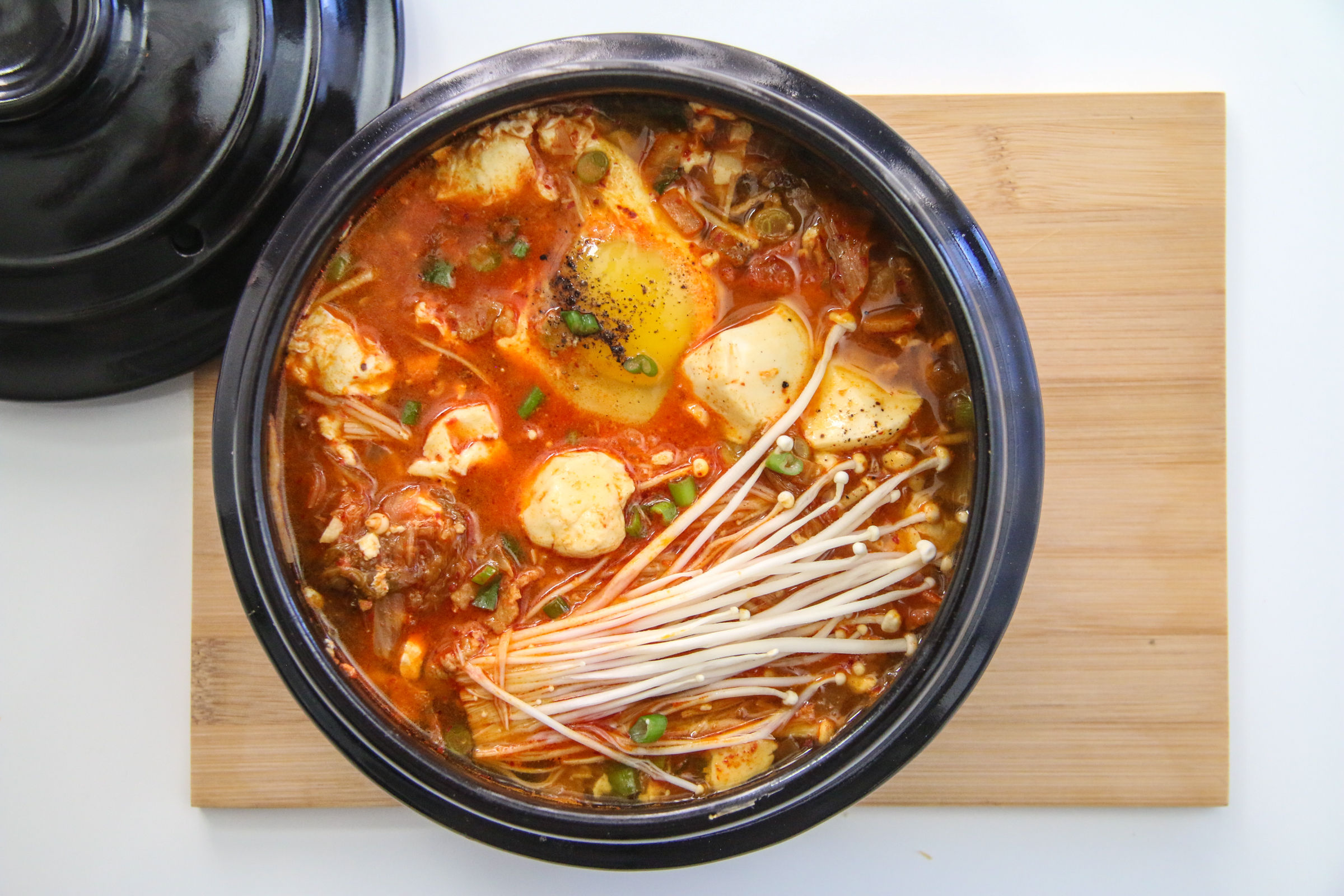 With this Kimchi Soondubu Jjigae, you have to go bold or go home, so you need to start out with REALLY ripe, sour fermented kimchi.  It won't work with freshly made or bought kimchi.  If you don't have time to wait for your kimchi to age, you can totally force your kimchi to ripen faster, which is what I did for this video! You can see how I make this bubbling spicy cauldron of stew in EPISODE 4 of Bits & Pieces SEASON 4 BELOW:
WATCH HOW I MAKE KIMCHI SOONDUBU JJIGAE HERE:

There are variations of Soondubu Jjigae, such as ones that contain seafood, and others that contain beef and vegetables.  But I love the simplicity of just the kimchi and pork.  I think it reminds me of good ol' Kimchi Jigae, or Kimchi Stew, but with a little more depth of flavor because of the rich anchovy broth.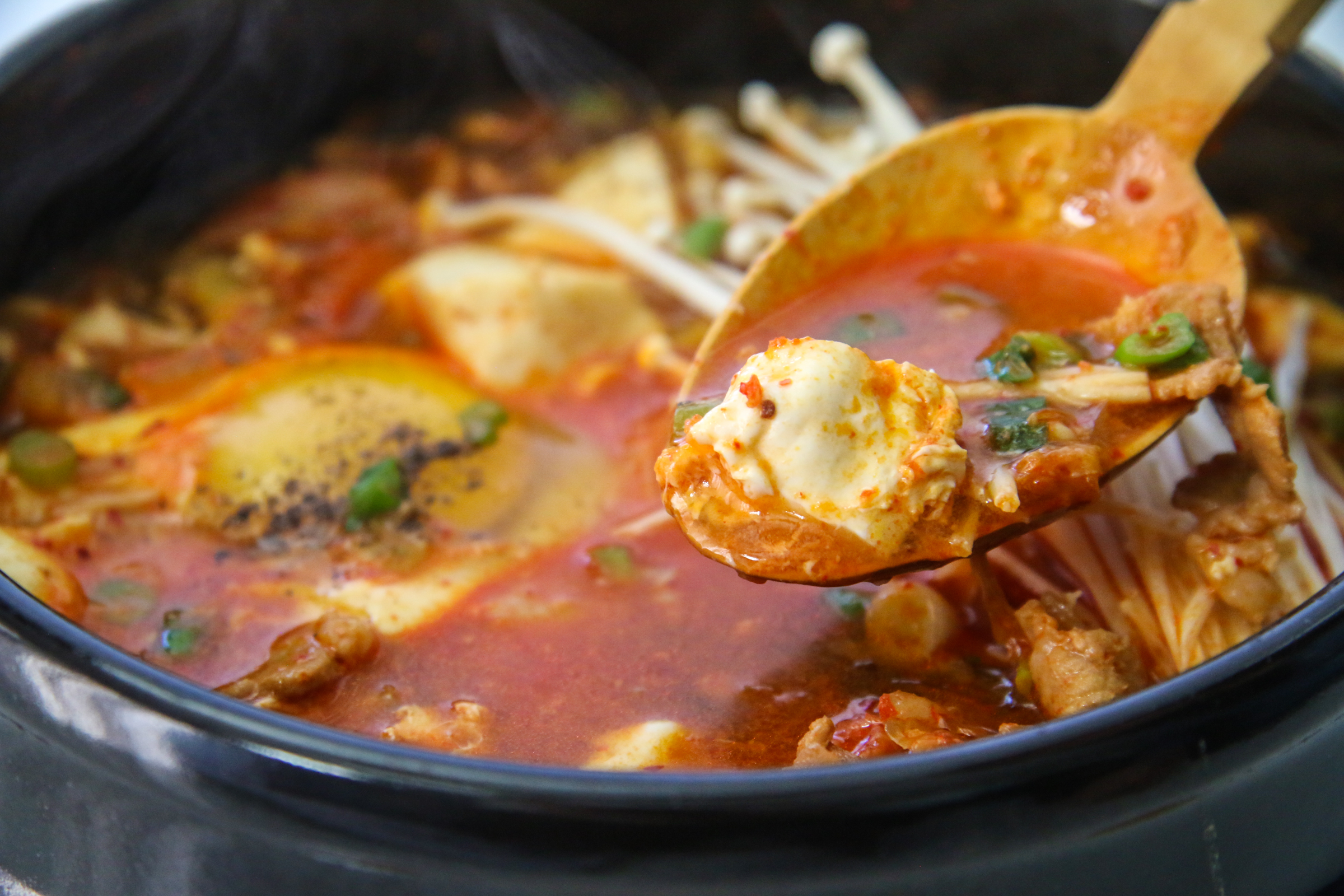 All I do is adorn the top of the pot with some enoki mushrooms and a raw egg.  I love that the mushrooms add another meaty umami quality to the already hearty stew, and the egg is just traditional.  If your broth is bubbling away, the egg should slowly cook in the hot tub nicely.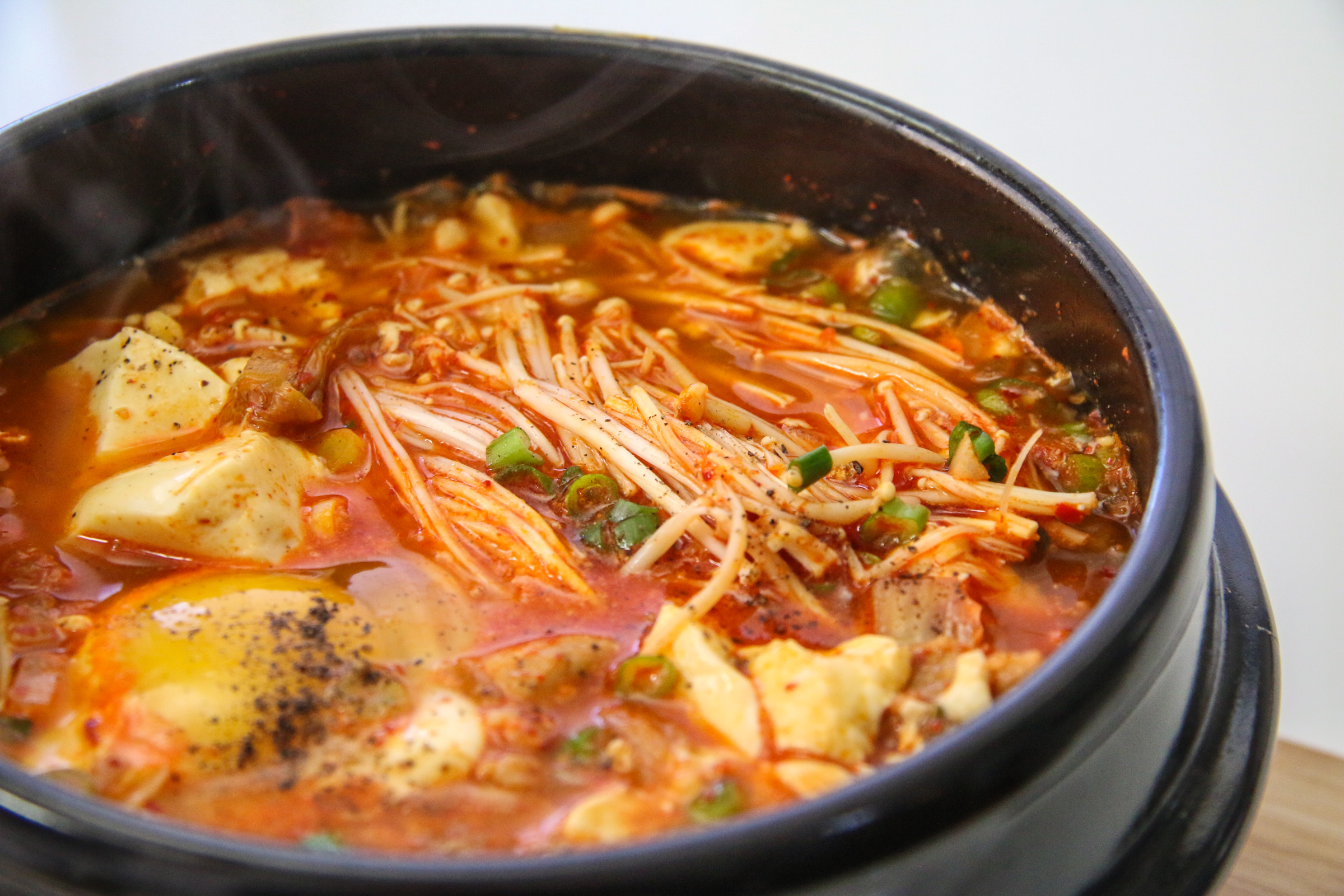 All you need is a side of rice.  In good Soondubu restaurants, they'll ceremoniously serve the fluffy white rice itself in a stone pot, so that the bottom can get slightly crispy and chewy.  It's the perfect accompaniment to this stew.  Man… now I need to invest in one of those pots.  I'm getting hungry just thinking of it!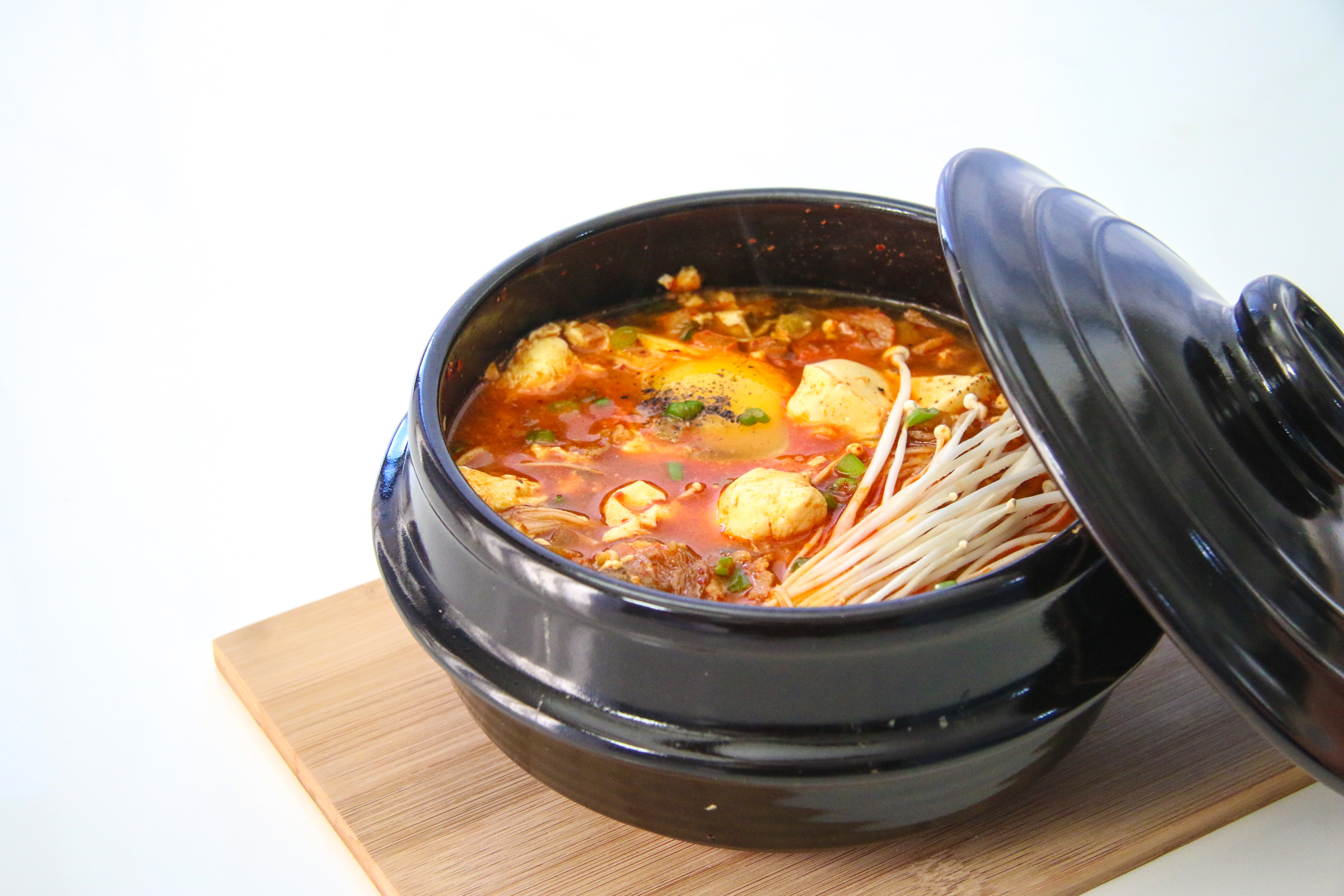 If you're not used to Korean cooking, some or ALL of these ingredients might intimidate you.  But since i broke it down in the video, we should all be okay right? 😉  Yeah, sure the smell of really ripe kimchi might blow your socks off, but trust me that it will totally be worth it after you take that first bite.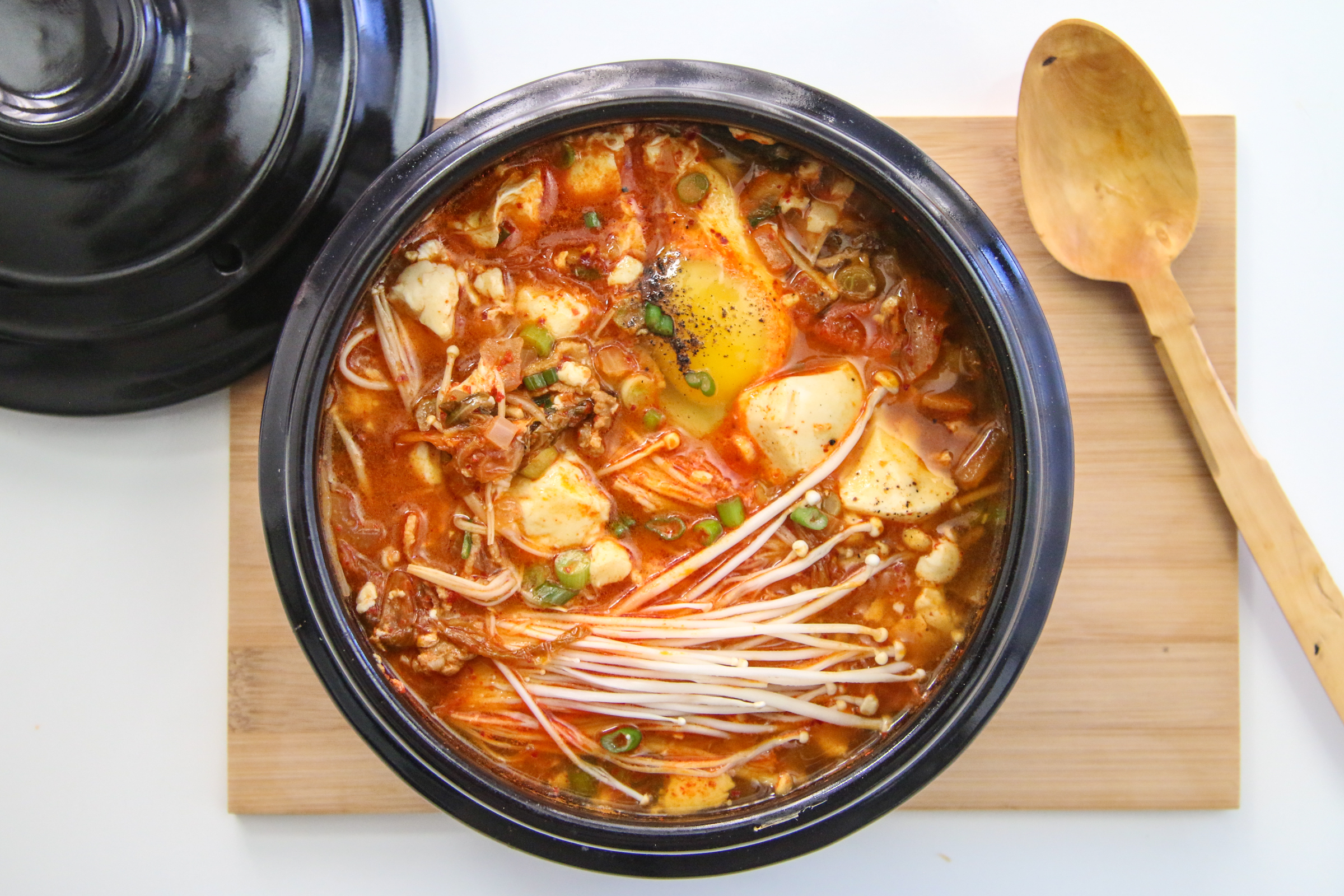 So make like Will Smith, grab a bowl of rice and "get Jjigae with it!"  I know… I know…I just had to do it!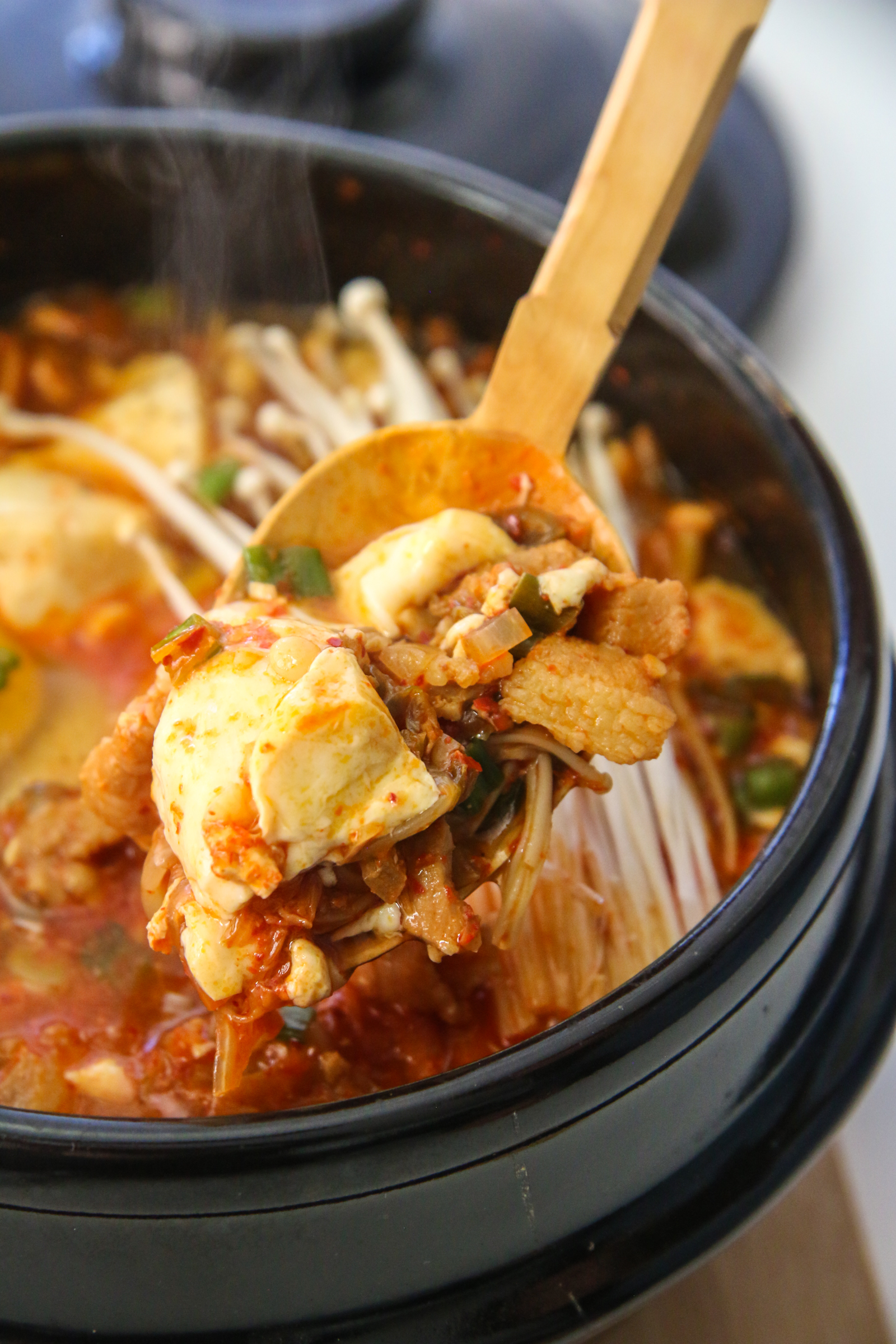 If you enjoyed this VIDEO, SUBSCRIBE to our COOKING SHOW CHANNEL HERE.  It's FREE! : Chef Julie Yoon
If you want to follow us on our journey, SUBSCRIBE to our VLOG CHANNEL HERE. It's FREE! : Our Yooniverse

Kimchi Soondubu Jjigae (Kimchi Soft Tofu Stew: 김치순두부찌개)
This Kimchi Soft Tofu Stew is spicy, bold, and comforting. You'll find yourself craving it over and over again.
Ingredients
1 (11-ounce) package of extra soft tofu
2 teaspoons sesame oil
3 ounces thinly sliced pork belly, cut into bite size pieces
½ cup fully fermented sour kimchi, cut into bite size pieces
¼ of an onion, chopped
1 teaspoon minced garlic
1 tablespoon (or more) gochugaru, Korean red pepper flakes
3 tablespoons kimchi juice
1 cup anchovy broth (recipe follows)
½ -1 tablespoon fish sauce, depending on preference
Salt and black pepper to taste
½ a bundle of enoki mushrooms, ends trimmed
1 egg
1-2 scallions, chopped

Anchovy broth
2 cups water
6 medium-large dried anchovies, heads and guts removed
1 (4-inch) square piece of kelp (Dashima)
½ a slice of peeled Korean radish, about 2 inches thick
¼ of an onion, peeled and left in tact
Instructions
Make the broth by boiling all the ingredients for it in a small pot over medium high heat for 10 minutes. Strain the broth. You should end up with about 1 cup of broth. Do not season at this point.
In a medium sized pot, add the sesame oil and saute the pork, onion, kimchi, garlic, and red pepper flakes, stirring occasionally, until the kimchi and onions are softened, and the meat is cooked, about 3 minutes. Pour in the kimchi juice and broth. Bring to a boil and cook for a couple minutes. Add the fish sauce and season with salt and pepper as needed.
Slice through the package of tofu with your knife. Gently add the tofu and break it up with your spoon, making sure not to make the chunks too small. Since the tofu is delicate, there's a possibility of it breaking up too much and disappearing if the pieces are too small. Bring to a boil again and cook for 5 minutes, stirring the bottom of the pot gently with a spoon occasionally, to make sure the tofu doesn't burn. Taste one more time and adjust the seasoning if needed. Add the enoki mushrooms, scallions, and egg on top. Turn off the heat and serve with bowls of rice. The heat of the bubbling broth should be hot enough to cook the egg as you eat it.

TIP: I wouldn't recommend making this recipe if you don't have fully fermented sour kimchi, because it won't taste the same. Don't skimp on making the broth either because that's where all the flavor comes from, and that's the whole point of this stew.