Marinated Flank Steak with Corn, Asparagus, and Tomato Salad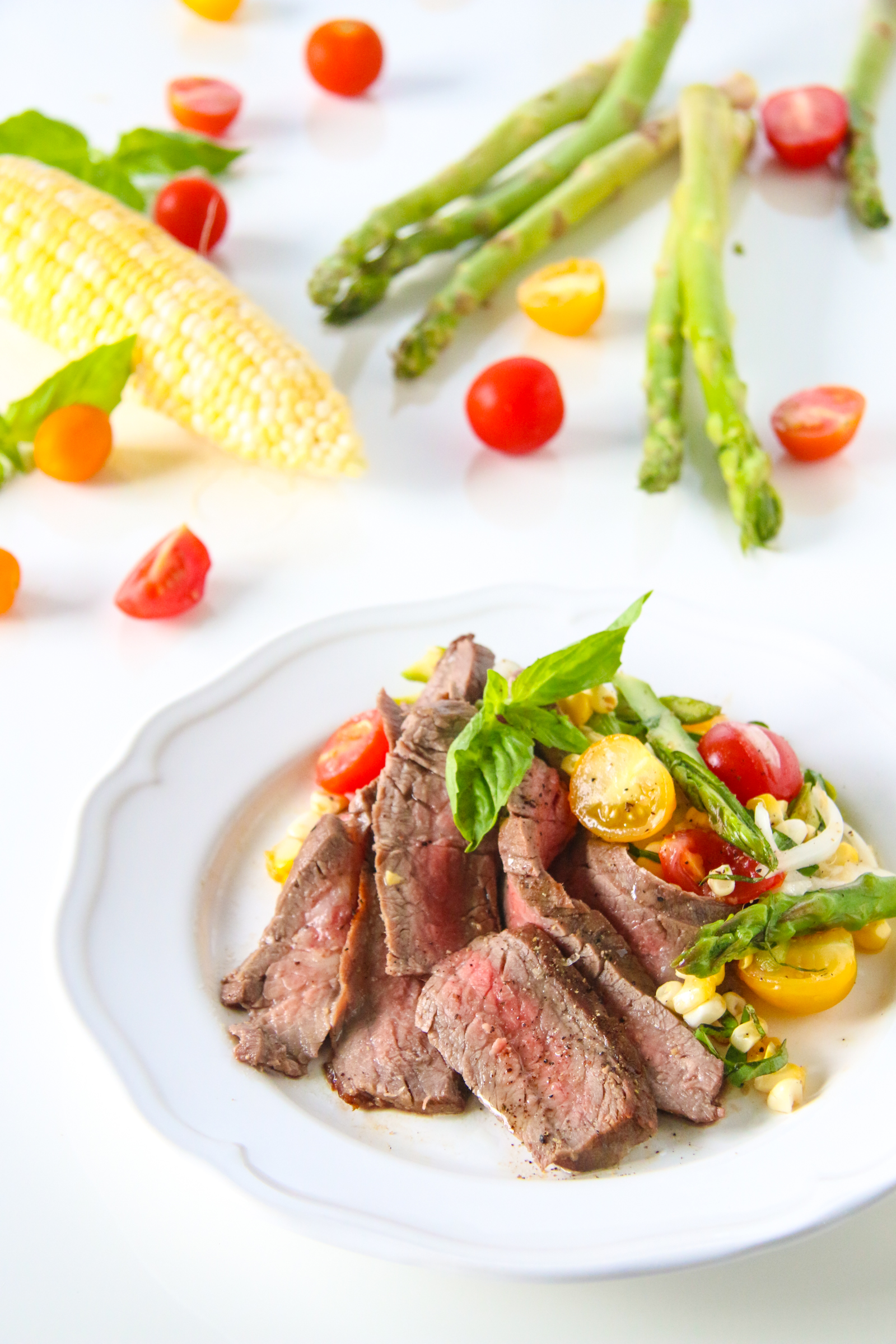 I had been looking for an excuse to buy an indoor grill pan for a while…and filming this Marinated Flank Steak with Corn, Asparagus, and Tomato Salad episode was it.  I'm sure this recipe will taste even better on an outdoor grill, so if you have it, by all means, crank that sucker up and use it!  But I'm really happy about the way that this dish ends up conveniently being one grill-pan cooking, and you can make it any time of the year!
You throw your veggies on first and then turn them into a bright and refreshing salad!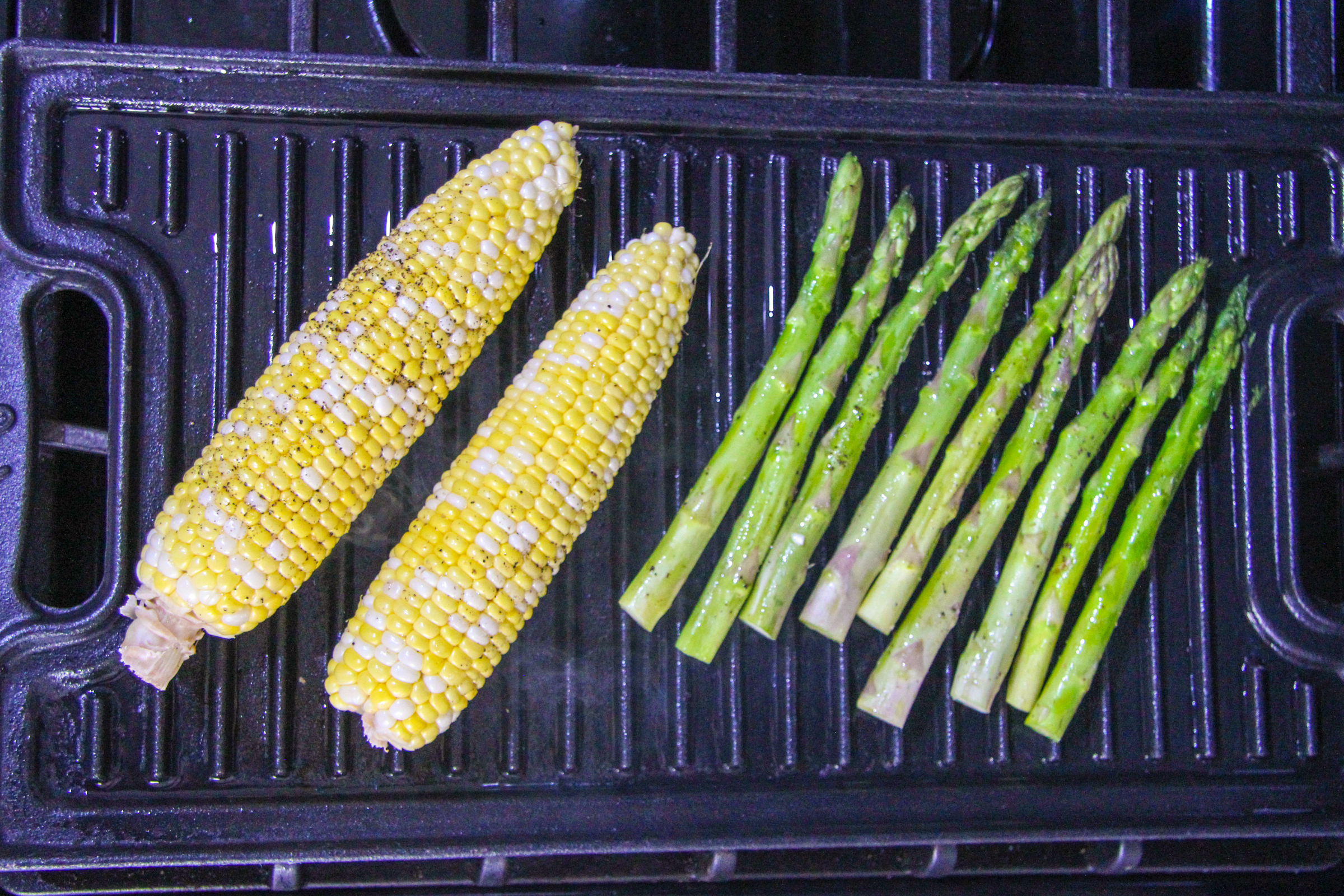 Then you add your nicely marinated piece of flank steak and let it do its thing while you chill.  That's it… dinner is done my friends.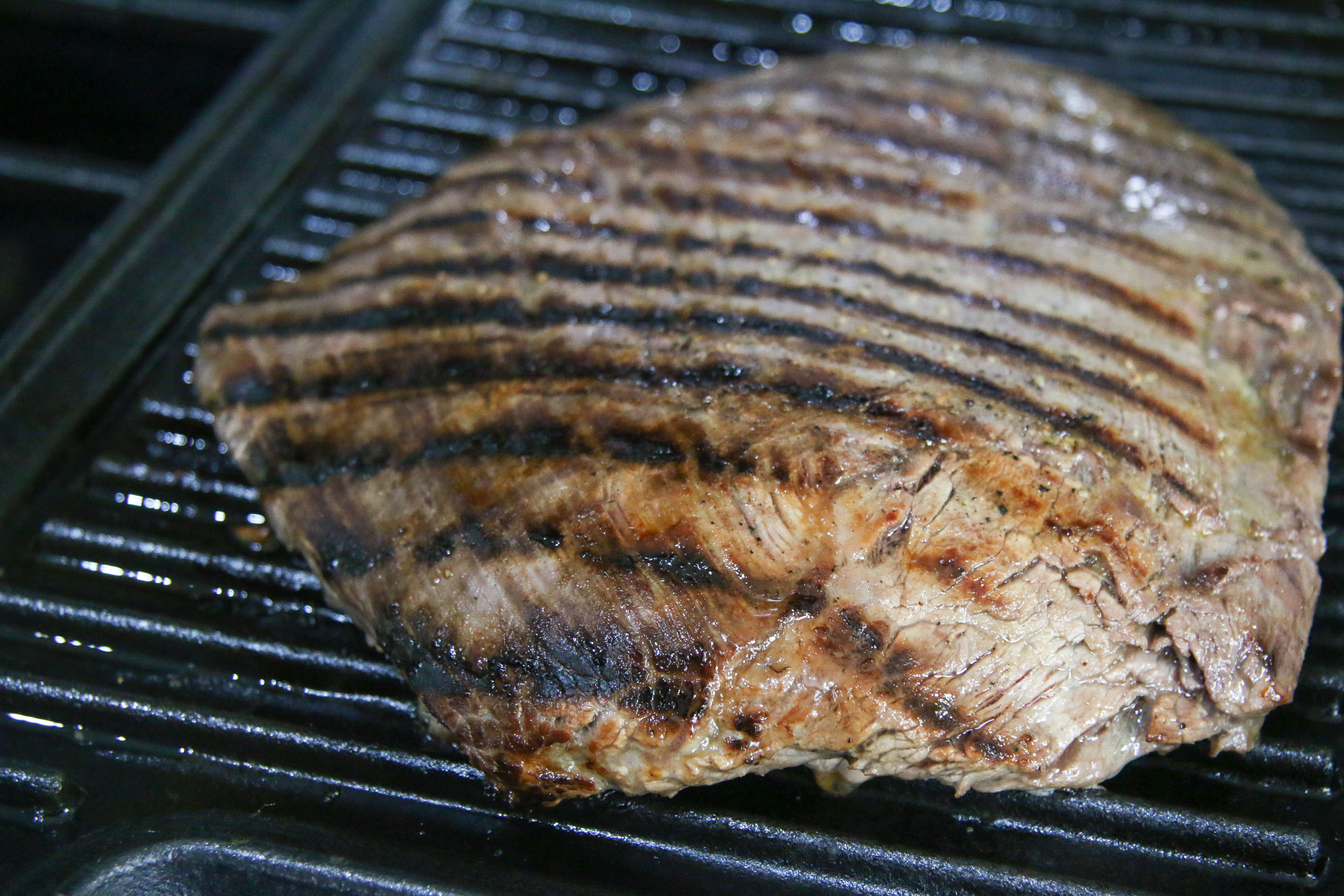 It's no secret that I L-O-V-E flank steak. Over time, I grew an appreciation for its rich beefy flavor and the fact that it stretches so easily.  You can feed a hungry crowd or save your leftovers and turn them into countless other dishes such as fajitas or sandwiches.  The key is to either cook it quickly over high heat or marinate it to make sure it's nice and tender.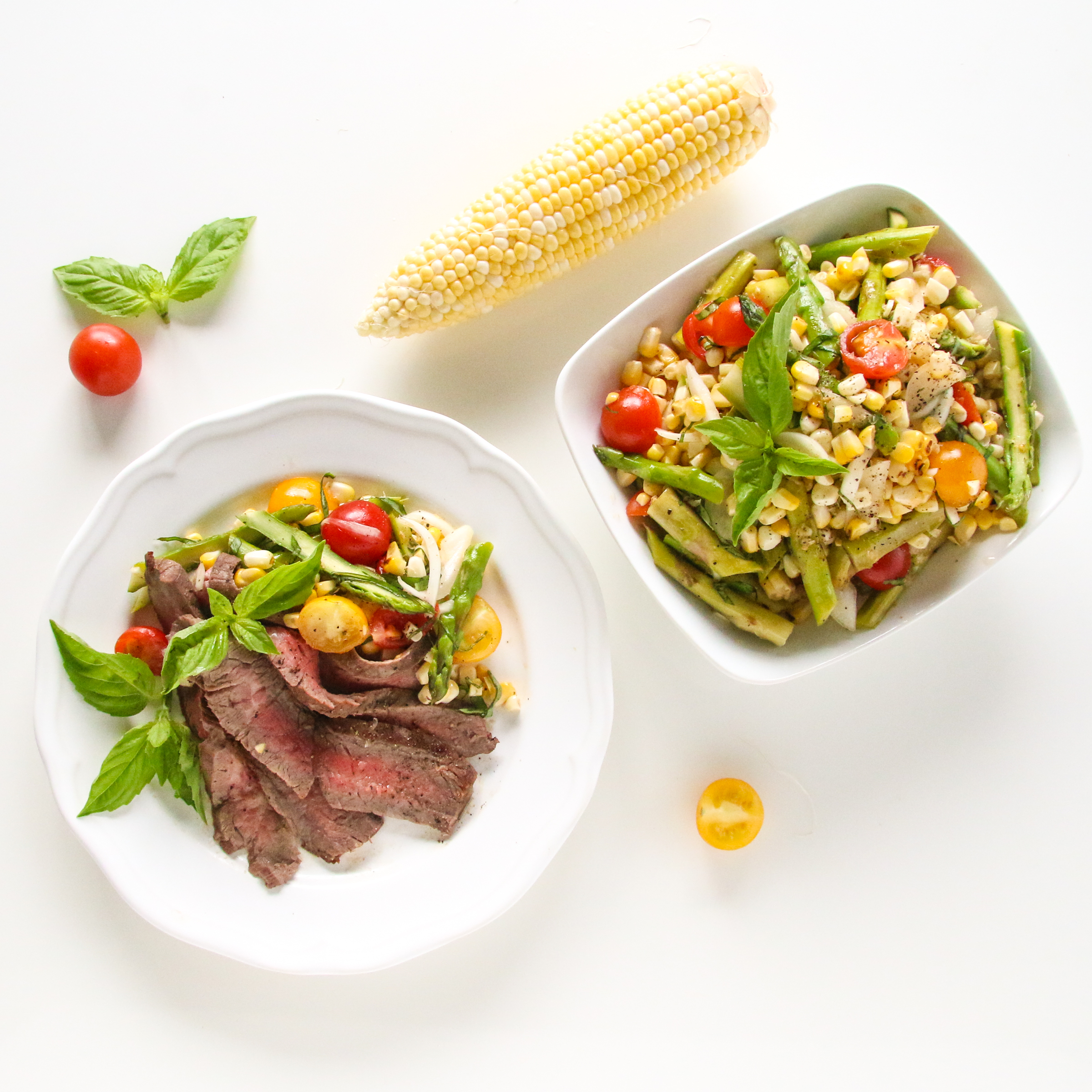 And when you pair this juicy well-seasoned steak with the bright and sweet summer salad, you'll just want to cue the music, "Secret Lovers" in your head while eating this. It's everything you think summer food should be. It's perfect for entertaining and you can even make it in advance and eat it at room temperature. So pull out your grill pan and watch how I assemble this Marinated Flank Steak with Corn, Asparagus, and Tomato Salad in EPISODE 9 of Bits & Pieces SEASON 3 BELOW:
WATCH EPISODE 9 HERE:
I love how surprisingly light and refreshing this dish ends up being, even though there's steak involved.  I love dishes like this one, where you still feel satisfied like you're eating something hearty…but you don't feel too stuffed or gross afterwards.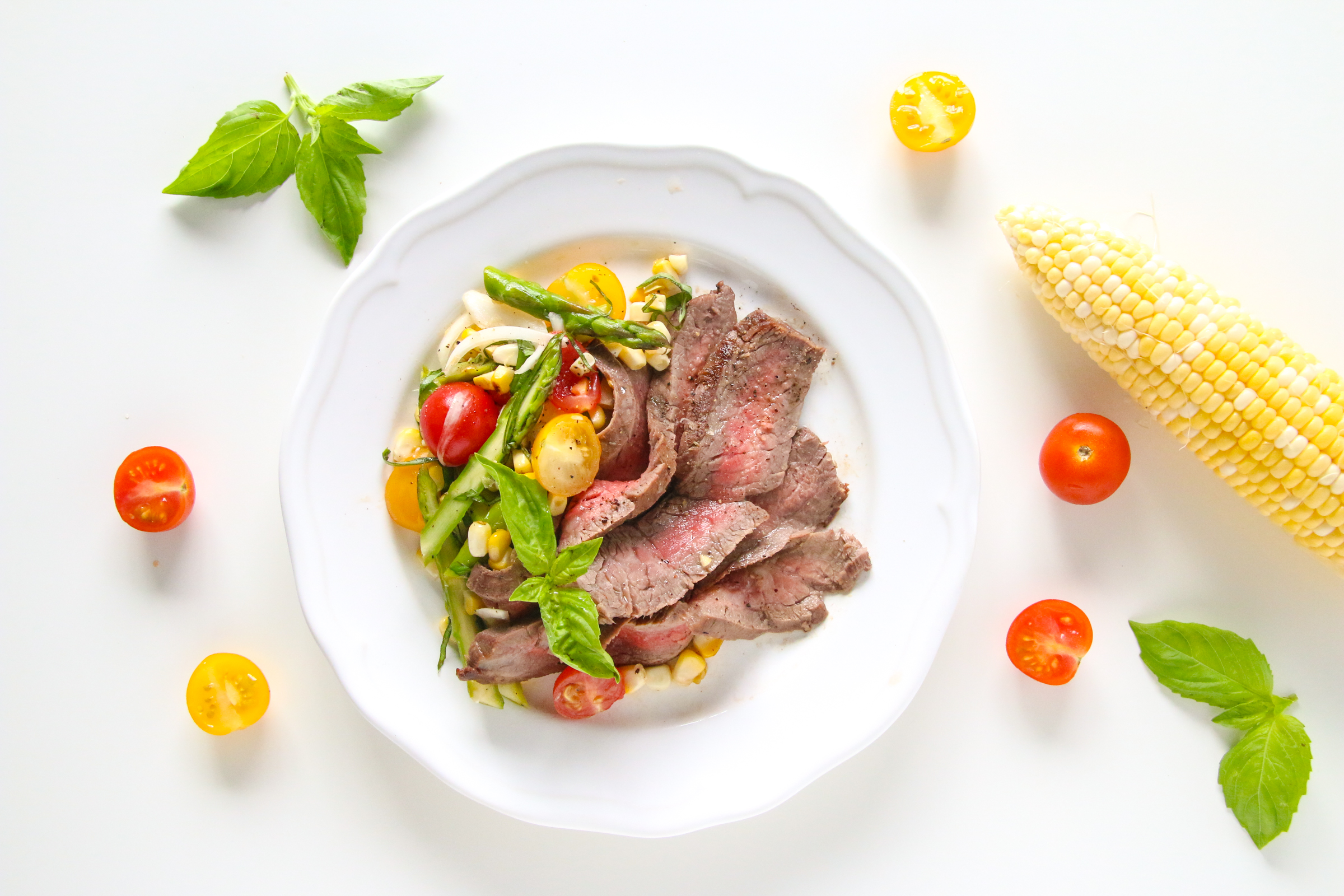 I realize that part of the reason this simple grilled summer salad is SO flavorful is the local corn I'm using. Now that I'm in Illinois, I realize what fresh, juicy, and sweet corn on the cob SHOULD taste like. It's so abundant here and especially in the summer, it's literally nature's candy.  So even if you're not in Illinois, at least do yourself the justice by using fresh corn off the cob and don't try to cheat your way through this salad with frozen or canned.  It just won't be the same.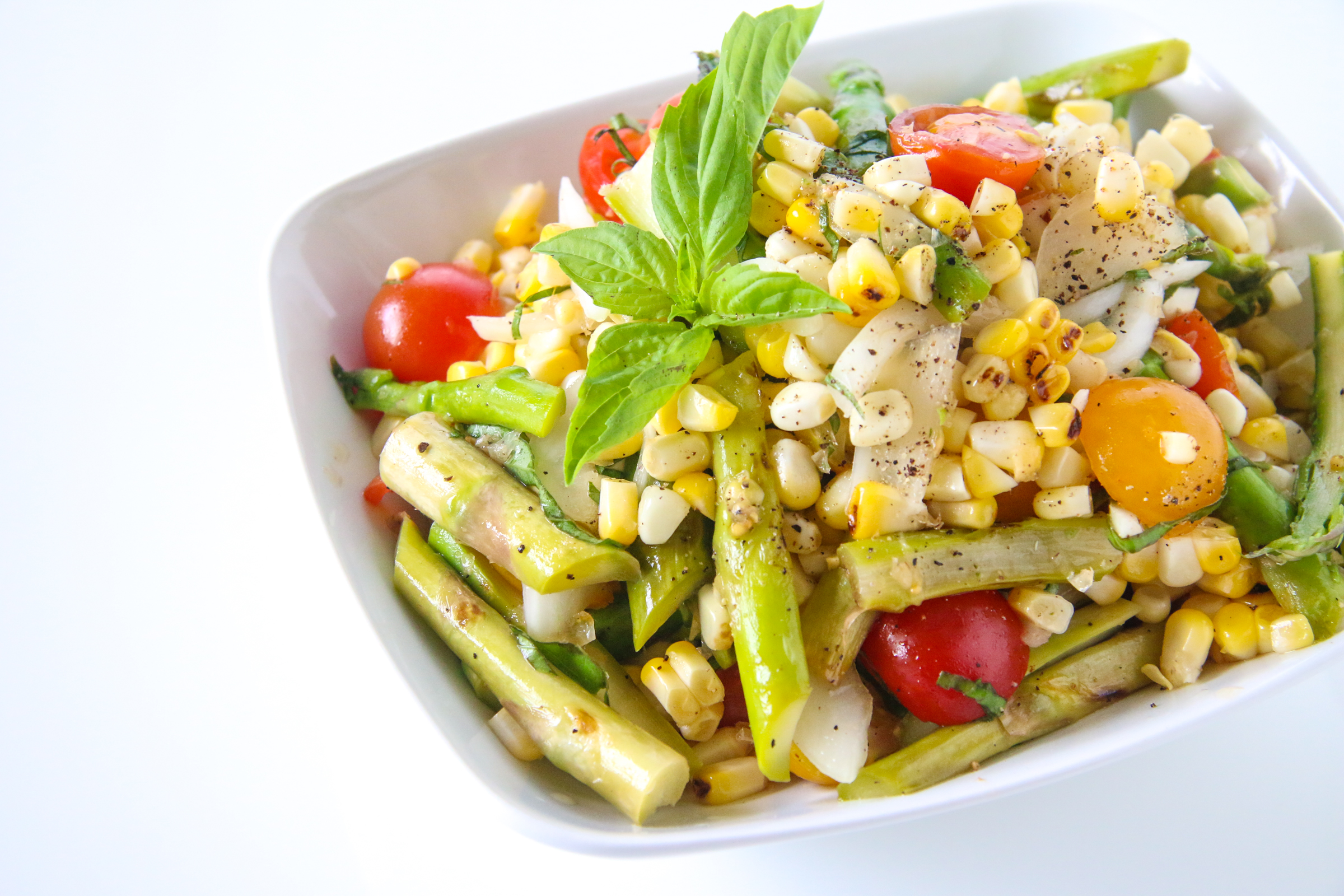 Plus those charred little bits from the grill add a real depth of flavor that rounds out the sweetness.  Those charred bits are EVERYTHING!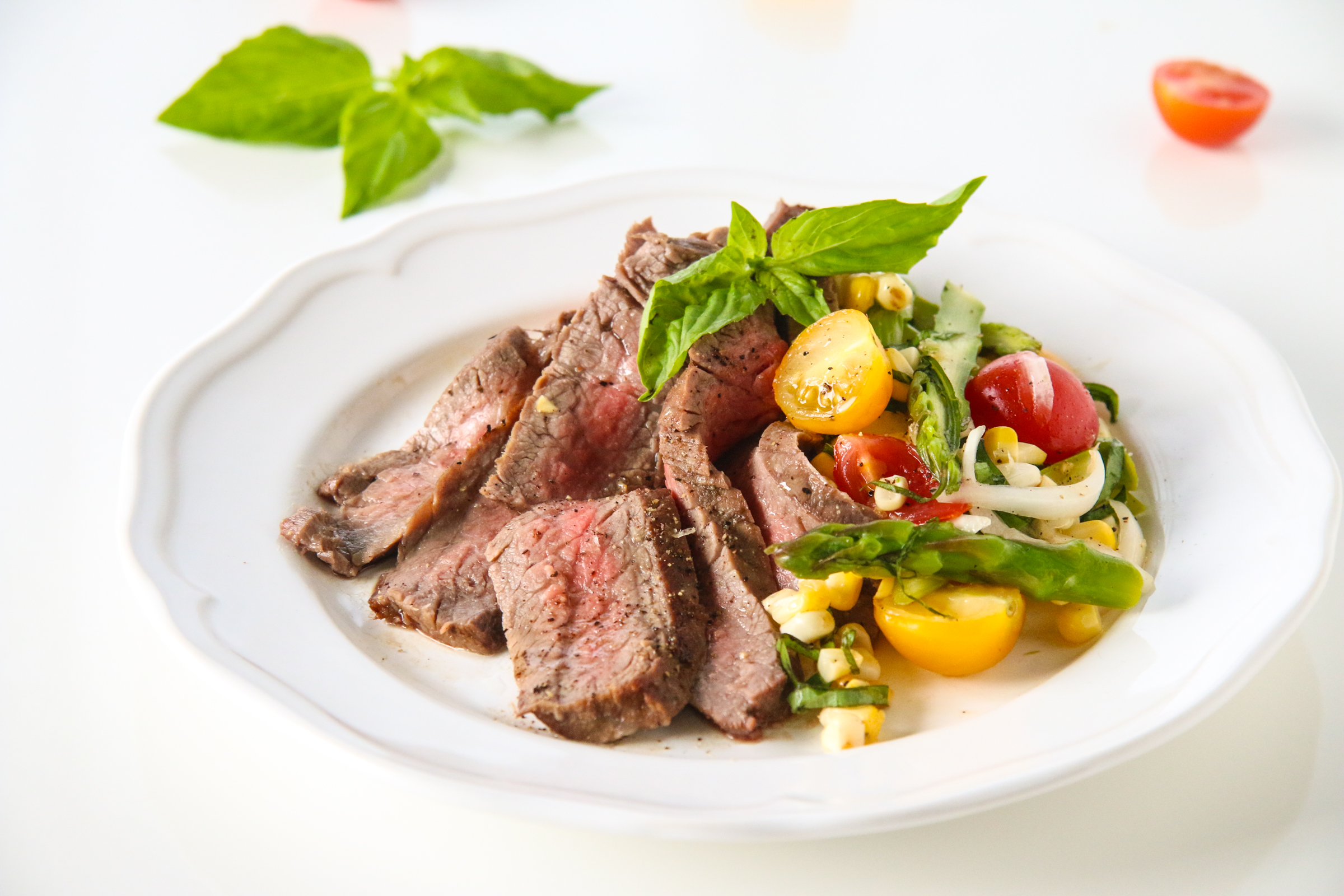 Oh and don't forget that basil.  I know some of you purposely omit the herbs whenever I write them into my recipes.  Normally, I'm okay with you doing that.  I get it…sometimes you just can't get through those fresh herbs before they get bad and it becomes a waste of money.  But with this recipe, I beg you to buy that basil.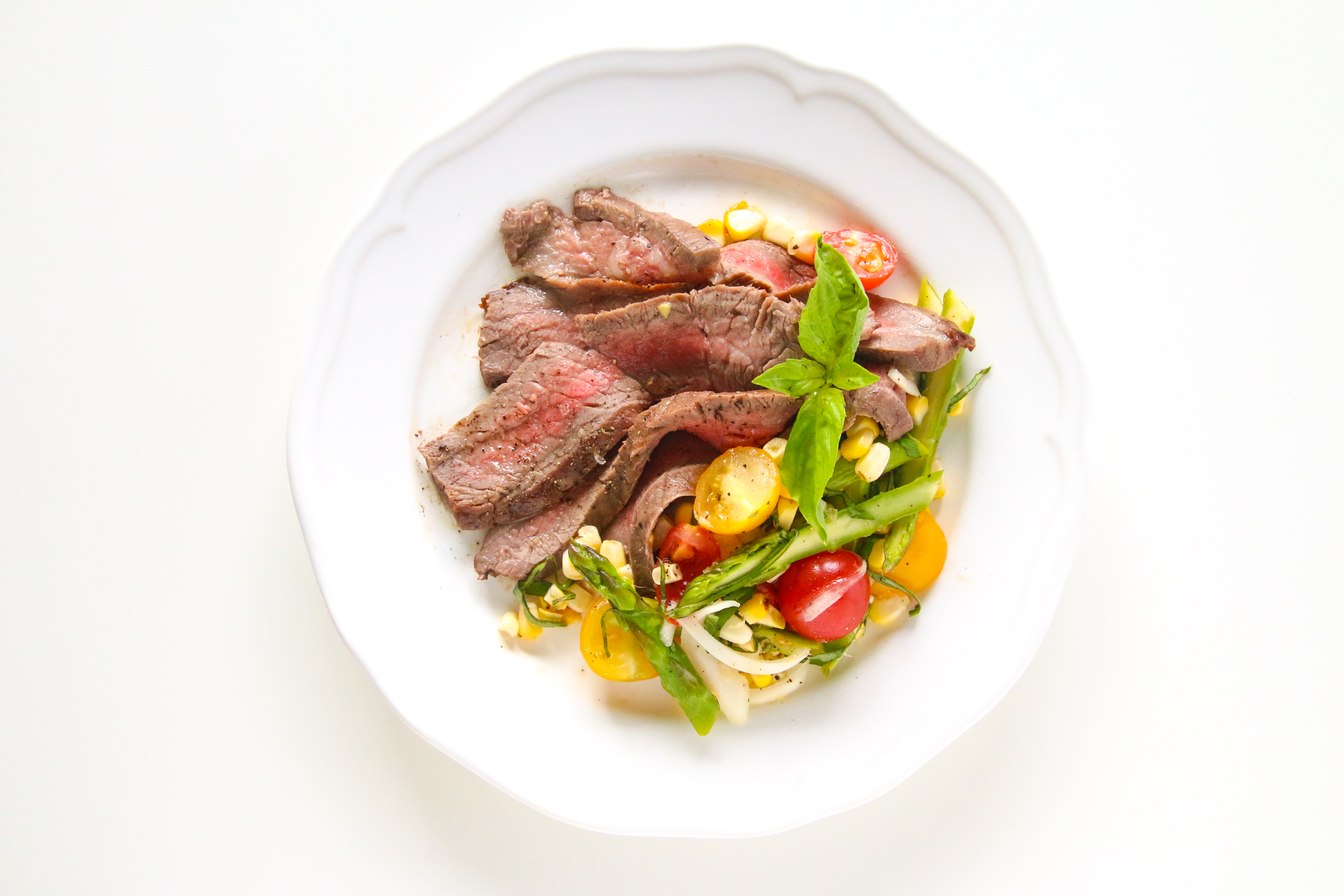 It will add that last pop of fragrance, freshness, and color that brings this dish to life.  And in the summertime, basil is everywhere. You're probably even growing it!  So please don't omit it.  And lastly, please let your steak REST off the grill before slicing it thinly AGAINST THE GRAIN.  Can I shout that out any louder for you? AGAINST THE GRAIN!!!  This will ensure your pieces of steak are even more tender and easier to chew.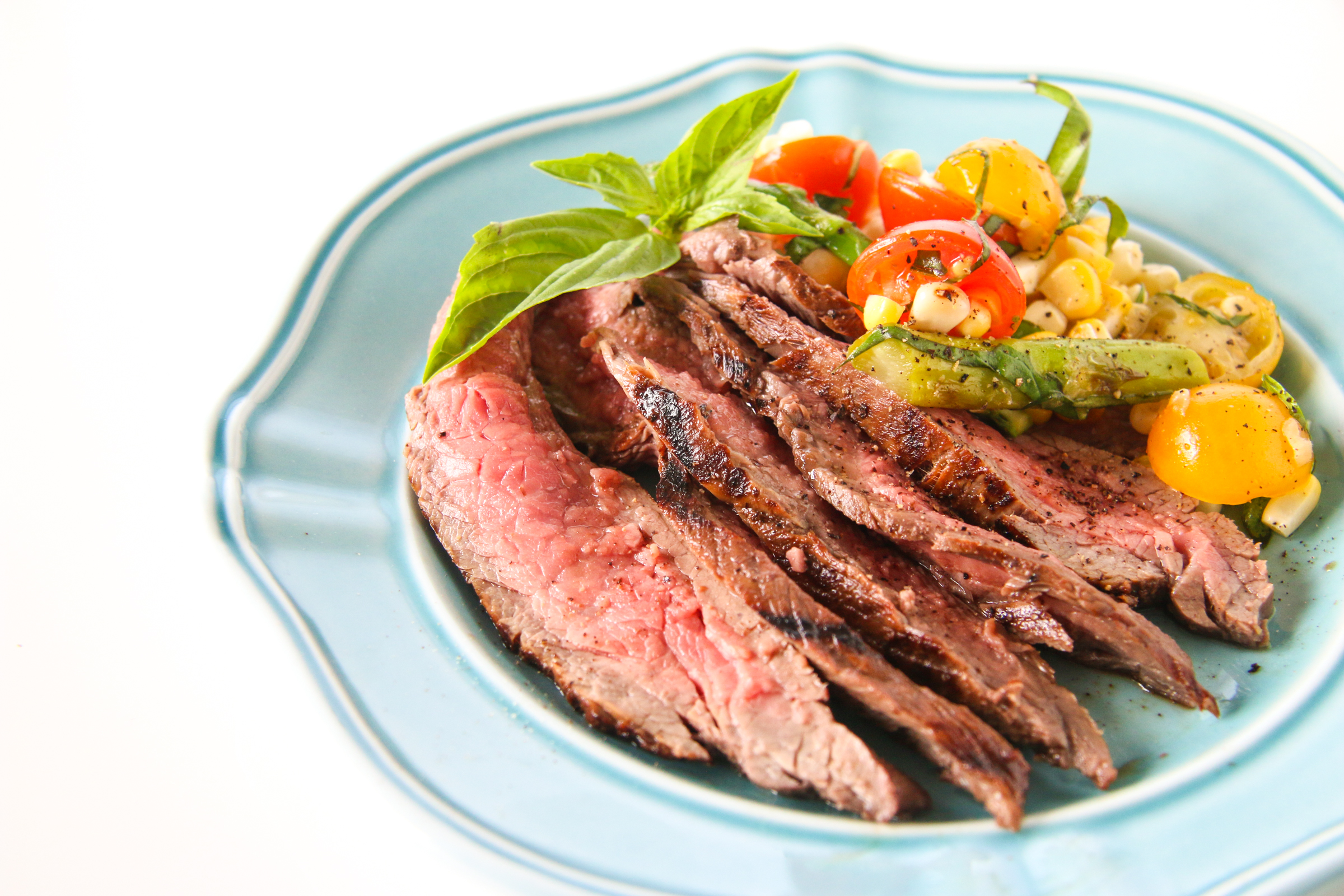 Because of the marinade on the steak, you really can't go too wrong with this this recipe…even if you're a little intimidated by grilling.  So call up some friends, kick back, and enjoy the rest of your summer.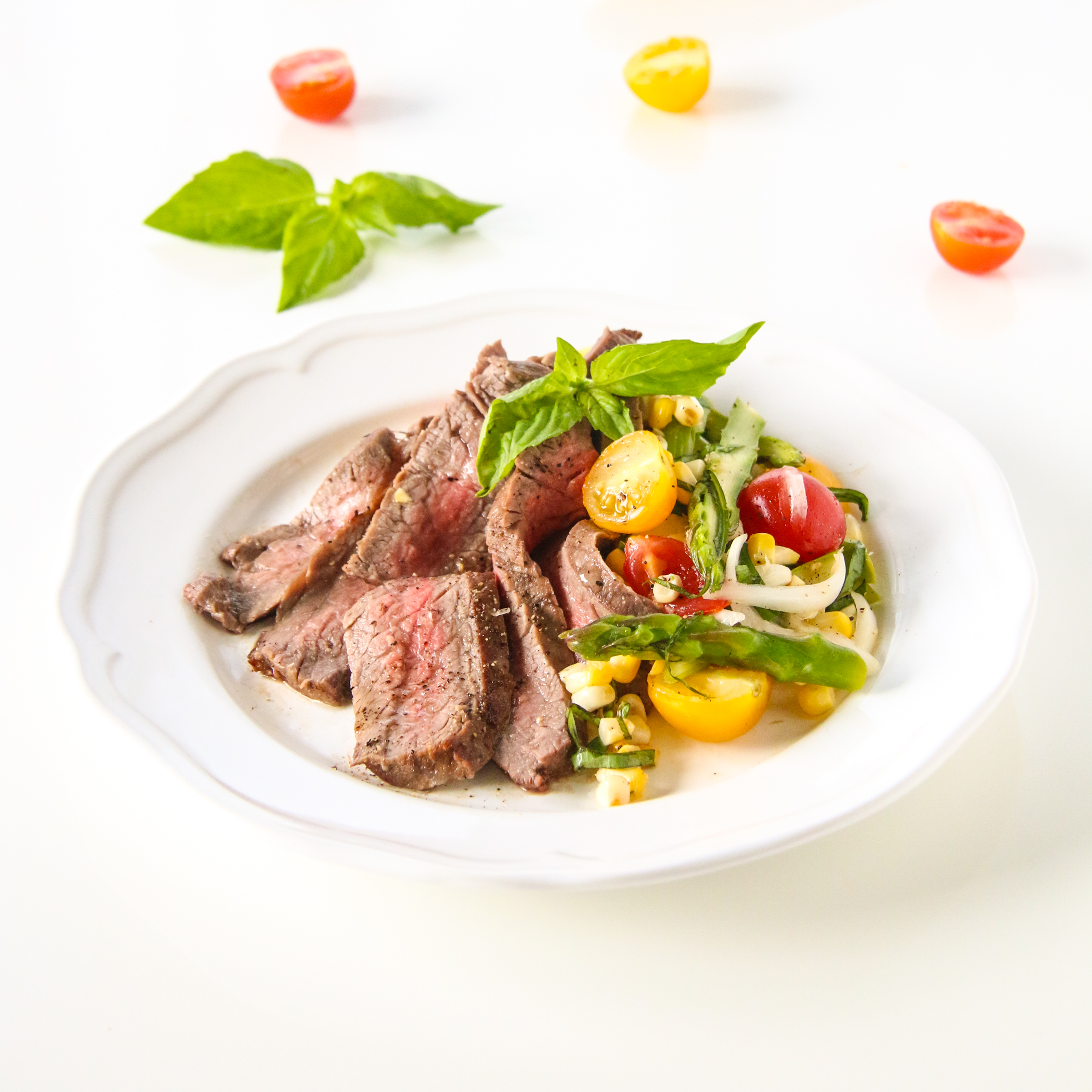 * COME BEHIND THE SCENES WITH US AND WATCH THE MAKING OF THIS EPISODE HERE: BEHIND THE SCENES
If you enjoyed this VIDEO, SUBSCRIBE to our COOKING SHOW CHANNEL HERE.  It's FREE! : Chef Julie Yoon
If you want to follow us on our journey, SUBSCRIBE to our VLOG CHANNEL HERE. It's FREE! : Our Yooniverse

Marinated Flank Steak with Corn, Asparagus, and Tomato Salad
Ingredients
Steak & Marinade:
1 ½ cups dry red wine
½ cup Dijon mustard
¼ cup packed brown sugar
8 garlic cloves, crushed and peeled
3 large shallots, coarsely chopped
1 tablespoon Kosher salt, and ground pepper to taste
One 1 ½-pound flank steak

Corn, Asparagus, & Tomato Salad:
2 tablespoons cider vinegar
1 tablespoon honey
6 ounces cherry tomatoes
¼ small sweet onion, such as Vidalia, thinly sliced
6 ounces asparagus, trimmed
2 ears corn, shucked
1 tablespoon olive oil, plus more for drizzling
6-10 basil leaves, finely shredded
Instructions
In a liquid measuring cup, whisk the wine, mustard, brown sugar, salt, and pepper together until well mixed. Pour into a large zip top resealable bag and add the garlic, shallots, and steak. Squeeze the air out of the bag and close it. Place the bag in another bowl or baking dish (to catch any leaks) and either let stand at room temperature for 2 hours or refrigerate overnight.
Meanwhile, in a medium bowl, whisk the cider vinegar and honey until the honey is dissolved. Add the tomatoes and onion and toss. Let stand for at least 15 minutes.
Light a grill and lightly oil. Coat the asparagus and corn with the 1 tablespoon of olive oil and season with salt and pepper. Grill over moderately high heat, turning occasionally until tender and browned in spots, about 3 minutes for the asparagus and 6-8 minutes for the corn. For presentation purposes, split the asparagus lengthwise first and then cut into large pieces on a diagonal. Cut the corn from the cobs. Add the asparagus, corn, and basil to the tomatoes and toss. Let stand until ready to serve.
Remove the steak from the marinade and pat dry with paper towels; season lightly with salt and pepper on both sides. Grill the steak, turning once, until medium-rare, about 10 minutes total, (you want it to be cooked, but still slightly pink inside). Transfer the steak to a work surface and let rest for 10 minutes. Thinly slice the steak against the grain and transfer to plates. Season the tomato salad with salt and pepper and a light drizzle of olive oil right before serving, and spoon alongside the steak.