Classic Broccoli Salad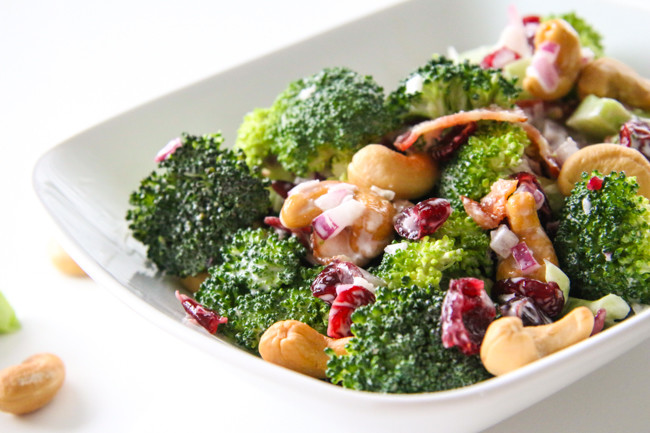 I first had a taste of this simple yet WONDERFUL broccoli salad at an all-you-can-eat salad buffet restaurant called Souplantation back when we lived in California.  Here in Chicago, it's called Sweet Tomatoes.  It was like a lightbulb went off in my head and I couldn't believe that a few simple ingredients tossed with raw broccoli could taste so glorious.  I instantly knew that I'd have to recreate it at home.
For a little while Costco actually carried a pre-mixed bag of this broccoli salad that included the dressing.  My friend bought it once and brought it to a potluck.  Everyone raved.  But then I realized just how simple it was to whip up from scratch.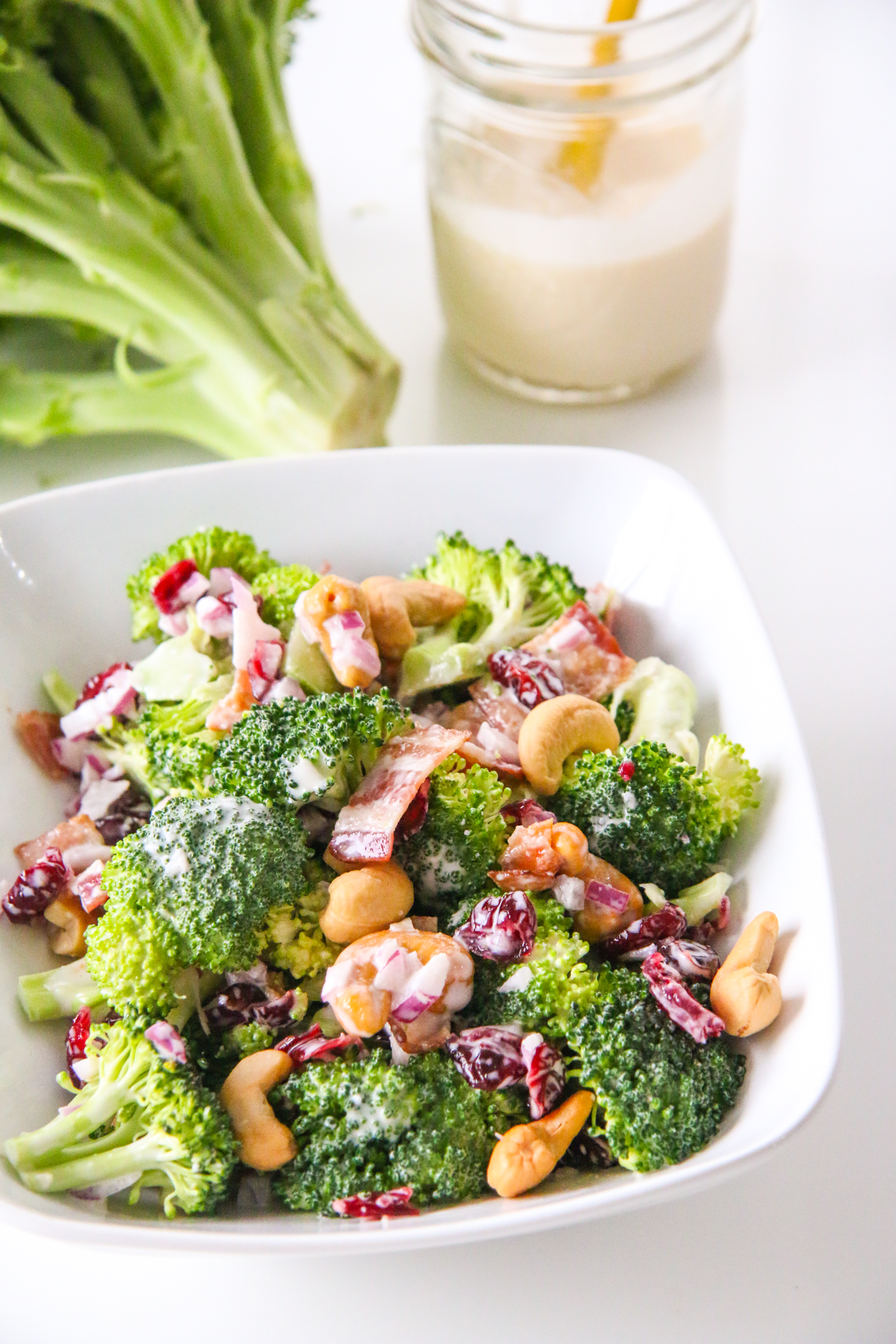 Plus if you make it yourself, you can customize what you put in there.  I've already made this once for an Easter lunch potluck and it was well received.  It went so well with the ham and potatoes on the table.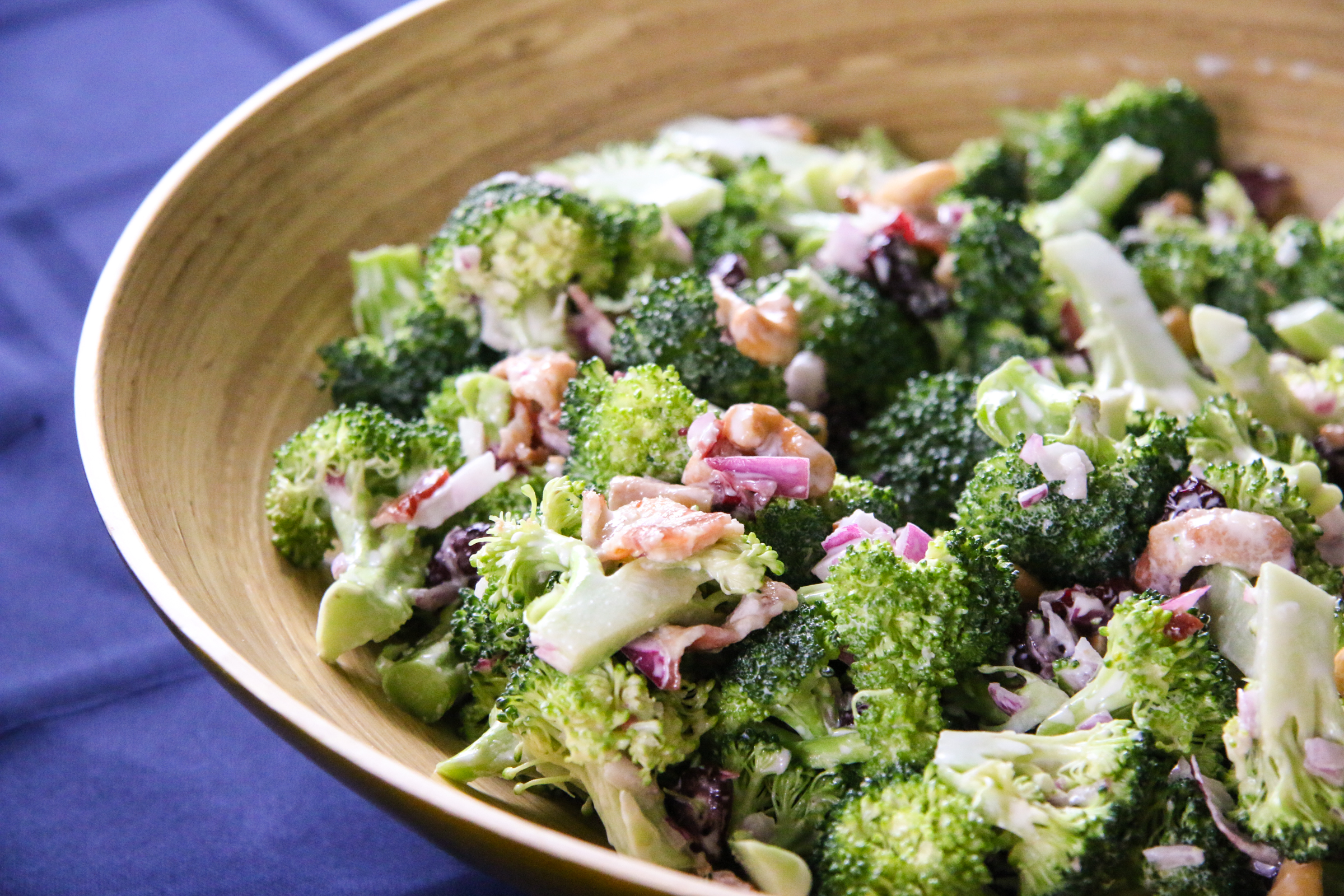 I love how the broccoli is raw so there's still a bit of a satisfying crunch.  And the dressing is creamy, sweet, and tart.  I think that's why this broccoli salad goes along great with hamburgers, hot dogs, roasts, and fried chicken!  That's what I call perfect summer food.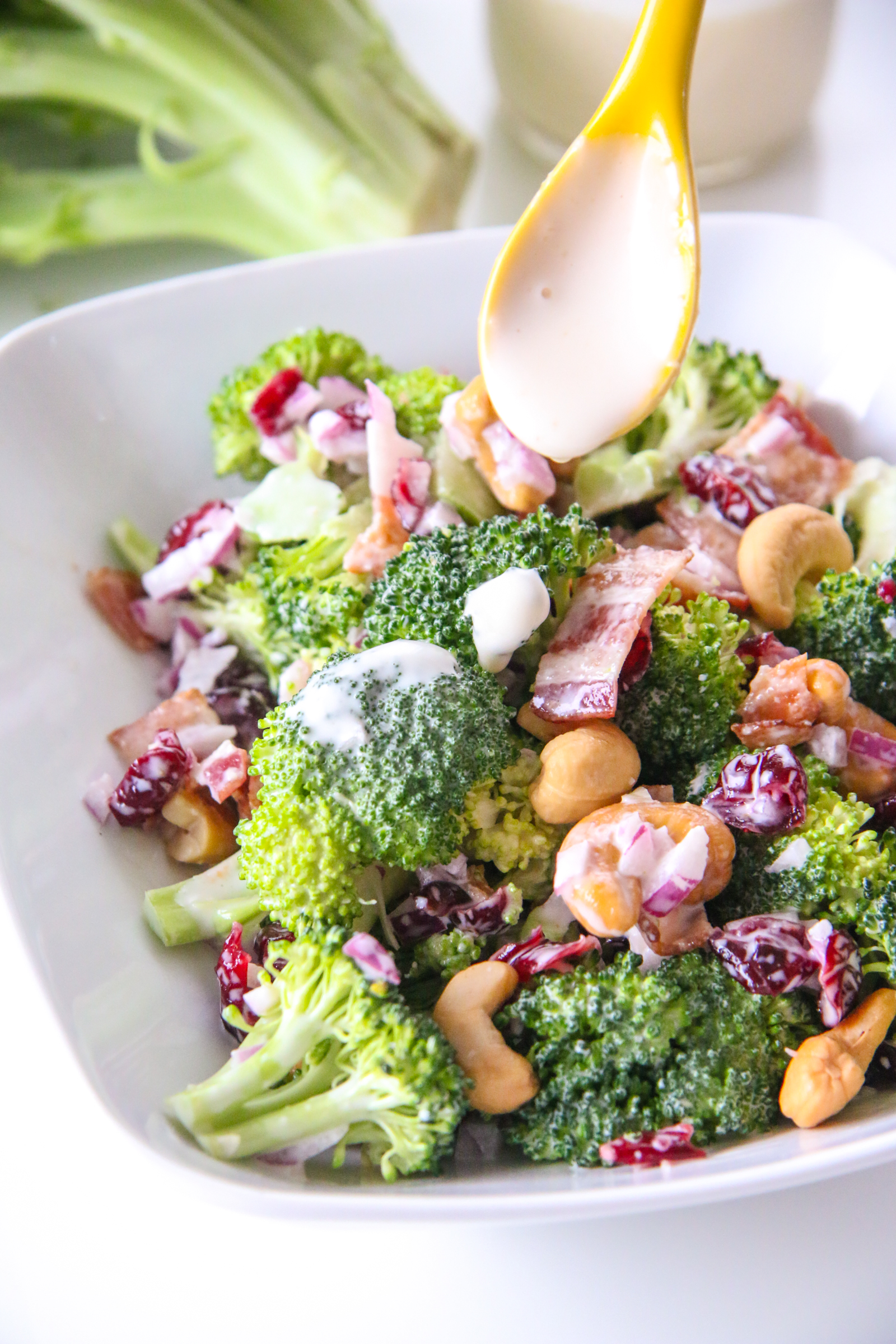 Our friends Audrey and John recently invited us over to their place for a casual BBQ.  I knew this was the perfect time to whip up this Classic Broccoli Salad again and film a recipe video this time.  You can see how I assemble this salad and enjoy it at a BBQ with our friends in EPISODE 5 of Bits & Pieces SEASON 3 below.
WATCH EPISODE 5 HERE:
John and Audrey already had a taste of this broccoli salad before, but they were excited to have it again.  That speaks volumes since John isn't the hugest vegetable fan. But if you think about it, there's nothing not to like.  It tastes similar to a coleslaw and there's bacon involved!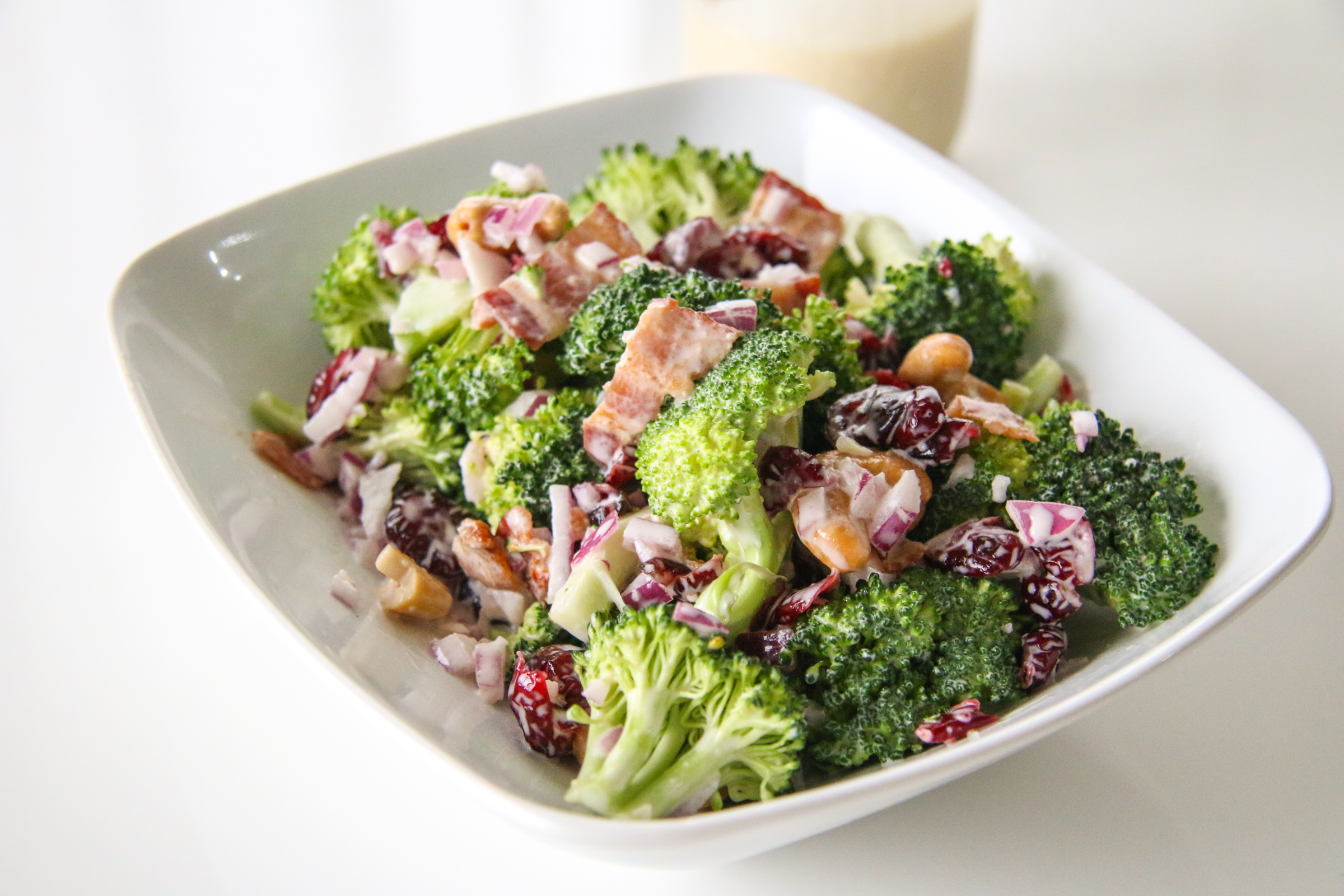 Honestly, if you're looking for a low-fat side dish recipe, this one isn't it.  The dressing base is good old fashioned mayo.  But at least it's a little lighter than the typical potato salads you'll be seeing a lot on your picnic tables this summer.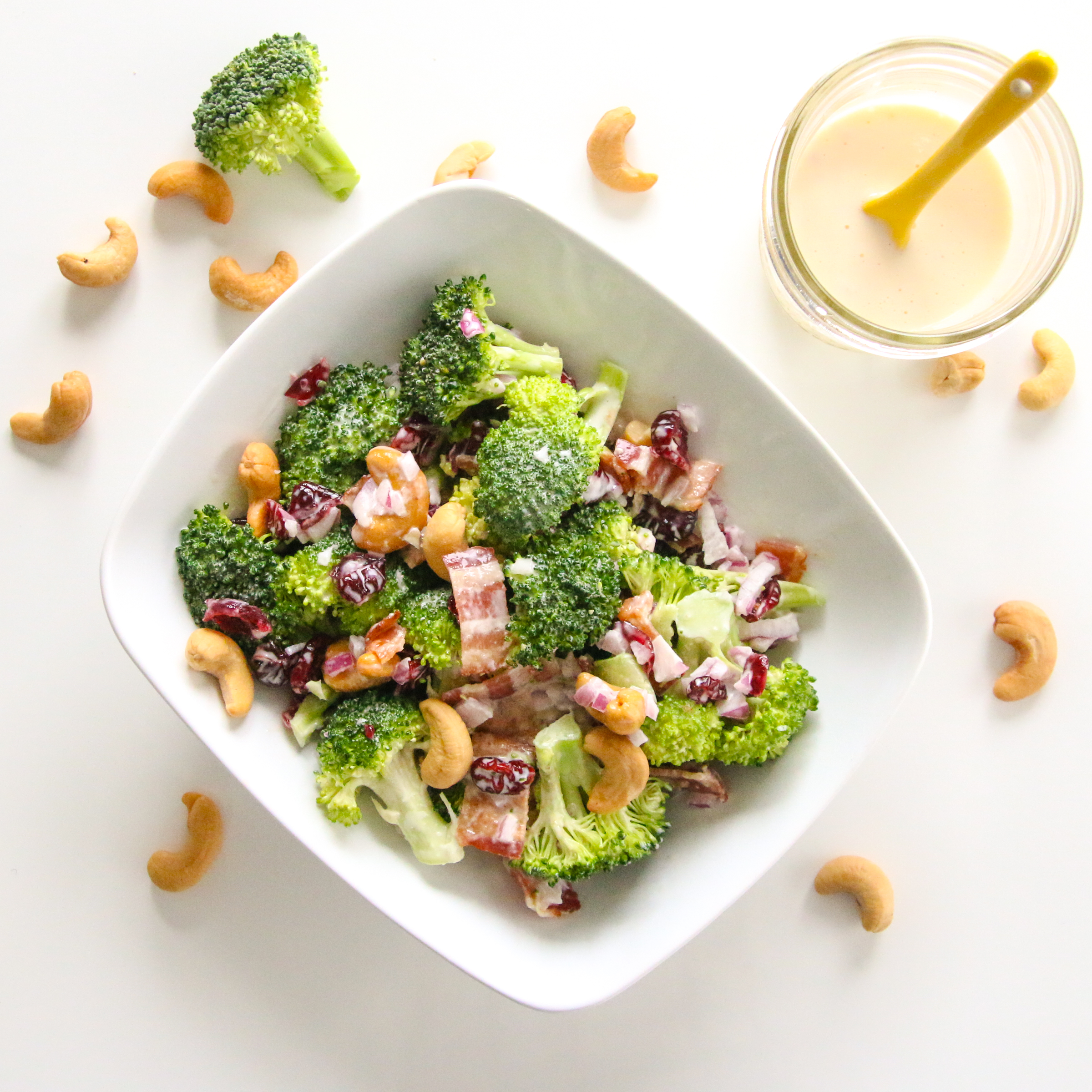 And if you want, you could lighten it up a bit by using a little nonfat Greek yogurt too.  I just wouldn't go all Greek yogurt or you'd miss out on that "classic" taste, and then you'd be sad.  I'd be sad for you too.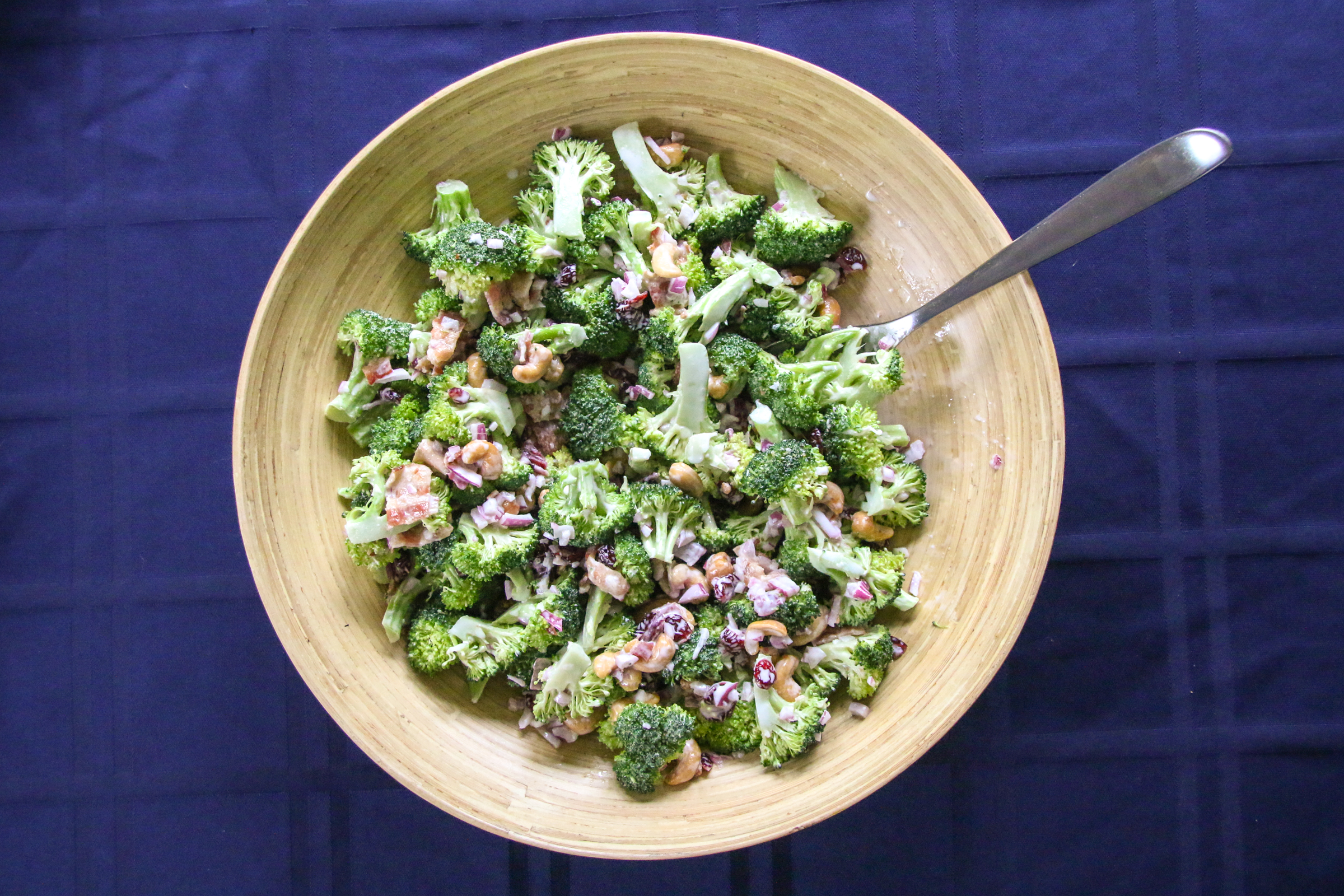 My favorite part is all the mix-in ingredients.  I love the chewy sweet and tart texture of the dried cranberries and the crunchy savory nuttiness of the cashews.  But feel free to use whatever nuts you want instead.  In fact, between you and me, I almost prefer glazed nuts in this salad, but couldn't find them at the time I shot this video.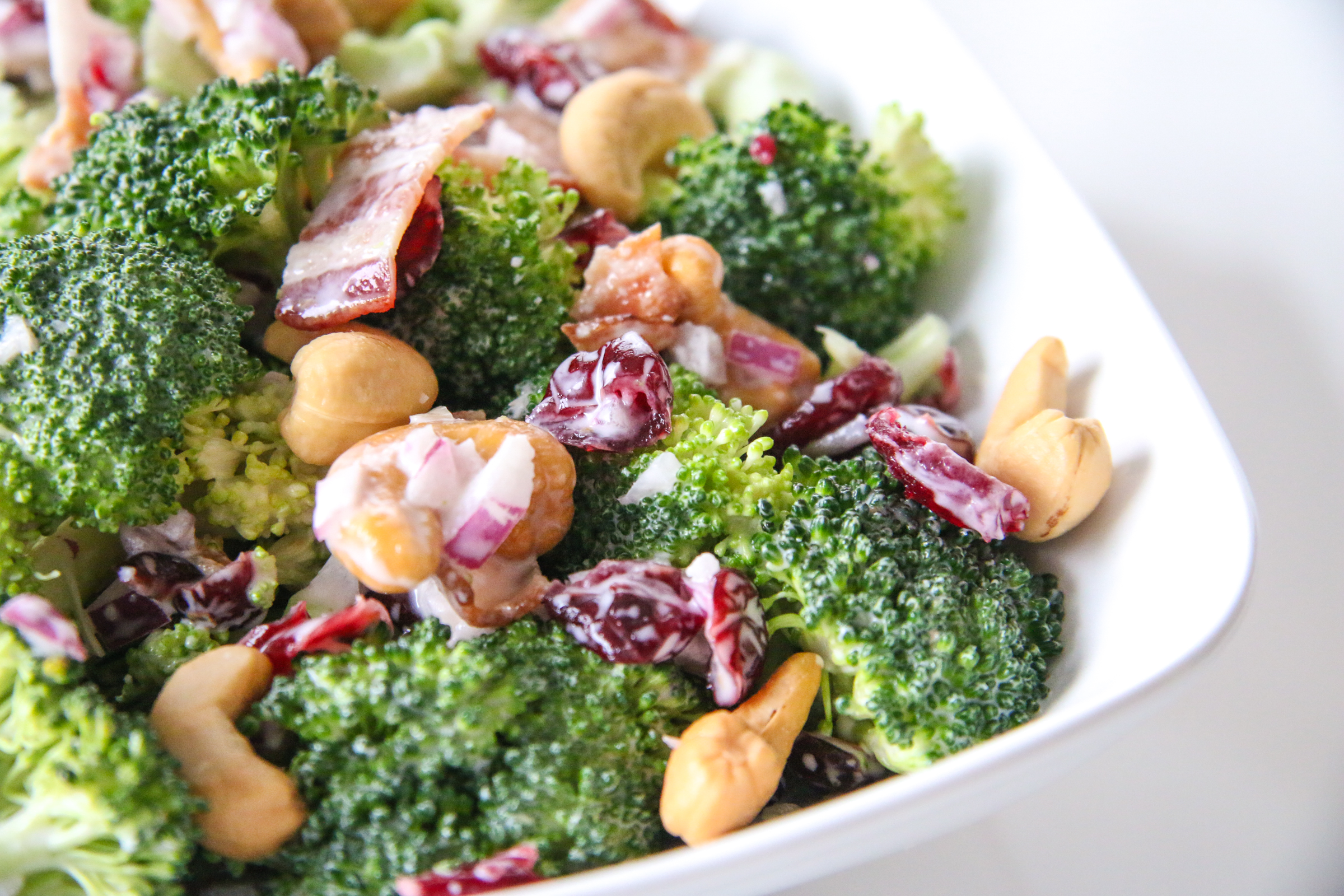 And once again… there's bacon involved… BACON.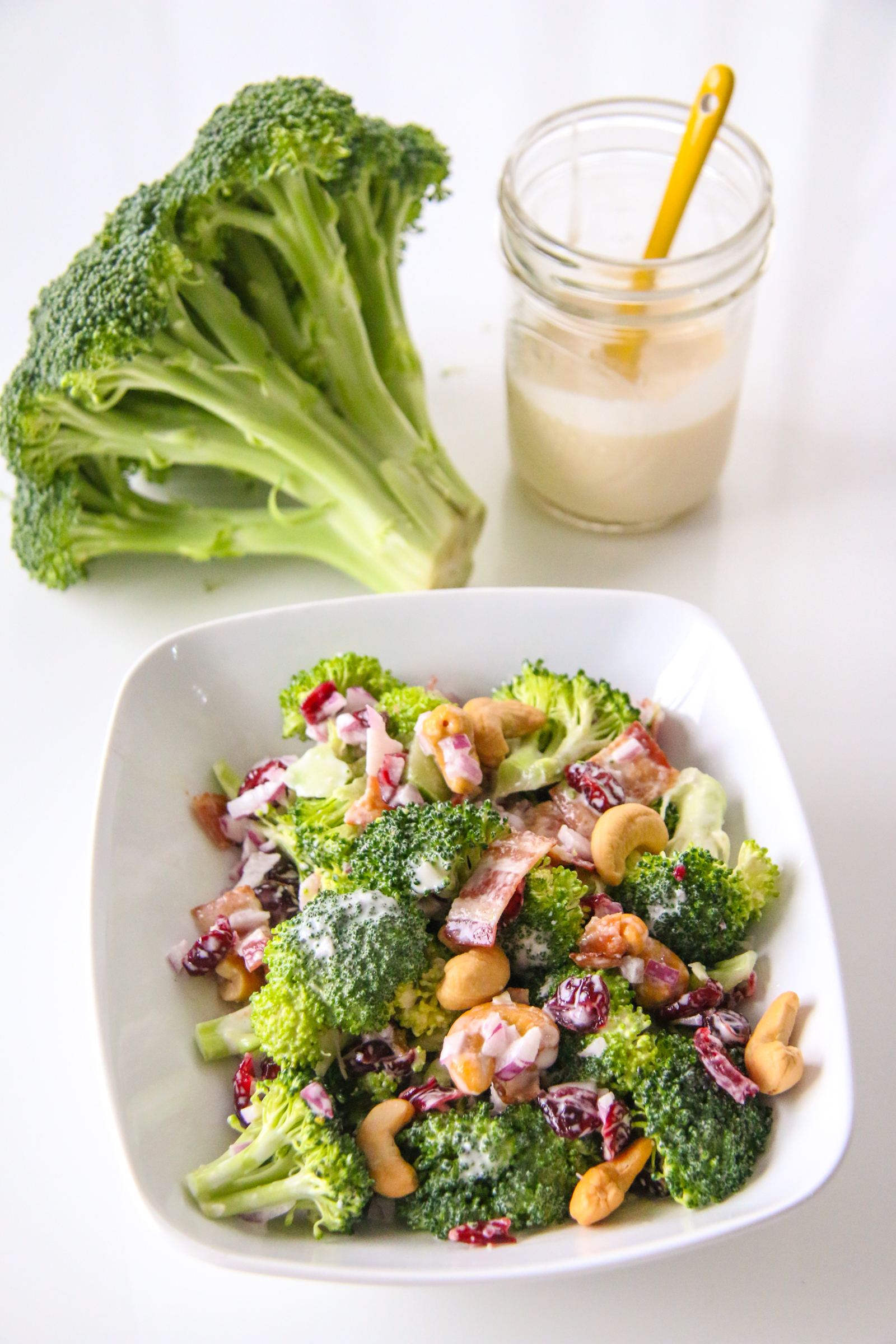 When you mix the raw red onion and the raw broccoli with the creamy sauce, something magical happens.  Everything starts to meld together and soften just a tad.  It's a really comforting and classic flavor that makes you think of childhood.  It's the perfect little side dish recipe to have in your back pocket for your next BBQ, potluck, or picnic. No need to thank me but you're welcome in advance :).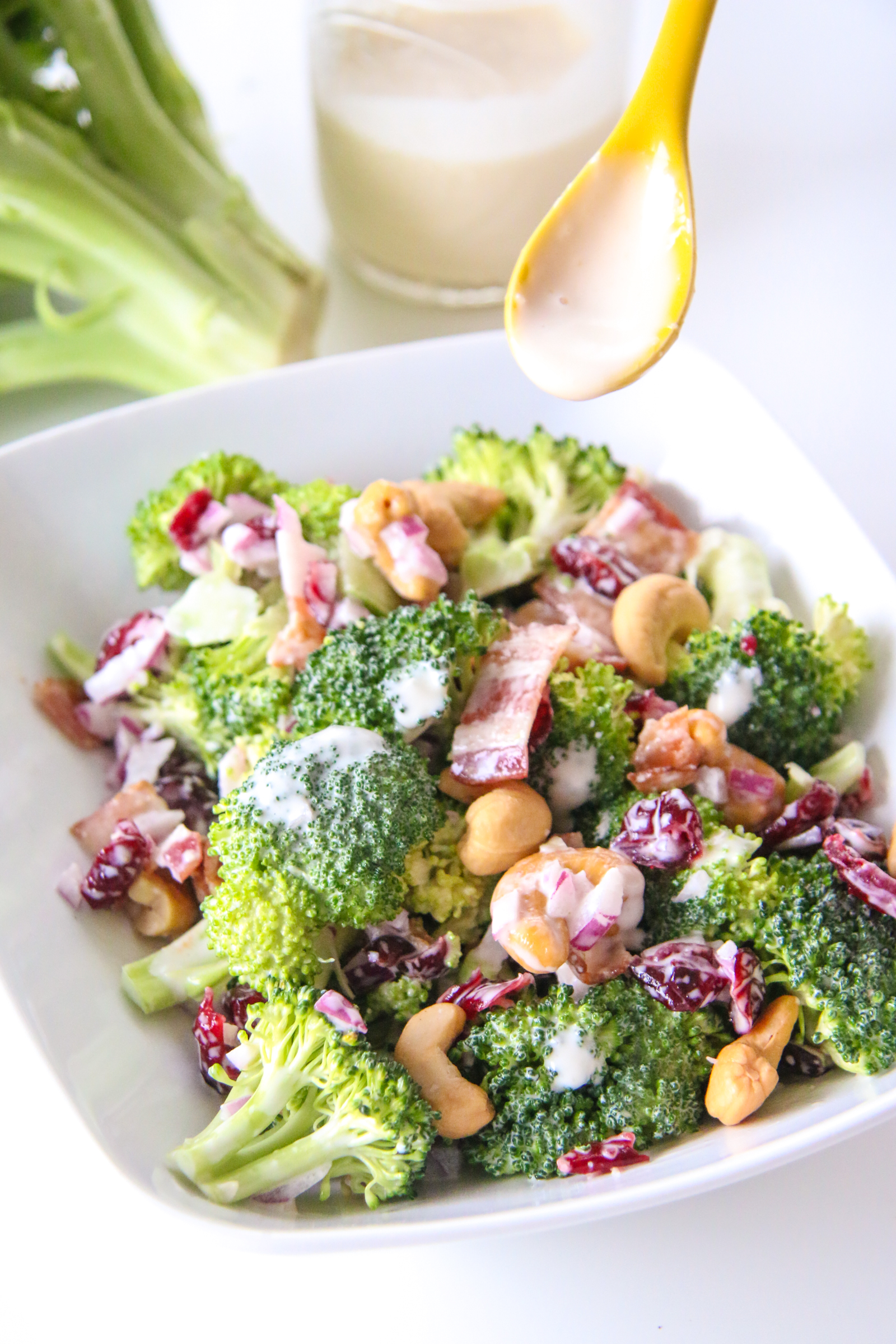 * COME BEHIND THE SCENES WITH US AND WATCH THE MAKING OF THIS EPISODE HERE: BEHIND THE SCENES
If you enjoyed this VIDEO, SUBSCRIBE to our COOKING SHOW CHANNEL HERE.  It's FREE! : Chef Julie Yoon
If you want to follow us on our journey, SUBSCRIBE to our VLOG CHANNEL HERE. It's FREE! : Our Yooniverse

Classic Broccoli Salad
This creamy, sweet, and tangy Classic Broccoli Salad is the perfect side dish for your next BBQ, potluck, or picnic.
Ingredients
6-7 cups broccoli florets (or more), cut into bite sized pieces
6 pieces of bacon, cooked crisp and crumbled
½ of a small red onion (or ¼ of a large), finely diced
1 cup toasted, roasted, or glazed nuts (cashews, walnuts, pecans)
½ cup dried cranberries
1 cup mayonnaise
¼ cup white wine vinegar
2 tablespoons agave, sugar, or honey (or more to taste)
½ teaspoon kosher salt (or to taste)
¼-½ teaspoon garlic powder
Instructions
Combine the broccoli, onion, bacon, toasted nuts, and dried cranberries in a large bowl, set aside.
In a small bowl whisk together the mayo, white wine vinegar, agave, salt, and garlic powder until smooth. Pour over broccoli mixture and toss to coat evenly (use only what you need). Pour into another bowl to serve so that all the ingredients that settled to the bottom when mixing can be on top. Enjoy chilled or at room temperature.

TIP: If you want to lighten up the dressing, you can substitute some of the mayo for plain Greek yogurt instead. You might just have to adjust the seasoning.