Summer Veggie Spaghetti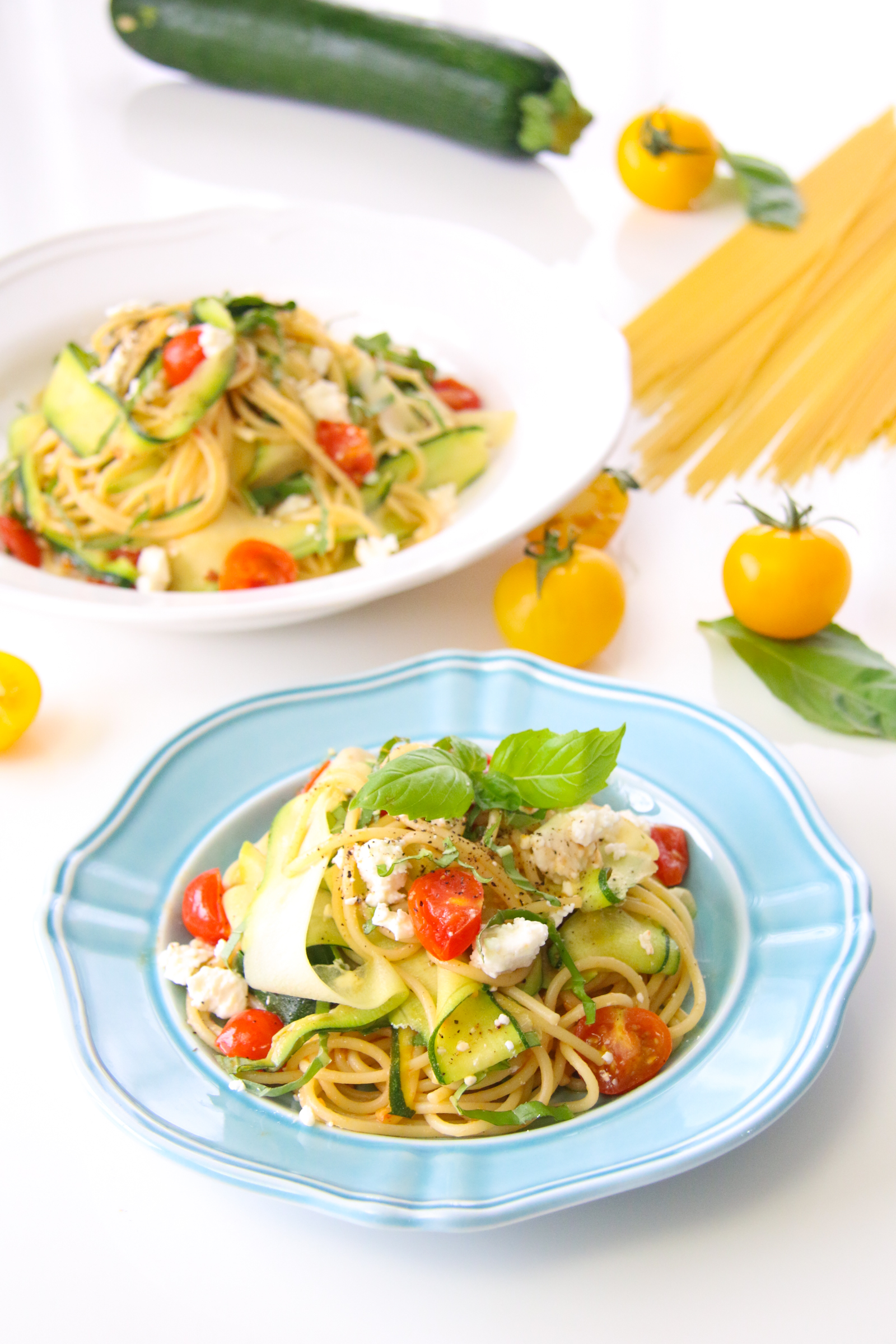 I'll never forget how one of my friends described my food. She said "your food always looks so simple that at first glance, you're not sure it would have lots of flavor, but it SURPRISINGLY always does!"  Haha… I'm not sure if that's a compliment or not, but I'll take it!  I kind of understand what she means.  That's because I'm very generous with my salt and pepper, and I usually like to cook in season.  This means that the produce I use will always be at the peak of their ripeness, so there's really no need to cover up their natural fresh taste.
That's exactly the case for this Summer Veggie Spaghetti.  I let the sweet shavings of zucchini and plump juicy cherry tomatoes take the stage.  All they need is a little coaxing with some salt to make them shine.  Okay…a little, garlic, chili, lemon, and feta cheese doesn't hurt either!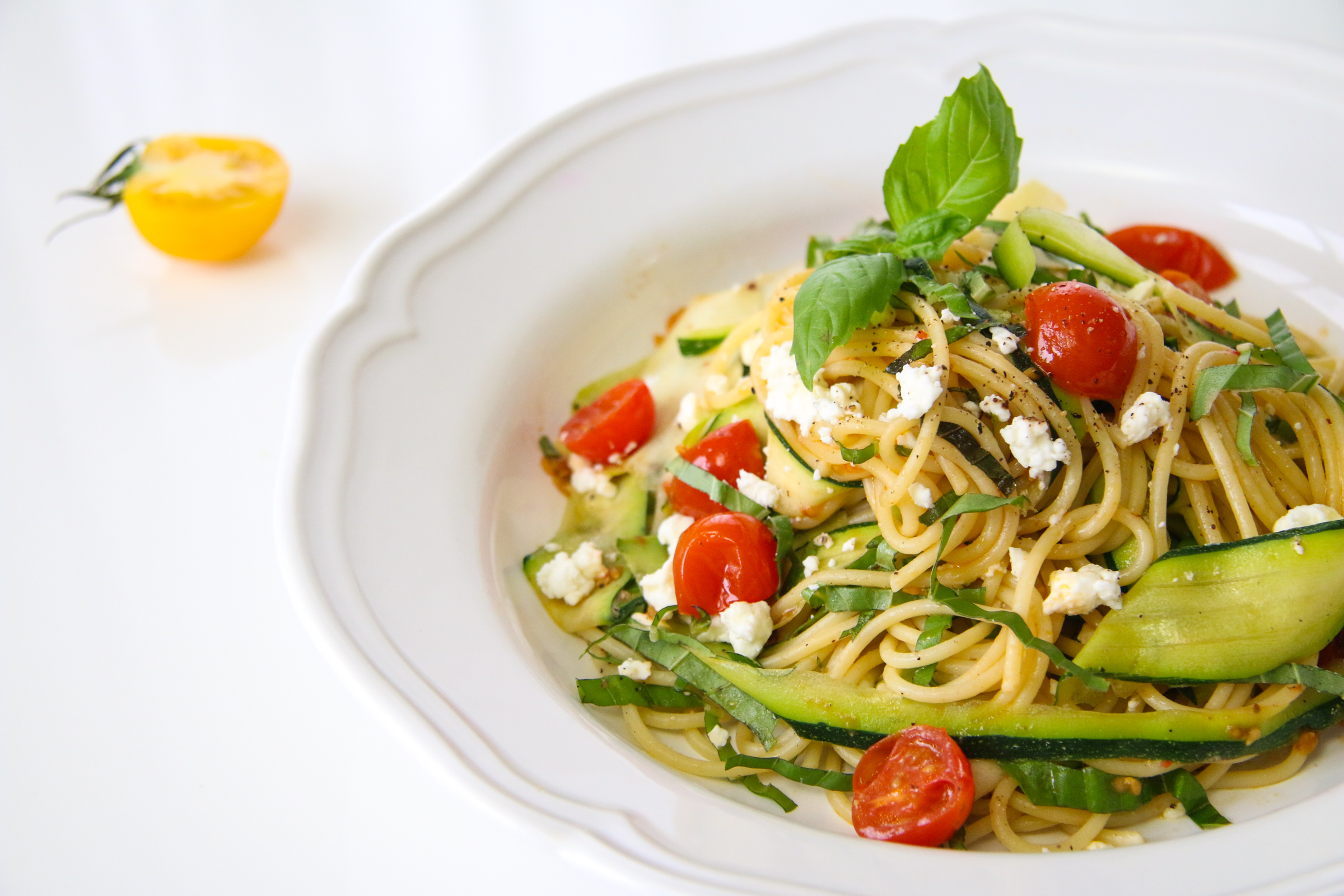 Here'e the truth….during the summer, I really don't like being in the kitchen.  Forgive me friends.  It's the one and only time.  It's too hot and stuffy and the way my kitchen is made, there's no air circulation, even with the windows open, or the AC on… it's just built like a sauna.  I know I'm not the only one who feels this way.  Plus, the summer is when you'd much rather be out and about enjoying the sunshine, not cooped up hovering over a stove.  So to me, that means quicker, often lighter recipes, and lots of fresh flavors.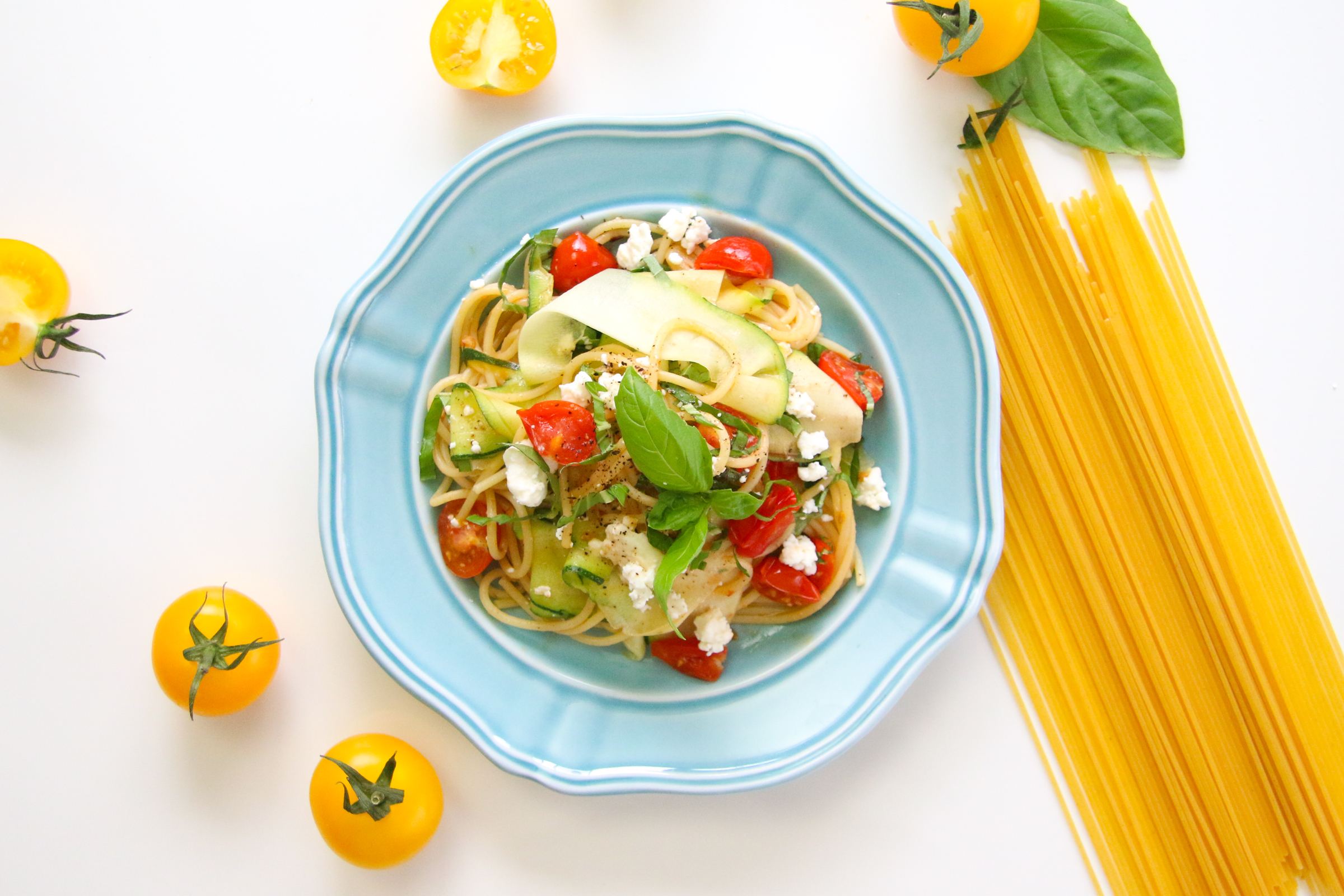 That's why the theme of Season 3 of our cooking show is "Simply Summer Fresh."  We're filming it during the summer time, so this was decision made out of pure necessity.  And I think this bright and clean tasting Summer Veggie Spaghetti is the PERFECT start to the season… and the summer!  Watch how I make it in our Season Premiere below:
WATCH OUR SUMMER VEGGIE SPAGHETTI EPISODE HERE:
Here's the thing, I didn't mean for this recipe to necessary be made for two, but I think I'm still coming off of my kick from Season 2, which was specifically "cooking for two."  So you'll probably still see me make recipes tailored for two from time to time.  But you can always easily double any of my recipes.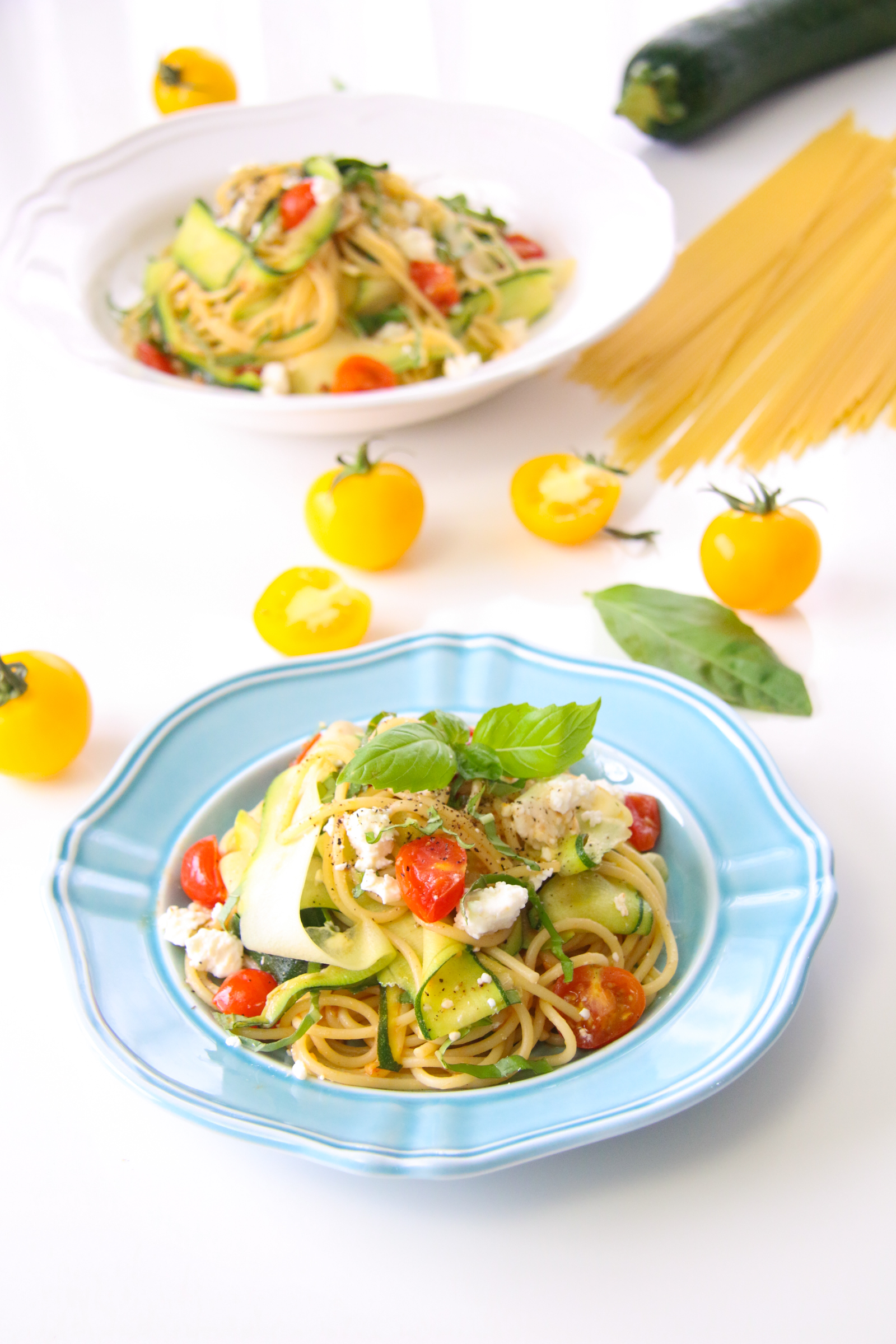 I love how the tomatoes wilt slightly and release their juice.  They cook for only a minute so they can hold their cute little shape.  I just think it looks more attractive that way.  But essentially, you are making a fresh tomato sauce in a pinch.
Making sure you heat your garlic, red pepper flakes, and olive oil in a COLD pan ensures that the oil will be infused with flavor.  That's the key.  And my last tip is to make sure this simple spaghetti is well seasoned all the way.  That means make sure you're not stingy with the salt and pepper in almost every stage.  And don't omit the feta or fresh basil.  That would be a crime.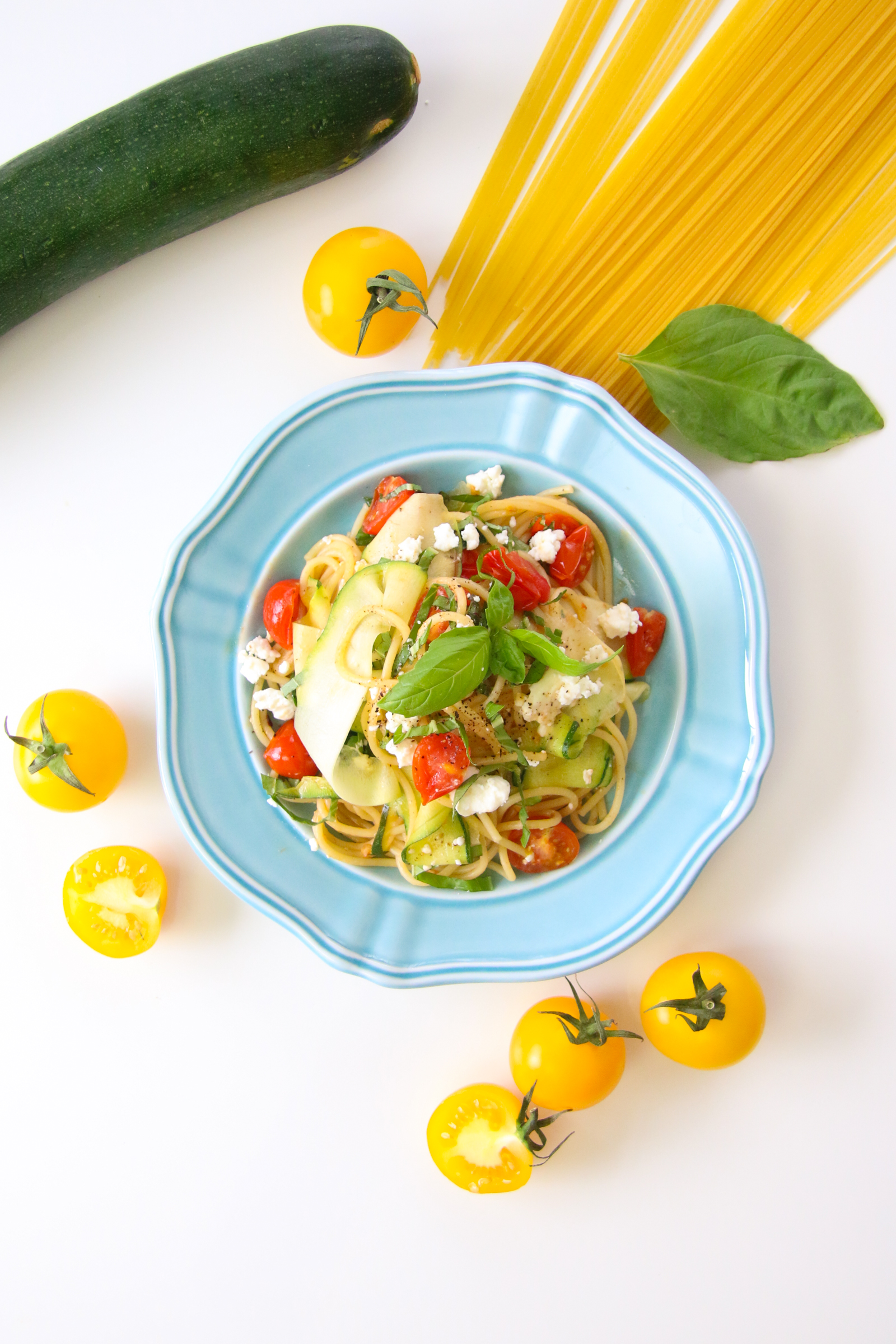 And by the way, I don't think this is a scientific fact or anything, but the feta and zucchini combo does something to the brain that makes you not miss the meat in this dish, even for a meat lover like me.  It's husband approved too!
But if for whatever reason you can't live without some protein, feel free to add your own twist.  I'm thinking grilled shrimp, chicken, or sausage would work really well in this dish. Heck, even add some meatballs for all I care!  Just grab some lemonade, make this veggie spaghetti, and enjoy your summer!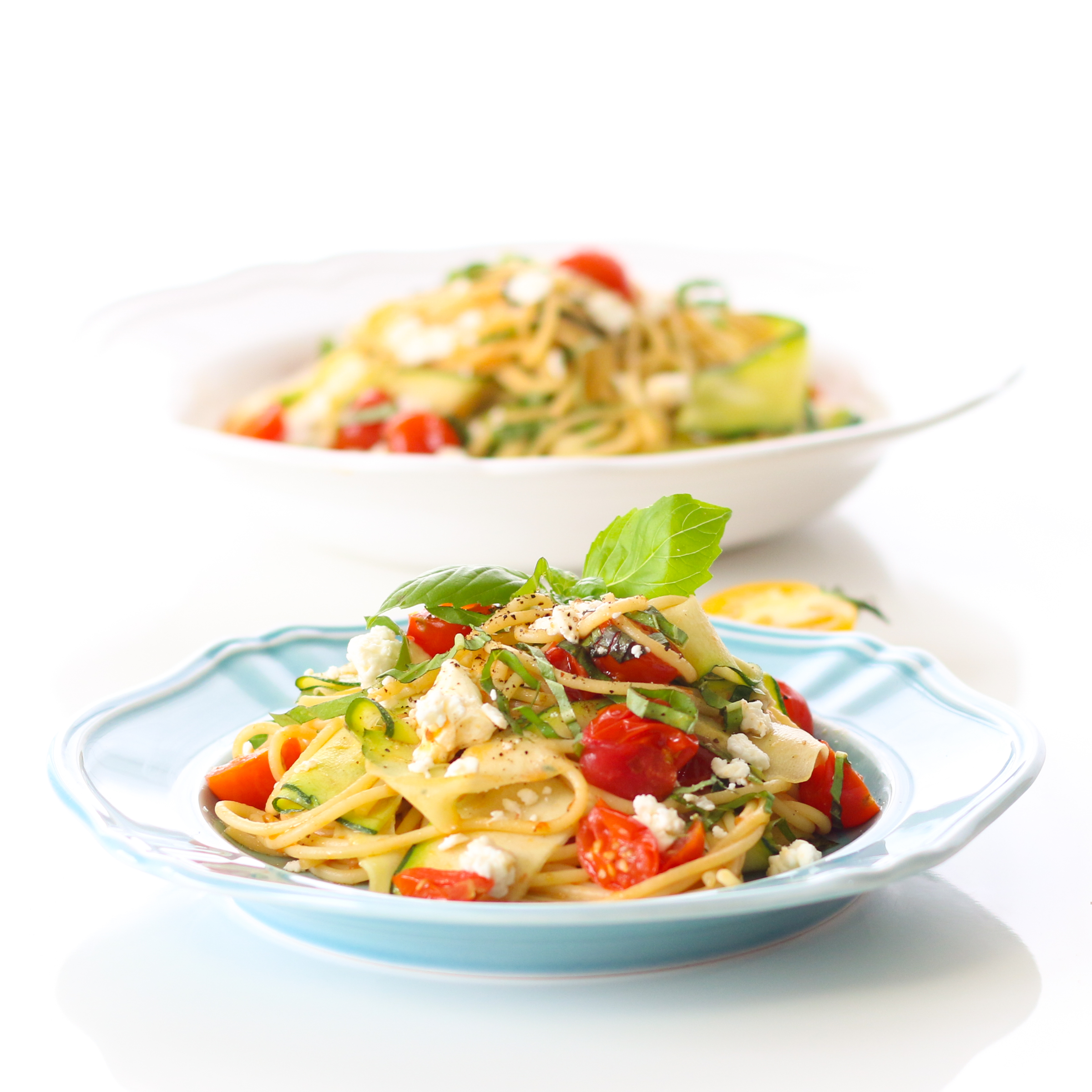 * COME BEHIND THE SCENES WITH US AND WATCH THE MAKING OF THIS EPISODE HERE: BEHIND THE SCENES
If you enjoyed this VIDEO, SUBSCRIBE to our COOKING SHOW CHANNEL HERE.  It's FREE! : Chef Julie Yoon
If you want to follow us on our journey, SUBSCRIBE to our VLOG CHANNEL HERE. It's FREE! : Our Yooniverse

Summer Veggie Spaghetti
This is a good way to jumpstart your summer. Using shavings of zucchini allows you to eat less pasta, but still feel satisfied. The key to this dish is not overcooking any of the ingredients. Less time spent at the stove in the summer is always a good thing!
Ingredients
¼ lb of spaghetti
1 large zucchini
2 pints cherry or grape tomatoes, halved
3 tablespoons olive oil
2 garlic cloves, thinly sliced
¼ teaspoon red pepper flakes
1 tablespoon lemon juice, or more to taste
Crumbled Feta cheese
Fresh Basil thinly sliced
Salt and pepper to taste
Instructions
Chop off the top and bottom of the zucchini, then use a vegetable peeler to make long thin shavings. Stop when you reach the core with the seeds. Set aside the shavings. Save the core for a stir-fry some other time!
Put a pot of boiling salted water on the stove and cook spaghetti according to package directions. Reserve a little of the starchy cooking water before draining.
Meanwhile, place olive oil, garlic, and pepper flakes in a large cold pan and bring to a sizzle together, stirring occasionally so the garlic doesn't burn. When the garlic becomes slightly golden and fragrant, add the tomatoes, along with some salt and pepper, and cook for about 1 minute. They should only be slightly softened, and release a little juice, but still hold their shape. Add the cooked drained spaghetti, along with a splash of the reserved salted cooking water to the pan. Add the lemon juice and toss together for 30 seconds, just to coat the spaghetti with the tomatoes. Turn off the heat and add the zucchini ribbons. Toss lightly and let the heat of the spaghetti slightly wilt the zucchini. Don't let it soften too much or it can get mushy. Season with salt and pepper to taste. Top with feta and basil and serve.

TIPS: Use Parmesan cheese instead of Feta. Use yellow summer squash or even shaved asparagus instead of zucchini!