Chocolate Overnight Oats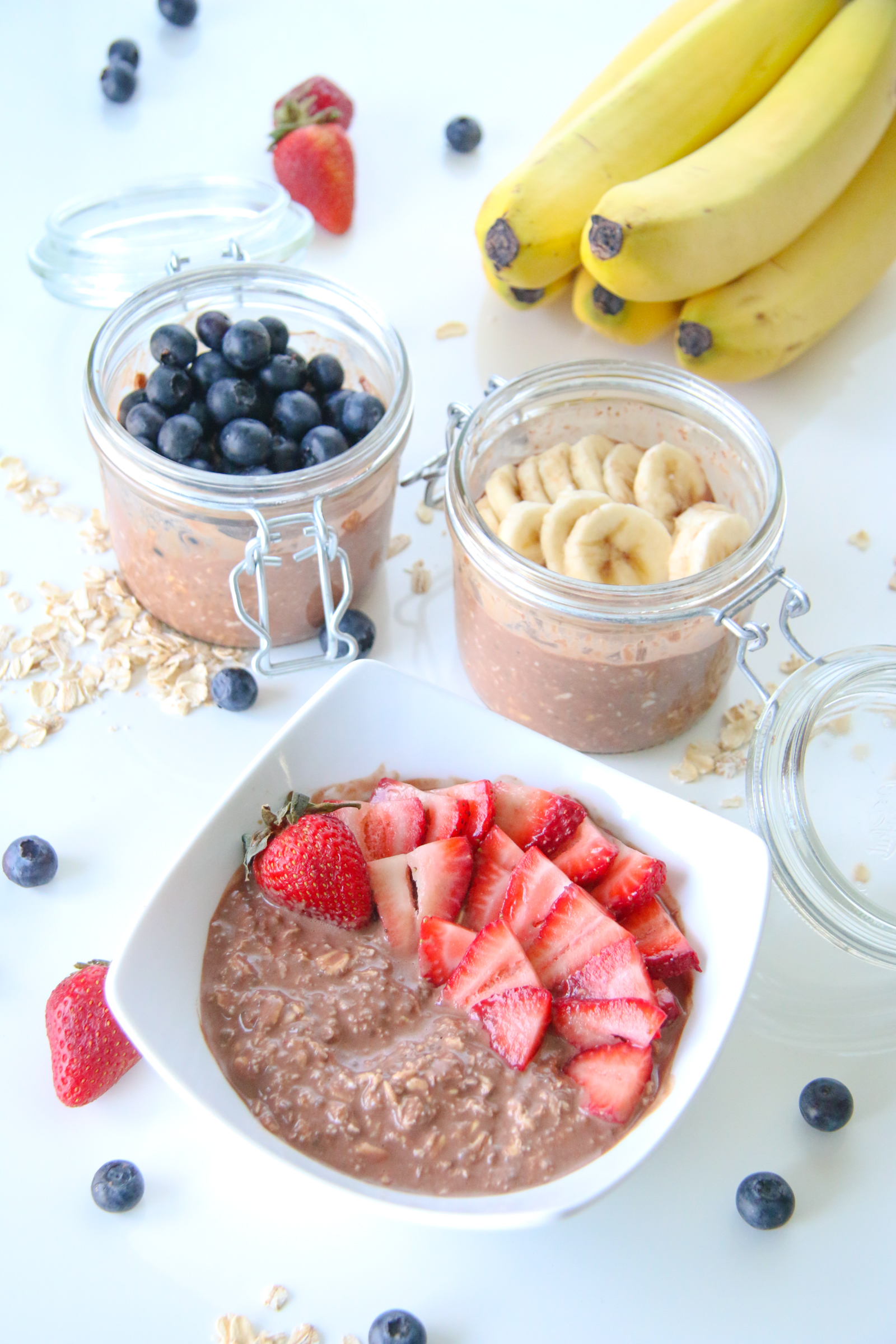 The first time I heard about this overnight oat phenomenon, I couldn't wrap my head around WHY you'd want to eat COLD oatmeal.  Then I realized it's not oatmeal at all. Overnight oats is exactly that… overnight OATS, not overnight OATMEAL…so don't expect it to be that.  That was my first mistake. I tried making a version of this MANY TIMES just trying to figure out what the texture of it was supposed to be like.
Every picture and video I saw of it made it look like the oats were supposed to bloat like a balloon in the Macy's Thanksgiving Day parade.  But the truth is that they don't… just accept that and you'll be fine.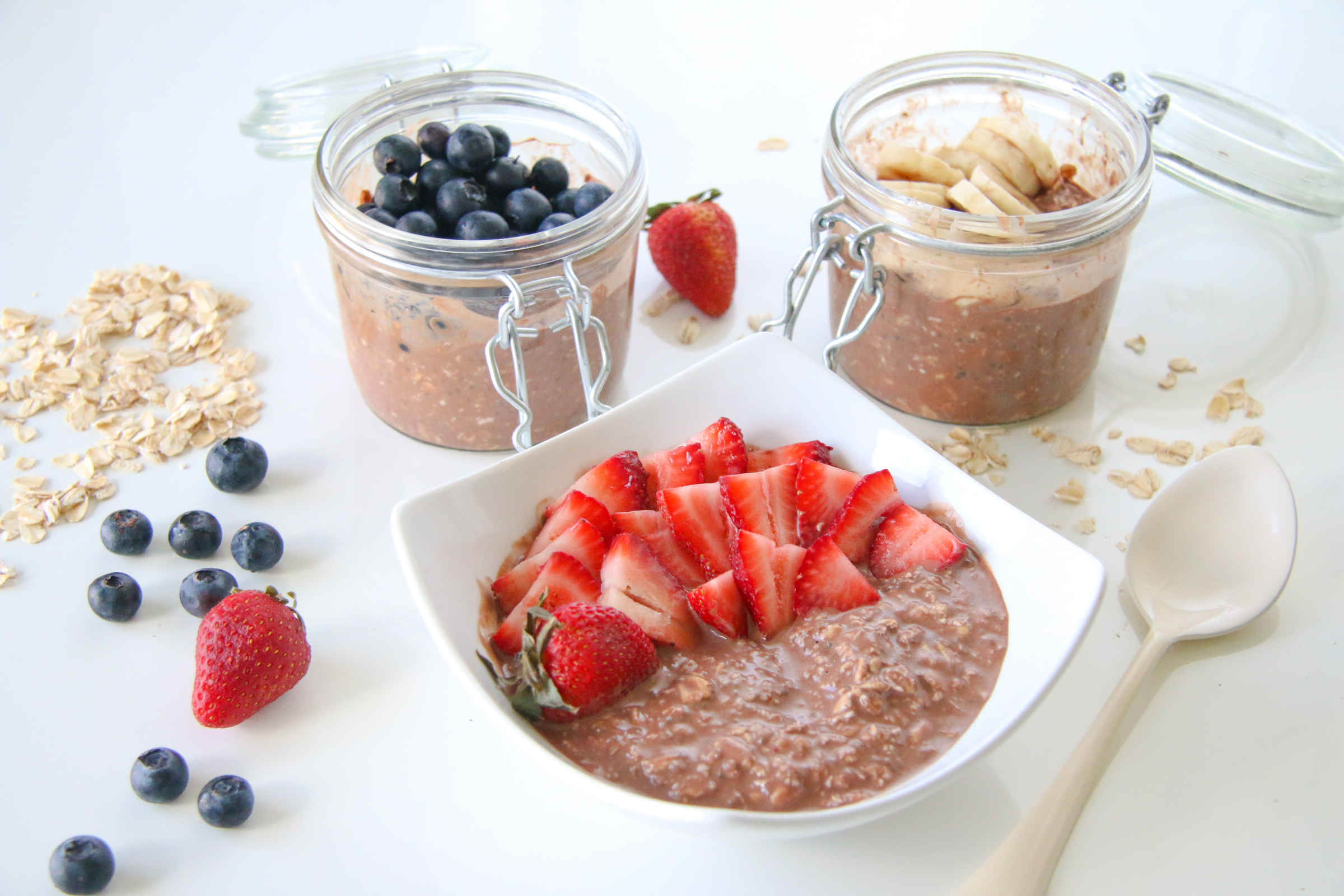 They DO kind of puff up and turn pudding-like, but even more so only if you add Chia seeds.  If you don't add them, you can still enjoy them, but the Chia seeds DO bloat a bunch, which brings heftiness to your oats.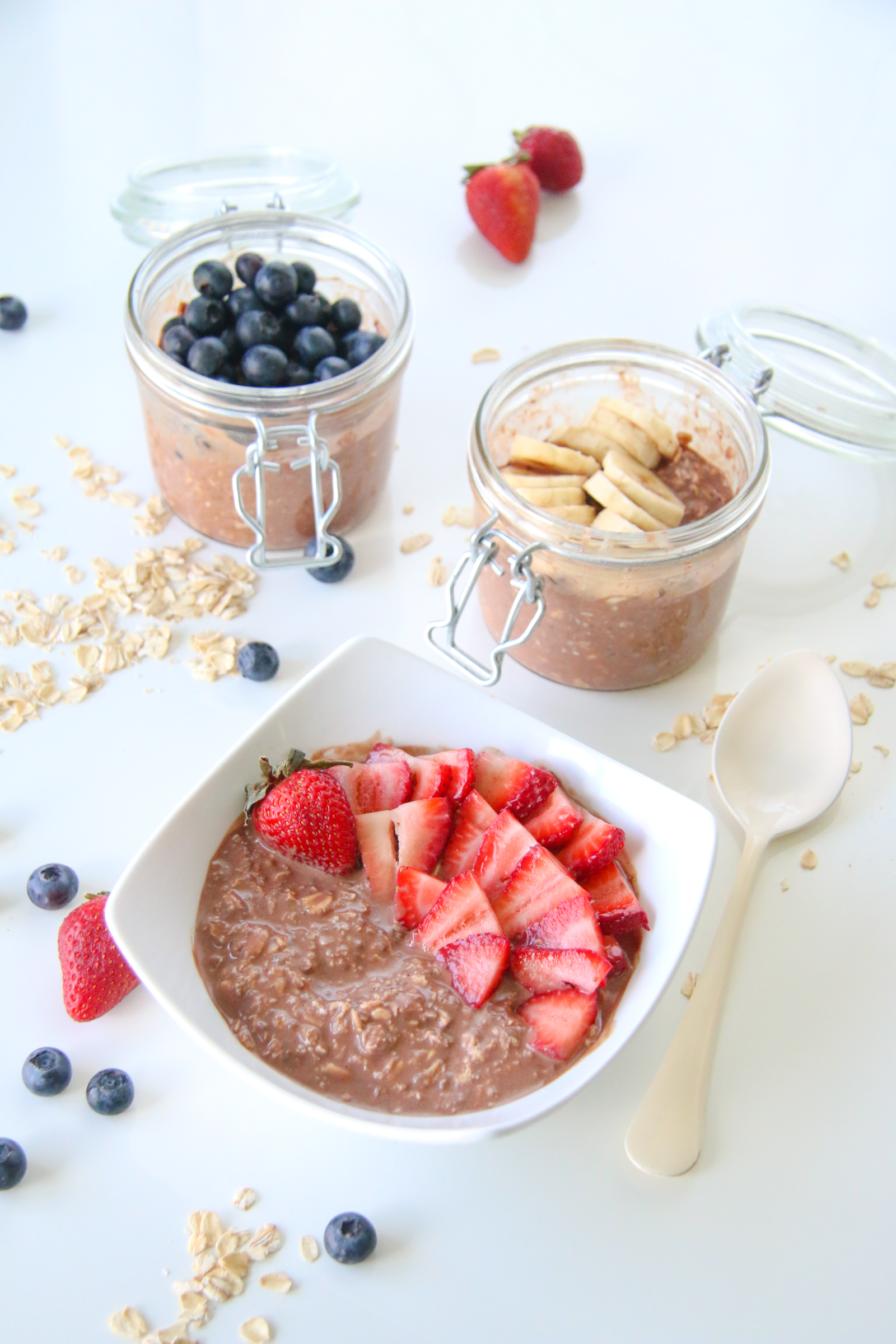 Secondly, don't make the mistake of adding TOO MUCH liquid.  When I made these the first several times, I was adamant that there was not enough liquid to make the oats soften and expand.  But the problem is that if you do add too much liquid, the oats drink up that excess moisture and instead of puffing like they would when you cook them, they turn pretty sad and soggy.
Once I finally mastered the technique, there was nothing more to do than to play with the flavors, so I was dying to make a chocolate version. Something about making them chocolate makes it feel more like a dessert or a pudding treat.  And I think it goes so well with all types of fruit.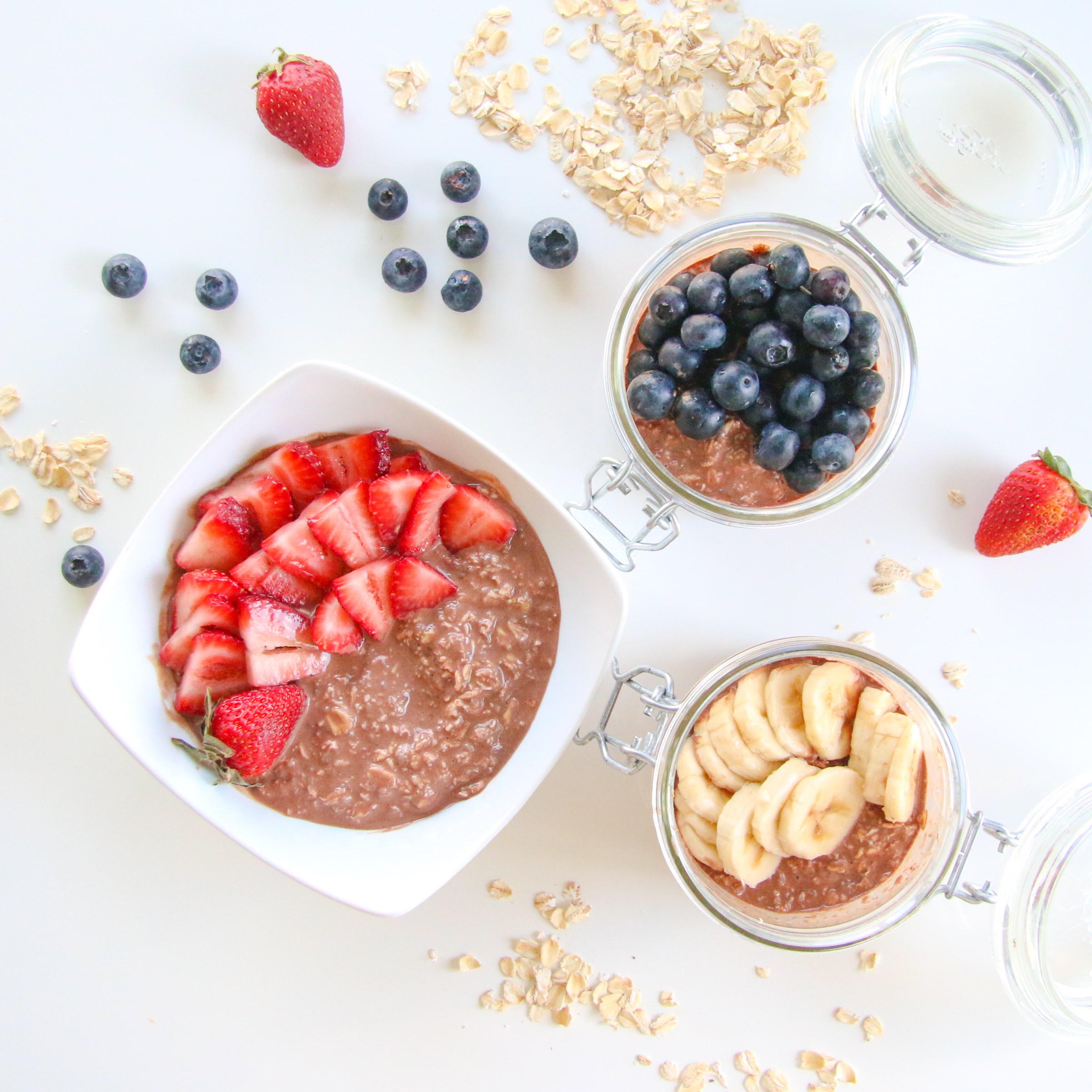 These Chocolate Overnight Oats are the perfect summer time breakfast because you make them in advance, throw them in your bag, and head out the door.  You can see how I easily make these oats in Bits & Pieces SEASON 3 EPISODE 2 below:
WATCH EPISODE 2 HERE:
So what do these Chocolate Overnight Oats taste like?  They pretty much taste like flavored oatmeal, but the oats retain a chewier consistency. They're not hard or raw… just not completely soft and porridge-like.  And because I add Greek yogurt, there's a smooth creaminess and decadent mouth-feel.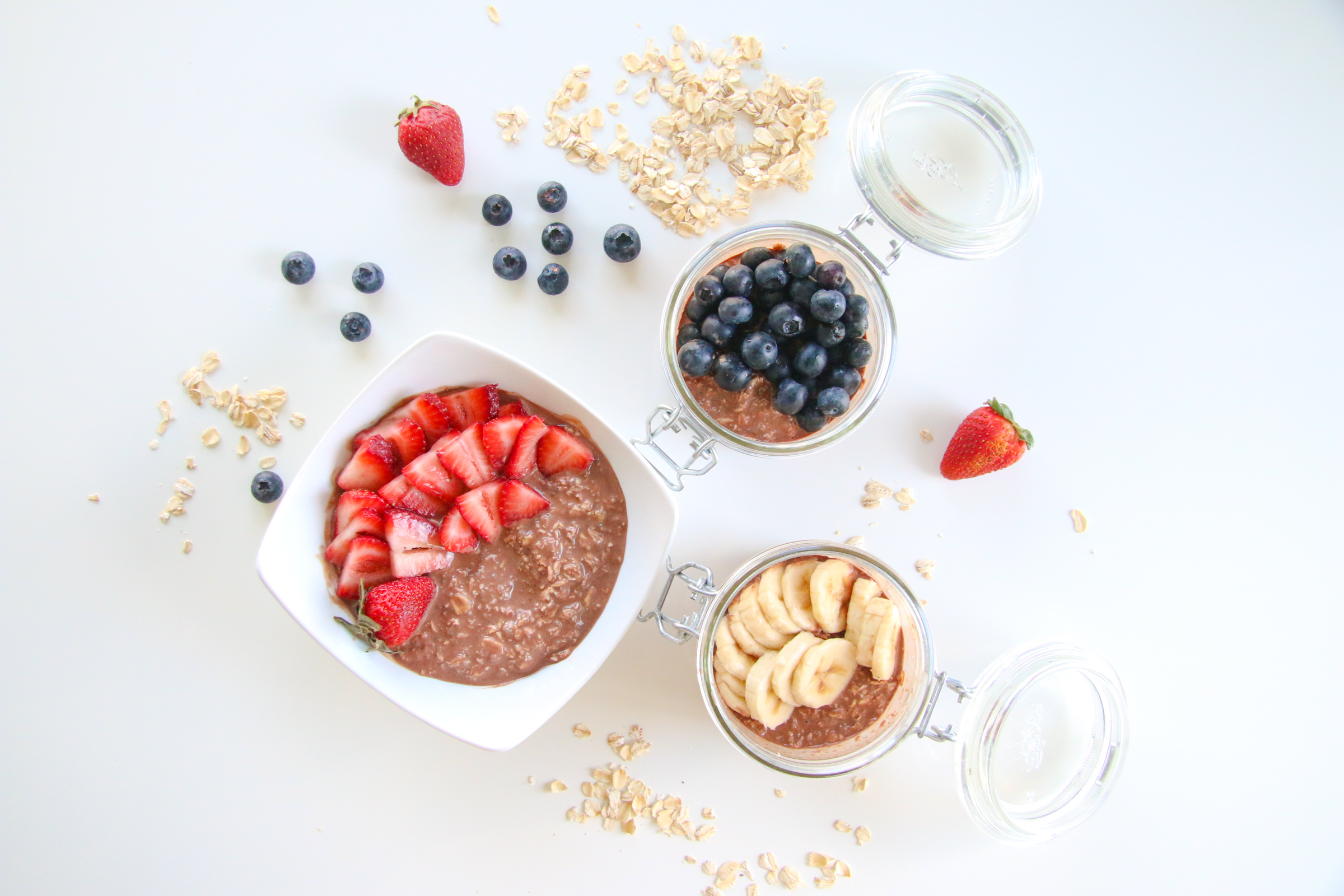 You can eat them cold, or pop them in the microwave for 30-60 seconds to remove the chill.  But between you and me, I think the fact that they're COLD actually makes them taste better and adds to the experience.  I have never eaten them warmed up. Maybe you can try it.  I'll stick to what I like.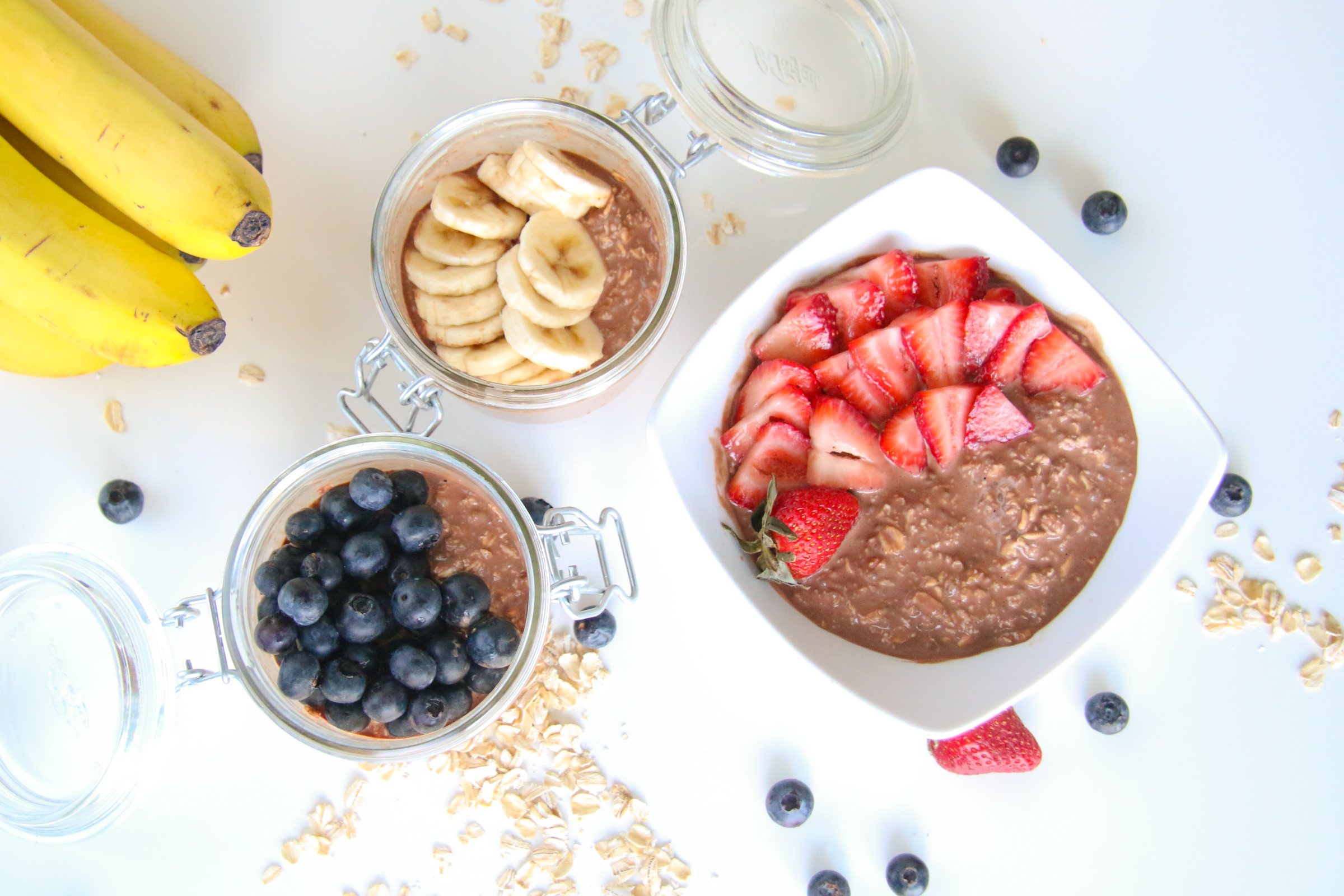 And let's face it, anything that tastes like chocolate doesn't hurt either.  I think this would be fun for kids because you kind of feel like you're eating dessert for breakfast.  Have fun with the toppings, or eat it plain.  And if you're working from home like me, even though you don't have to, ABSOLUTELY put it in a jar.  It's just cuter and it will make your day more productive! 🙂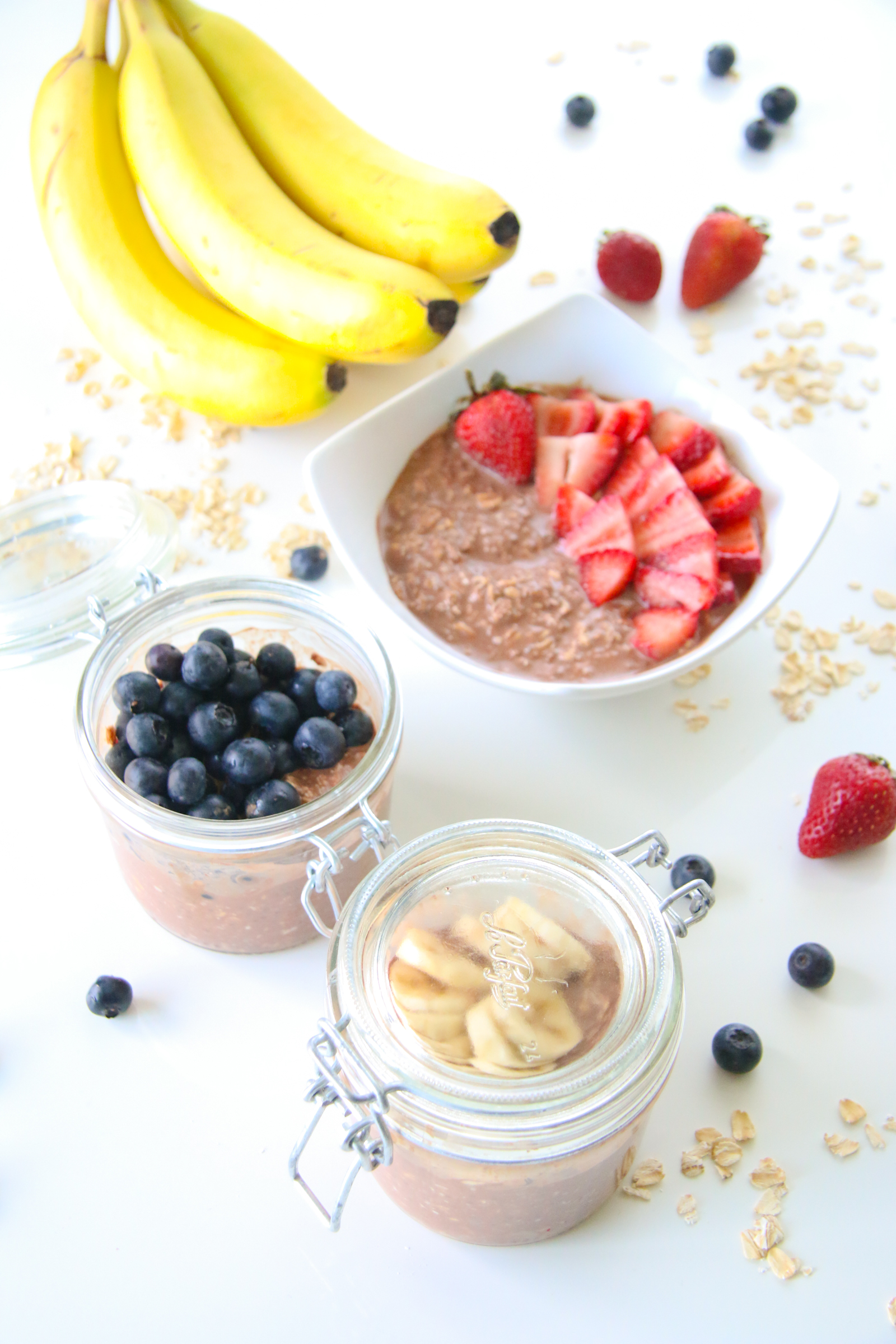 * COME BEHIND THE SCENES WITH US AND WATCH THE MAKING OF THIS EPISODE HERE: BEHIND THE SCENES
If you enjoyed this VIDEO, SUBSCRIBE to our COOKING SHOW CHANNEL HERE.  It's FREE! : Chef Julie Yoon
If you want to follow us on our journey, SUBSCRIBE to our VLOG CHANNEL HERE. It's FREE! : Our Yooniverse

Chocolate Overnight Oats
These creamy, cold, and chocolatey oats are made overnight! Just throw some fruit on top in the morning and take it to go!
Ingredients
½ cup old fashioned oats
½ tablespoon Chia seeds
1 tablespoon unsweetened cocoa powder
6 tablespoons unsweetened vanilla Almond milk
2 tablespoons vanilla Greek yogurt
1 tablespoon Agave
Sliced Bananas, or berries for topping
Instructions
Place oats, chia seeds, cocoa powder, almond milk, yogurt, and agave into a mason jar. Mix together well. Cover and leave overnight. In the morning, top with fresh berries or banana slices and take it to go!

TIPS: This recipe doesn't work well with instant oats so make sure to use old fashioned oats for a chewier consistency. Also, follow the recipe and don't add too much liquid or the oats will get too mushy. You can heat it up slightly in the microwave for 30 to 60 seconds, but I like it cold.