Poached Egg Sandwiches (open faced)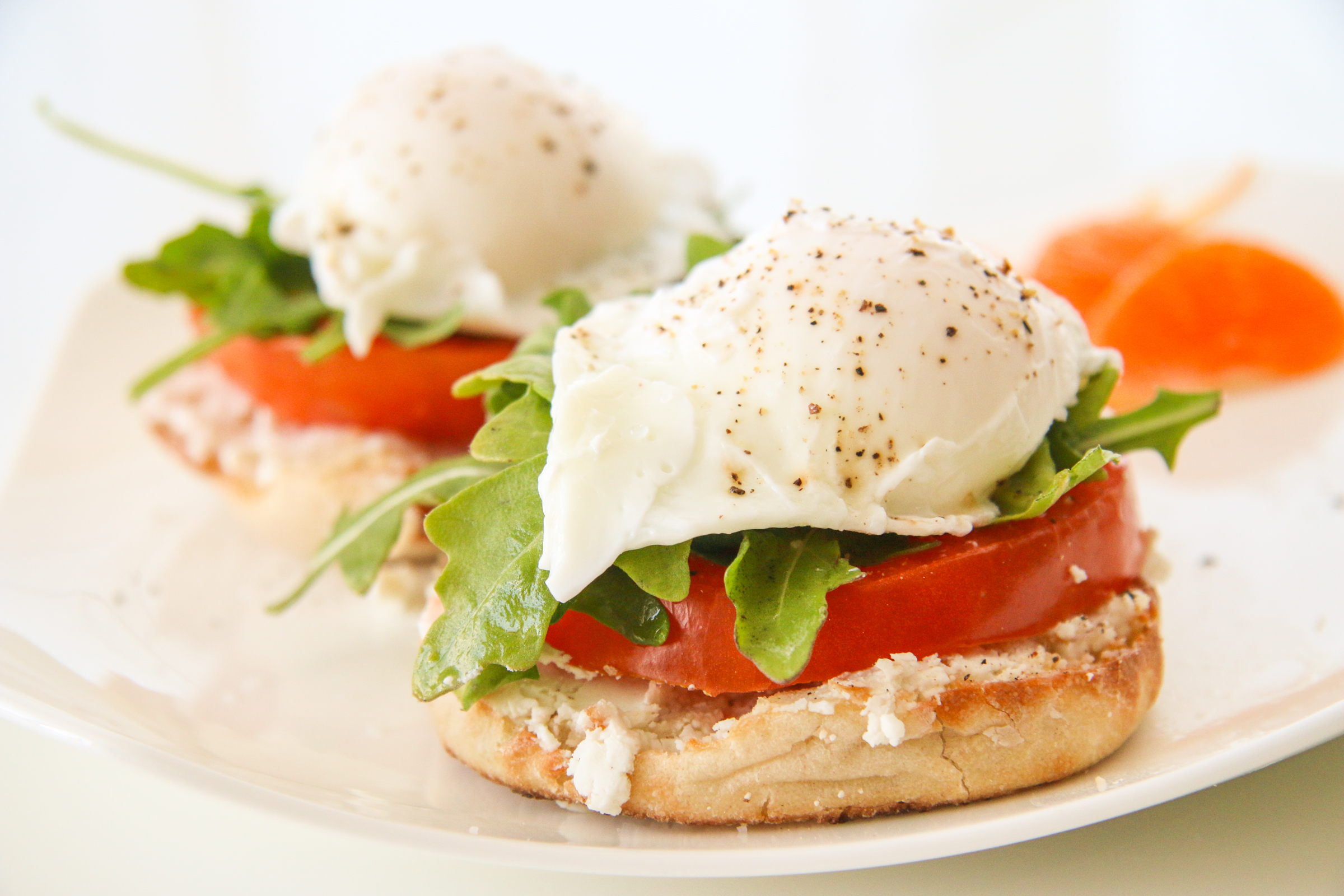 When you crack into a beautifully poached egg and the yolk comes dribbling down, you almost expect to hear a heavenly chorus.  These simple yet glorious breakfast "sandwiches" are a healthier and easier nod to Eggs Benedict. There's no Canadian bacon or hollandaise sauce involved… but ask my husband…you really don't need the extras.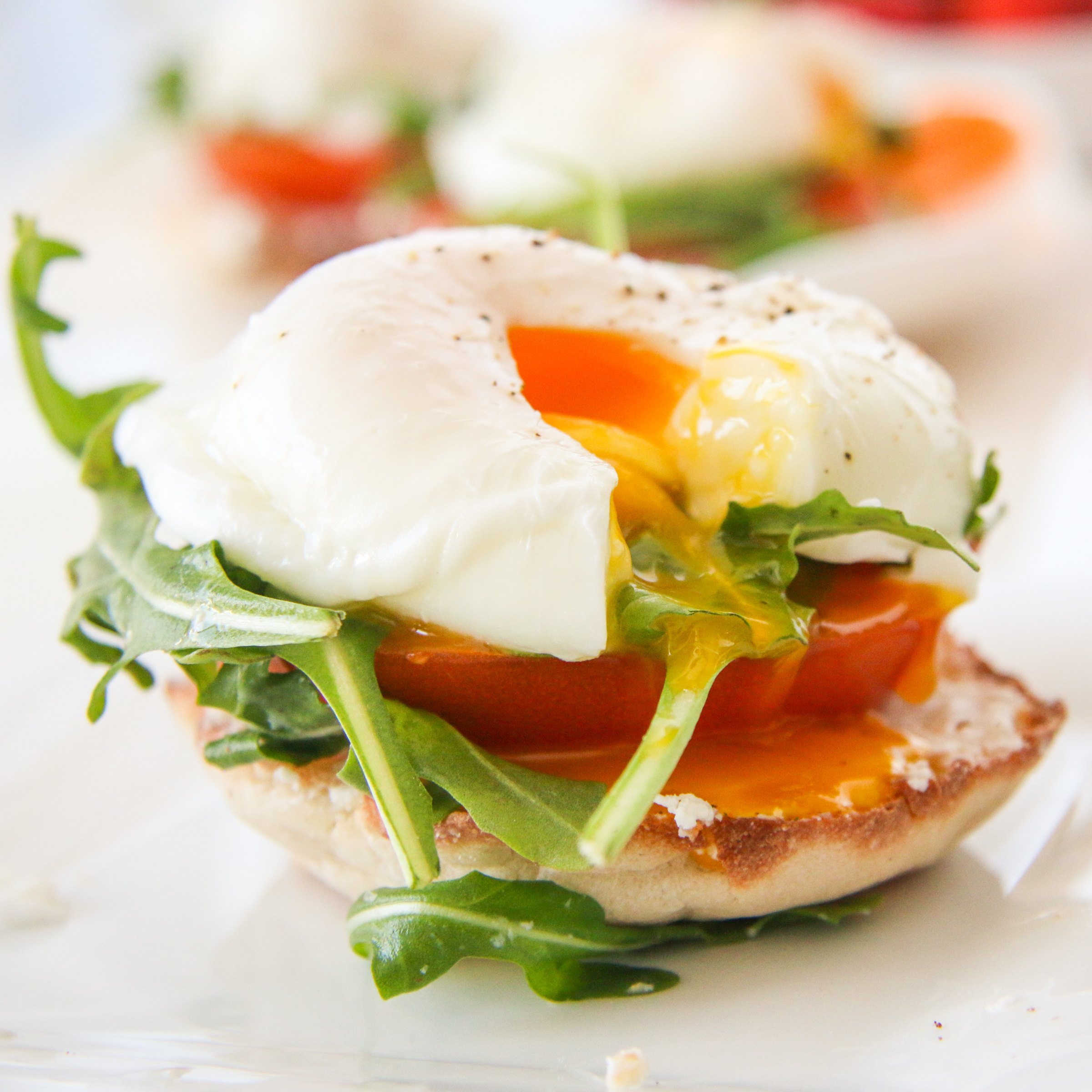 In fact, these open faced sandwiches are so flavorful, satisfying, and decadent that you'll feel like they should be bad for you.  And because of all the balanced flavors, they also taste like they were difficult to make, when that couldn't be further from the truth.
Sometimes keeping things simple can make the most impact.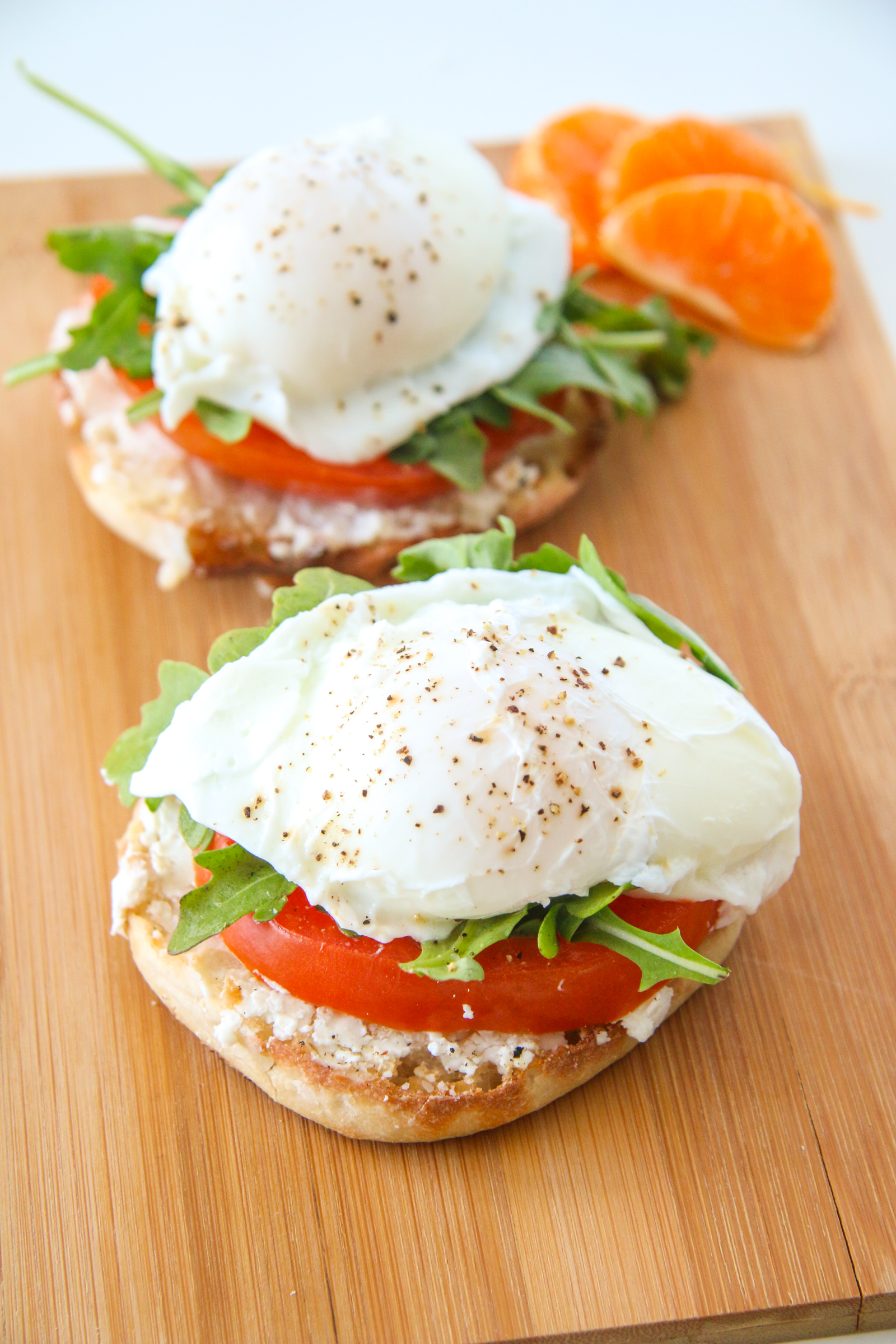 If you're scared of poaching eggs, don't worry… that's exactly why we make cooking videos!  You can watch how I make these Poached Egg Sandwiches step by step in EPISODE 14 of Bits & Pieces SEASON 2 BELOW:
WATCH EPISODE 14 HERE:
It all began when I scored some English muffins on sale at the grocery store.  After that, I went on a kick with making these sandwiches, and then realized I never shared a good egg recipe with you yet. How rude…where are my manners?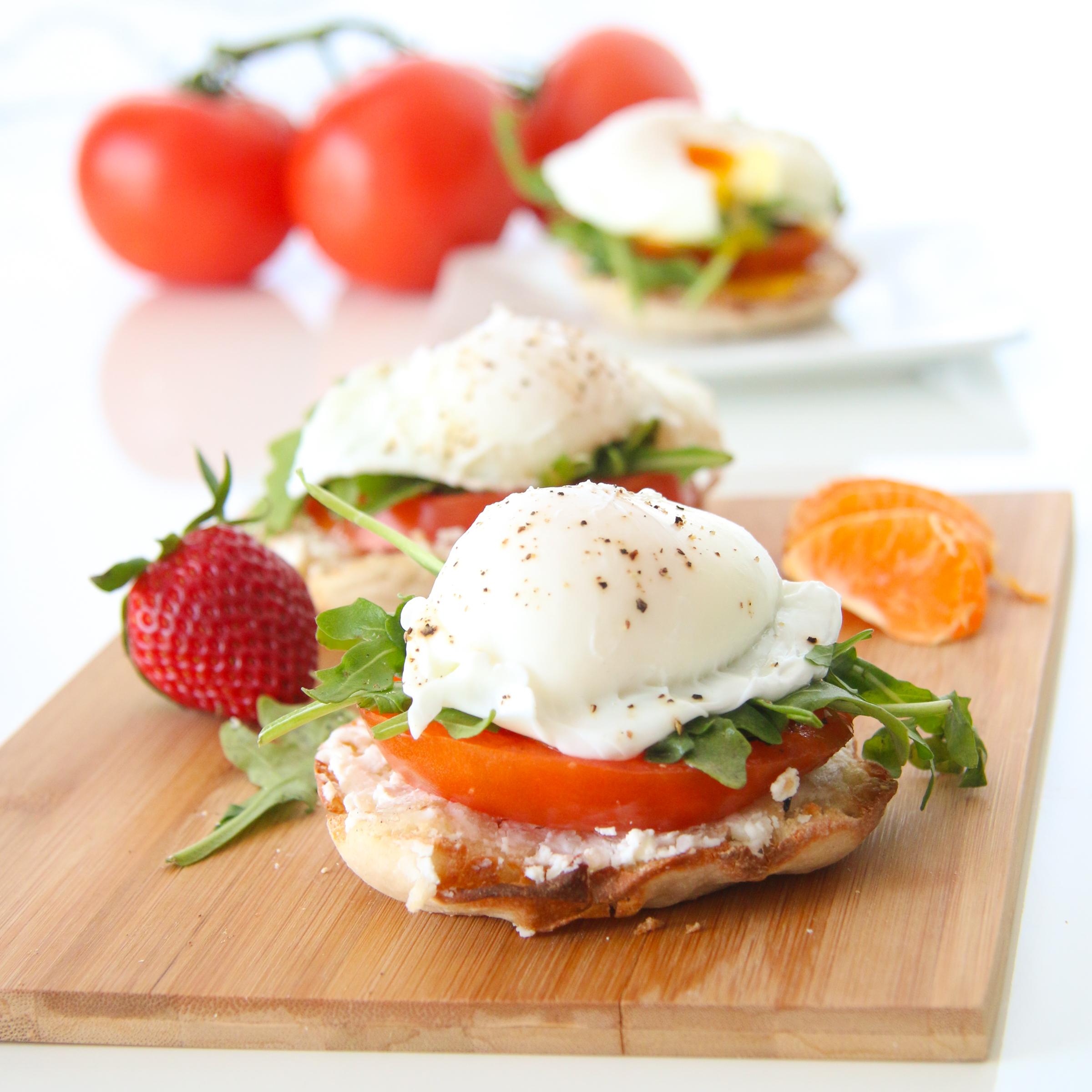 I'll be the first to admit that sometimes poaching eggs can be a hit or miss.  I've had the Goldilocks and the Three Bears situation before where one was undercooked, the other was overcooked, and finally, it was just right.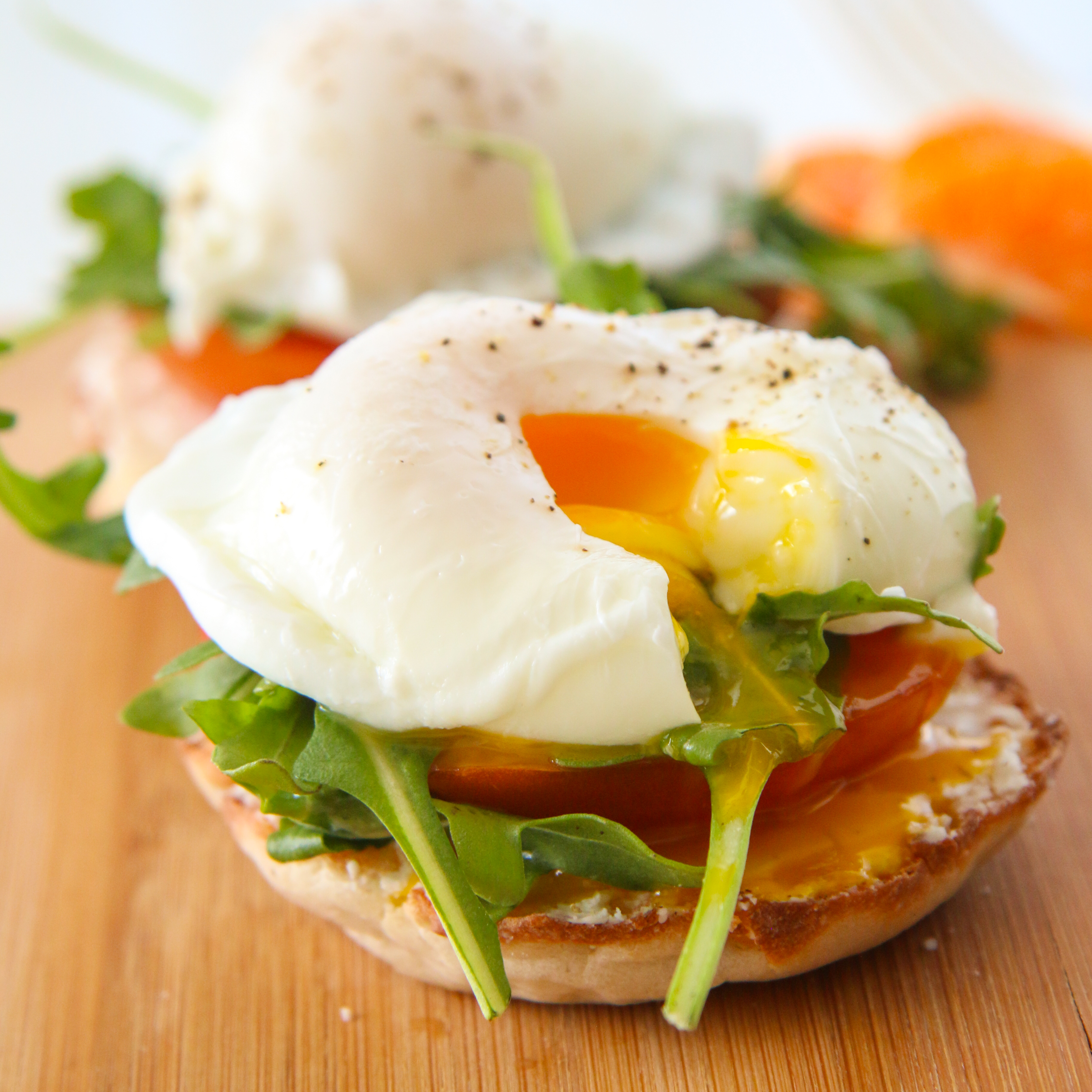 And honestly, if you've never poached eggs before, you might have a similar tale to tell.  But that's okay… in the end, the trials and errors make you a better a cook.  Soon enough, you'll be an eggs-pert and you'll get it right nearly every time.
Because you're not smothering these babies with a rich hollandaise sauce, spreading tangy goat cheese on top of the toasted English muffins does the trick.  This automatically gives you a creamy mouth feel and a punch of flavor without even trying.
Then I toss on some tomatoes and peppery arugula, which adds a nice fresh contrast to the rich yolk.  Just please don't forget the salt and pepper, especially on top of the tomatoes.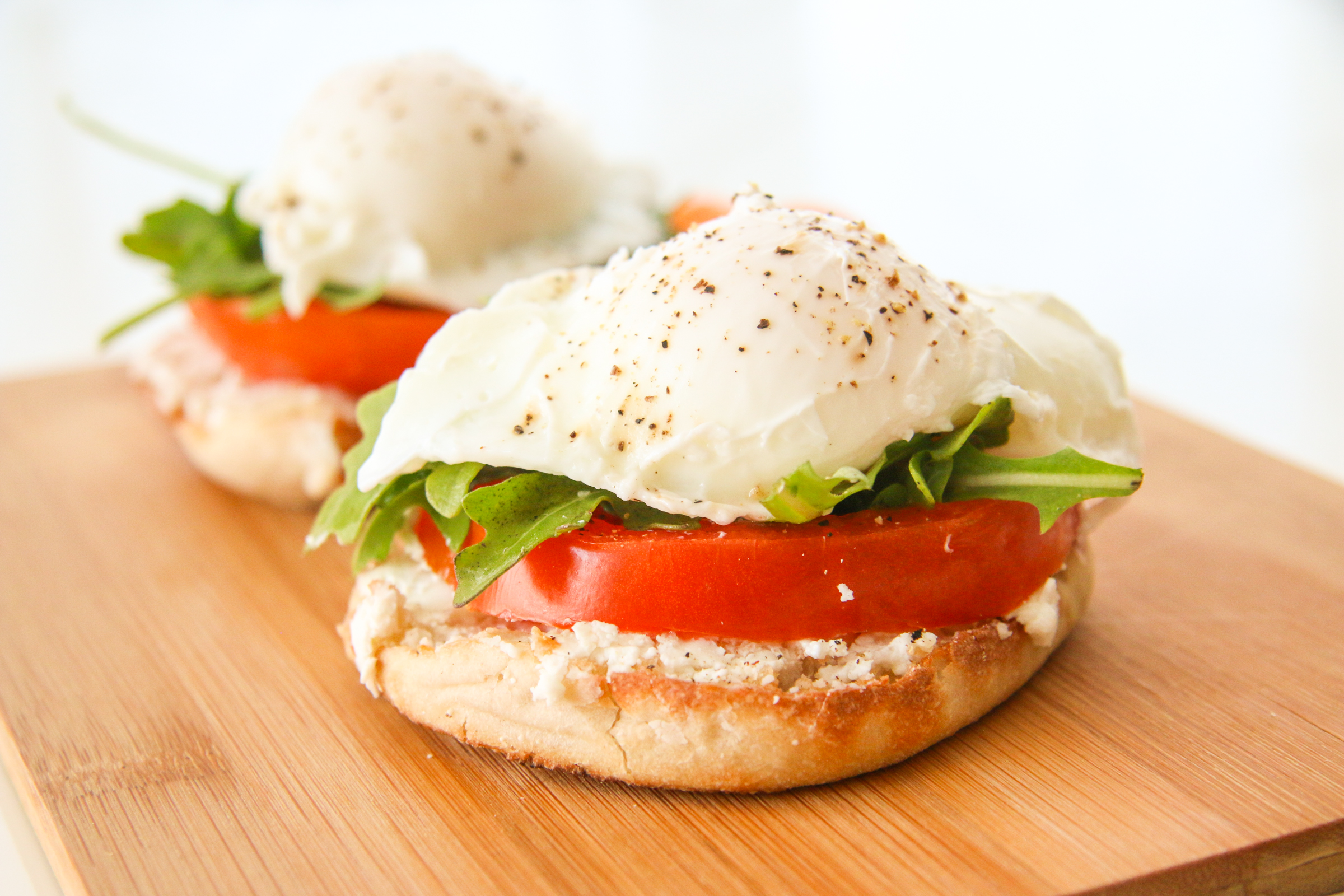 And puh-lease…. do NOT skip the step where you rub the garlic clove on the warm English muffin!  Those nooks and crannies really give the clove a good grate and it's an important element in making these sandwiches flavor bombs.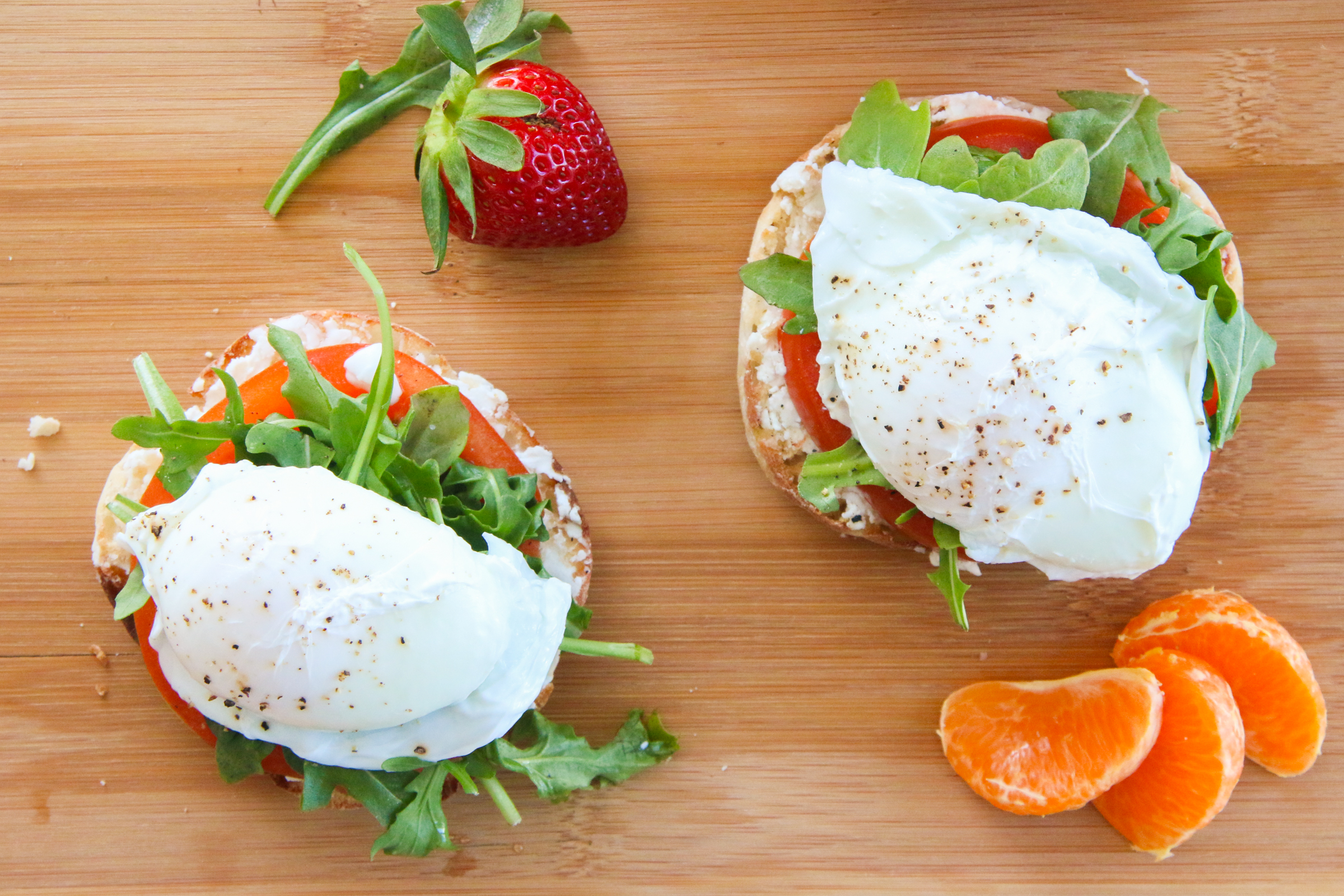 I just realized that I totally should've taken advantage of the English muffin sale and bought another bag to keep in the freezer for a rainy day.  After you make this once, you never know when a Poached Egg Sandwich craving will come knocking on your stomach again!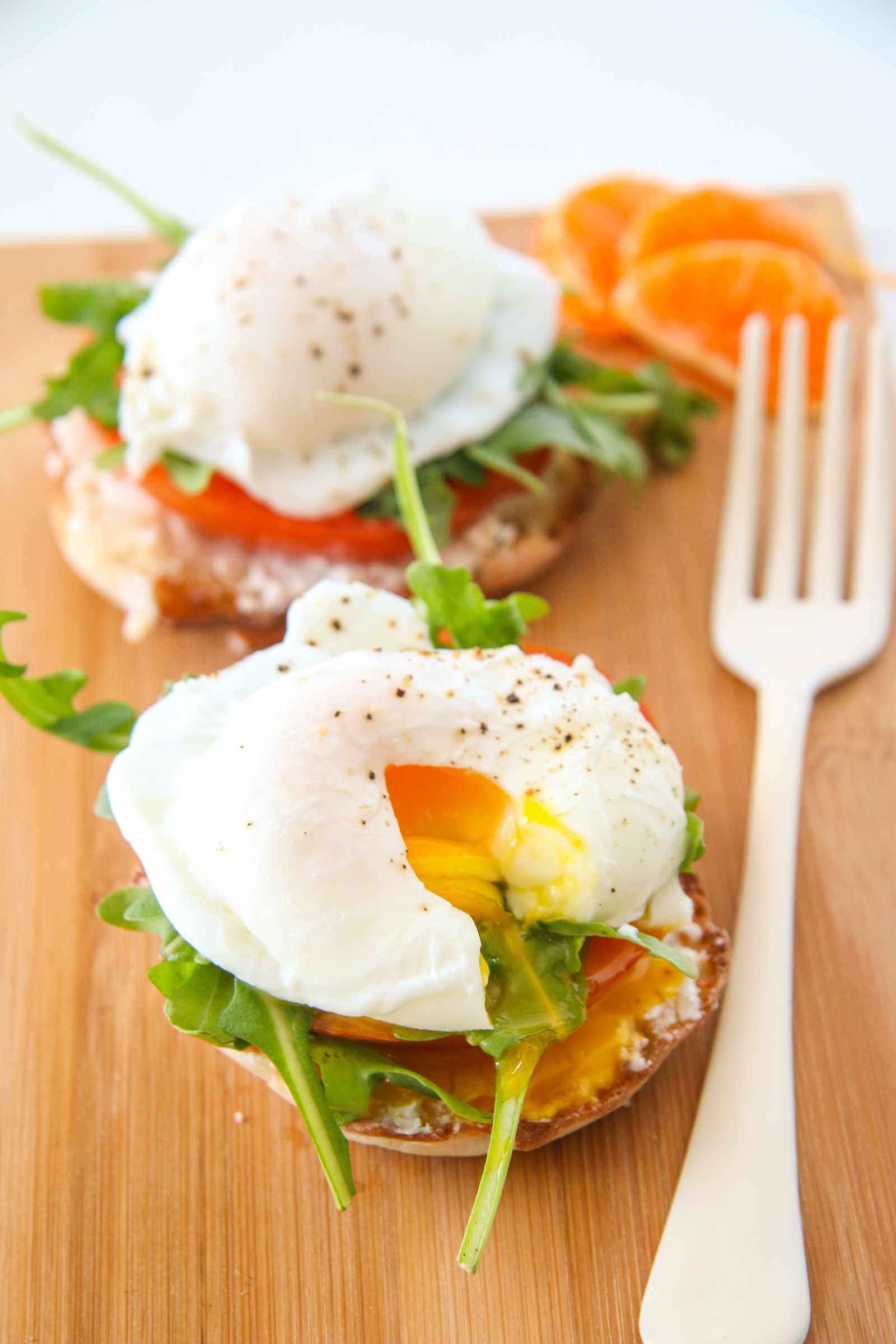 Poached Egg Sandwiches (open faced)
These open faced Poached Egg Sandwiches are an easier and healthier salute to Eggs Benedict. They're simple but spectacular.
Ingredients
2 ounces goat cheese, softened at room temperature
2 English muffins, split, and toasted
1 tomato, cored, and cut into 4 thick slices
1 small garlic clove, tip cut off
2 tablespoons distilled white vinegar
4 large eggs
Arugula for topping
Salt and pepper
Instructions
Split and toast English muffins according to package directions and rub the cut sides with the garlic clove while still warm. Spread softened goat cheese evenly on top of the English muffins. Add tomato slices on top and season with salt and pepper. Add arugula on top.
In a skillet, fill it almost to the rim with water. Add vinegar and 1 teaspoon salt and bring to a rapid rolling boil. Meanwhile, crack eggs into 2 teacups (2 eggs in each), making sure not to pop the yolks. Reduce water to a simmer. Immediately lower rims of teacups into water and gently tip eggs into skillet simultaneously. Turn off the heat right away, cover with a lid, and poach eggs for about 3½-4 minutes.
Using a slotted spoon, work quickly to gently lift eggs one at a time from the water, and let drain by tapping the bottom of the slotted spoon on a paper towel lined plate before laying them on top of each English muffin. Season eggs with salt and pepper to taste and serve immediately.

TIP: The quicker you work while pulling the eggs out of the water, the more success you'll have with them all cooked evenly, because the longer they sit in the hot water, the more they cook.