Pita Chips with Roasted Red Pepper Hummus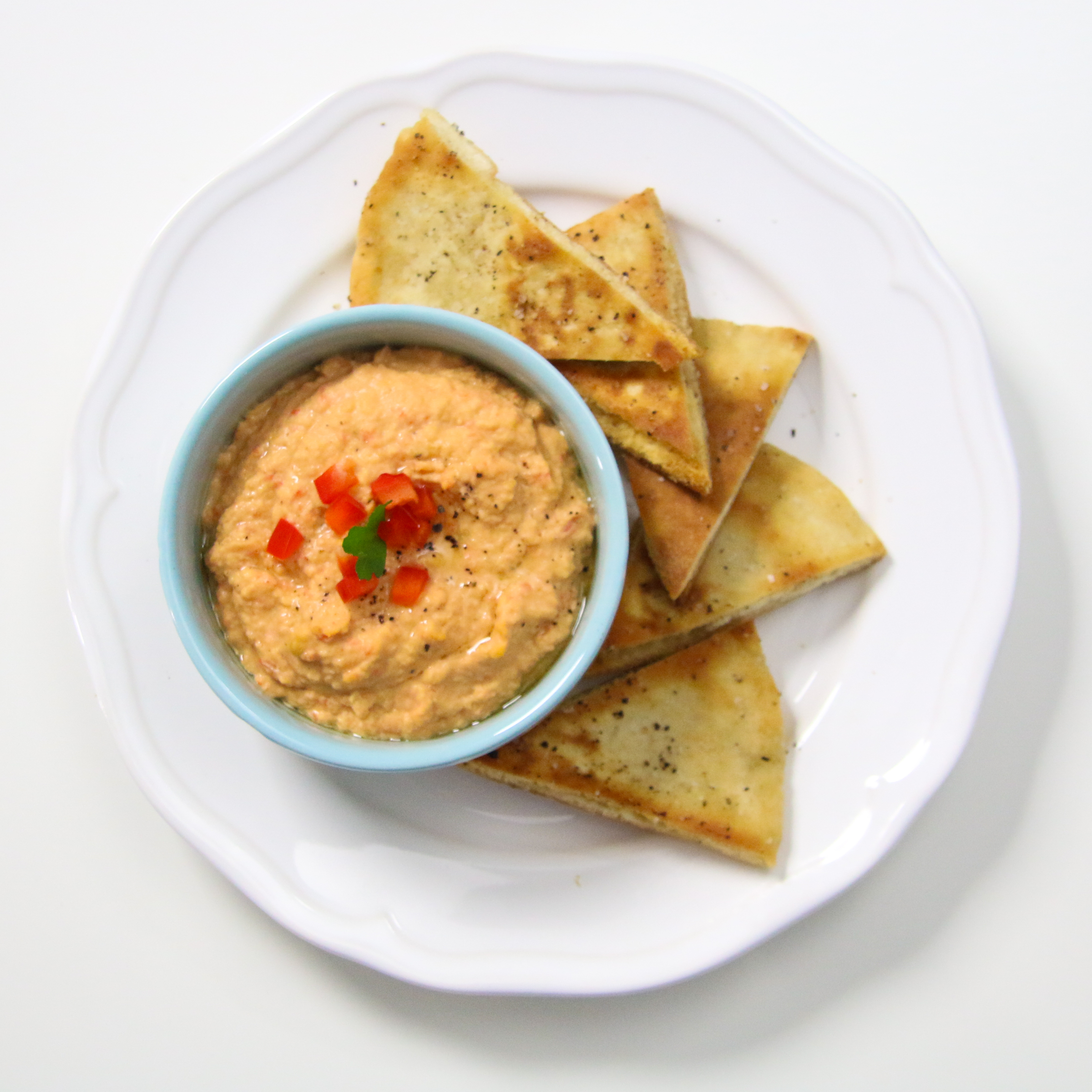 I used to cater small parties, and almost every single time, I would make homemade pita chips with roasted red pepper hummus.  It's a great snack item to have on the table because the ingredients are fresh and wholesome, so you don't have to feel guilty about stuffing your face.  In fact, I got used to watching guests chatting away while hovering around this bowl of chips and dip.
But you want to know a secret?  This is SO easy to make.  I finally decided to make a video of it because the Super Bowl is around the corner.  They're the perfect healthy plop yourself in front of the TV kind of snack.  But you don't have to wait until there's a game on in order to try these delightful munchies out for yourself.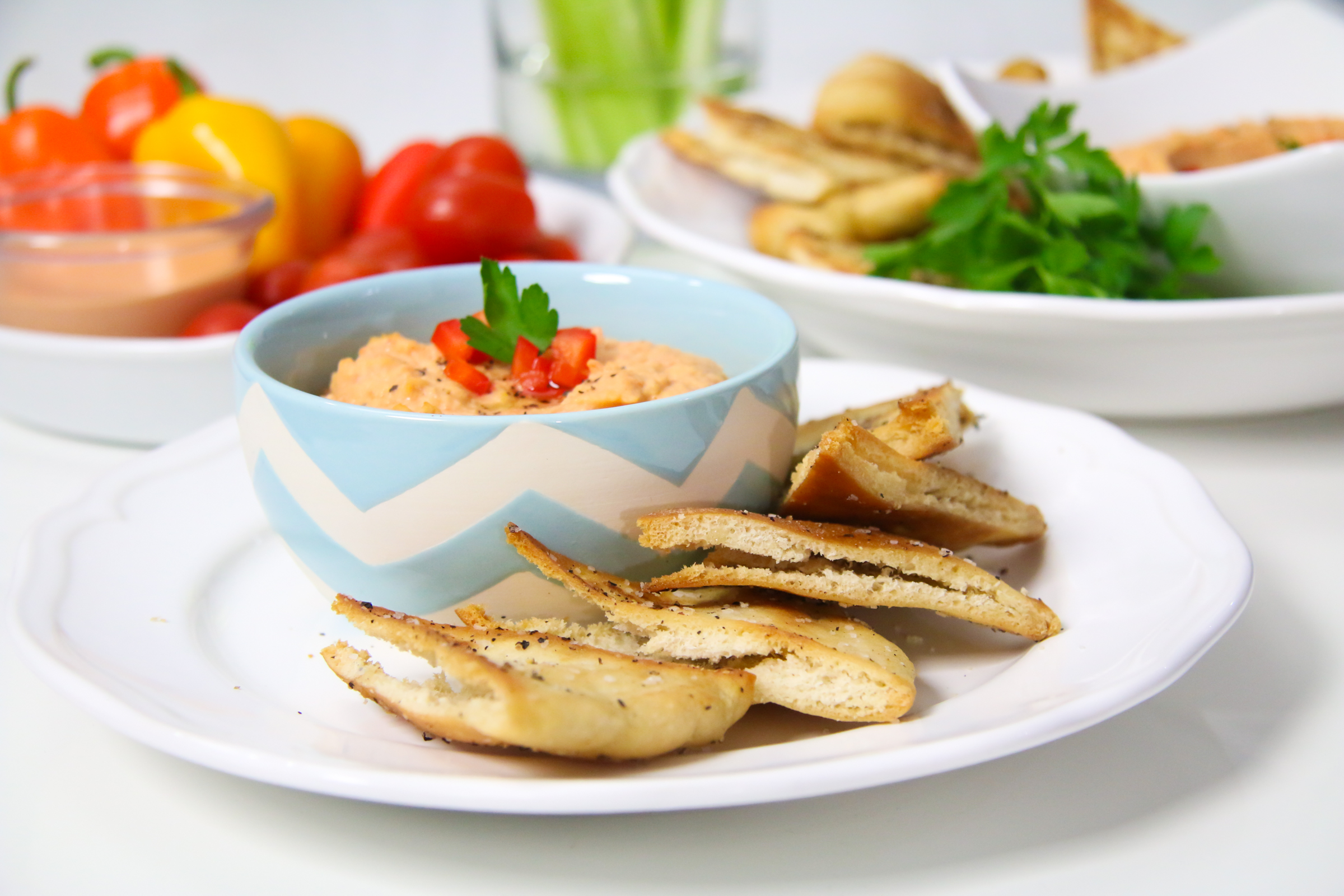 The ingredients are humble and the techniques are simple.  I show you how to make these crispy golden baked Pita Chips and Roasted Red Pepper Hummus in EPISODE 9 of Bits & Pieces Season 2 below:
WATCH EPISODE 9 HERE:
You do have to roast your own red bell pepper, but there's nothing hard about that.  However, if you're really not feeling it, go ahead and use the store bought jarred kind.  It's okay, I'm not going to barge into your house and slap that jar out of your hand!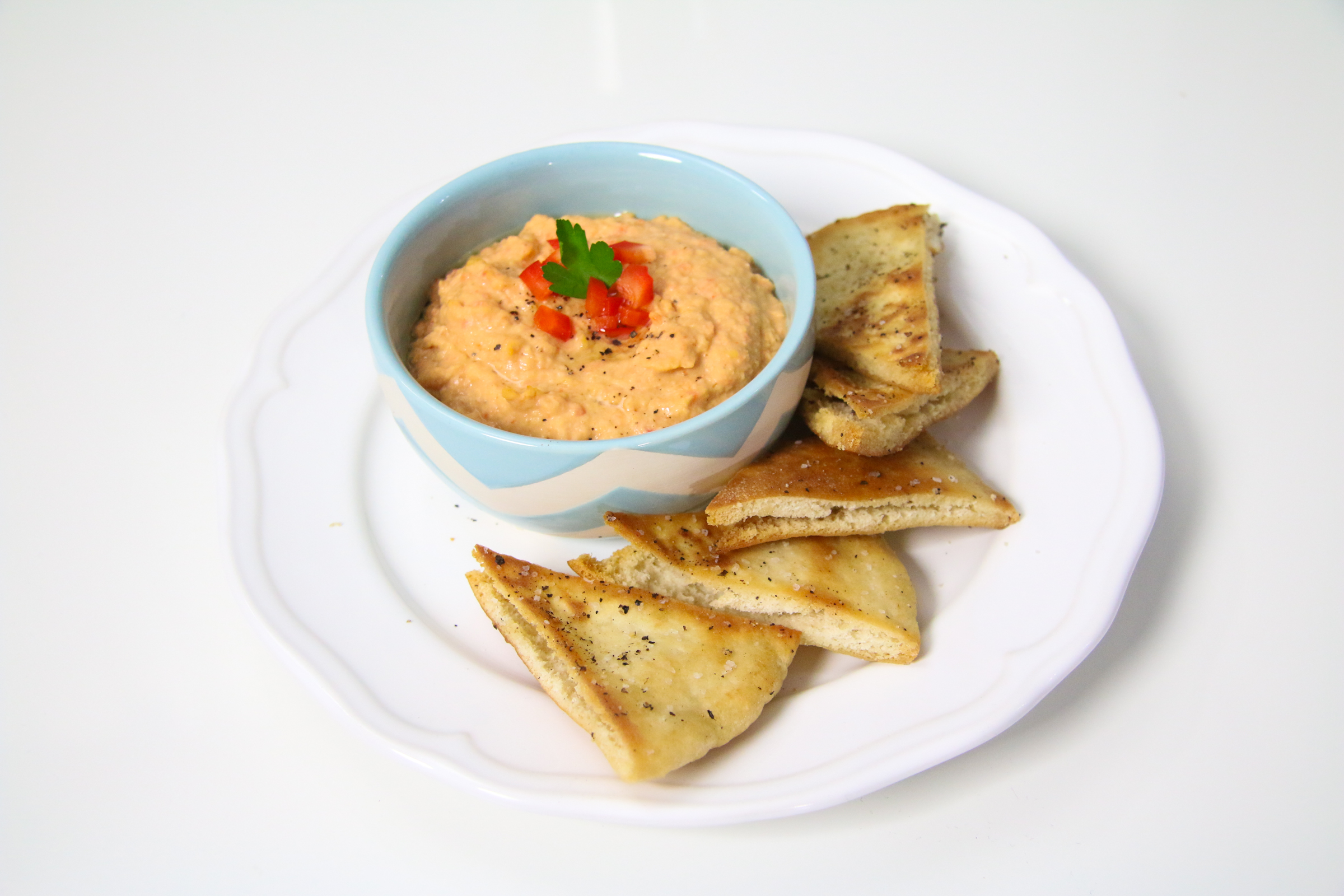 This episode was kind of like a part 2 to our previous video, where I showed you how to make Pub Style Sliders.  So be sure to check out that RECIPE if you're looking for some Game Day Bites that will keep you satisfied.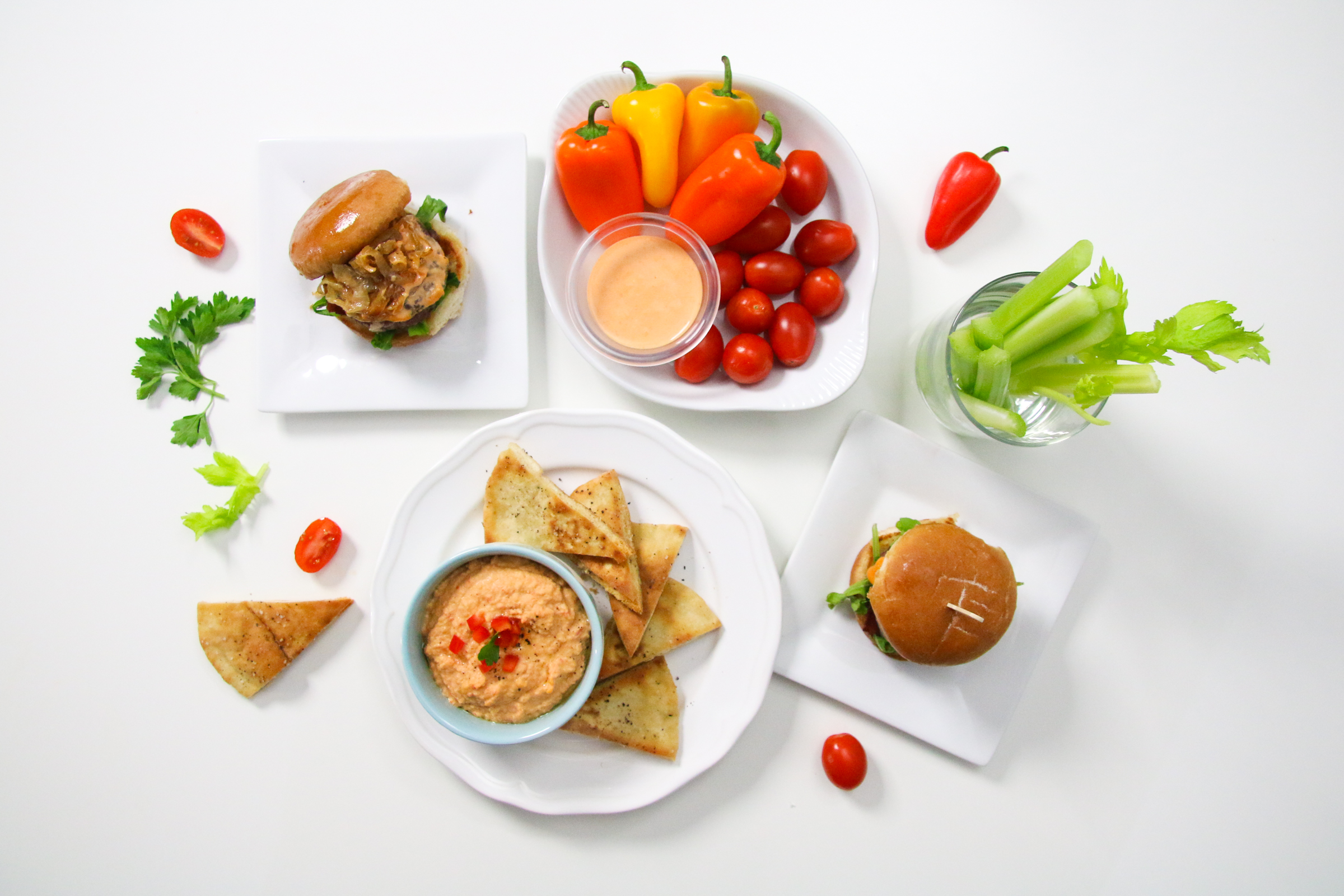 And in case you didn't notice, this hummus is excellent with fresh crunchy veggies too!  So you can set out some celery or carrot sticks instead if you don't feel like making the chips.
Well, now you know my secrets, so go ahead and celebrate with these healthy "game day" chips and dip.  And if you're like me, watching the game is completely optional :).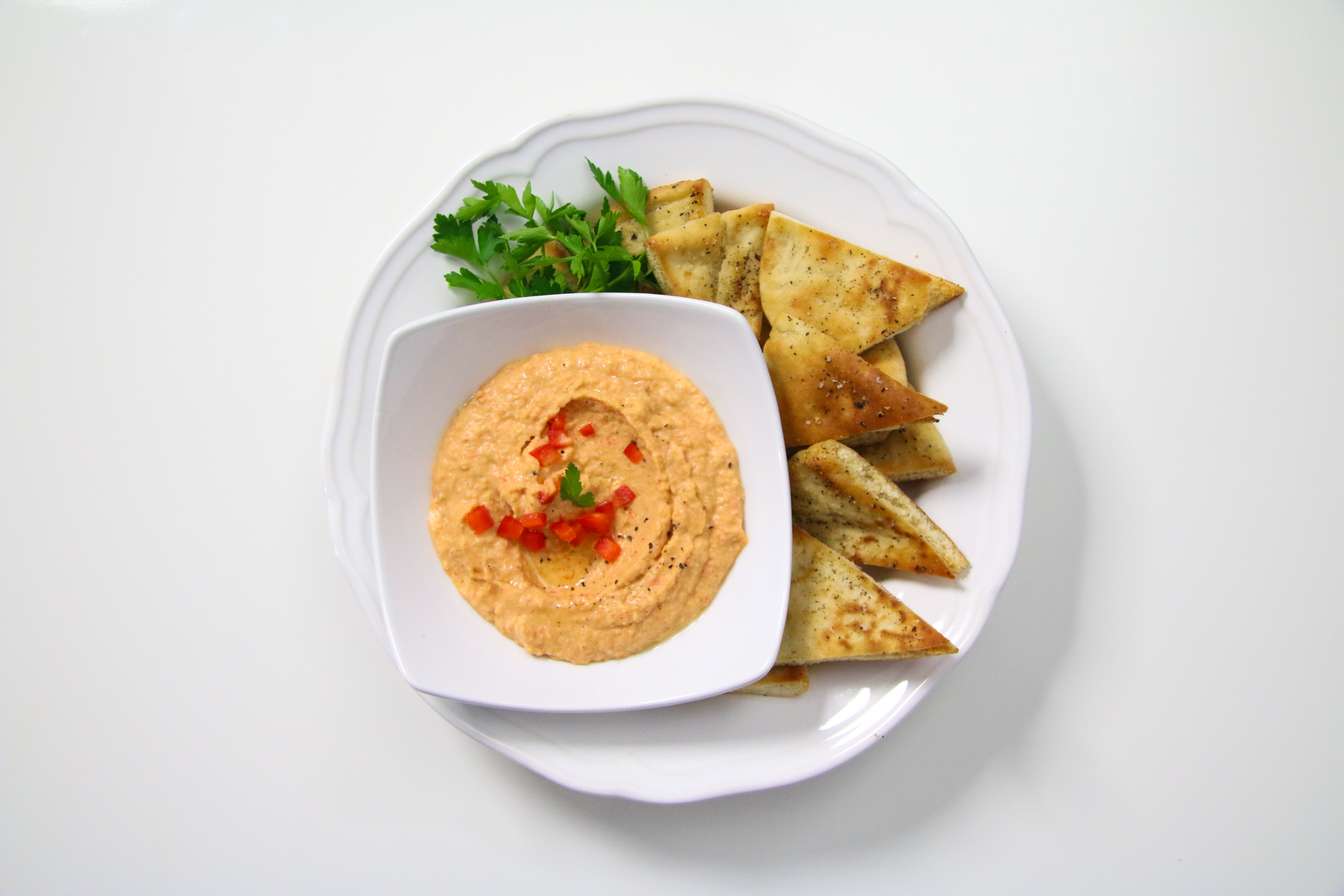 Baked Pita Chips
These oven baked pita chips are crispy, crunchy and so easy to make.
Ingredients
2 pieces of pita bread
Olive oil for brushing
Salt and Pepper to taste
Instructions
Preheat oven to 375 degrees, F. Cut each piece of pita bread into 4 quarters, and each quarter in half, so you end up with 8 pieces per pita, 16 pieces in total.
Place the pita triangles onto a baking sheet. Brush both sides with olive oil and sprinkle with salt and pepper. Pop into the oven and bake for about 10 minutes, flipping the pieces halfway through the cooking time. Pull out of the oven and let cool on the tray for 2-3 minutes.

TIP: These chips taste best the same day you make them, but if you have extra, store them in an airtight container, rather than a resealable bag. And make sure your chips are nicely crisp and dry or they might taste stale the next day.
Roasted Red Pepper Hummus
Once you make this easy homemade hummus, you'll be wondering why you weren't making it already!
Ingredients
1 red bell pepper
2 cloves garlic, coarsely minced
1 (15.5 oz can) chickpeas, drained and rinsed
3 tablespoons tahini
3 tablespoons fresh lemon juice
4-5 dashes of hot sauce
1-2 tablespoons water (only if needed)
½ teaspoon kosher salt, or to taste
Black pepper to taste
Drizzle of olive oil to finish
Instructions
Place the red pepper over a gas flame and blacken on all sides. Place in a bowl and cover with wrap. Let the pepper steam for about 15 minutes, then peel away all the blistered skin, and remove the stems and seeds with your fingers.
In a food processor fitted with a steel blade, add the garlic and roasted red pepper and blend. Add the chickpeas, and pulse a bit. Add the rest of the ingredients and blitz together until smooth. Add a little splash of water only if needed. How thick you want it is totally up to you. Taste for seasoning and adjust if necessary. Pour into a bowl and drizzle the top with some olive oil.

TIPS: If you want to use a roasted red pepper from the jar instead, go ahead...that's fine too. To make it prettier in presentation, you can add diced roasted or fresh red bell pepper and chopped parsley on top for garnish.