Pub Style Sliders (Game Day Bites)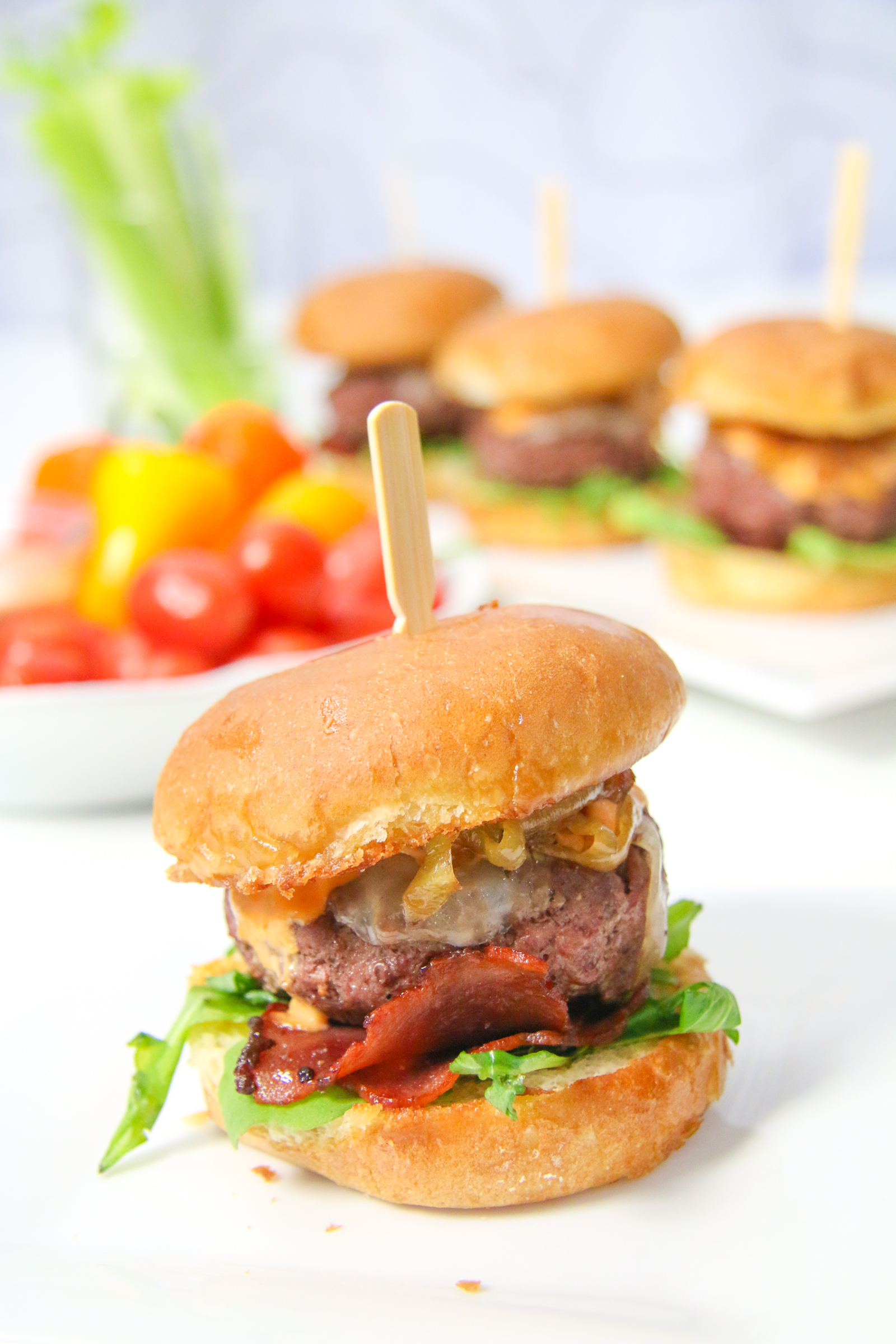 Much to Joe's disappointment, I'm not a sports fan….at all…GASP!  Yeah, sorry if we can't be friends now.  But I do like the Super Bowl, because I enjoy the Halftime show, the entertaining commercials, and all the game day munchies!  It's also a great excuse to gather with friends, kick back, and just hang out together.  I mean, I usually end up huddled up in the kitchen somewhere with the other non-game watching people, but that's besides the point!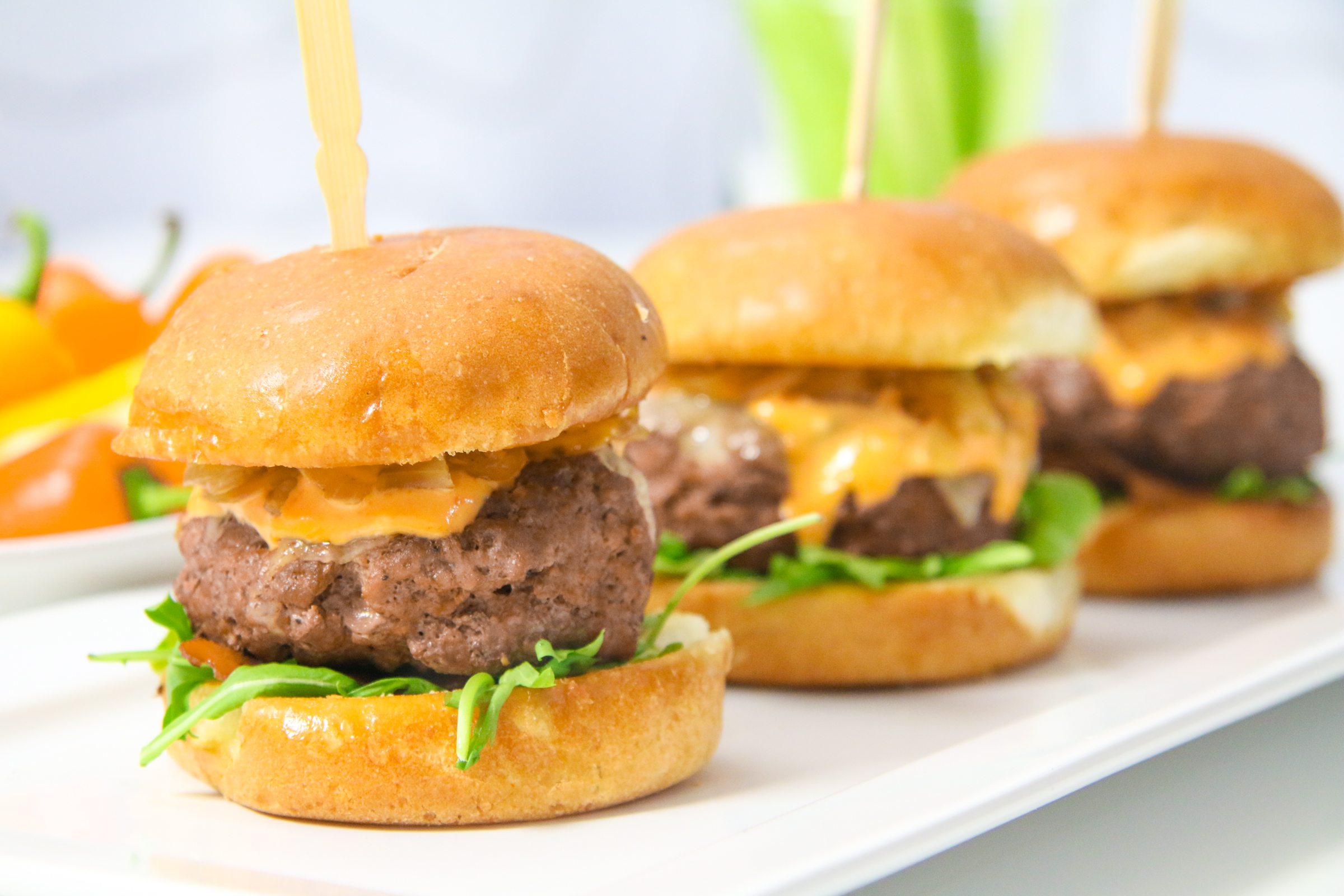 The fellowship is definitely the best part of the Super Bowl, but there have been a couple moments in the past where Joe and I ended up watching the game at home alone together.  That's why when our friend Lee, from 6kidsProductions, told us that this is what she and her husband would be doing this year, we got to talking.  Even though it would be just the two of them watching the game, she still wanted the day to feel festive.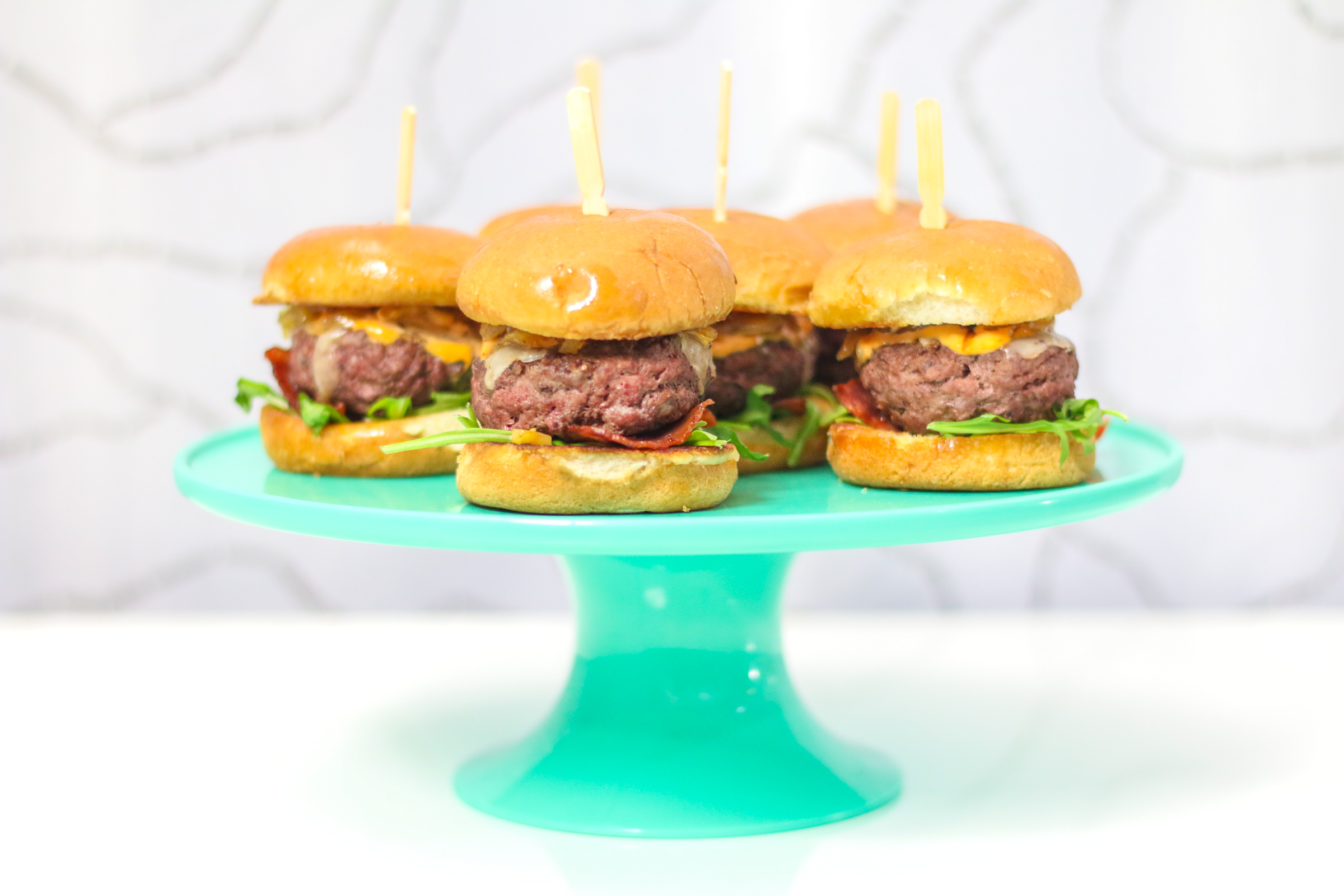 As we were brainstorming about what she could make, my first instinct was chili or nachos, but she was "chili'd out" from doing this the previous years, and she wanted something more "meal-like" than chips.  My second thought was wings, but she had already done that too and was looking for something different.  So after some pondering, I couldn't get the idea of "Pub Style" Sliders out of my head.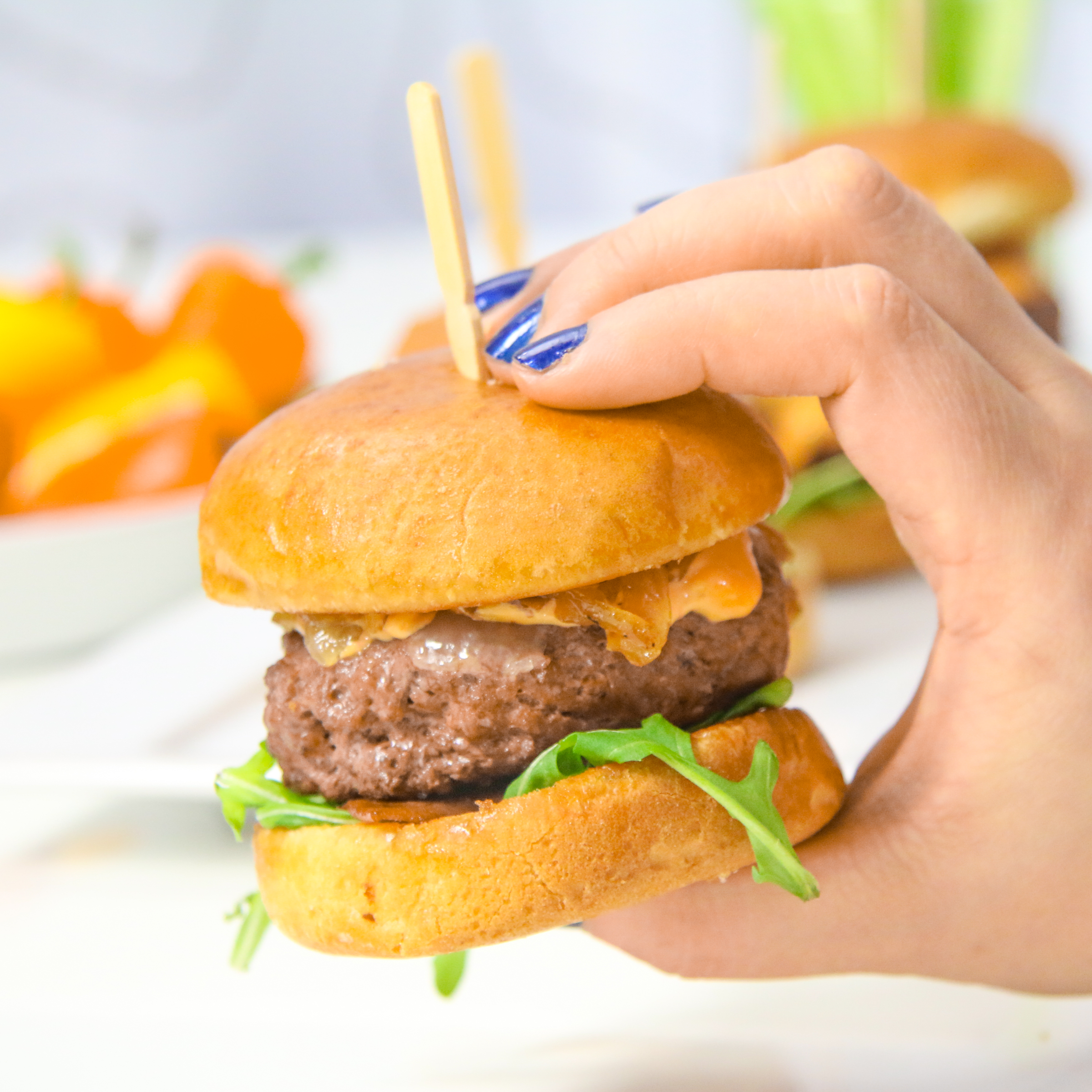 Even though these juicy little burgers use humble ingredients and don't take too much effort to make, they end up looking pretty fancy.  And the taste is everything you would dream to have in one little bite.  So watch how I put them together in EPISODE 8 of Bits & Pieces Season 2 below:
WATCH EPISODE 8 HERE:
There's something about the toasty buns, juicy beef, salty crispy bacon, creamy spicy sauce, and sweet caramelized onions all together in one morsel that makes me want to do a touchdown dance!  All of the elements you could hope for are there in one flavor bomb package, and it's perfect to set out and munch on slowly as you watch the game.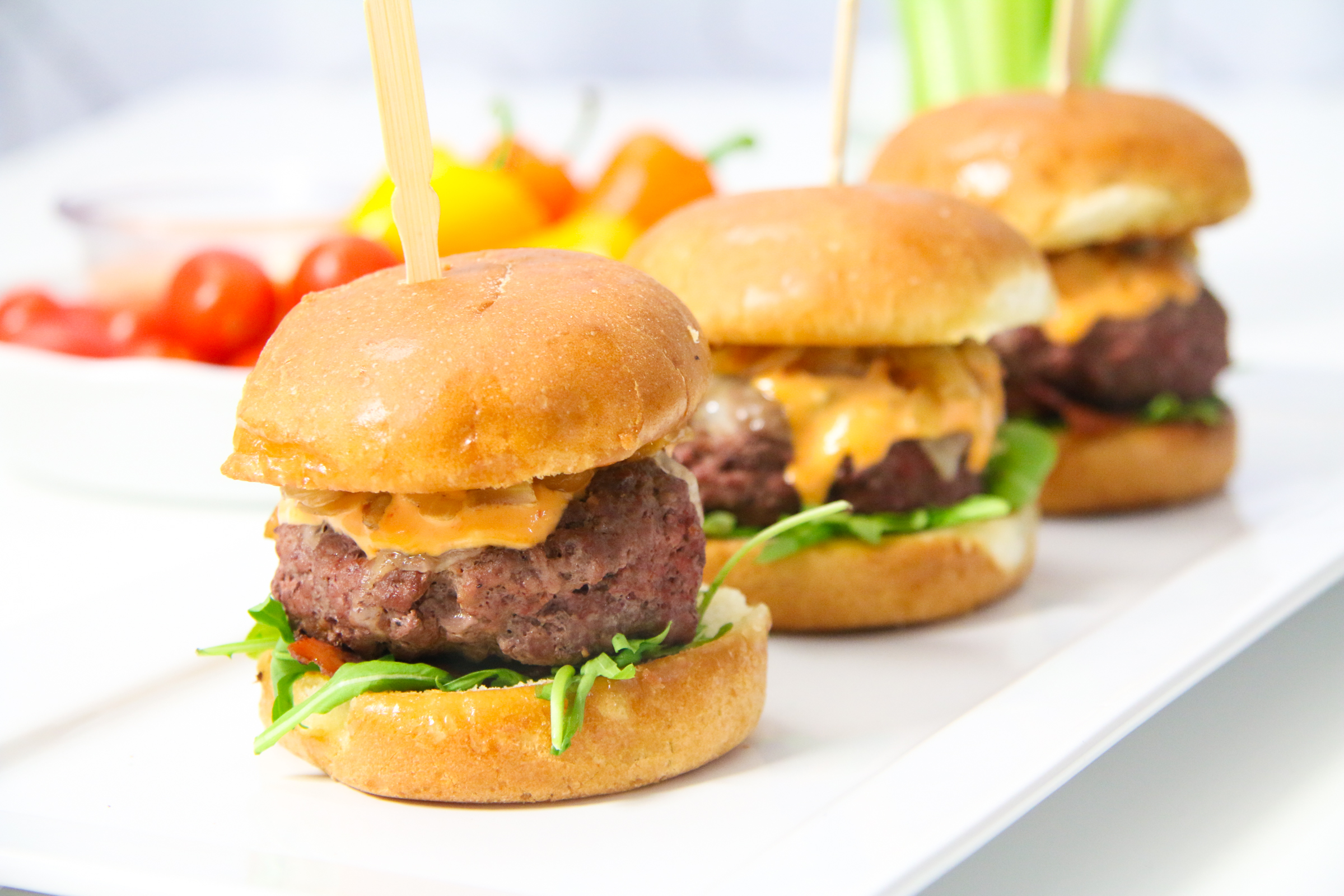 The recipe is extremely flexible so you can make as little or as many sliders as you want.  I recommend making about 2 per person.  Even Joe thinks that was enough for him, especially because we ate these guys with an assortment of fresh crunchy veggies too.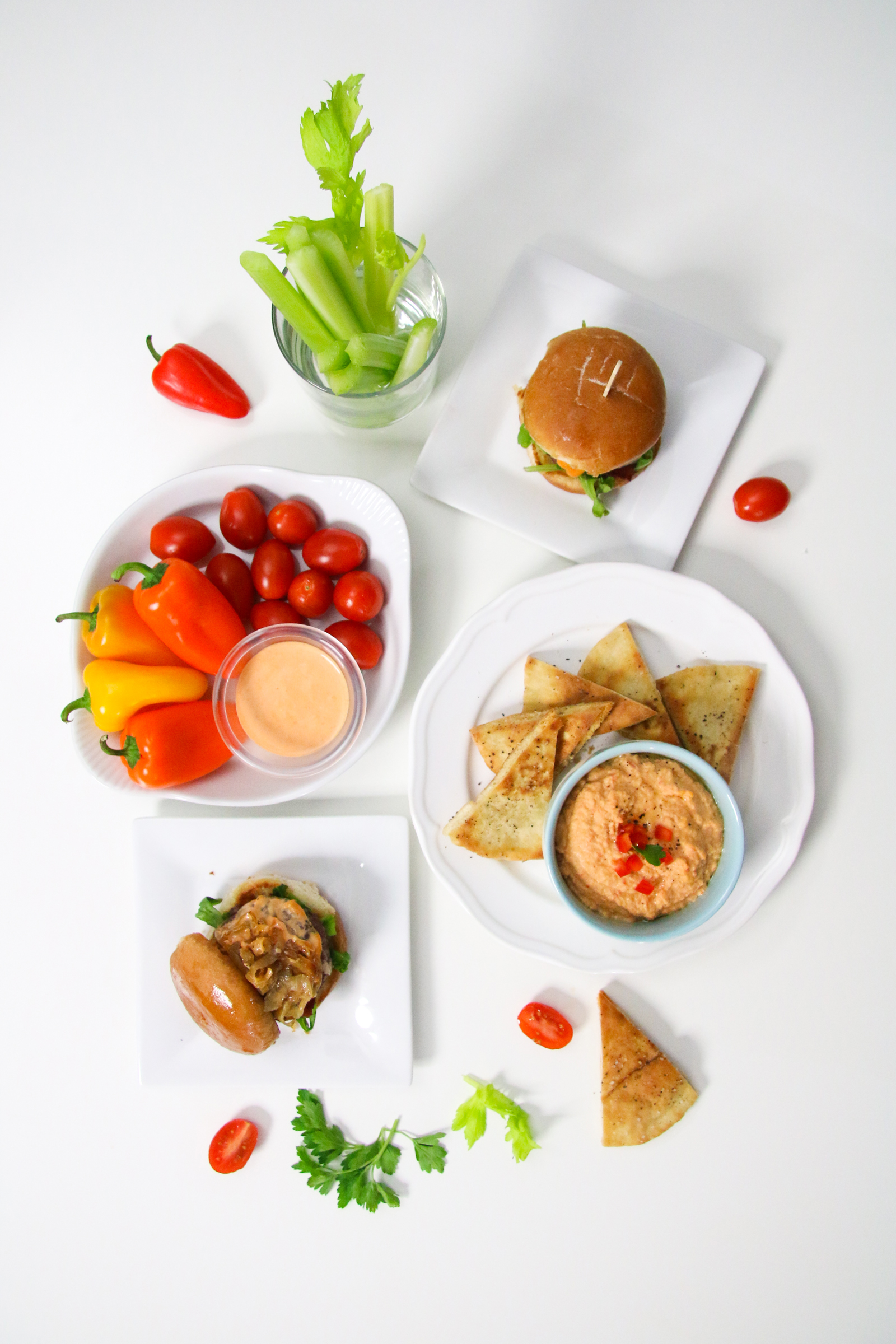 You could always make a few extra, and if they get a little cold, you can easily just pop the sliders into the microwave and nuke them for a few seconds.  Trust me, they're still good! That's why I use arugula too because it's a lettuce you can eat fresh or cooked! See?  Always thinking ahead!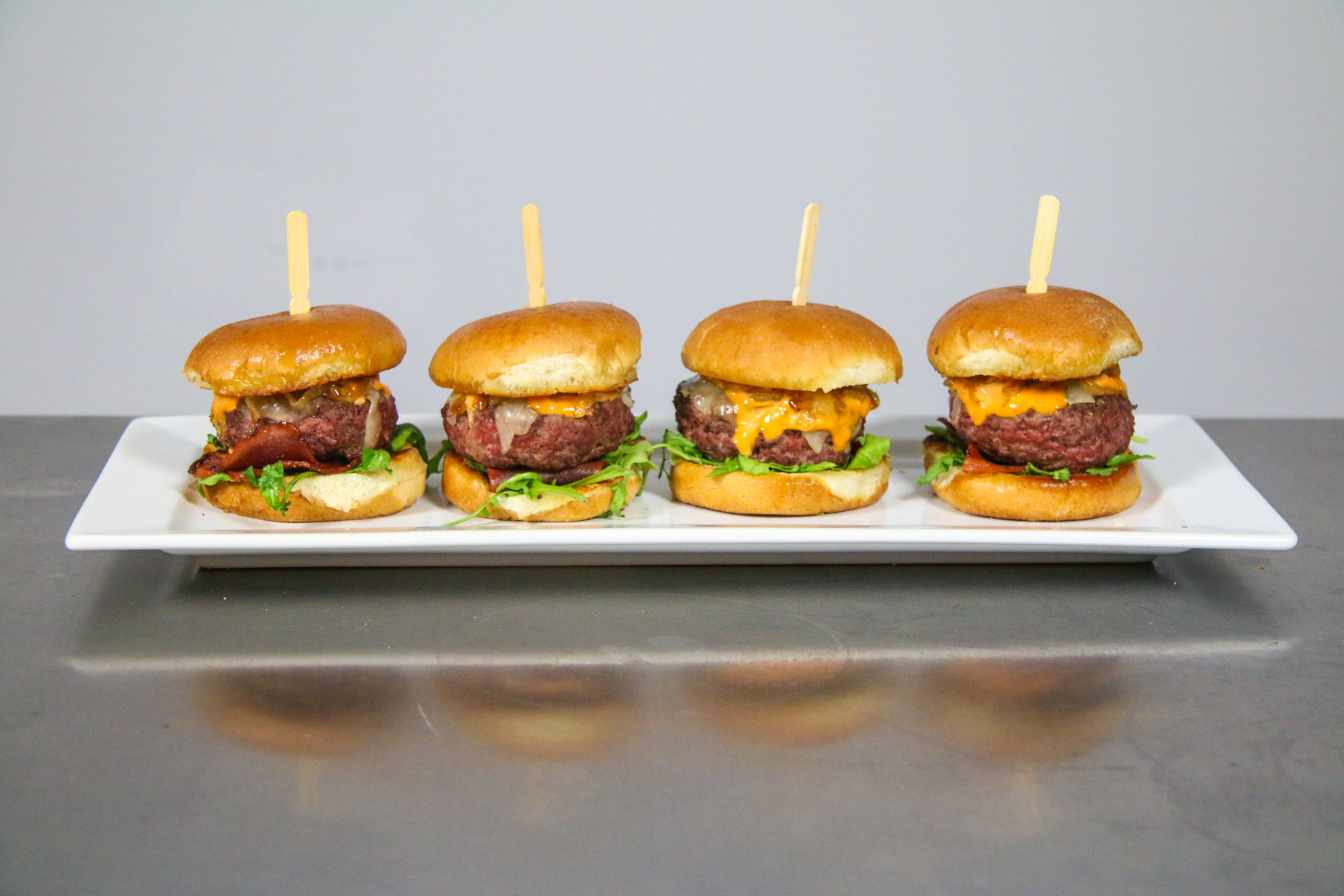 I choose to make them cheeseburger sliders by using melted shavings of Parmesan cheese.  I think this makes them almost sophisticated in flavor, but go ahead and use whatever cheese you want!  And if you're not feeling cheese, the creamy spicy sauce should be enough for you too.
For this recipe, I used turkey bacon, simply because that's what I had on hand, but it really worked!  I loved how it added this crunchy textural element to the otherwise soft sliders.  Highly recommended!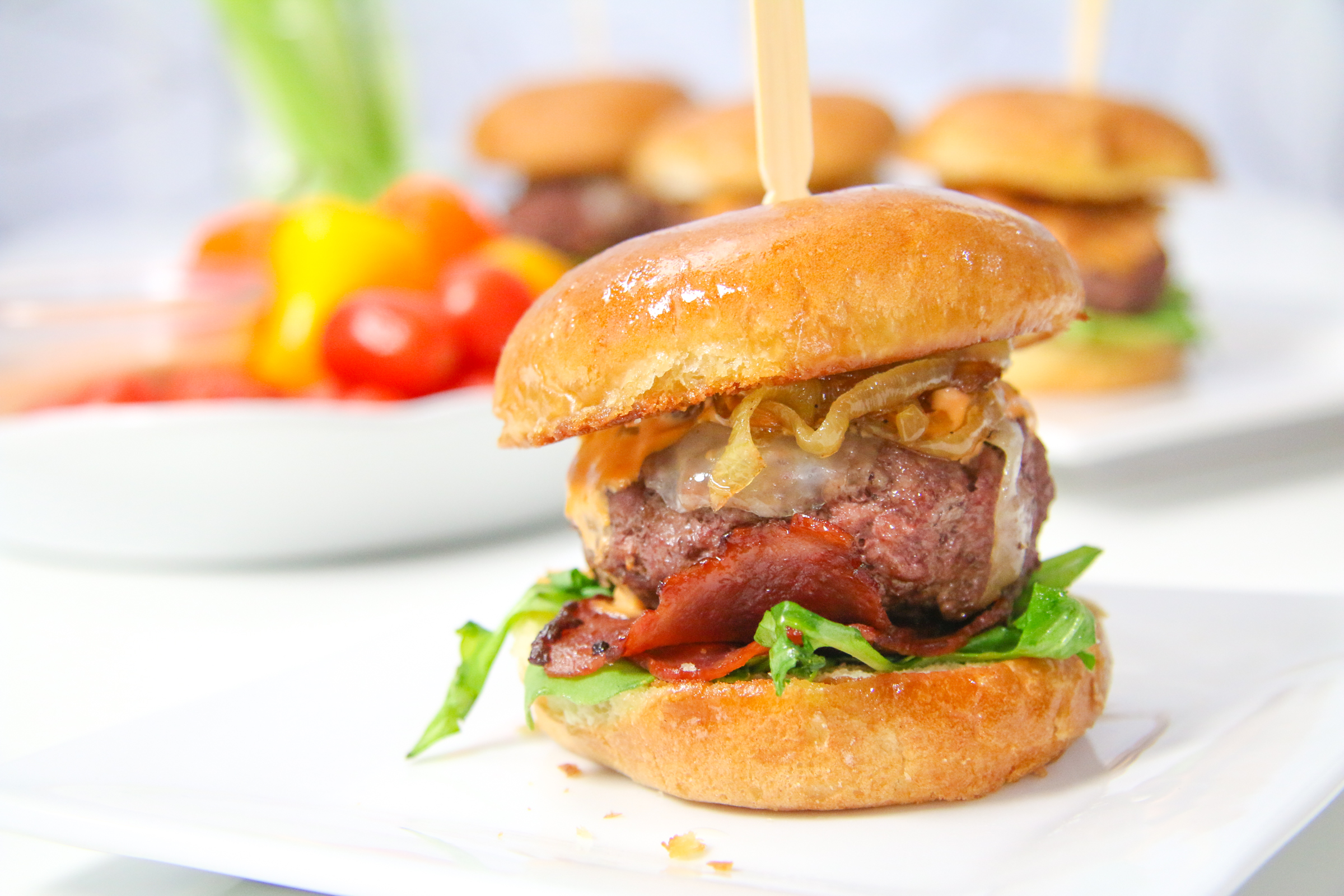 These cute and tasty little Pub Style Sliders are great for a game day, a potluck party, or a summer time BBQ!  Just throw the burgers on the grill instead!  You really can't go wrong, and you can have fun with the toppings.  Seriously, I won't mind.  So regardless of what team you're rooting for this year, once you take your first bite, you'll feel like you're a winner!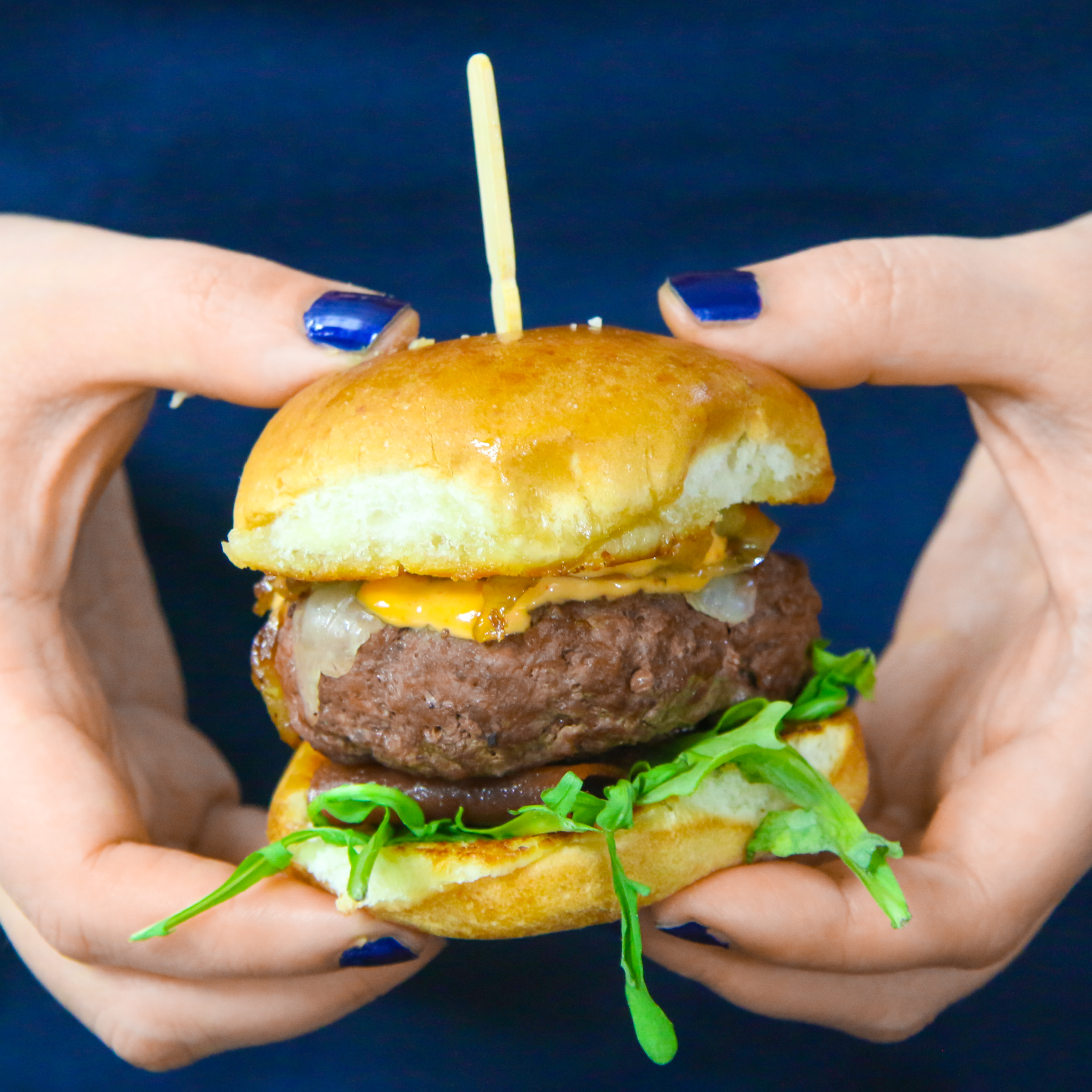 Pub Style Sliders (Game Day Bites)
These scrumptious little sliders with special spicy sauce are perfect for the Superbowl or any game day!
Ingredients
1 ½ lbs ground beef (80/20)
8 slider buns (such as Pepperidge Farms), split
Parmesan cheese shavings (made from a wedge and a vegetable peeler)
Arugula for topping
Cooked bacon (or turkey bacon), cut into smaller strips
Olive oil for the pan
Salt and Pepper

Caramelized onions
1 large onion (or 2 small), thinly sliced
2 teaspoons sugar
Olive oil for the pan
Salt and Pepper

Special Spicy Sauce
3 tablespoons mayonnaise
1 clove garlic, finely minced
1 teaspoon ketchup
1 teaspoon Dijon mustard
2 teaspoons Sriracha sauce
Instructions
In a large heated pan, add a little olive oil and buns, cut sides down, and toast until golden brown. Set aside. In same pan, add more olive oil and saute onions for 7 minutes, while stirring. Add salt, pepper, and sugar and cook together for 3 more minutes. Remove to a bowl. Rinse and wipe pan clean.
Make the special spicy sauce by stirring all the ingredients together into a small bowl. Set aside.
Add beef to a large bowl. Mix slightly with your hands. Divide into 8 separate sections, form into balls, and press lightly to flatten into patties slightly bigger than the size of your buns. Make a slight indentation in the middle of your patties with your fingers. Season with salt and pepper on both sides.
Add a little more olive oil to the pan and place over high heat. Add burgers, and cook for about 3 minutes on the first side. Flip, cook for 2 minutes on the second side, add cheese and cover to melt the cheese, for 1-2 minutes more. Transfer burgers to a paper towel lined plate to drain. To assemble, place arugula on bottom bun, top with bacon strips, add burger, top with a little special spicy sauce, add a pile of caramelized onions, top with the bun, and spear with a toothpick or sandwich pick.

TIP: Serve with some fresh crunchy veggies and use any extra special spicy sauce as a dip!