Winter Sangria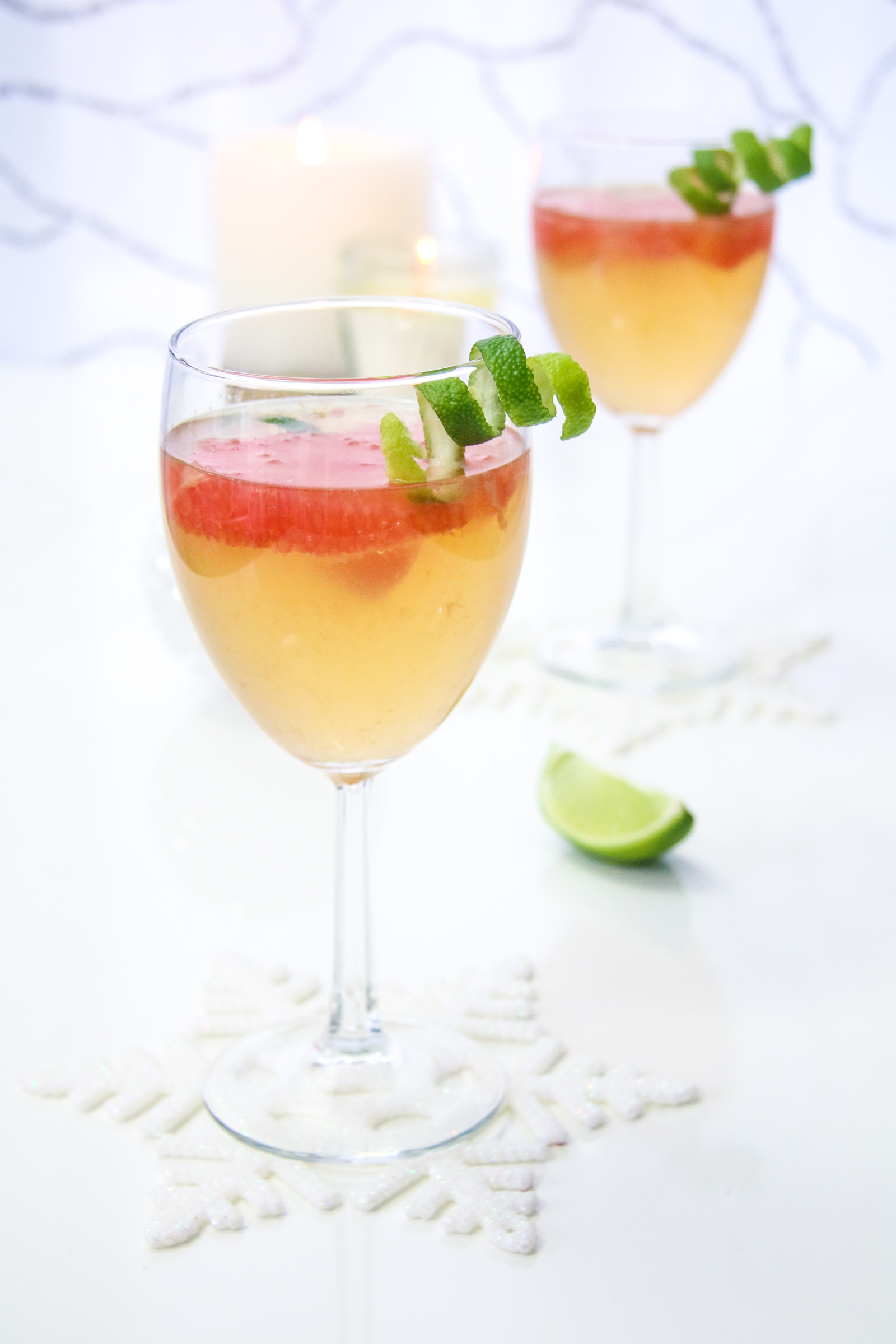 Along with a waffle maker and a slow cooker, you can add "tools to make drinks" to the list of items I surprisingly don't own.  But I guess that's the beauty of this Winter Sangria.  If I can make it with a measuring cup and a spoon, you can definitely tackle this easy cocktail too.  It's fun, fruity, and and super easy to make.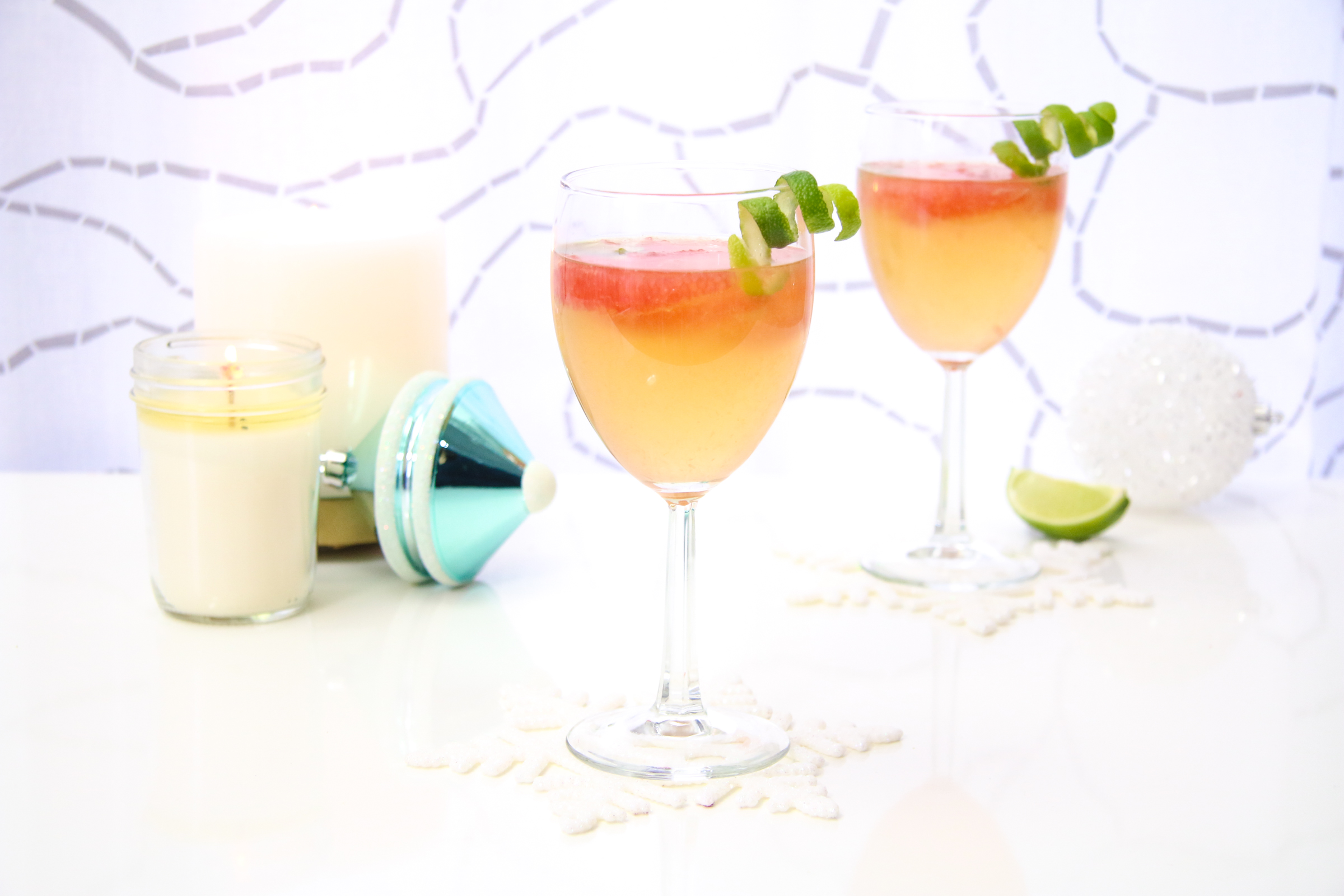 Watch how I do it in EPISODE 6 of Bits & Pieces SEASON 2.  And then come ring in the New Year with us!
WATCH EPISODE 6 HERE:
I've always loved Sangria.  I think it's because I love to eat the wine soaked pieces of fruit after the drink is gone.  So although I'm only using grapefruit, you can of course throw in anything you want.  I went back and forth about adding Pomegranate seeds, because that would probably make it even more jewel-toned and lovely, but in the end, I decided to keep it simple.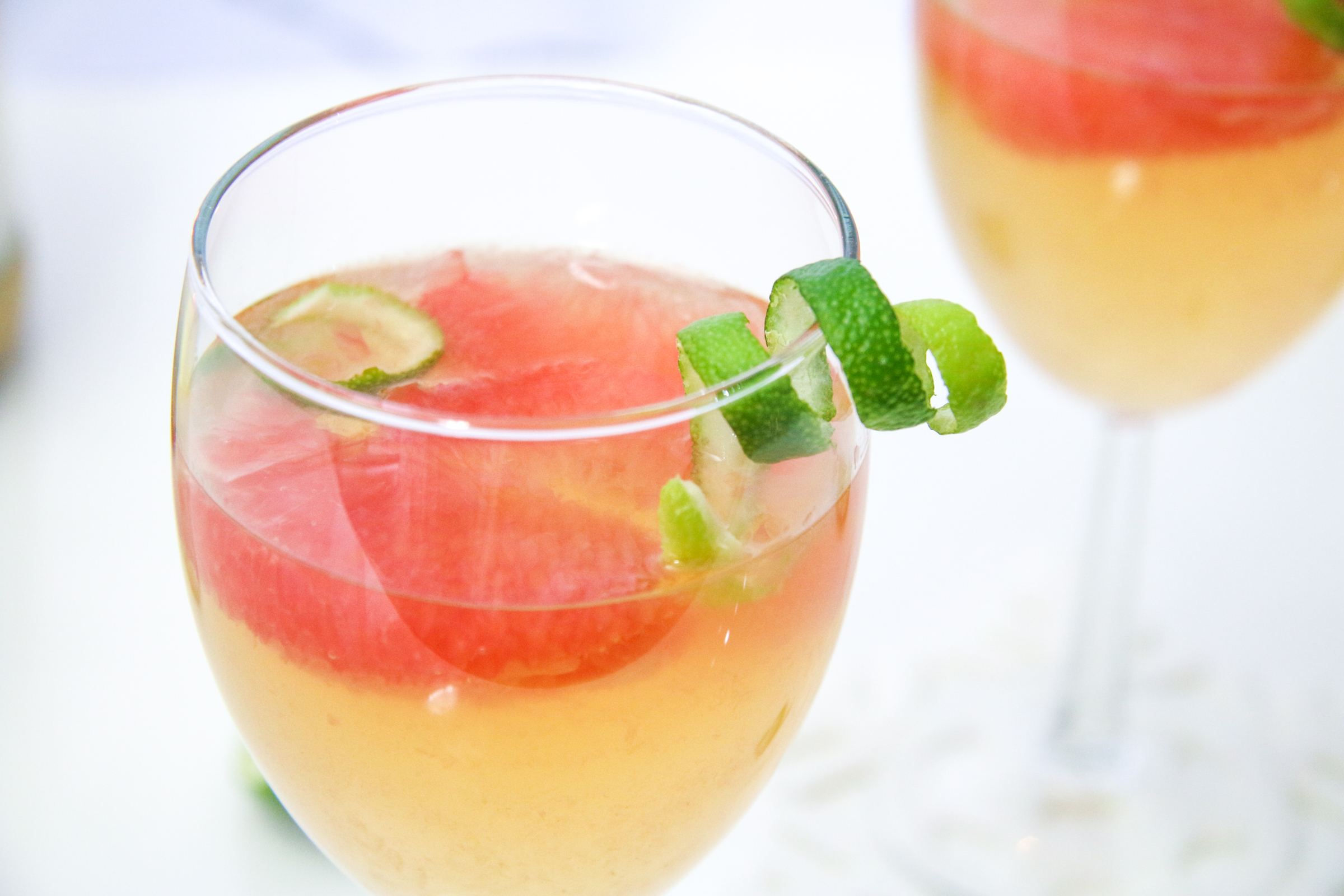 And in my substitutions section at the end of the video, I mention you can always use a sweet Champagne instead of white wine for a fizzy pop.  But because it's just the two of us, I didn't feel like opening up a whole bottle of it and having it go flat before we could drink it all.  At least with wine, you can just cork it and save it for later.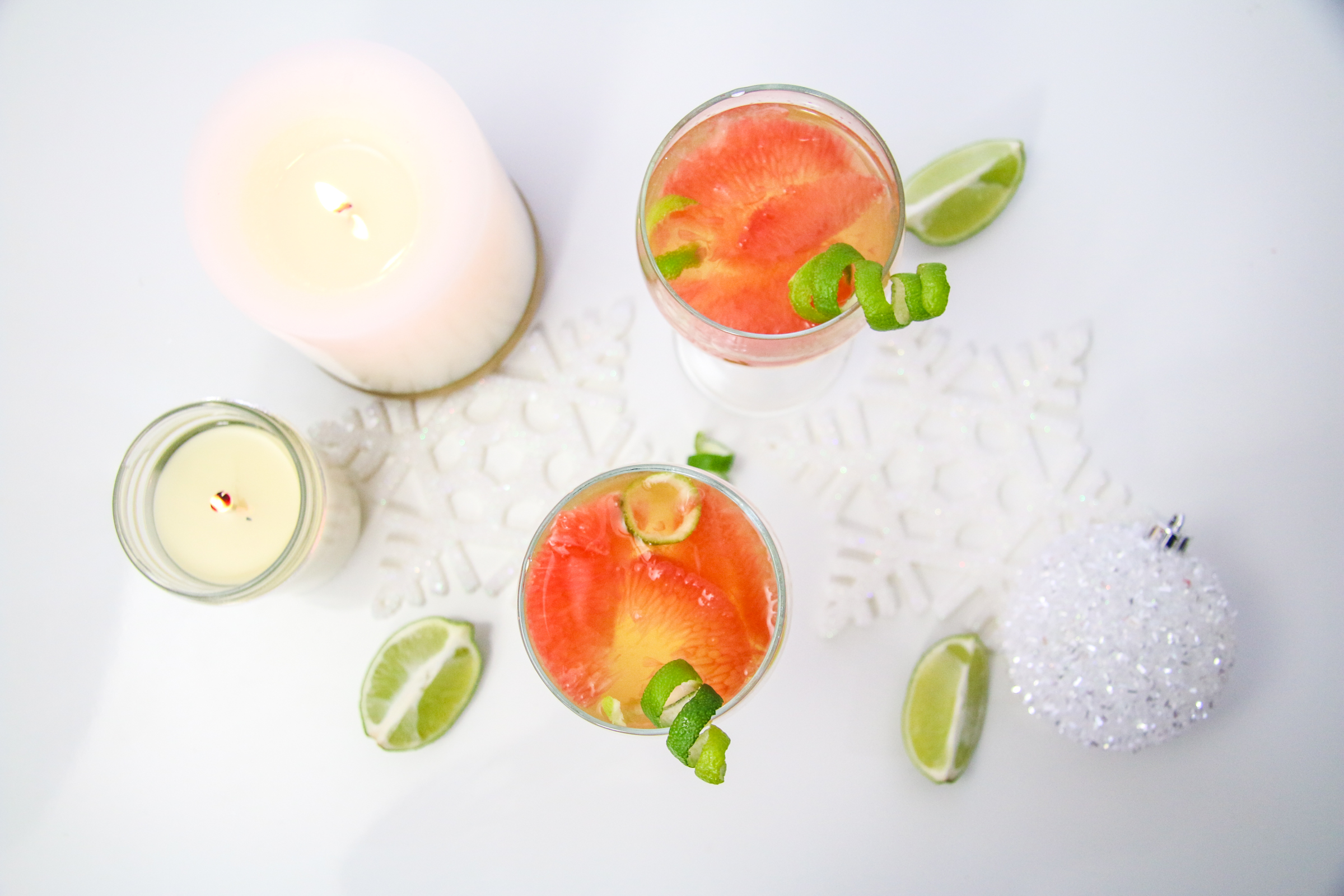 And the thing I like the most about this recipe is that you can totally make as little or as much of it as you want, which is perfect for us.  You can make just enough for two glasses, which my recipe makes, or you can stretch it and make a whole pitcher for a party!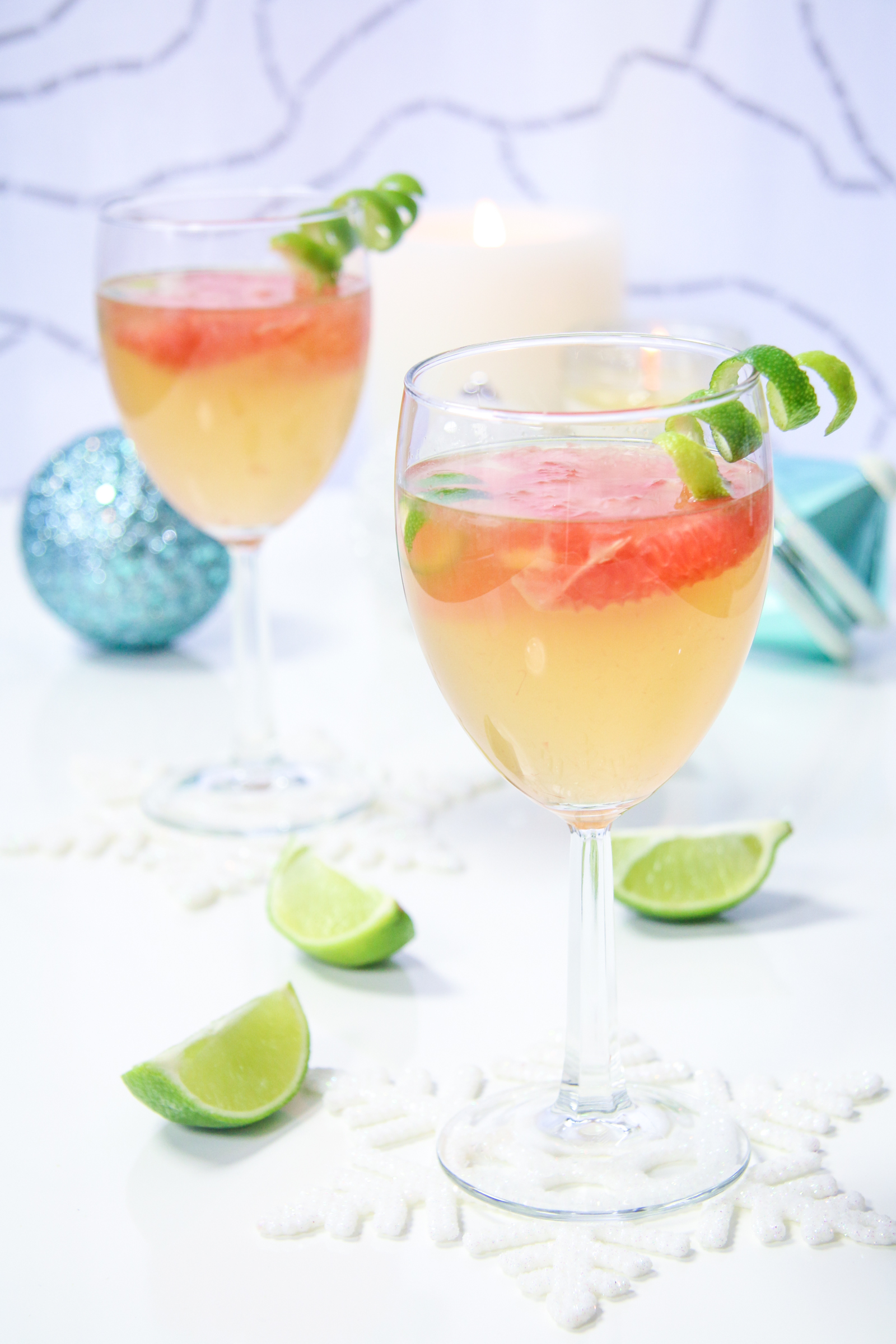 So go ahead and raise your glass.  Hope you have a Happy New Year and be sure to watch our Year in Review video next.  See you next year!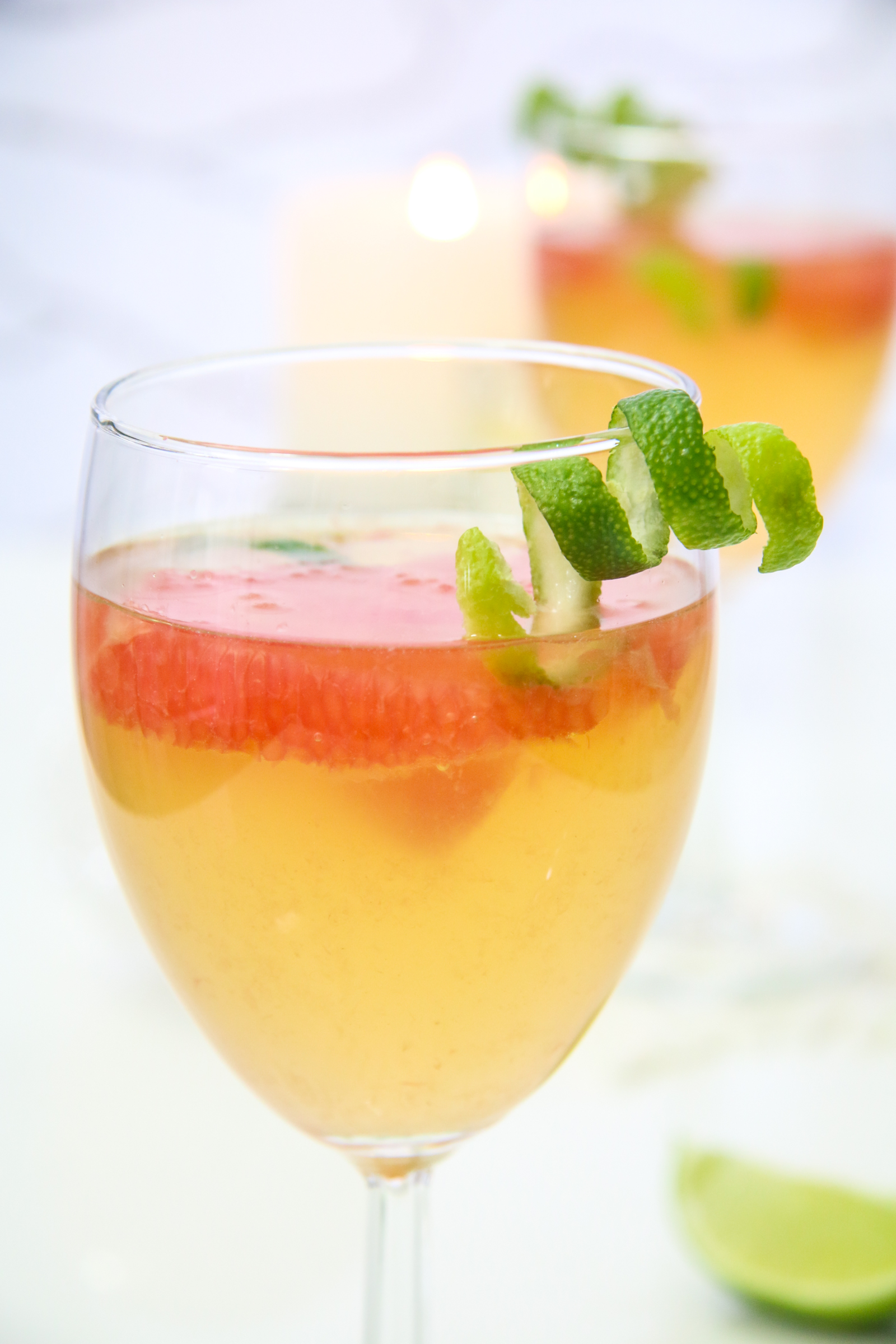 Winter Sangria
This fruity and festive drink for two is easy to make and perfect for the holidays.
Ingredients
8 oz. white wine
3 oz white grape juice
1 oz Simple Syrup (recipe follows)
1 oz fresh lime juice
1 oz fresh grapefruit juice
2 Lime twists or slices for garnish
Grapefruit segments for garnish
Instructions
Cut off the top and bottom of the grapefruit and then follow along the curve of the grapefruit with a paring knife to remove the skin and membrane. Then cut in between the white membranes to remove a now clean segment of fruit. Do this for the entire grapefruit. Use the remaining pulp to squeeze out the juice. Measure out 1 ounce.
With your lime, make two twists from the peel for garnish (watch our video to see how I do this), and then squeeze for the juice. Measure out 1 ounce. If you don't have a tool to make lime twists, you can just cut slices from a second lime instead.
Mix together all chilled ingredients into a measuring cup, pitcher, or shaker. Add a few pieces of grapefruit segments into two glasses. Pour chilled drink on top of the segments, divided among the two glasses. Garnish glasses with lime twists

TIPS: Most likely you will only need 1 grapefruit and either 1 or 2 limes to get the proper amount of juice and garnish.
Simple Syrup
Making a simple syrup for your drinks couldn't be any simpler!
Instructions
Put everything in a small pot. Heat until sugar dissolves, without stirring, then cool. Keep any leftovers in the fridge and use it next time!