Beef Stew with Buttered Noodles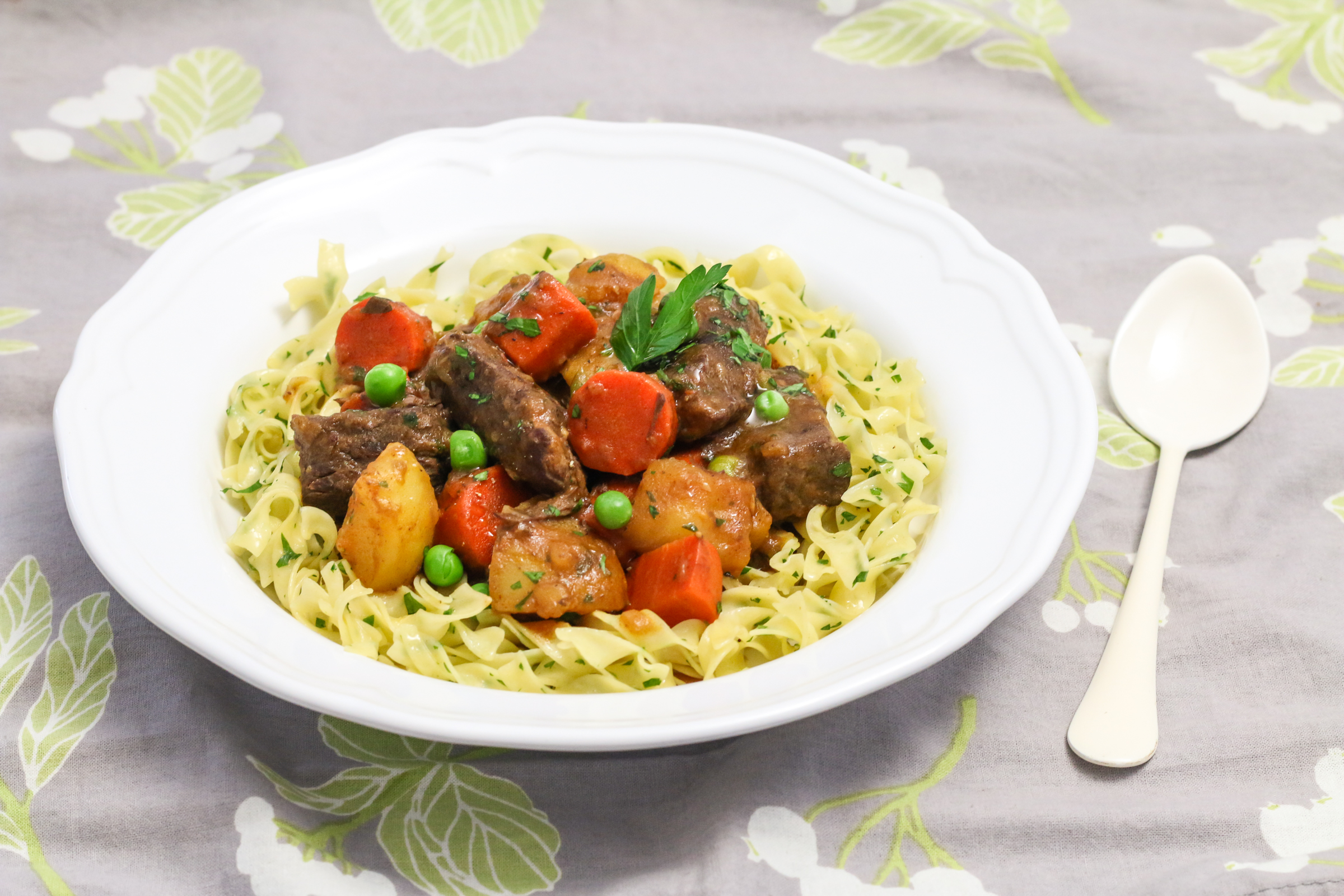 I guess you can say that this entire dish is a nod to my childhood.  But I didn't realize it until we were filming our video and the stories started pouring out of me.  But really, few things in life are as comforting as a big bowl of beef stew.
The best part of this particular recipe is that it makes just the right amount for two, so you don't have to be eating beef stew for days.  Well, you might have a little leftover, but when is that a bad thing?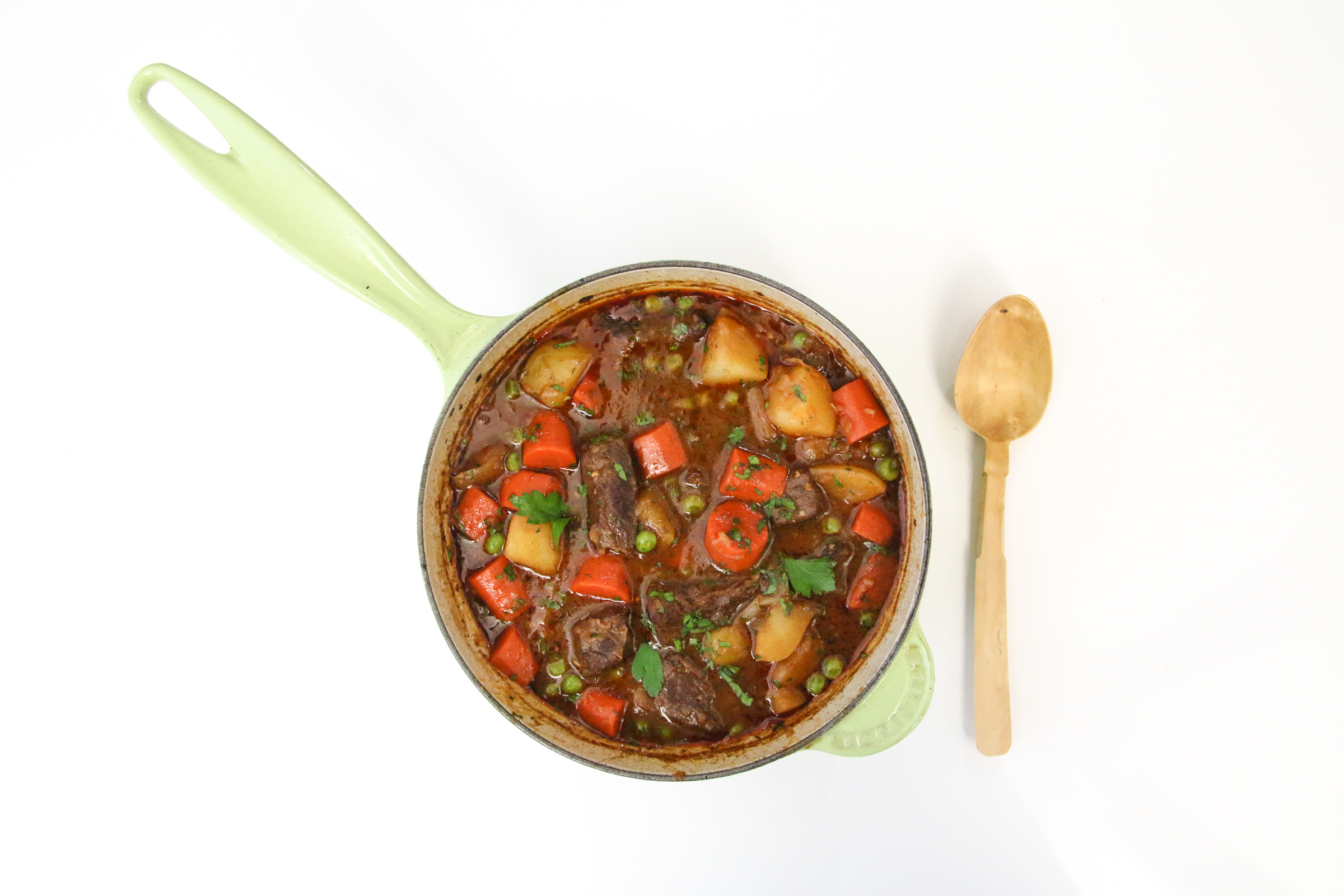 During the holidays, or when it's cold outside is especially when I just want to casually snuggle up on the couch and eat this meal while watching TV.  Makes me wish we had a fireplace!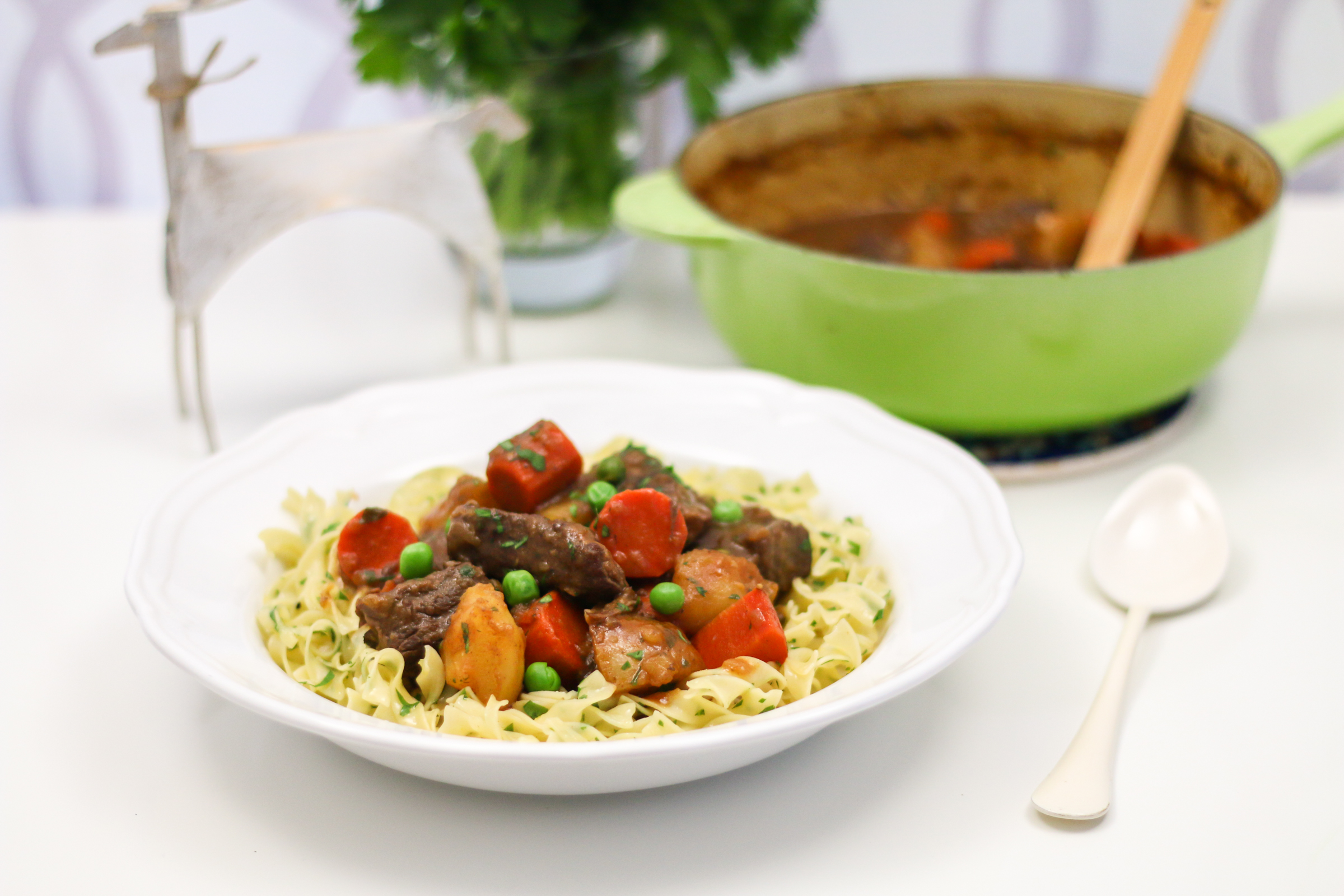 It's cooked low and slow in the oven, so you can go do other things while you're waiting for it, like wrap presents, catch up on work, or decorate your Christmas tree!  I'm just warning you though that the aroma of it cooking will probably drive you insane.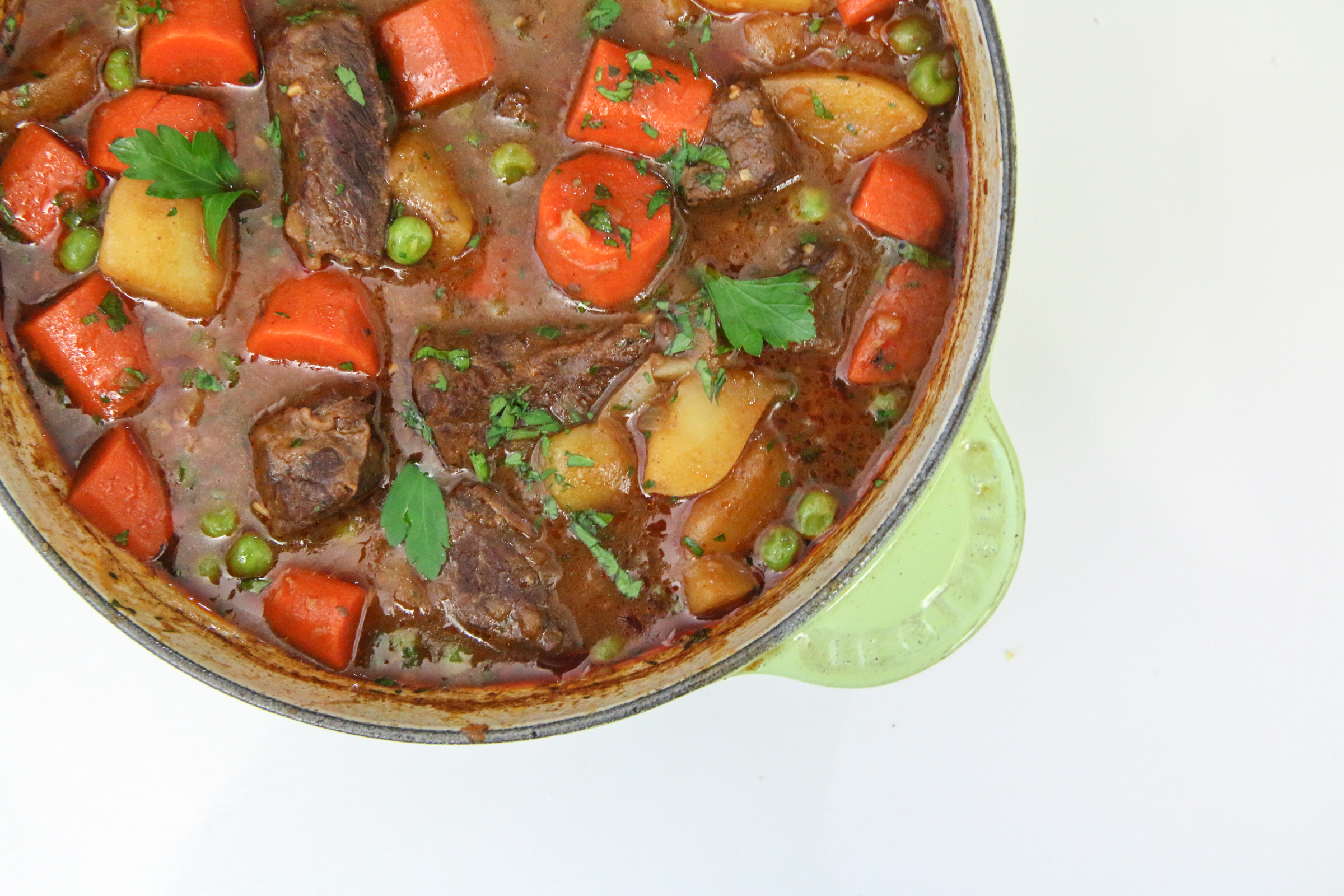 The flavors are rich, deep, and sharp.  The meaty flavorful boneless short ribs are braised in red wine and broth until they're tender and fall apart in your mouth.  It's perfect ladled over a blanket of soft buttered noodles.  There's nothing more to say except that you can see how I pull together this pot of love in EPISODE 4 of Bits & Pieces SEASON 2 below:
WATCH THE VIDEO HERE:
You braise the meat alone in the savory beefy wine infused broth so it has a chance to break down and become fork-tender (or should I say "spoon tender").  Then you add in your rustic vegetables and give them a turn to cook for a bit before you pour the whole shebang over some quick cooking egg noodles coated in butter!  I can hardly write this without drooling.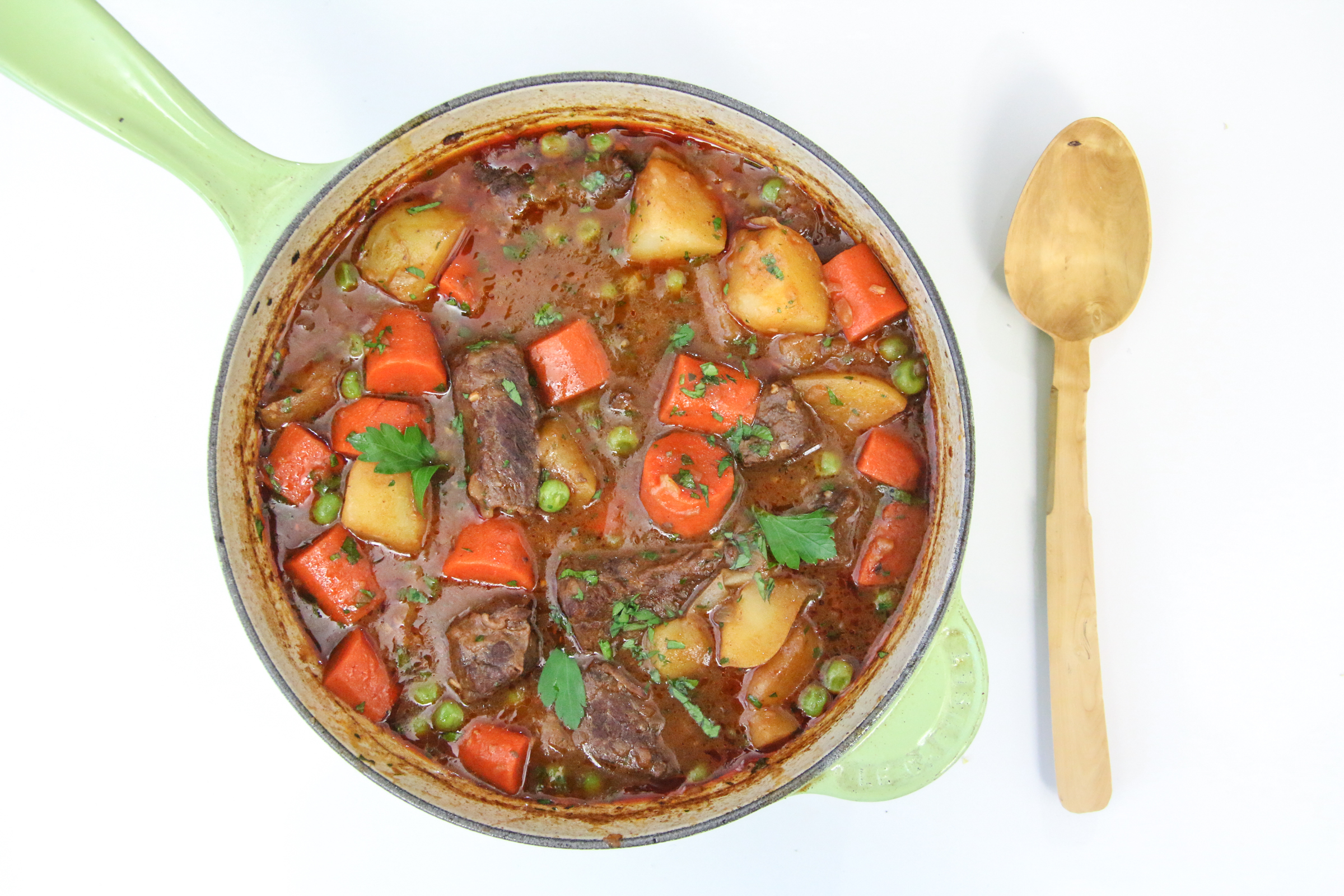 This isn't fancy food.  It's good food.  It's what you want to eat when it's snowing outside, or when you had a rough week.  Pouring the beef stew over a bed of buttered noodles will be one of the best decisions you ever make.  Of course you can opt to eat it alone or with some crusty bread too, but once you try this together, it will be hard for you to picture one without the other.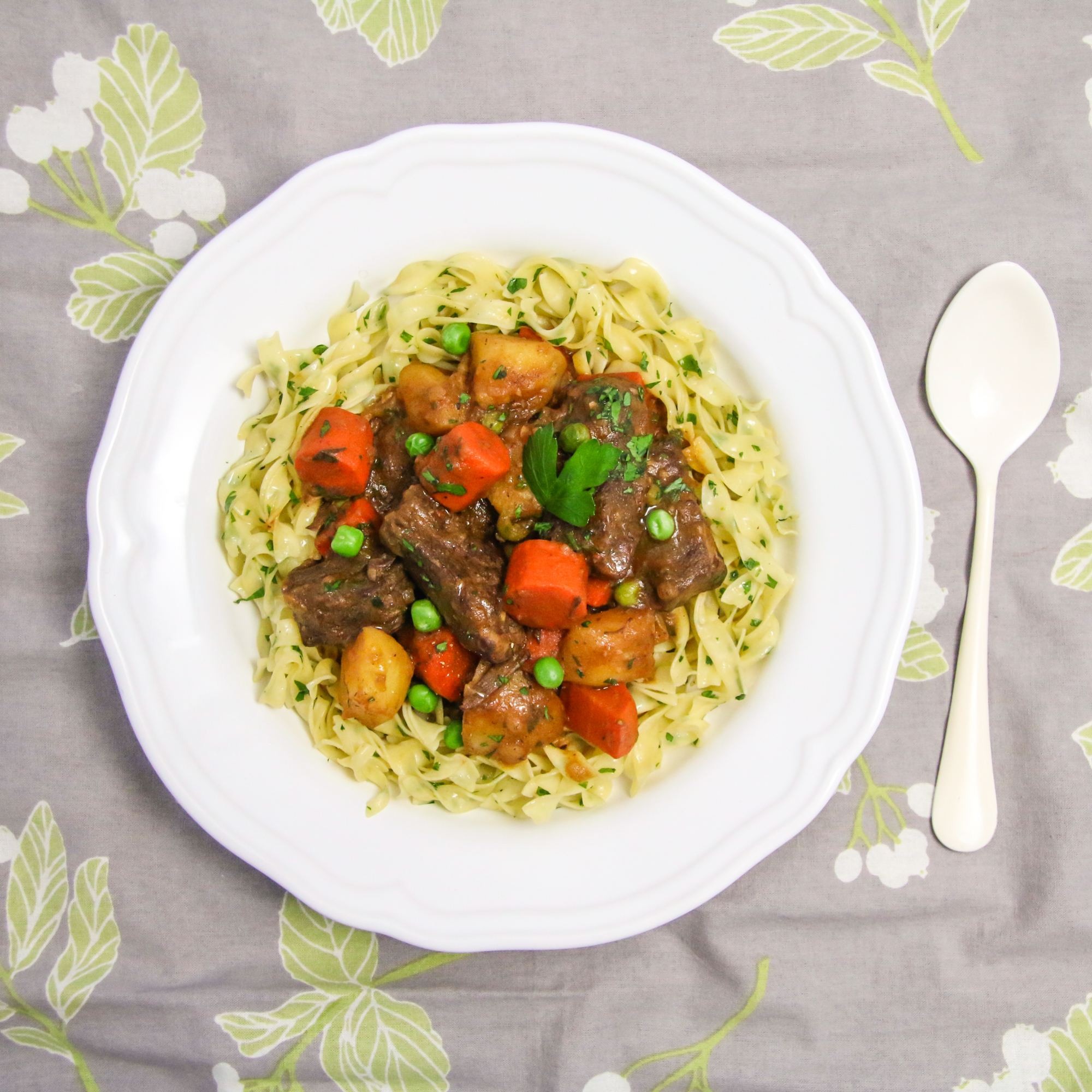 It does take a while to make, longer than my typical recipes, but all the steps are super easy and low maintenance.  You know me.  You chop a few things and brown a few things, and then you throw it into the oven.  So if you have a few hours to putter around your house on a weekend, remember this recipe and get ready to be comforted.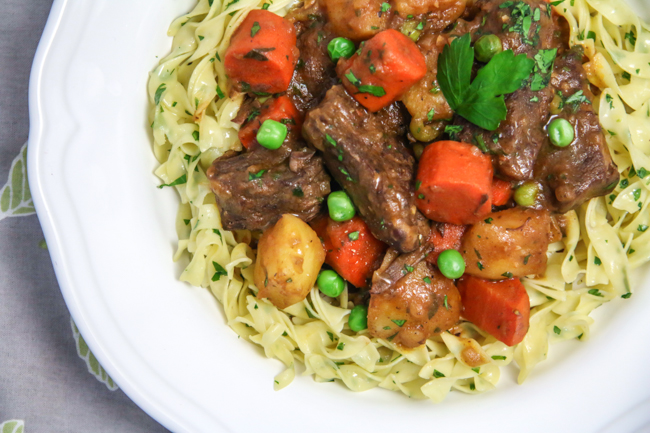 Beef Stew with Buttered Noodles
Hearty, comforting, and made with love. This will keep you warm through the winter.
Ingredients
1 pound boneless beef short ribs, trimmed, and cut into 2-inch pieces
1 tablespoon vegetable oil
1 small onion, finely diced
3 garlic cloves, minced
1 tablespoon tomato paste
1 tablespoon flour
¼ cup dry red wine
2 cups beef broth
1 dried bay leaf
8 ounces Yukon gold or any yellow potatoes chopped into 1½-inch pieces
2 medium to large carrots, peeled and chopped into 1½-inch pieces
⅓ cup frozen peas, thawed
2 tablespoons chopped fresh parsley
Small squeeze of lemon (about 1 teaspoon)
Salt and pepper to taste

Buttered noodles
4 ounces (⅓ of a 12-ounce package) of wide egg noodles
2 tablespoons unsalted butter
Zest of ½ a lemon
1 tablespoon chopped fresh parsley
Salt and pepper to taste
Instructions
Preheat oven to 300 degrees F. Pat beef dry with paper towels and season with salt and pepper evenly. Heat oil in a medium sized oven safe pot over medium high heat and brown the beef on both sides. Do it in batches if it doesn't fit. Don't crowd your pot. Transfer the beef to a bowl. At this point, don't worry about it being cooked.
Add onion to the pot and cook for 5 minutes, then add garlic and tomato paste, and cook for 30 seconds while stirring. Add flour and cook for 30 seconds more. Slowly add wine while using a whisk to scrape up the brown bits. Add the broth while whisking, then the browned meat, along with any accumulated juices. Bring to a simmer. Cover, and pop into the oven for 1 ½ hours. Add the potatoes and carrots and cook for 1 hour more or until beef and vegetables are tender.
Skim excess fat from the surface of the stew with a spoon. Add peas and stir until warmed. Add a small squeeze of lemon to finish (don't add too much). Taste and adjust seasoning with salt and pepper. Sprinkle with parsley.
Meanwhile, boil the noodles in salted water according to package instructions and drain. Add the noodles back to the pot and melt in the butter while stirring. Season with salt and pepper to taste and sprinkle with parsley. Add to bowls and ladle beef stew on top.