Cream of Broccoli Witches' Brew Soup with Bone Breadsticks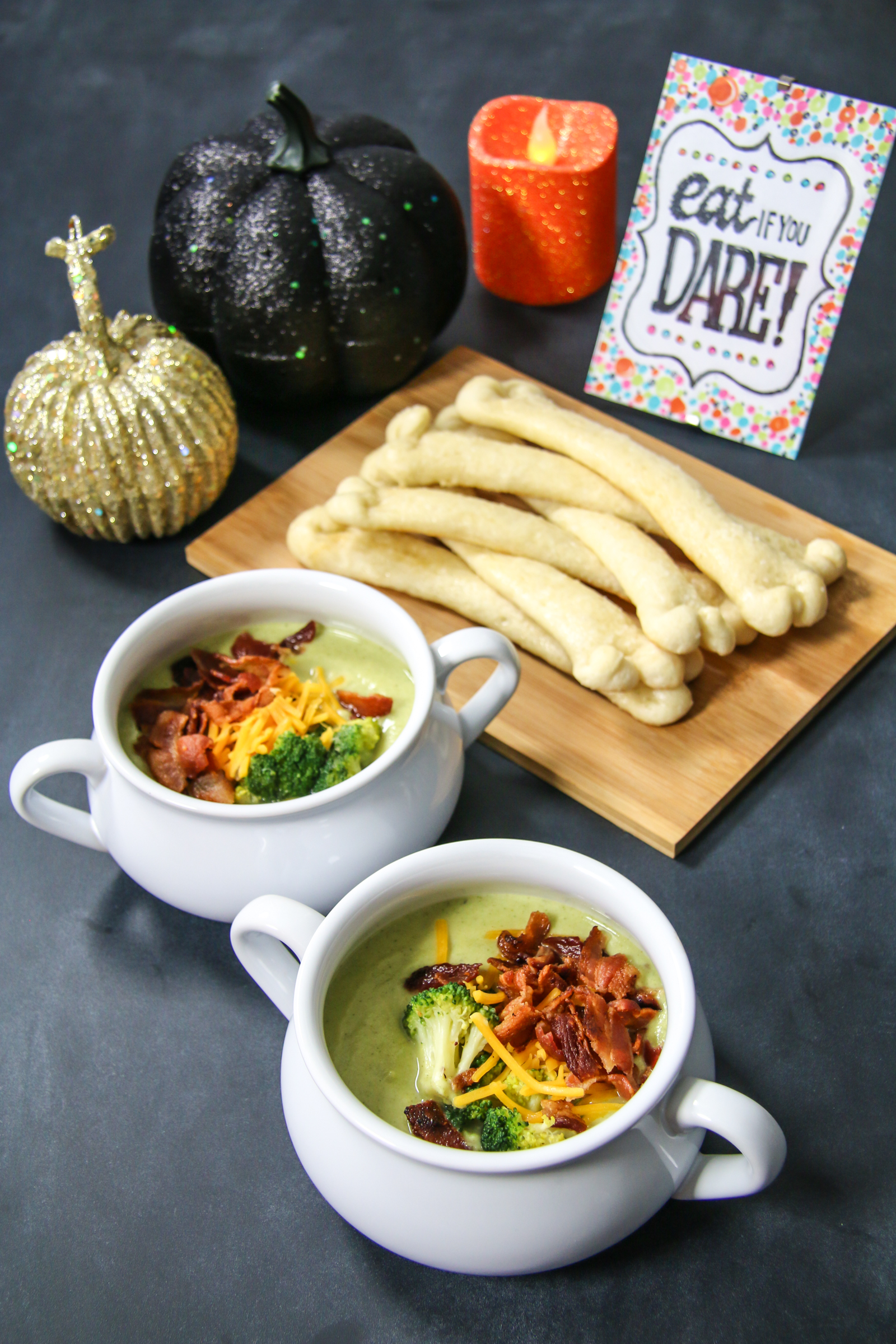 This Halloween, Joe and I won't be attending any parties or doing some kind of crazy activity.  But it doesn't mean that we still can't get dressed up and be a little festive, right?  And guess what guys…this is a special post because it's our FIRST EPISODE of Bits & Pieces for Season 2!  
We're also incredibly excited to announce that Season 2 will be entirely dedicated to recipes tailor made for two!  It just makes sense since because right now there's only two of us anyways.  I don't know why I didn't think of this earlier!  And it's also a perfect time to do it since there's a nice ring to it… Season 2, cooking for two!
We didn't really plan for our first episode to launch around Halloween, but it's kind of cool that it ended up being this way.  It helps us to start off this brand new season with a little fun.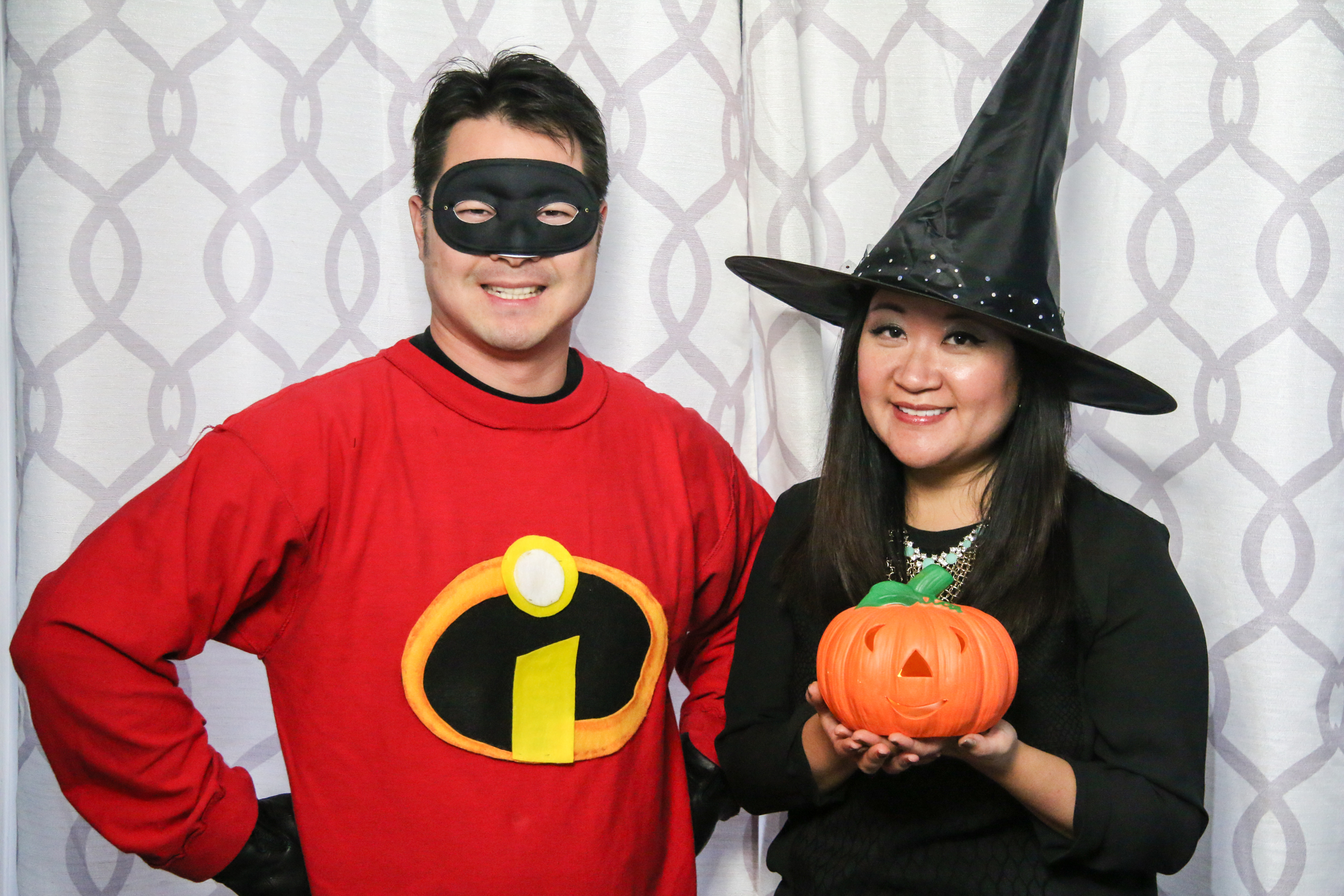 Growing up, I would go trick or treating with a bunch of my friends around different neighborhoods.  We'd all meet at my friend's house first and her mom would lay out a pretty impressive spread of Halloween themed healthy savory snacks to help us fuel up before we hit the streets in search of candy.
I always thought that was a smart idea especially since we'd probably be hyped up on sugar for the rest of the night anyways.  It ended up being my favorite part about Halloween because we'd bob for apples, drink hot mulled apple cider, and fill our bellies with comforting good-for-you foods.
That's where I got the inspiration to make my Cream of Broccoli Witches' Brew Soup with Bone Breadsticks.  It's a hearty and wholesome meal that's playful at the same time.  You can see how I pull it all together in EPISODE 1 of SEASON 2 of Bits & Pieces below:
I don't think Halloween food necessary has to be spooky or gross.  I don't know about you, but I still want my food to look appetizing.  That's why I take the time to top my silky soup with tasty garnishes like crispy bacon and gooey cheese!  The key to the velvety smooth texture is a bechamel sauce.  It makes things extra rich and luxurious.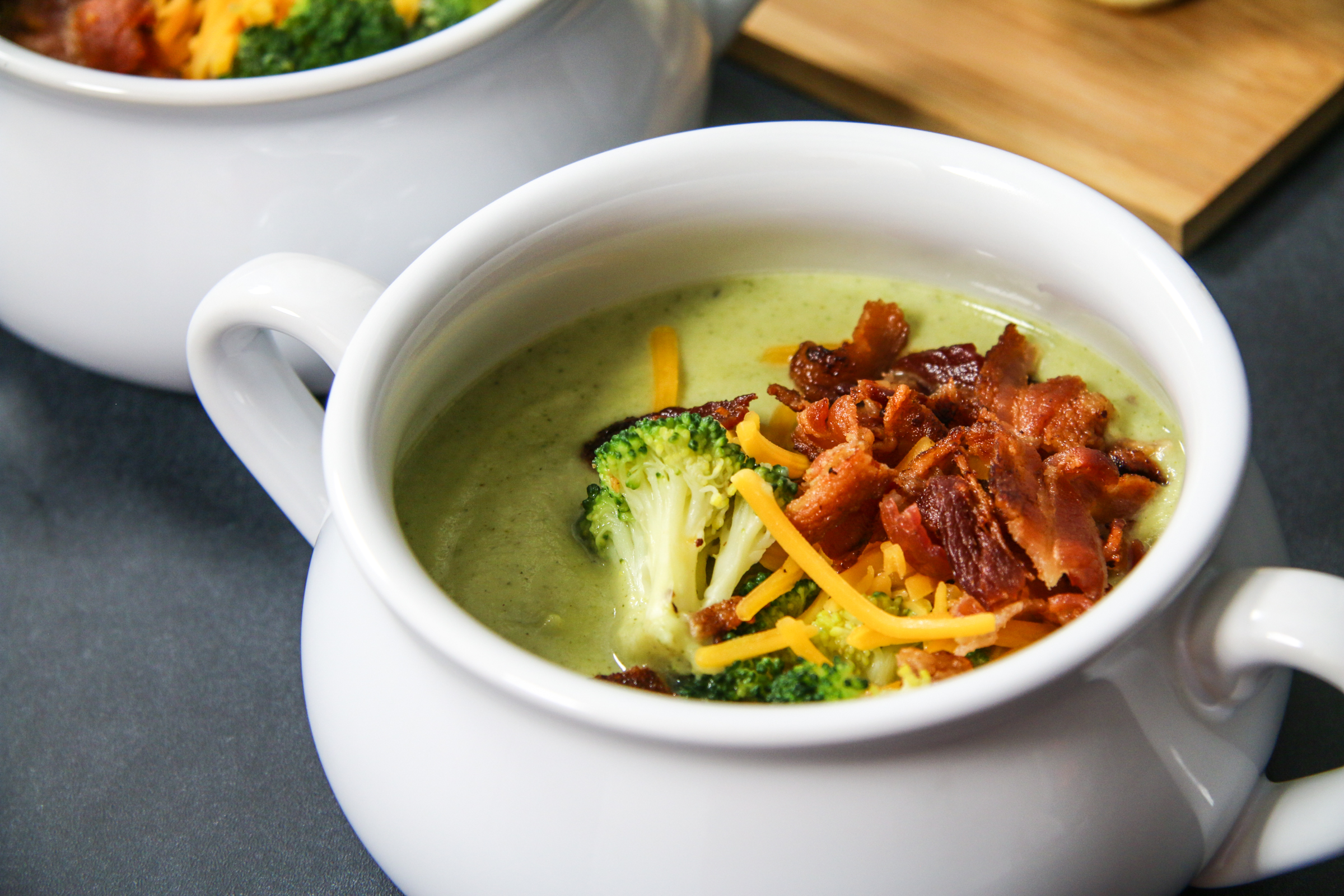 Shaping refrigerated breadsticks into bone shapes and sprinkling on a bit of coarse salt just adds a hint of whimsy without being too fussy.  It really doesn't get any easier than this.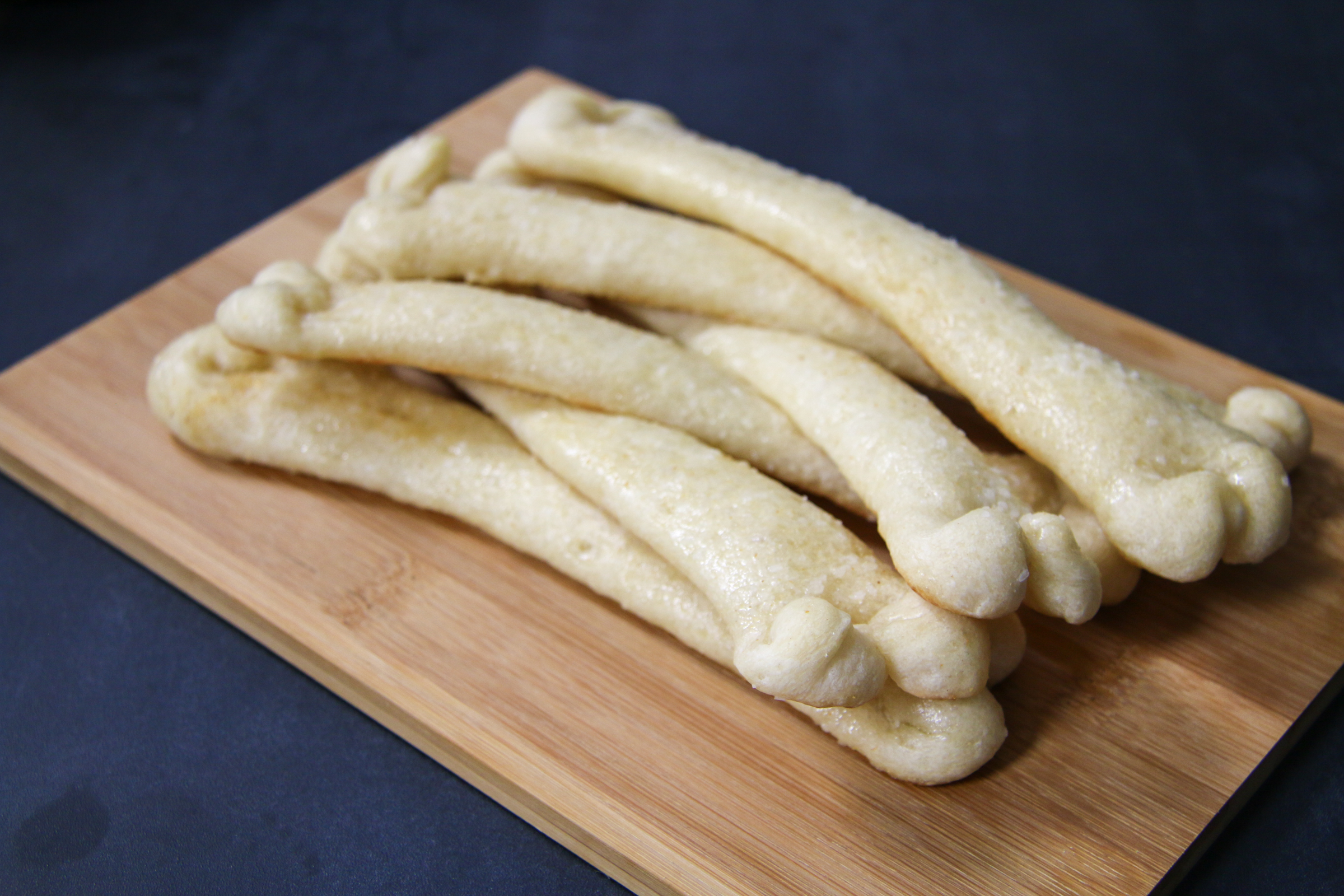 This entire bewitching meal comes together in minutes and in no time, you can have a relaxing and cozy Halloween evening curled up on the couch watching a movie together.
Cream of Broccoli Witches' Brew Soup
This cream of broccoli soup is velvety, comforting, and appetizingly spooky.
Ingredients
3 tablespoons unsalted butter, divided
1 medium onion, chopped
4 cups broccoli florets
1 ½ cups chicken broth
1 tablespoon flour
1 cup milk (any kind)
Salt and pepper to taste
Shredded cheddar cheese
3 strips cooked chopped or crumbled bacon
Instructions
Melt 1 tablespoon butter in a pot over medium-high heat, then saute onion, stirring occasionally, until tender, about 5 minutes. Add broccoli, broth, and some salt, and bring to a boil, then reduce heat and simmer covered, until broccoli is tender, but still nicely vibrant green, about 7-10 minutes. Fish out a few broccoli florets after about 5 minutes of cooking, and reserve for the topping.
Working in batches, pour soup into a blender, filling no more than halfway. Holding down lid, with a folded kitchen towel, start blender. Puree until smooth, and pour into a large bowl.
Give your pot a quick rinse and place it back over medium-heat. Add the remaining 2 tablespoons of butter, flour, and cook, stirring for 2 minutes. Gradually add the milk and whisk until nicely incorporated, thick and bubbly, about 3 minutes. Season with a little salt and pepper.
Stir your soup into the bechamel sauce you just made, until well incorporated and slightly thick. Season with salt and pepper if necessary. Ladle into bowls, and garnish with the reserved steamed broccoli florets, shredded cheddar cheese, and chopped bacon.
Bone Breadsticks
These salty, soft, and buttery bone shaped breadsticks are fun, playful, and perfect for dunking!
Serves:
2 (Makes 6 breadsticks)
Ingredients
½ tube refrigerated breadsticks (from an 11-ounce tube)
Coarse salt
Garlic Powder
1 tablespoon melted unsalted butter (optional)
Instructions
Preheat oven to 350 degrees F. Unroll a tube of refrigerated breadstick dough and separate the rectangular pieces.
Working with one piece at a time, stretch the dough a tad to lengthen it a bit and then use kitchen scissors or a knife to cut a 1-inch slit in the center of each end.
Roll or shape the resulting four flaps of dough into knobs that look like the ends of a bone.
Place the dough bones on an parchment lined or ungreased baking sheet, spacing them a few inches apart, and sprinkle on a little coarse salt and garlic powder. Bake the bones until they are light golden brown, about 10-11 minutes. Brush with melted butter while still warm.

TIP: Freeze the rest of the dough you don't use in a marked zip top storage bag and use for the next time. You can make less breadsticks, but I just think it looks nicer with a fuller plate of bones.