Buttermilk Bacon Biscuits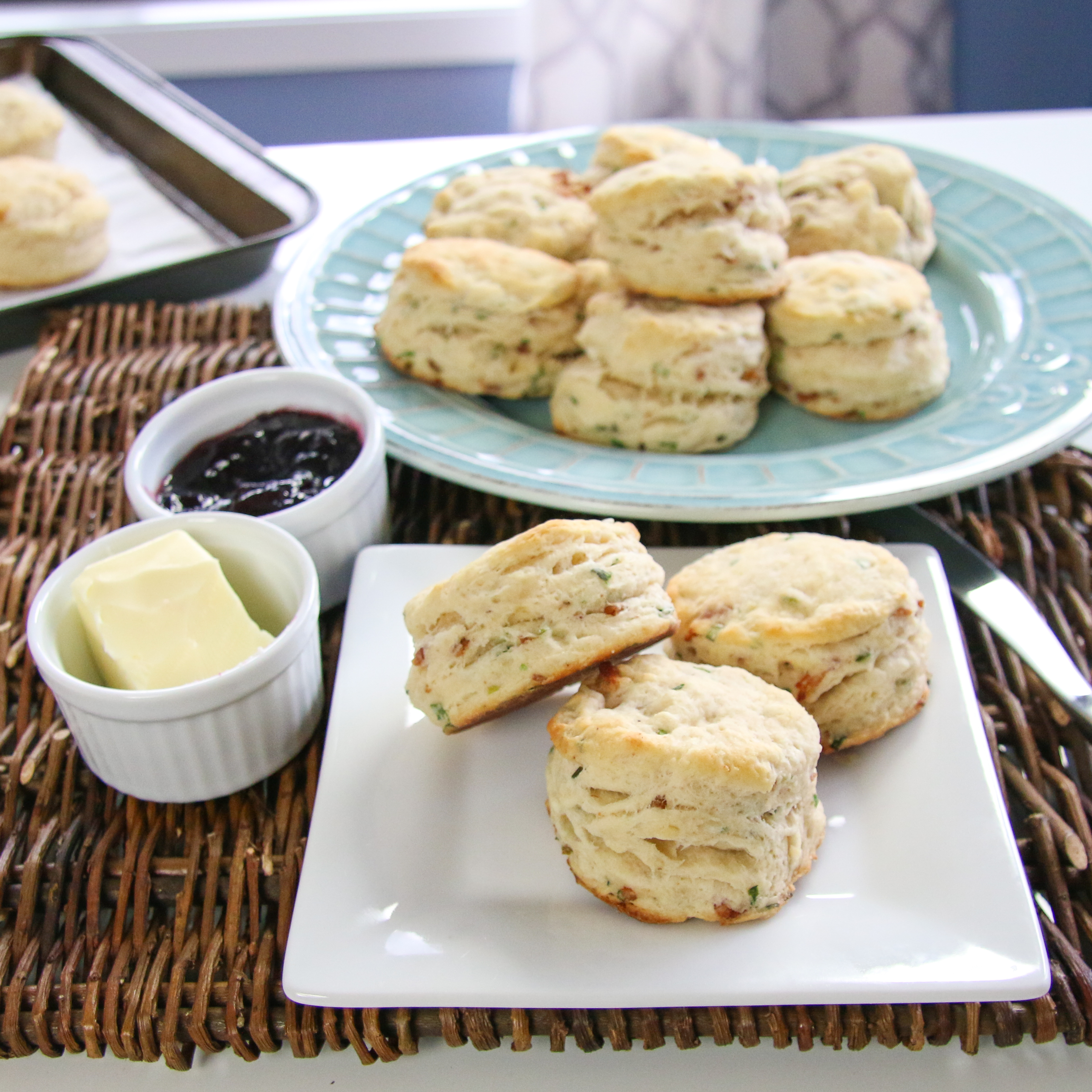 It all started when I decided to try making biscuits from scratch in time for Mother's Day.  I thought they came out fine, but I wasn't completely satisfied with the flavor.  This recipe also required me to use a food processor.  I mean, I have no problem using one, but I know that there are tons of biscuit recipes out there that don't require anything more than a bowl and your hands.  And personally, I think that's the way it should be.  To me, making biscuits should be a relaxing, old-fashioned, puttering around in the kitchen on a lazy Saturday morning kind of activity.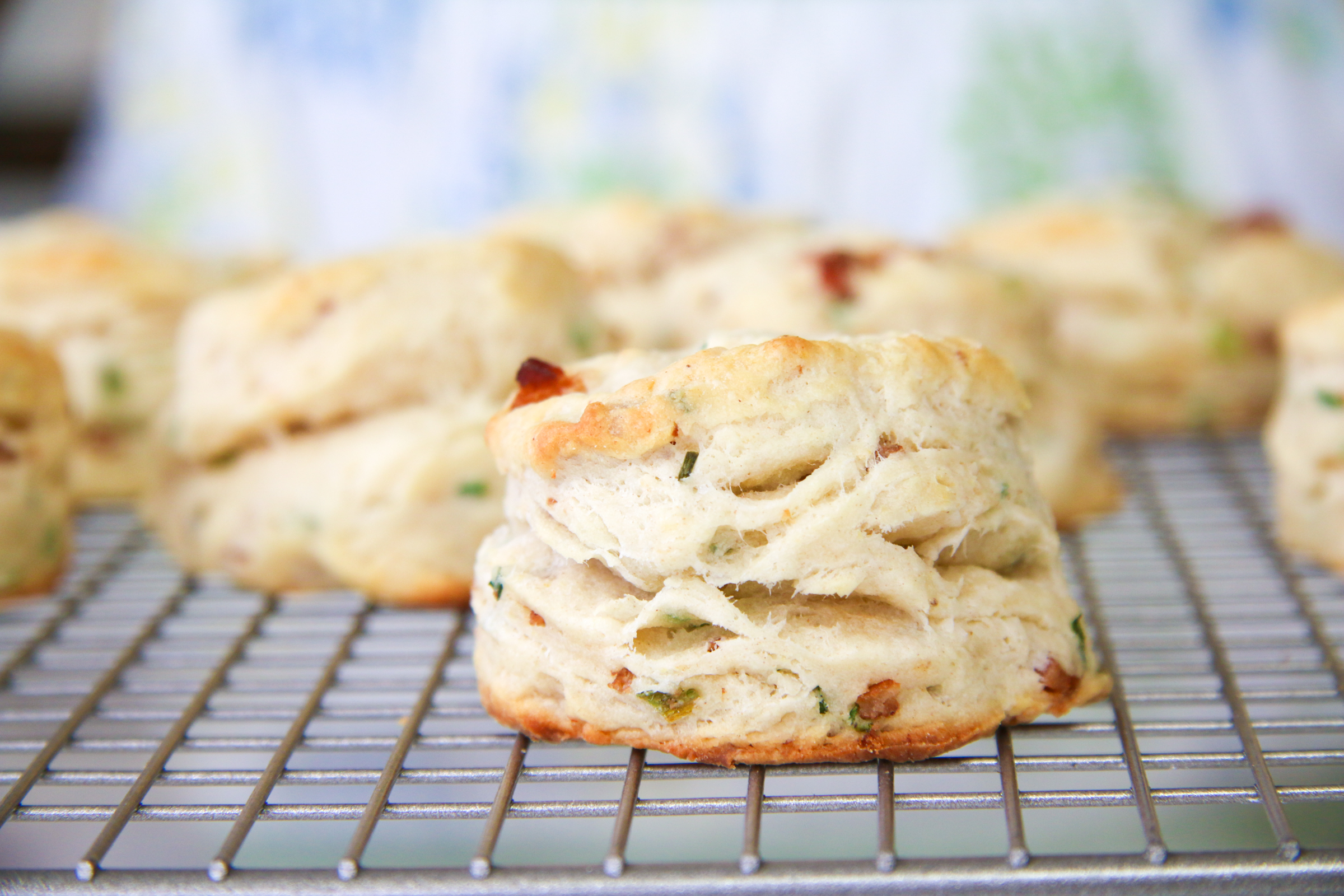 But after batch after batch of bad biscuits, I failed my own mission and decided to retreat.  I think I was just being picky.  However, I did post a picture on Instagram of my first batch of biscuits and it seemed like everyone was excited and looking forward to this future recipe.  So I dusted the flour off of my apron, wiped the frown off my face, and pushed through, until…victory!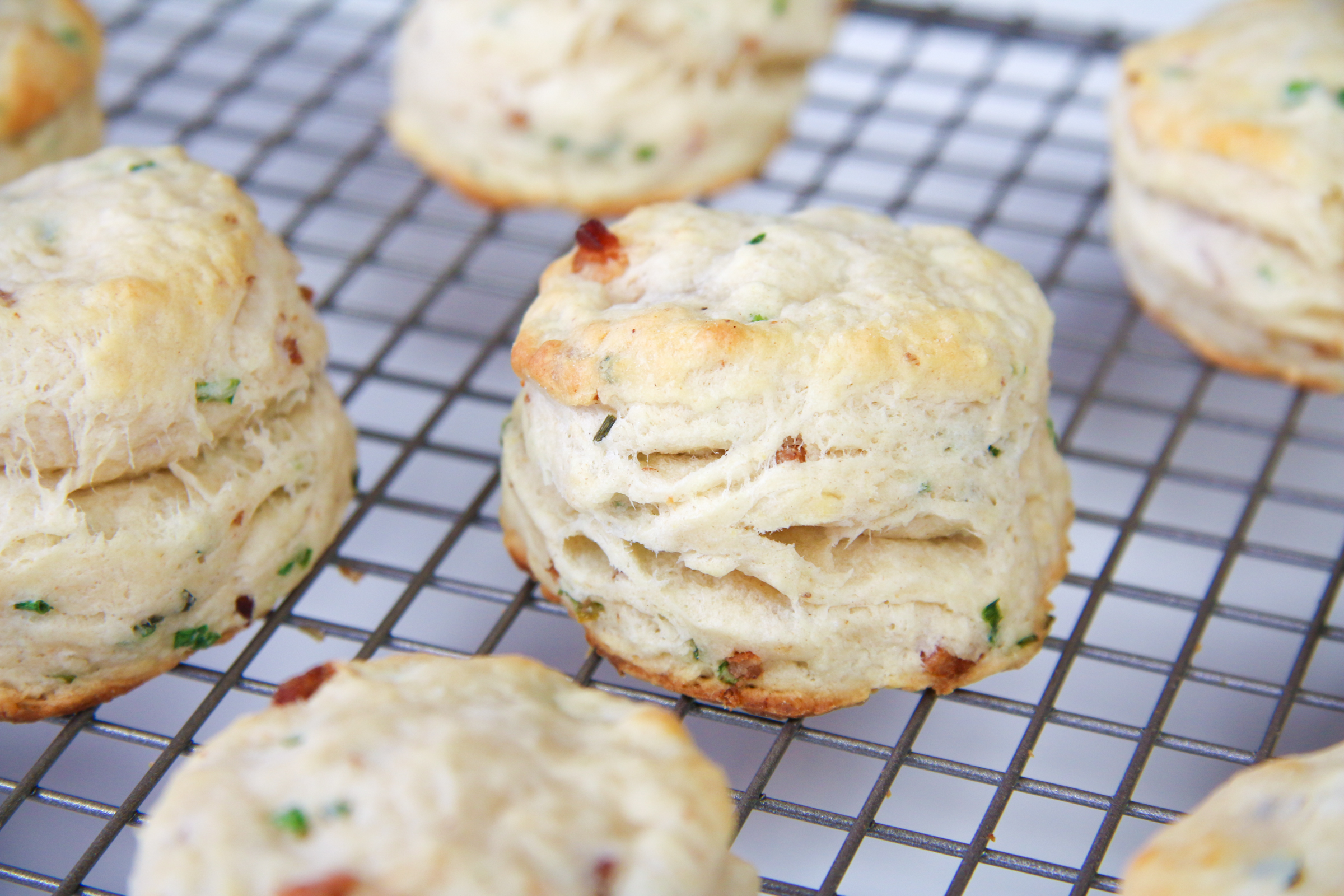 So today, I happily bring  to you a recipe for Buttermilk Bacon Biscuits.  It's inspired by a Cooking Light recipe, so there's slightly less butter in them, but don't worry, because you won't miss anything in the taste… I promise.  But just to cover my bases, I throw in some fresh chives and salty crispy bacon!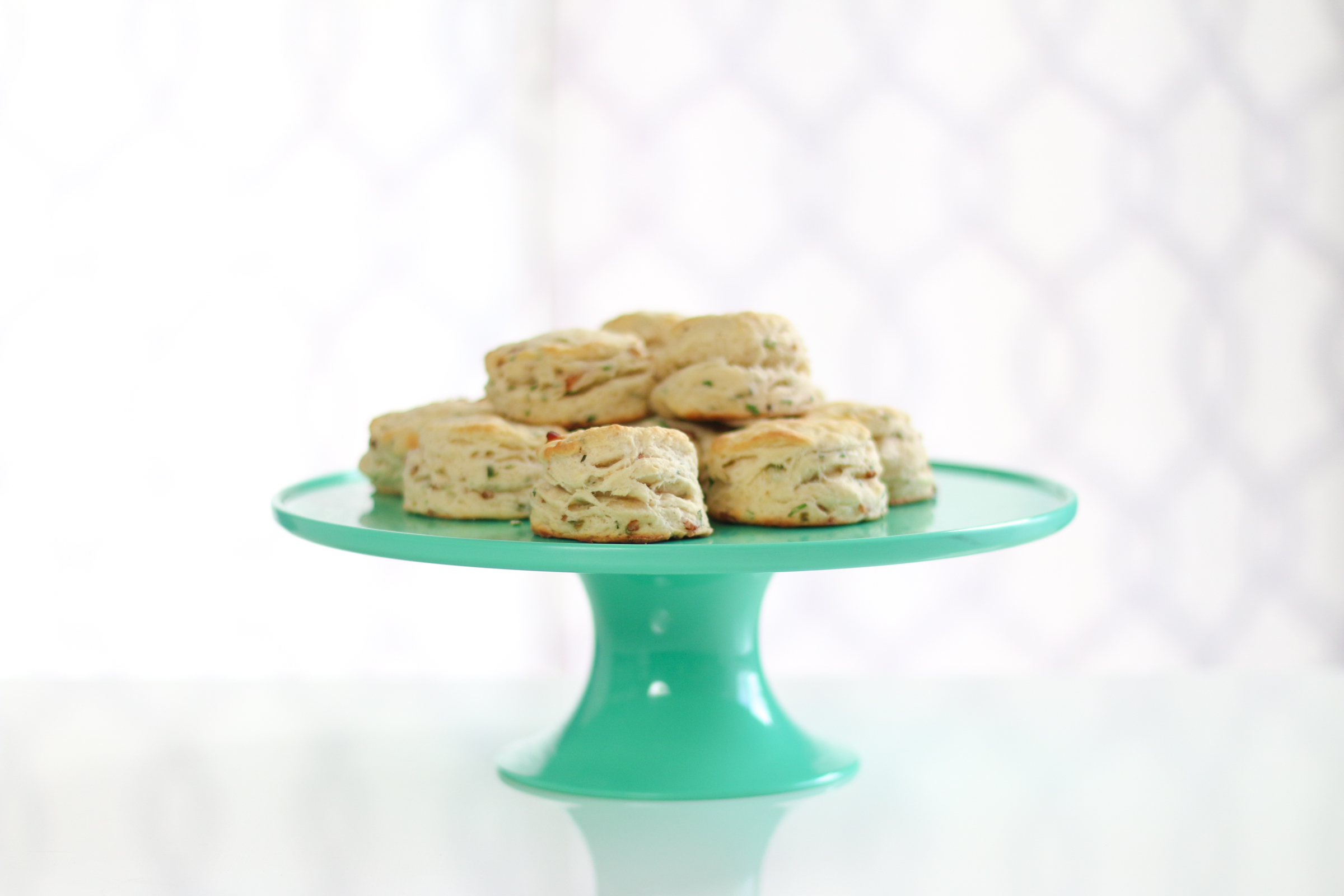 I had thick cut bacon leftover from my Spring Pasta Carbonara recipe, so that's what I used, but no one's gonna stop you from using regular bacon… or anything else!  Heck, throw in some cheese if you please.  The point is, that once you get the hang of it, then you can be as creative as your little heart desires.
My obsession to make sure they had puffy layers led me to this folding method, similar to what you would to do to make puff pastry.  And let me tell you… it works!  But you can see exactly how I make these Buttermilk Bacon Biscuits in EPISODE 15 of Bits and Pieces:
I'm a little embarrassed to admit that the reason I NEEDED these biscuits to have layers is because that's how they come in a can!  My sister and I love those canned biscuits and we would buy them every year for Thanksgiving.
So this recipe is not as flaky as the canned ones, because less face it, the canned ones are made out of pure magic.  But you can still peel these guys apart.  And you have the satisfaction that you made them yourself!  Plus let's not forget that you made them with bacon!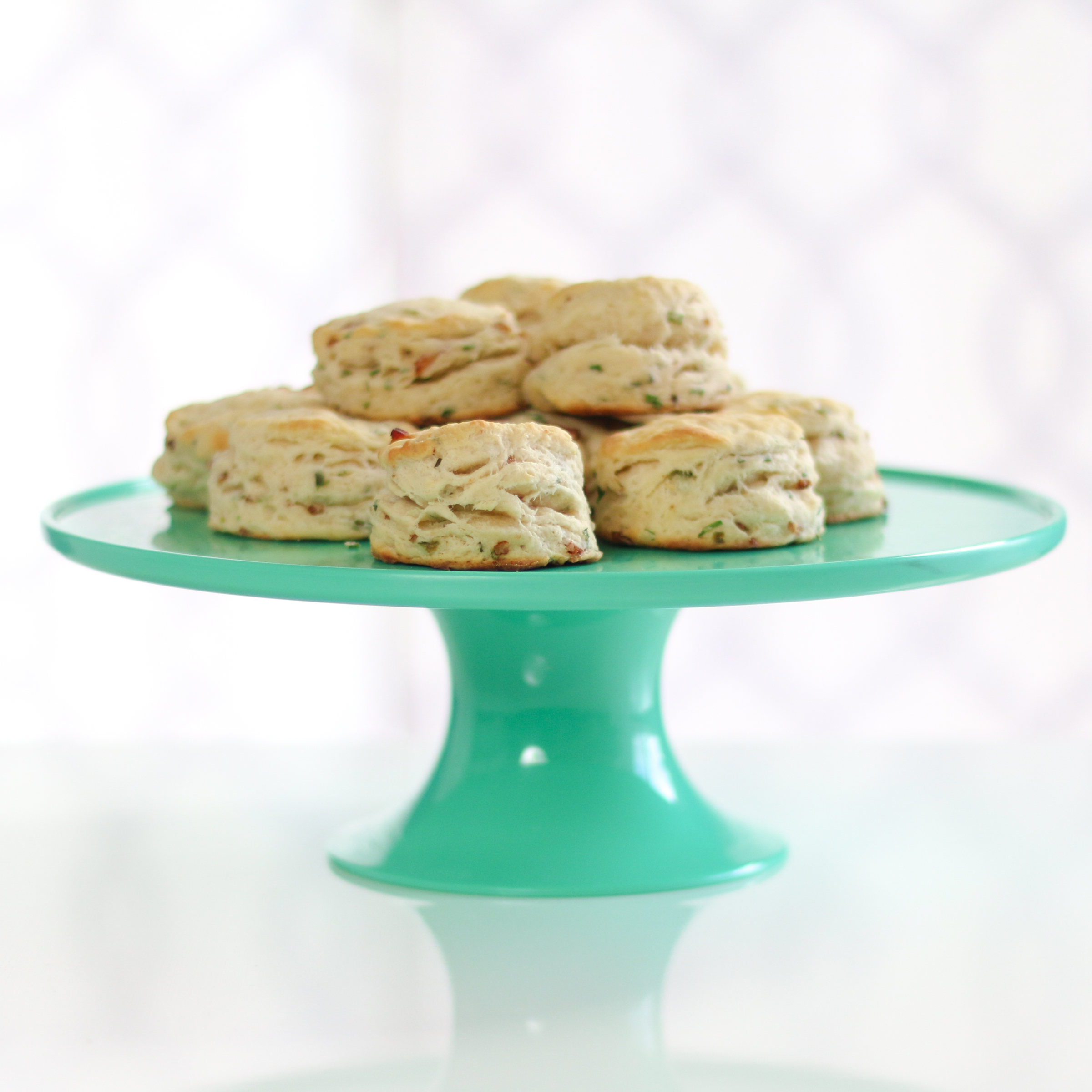 But if you're in the mood for something a little more plain, then don't fret my pet because you can always make this recipe exactly the way it is, with the bacon and chives omitted.  Then boom… all you need is butter and jam….and a cup of coffee of course!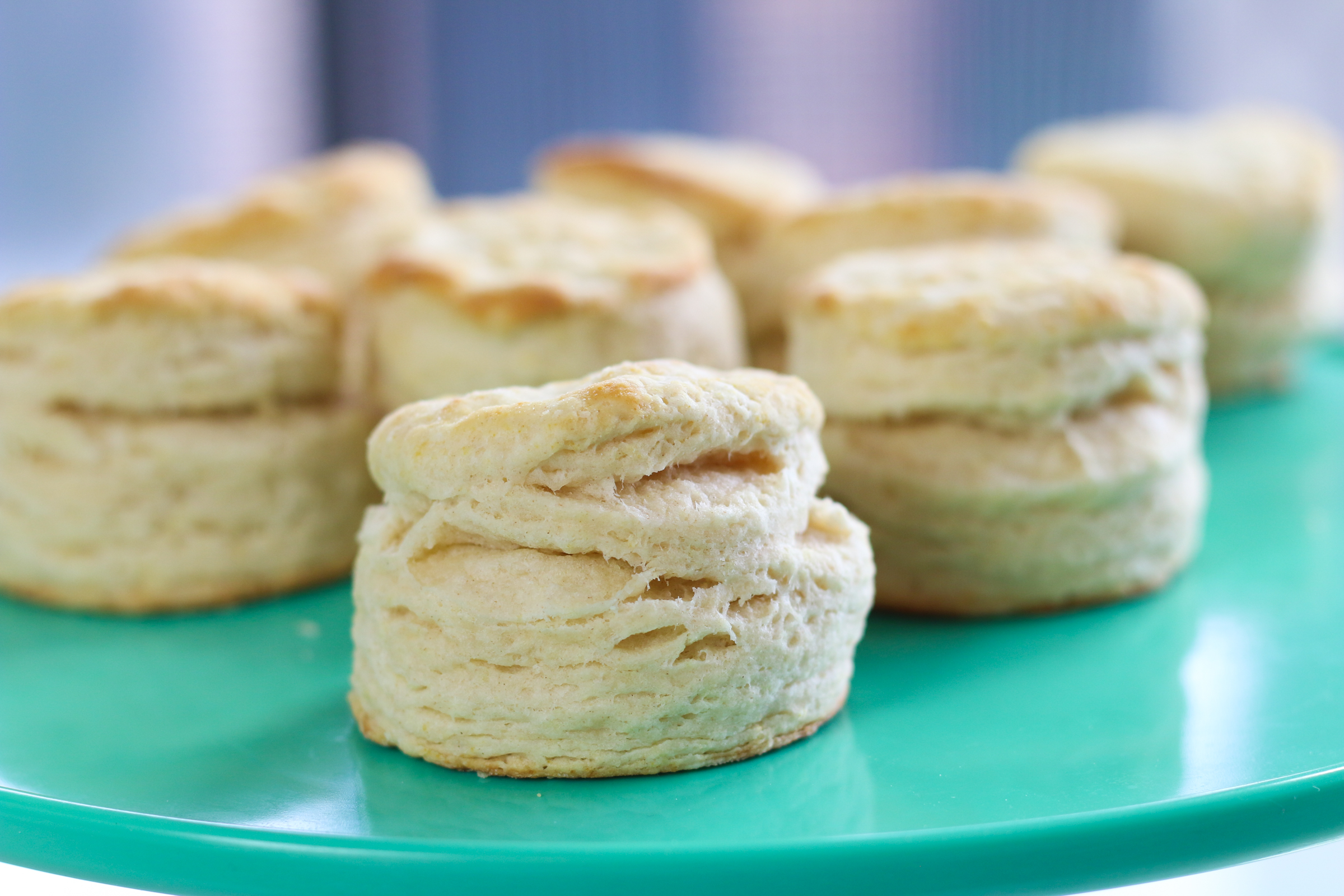 My bit of advice to you is that with baking, you have to be precise.  That's not how you would describe me.  I'm the queen of do whatever floats your boat.  But don't waste your butter and flour by going rogue here.  Just follow these steps because I'm telling you from experience, there's a method to all this madness.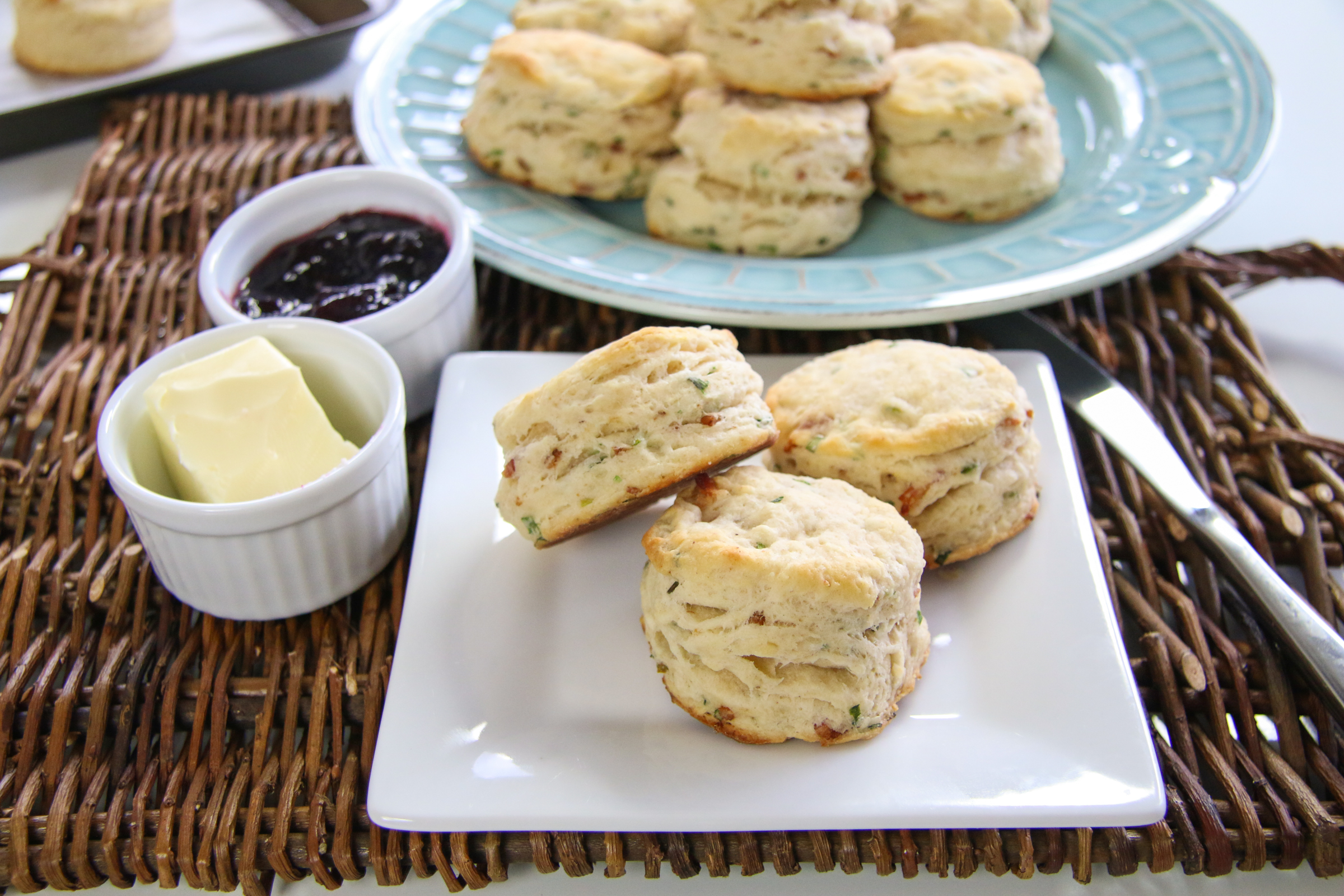 For instance, if you roll your dough out too thin, when you go to cut them out, your biscuits will be flatter than you expected.  I used this Ateco 12-Piece Stainless Steel Round Cutter Set
and I love it, because you can easily make your biscuits as big or small as you like.  I chose about a 2-inch round cutter.  But you can always use a knife and cut them into squares too.
Likewise, if you go overboard, and your dough is a big ol' pillow, your biscuits can actually rise too much and fall over, leaving you with with sad lopsided biscuit slinkys.  And my most important tip is to make sure your butter is COLD and not cut too small when you incorporate it into the flour.  The butter chunks should be the size of small peas.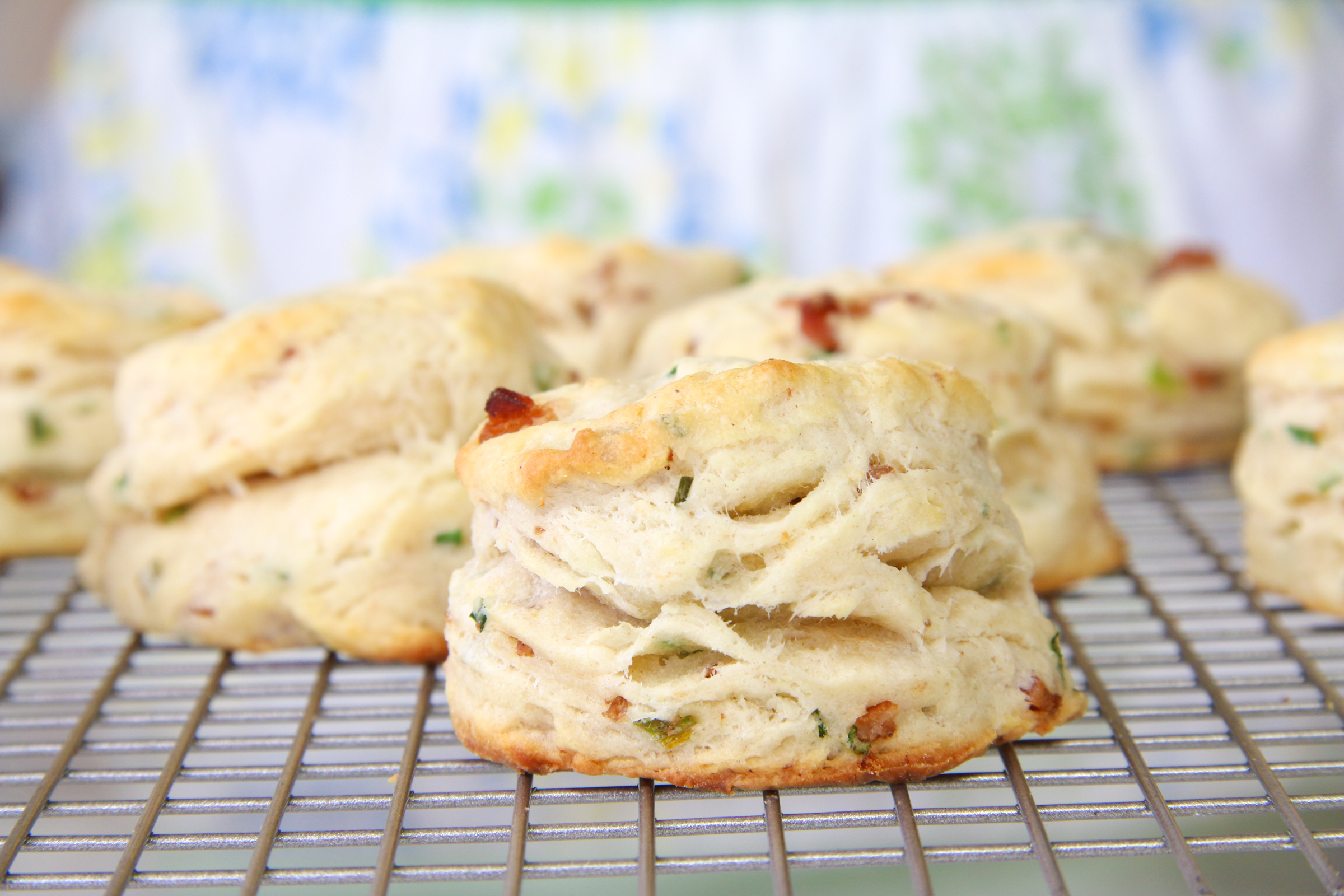 You need that cold butter to form steam pockets in the dough when it hits the hot oven.  That's what creates the height.  And the layers are formed by taking the time to do that little folding action I hope you watched in the video.  Trust me, all this stuff was figured out by people smarter than me and they know what they're talking about, so don't waste your time trying to reinvent the wheel.
These biscuits are best on the day you bake them, especially when they're still warm.  But if you can't devour them in one day, then put them in a Ziplock bag and stash them away in your freezer for another day.  All you need to do is pop them in the microwave for a few seconds, or even wrap them in aluminum foil and toss them in a low oven to reheat them.  They'll be as soft and fluffy as ever.  So this is perfect to have on hand for those busy mornings.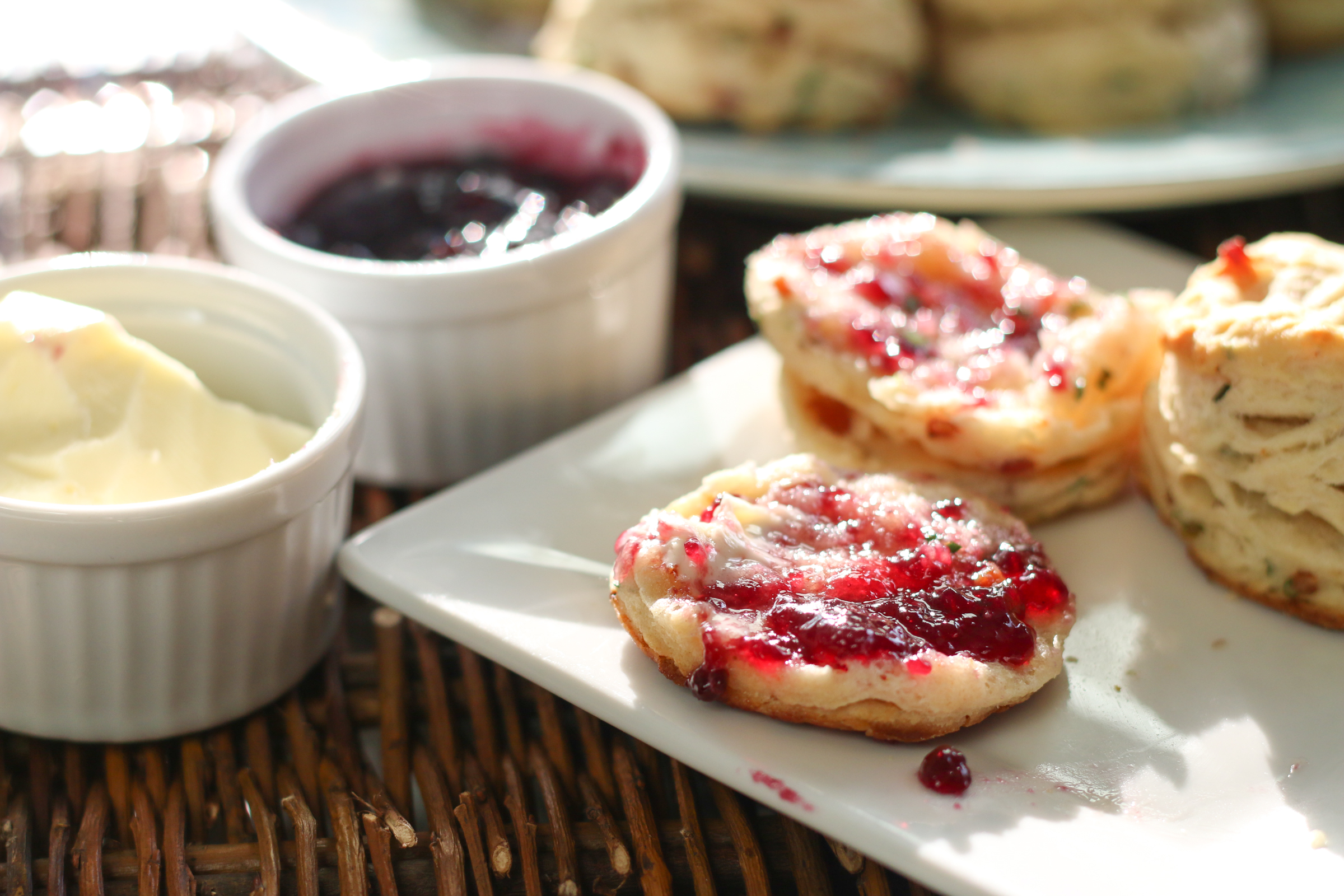 The salty bacon, the fresh green chives, the tart buttermilk, and the sweet honey really balance one another out to become the perfect little bite.  All you need is a sunny side up egg.  And I love the fact that there's less butter in the dough because that just gives you an excuse to slather some more butter on top!
And if you wanna get a little "wild" like me, put some sweet grape jam on top of that bacon filled biscuit.  I think angels get their wings when that happens.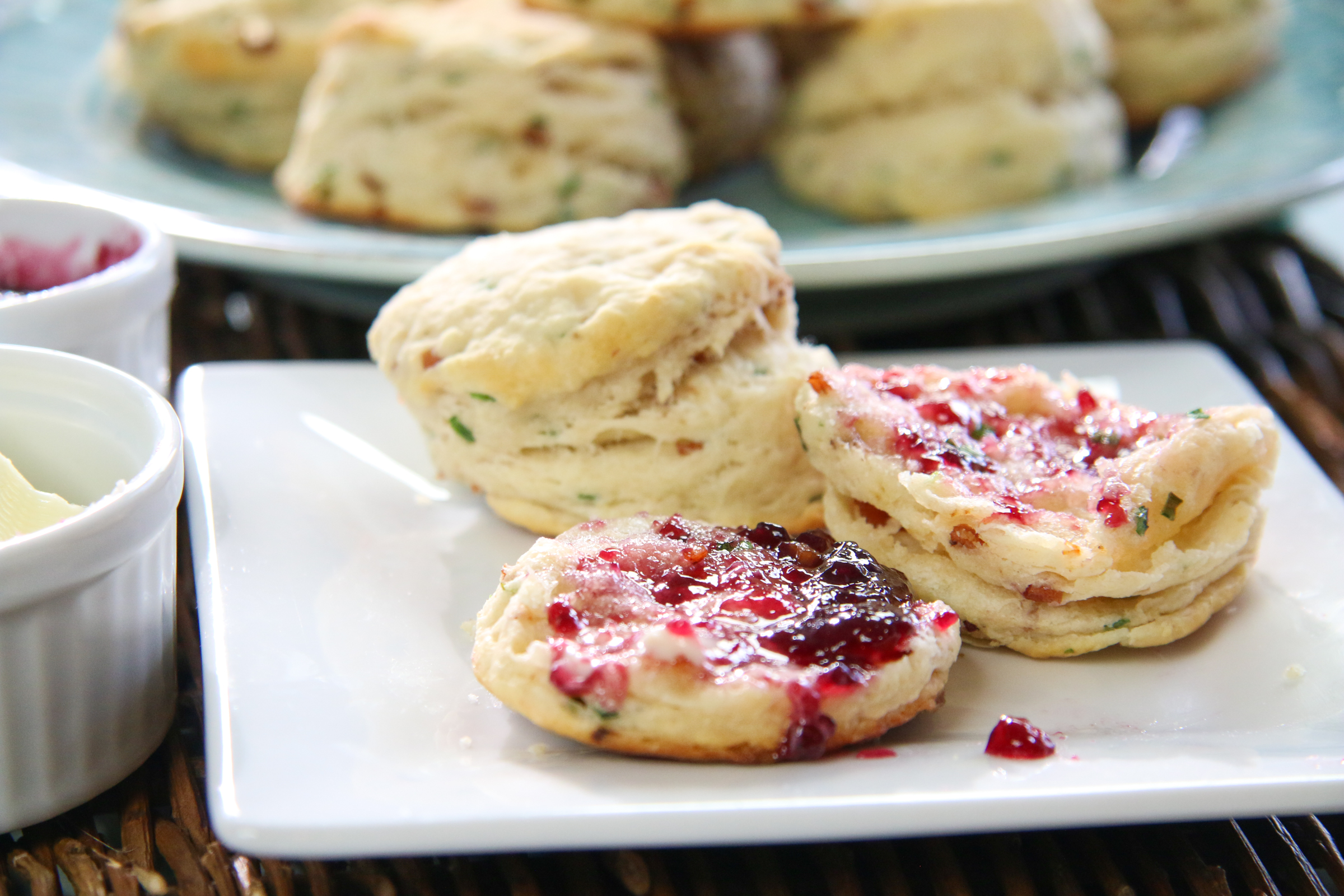 Buttermilk Bacon Biscuits
This recipe is adapted from Cooking Light. Once you get the hang of making these biscuits, you'll be making them all the time. They're fluffy, flaky, and full of bacon. Try them with butter and jam and you'll thank me.
Serves:
10-12 small biscuits
Ingredients
2 cups all-purpose flour
2 ½ teaspoons baking powder
½ teaspoons kosher salt
5 tablespoons cold unsalted butter, cut into ½-inch dice
¾ cup cold buttermilk
3 tablespoons honey
3 strips of cooked and cooled thick cut bacon, or 5 pieces of regular bacon, cut into pieces
3 tablespoons chives, sliced
Instructions
Set the oven to 400 degrees. Line a baking sheet with parchment paper.
In a large bowl, whisk together the flour, baking powder, and salt. Add the cold butter cubes and use your fingertips to quickly incorporate the butter into the flour, until you're left with small pea-sized butter pieces, and a coarse meal. Put the bowl into the fridge if the butter is getting too warm.
Whisk the cold buttermilk and honey together in a measuring cup. Add it to the flour/ butter mixture and gently stir together with a rubber spatula until the flour has absorbed all the liquid. Add the chopped bacon and chives and mix until incorporated. Using your hands, gently knead the dough in the bowl a couple times until it comes together and there are no flour pieces at the bottom of the bowl. Don't overwork the dough.
Turn the dough out onto a lightly floured surface, and gently knead the dough about 3-4 times max. With a floured rolling pin, roll the dough into a rough rectangle, about ½-inch thick. Then fold it into thirds, as if folding a letter. Make a quarter turn, roll it out ½-inch thick again and fold it into thirds again. This creates layers.
Roll it out until it is ¾-inch thick. Stamp out biscuits using approximately a 2-inch cutter, or cut it into a 2-inch squares with your knife. Don't wiggle the cutter or use a rocking motion with your knife. It will ruin your layers. Just stamp or slice straight up and down. Try to stamp out biscuits as close to each other, because the ones you make from re-rolled scraps tend to not rise as high. Gather any scraps together, and stamp again. Dust the bottoms off with a dry pastry brush to remove extra flour. Place biscuits on the tray.
Place the whole tray in the refrigerator for 10 minutes. This will ensure the butter is cold, which forms steam pockets and creates height in the oven. Pop it into the oven until puffed and lightly golden brown on the tops, about 11-12 minutes. The bottoms will be darker. Place biscuits on a cooling rack. Serve while still warm, or warm them up again in the microwave. Keep extras in the freezer and warm them in the oven or the microwave.