Spring Pasta Carbonara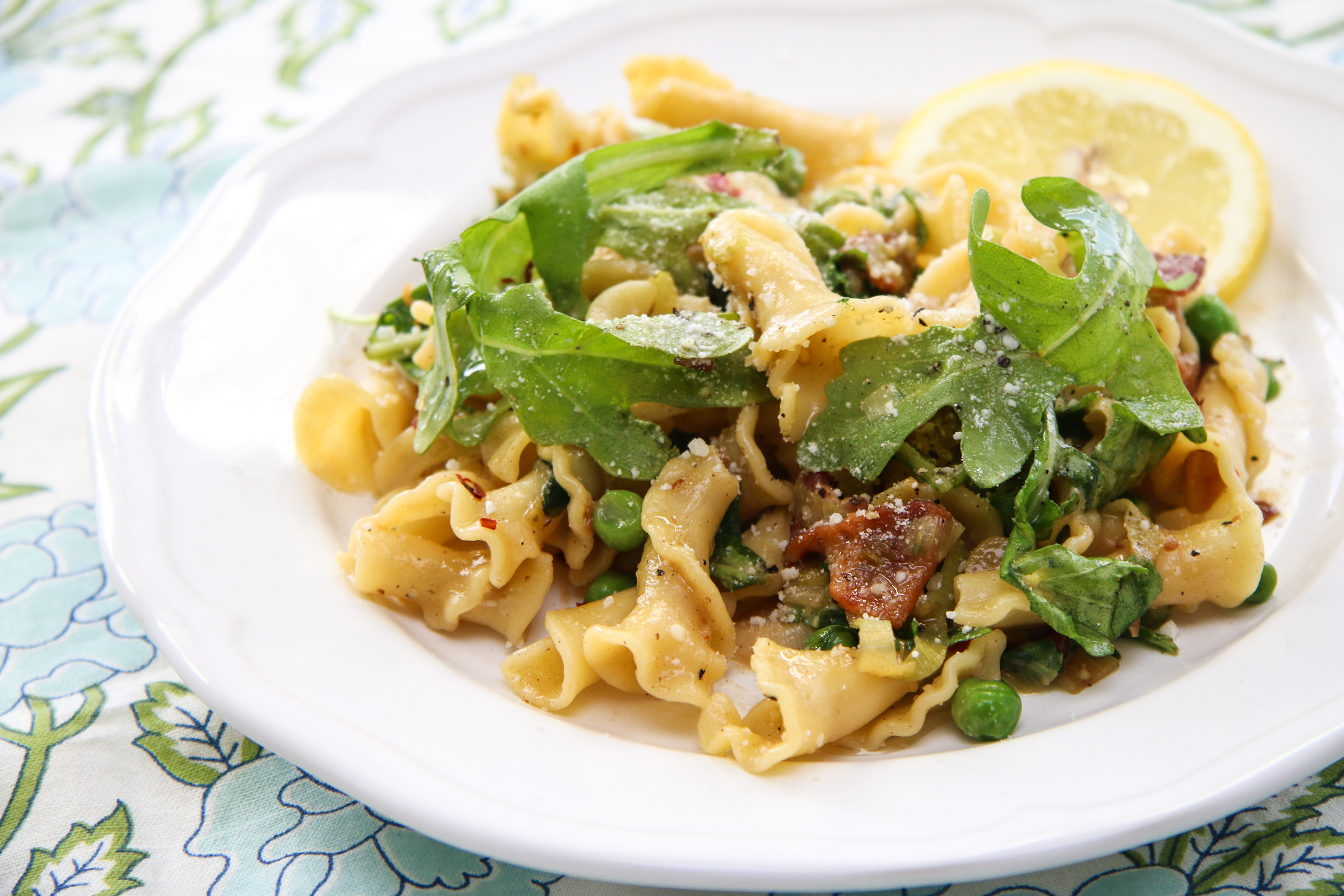 Pasta Carbonara is a dish I make often, but for whatever reason, haven't shared a recipe for it on here until now.  I'm actually pretty surprised at myself.  Part of the reason I think is because while you're making it, you kind of have to work quickly.  I guess I just didn't think to pause to take pictures.  But this Spring Pasta Carbonara is too good not to share.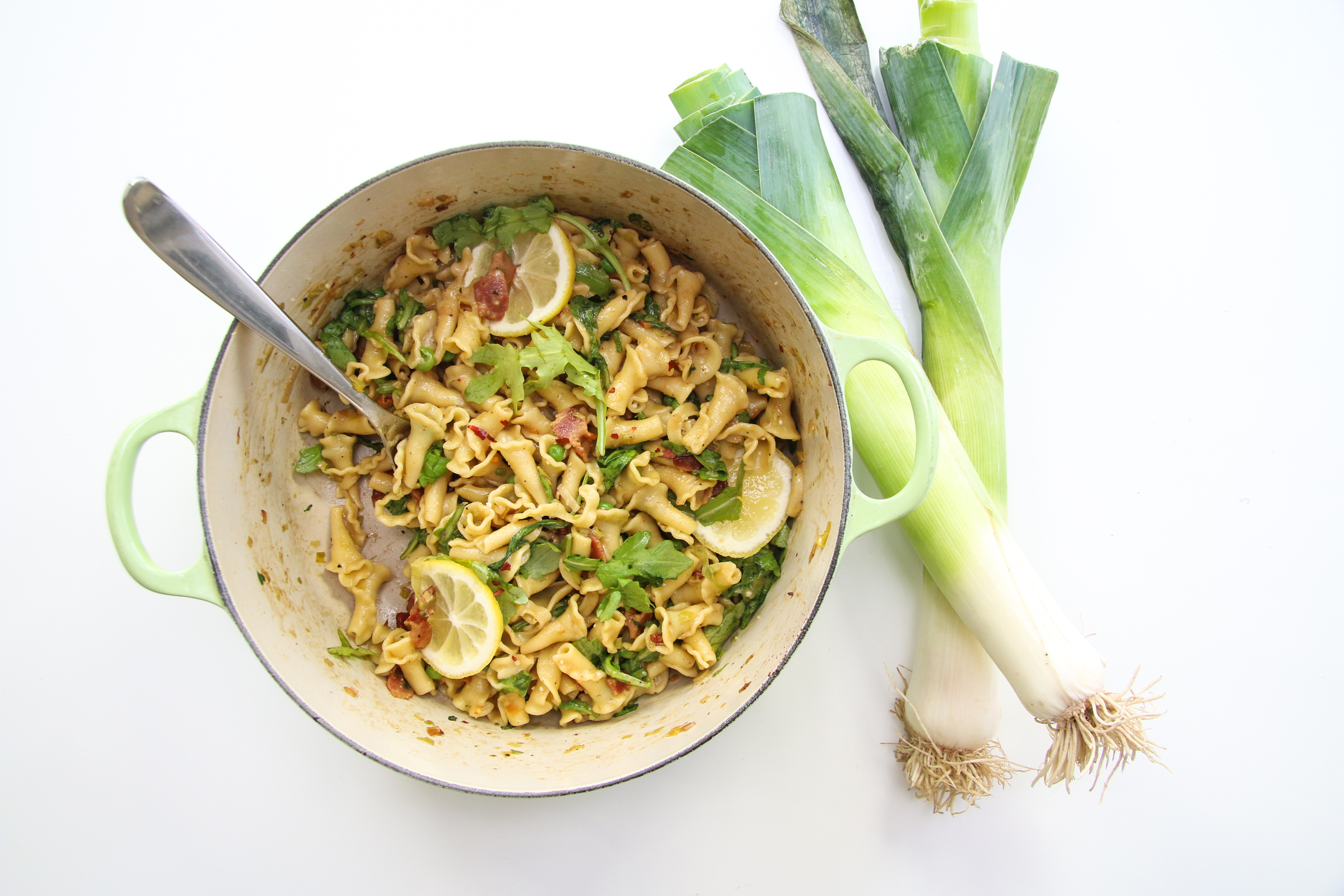 It has all the comforting flavors of classic Carbonara, with the salty bacon and the creamy sauce made with eggs and cheese.  But then I add a sprinkle of crushed red pepper flakes, and a squeeze of fresh lemon to brighten things up a bit.  Once aromatic leeks, sweet green peas, and peppery arugula join the party, winter suddenly gets pushed to the side.
When making this, the most important thing to remember is timing.  Everything should be done around the same time.  You want the pasta to be nice and hot so that the heat of it can emulsify the eggs and make a velvety rich sauce.  So you have to work strategically and  efficiently.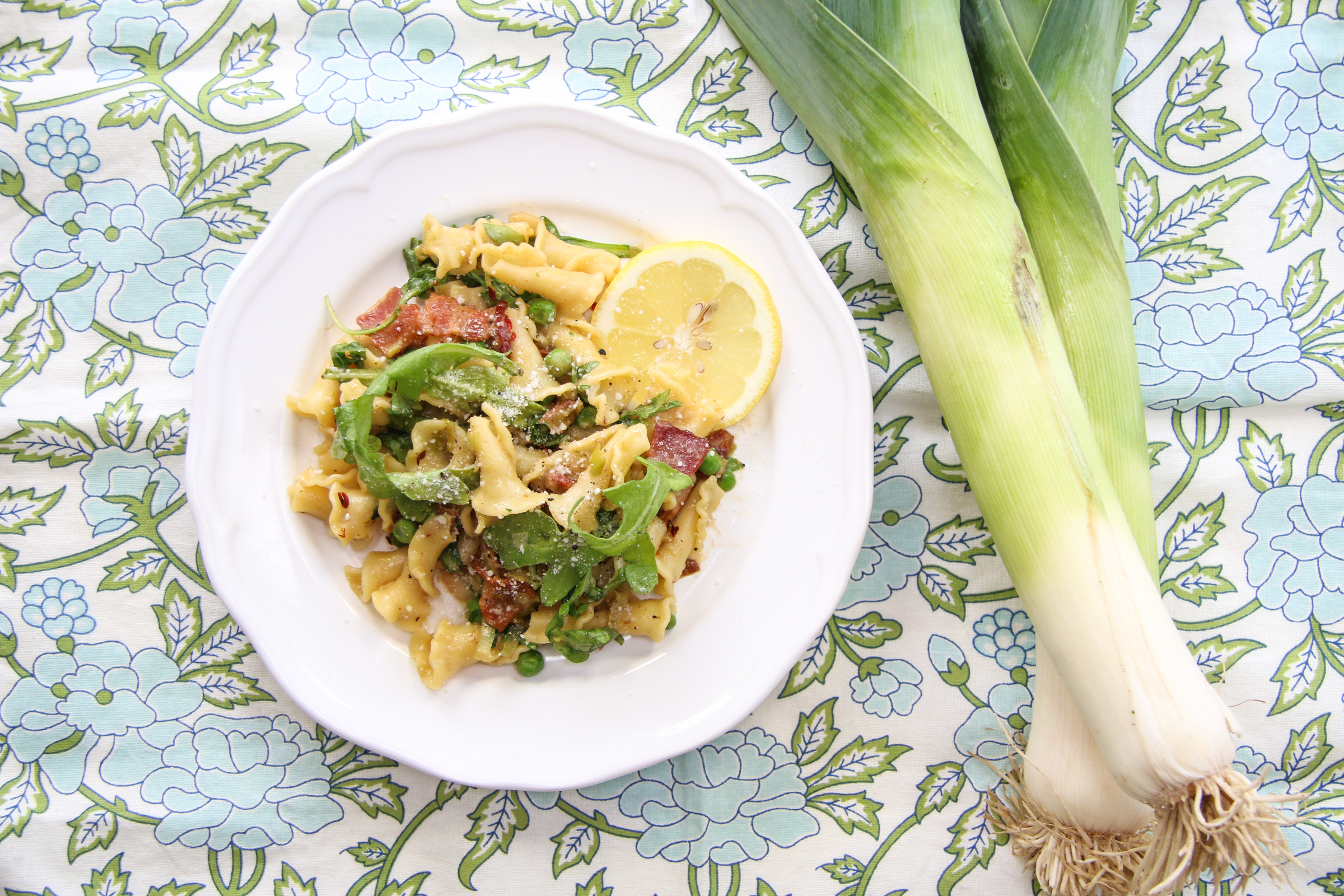 But don't be intimidated my friend, because if you can boil pasta and cook bacon, you can make this rich, vibrant, and impressive dish.  And just in case you're still not confident, luckily there's a video for you!  Watch how I make this easy Spring Pasta Carbonara step-by-step, in EPISODE 14 of Bits and Pieces:
This time around, we weren't able to shoot a behind the scenes video because it was too much to think about while trying to film this recipe.  Truth be told, I was a little worried going into it.  This is one of those recipes where you have to work on two burners at the same time, and things move kind of quickly.  I was afraid that Joe wouldn't be able to capture it all.  On top of it, our kitchen was sweltering hot that day, and I was too busy trying to prevent my face from melting.  But after some planning ahead of time, and oil-blotting sheets, thankfully, everything came out well.
The one thing you can do differently than me is that in the video, I whip up the creamy egg sauce at the end, right before I pour it into the pasta.  I did that for filming purposes.  But do yourself a favor and just get that sauce mixed up first.  I'm a big believer of prep work, so have that ready to go before you drain your hot pasta.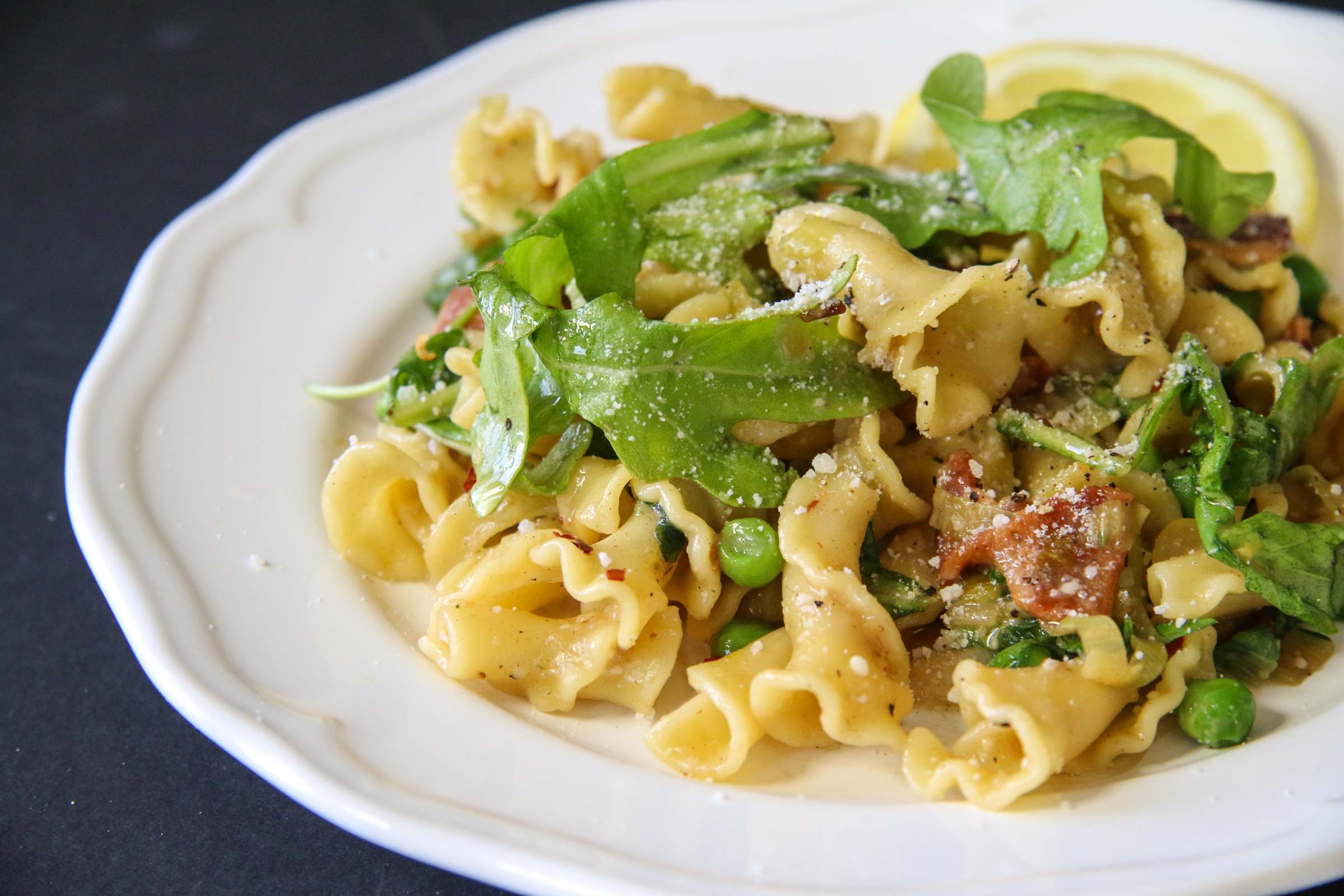 Lastly, if you are a Carbonara purist, I'm not going to be offended if you go the classic route of simply eggs, bacon, and cheese.  You can still use this recipe and it will still be awesome.  But for me, that zing of the lemon, little kick of spice from the pepper flakes, and the spring vegetables really makes this dish magical.  I think it cuts the richness a bit and makes your taste buds dance.  Plus, my grandma used to always say that the color green was "healthy for the eyes."  I gotta say, I think she was right about that.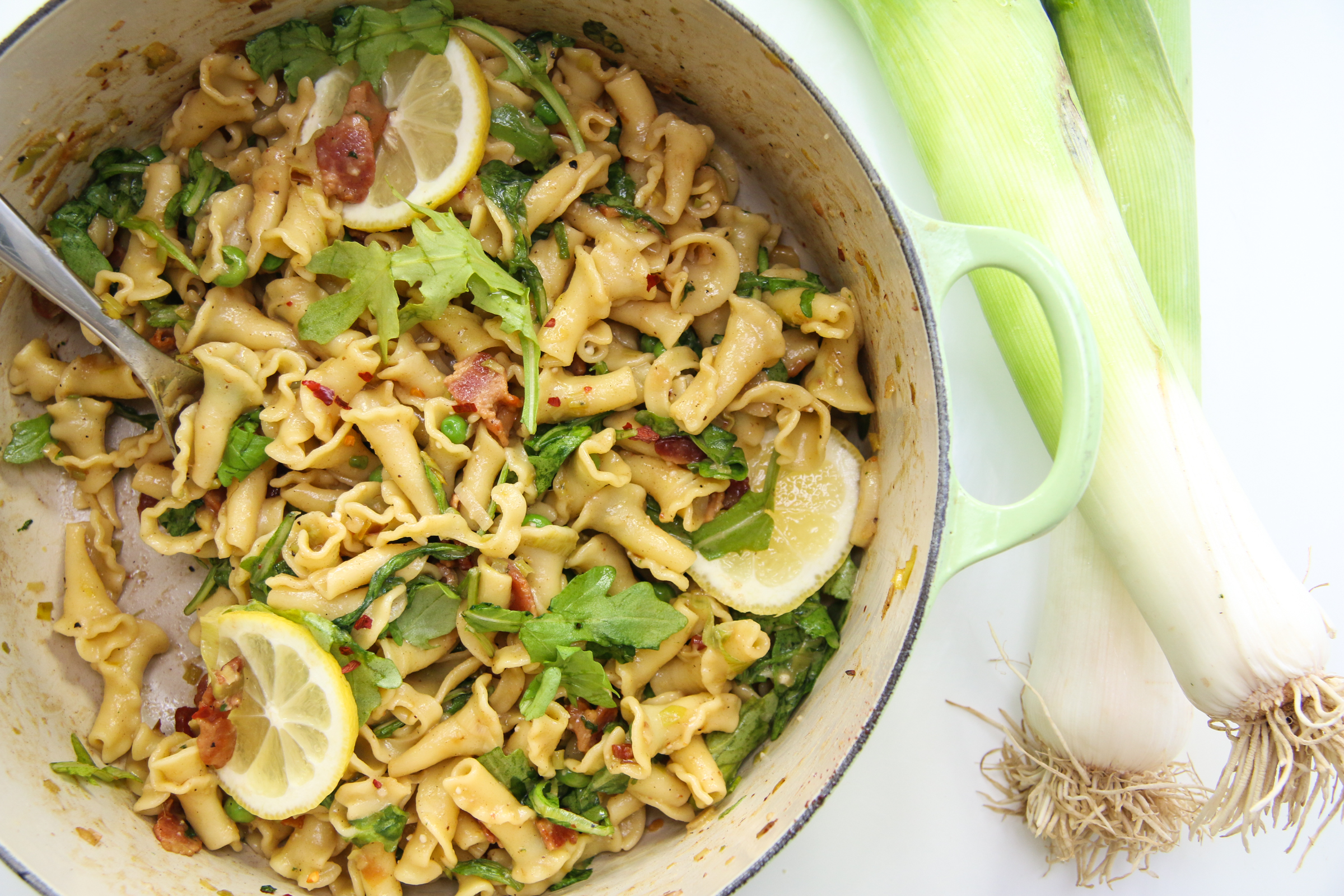 Spring Pasta Carbonara
This is Pasta Carbonara with a Spring time twist! It's creamy, lemony, and loaded with spring time veggies. It's amazing what you can make with eggs and bacon!
Ingredients
5 slices thick cut bacon, cut crosswise into 1-inch pieces
1-2 leeks (white and light-green parts only), halved lengthwise, rinsed well, and thinly sliced
¼ teaspoon crushed red pepper flakes
½ cup frozen peas
¾ pound short pasta, such as campanelle or orecchiette
¼ cup reserved starchy salted cooking water from the pasta
2 large eggs
¼ cup grated Parmesan cheese, plus more for sprinkling on top
Zest of half a lemon, Juice of half a lemon
2 packed cups arugula
Salt and pepper to taste
Instructions
Set a large pot of salted water to boil. In a wide pot or large pan, cook bacon over medium, stirring occasionally, until crisp. With a slotted spoon, scoop out the bacon onto a paper towel-lined plate to drain. Pour the rendered fat into a bowl and reserve. Add back 2 tablespoons of the drippings to the pan. Add leeks, sprinkle with salt and pepper and cook, stirring often, until leeks are soft and golden brown, about 5-7 minutes. Sprinkle with the crushed red pepper flakes. Add back the cooked bacon, as well as the peas, just to warm them through, then turn off the heat.
Meanwhile, while the leeks are cooking, add pasta to the pot of boiling water and cook according to package instructions. Scoop out ¼ cup of the starchy salted cooking water and reserve. While you're waiting for your pasta, in a small bowl, whisk together eggs, Parmesan cheese, lemon zest, and lemon juice.
Drain pasta and immediately add to the bacon, leeks, and peas, along with the reserved cooking water. Add another tablespoon of reserved bacon drippings to the pasta. Make sure your pan is off the heat, and add egg mixture, while stirring vigorously with the hot pasta. Stir quickly so the eggs don't scramble. Fold in the arugula and let the warmth of the pasta wilt it slightly. Season with salt and pepper if necessary. Sprinkle with more cheese if desired and serve immediately.