Turkey and Cheese Puff Pastry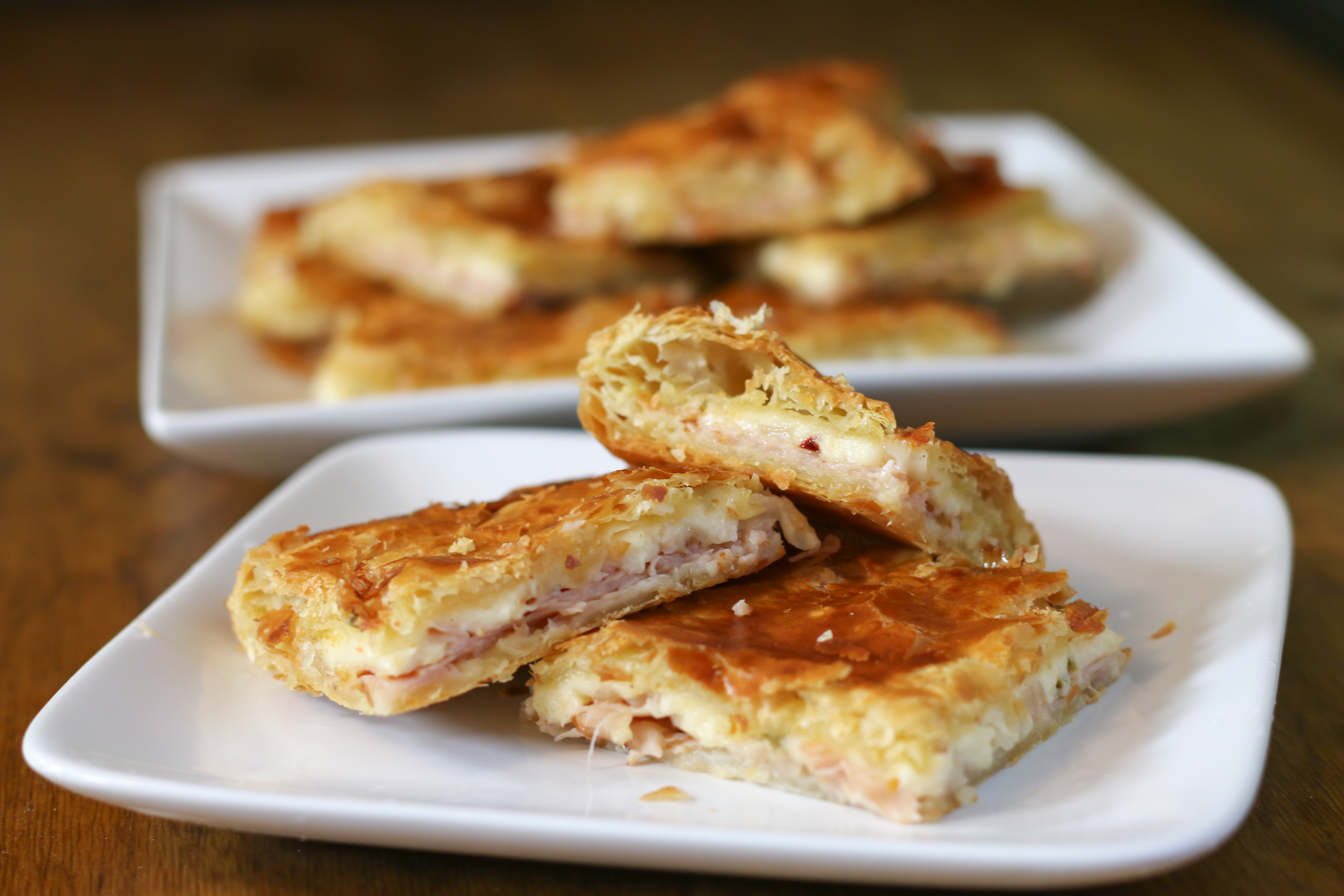 Okay, so I have something to confess.  We filmed this video with the intention of posting it during the holidays, because to me, puff pastry screams "holiday entertaining."  It's usually during the holidays where we're all like, "buttery flaky goodness stuffed with cheese? Sure… bring it on!" And then after the New Year, we're usually like, "oh man… hand me some green juice!"
I know, and I get it.  I totally have kale in my fridge right now too.  But in case you didn't read my previous entry, we've been a little busy.  So we filmed this video before Christmas and then didn't have time to edit it until now.  Eeeks!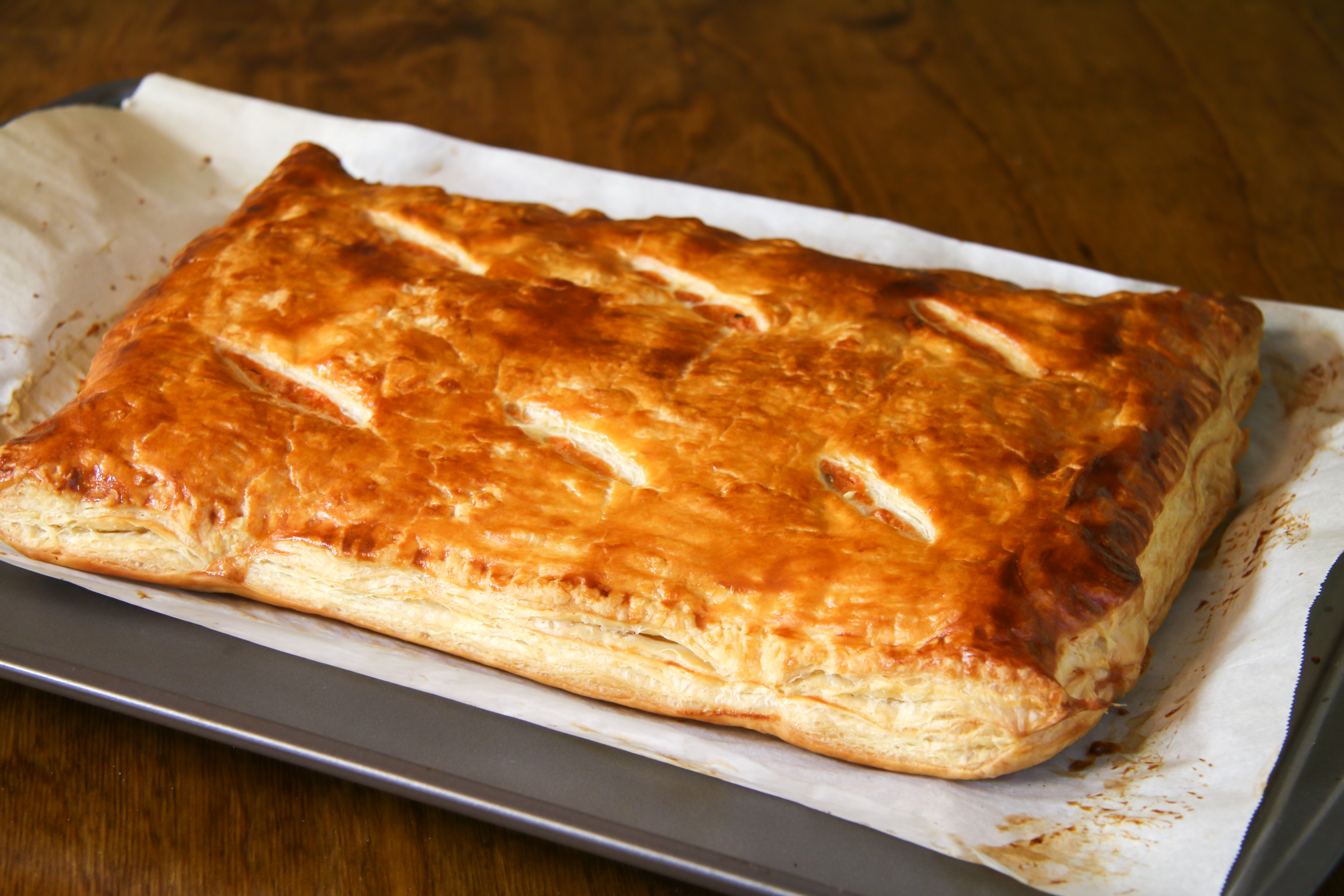 But you'll forgive us for the delay as soon as you sink your teeth into this baby.  I think dreams come true when spicy pepper jack cheese, savory turkey, and sweet sauteed shallots become friends.  And let's be honest, it doesn't hurt when they're all being hugged by a flaky soft buttery blanket either.  And speaking of hugging, you can always make this for Valentine's Day.  It's perfect for cold weather comfort, and each bite warms your soul.  Interested?  Well, then watch Episode 7 of Bits & Pieces to see how I throw it all together:
You guys, the first time I bit into this baby, my eyes closed.  Yeah, like in a commercial.  When I was testing this recipe out, Joe and I decided to eat it for lunch, hot out of the oven, with the cheese all oozing out of it.  We ate it with some tangy tomato soup.
BEST IDEA EVER!  Joe was SO happy he married me.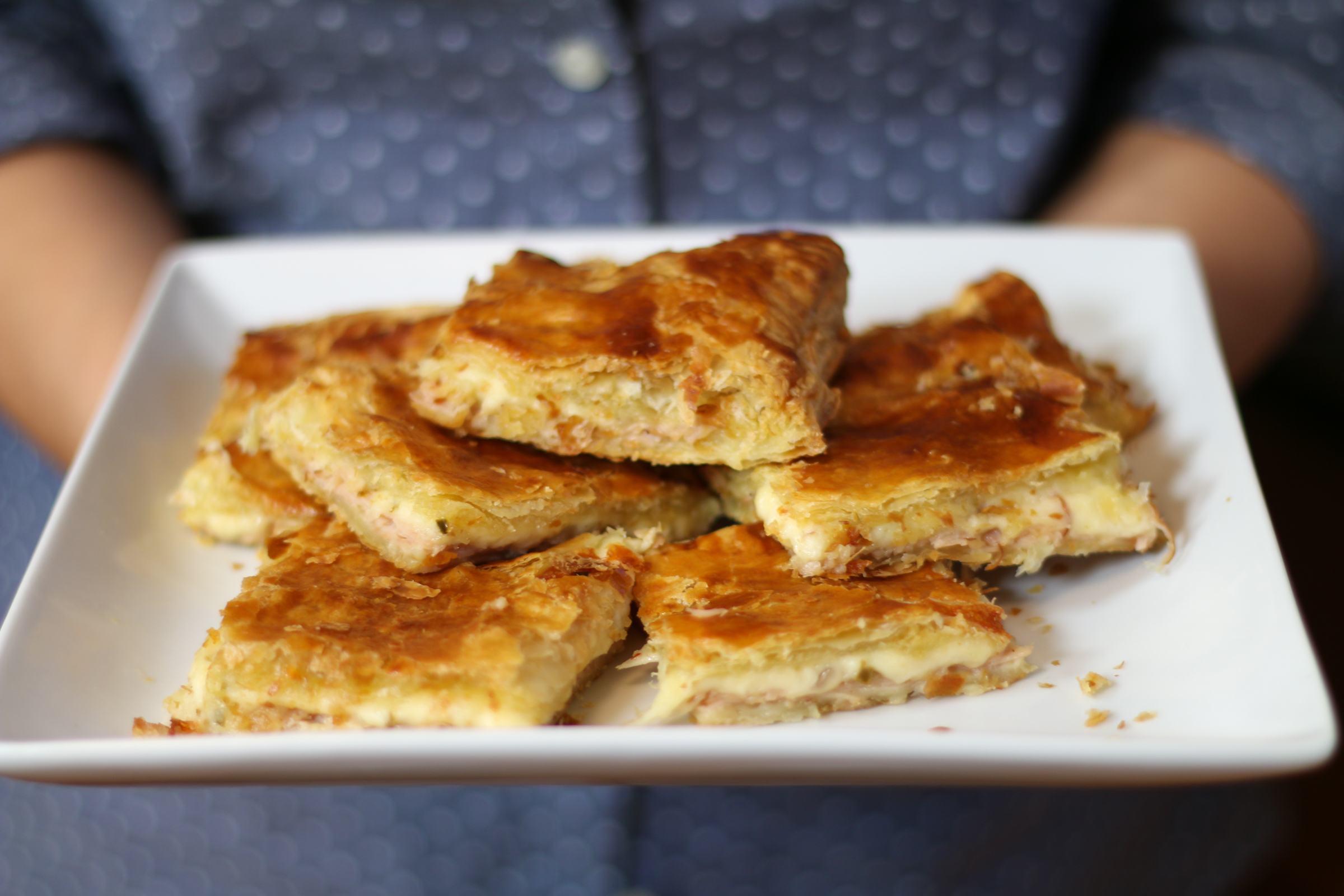 Now this appetizer is supposed to feed 6 (easily), but I'm a little embarrassed to say that we pretty much demolished the entire thing ourselves in one sitting.  Yeah, like I said, "hand me some green juice!"  So whether you make this for a party, or eat it as a meal with a spring mix side salad and a cup of tomato soup, you'll be so happy you gave this recipe a try.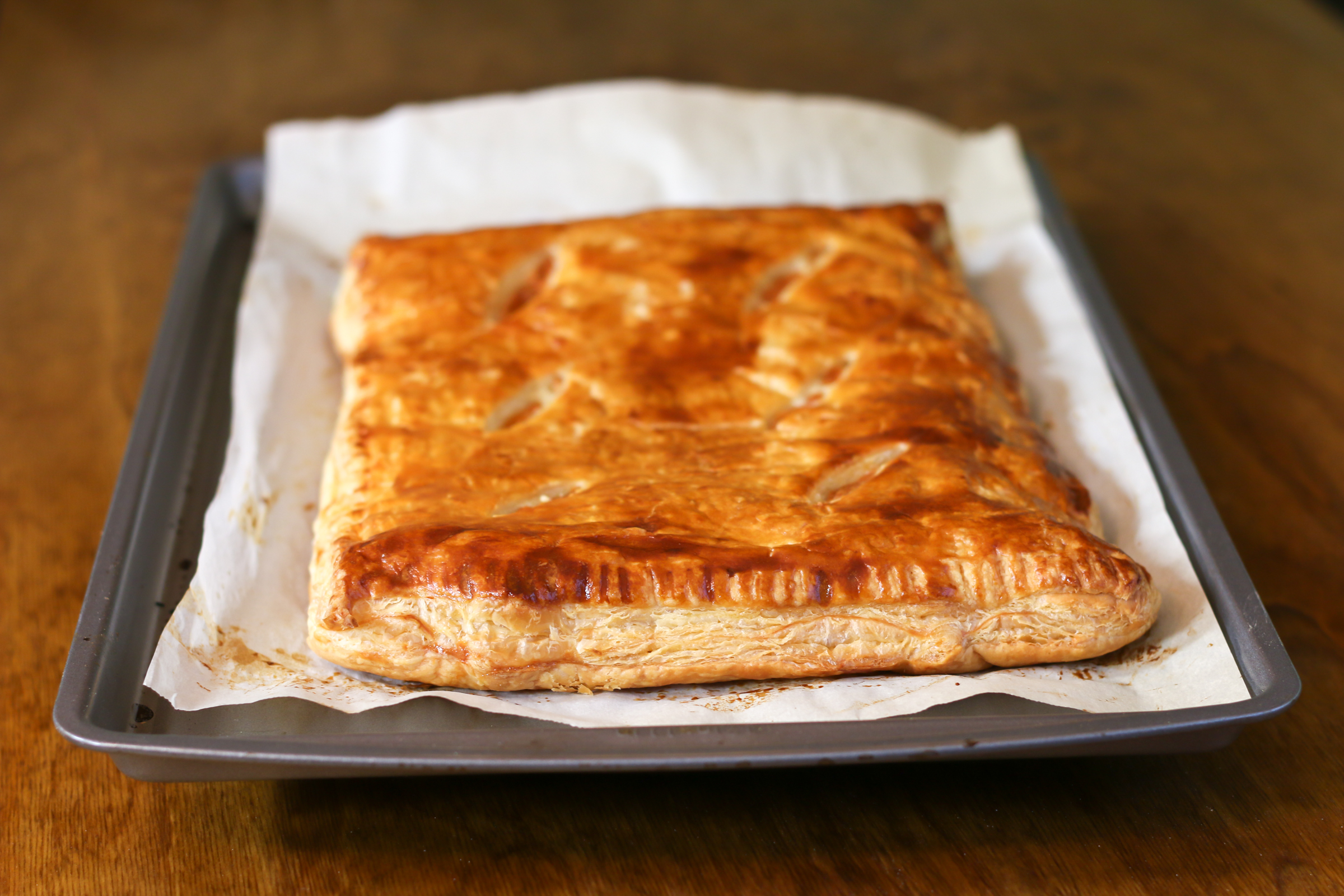 The good thing about puff pastry is that you can buy it when it happens to go on sale and keep it stashed away in your freezer.  Then it will be ready for you whenever you're in the mood for some easy comfort food that seems impressive.  And even though I used honey turkey and pepper jack cheese, seriously you can go nuts with whatever combination of deli meat and cheese you have on hand.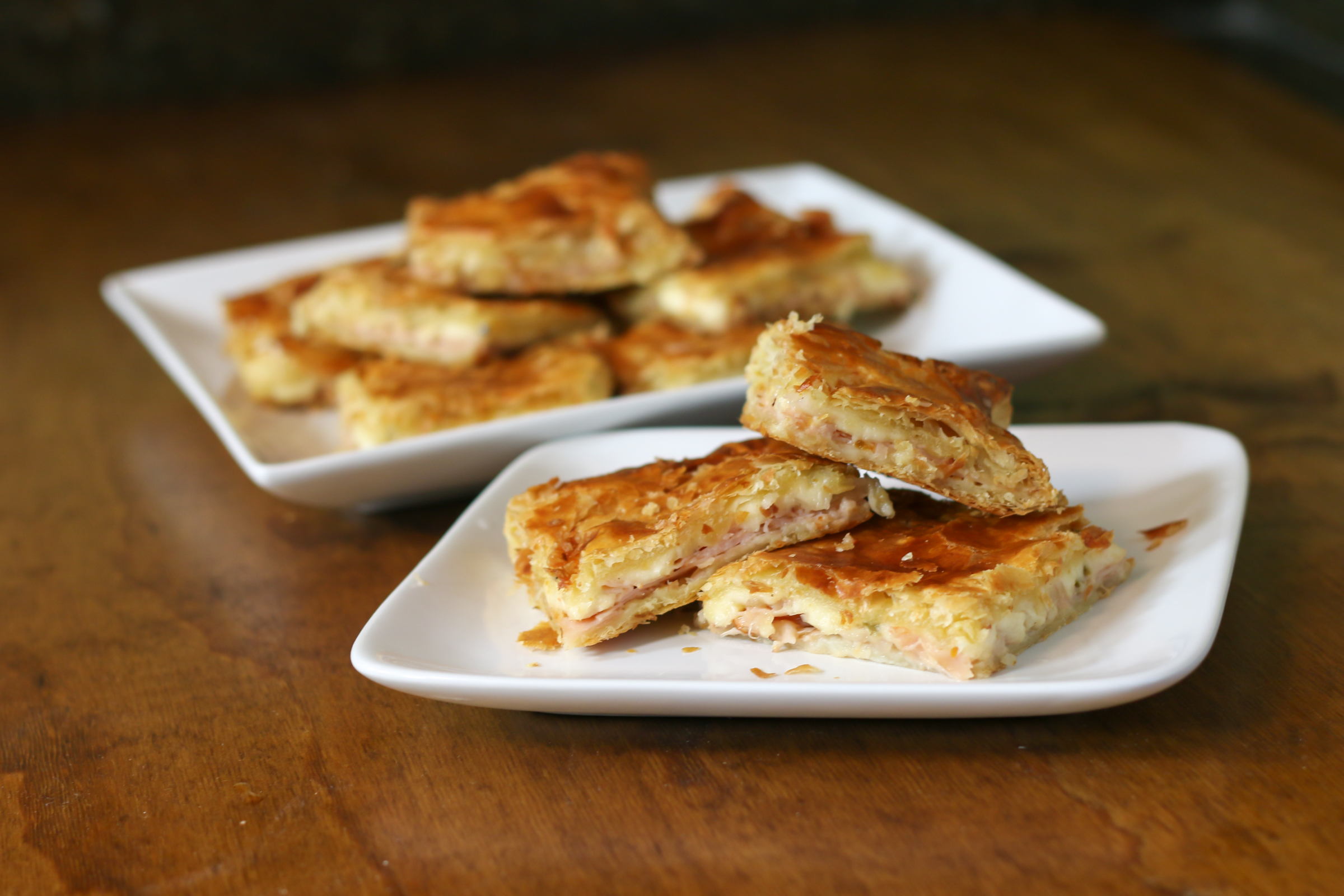 As long as you have sandwich ingredients in your fridge, you can make this.  I kept wondering how amazing it would've been with a smear of pesto or horseradish sauce.  So go ahead and play with your food.  But try out this combination first because it JUST WORKS.  Oh and if you don't want to be a pigs like us, feel free to keep your leftovers in the fridge and pop it into a toaster oven to heat it up the next day for breakfast.  Still good.  But then again, I may have eaten it cold right out of the fridge too.
Turkey and Cheese Puff Pastry
This buttery, flaky, and cheesy appetizer is a definite crowd pleaser, but it's even more amazing as lunch with a bowl of tomato soup.
Ingredients
1 package (2 sheets) frozen puff pastry, fully thawed
¼ pound sliced deli honey turkey
8 ounces (½ pound) pepper jack cheese, sliced thinly
2-3 shallots, sliced
1 egg, beaten with 1 tablespoon water (egg wash)
Instructions
Preheat the oven to 400 degrees F. Place a piece of parchment paper on a sheet pan.
In a pan over medium high heat, add a little oil and then the shallots. Sprinkle lightly with salt and pepper. Saute until translucent and softened. Transfer to a bowl to cool.
Lay 1 sheet of puff pastry flat on a floured surface and carefully roll it out to 10 by 12 inches. It's okay if it looks ugly and uneven at this stage. Transfer it to your sheet pan. Place a layer first of turkey, then cooled shallots, and then cheese, leaving a 1-inch border. Brush the border with the egg wash.
Place the second sheet of puff pastry on the floured board and roll it out to 10 by 12 inches. Place the second sheet on top of the filled pastry. Trim the edges straight with a sharp knife and press together with the tines of a fork. Brush the top with egg wash, then carefully cut a few slits in the top to allow steam to escape.
Bake for 25 to 30 minutes, or until puffed and golden brown. Check to see that the middle of the tart on the bottom is fully cooked too. The edges tend to cook faster. Allow to cool for a few minutes and serve hot or at room temperature.