Autumn Vegetable Stew with Cheese Toasts
I guarantee you will be rubbing your satisfied belly and smiling after a bowlful of Autumn vegetable stew with crispy chewy cheese toasts.  Because, let's be real people, this is just like an awesome grown up cousin of grilled cheese and tomato soup… and who doesn't like that?  Not only is this a good recipe to have in mind for meatless Mondays, but it's a great way to get rid of some of your vegetables about to call it quits in your fridge.  It's so flexible that you can basically throw in anything you want and it will work.  
I went to a local farm stand and went a little crazy.  That's the thing about those farm stands… everything looks so good when sitting next to cute hand written signs, and burlap filled wooden crates.  At least that's how they get me.  But that's why after rummaging through my fridge, I knew it was time to whip up a stew using up all my seasonal Fall time goodies.  You can watch how I make it in Episode 2 of Bits & Pieces:
Okay, fine…if you absolutely must have meat, you can even serve this with some sausage.  I admit, Joe and I do enjoy eating this with plain bread and some slices of pan seared kielbasa too.  But really, you don't have to do all that, especially when there's toasty bread and gooey cheese in the mix.  The stew is vibrant, rich, and bursting with fresh flavor.  It's super hearty, filling, and will comfort your soul.  The red pepper flakes add a nice kick, so it's also the perfect thing to soothe you when you're feeling under the weather.  But I think it's most delicious when enjoyed on the couch, snuggled up with a blanket, listening to the sound of rain.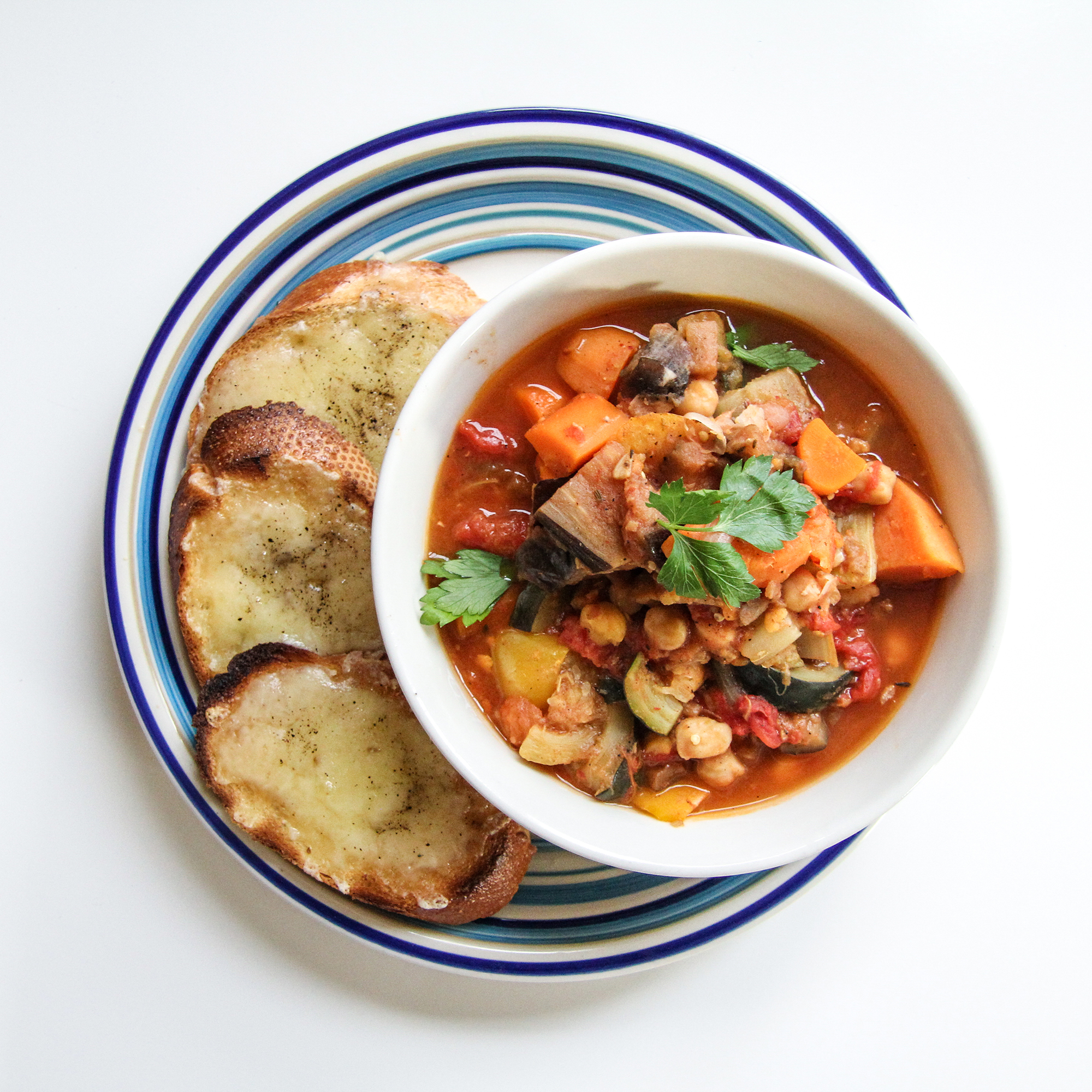 Autumn Vegetable Soup with Cheese Toasts
This stew is completely flexible and allows you to use up any veggies in your fridge that you want. Hearty seasonal vegetables, cheese, and bread. What's not to love?
Ingredients
2 tablespoons Olive Oil
1 Onion, sliced
3 cloves Garlic, minced
1 Carrot, peeled, and chopped
2 stalks of Celery, chopped
1 Sweet Potato, peeled and chopped
1 Eggplant, chopped
1 Zucchini, chopped
1 Bell Pepper (any color), seeded and chopped
1 (15-ounce) can Chickpeas, rinsed and drained
1 (28-ounce) can Peeled Whole Tomatoes
1 cup Vegetable or Chicken Broth
½ teaspoon Crushed Red Pepper Flakes
1 teaspoon dried thyme
Salt and pepper
For the Cheese Toasts
1 large loaf French or Italian Bread, cut into ½-inch thick slices
1 Garlic clove, peeled, with the tip cut off
Shredded Monterey Jack Cheese
Black pepper
Instructions
Heat a large pot over medium heat. Add the olive oil, then the onions, carrots, celery, and garlic. Sprinkle with a little salt and let them sweat out a bit. Prepare the rest of the vegetables. Chop and add to the pot in order of longest cooking time: sweet potato, eggplant, zucchini, bell pepper, and chickpeas. Season every layer with salt and pepper as you add it to the pot. Add the thyme and chili flakes.
Cover and cook for 10 minutes, stirring occasionally. Preheat your broiler.
Add tomatoes, with their juice, to a large bowl and with your hands, gently squeeze them to break them apart. Uncover the pot, add the tomatoes and stock and cook for a few more minutes until some of the liquid has absorbed and the vegetables are tender. Taste for seasoning, and adjust with salt and pepper if necessary.
Toast bread under broiler. Be sure to watch it. Rub with the cut tip of the garlic clove. Top with cheese and black pepper. Return to the broiler just to melt cheese. Serve cheese toasts with bowls (or mugs) of vegetable stew.