Pappardelle with Sausage and Kale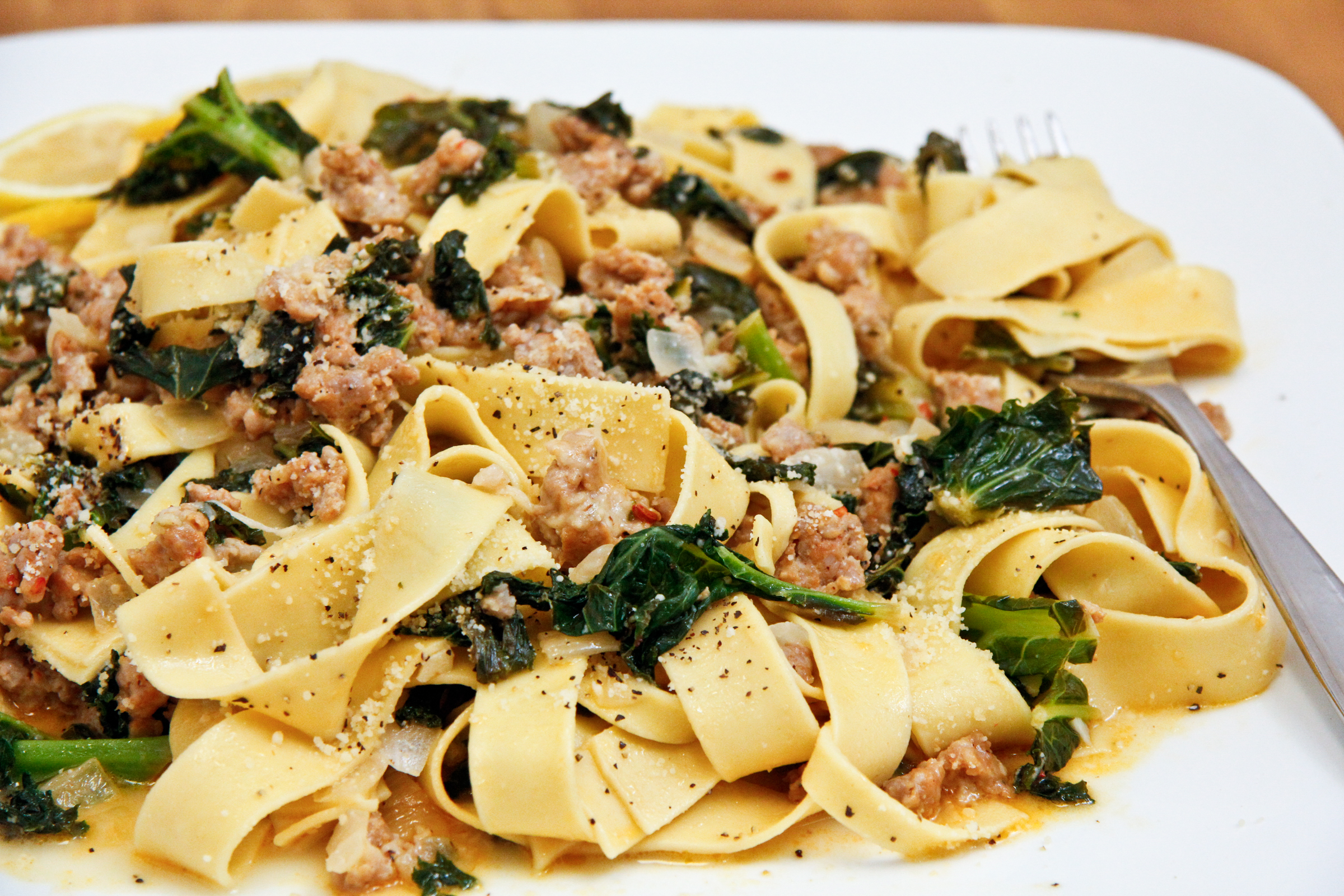 Marriage is all about compromise. Shortly after getting married, I soon realized that my husband is not a fan of "sauce-less" pastas, which means, he doesn't like pasta that isn't smothered in a red sauce. For me, I tend to like pastas that are gently kissed with garlic and olive oil, and taste "light." He thinks that means it tastes "bland." So to be a nice wife, I tried to only make pastas that included at least some kind of tomato.  After the third year, I finally decided he was missing out and it was his time to compromise!  
I slowly started to introduce flavors that didn't taste like it came from a jar of "Ragu."  But I wanted to be mindful of the fact that light sauces taste bland to him, so I started playing with simple ingredients that would still make a major impact.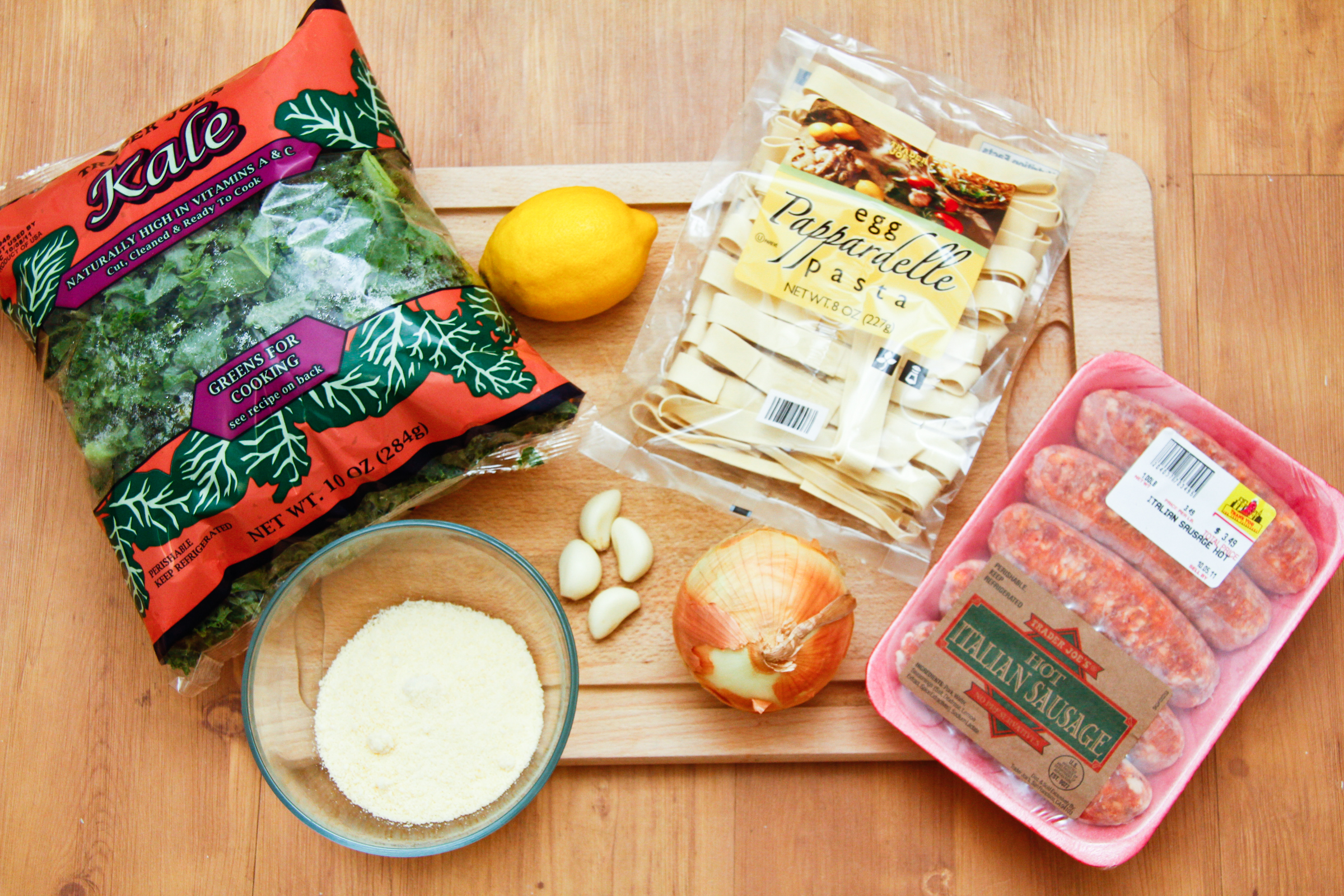 By the way, I love, LOVE, love wide flat noodles.  I have no idea why.  I think it's a textural thing.  You may have watched my video of my Trader Joe's grocery haul.  I showed you that I bought dried pappardelle, hot Italian sausage, and kale.  So I figured that they would be fantastic altogether in one pasta dish.
For me, I would've loved it just with a little garlic and oil, but to keep Joe in mind, I added some sharp salty Parmesan cheese, and a squirt of fresh lemon juice.  Man, I tell you, that really perks up the flavor and makes this simple pasta a real treat.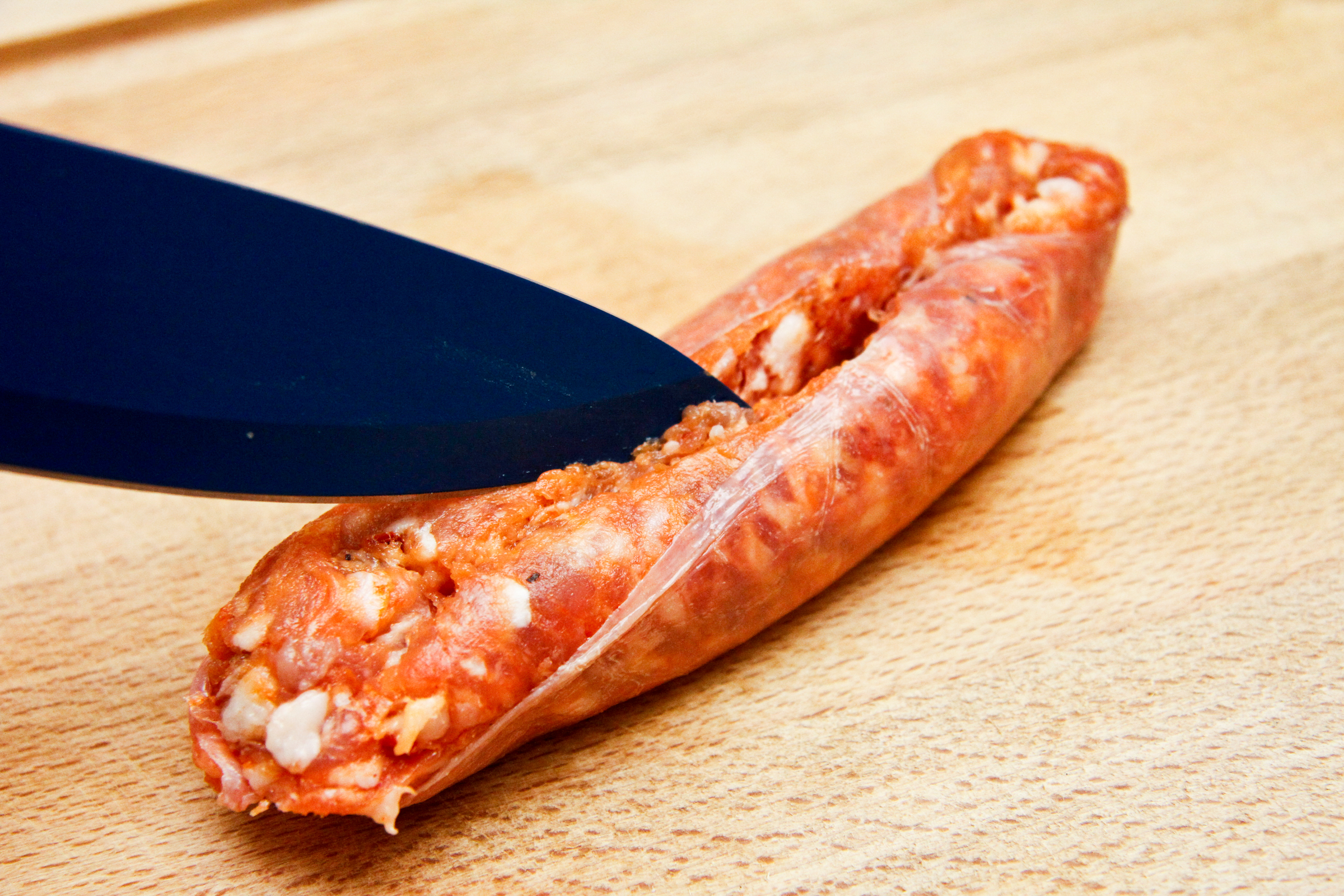 The key to the flavor in this dish is of course the hot Italian sausage.  About 90% of the time, I remove sausage out of its casing, and crumble it into a pan.  I use it in place of ground beef a lot, and it adds zing to any pasta dish.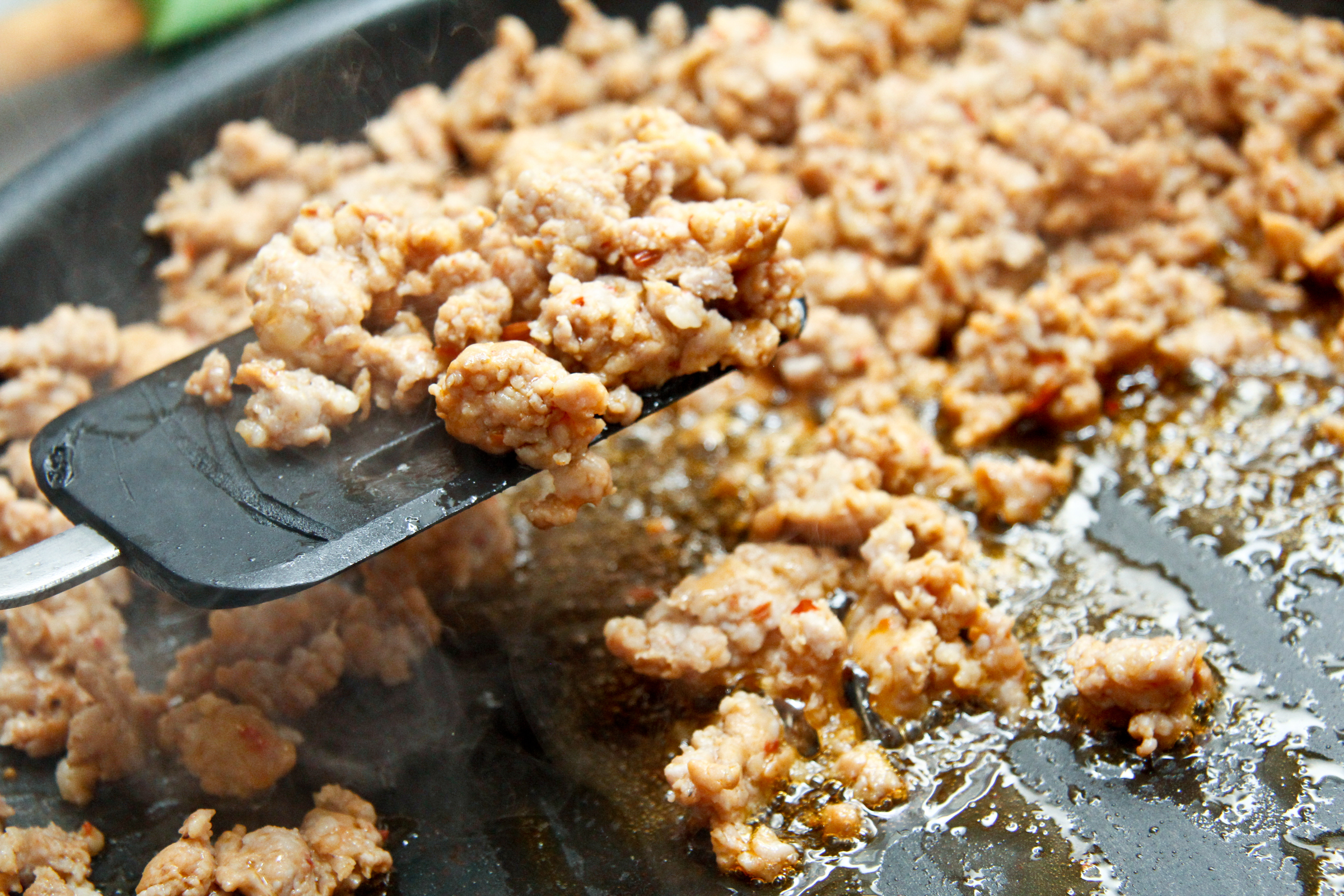 Once it's browned and fully cooked through, remove it with a slotted spoon and set it aside.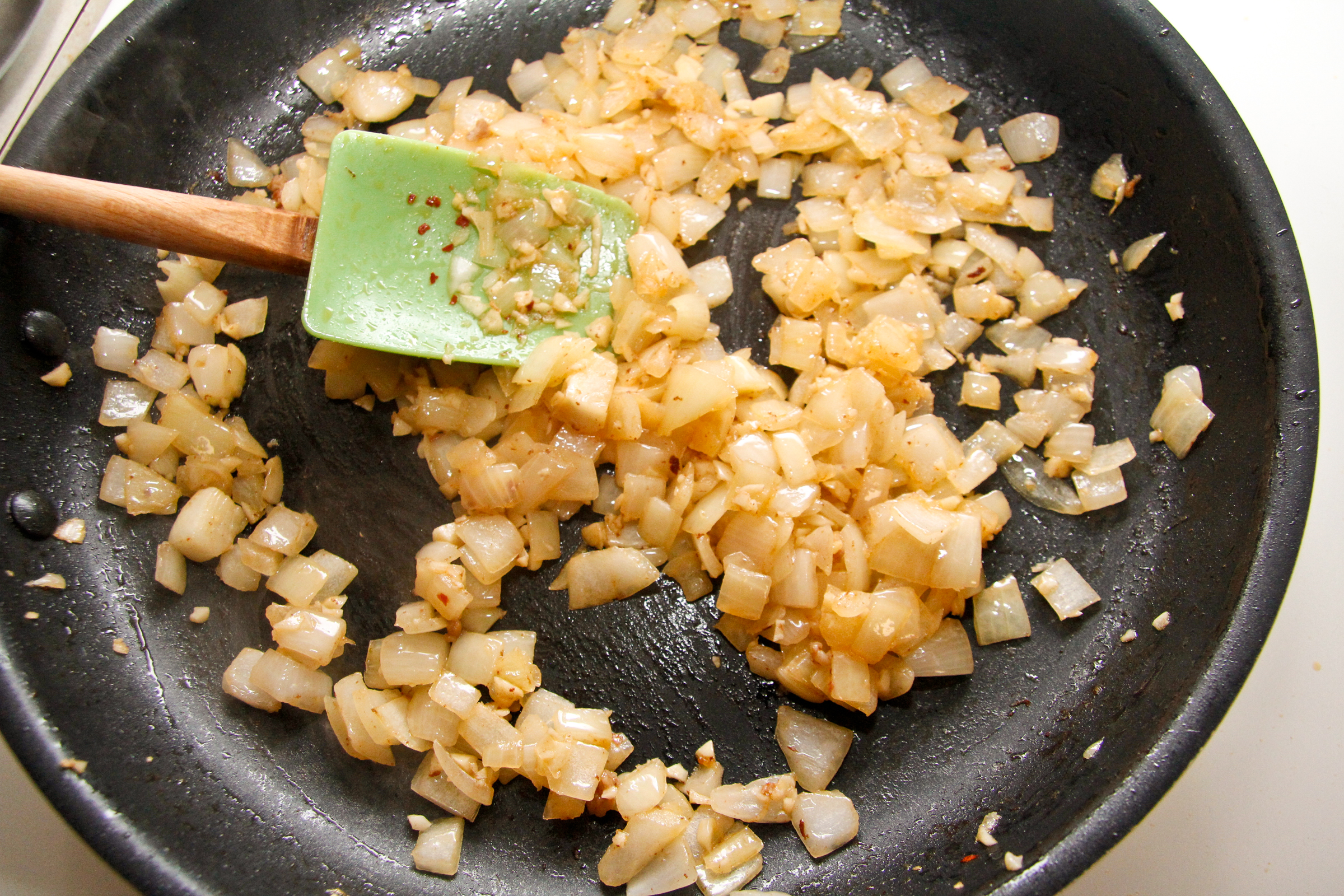 Save that reserved spicy sausage oil to saute your diced onions and garlic.
If you haven't discovered kale in a bag, you are missing out.  The work is done for you, so you just dump it into the pan.  In this case, I chose to blanch it in some salted water first.  You have to boil the pasta in salted water anyway, so you might as well get two uses out of it.  Kale can be slightly bitter, so the salted water helps remove that bite.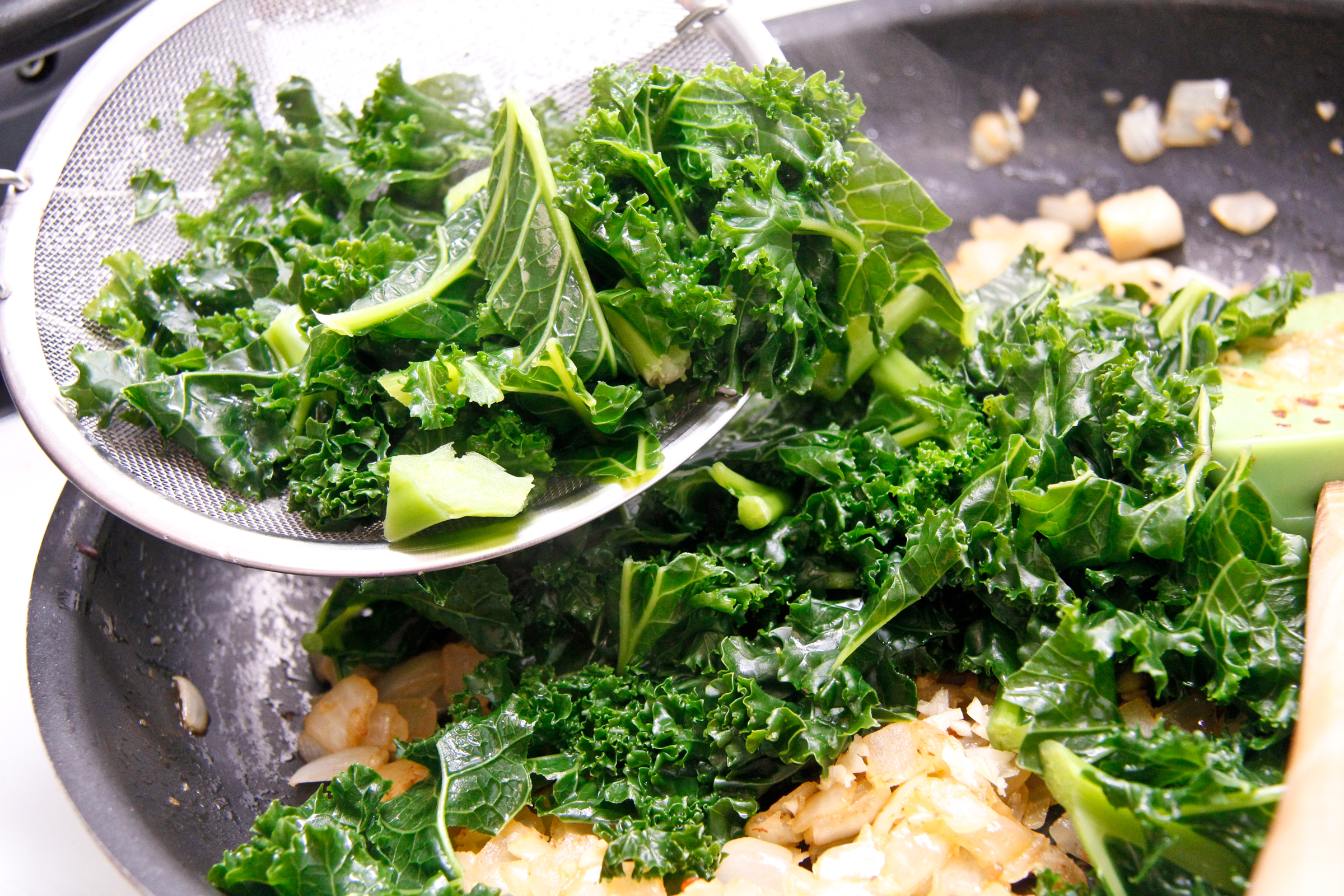 Then fish out the cooked kale with a skimmer and add it to your pan of onions.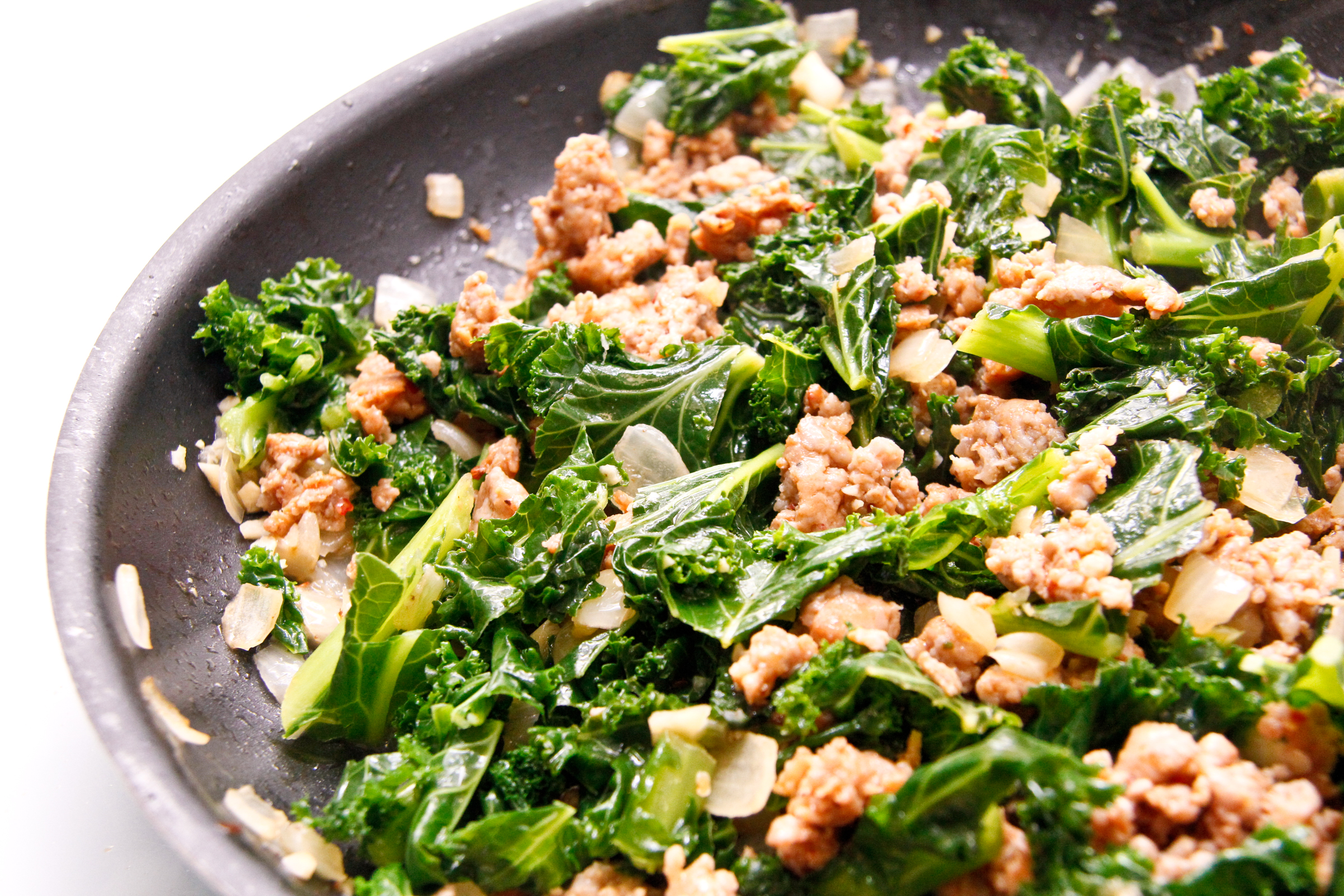 Then add back your sausage.  You can turn the heat off the pan until your pasta is cooked.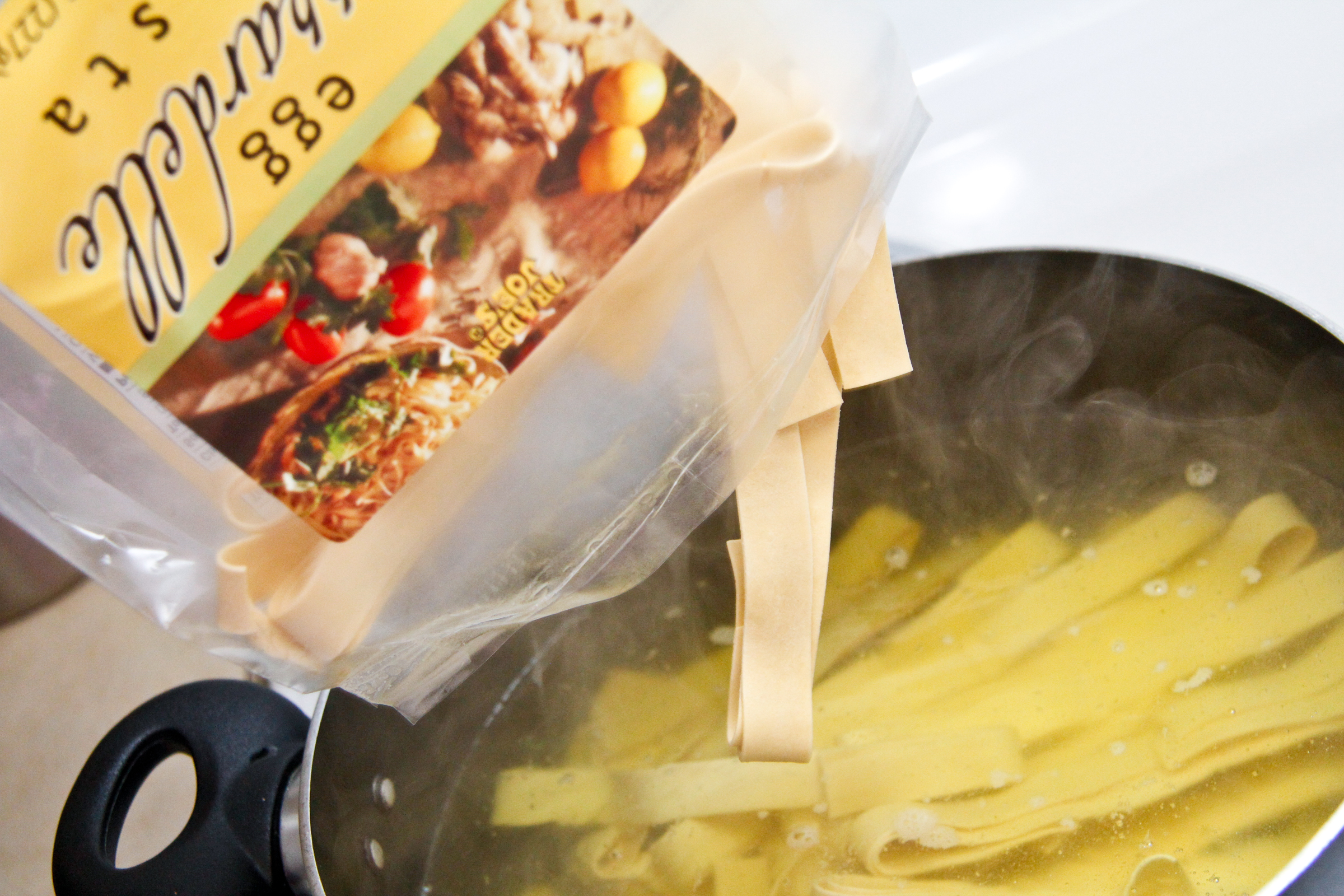 Tumble in your dried pappardelle…yup in the same water you cooked your kale.  And cook until it's al dente.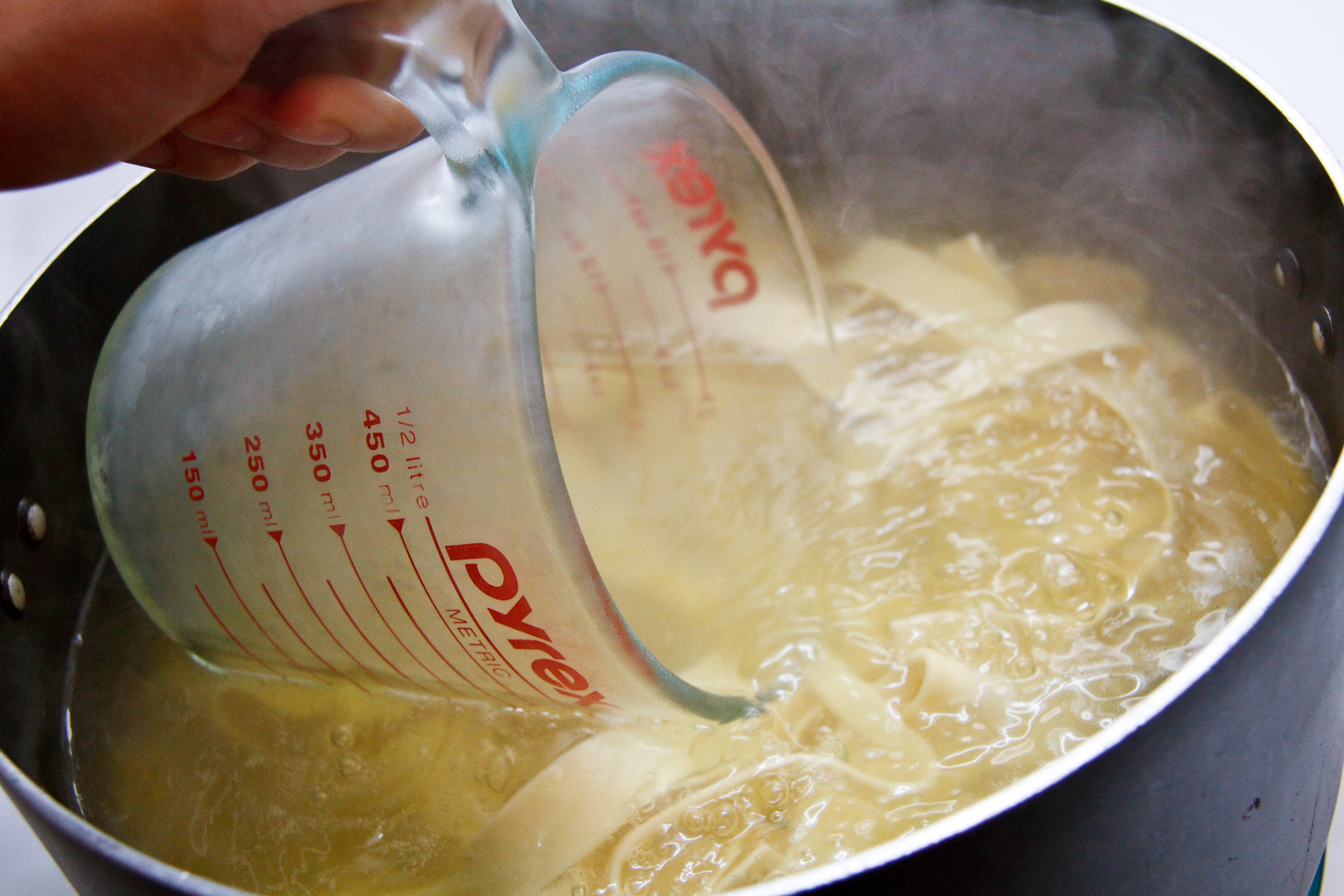 Turn the heat back on the pan at this point.  Pull out about a 1/2 cup of the salted starchy cooking liquid and pour it into the pan.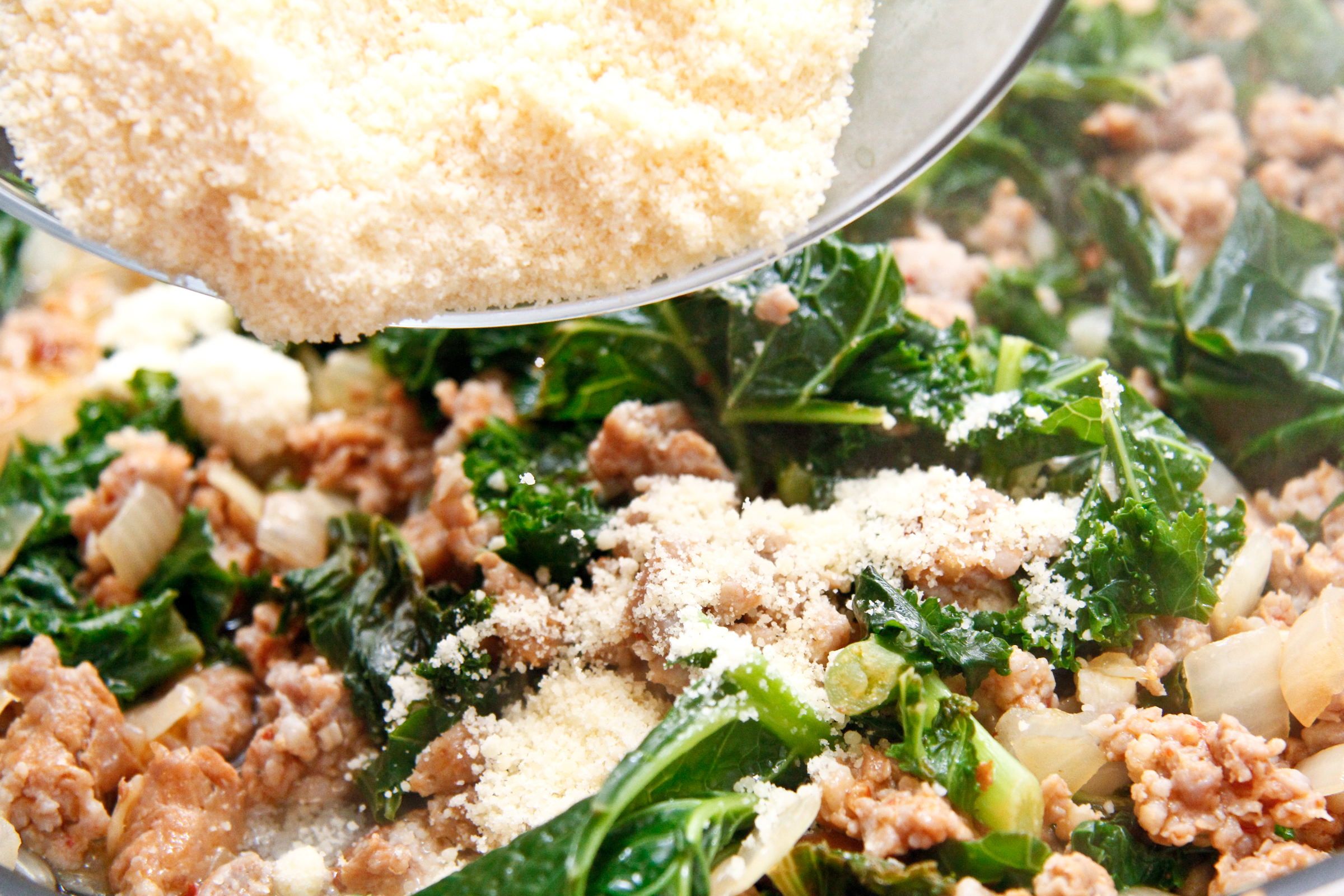 Add some grated Parmesan cheese.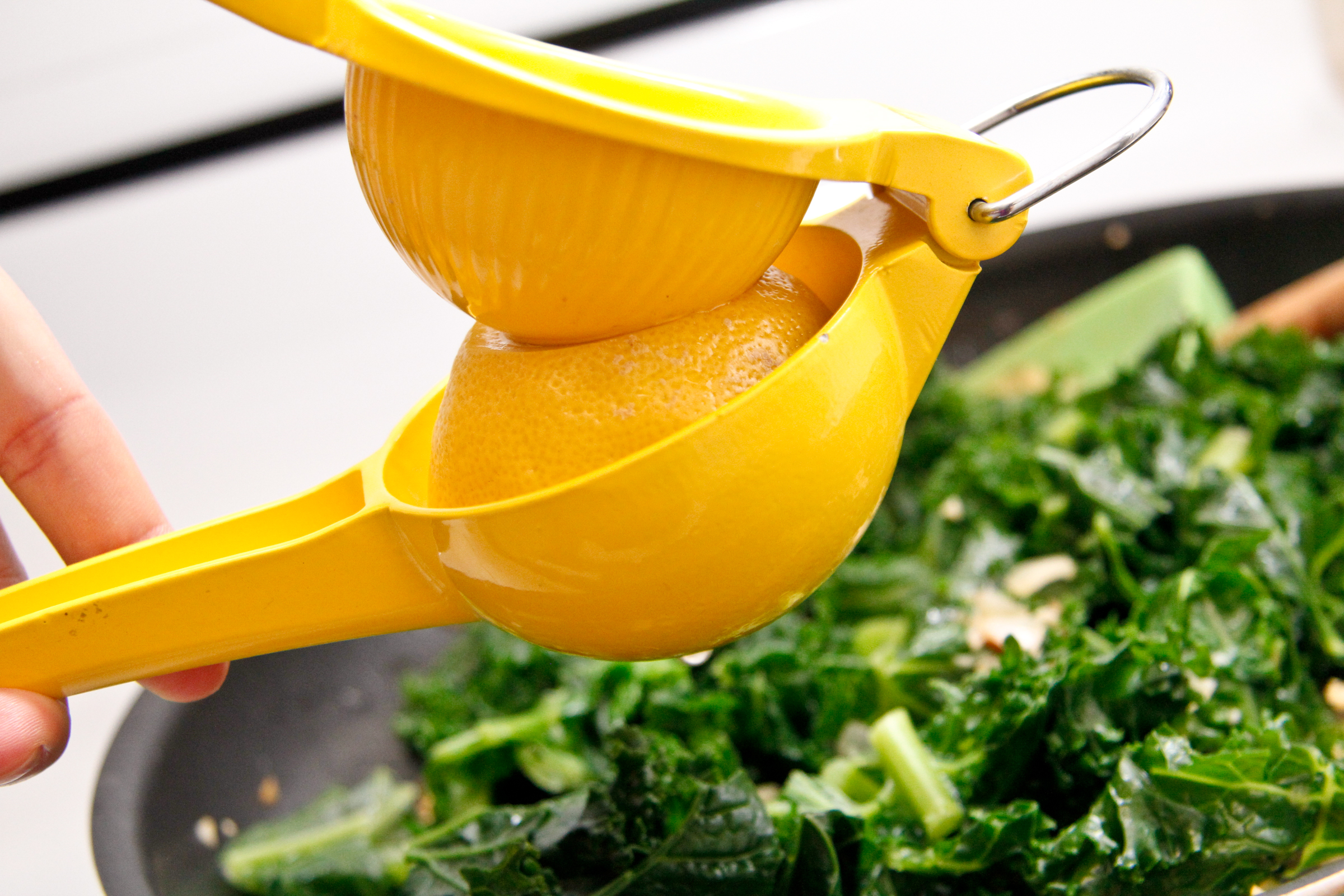 Squeeze on the lemon juice for a little freshness.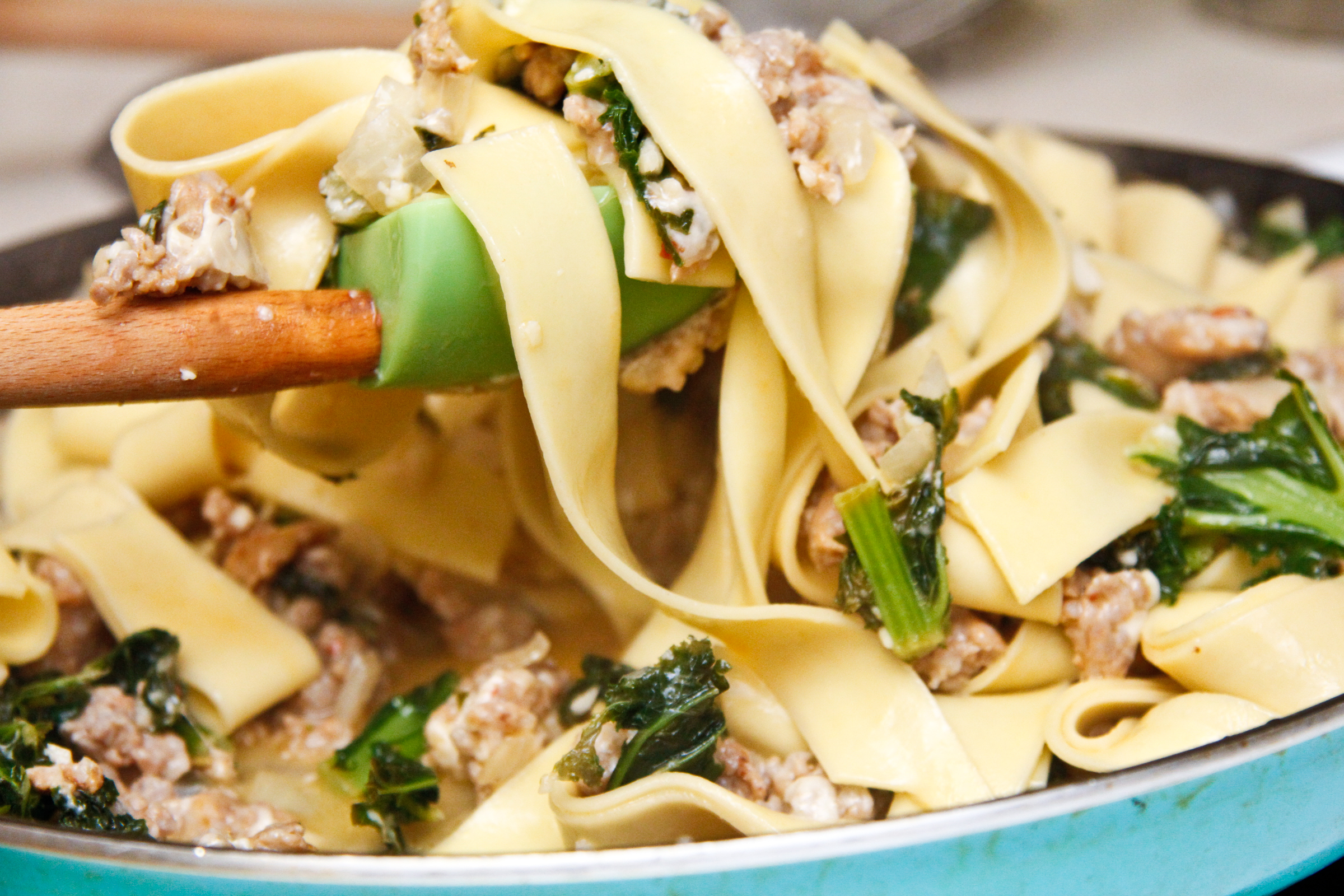 Then add your drained pasta to the pan, Taste and adjust the seasonings with salt, pepper, and optional crushed red chili flakes.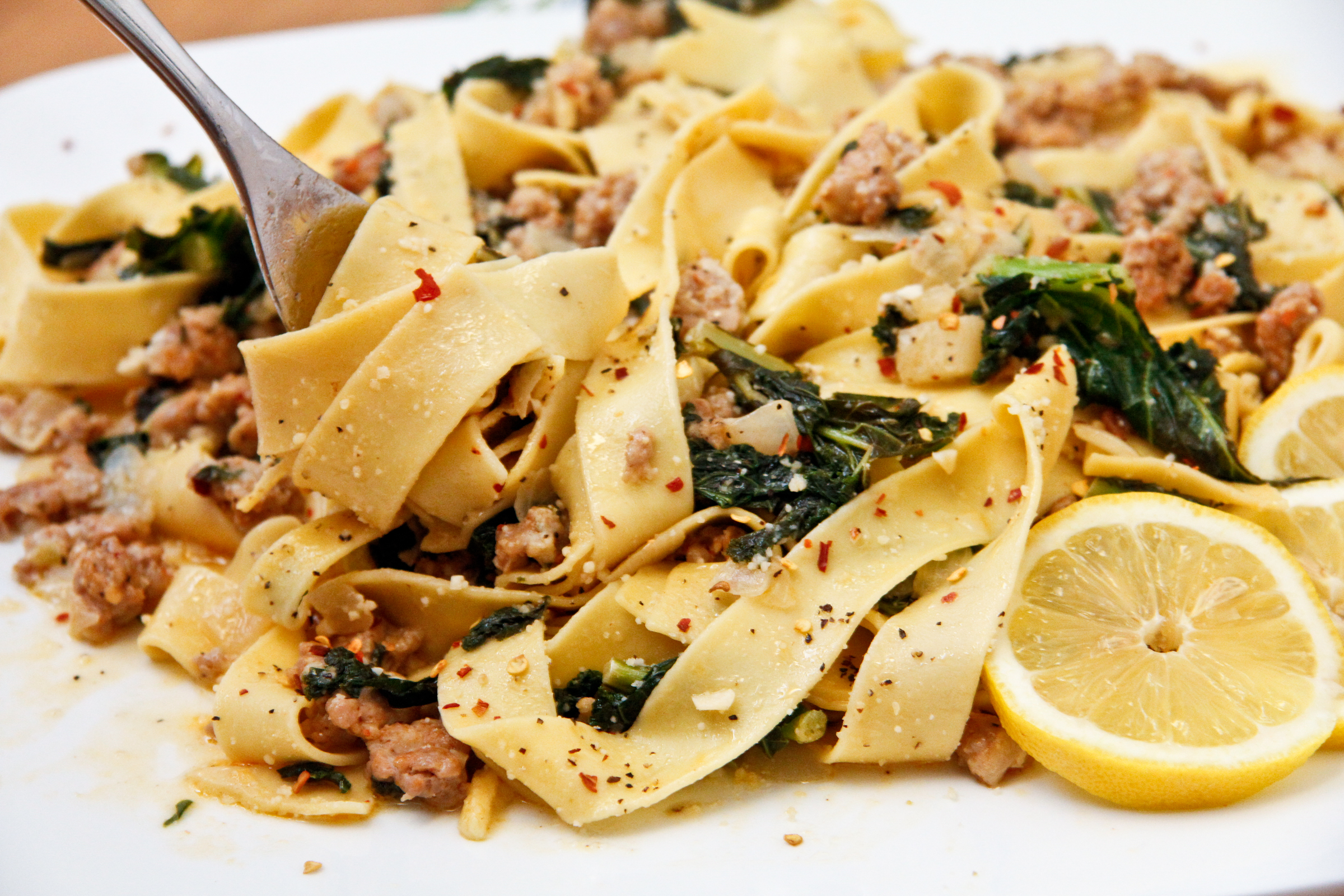 Then twirl and enjoy.  You'll be happy.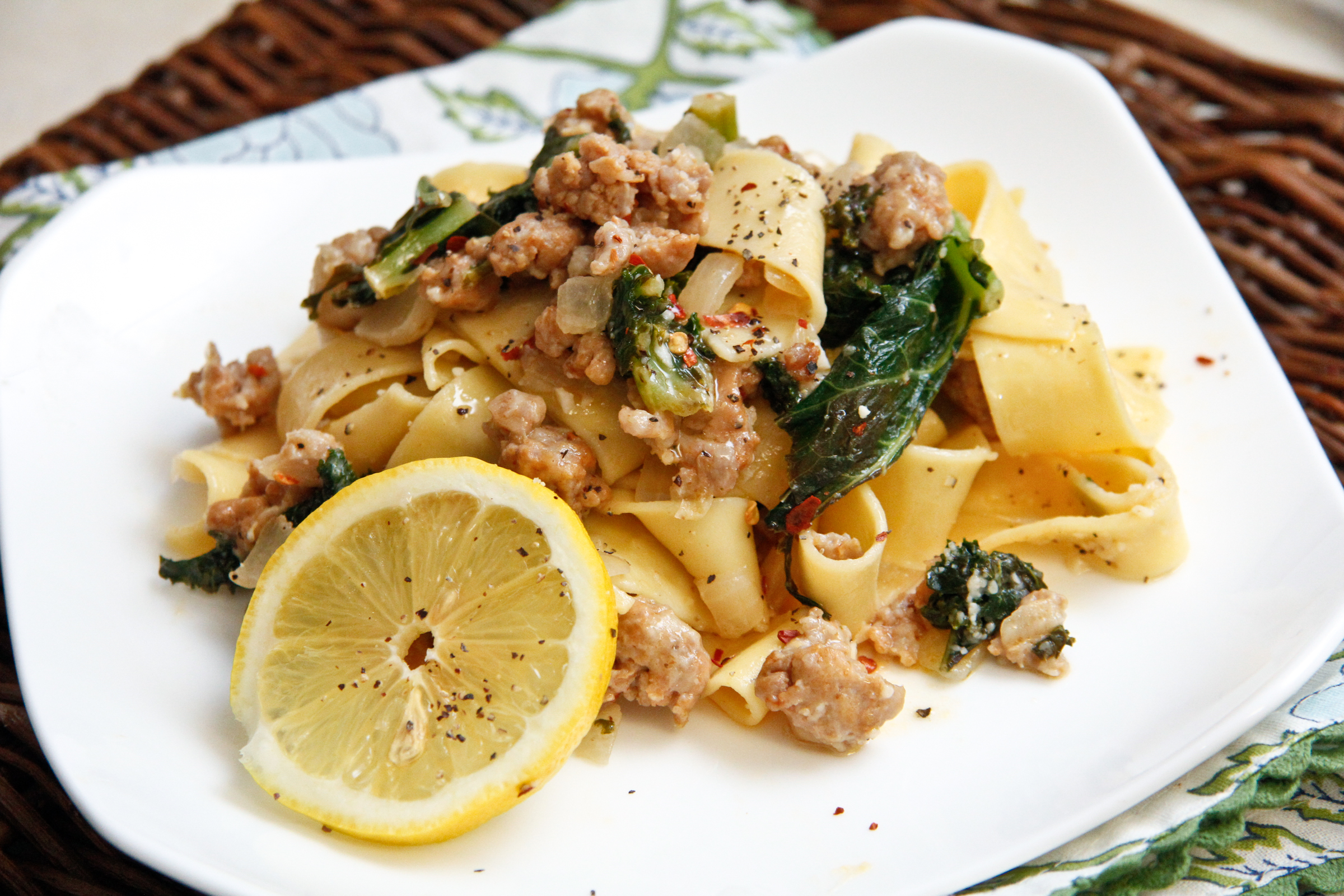 The pasta is light and bursting with spicy lemony flavor.  Oh and the husband liked it.  In fact, he likes all of the pastas I make now… red sauce or not.  So I guess in his case, marriage does change a person… for the better.

Pappardelle with Sausage and Kale
The hot sausage, lemon, and Parmesan cheese makes this dish so flavorful. You won't miss the red sauce.
Ingredients
8 oz. egg pappardelle (½ a pound)
1 lb hot Italian sausage, removed from the casings
1 small onion, diced
4 cloves garlic, minced
4 packed cups of chopped kale, stems removed
½ cup grated Parmesan cheese
½ cup reserved salted pasta cooking water
Kosher salt and pepper to taste
½ a lemon, squeezed
Crushed red chili flakes to taste (optional)
Instructions
Remove the sausage from the casings, and crumble into a heated pan. Once cooked, remove the sausage with a slotted spoon and set aside. In the sausage oil, saute the onions and garlic, sprinkled with a little salt, until softened.
Meanwhile, bring a large pot of salted water to a boil. Add the kale and cook for 5 minutes. Remove the kale with a skimmer or slotted spoon and add straight to the pan with the onions and garlic. Add the sausage back into the pan and turn off the heat.
Add the pasta to the same pot of salted boiling water and cook until it is al dente. Turn the heat back on your pan. Scoop out ½ a cup of the pasta cooking water and add to the pan, along with the grated Parmesan cheese. Squeeze the fresh lemon juice on top. Then add your drained pasta. Mix everything together well, and taste for seasoning. Adjust with salt, pepper, and optional crushed red chili flakes if desired.
TIP: If you do not have enough sauce to toss your pasta in, just add a little more water and adjust the seasonings.