Chicken with Tomatoes and Dill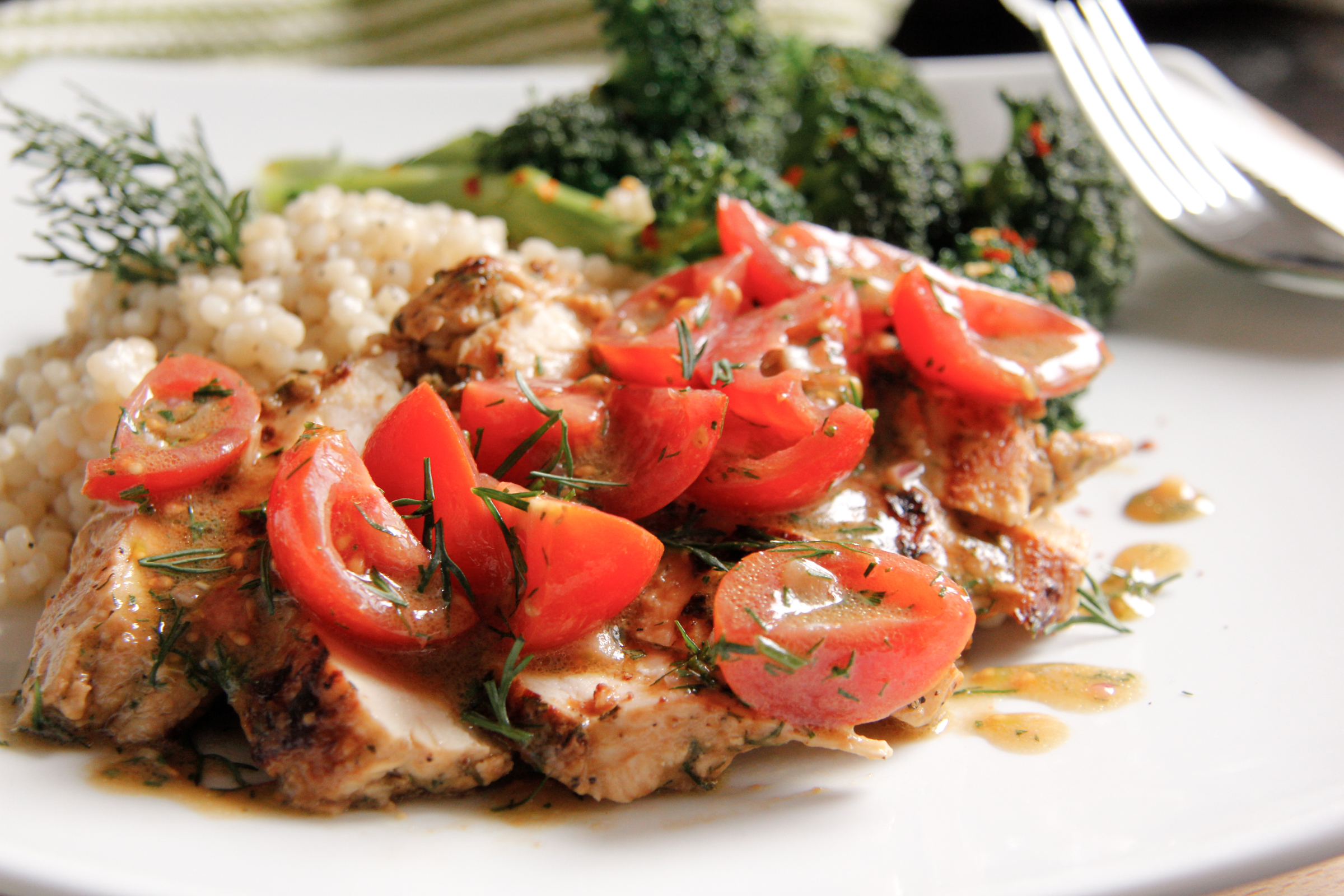 Um, yeah. I came up with this recipe over a year ago, and we filmed this video while we were still living in our old place. Down the street from us was a Farmer's Market.  That's where we were when I spotted a big bundle of fresh dill.  This feathery fragrant herb was what inspired me to make this recipe in the first place.  
Dill is most abundantly available around the Summer time, but don't worry my friends. You can still make this recipe right now because I was recently at the grocery store and saw that they're still selling it. But just in case they're not, and you really want to give this recipe a try now, you can use dried dill, but cut the measurement for it in half since dried herbs are always more potent.
I'm definitely a fan of "smart cooking," which really is a nicer way of saying, "lazy cooking."  I figure if I'm going to make a marinade, I might as well scoop out a little of it BEFORE the chicken hits it, and use it as a dressing too.  Why not?  Maximum flavor with minimum effort.
Now if you're not a fan of dill, then you can move on past this recipe.  I won't be offended.  Dill has a very strong, unique taste, so I can see how it could be too "in your face."  But I happen to like dill, and I think it adds this lemony herbaceous flavor that pairs so well with chicken.  Have you ever had it in your chicken noodle soup?  DELICIOUS!
We weren't able to edit this video back then because we suddenly got busy with life and then had other video projects that had to go out first, such as our product placement videos.  But we finally dug it out of our archives and got around to it.  Watch how I make my chicken with tomatoes and dill in our video below: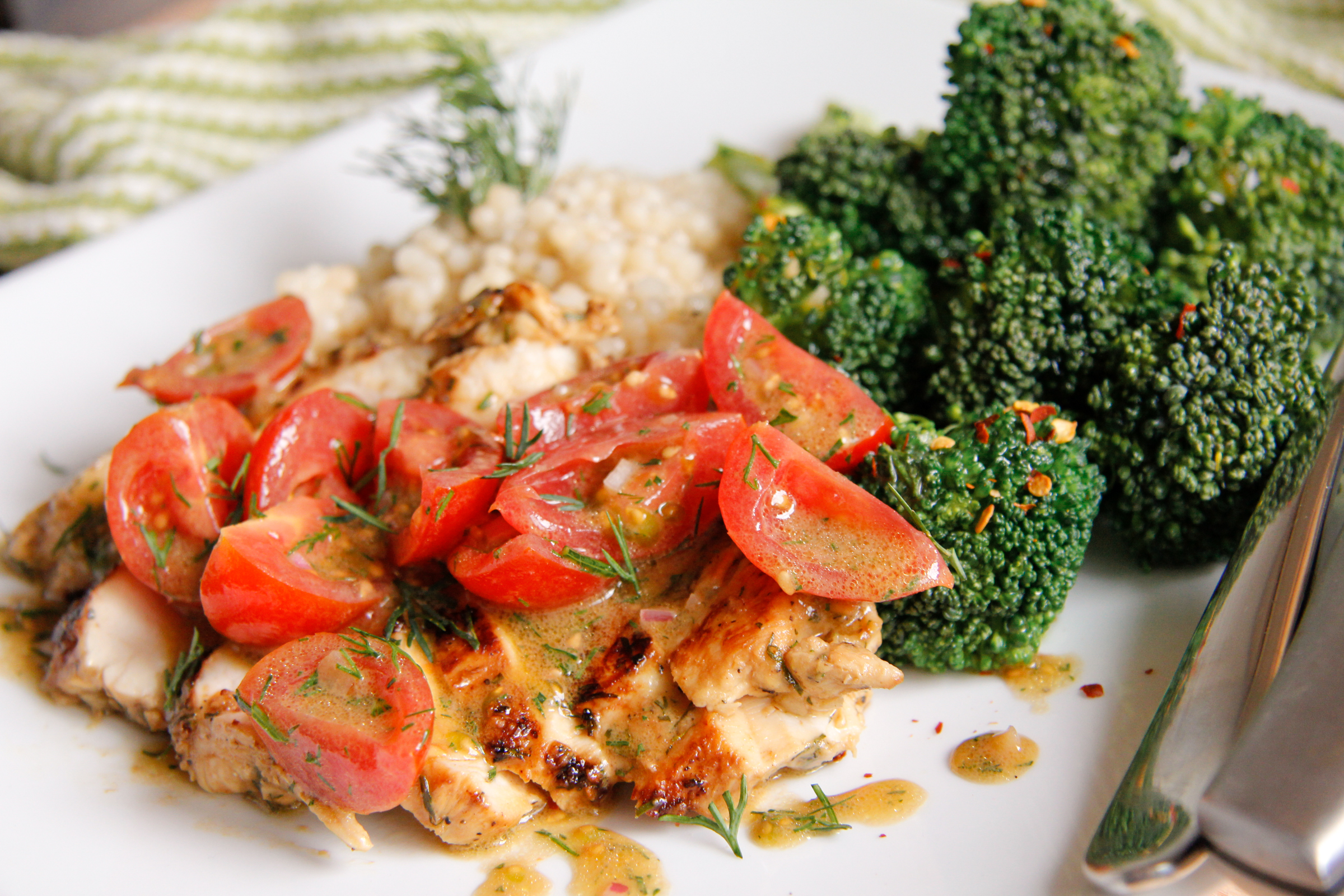 The chicken is juicy, light and flavorful. The tomato and dill relish is the perfect little topper. At the end of my video, I leave you with a tip to turn your leftovers into a chicken salad. Honestly, it will be one bombtastic chicken salad, so I highly recommend you do that.
Make this on a week night, or for a special occasion for your guests. It's pretty to look at and goes well with just about any kind of starch or side you want.  Hope you enjoyed this blast from our past.  This recipe might even be a nice change from all the heavier holiday food.  However, if you want to hold off from making this recipe until Summer time rolls around again, when dill is abundant and the tomatoes taste the best, I totally understand. Just keep this recipe in the back of your mind and know that good things always come to those who wait.

Chicken with Tomatoes and Dill
Love it that you can make one sauce and use it twice. This dish stretches well so it's great for dinner parties
Ingredients
3-4 skinless boneless chicken breasts, cut in half and flattened
½ cup extra-virgin olive oil
¼ cup chopped dill
1 shallot, finely minced
2 Tablespoons dijon mustard
2 Tablespoons balsamic vinegar
1 pint cherry tomatoes, quartered
Salt and pepper for sprinkling on chicken
¼ teaspoon each of salt & pepper for the tomatoes
Instructions
If the chicken breasts are big, cut them in half and then pound each half between 2 sheets of plastic wrap, with the flat side of a meat pounder or with a rolling pin until they are about ½" thick. If they are small, you can just flatten them without cutting them in half. Season both sides with salt and pepper and set aside.
Make your marinade and dressing. Whisk together the minced shallot, oil, dill, mustard, and vinegar in a large mixing bowl. Scoop out a ¼ cup of the dressing, and set aside. Add your seasoned chicken to the large mixing bowl and turn to coat with the marinade. Let the chicken marinate for 5 minutes.
Cut your cherry tomatoes into quarters and place them in a colander or strainer. Sprinkle a ¼ teaspoon of kosher salt over them. Give them a slight toss and let them drain of their excess moisture. Once nicely drained, toss the tomatoes with the reserved dill mixture and ¼ teaspoon of pepper. Set aside.
Place a large skillet with a lid over medium high heat and then drizzle with olive oil. When the oil is hot, add the chicken, making sure not to crowd the pan and cover with a lid. Let it cook for about 2-3 minutes, or until browned. Flip, cover with a lid again, and continue to cook until the other side is browned and the chicken is cooked through, about another 2-3 minutes. Remember the chicken is flattened, so it should cook faster than a regular chicken breast. The chicken cutlets should cook for about 4-5 minutes total. Remove from the pan and let the chicken rest for 5 minutes, then slice and serve topped with the relish.