Orzo Salad with Roasted Tomatoes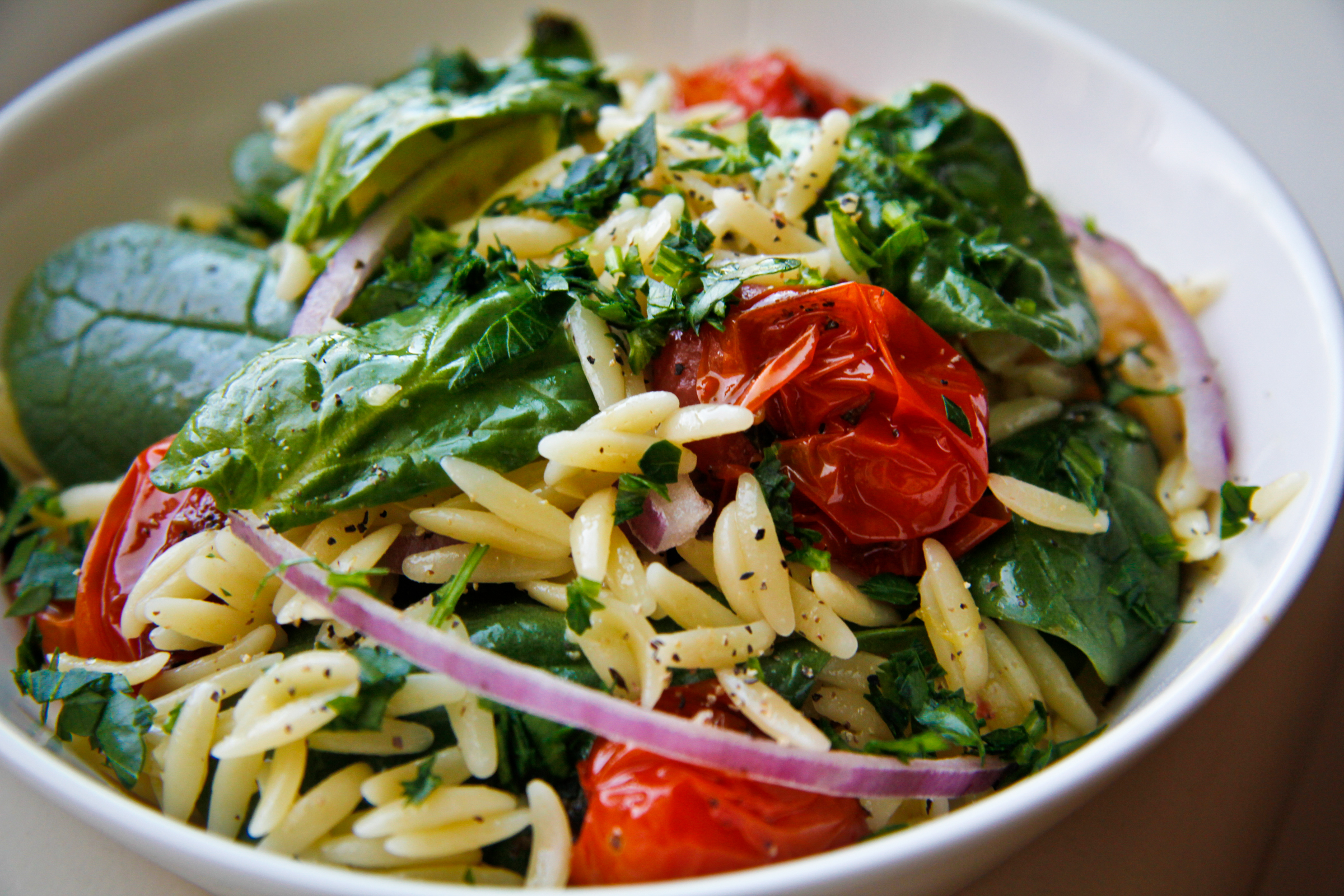 So one day Joe came home from work and announced, "there's a potluck party at work for St. Patrick's Day.  Should I participate?"  I looked at him suspiciously lovingly with one eyebrow raised and replied, "or do you really mean, should I participate?"  He insisted that I didn't have to, but I am a SUPER angelic wife and all, so I said I would.  After all, I didn't want him to be an outcast at his new job.  
But this got me thinking.  What can sit at room temperature, taste super flavorful, and get along with the other mystery food on the party table?  And I was sure that people would figure out sooner or later that his wife is a chef, so they might expect a lot.  When your reputation is on the line my friend, the answer is orzo salad with roasted tomatoes.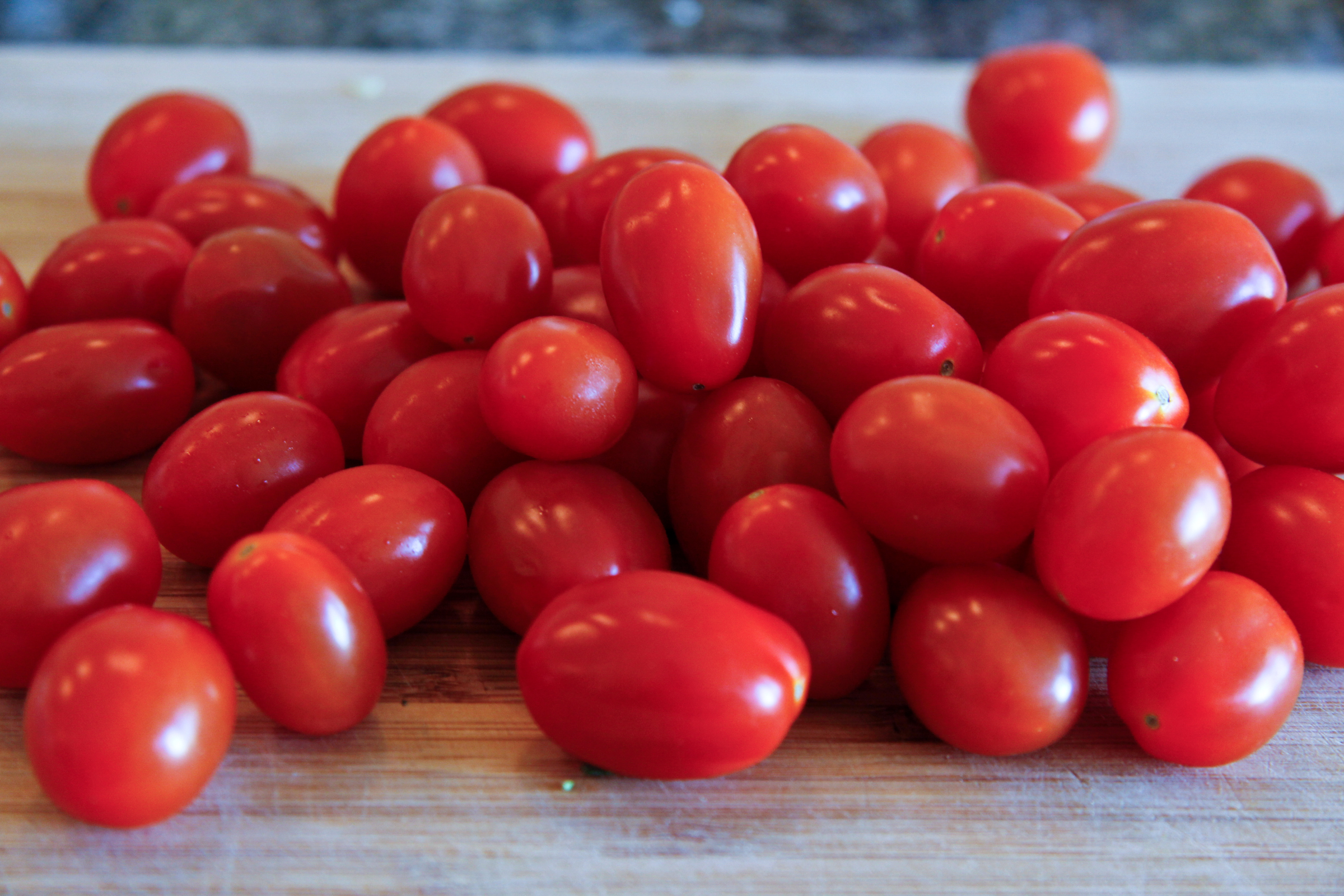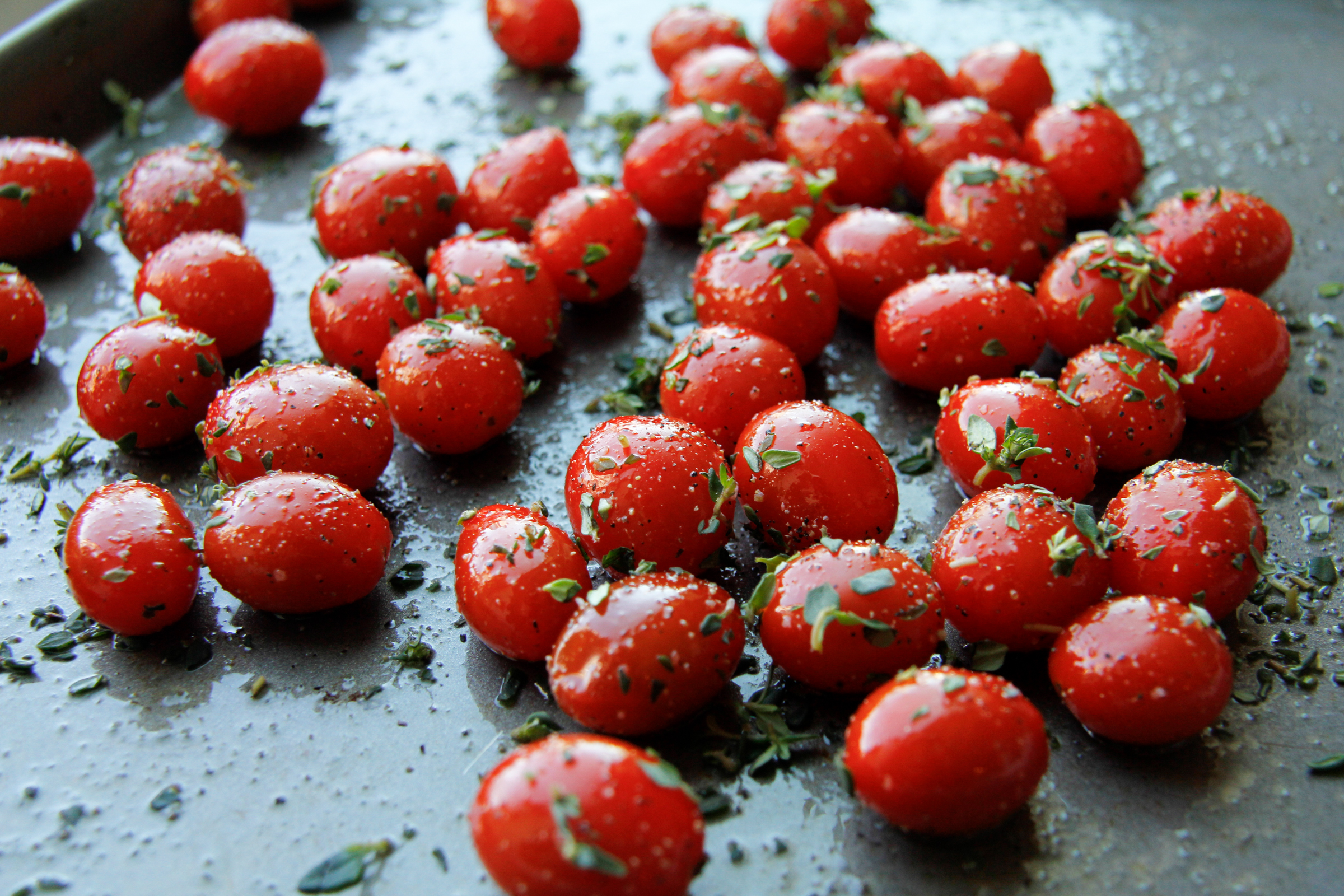 I came up with this recipe and many versions of it after I fell in love with orzo.  It looks like rice, but it's actually pasta. When I used to cater, it would show up on many menus, but with a different twist each time. Maybe I'll post those recipes later. Orzo has that nice slightly chewy texture, when cooked correctly, and soaks up the flavors of the ingredients you cook it with.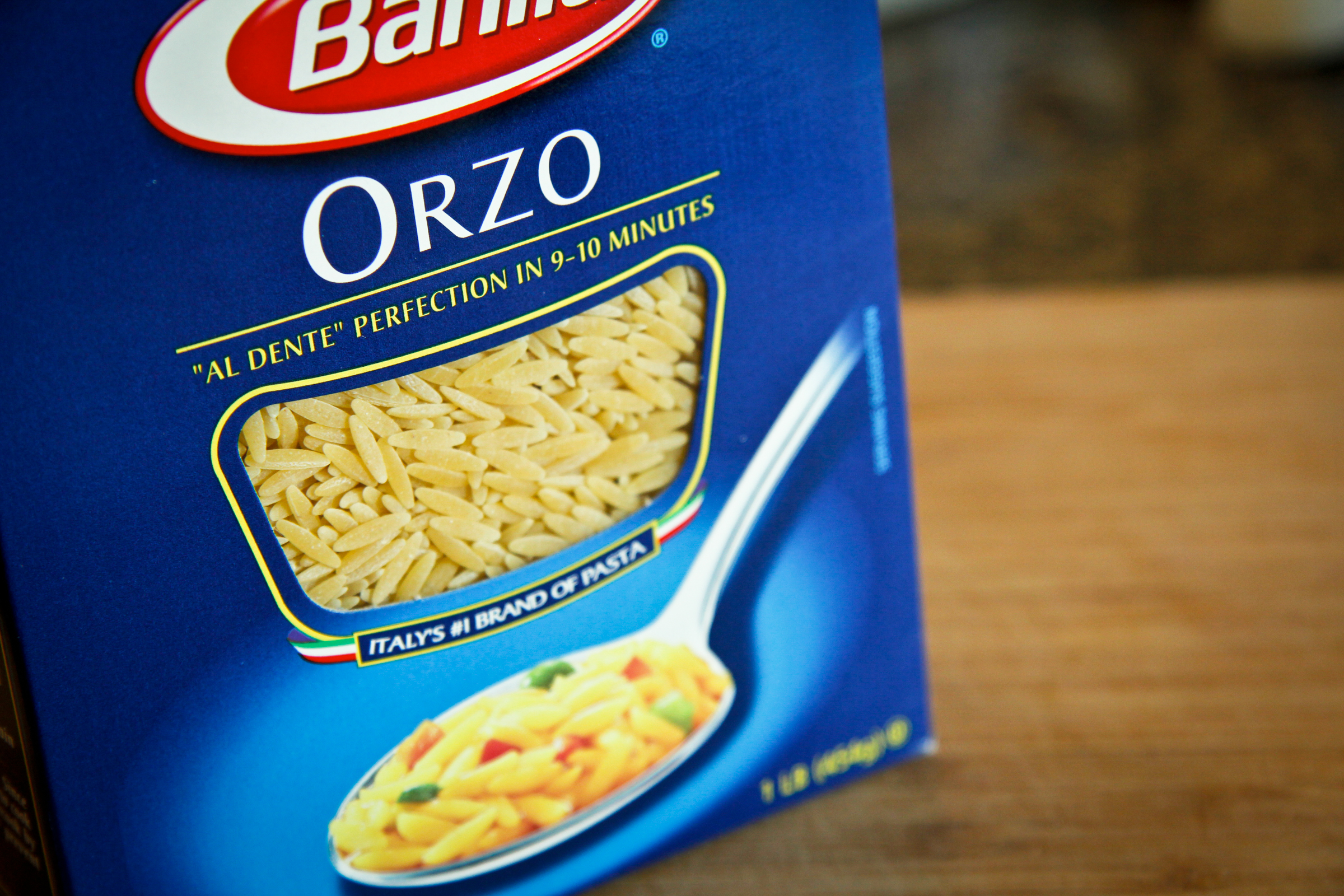 That's why I use chicken stock to boil the pasta, instead of plain water.  My friend tried my recipe once without boiling it in chicken stock.  In the words of Julia Roberts in Pretty Woman, "big mistake… HUGE!"  That's where all the flavor's at, Pat.  The stock is what makes this salad so luxuriously savory.  If you don't eat chicken, try veggie stock instead.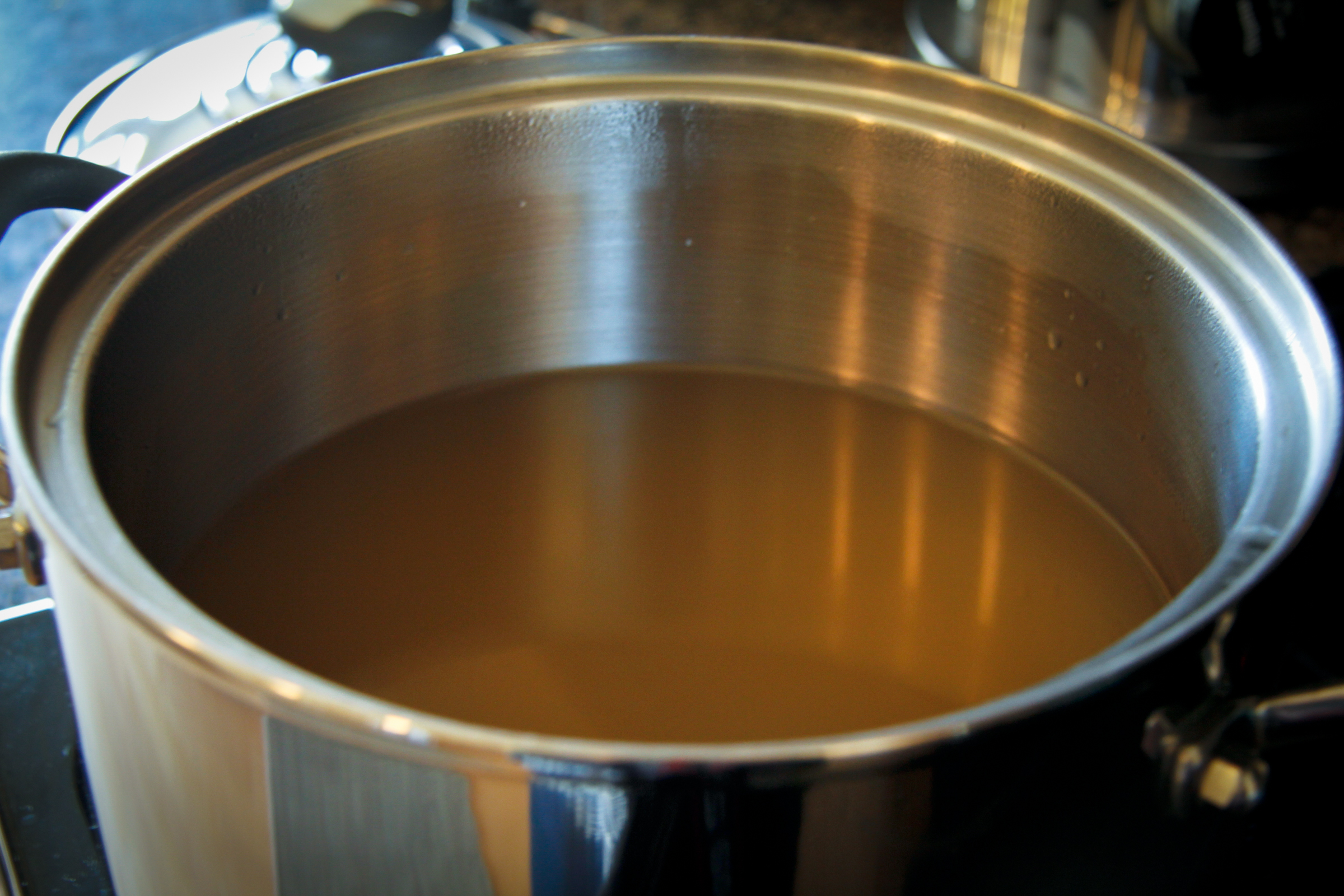 Just tumble in the gorgeously golden grains, and stir. Cook how you'd normally cook pasta.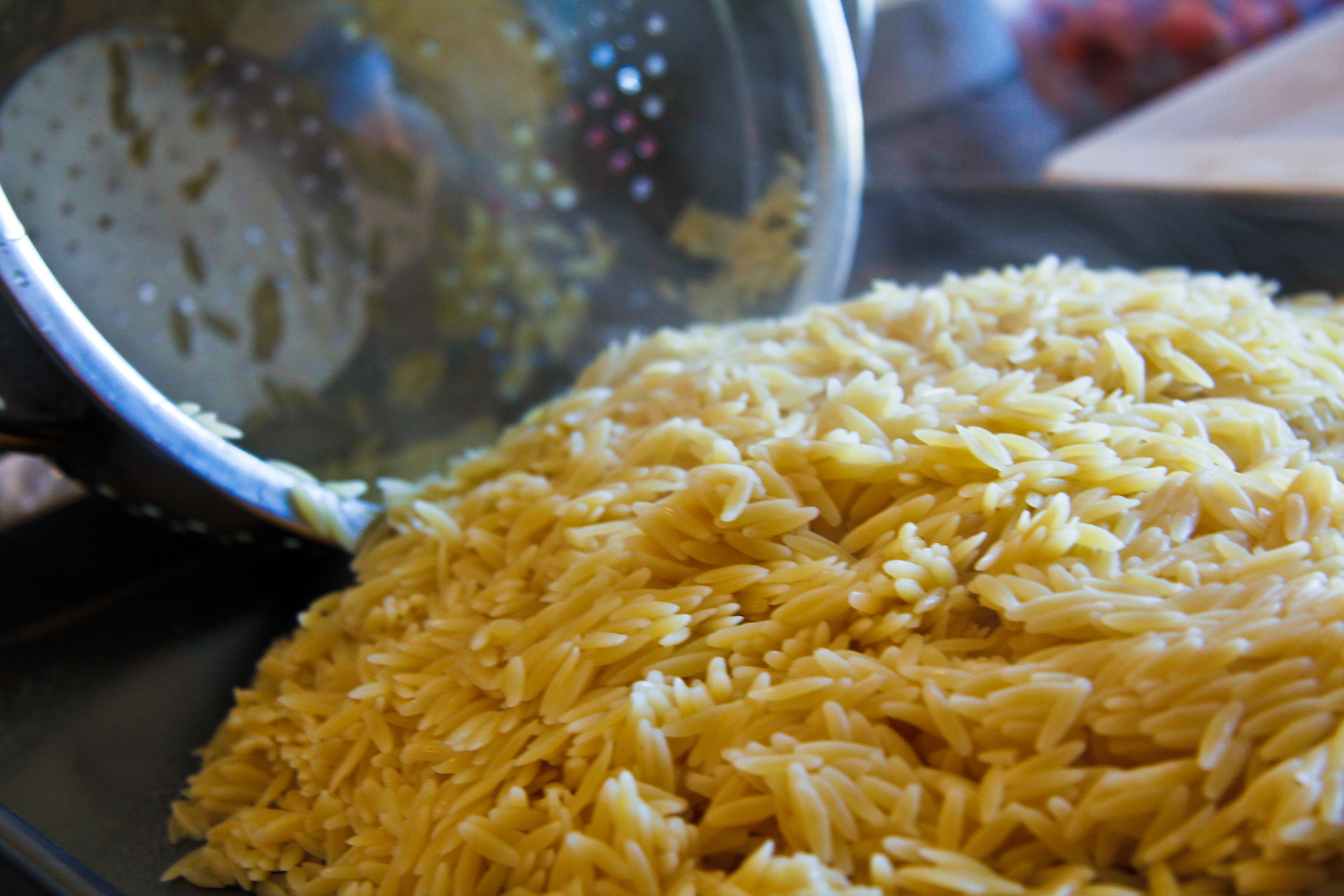 When it's cooked, but still has a bite to it, drain it, then spread it out on a baking sheet to cool. Like a broken record, I want to state again, overcooking leads to mush. We're looking for al dente, which means, soft enough to eat, but still a little firm.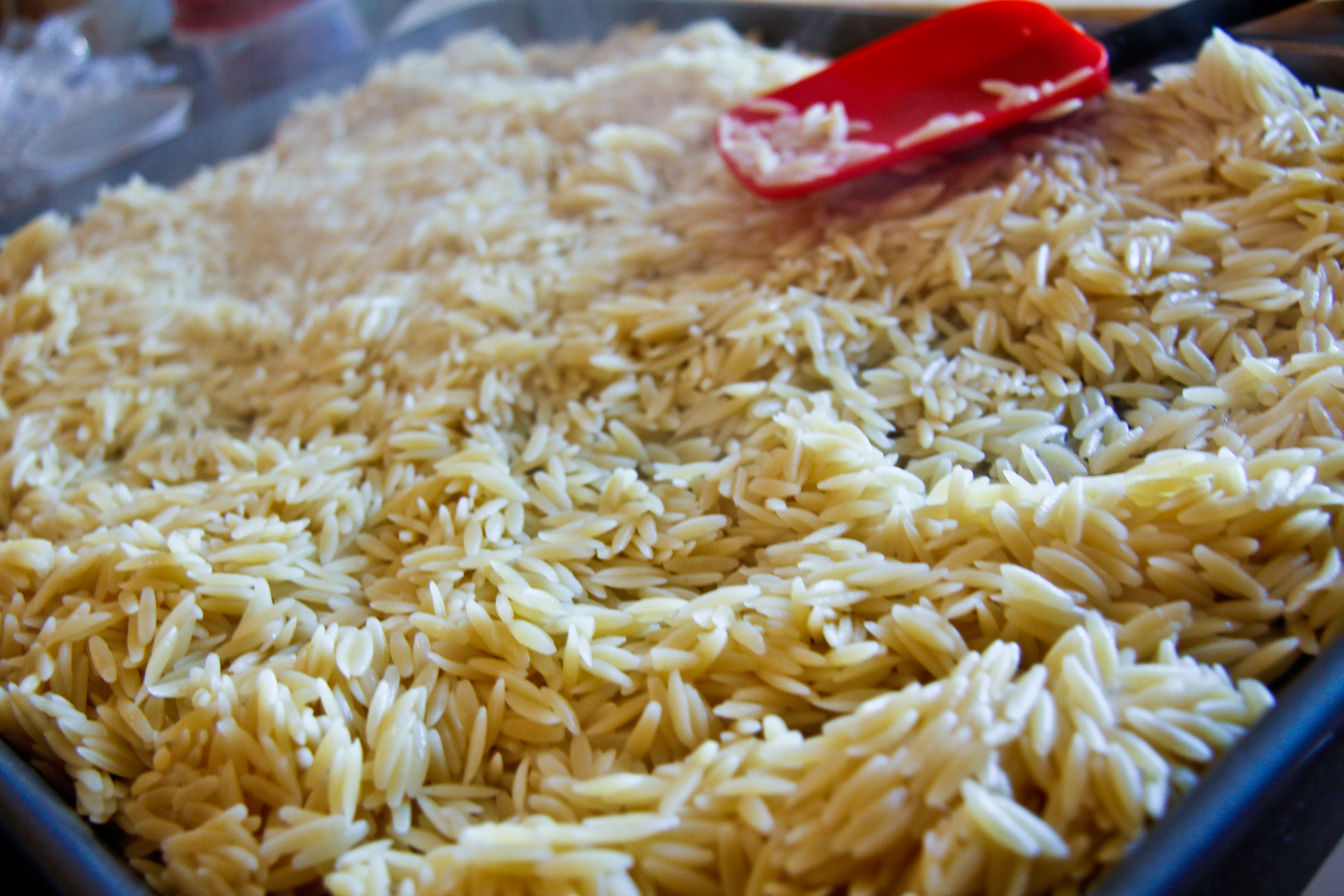 Then toss with some orange juice- for a bright citrus taste, as well as some garlic and chili infused oil, as part of the dressing.  Then adjust the seasonings with salt and pepper as needed.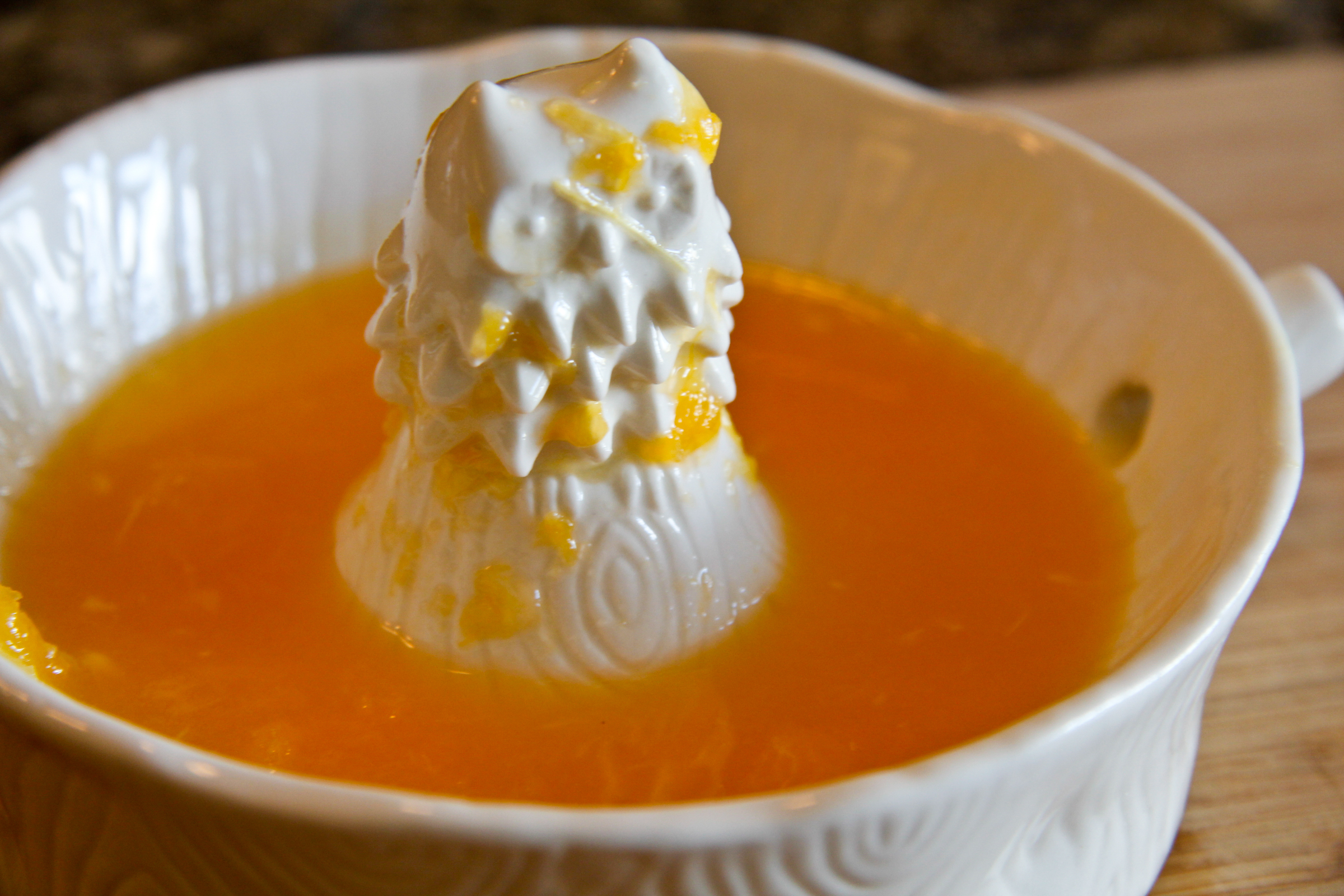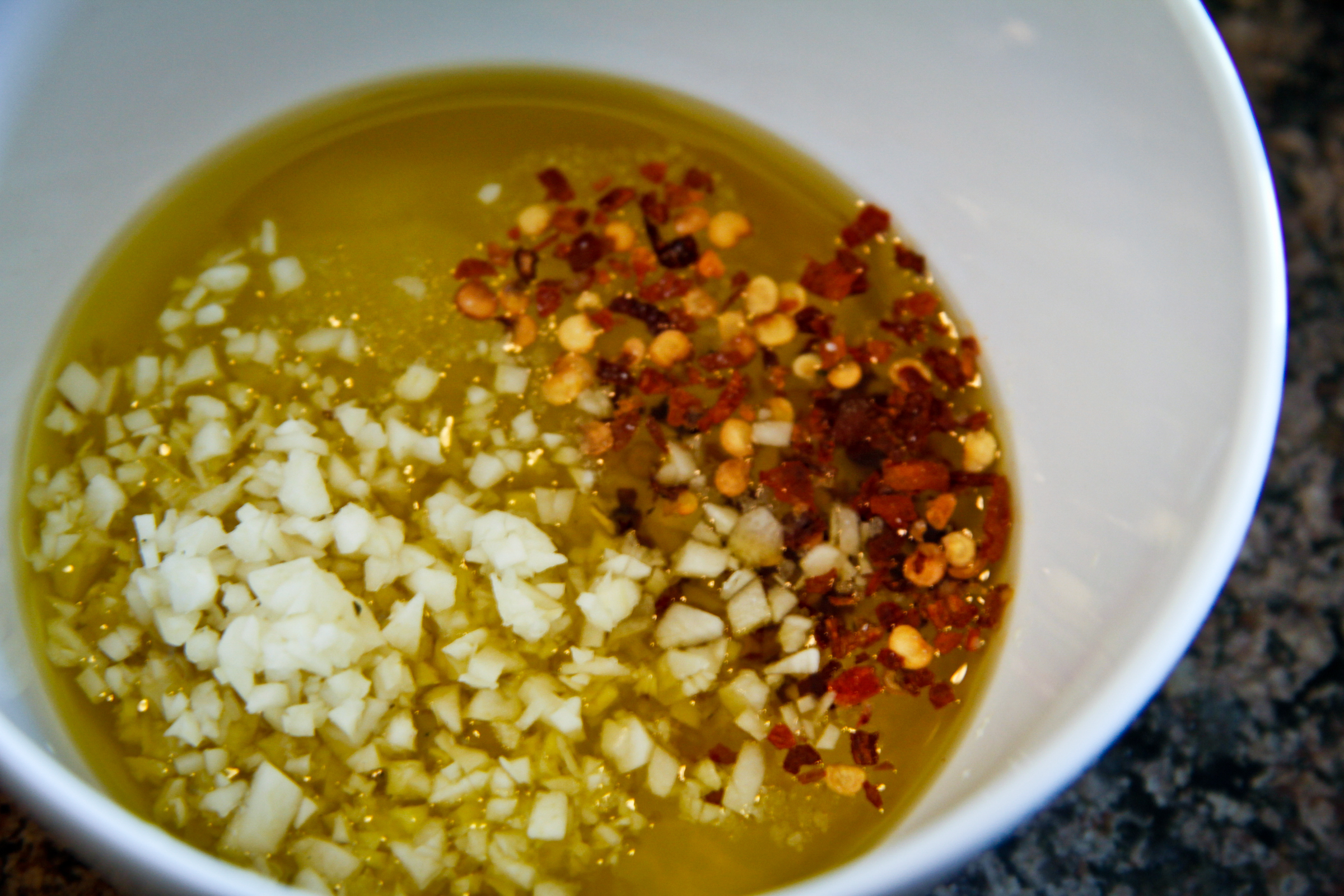 And toss in the roasted tomatoes, baby spinach and some easy "pickled" red onion slices.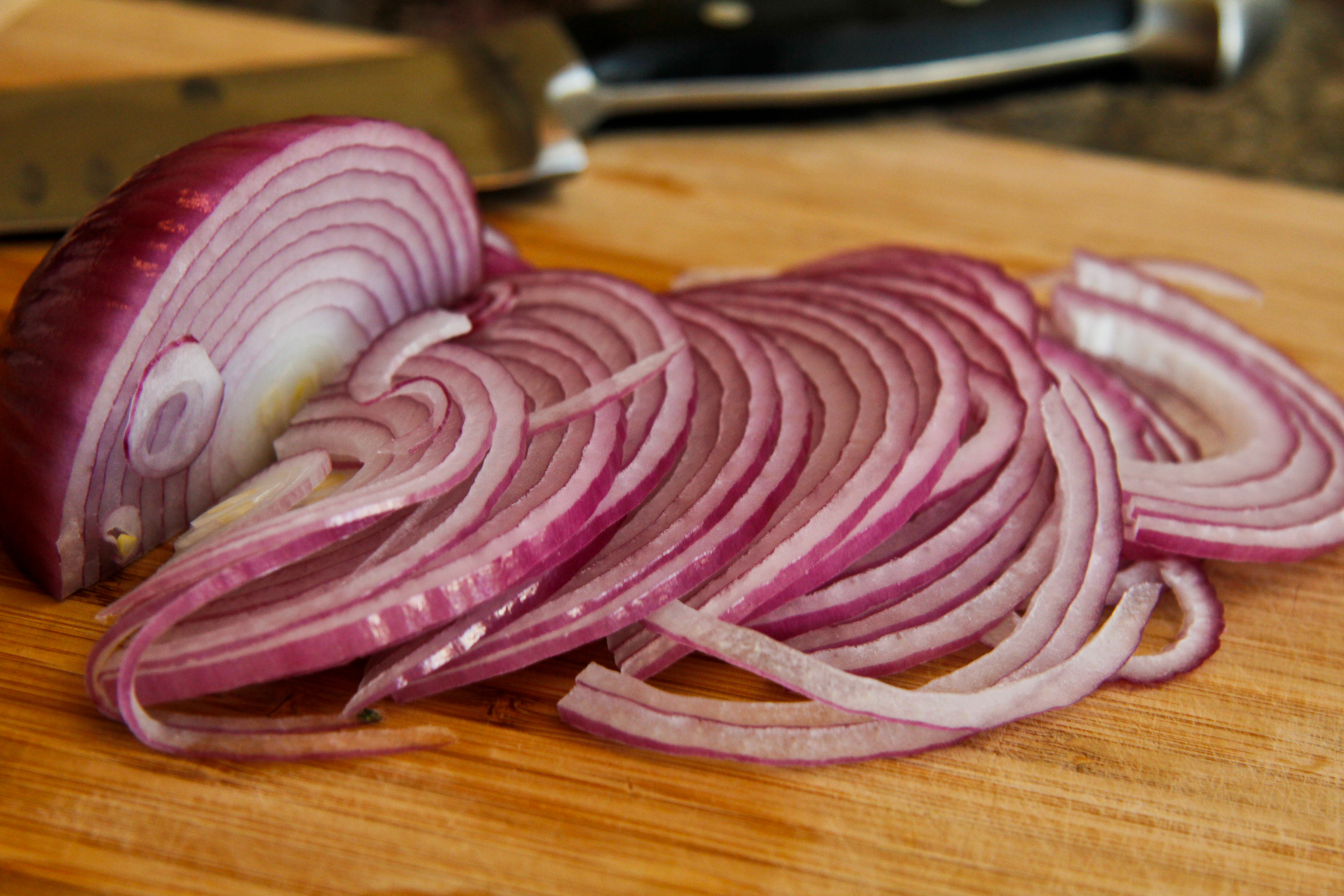 The best part of this fresh, savory, citrus-y "salad" is that you can eat it at room temperature, chilled, or heated!  Yeah that's right… throw it in the microwave, and it's a yummy hot side dish for your chicken or fish dinner.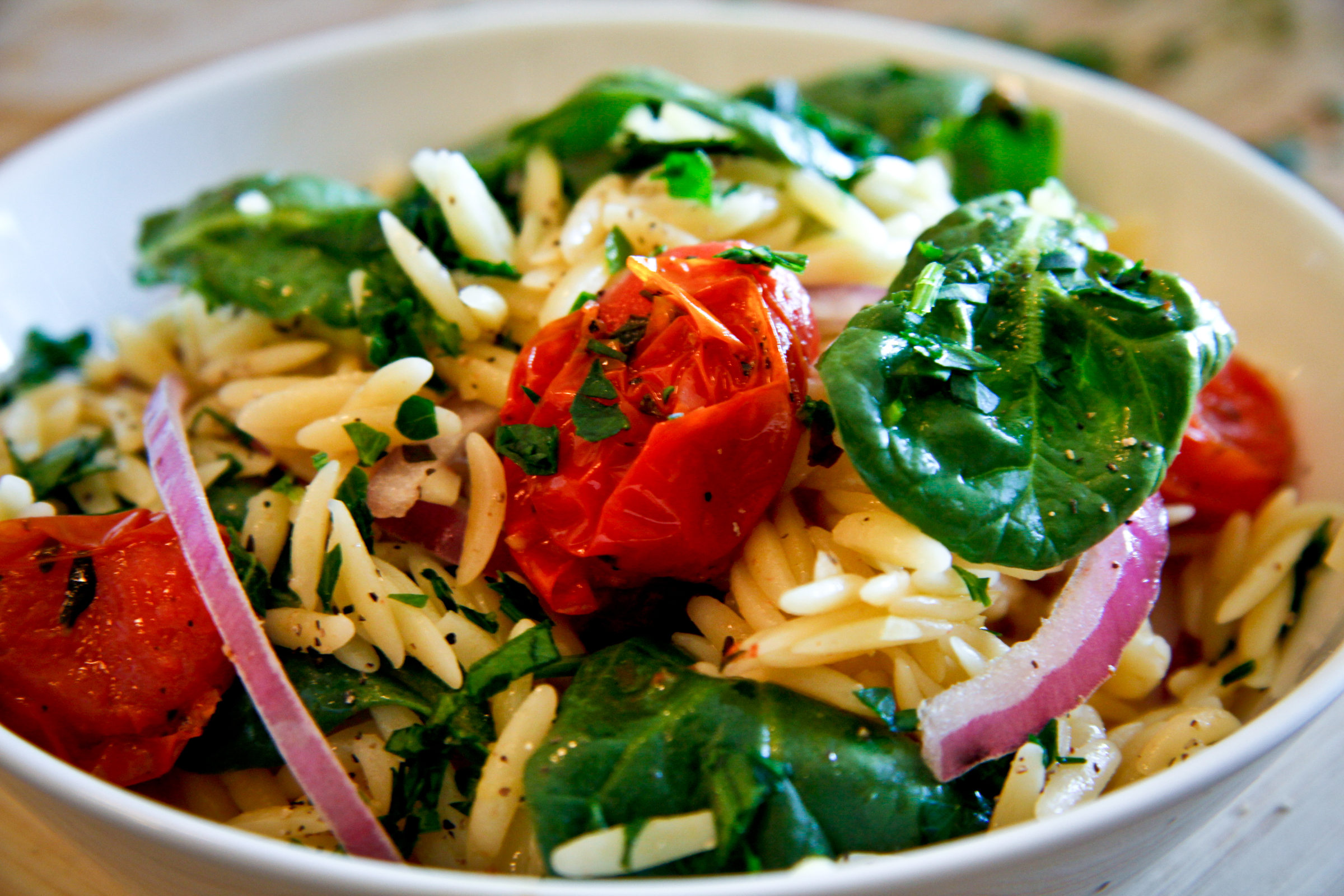 Joe's coworkers all loved the orzo salad and it did strike up conversation, which led to him explaining that I have this food blog.  Some of them were nice enough to check it out and even look at my videos and stuff.  So if you're out there and you're Joe's coworker, don't be a stranger- say hi!  I'm glad they enjoyed the orzo and now you all can too.

Orzo Salad with Roasted Tomatoes
This is a great go-to side dish for a potluck party. Make it a main meal by adding more veggies, feta cheese, or chicken.
Ingredients
For the Tomatoes
1 pint grape tomatoes
1⁄2 teaspoon each of salt & pepper, or more to taste
Olive oil to coat the tomatoes
1 teaspoon chopped fresh or ½ teaspoon dried thyme

For the Orzo
8 cups chicken broth + water if necessary
1 pound orzo (1 box)
1⁄4 cup olive oil

For the Dressing
2 cloves of garlic, finely minced
1⁄4 teaspoon crushed red pepper flakes
1⁄4 cup of orange juice
Half of a red onion, very thinly sliced
The juice from half of a lemon
1-2 packed cups fresh baby spinach leaves
Salt & pepper to taste
Instructions
Preheat the oven to 450 degrees. Spray a baking sheet with non-stick spray. Place the tomatoes on the baking sheet pan. Drizzle with olive oil and coat them well, using your hands to toss. Sprinkle with the salt and pepper and chopped fresh or dried thyme. Place in the oven until they slightly burst from their skin, about 10-15 minutes. Set aside to cool slightly.
Thinly slice up half of a red onion and place in a bowl along with the juice from half of a lemon. Toss together. This will slightly pickle the onion and remove the strong spicy bite.
Meanwhile, in a pot, bring the chicken broth to a boil. Add the orzo, stir and cook on medium heat until tender, but still a little firm. Do not overcook or it can become mushy. Add a little water if the chicken broth gets absorbed too quickly. Make sure to stir the orzo occasionally. Drain in a colander to get rid of any excess liquid, if any, and spread the orzo out on a baking sheet to cool. Set aside.
Place the olive oil in a small bowl with a couple pinches of salt. Add the minced garlic and crushed red pepper flakes and stir to mix. Set aside. Set aside the 1⁄4 cup of orange juice separately.
Grab a big mixing or serving bowl to assemble. Place the slightly cooled orzo, pickled red onion slices (either drained or with lemon juice added), spinach leaves and roasted tomatoes into the bowl. Pour in the orange juice first, then the garlic oil, and toss all together. Taste and adjust seasoning with salt and pepper if necessary. Serve at room temperature, chilled, or heated!